"My Grandad. Goodness, where do I start?
He was a giant of a man, much like my Dad. He was over 6'1" with no teeth (thanks to his love of sweets when he was a child) and all his teeth needed to be replaced with dentures. I'll always remember the sheer joy I'd have when I would come to see him and my Nan after school. They lived just minutes away from me, and when I'd go into their house, he'd always ask for a kiss then pop out his teeth, completely transforming his face shape to something of a comedy sketch.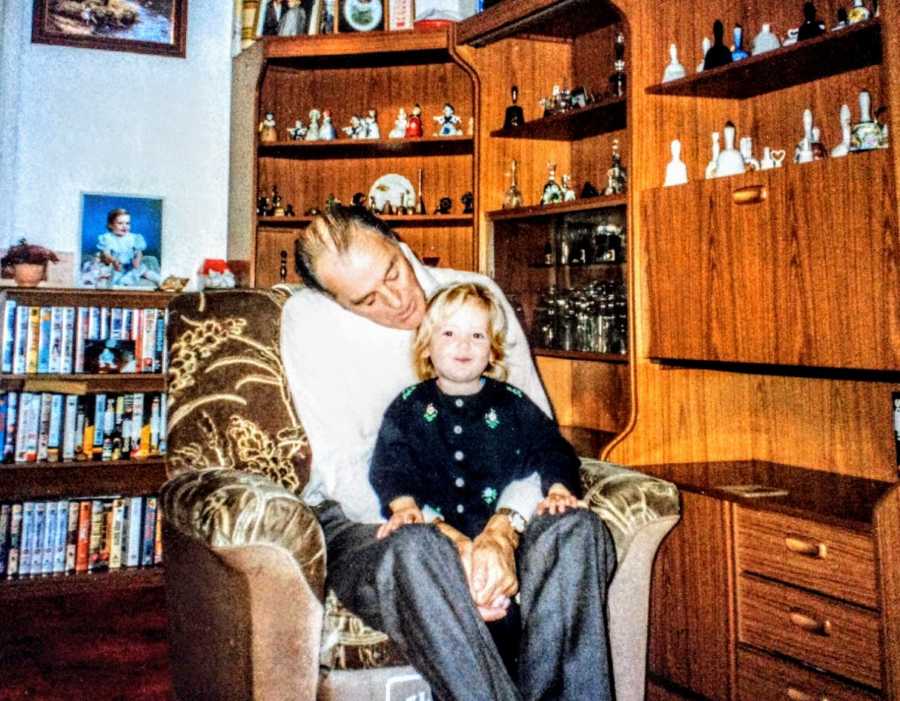 My Mom always shares her vivid memories of the fear she had when I had first been born and brought me home. After a rather rough pregnancy, with most of the months being in the hospital and me ultimately being born 2 months premature by emergency caesarean, she was understandably nervous about this tiny little thing in her home. She had to call my Grandad, who had experience with 7 kids prior to my Dad, in floods of tears wondering why I just wouldn't sleep. He entered, and instantly said it was too quiet. He turned on the radio, the washing machine, and the television – with determination that it was just way too quiet – and within 5 minutes, I was fast asleep. Moments of this insane knowledge for a man of his generation, with children, are countless, including the memory my Dad shares with me regularly of them tossing me between one another in my Nan's living room – my Nan and Mom quietly getting more and more nervous, whilst I giggled loudly with joy each time I was thrown up and caught.
He and my Nan were the people who took me horse riding each Saturday, something I will always cherish. He was always a foot higher than the horse I was given to ride and he'd tower over me, protecting me from falling, whilst I sat there with a huge grin. He always gloated about that one time I fell off head first over a horse as it stopped dead in front of a gate after a trot, and I got up and told off the horse in my 5-year-old voice, expecting to have much more authority than I'm sure I had.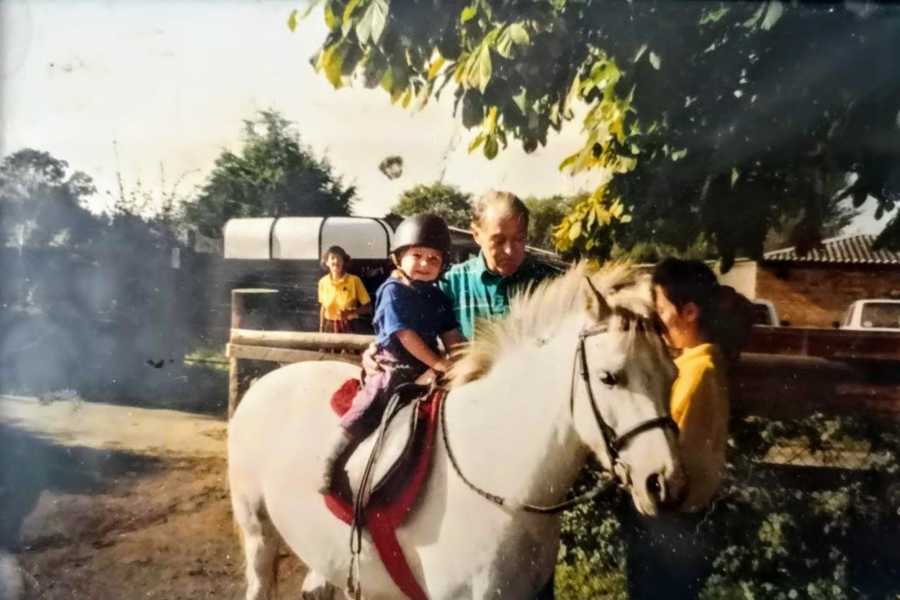 It seems strange now how small I was in comparison to him, but it made me feel so safe whenever I was around him. Pure joy, happiness, and love exuded from him whenever I got the chance to see him and my Nan.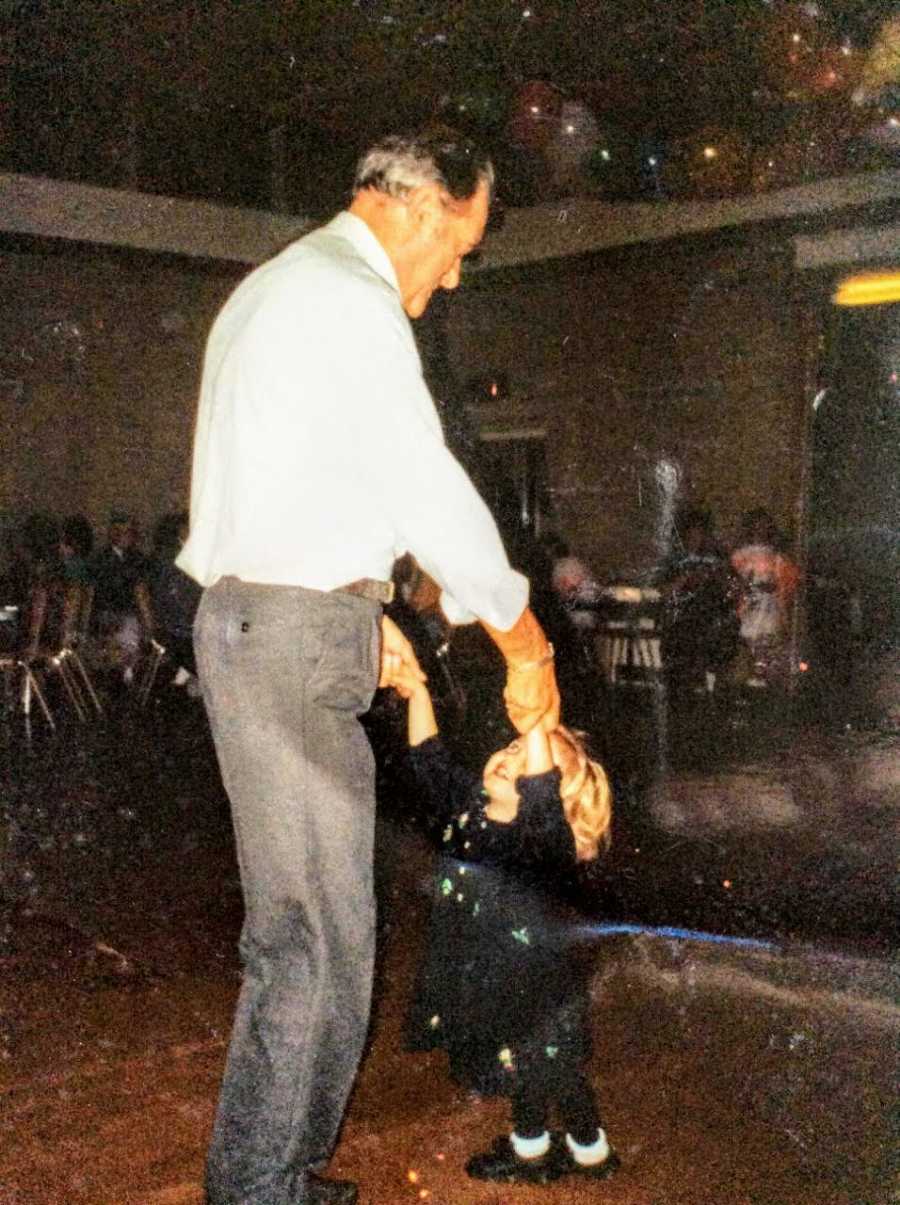 A naughty Grandad he most definitely was, stealing sweeties and letting me get away with murder whenever I was around. It's something I can now look back on and see so clearly as definite favoritism, something an only child can feel very spoiled to have. I had total dedication and time with my grandparents whenever I was given the chance to get together with them. I even managed to get my Grandad to dance with me when he most definitely didn't like to dance any other time!
I have many fond memories, as you can probably tell, but the most vivid memory I have is going fishing with my Grandad. He was such a calm and introverted man, much like my Dad, and fishing was a time when we could just be together without the need for any distractions. I got the epic job of being able to get the maggots into the fishing bag and I remember squealing with utter joy when I saw they were multi-colored! He seemed to have a little moment of being impressed that I wasn't grossed out by this part of our fishing trip, and that made me feel even better and honored to be invited. While my Grandad and I sat fishing with our rods in the water, my Nan would be making sure our teacups were filled, and the obligatory sausage sandwiches were done just in time for when my little mind got bored of sitting still.
As we got older and my Nan and Grandad finally got the chance to retire, they decided to make the big move to Burnham-on-Sea. I think I must have been in my late teens when they did this, and I was both delighted for them to finally have some time by the sea they so loved, but also selfishly saddened they would no longer be just a 5-minute walk away from my home. My Grandad worked since the age of 6, and hadn't stopped until he made the move. I think this is what ultimately made his illness come about quicker than any of us had imagined.
Although he was gardening and volunteering at the life boat charity, he sadly had an angina attack quite early on into their move to the bungalow. This, in turn, made my Grandad feel pretty poorly and ultimately he had to be taken into a care home due to having Alzheimer's. This disease completely transformed the Grandad I knew into someone I could no longer see in this being. Luckily for everyone, he didn't have to spend too long with this awful illness. He finally passed away after a year of being in care.
I remember being so disappointed in myself for not visiting him while in the care home, not giving him the time he had given me when I was young, and I will always have that regret within me. My Mom very kindly said it was no longer my Grandad that I would have gone to see, that he would not have recognized me as he had begun to call my Nan by his previous wife's name. He also didn't recognize my Dad. In fact, my Dad told me that the last time he saw him, my Grandad said to him, 'I think I am meant to know you.' Both my parents kindly protected me from the same situations they both had with their loved grandparents of the last moments of their lives, but I still took that as an excuse to not have to go through the pain of seeing someone I loved so desperately when he potentially needed that love and kindness the most.
I keep reminding myself of the last time I got to see my Grandad as I had always remembered him – pulling a funny face in his garden as we took a family photo together, with crazy hair and a massive smile, making us all giggle non-stop. That is what I will want to always keep within me – the good memories, the ones that fill my mind each time I think of him.
It's been many years since he passed, and I'd been toying with the idea of having him immortalized on my body so I can remember him, keeping him close to me each and every day. I had a partner for a long while that would not have permitted more tattoos on my body (don't get me started on that) but luckily I kept the idea within me until I found true love with someone I am so grateful to have within my life.
I found a wonderful tattoo artist called Vic and sort of put her to the test with a water color tattooa on my forearm. After seeing how wonderfully talented she was, I finally took the idea I had had for 7 years to her to create. I was so overwhelmed and delighted with her creation of my Grandad. I cried seeing how much it reflected the memories I have of him fishing. His posture and his hat so perfectly created by someone who had never seen him before – I was amazed. The tattoo is on my right leg, so I can easily see it, and Vic kindly let me have the sketch to give to my Nan as a gift. The wonderful thing was, as she unwrapped the framed sketch, she burst into tears saying, 'that's Alf,' putting the ultimate stamp of approval on this memory we can both share together.
I have been so lucky to have been surrounded by loving, caring, humorous, inspiring, and motivated people within my family – both of the men in my life were the biggest feminists I have ever known, and the two women in my life have been huge role models of determination, care, and compassion, as well as beating the odds that I can only ever imagine to replicate. Each day I see my tattoo, I am reminded of this huge bond I have with my family, and it's something I feel incredibly privileged to be able to have on my skin and in my mind.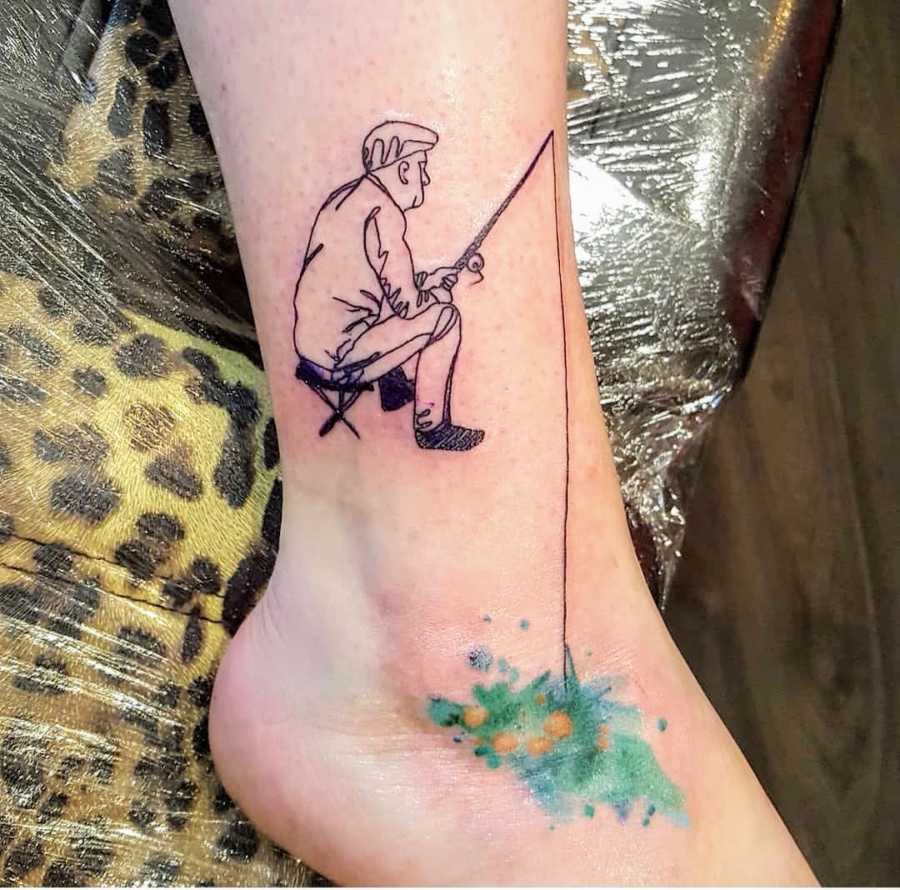 As I write this, I had to call my Mom and Dad to get one of the images in this story. While tears fell from our eyes, we giggled at the memories we had of him, each one of us bouncing off the other with the wonderful moments we were given, thanks to the close bond we all had. The wonderful part is that we all knew how important fishing was to him, upon receiving his ashes we let him be free at one of his favorite fishing spots nearby, somewhere I can go to collect my thoughts and think of him.
I love you Grandad. Thank you for everything you have given me. I am proud to have known you, and been given the opportunity to laugh, rejoice, and fish with you."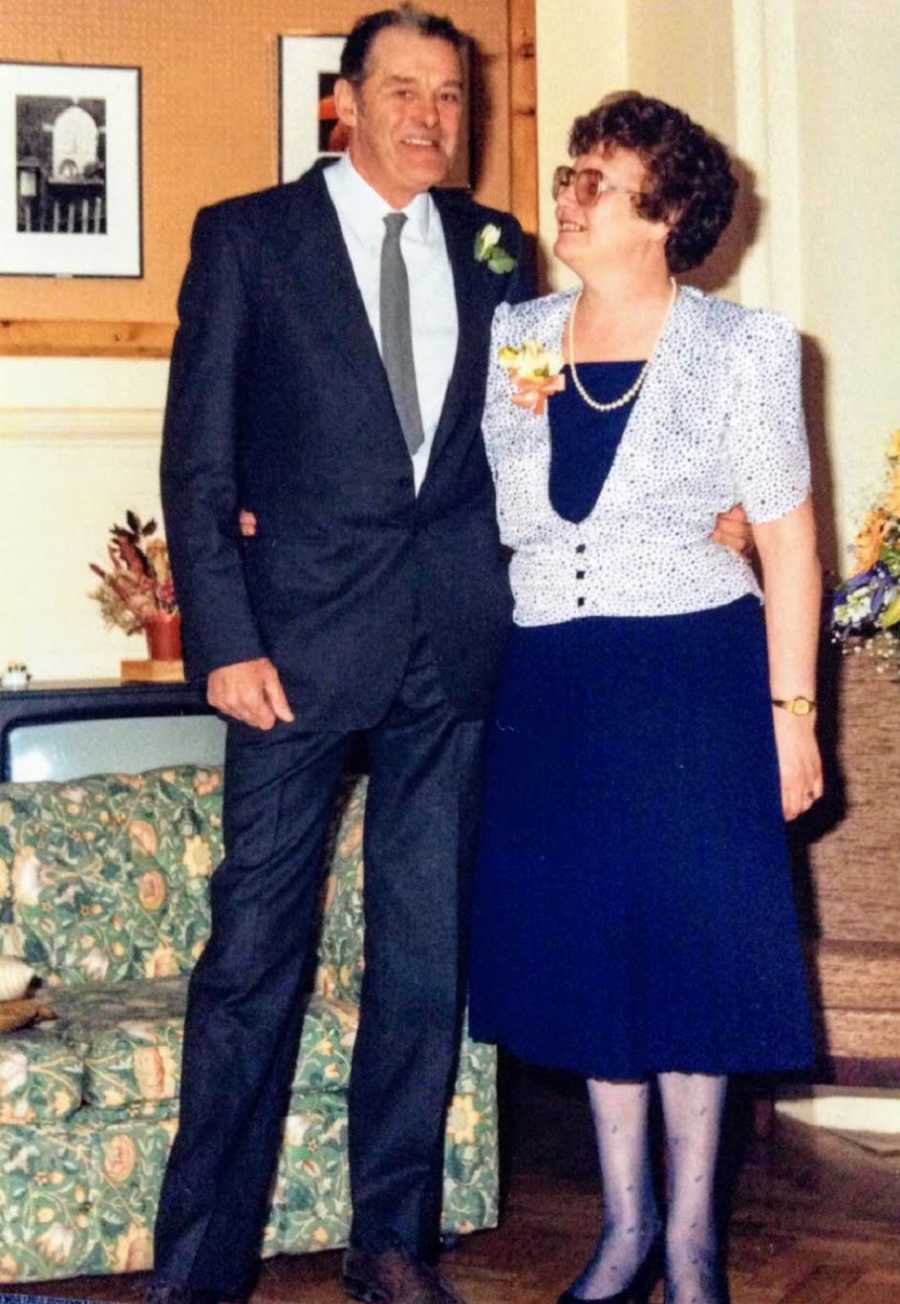 This story was submitted to Love What Matters by Hannah Liversidge. You can follow her journey on Instagram. Submit your own story here and be sure to subscribe to our free email newsletter for our best stories.
Read more touching stories like this:
'We moved out of state. It broke my heart to say goodbye to Grandpa. Life got busy. But I always knew that quiet man loved me.': Granddaughter surprised by homemade package from grandfather
'233 Bossler Street. I've written that address hundreds of times. I'll never write that address again.' Woman reminisces on unexpected 'last time' she'd ever visit her grandparents' home
Help us show that compassion is contagious. SHARE this story on Facebook with family and friends.