"It wasn't the prom we had planned, but it was the prom we needed…
This time last year, I was living a different life. I had the best husband in the world and I had four amazing sons. My two oldest boys, Jonathan and Christopher, were living on their own and working. Hunter was finishing up his sophomore year at college. My youngest son, Carter was graduating from high school and preparing to start his college career. My husband and I were looking forward to an empty nest and getting to spend time together. This time last year, I was happy.
Carter was also busy falling in love with a girl who had been one of his best friends for years. Carter and Kaylee were inseparable. They liked to watch Investigation Discovery Channel, 'Breaking Bad' and '13 Reasons Why.' They would go to dinner, spend time just driving around and go hiking. My husband and I loved seeing Carter in love. Kaylee gave her heart to Carter and he was careful with it. He respected her, worried about her, laughed with her and was quick with compliments. He was to Kaylee what my husband is to me.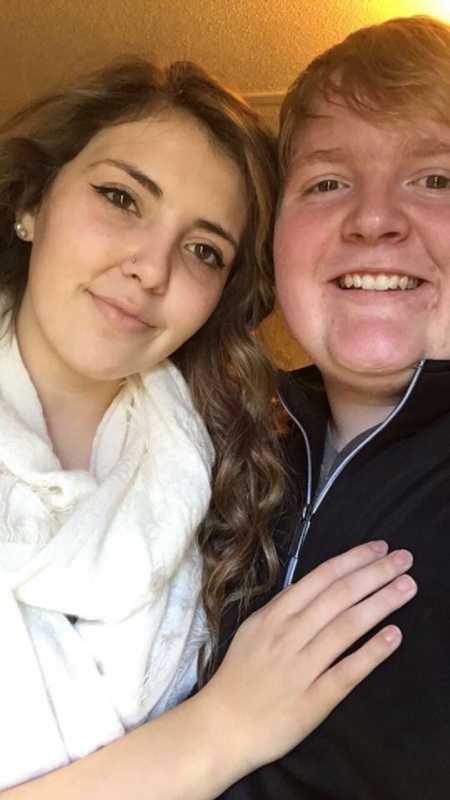 In the fall, Carter prepared to leave for college and Kaylee prepared to start her senior year of high school. I was nervous that Kaylee may not want Carter to leave, but she never suggested it. She was so proud of him! I loved her for supporting him.
On September 18, 2017 my world changed. My son Christopher passed away from an opioid overdose at age 24. I can't explain the pain of losing a child, but the best word I have found to describe the feeling is 'broken.'
Jon, Hunter and Carter came home immediately and for the next week we were surrounded by family and friends who held us up and loved us through the planning process. (I've tried to express to my friends, and I hope they know how much I love them and appreciate them holding me and my family in their hearts and arms.) Kaylee never left Carter's side.
We opted to have a Celebration of Life Service at our home to honor Christopher. I couldn't bear the thought of a traditional funeral. People shared stories about Chris. We all laughed and cried. The service ended with all of us planting a memorial tree. It was a beautiful day, and one of the worst days of my life.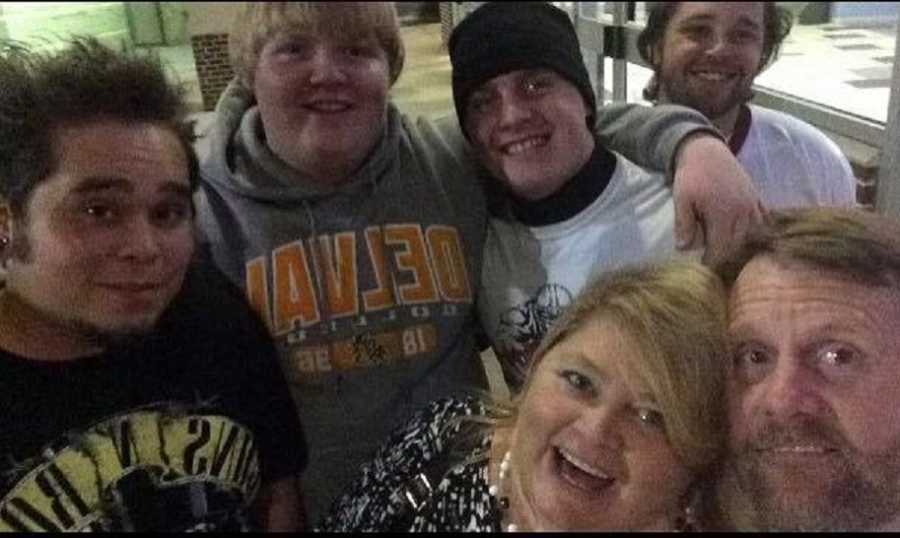 Our family and friends returned to their normal lives. Jon went home. Hunter and Carter returned to their colleges. I went to work every day, thankful for the distraction. I painted on a smile and people would comment on how strong I was. I would thank them, knowing that I was just pretending. Inside, I was broken.
My husband was on the football coaching staff at our local high school. Football season was in full swing, so he had that to keep him busy. I'm so thankful that he had that distraction to get him through, but it meant my evenings were often spent alone. I had been looking forward to emptying the nest and now I hated the silence that filled my home. I learned quiet equals crying.
Kaylee and Christopher's friend Emily started coming by unannounced to check on me in the evenings. Sometimes they would come together. Sometimes they would come alone. (I think it was during this time when Kaylee stopped being just Carter's girlfriend, but family.) When football season ended and Rob was home more, Kaylee and Emily stopped coming over as frequently. I can't begin to put into words what those visits meant to me. I don't think those two young ladies know how much I needed to be saved from the quiet.
Somehow we made it through the holidays. I tried, and failed, to make Christmas as 'normal' as possible for the rest of the family. Christopher's absence filled the house. I've vowed that no matter how much I have to scrimp and save, we'll spend future Christmases on vacation, anywhere but home. Being in the house where we had spent so many happy holidays together is too much to bear.
Gradually, Rob and I began to find a new 'normal.' We talked about our fear of losing each other in our grief. We promised to continue to love and support each other no matter what. We vowed to lean toward each other instead of pulling away in our own sadness. We started going out more and spending time with our friends again. I worried less about my other three sons than I used to. (After one was taken, I felt that the others were protected and safe.) I found comfort in knowing that Christopher was finally free from the depression that had haunted him his whole life. I even began to have real moments of happiness again, not just the 'pretend happy' I wore outside of my home.
Easter came and even though we could still feel Christopher's absence, we were able to have a good holiday. Carter came home with the news that he had been offered the externship in Key Largo, Florida, he had been hoping for. Rob, Jon, Hunter, Kaylee and I were all so proud of him and Carter was so excited! Carter and Kaylee were making plans for Kaylee's upcoming Senior prom. I began to believe we were all going to be OK again.
Two weeks later, Carter was coming home early in the morning to surprise Kaylee. He fell asleep behind the wheel and was killed in a car accident. When you lose a second child, 'broken' becomes 'shattered.' I kept saying there was no way I could do this twice. Our family and friends again dropped everything to love us through it. Kaylee started staying at our house and sleeping in Carter's bed. We planned another Celebration of Life service. Another tree was planted. I was sure there was no way I could ever begin to heal from this second blow.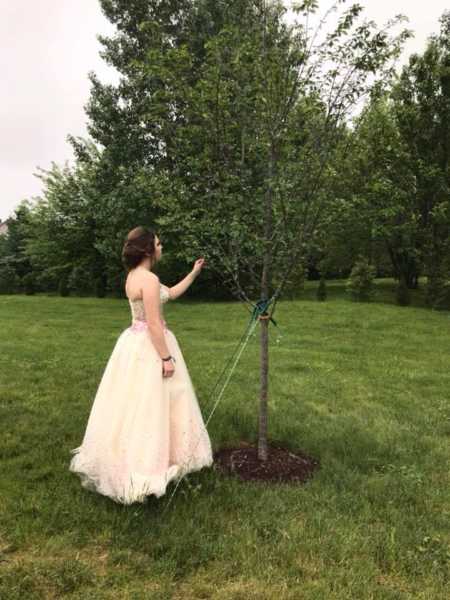 During that week, I heard someone ask Kaylee if she was still going to go to her prom. She responded that she was just going to skip the whole thing. Later, I mentioned to Rob how sad I was that Kaylee wasn't going to try and go. She had bought her dress months ago and had really been looking forward to going. I knew that Carter would have wanted her to go. Rob immediately responded with, 'I'll take her if she'll let me.' Rob called the principal of the high school and was given permission to escort her.
Rob waited a week or two before he asked Kaylee if she would allow him to take her to her prom. Tearfully, she accepted his invitation. None of us knew how much this prom was going to affect us. We certainly had no idea that it would impact others.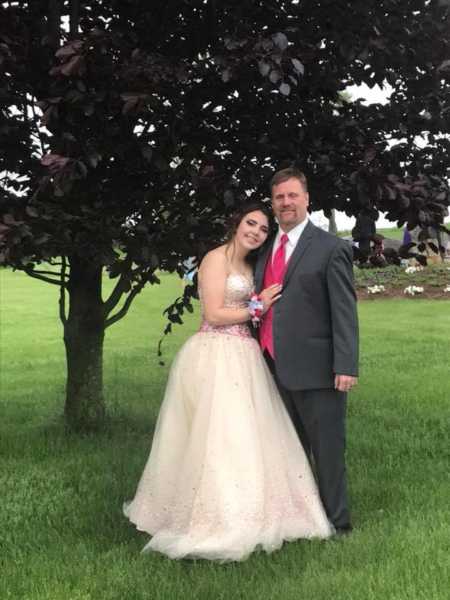 We set about preparing for the festivities: Kaylee made hair and make-up appointments. The three of us went together to pick out Rob's tuxedo. With tears in our eyes, we explained to the staff why my 50 year old husband was attending a high school prom. The wonderful men in the store carefully helped us choose the best colors to go with Kaylee's gown. Rob washed Carter's car so they could arrive to the prom in style. This little dance gave all of us something to look forward to! And we knew that Carter and Chris would approve.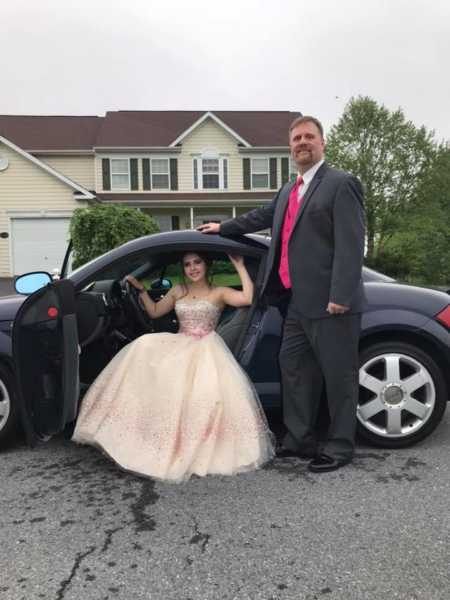 The day of the dance, Kaylee spent all day getting ready and she was stunning! Rob and Kaylee drove off in Carter's car and had dinner at the restaurant where she and Carter went on their first date. When they arrived at the prom, Hunter and I were there with Kaylee's mom to take pictures and we weren't alone. Many of Carter's and Kaylee's friends were also there to snap pics and cheer them on. We all joked that Rob was confused and thought this was a Senior CITIZEN Prom. With Kaylee holding Rob's extended elbow, they went into the dance. I haven't seen any video proof, but I hear they were tearing up the dance floor!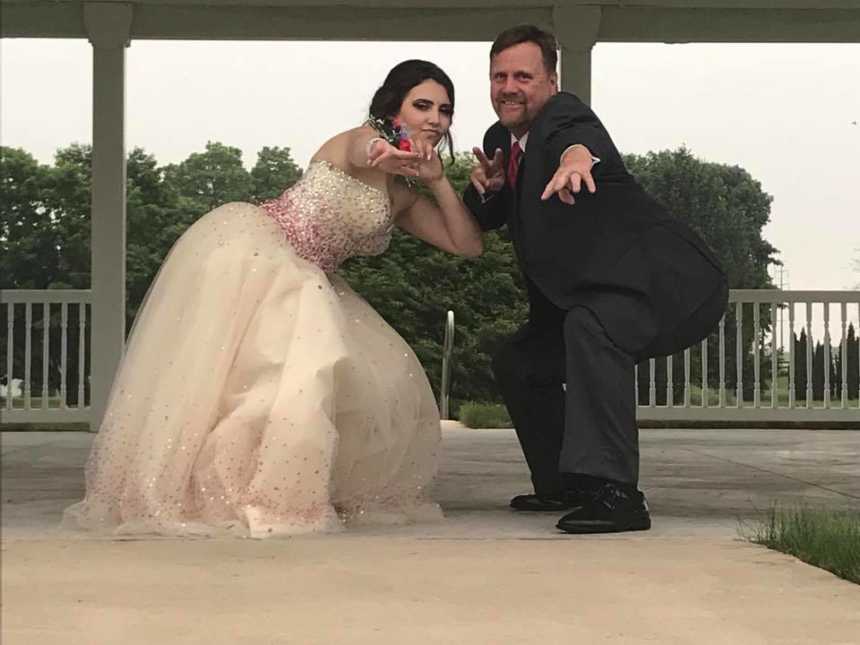 I went home and posted pictures to my Facebook page like I have done for every other prom. The response was tremendous! It has been liked and shared and covered by media outlets all over the world. We have all been contacted by strangers from all over who just wanted to let us know that our story has touched their hearts. They've offered words of encouragement, support and love. What we have received is strength to move forward.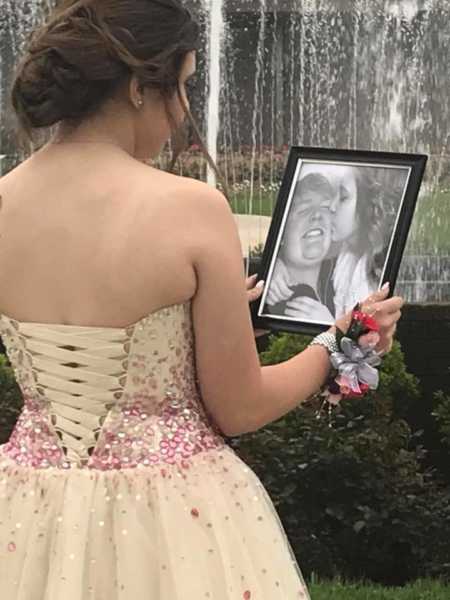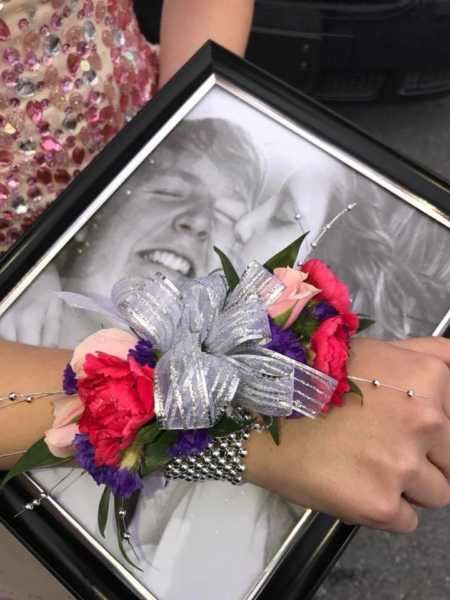 It wasn't easy for Rob to dress in the tux that Carter should have been wearing. It wasn't easy for me to order the corsage that Carter couldn't place on his girlfriend's wrist. Watching Kaylee walk into the prom without Carter was heartbreaking. But this was something Rob and I both knew Carter would have wanted for Kaylee.
I've learned from this experience. I've learned that when you do something that's hard out of love for someone else, you gain strength. And I've been reminded that I still have the best husband in the world. This wasn't the prom we had planned, but it was the prom we needed."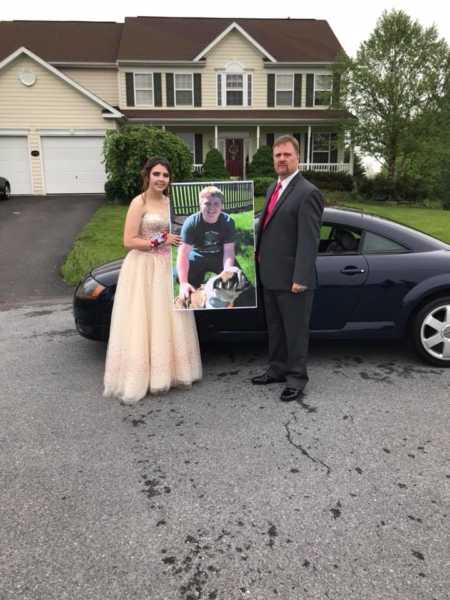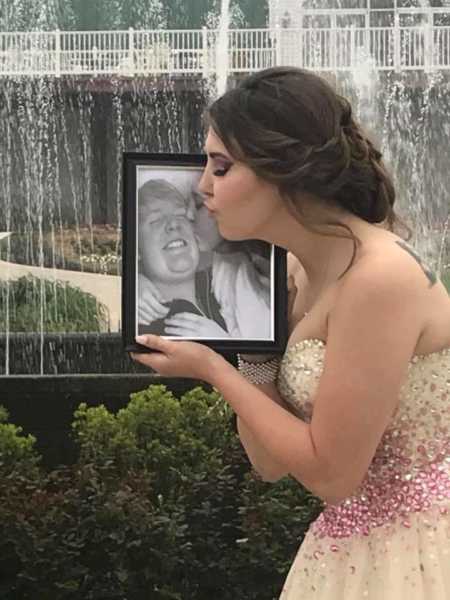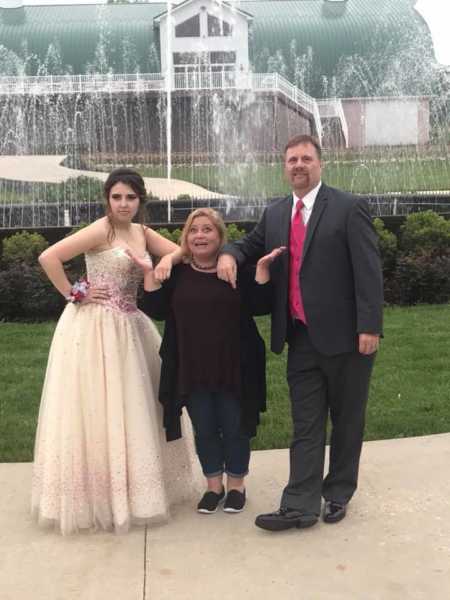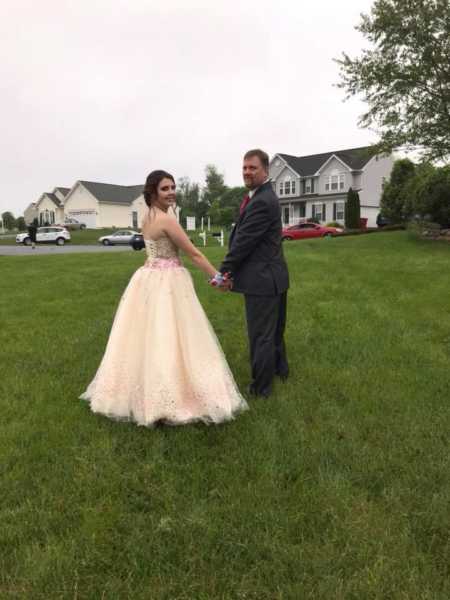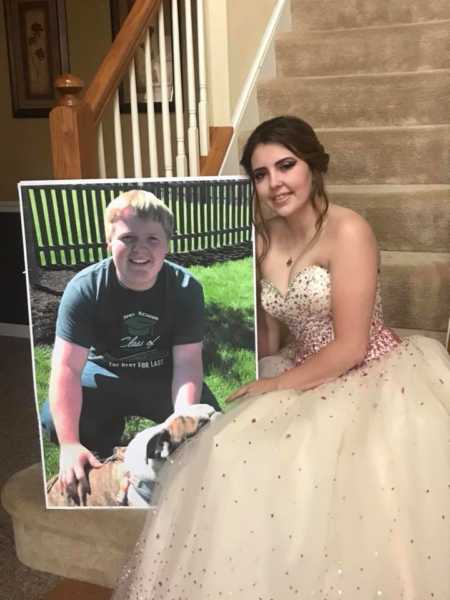 This story was submitted to Love What Matters by Kelly Brown of Mercersburg, Pennsylvania. Submit your own story here, and subscribe to our best stories in our free newsletter here.
Read more stories like this here:
Brother Designs, Hand Sews Dress For Sister's Prom When Family Can't Afford To Buy One
'Didn't think prom would be breaking it down in the cheese isle of festival foods with my father, but it was a good time.': Father treats daughter to fun night after missed prom, 'We can't make up for their losses, but we can love them through it'
'I had to remind my son whose prom has been postponed, 'It could always be worse.' School was their haven. It was their happy place.': Mom asks others to not lose their perspective, 'It could always be worse'
Provide beauty and strength for others. SHARE this story on Facebook with your friends and family.