"I am a mom of 4 kids under the age of 10. As a parent I am constantly trying to encourage my kids. In our house our motto is, 'If it isn't motivating, encouraging or inspiring, don't say it.' My hope is the words I use to inspire them stick with them when the world isn't so nice. This year is my oldest daughter Audrey's first year in middle school. She can be really shy, and like all middle schoolers was nervous to start a new school.
Today when I was taking Audrey to school we were early, so instead of dropping her off at the corner like I usually do, I took her to parent drop off.
When we pulled in to the school she said, 'Oh no! I forgot I like you dropping me off at the corner, so I can talk to the cute, little old man. And today I would have had more time!'
'Who's the cute little old man?,' I asked.
'He stands at the steps where you drop me off and encourages all the students as they walk in. He talks about kindness, gives us advice and fist bumps! It's the best part of the day.'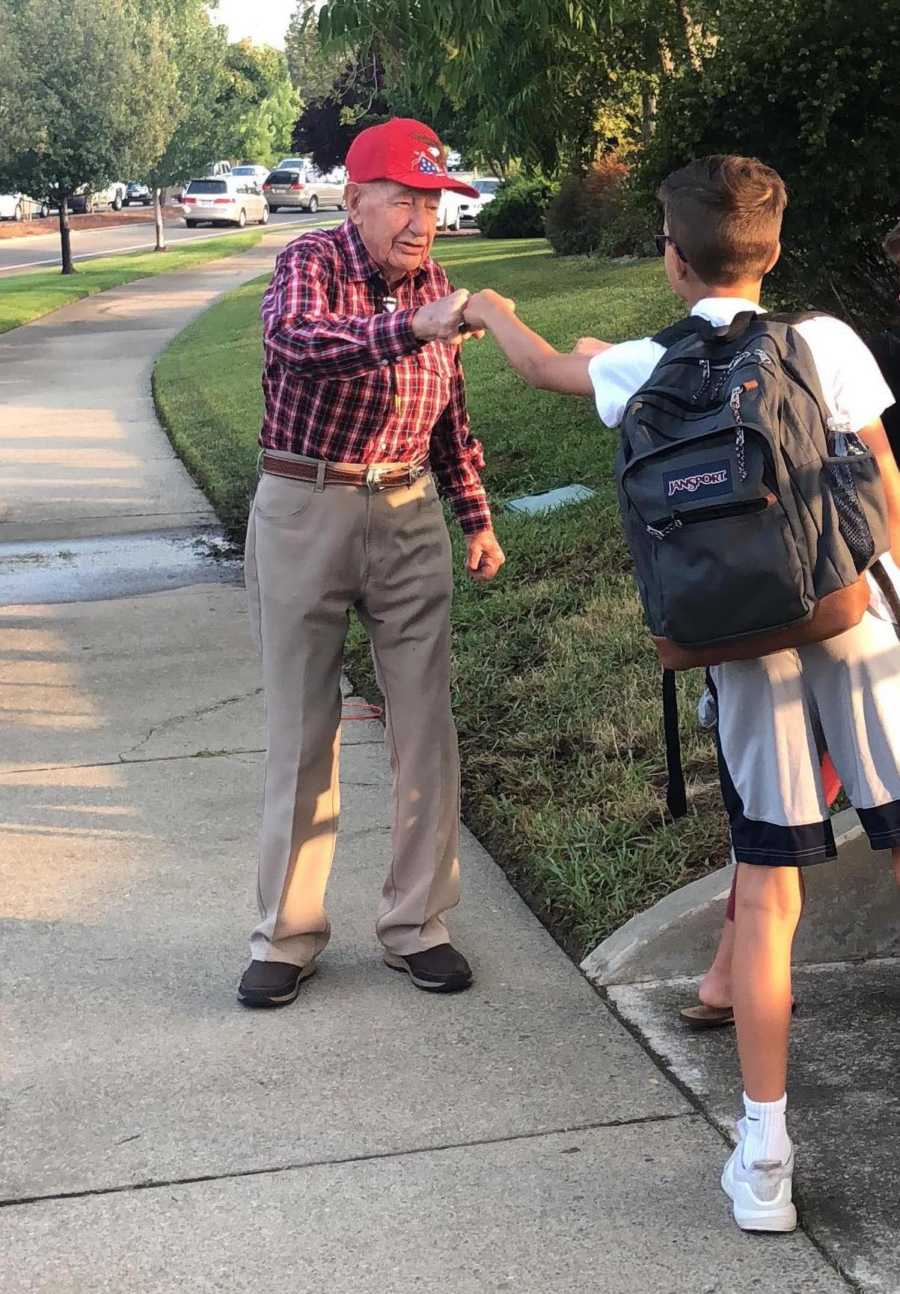 So, when I drove by I saw him, and my heart literally burst. This is exactly the kind of love and support our middle schoolers need. This man stands outside the school every day and gives the gift of encouragement to every student that comes near him. Come to find out, his name is Wally, he is 94 and he has been doing this for years!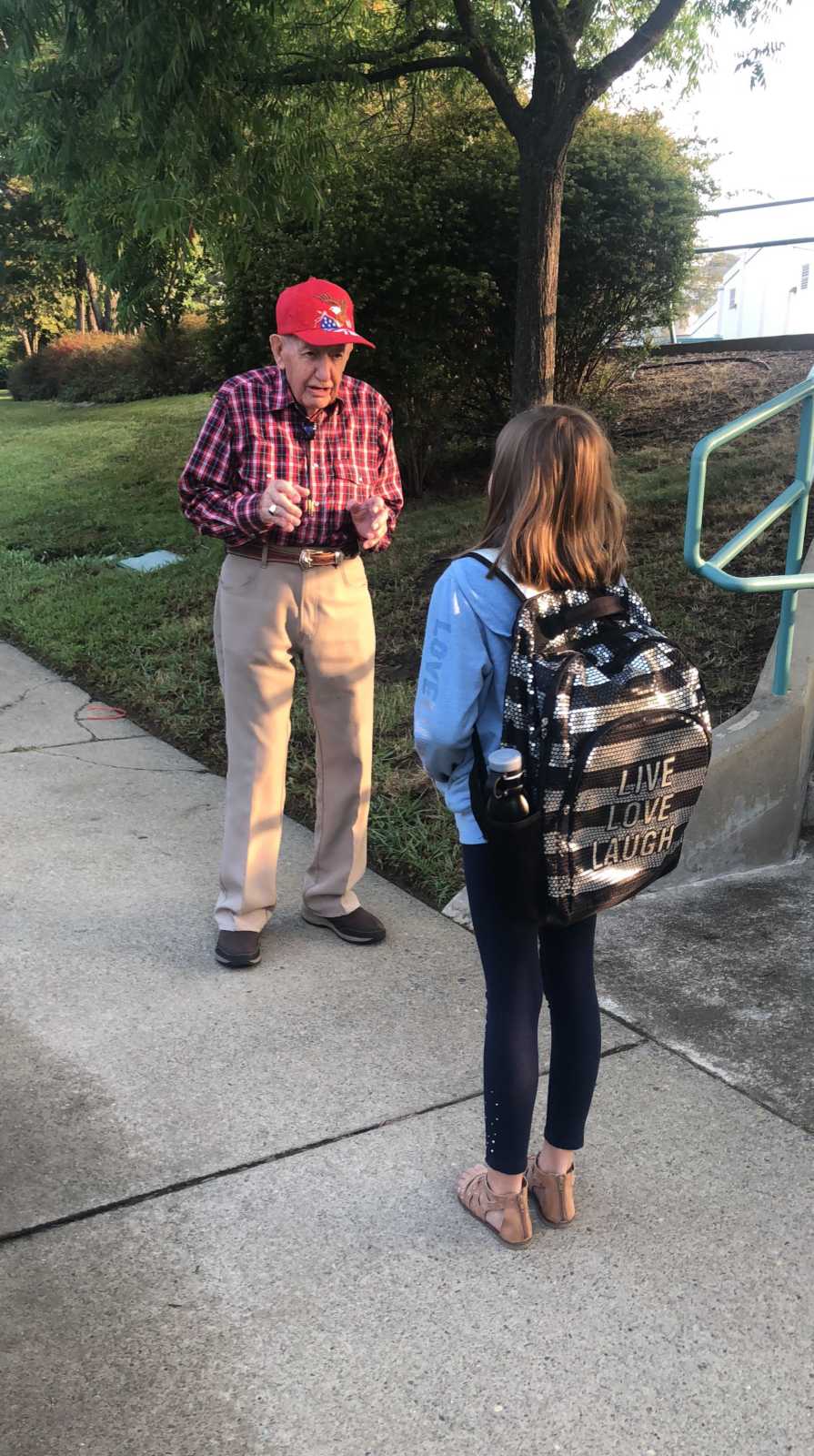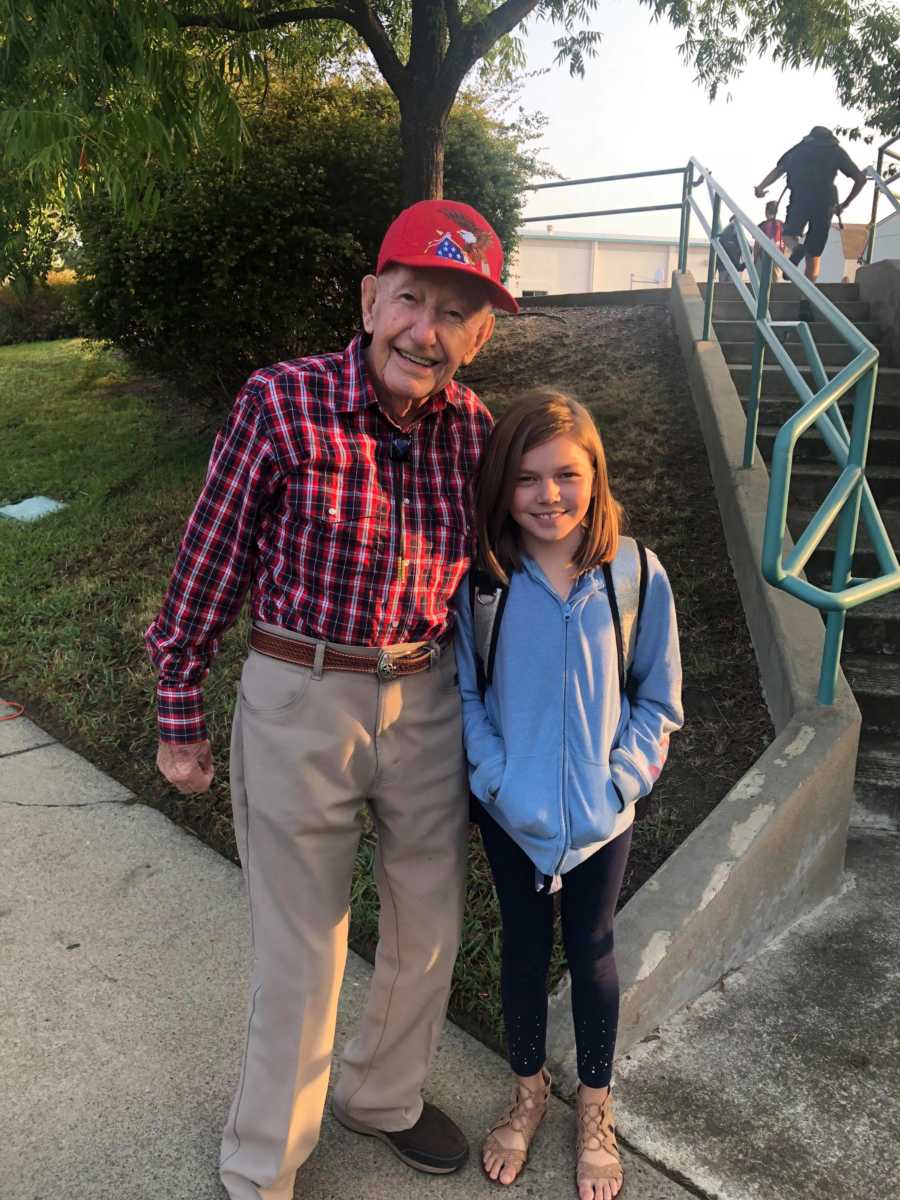 For a parent, knowing you are doing the best you can, having a person like Wally reiterate the love you have for your kids is very encouraging. As I sat there listening to what he was telling the kids, most of them were able to recite those sentiments back. You know he is making a difference because the kids ARE listening to him. Hopefully as they move along their day they remember those words and make better choices than they would have if they hadn't come across him. I think if there were more Wally's in the world, it goes without saying the world would be a better place.
This is what I saw this morning. I was lucky enough to catch one of his infamous fist bumps!
I strive to be like this guy as much as possible…we all should. My day has officially been made!"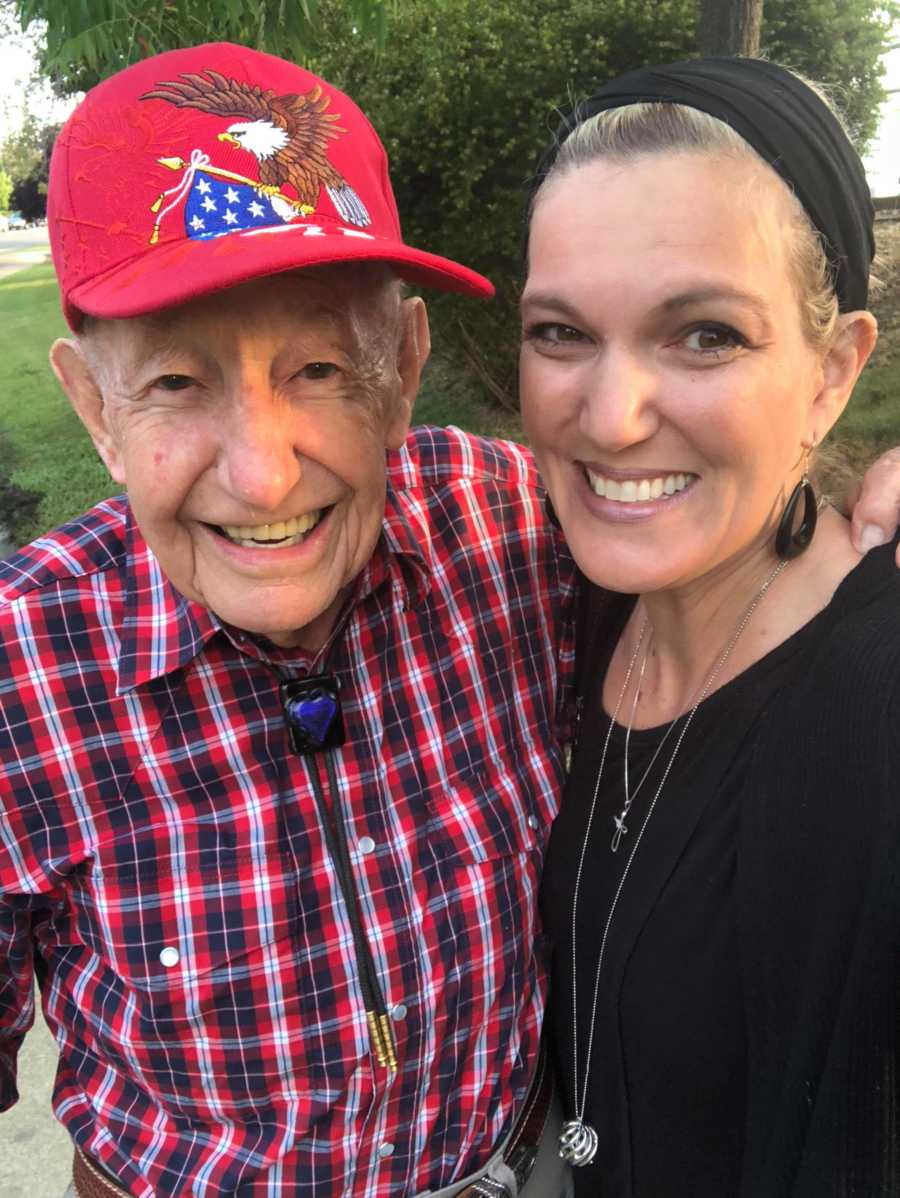 This story was submitted to Love What Matters by Gina Michelle of California. Submit your own story here, and subscribe to our best stories in our free newsletter here.
Read more stories like this here:
'I asked Audonte what he wanted for his birthday. 'Just some cupcakes.' Every day, he's at the park by himself.': Mom shares act of kindness for wandering boy at park, 'It takes a village'
'Late-night milk run, huh?' I was standing in front of a tired momma in Target just before closing. 'Go get that precious baby to bed. I got you.': Woman shares act of kindness for stranger
'My husband owed the store 53 cents. The cashier reached into her pocket and said, 'Nope. It's okay. I've got this.': Woman details stranger's act of kindness, 'There is no act too small this week'
'He hands me a check and I walk out to the car and see he put 'Kate.' I cried. I looked back and really looked at him. So tiny and frail. I told him I preferred 'butthole.': Woman shares 'drive-thru friendship' story of kindness, 'I really miss him'
Help us show that compassion is contagious. SHARE this touching story on Facebook.