Disclaimer: This story contains details of pregnancy loss which may be triggering for some. 
"This is pregnancy after loss and infertility…
I had every intention of sharing my journey as it was happening this time. I was determined to enjoy every moment with this little one. I knew I was pregnant a week before my beta so I went to my grandparents after my blood test to be there when I got the official call. I wanted to tell them in person before I started sharing with the world.
But then, every time I went to share I just couldn't. It wasn't like I thought it was a jinx. I don't think a post on Instagram is going to make me lose my baby. It's that trusting my own happiness is a whole mess of memories and emotions. Memories of countless scans where I was told my IVF cycle would be cancelled or the outcome was poor. Memories of waking up from procedures, in pain, to be told the results were not what I'd hoped for or expected. Memories of phone calls to say my embryo's hadn't made it or that my IVF cycle had failed. Memories of negative pregnancy tests or two fading pink lines. Memories of scans where there was no heartbeat. Memories of hospital beds and surgeries where I woke up no longer pregnant.
We view the world through our past experience, and for over three years, my experience was bad news, failures, loss and heartbreak. So trusting that this time will be different was hard. You also want to protect yourself from the pain that has so often threatened to destroy you. Somehow your brain tells you if you don't get 'too happy' it won't hurt as much – which is wrong, it still hurts.
I finally got to 13 weeks. I was in the 'safer zone,' every test had been perfect every time. I was super excited to post my announcement. My friend made me a onesie, and I'd been planning to use the hearts I bought two years earlier. I'd ordered the ultrasound photos. I took the photo. I opened the app to post, and instead of pressing the button, I burst into tears and sat on my living room floor crying. I let myself cry. I went back to work and then tried again a few hours later. And it was all ok – the love and support I have received has been incredible.
You want so desperately for this to work, for IVF to give you your miracle baby or for you to carry a baby to term. While getting to hold your healthy and thriving baby at the end is the goal, there are a whole lot of experiences that come with being pregnant – like the delight you feel when you see the two pink lines, the excitement in going to your first scan and planning fun announcements with family and friends. When you've struggled with infertility and experienced loss, those things aren't fun and exciting, instead they invoke fear. For those straddling this line between being thankful and happy for this chance of achieving dreams of parenthood, and terror of waking up one day to the pain and loss they've felt before, there's a new loss they must experience… 'the normal pregnancy experience.'
This journey is hard… If you're still waiting, I see you. If you're going through loss, I see you. If you're living in fear of the next scan or appointment or even each trip to the bathroom, I see you."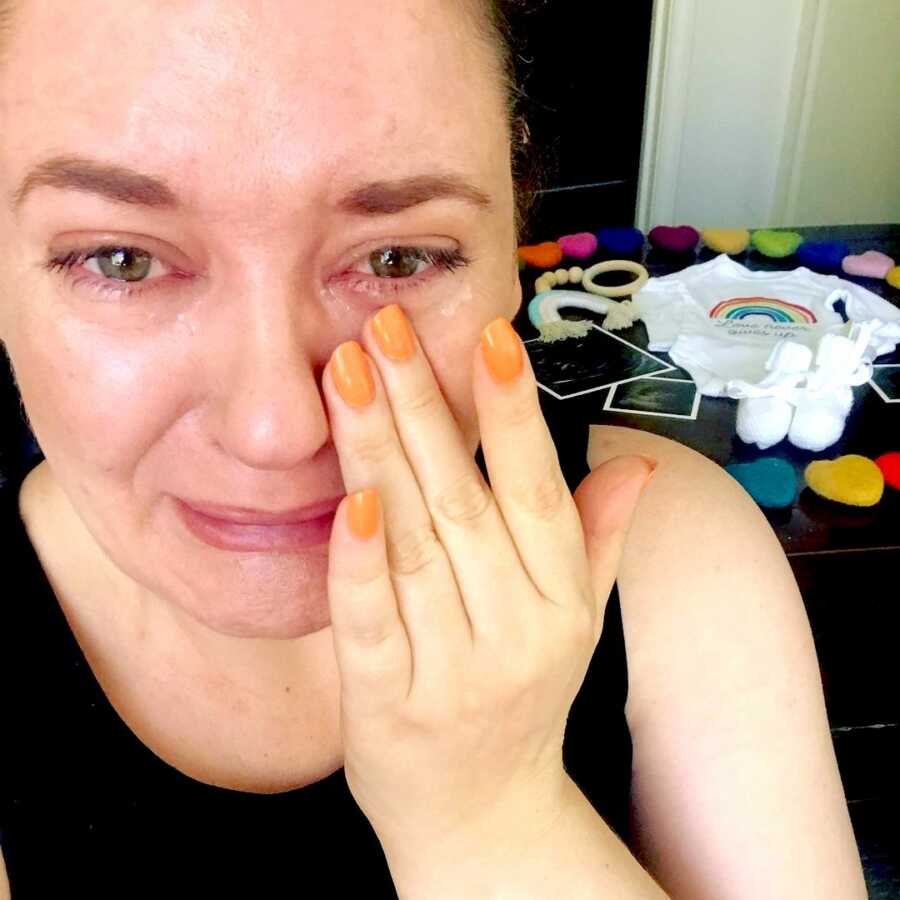 This story was submitted to Love What Matters  by Just A Little JoJo. You can follow her journey on  Instagram, Facebook, Pinterest, and her website. Submit your own story here, and be sure to subscribe to our free email newsletter for our best stories, and YouTube for our best videos.
Read more stories like this:
'I was heartbroken. I'd cry in my sleep only to be shaken awake. It was one of the hardest things I've gone through.': Mom shares what she wishes she knew before pregnancy with rainbow baby
'After 6 miscarriages, 9 IVF transfers, 15 embryos, and 5 egg retrievals, my best friend offered to be our surrogate.': Couple take home 'rainbow baby' after several years of battling infertility
'I would be doing you a huge disservice to let you move forward.' I felt like my whole body was numb.': After tumultuous infertility journey, mom welcomes twins, daughter
'Only 2 weeks after Rosie's due date, we discovered we were pregnant. I had to embrace my beautiful son, while holding Rosie in my heart forever.': After loss of daughter, mom braves difficult rainbow baby pregnancy
'His eyes wouldn't leave the screen. 'I'm so sorry.' I barely heard him. My body betrayed me.': Woman discusses pregnancy fears after loss, 'This baby is not a replacement'
Provide beauty and strength for others. SHARE this story on Facebook with your friends and family.