"It was a hot day in the summer of 2013 when John found us. Patrick was out front on our porch, when he yelled for me to come out. It was the first place we ever had together, a townhouse in Fairburn. It was kind of a rougher area than where we live now, but we were young. We had adopted June about a month ago; she was still a tiny puppy, maybe 8 weeks. 
I walked out the door to see a very large red dog wandering in our street. I called for him, he turned, and like a movie, he ran right up to me, smiling big. 
He didn't have a collar. He was huge, probably 100 pounds back then. He had rope burns around his neck, his tail, his ankles… the scars never did go away. His nose was covered in cigarette burns. His ears had holes in them, presumably made by another dog biting him, and gnats were crawling all over his bloody and infected wounds. 
In good faith, I could not just leave him. I brought him home, and while he seemed sweet, you have to be cautious when bringing a large dog you've never met to your house. There were no rescues and I knew a shelter would just euthanize him. Patrick and I agreed we'd clean him up, get him his shots, get him fixed, and then find him a home.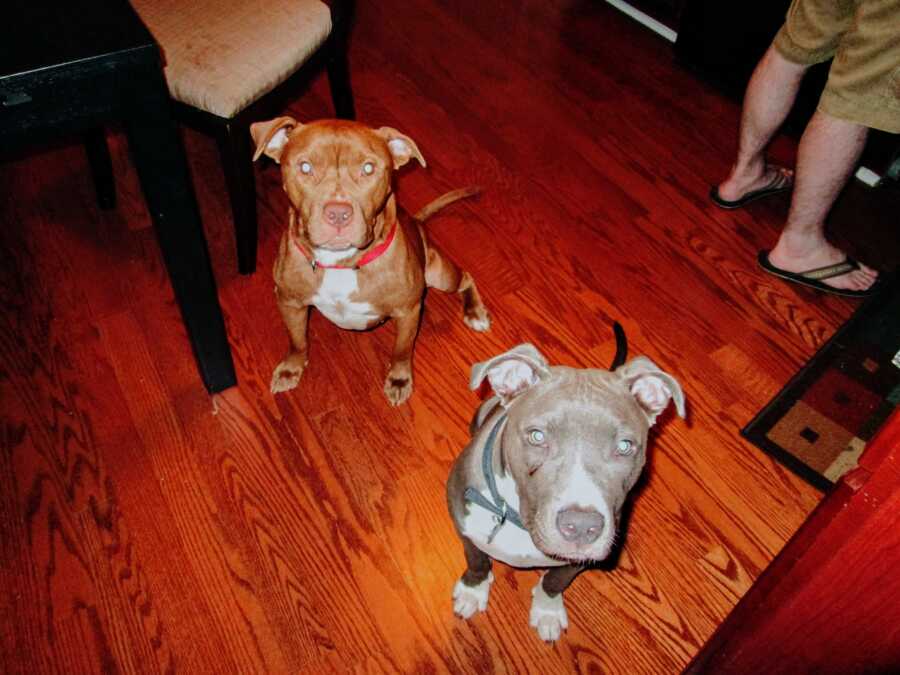 It was quite apparent he had never been in a home. One day, I found him sitting on a nightstand. He once jumped through a screen in a window to 'let himself out.' But he grew on us, especially June. And it seemed clear that his name should be John, of course. Just like Johnny Cash and June Carter. 
In the process of getting him vetted, we were informed he had heartworm and that it would be deadly without treatment. The treatment would cost thousands and without it, he most likely would never get adopted out. That's when Dr. Billy Watts offered to do the treatment at no cost. And after all was said and done, John was cured, and we made the decision to keep him. He was our dog now.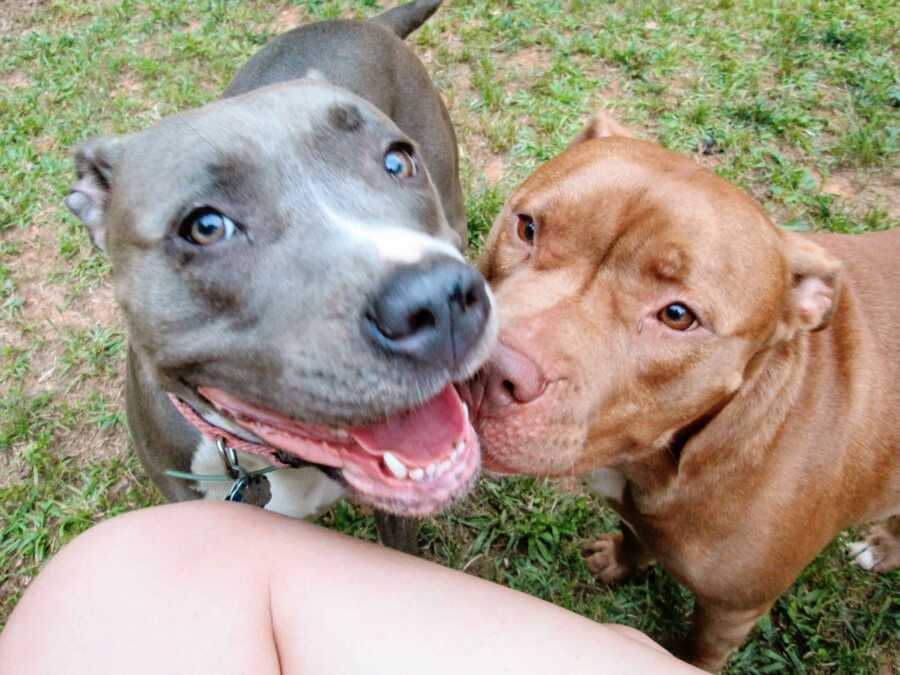 In his youth, he was quite the handful. He ate a remote and a windowsill. He once peed on Pat's side of the bed and his recliner. But all was forgiven when Riley would stay with us, because John babysat him as if it was his own child. The nights Riley was with us, John would do nightly laps to check on sleeping Riley often. They were best friends. And Riley said he was the most faithful dog he had ever known.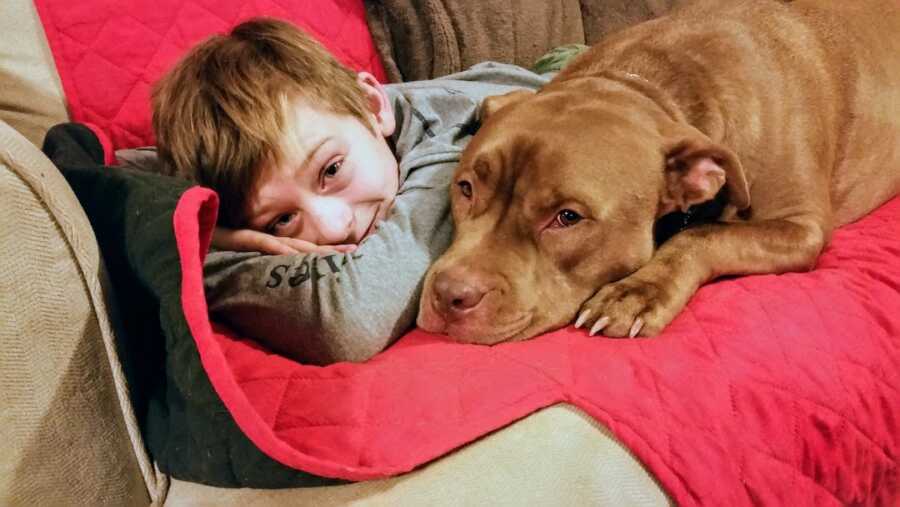 When we moved to our new home, John and June became even closer. They'd often gross us out with their licking sessions, and they were always together. He made her calmer and she gave him love, and they became like an old married couple.
When we gave birth to Georgia, we were understandably nervous to bring her home. We've heard horror stories of family dogs turning on new babies, and with all her health issues, we weren't sure how they'd react. The first night, John climbed onto the couch and stuck his nose into the bassinet. He was in love at first sniff.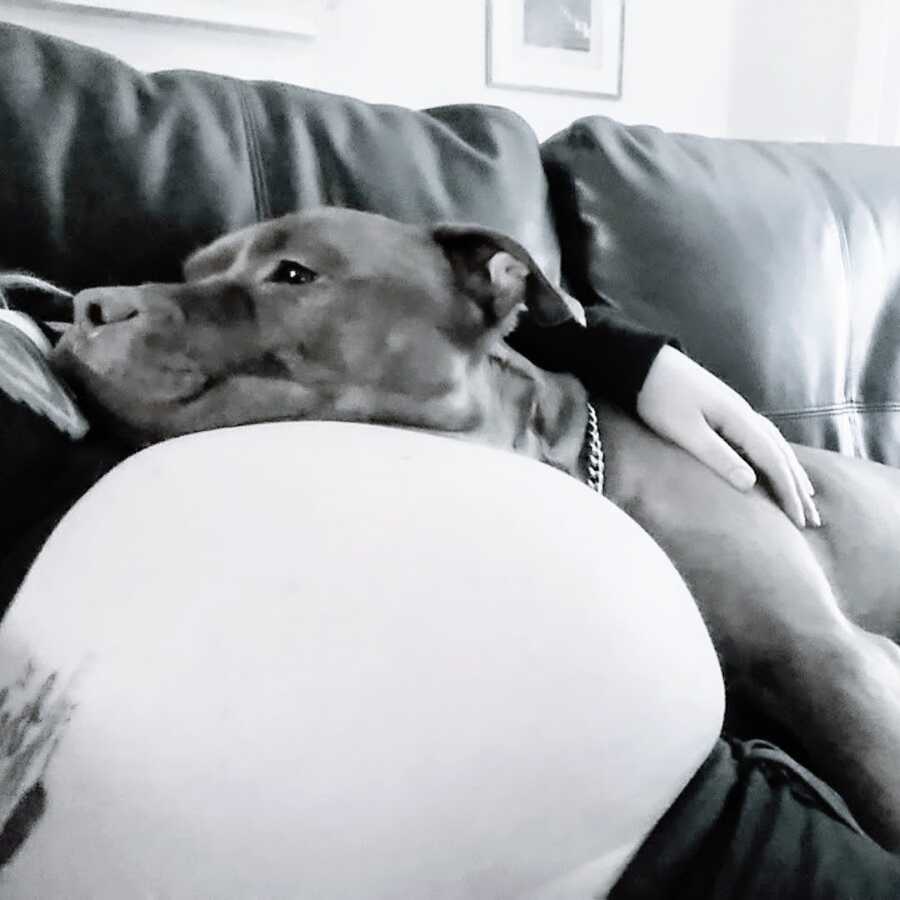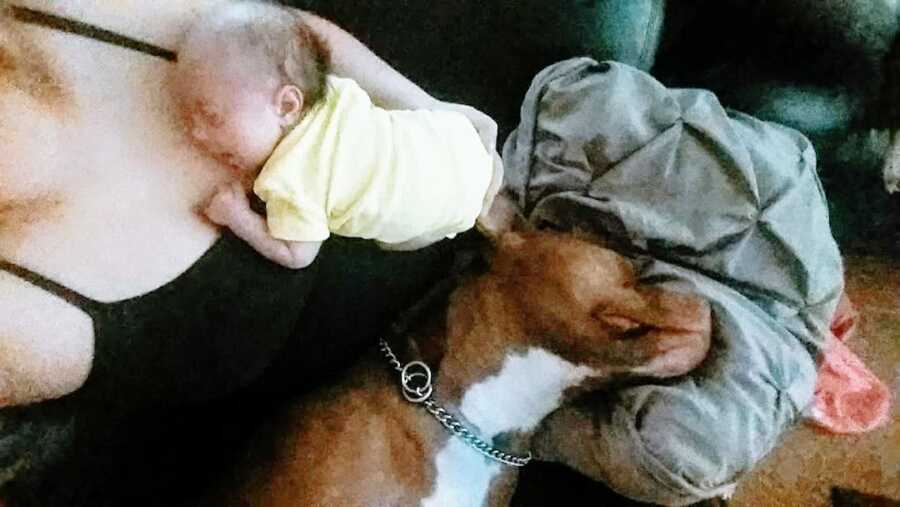 Georgia was his girl. And he was her good boy. He slept next to her every single night until Pat came home from work. He was her shadow in every picture I took and he often was fussed at for licking her too much.
One night, as Pat and I were watching TV, he suddenly got up and ran into her room. Not even a second later, her pulse ox started to alarm. And when we put her bed on the floor, he would come to go outside, use the potty, and run back to her room as quickly as possible. He loved her so much.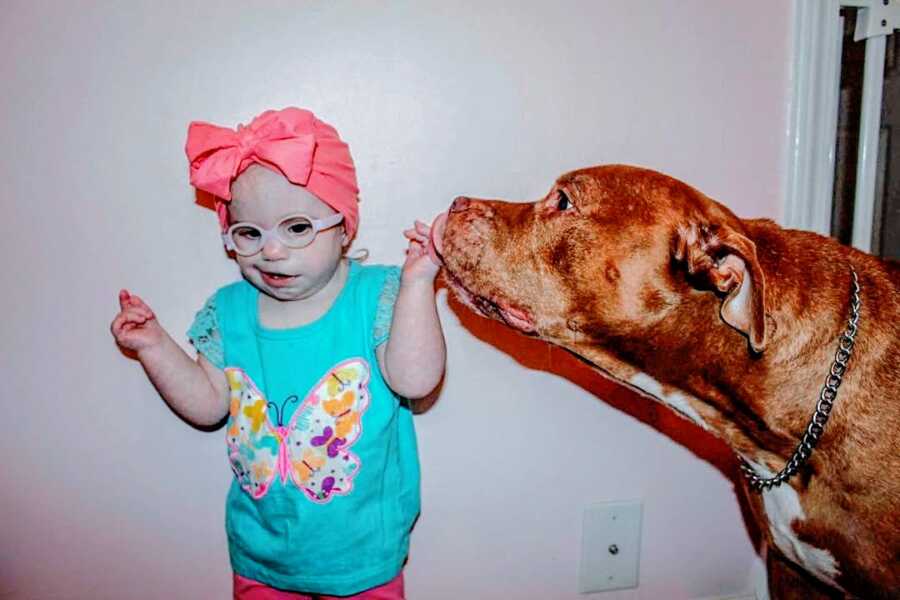 And he still doted on the boys… even though they had turned into reclusive teens. He'd sit outside their bedroom or the playroom, whining to be let in. He loved so much, it was like he couldn't control it, and he would sit on your lap and lick you down if you let him. 
We joked that if an intruder ever came in, he'd wag his tail and ask for them to pet him. He never met a stranger. And every person who ever met him fell in love with him just like we had. He was kind and loving. He was loyal beyond words and protective. He had a certain gentle way about him too, in spite of his huge stature. He seemed to know immediately what your heart needed. 
And he always knew what I needed. When I would cry, he would run to me. If I yelled, he would get upset. He was the dog who slept at my feet every night. He was the dog who would follow me into the bathroom. He was the dog who would get mad at Pat if he was too playful with me, and also the dog who would get very upset if you ever tried to wake someone up from a bed.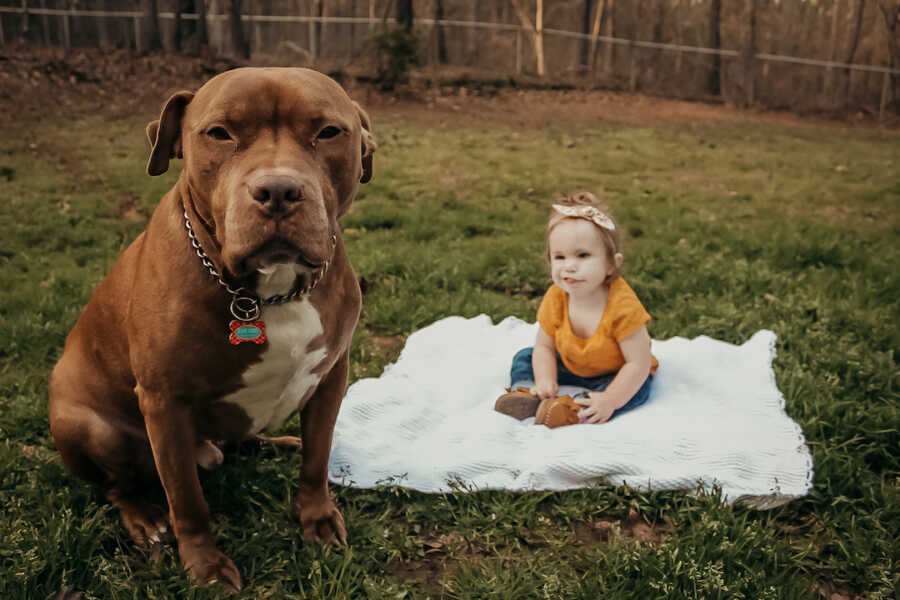 He was the definition of a good boy. The perfect dog. And when we brought him into our home, we had friends tell us we were crazy. 'He may bite your kids! You never know with pits!' But that wasn't him. He was the nanny dog. He would 'watch' Georgia for me all the time. He would let the boys lie on top of him. He loved hugs and he loved to kiss. And as he got older, he became my sweet old man.
When Dolly entered our lives, it was chaotic at first. June isn't always a huge fan of new dogs in the house. But one day, I was watching John out there with Dolly… teaching her how to play, where to sniff, and I became choked up. What if he knew his time was near, and he was teaching her to be his replacement? And I do… I do think he knew he was getting close.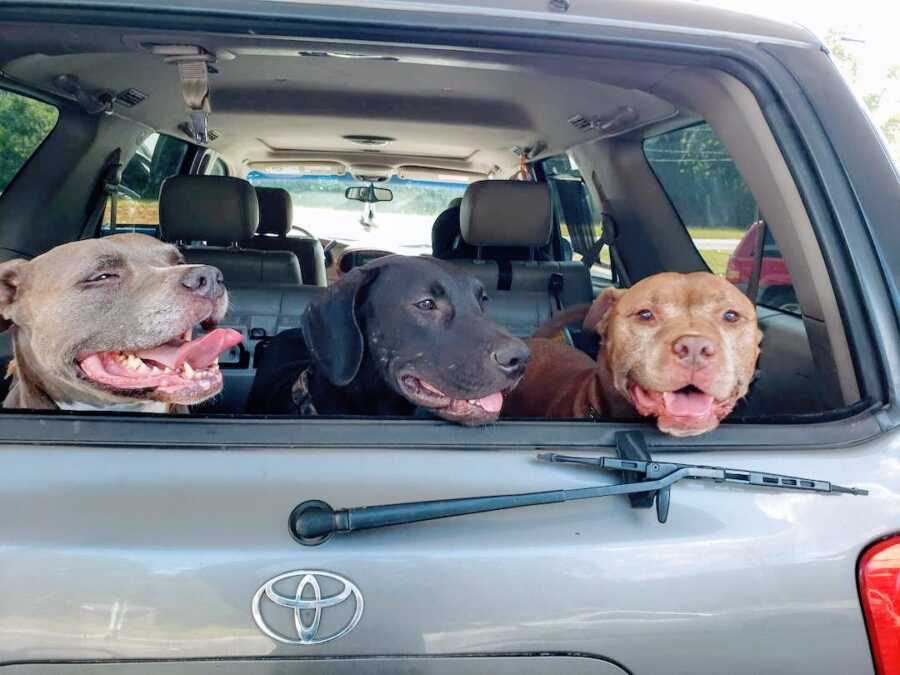 Last night, John went to a corner of the yard and wouldn't get up for hours. Pat went and got him, and although he obviously was in pain, he made his way into the home. They say dogs go and find a comfortable, safe place to die. Well, he went straight into Georgia's room and laid next to her bed. I knew something was wrong, and as I asked Pat to help me get him in the car, he vomited. 
The doctor said John had a tumor on one of his internal organs that ruptured and filled his abdomen with blood. And although we had caught it early, the only option would have been an incredibly risky surgery he may not survive. She said it was very likely they would find more tumors when they went in, and if so, they would euthanize him on the table. Even if the surgery was successful, this type of cancer was so aggressive, he would only have maybe six months to live. 
I felt like it was my dad all over again. 
I wasn't ready. It was too soon. But I think he knew I was getting better and that Georgia would have Dolly to look after her. And the boys are grown now… his job was done. He loved us and protected us as long as he could. And it was now my turn to be strong for him.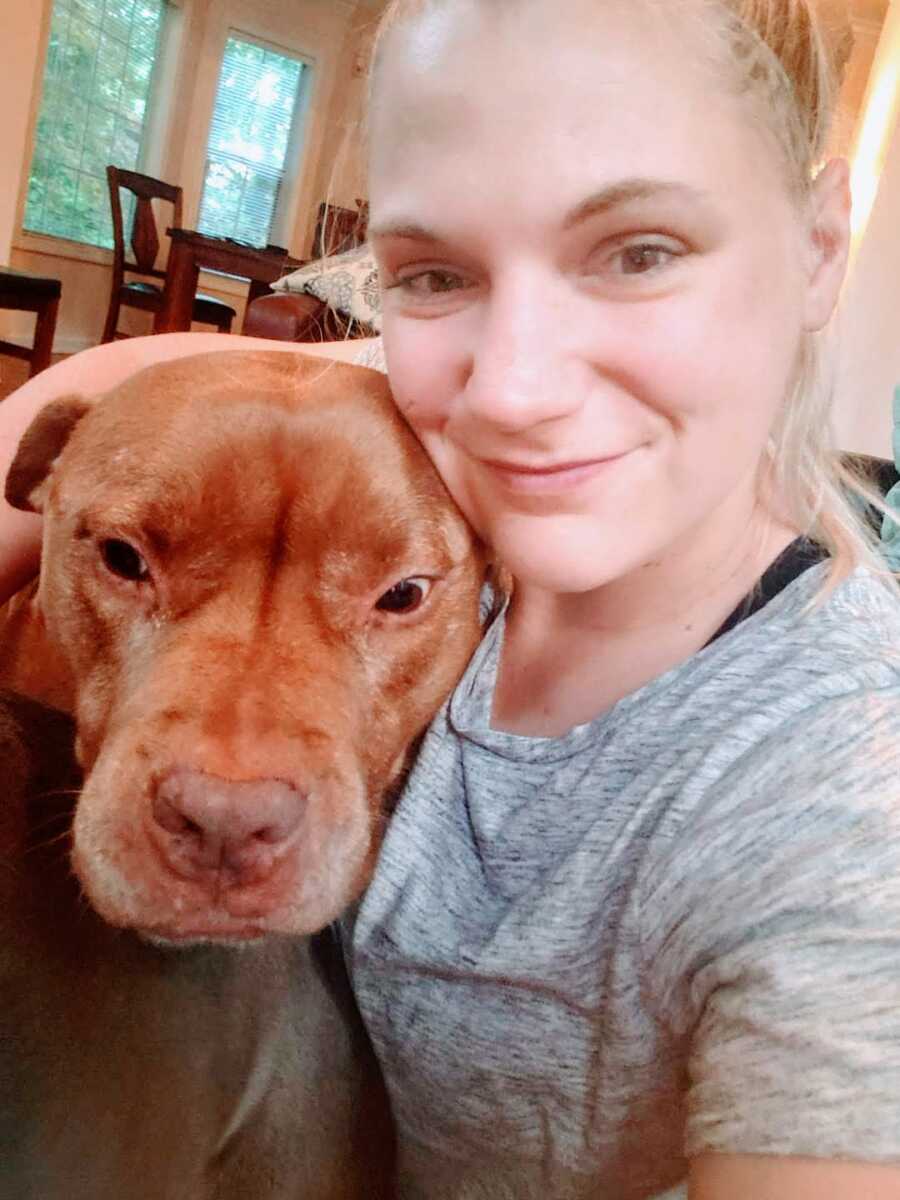 He wasn't awake for long when they brought him to me. He could barely lift his head, but he did, to rest it on my arm. I held him and I told him that it was okay. He was a good boy and we would be okay. I asked if he was tired, he rolled on his side and began to snore. I knew it was time.
I know this was long. And I know to some people 'he's just a dog.' But to us, he was our family member. For nine years, that sweet boy was at every Christmas and licked every tear. He took care of our babies and loved every guest who ever entered our home. He even got to be Dr. Watts' greeter at the vet office for a little while when he was being boarded. He was the older dog in Homeward Bound, leading, teaching and showing how a dog should act. He chose us, and we did everything we could to make sure that dog lived an amazing life. 
He was more than an animal. He was more than a dog. And he is already so missed. I can't cry enough tears it seems. And telling Georgia this morning that her ever present guardian wasn't going to be here anymore, gutted me. 
So hug your fur babies tonight. Give them the extra treat. And when you go to add another to your home, rescue and adopt. Don't ever judge a book by the cover. John was proof of that every day."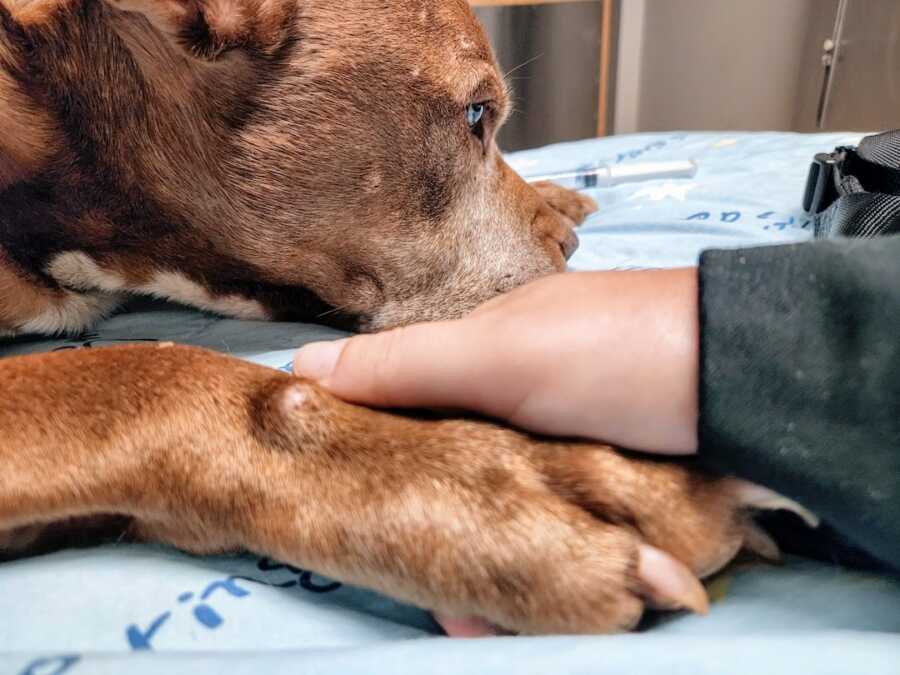 This story was submitted to Love What Matters by Kimberly Minor of Newman, Georgia. You can follow their journey on  Instagram and Facebook. Submit your own story here and be sure to subscribe to our free email newsletter for our best stories, and YouTube for our best videos,
Read more from Kimberly here:
'Your daughter tested positive.' I asked, 'What does this mean for her?' The reply? 'You can Google it.' I was HYSTERICAL, but we didn't give up.': Woman becomes advocate after daughter born with Trisomy 18
Read more stories like this:
'Today, I found your hair.': Dog mom shares heartfelt moment of grief in wake of losing young pet to cancer
'He kicked through the glass, unlocked the bolt. He cornered us. Too beaten to fight, I went cold and numb.': Dog rescues 2 women from domestic abuser, 'Dogs aren't just man's best friend, they're our heroes'
'A 3-legged dog and a one-armed wife? We even each other out!' Sandy was always meant to be mine.': Woman with anxiety disorder, limb difference finds 'angel' therapy dog
Spread beauty and strength for others. SHARE this story on Facebook with family and friends.