"March 18th, I began to feel ill…I had just been diagnosed with the flu on March 5th and started to feel better until this hit. I was worried because I just felt off, and my ear and throat started hurting. I tried to ignore it because it wasn't bad enough to raise concern. I have seen the stories of the mask shortages and I am mortified knowing how important they are when working with TB and how strict the literature was regarding safety. On March 22, I woke up super early to go to HEB to get eggs and necessities. I came home and had a horrible headache, sore throat, and ear pain. I stayed in and took over the counter meds for the rest of the weekend. March 21st, I went to the urgent care I told them I felt like I had strep, but a little different than normal symptoms. I had a negative test result for strep and flu, and I was given antibiotics and a ProAir inhaler because I told them my chest was tight. The next day when they called to confirm test results they mentioned I might have the Coronavirus if I didn't get relief with antibiotics. I started calling the CDC, the health dept, and state about testing with no luck. I didn't qualify. I hadn't traveled to China or known anyone with symptoms.
On March 23, I began feeling worse chest pain, fever, chills, and body aches. I called Texas Med Clinic and saw they were now testing. I only qualified because I had my hospital badge and they were trying to test some severe symptom health care workers. I stopped working because I was always sick, but I qualified from my last day of work. I got to the clinic and waited outside. They walked me in once everyone was suited up and the room was covered in plastic. I was asked not to touch anything if possible. The doctor told me I didn't look well and that she was going to repeat strep, flu, and COVID-19 tests. She told me it's a 48-hour test. The lab was behind and I would get my results a little late. (Okay cool, it's a PCR test. They have 4 days to run it, and hopefully I find out soon.) 
On March 25th at 10 a.m. I was no longer able to eat or drink. My chest was on fire and felt like someone was crushing glass into my lungs. It was hard to breathe. I had to focus and think about breathing in and out. I stopped taking Motrin this day. The body aches came back with a vengeance. The next day was worse. My body fatigue, fever, and night sweats were much worse just on Tylenol and the antibiotics. March 27th, I hadn't been able to sleep. My chest felt so agitated and in pain. My body was hurt and exhausted from not winning fighting off whatever I had. This was the worst I'd ever felt. The flu was a walk in the park compared to this. I have been sick MANY times in my life but this, wow, it was so intense and unlike anything I ever fought. I started to panic and have more difficulty breathing. I called the urgent care looking for my results… nothing… I was in tears from my chest pain and exhaustion from not being able to rest or sleep due to everything I felt.
All this time I had had my mask on and secluded myself to my bedroom, missing the boys and it was just all too much. I had a panic attack here at home and finally fell asleep for 3 hours before I woke up gasping for air. (It's how I wake up now unable to get enough oxygen from lying flat drenched in sweat.) Coincidentally, the Texas med clinic called back saying they are changing my antibiotics to something Coronavirus seems to respond too. I was told again to stay quarantined. Now began problems with the pharmacy. It took until the next day to get my antibiotics because of issues with insurance and misunderstandings from the pharmacy to the clinic.
I finally got my Zithromax and started taking it on March 26th. The pain in my neck and mid-waist at the bend was unbearable. I couldn't get comfortable. My throat is on fire, my chest was feeling mutilated and ripped to shreds by an animal on the inside. I start to call my loved ones and tell them I was scared to go to the hospital. What if I never come home to my babies again?? I told people I love them. (Yes, I have watched very little news, but this was when you see people dying quickly.) I was debating every second, every minute of the day…Can I handle this? Can I stay home? I was so miserable, the minutes seem like hours. I was in and out of sleep every 10 to 15 mins. I was hallucinating and having scary dreams. I had the runs. Why am I even pooping, man, I haven't eaten since Tuesday and it's now Saturday? I prayed and prayed! I asked more people to pray for me because I was scared and not sure I made the right decision by staying home. I only got out of bed to shower and I took a scalding hot bath at night to try to relieve the pain. I was only able to stay in for a few minutes because my breathing got so labored.
I started to have anxiety. (Completely depleted I still wanted to clean! I didn't want the boys to catch this! I need Mack to stay healthy in case something happens to me.) I went to clean everything I could with bleach and Lysol. I was cleaning the restroom when Dante came in and said, 'Mom what are you doing, get out of the bathroom! You are putting too much bleach!!! You are going to stop breathing!' I rinsed what I could and stepped out. I couldn't breathe and he told me my eyes were bloodshot and red, and he is overwhelmed with bleach. He asked why I kept adding more. It hit me that I couldn't even smell or even taste. I have been like this for the whole week, not tasting my ginger or honey in my tea. 'Wow, I can't even smell bleach!'
Sunday, March 29th…the ibuprofen was finally completely out of my system. My chest felt less agitated, and the Zithromax was working. I woke up and felt a little hopeful I made it through the night. Sunday, 2 p.m. hit. I had an intense stabbing pain in my chest. I distinctly looked at the clock because it hit me so hard. At this point, I lost touch with reality. My sleep, time of day, all that is off. I was just trying to survive. My back hurt with an ache I could barely comprehend. I started to hope this was the worst and I was going to be ok. The stabbing intensified at 7:30 p.m. I NOW worry. I asked Mack to call the Emergency room. I needed to go, something wasn't right. All worried thoughts and phobias were out the window. I wanted a chest x-ray. I needed to know I was okay. I told them all my symptoms, my test pending. They told me to get dropped off and prepare to be here alone with as little belongings as possible. (In my head I thought, what if I don't make it? What happens to my belongings? I stopped myself and tried to think positive). I got to the ER and was told to wait outside while they verified who I am. The nurses were scared. You could see it on their faces. Mack pulled away and I wanted to cry…they walked me in a secluded area of the hospital and told me not to touch anything, doors, walls, anything.
At this point, I couldn't breathe. The walk seemed like 8 miles. They had tents set up. It was like the movie ET when they take the mom. I told them about my symptoms. The ER doctor spoke through a door and I had a phone to listed with. I told him everything and said I can't breathe. My O2 stats were at 88. I got an EKG and a chest x-ray. My monitors were going crazy. It took 20 mins for them to come in and put me on oxygen. The ER doctor told me, 'I'm sure you have it.' Anytime I got up to go to the restroom my 02 dropped. The chest x-ray had signs of beginning pneumonia or healing. He told me, 'It's cloudy, but not pneumonia. If you don't have your results don't be surprised if they are wrong. It's a 48-hour test and if it's longer it may be a false negative. You need to quarantine. You have the Coronavirus. I have seen 19 patients and you have the same symptoms.' They have to discharge me. I am not a severe case.
They cannot retest me; they only have 30 tests per hospital, and they save them for patients who present in the heart or have active lung collapsing pneumonia. I am relieved. I was stabilized. I have other health conditions causing my body to stress. I was discharged out into the cold at 8 a.m.
I finally felt a little relief knowing I am not dying. I started new meds and was using my inhaler more with regular Tylenol. All of these symptoms have continued throughout the week. The fatigue my sore throat began to weaken. I started eating and was feeling a little stronger each day. I was still very ill but I am so glad to not be where I was. On March 31st, I got a call about my test results after 6 days of waiting. They tell me NEGATIVE. I told them the ER doctor said this would happen and explained what I have been through. I was transferred to the doctor on staff and told to follow what the ER doctor said and that they couldn't clarify or retest me. 
I am familiar with how easily a test can be thrown off by working in the TB clinic. There are so many variables and if any controls are off it will give a negative test including sitting on a shelf too long. I lost 19 pounds since this all started. It infuriates me to know celebrities and people with money can get multiple tests, and here I am an average mom and I can't even get the right result. I am still in quarantine, and although still sick, I am not where I was. I have also had cough, nausea, and vomiting as symptoms.
Please know this is real. This has sucked!
People are dying.
Thank you to my friends and friends that have prayed, cried, and just been my support through this all. So far, I am the only person in my home with symptoms.
Stay safe and much love. God carried me through this because I couldn't have done it myself.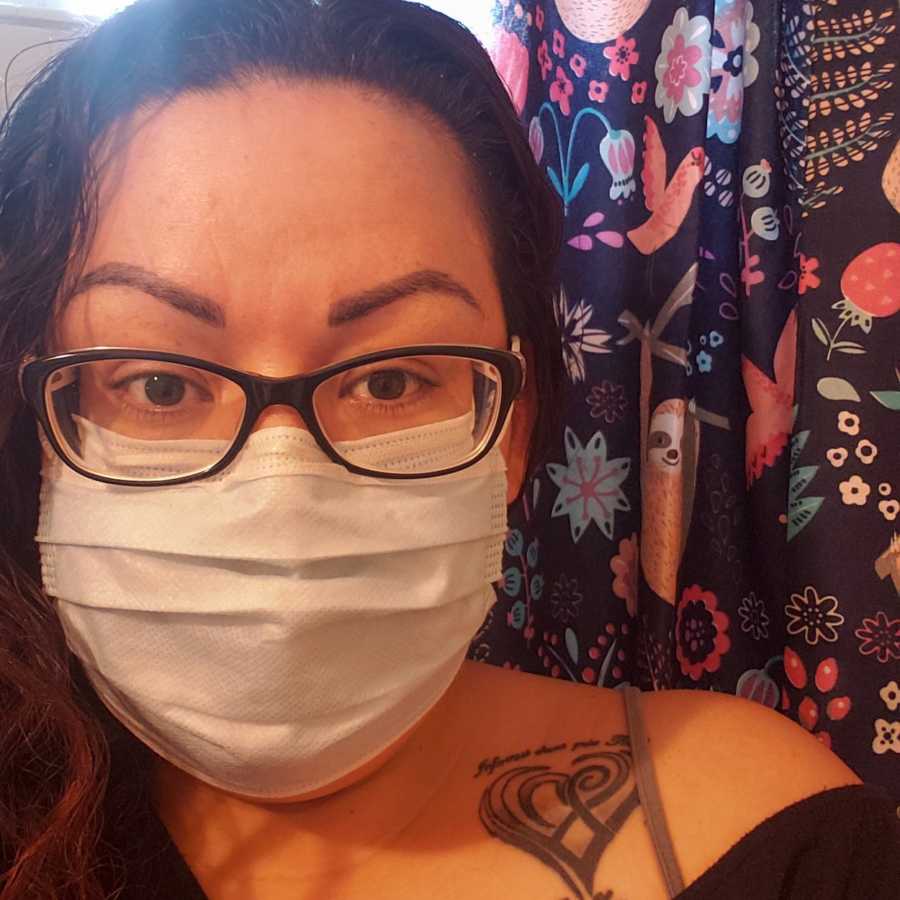 Here is an article about the lab concerns I had with it being over 4 days the test was run and 48-hour test was 4 hours after my appointment. 6 days… Click here."
This story was submitted to Love What Matters by Roxy Graham of El Paso, Texas. Follow her journey on Instagram here.  Do you have a similar experience? We'd like to hear your important journey. Submit your own story here. Be sure to subscribe to our free email newsletter for our best stories, and YouTube for our best videos.
Read more stories like this:
'It started with what I thought were seasonal allergies. 2 days later, the chest pain began.': 35-year-old mom positive with COVID-19 after 'following all the rules'
'Unpopular opinion: we should not be transitioning in-school learning to at-home learning. No grades. No assessments.': Teacher urges at-home learning 'does not work for everyone'
'My toddler screams, 'Mommy, CHANGE MY BUTT,' during my conference calls.': Mom says 'today you've done enough, give yourself some grace'
Do you know someone who could benefit from this story? Please SHARE on Facebook or Twitter