"This is to the rude person that said to their child (after their child said, 'Look daddy, a service dog!')
'Yeah right, that's not a real service dog.'
And to the woman who said, 'Looks like anyone can put a vest on their dog and call it a service dog these days.'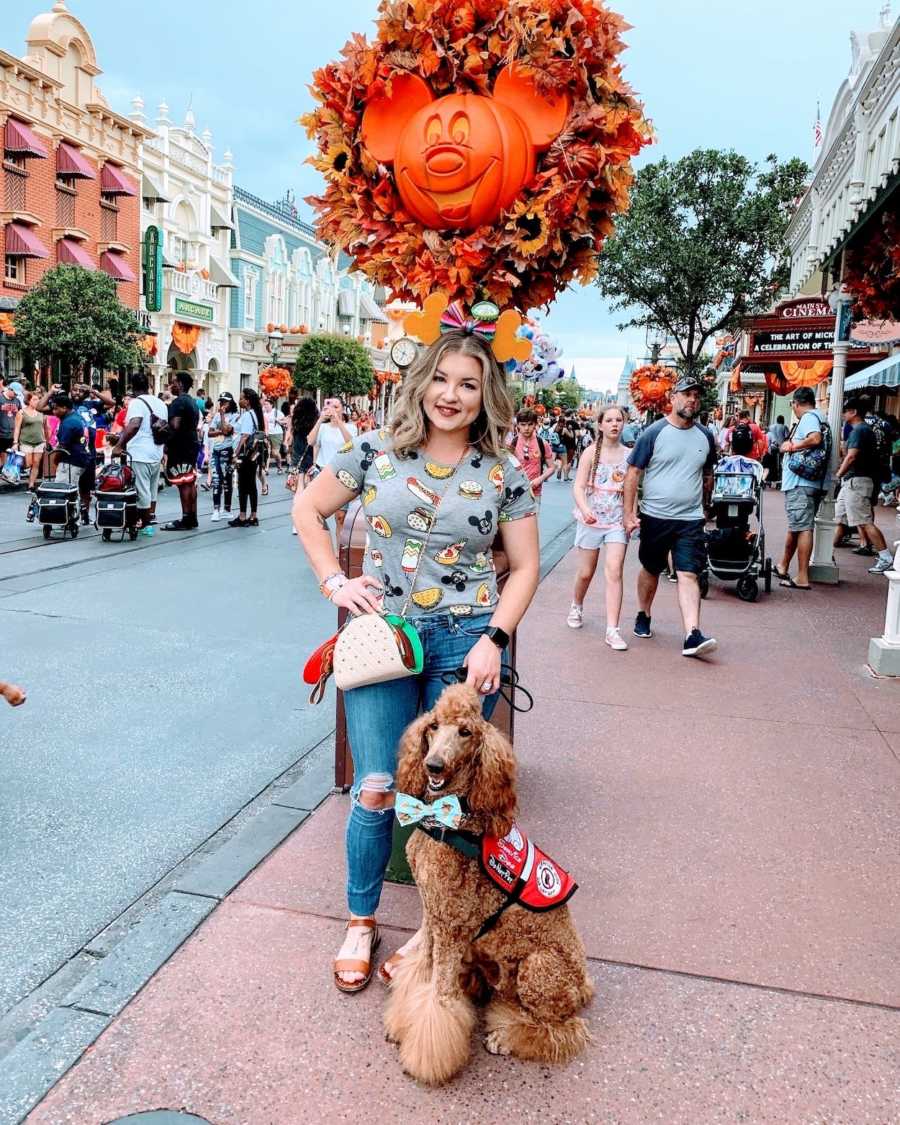 And to the many others who have given me rude comments and dirty looks. You judge me without even knowing me.
Don't I look fine? I look like I've got it all going for me. My hair is perfectly curled, my makeup is flawless, and I'm cute as a button in my favorite Disney attire. You wouldn't think anything could even be wrong with me.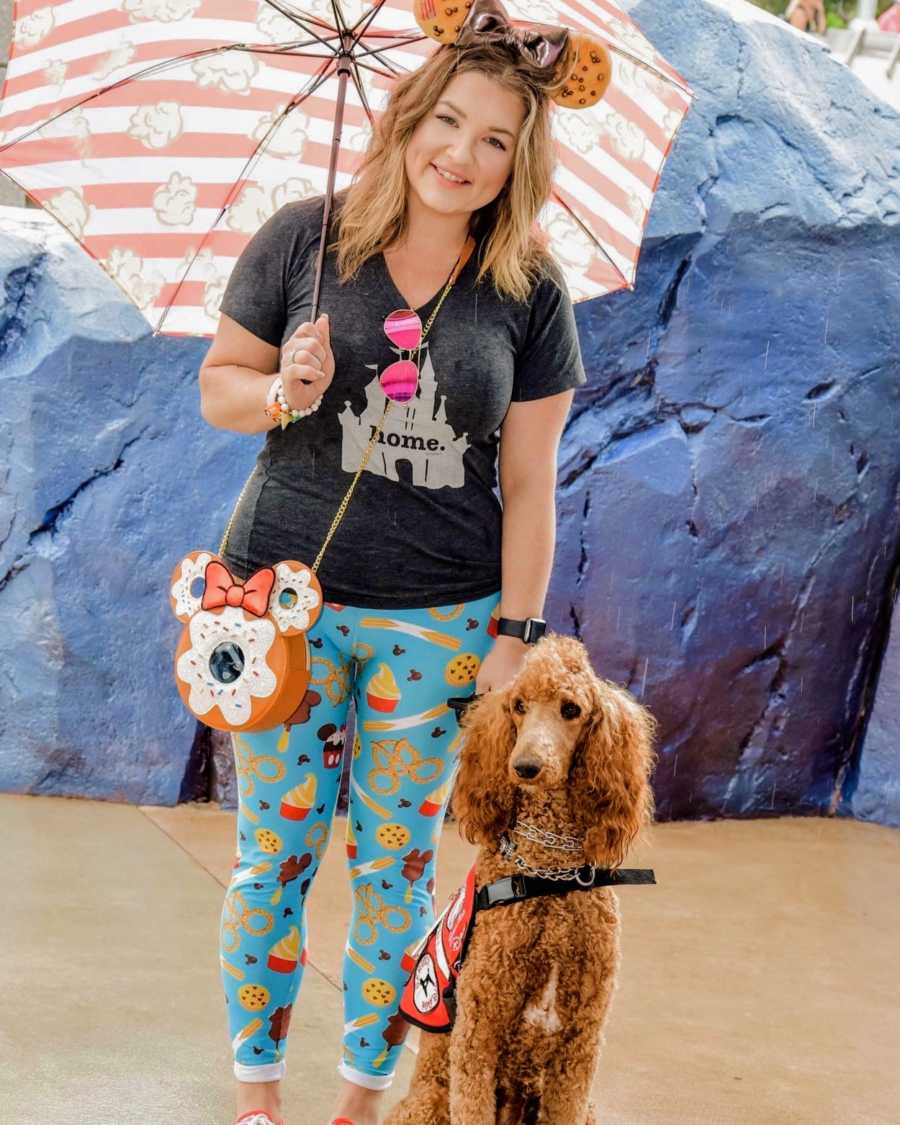 You see, not all disabilities are visible. I have PTSD from watching my 6-year-old son die right before my eyes in a car accident on our way to Disney World for his 7th birthday. I see the image of my child being killed every day of my life for the last 8 years. Every. Single. Day. I have awful panic attacks that happen at random and I can't predict them. I have terrible night terrors and severe anxiety. This Service Dog sitting next to me helps me stay calm and when a panic attack happens, he senses it. He immediately leans against me, I bend down to him, he puts his nose to my nose, and he brings me back to reality without having to use seriously addictive medication.
This Service Dog is my best friend. He makes me feel like I can conquer the world and gives me that confidence, just by being by my side. When he is 'working' with his vest on, he walks right beside me, not pulling me. He doesn't get distracted by other dogs walking by, he is always paying attention to what I'm doing and if I'm getting anxious. I have spent many many many many countless hours working on his training with All American Dog Training Academy making him into the service dog his is today. He doesn't bark at anyone; he doesn't even pay any attention to anyone walking by. If I just 'wanted to bring my pet with me everywhere' he wouldn't be this well trained and in tune to my needs.
Just because someone is different than you, doesn't mean you need to be a complete jerk. You have no idea what someone has gone through and what they have lived. Instead of judging someone, maybe just be empathic to their situation and not make snide comments as they walk by.
No, I don't HAVE to explain myself, but I do it to maybe help someone else with a service dog that has gone through the same experiences of rude people that I have. And maybe, just maybe, those rude people will read this and realize how hurtful they truly are.
Just remember, you never know what disability someone has by looking at them on the outside, so don't be a jerk."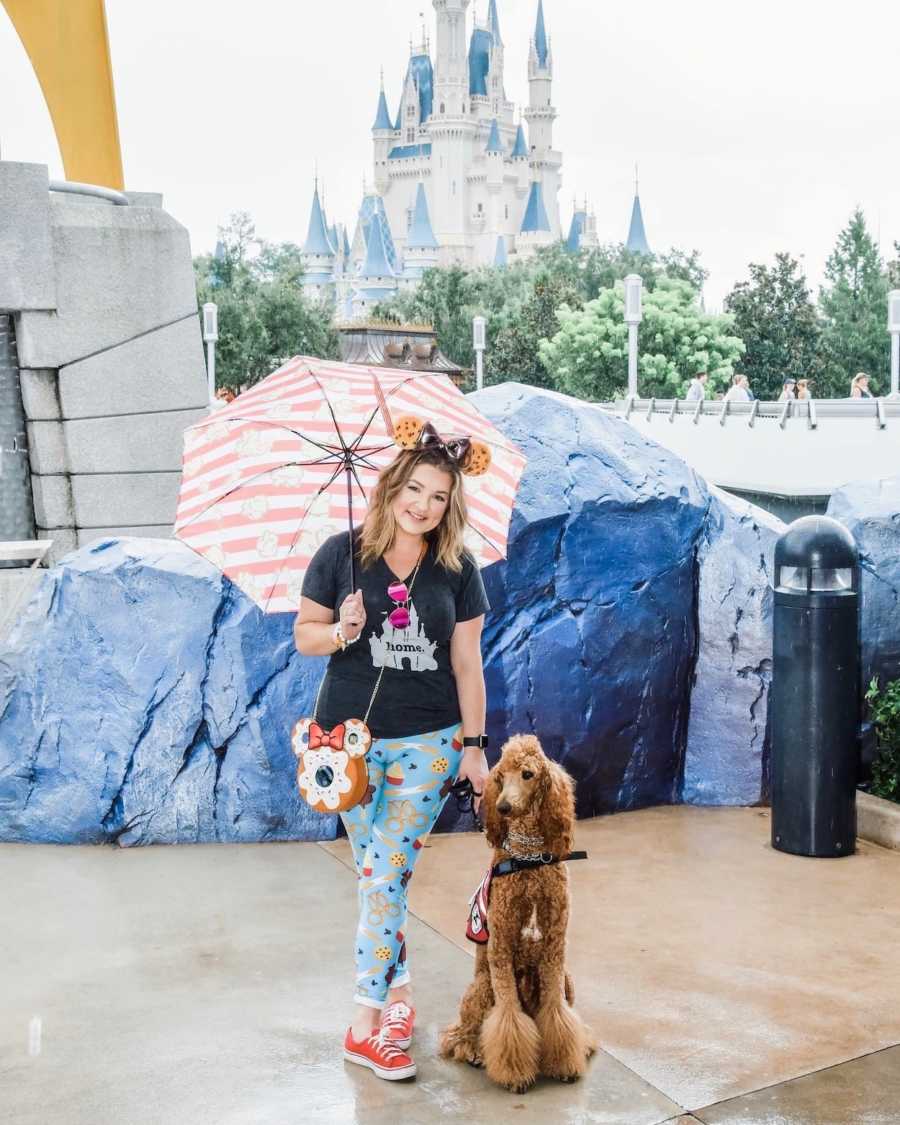 This story was submitted to Love What Matters by Jenn Bethune of Red White & Bethune. Follow her journey on Instagram here. Submit your own story here and be sure to subscribe to our free email newsletter for our best stories.
Read more stories like this: 
'I smashed my head on the glass coffee table and woke up with no idea what month it was. In tears, my mom called the geneticist. If I wanted to keep living, I NEEDED a service dog.' Woman recalls how dog has saved her life 'countless times'
'Here is what you didn't see. My chest was becoming tight, my vision was going fuzzy': Why we teach kids NOT to pet service dogs
'All four legs collapsed. The second turn to look, I saw him seizing. I was in a state of shock.': Golden Retriever dies suddenly due to suspected 'blue algae neurotoxins' in lake
Help us show that compassion is contagious. SHARE this story on Facebook with your family and friends.