"You hear it all the time: your life can change in an instant. For me and my family, that was the case. On March 19, 2019, our world came to a screeching halt. It was the day our 22-month-old son, Lukas, was diagnosed with Acute Lymphoblastic Leukemia (ALL).
Prior to this day and the moment a team of doctors uttered the word 'leukemia' to us, Lukas was a vivacious, giggly, smiley, happy and playful little man. He smiled non-stop and was filled with joy.
We noticed a shift in Lukas in the beginning of March. That's how quickly he went from being a 'normal' healthy boy to becoming a cancer patient. His attitude and behavior changed dramatically. He went from being happy to grumpy and angry. His smiles were few and far between. Every now and then, the 'old Lukas' would reappear and we'd get a glimpse of our silly boy, but those goofy moments started to happen less and less.
We attributed this shift in his personality to the 'terrible twos.' Along with the personality change, Lukas became a finicky eater. Our oldest son, Jakob, was picky at that age, so once again, we brushed the behavior change off.
Throughout the next couple of weeks, Lukas often felt warm to me, had a runny rose and glassy eyes. He consistently had a low-grade fever, 99.3—not too high, right?! At this point, we assumed he was getting his molars.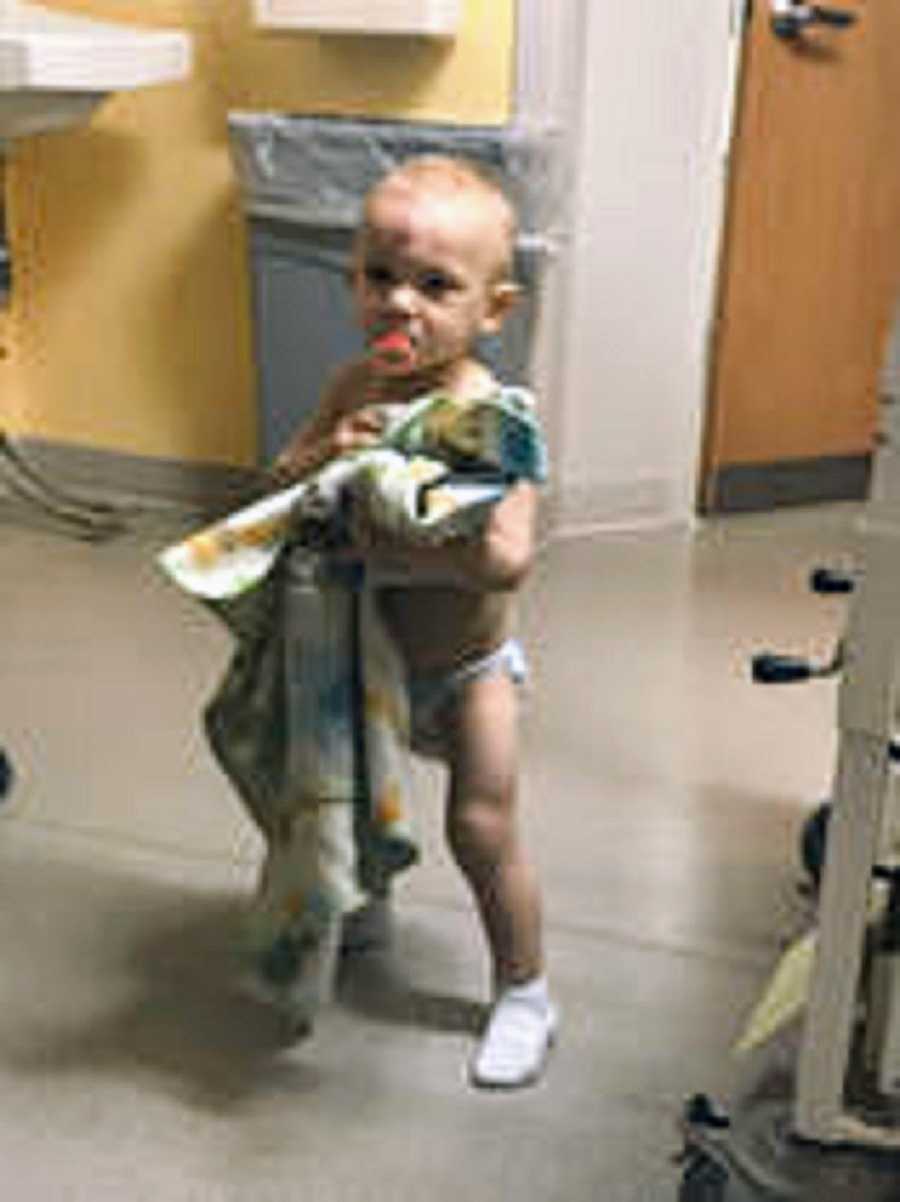 As time went by, all Lukas wanted to do was cling to me and cuddle. Lukas has always been a Daddy's boy and loves to sit with my husband, Jeff. He wanted me to hold him all the time, too. Not just a sit-on-my-lap-and-watch-TV kind of cuddle, but head-on-the-shoulder, holding-tightly, legs-wrapped-around-me kind of cuddle. I relished these moments with him since they were so far and few between. This should have been my cue that something more was going on — why would he want me when his Daddy is right here next to us?
The week of March 11th, I remember playing with his belly and it looked bigger to me. I could tell it hurt him any time I touched it. I vividly remember telling my husband to look at Lukas while I touched his stomach to let him see the discomfort he was in. He told me, 'Who likes their stomachs pushed on?!' Something in my gut told me that was not normal.
On Friday, March 15th, I called my pediatrician to voice my concerns. Since he was still sleeping, peeing, and pooping normally, she wasn't too worried. She told me to keep an eye on him over the weekend and come in on Monday to get looked at if he didn't seem better. That night we went to my sister's house. Lukas had glassy eyes and felt warm. We took his temperature and it was 101.9°. He had a few swollen glands behind his ears and one on the back of his head. It was then I noticed strange marks on his body. They were on his torso and down by his diaper region. Barely noticeable.
On Saturday, March 16th, we had a family party and decided to keep Lukas home so he wouldn't get anyone sick. As I was getting ready to leave, my husband went upstairs. Lukas absolutely lost it! I have never heard or seen him scream so loudly. Lukas was inconsolable. He lay on the ground kicking and screaming for Jeff to come back. Finally, I was able to calm him down and that is when I noticed more marks on his neck. They were not there the night before. I started to worry a ton!
My family is filled with nurses, so I always have someone to turn to for more medical advice and professional opinions. I was texting the pictures to my cousin, Amanda, who is a nurse. She replied with a link to something of the effect of — '37 Different Types of Rashes and Skin Problems in Babies and Toddlers.' As I read through the article, I kept saying 'no' to each one. I became even more worried this might not just be a rash. Nothing in that article identified what I was seeing on his skin.
Consequently, I decided to Google 'red spots on a baby's skin' and the answers were nothing I wanted to see. I know the internet always gives you the worst-case scenarios but something about those red marks didn't sit right with me. They just appeared and started showing up all over his body.
On Monday, March 18th, I took Lukas to the doctor since I was concerned about the red marks that showed up on his neck. The doctor took one look at them and asked me a few questions about how he had been acting. She suggested he get some blood work that we would have back in a few days. Being the anxious person I am, I asked if we could go to the hospital and ask to expedite the results, so I could have answers faster.
I kept asking the doctor if she thought it was cancer. She said she doesn't even say that word unless there is a reason to say it. The way she was talking to me made me feel like she was more concerned then she led on. Off we went to the hospital to get the blood work done. Three hours later, the nurse called to let me know that the first part of his labs had returned, and they all looked great. I was so relived. In the back of my mind I was fearing the worst – CANCER. The nurse assured me everything was great and they would be so surprised if the last one came back with a problem.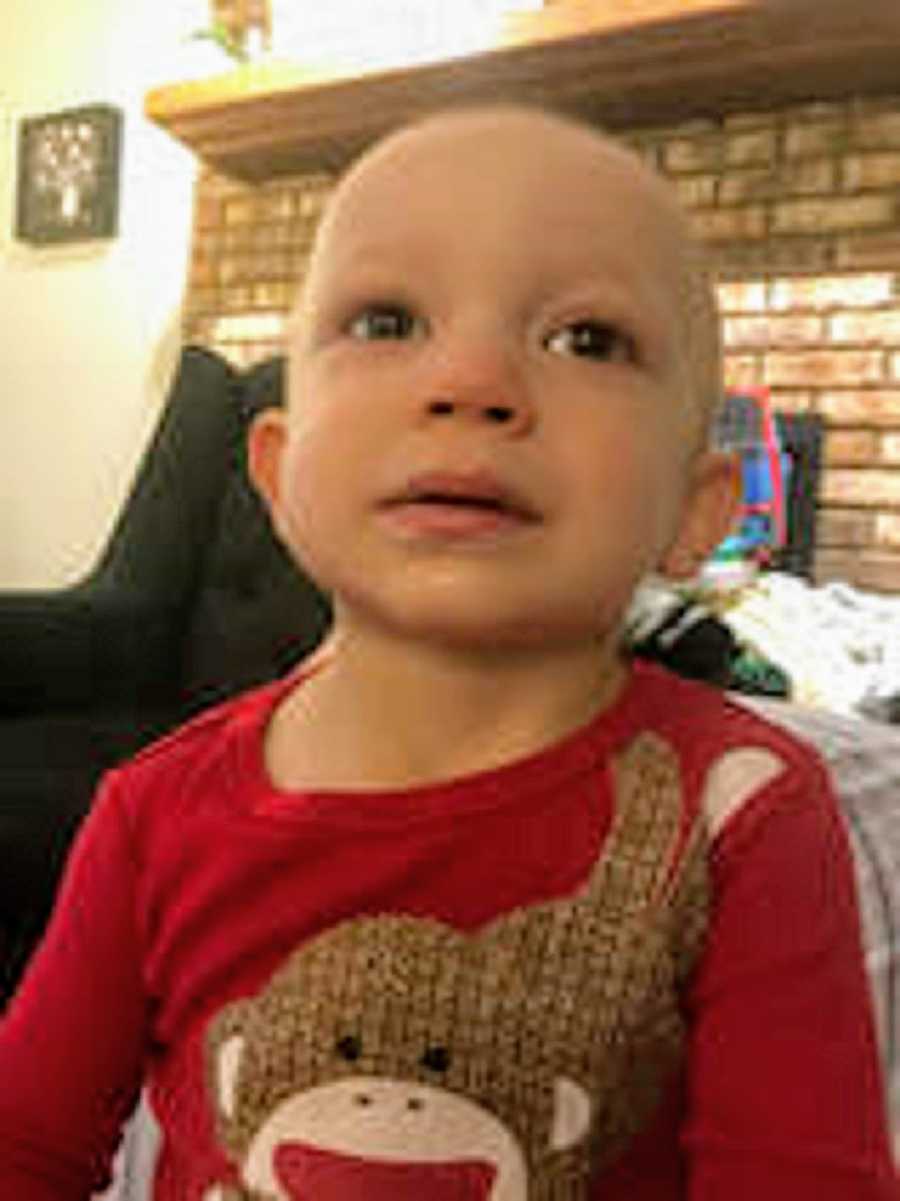 Two hours later, the doctor called. The solemn hello let me know that something was not right. She explained that Lukas's numbers were confusing. His platelets were 38, his hemoglobin was 10.3, and his white blood cells were 20.5. With a combination of the red spots, bloodwork numbers being off, and how he has been acting the last couple of weeks, she had consulted with the hematology department at the hospital.
My heart dropped, my body went limp and all I could say back to her was, 'You called hematology?! The cancer doctor?! My baby has cancer?! Does my baby have cancer?!' She told me that they were not sure yet, but signs were pointing in that direction. They wanted to run further tests to rule anything else out. She told me that he needed to be admitted immediately and his room was waiting for us. She couldn't stop apologizing to me about how she had to call me to tell me this news.
March 19th — 9:45 a.m. Jeff was on his way back to the hospital. I was all alone in the room with Lukas and my mom. Outside of his hospital room, you could hear several people talking. I knew they were going to be coming into our room for rounds. There were so many people, nine to be exact. I thought to myself, that was a ton of people to tell me he's okay. Then, I started to realize they might be telling me the news that no parent should ever have to hear. I sat on the couch, clutching Lukas to my body as the doctors walked into the room. I scanned the room and look at all the staff coming in our tiny hospital room. Looking at each person's name tag – Chaplin, Child Life Specialist, Social Worker, Oncology Doctor, etc.
At that moment, I knew my baby's fate and asked if I could call my husband before they started talking to see how long it would take him to arrive. Jeff was still 20 minutes away, but they couldn't wait any longer. I was just trying to stall the inevitable.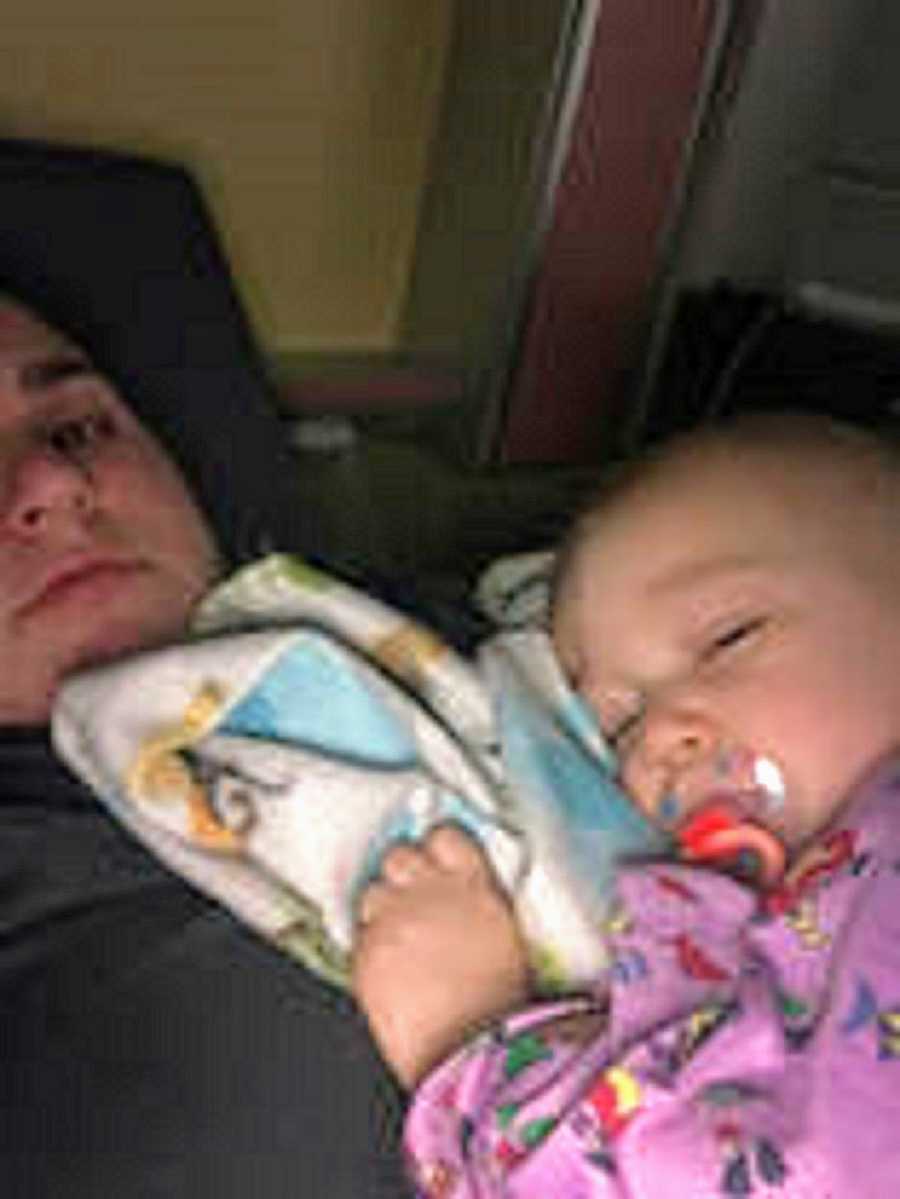 The doctor placed her hand on my thigh and said, 'Your son has leukemia.' All I could respond back was, 'Are you sure?' She proceeded to give me a hug and rub my back as I started to cry hysterically. All I kept saying is, 'my baby, my baby, my baby,' as I squeezed him as tightly as I could without dropping him from being so weak. I called Jeff and just screamed. I didn't even have to say the words: he knew exactly why I was crying. That day, Lukas received a bone marrow biopsy, and a spinal tap with chemo. In a matter of hours our lives went from care-free to battling cancer. A cancer that involves at least 3.5 years of treatment.
Looking back on the month before Lukas was diagnosed, all the warning signs were there, but at the same time I didn't know what I was 'looking' for. Pale skin, loss of appetite, pain in his tummy, fevers, swollen lymph nodes, tiny red spots in your skin (petechiae), colds you can't fight off.
​If it weren't for the petechiae on his body, we would never have known there was something wrong with Lukas until it was too late. We are so lucky to have a great pediatrician who recognized all the signs and was able to order the right tests in order to properly diagnose him.
​
March 19, 2019. The day that changed our life forever. A nightmare for every parent. A day I will never forget. It's our hope that Lukas's journey will inspire others and that we will be able to spread awareness about what it's like to experience life with leukemia."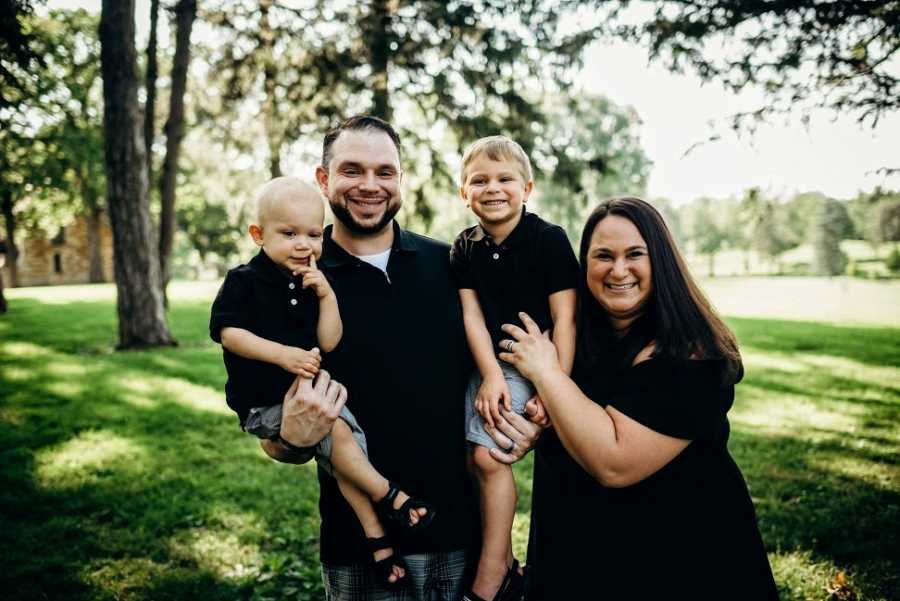 This story was submitted to Love What Matters by Nicole Valoez. You can follow her journey on Instagram and Facebook. Do you have a similar experience? We'd like to hear your important journey. Submit your own story here. Be sure to subscribe to our free email newsletter for our best stories, and YouTube for our best videos.
Read more stories like this:
'It is so unlikely, you have better odds at winning the lotto.' Before the tests came back, I knew something was wrong.': Twins battle Leukemia together, 'I'd be a liar if I said it gets easier, you just get better at dealing with it'
'Ezra is sick and I can't get to him!' We sat in tears while they operated on him in front of us.': Mom loses baby to Congenital Leukemia, 'He worked so hard to make sure we got to meet him'
'I don't want this life. I'm not cut out for this!' I heard 'I'm sorry' on the other end. Adrenaline began, my face got hot. Then the tears started to roll.': Boy with down syndrome diagnosed with acute lymphoblastic leukemia
Do you know someone who could benefit from this story? Please SHARE on Facebook and Instagram to make them aware there is a community of support available.