"'What is that?', our oldest son (who had just turned nine) asked while walking around Legoland Florida.
'A roller coaster', my husband answered.
'Does it get any higher than that?' our son asked.
'No', my husband (rep)lied.
'I want to ride it', stated our son.
My husband and I looked at each other in disbelief. You see, our son is autistic. He also has sensory processing disorder and anxiety, so enjoying things most kids find pleasure in (even things like opening up presents) is difficult for him. People assume we think our kid cannot or will not do something. That's not true. He is capable of doing many things; it's just that his fears are often stronger than his desire to do something, so he doesn't, or won't, do it. So why would we take our son to a place like Legoland? Because we hoped that his love for Lego (which is very, very strong) would outweigh his fears of being in a theme park. We were in Florida for the week, staying at a beach house with my birth family. One of our son's biggest fears for so long has been water (although he's doing better with it this year), and it seemed unfair to force him to go to the beach every day, knowing he wouldn't be happy. We thought Legoland would be nice for both of our sons to enjoy, and that's how we found ourselves, considerably poorer after the price of admittance, staring at a roller coaster.
'You want to ride that?!' I asked my son in shock. After all, he had refused to get on the carousal, probably the tamest ride in the park, when we first arrived.
'Sure!', he replied.
My heart was pounding. I was both elated and terrified. I don't do roller coasters. I don't even do elevators if I can help it. I knew that if our son got on the roller coaster, then I needed to as well. Our son walked determinedly, hand in hand with me, towards the entrance. I couldn't back out, not with him willing to try it.
Meanwhile, our younger son (then six and a half), the one who isn't afraid of anything, became worried. He eyed the wooden structure as we got closer.
'Is it stable?' he asked. 'It doesn't look very stable!'
We assured him that it was. About that time, we walked past the maintenance gates. They had signs stating 'Caution: Area of Death' on them.
'We're going to die, oh we're going to die!' cried out our youngest, sounding more like his brother than himself. Secretly, I feared that myself, but I wasn't about to say that to him!
We got to the entrance to the ride and there wasn't any wait. That meant none of us had time to think about what we were getting ourselves into and talk ourselves out of it. We quickly boarded, the youngest sitting with his daddy in front of our oldest and me. Our kids were all smiles. As the roller coaster cart clicked up and up towards the first hill (the small one our son saw in the distance), I closed my eyes in terror. I wanted to put on a brave face for our son who was being even braver than me, but I couldn't do it. The rare times I opened my eyes to check on him, his head was down and his eyes squinched close. Then came the screams. The screams were mostly drowned out by the clicking and swooshing of the ride, but I know some of them came from my kids. I think I was too scared to scream.
The ride was over quickly. Somehow, we all managed to survive. We got off. The smiles were gone. Our son looked at us and declared 'I'm never doing that again!'. I agreed. We watched the next group of riders take off, then proceeded towards where the photos from the ride are shown. We hadn't planned on buying any photos from rides, mostly because we didn't expect to go on any rides, but also because of the price … but once we saw our photo, we had to get a copy. We elected for the cheapest copy, a magnet, which is displayed on our fridge along with magnets from other places we have visited over the years.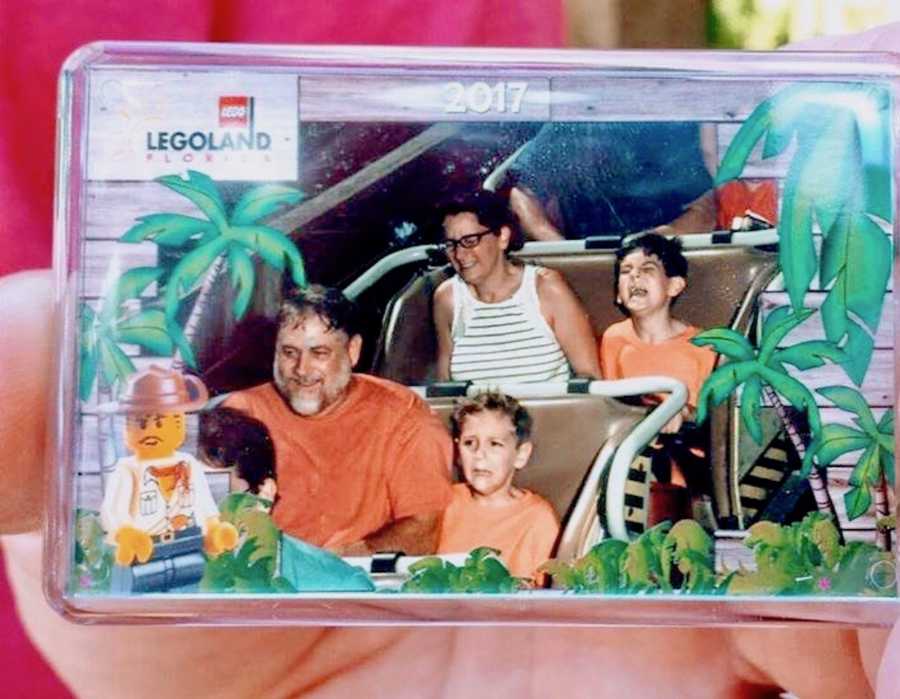 The photo perfectly captured our family (so much so that we used it on our Christmas cards last year). More than anything, it captured the day our son faced his fears in the most incredible way. Now, when our son is scared to try something, we will tell him that if he could ride a roller coaster, he can do anything! It doesn't always work, but it does bring back a smile and a reminder that yes, he can face his fears, he can try something new, and he can survive. That alone is worth every dollar we spent at Legoland."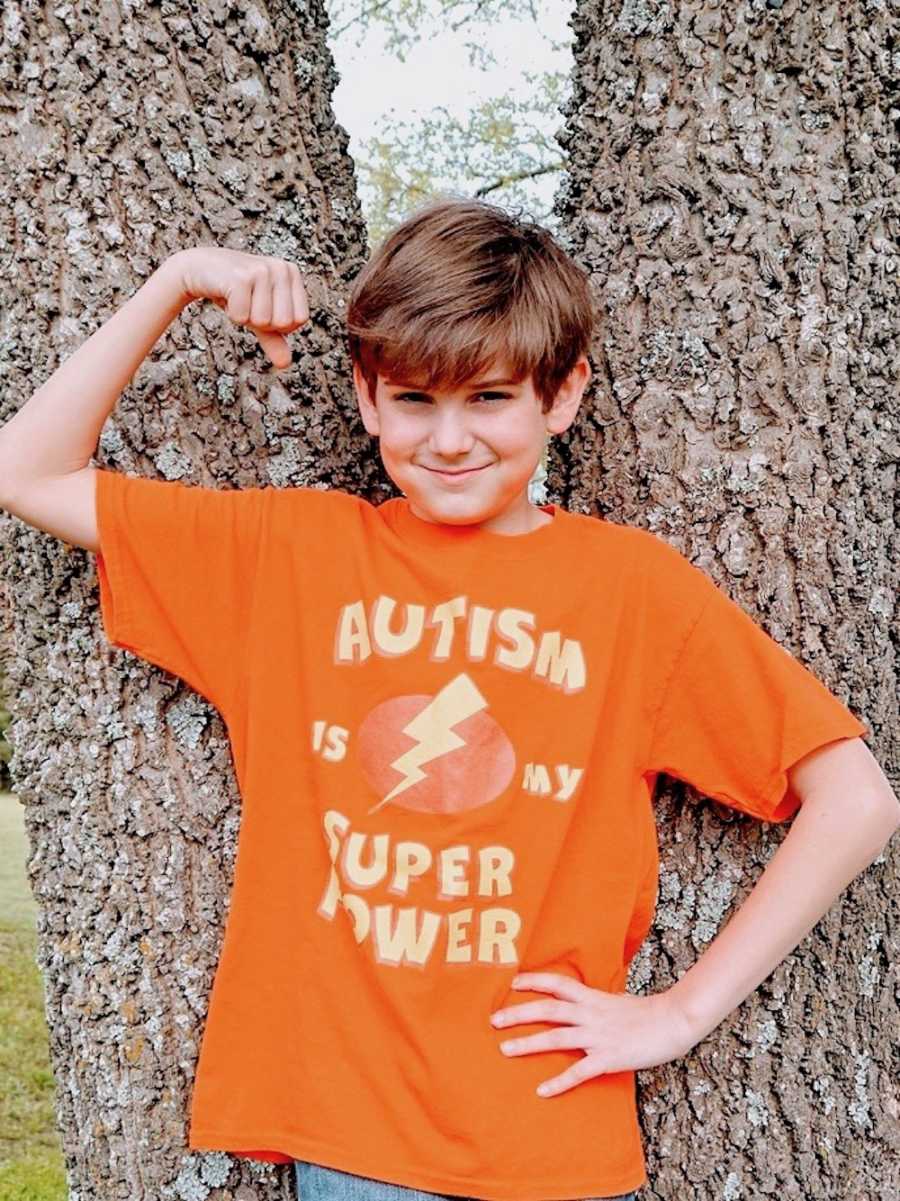 This story was submitted to Love What Matters by Stacey Binning. Submit your story here, and subscribe to our best love stories here.
Read more stories like this: 
'My Son's teacher recently friended me on social media. I came upon a picture of her holding a chalkboard sign that read, 'I said YES!' She's already married, so it struck me as odd.'
Woman says having 3 brothers with autism gave her an 'advantage in life'
'I'm a 34-year-old woman and I only got formally diagnosed 2 DAYS ago. I'm autistic.'
Do you know someone who could benefit from this story? Please SHARE on Facebook or Twitter.