The moment they put my son on my chest, I was in love. There is nothing quite like holding your baby for the first time. Those first precious hours after his birth were some of the sweetest moments of my life. While I was pregnant, I remember people telling me how incredible motherhood is. I remember them joking about their birth stories. I even remember them mentioning I probably wouldn't be getting a lot of sleep. However, there were some things I just didn't know.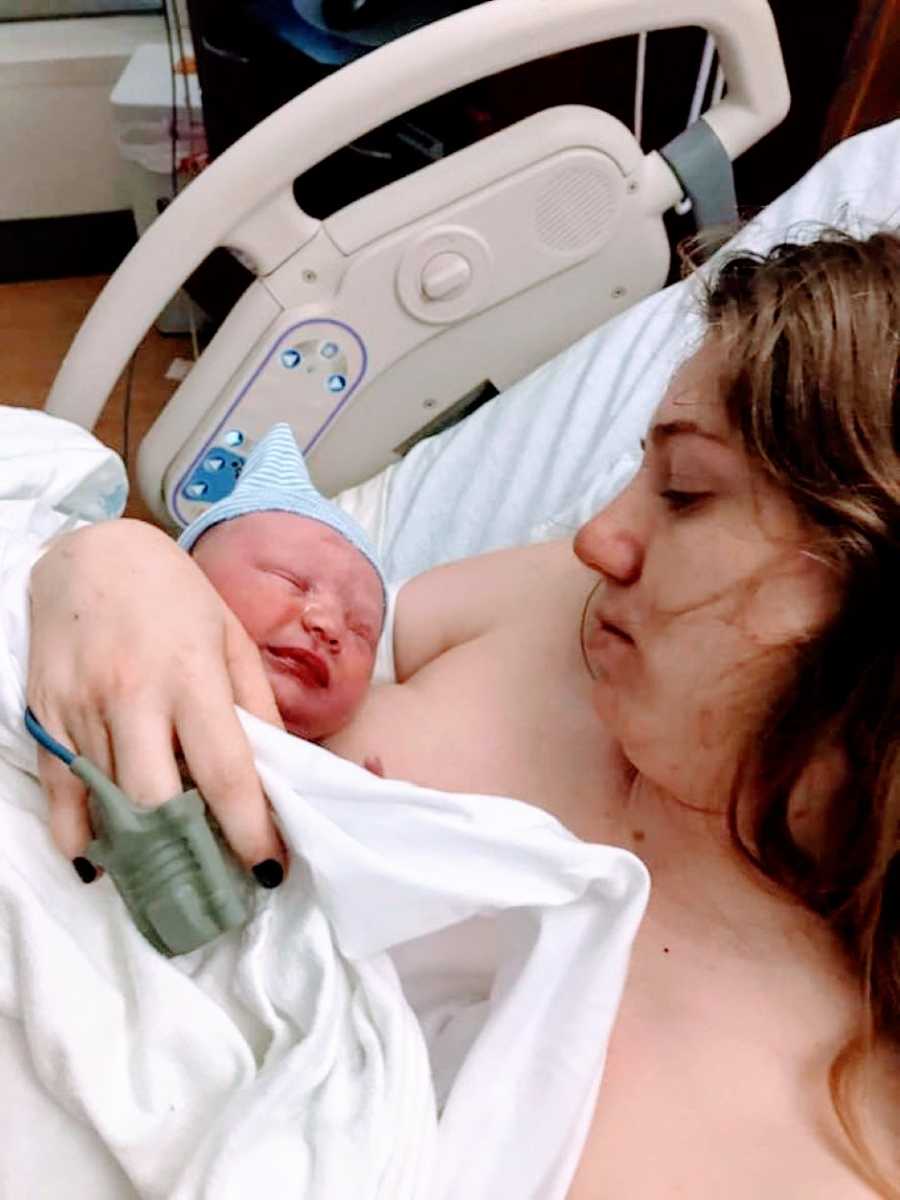 1. Baby Blues
I didn't know I would actually feel sad for a couple of weeks after my son's birth. Yes, you heard that right. For the first three weeks after my son was born, I was crying constantly. I was crying because I wasn't getting enough sleep. I was crying because I didn't feel like my husband understood what I just went through. I was crying because my whole routine was messed up and I didn't know how to organize my life. I was terrified to be a mother and I had no freaking idea what I was doing. And then, of course, I cried because I felt like all of my crying meant I was a horrible mother.
Looking back, I realize hormones played a huge role in this. I wasn't crazy, I was just healing and adjusting. The baby blues are real and they can be scary if you aren't prepared for them. Luckily, my mood and hormones started to level out about a month after my son was born, but it isn't like this for all women. Some women really struggle with Postpartum Depression and I wish it was talked about more. Sure, celebrities will talk about it. Random YouTube Mom Vloggers will talk about it. But why doesn't anyone talk about it within their own social circles? If 50-75% of mothers experience the 'baby blues,' then why is it that nobody I know personally has ever dealt with it? Why did I feel like I was going to get judged or locked in the looney bin for telling people I was not okay?
2. Vagina Hurts
I didn't know how much my vagina would hurt. Like, ouch. It got to the point where I was terrified to go pee because I knew it was going to hurt. Giving birth was definitely worse as far as the level of pain intensity, but at least birth didn't drag on for weeks. As soon as I came home from the hospital I wanted to strangle myself for not grabbing extra ice packs for my lady bits. I spent way too much money on Frida Mom ice packs from Target, but there was literally no other way for me to stop the burning. I even Googled a specific way to pee in the toilet to prevent my urine from touching my stitches. For those of you who are interested, it involved me sitting on the toilet and then bending my entire body forward until my face almost touched the floor. So yeah, I was definitely looking like a psycho anytime my husband walked into the bathroom and caught me doing my business (surprisingly, this actually worked 90% of the time though, so I would definitely recommend it).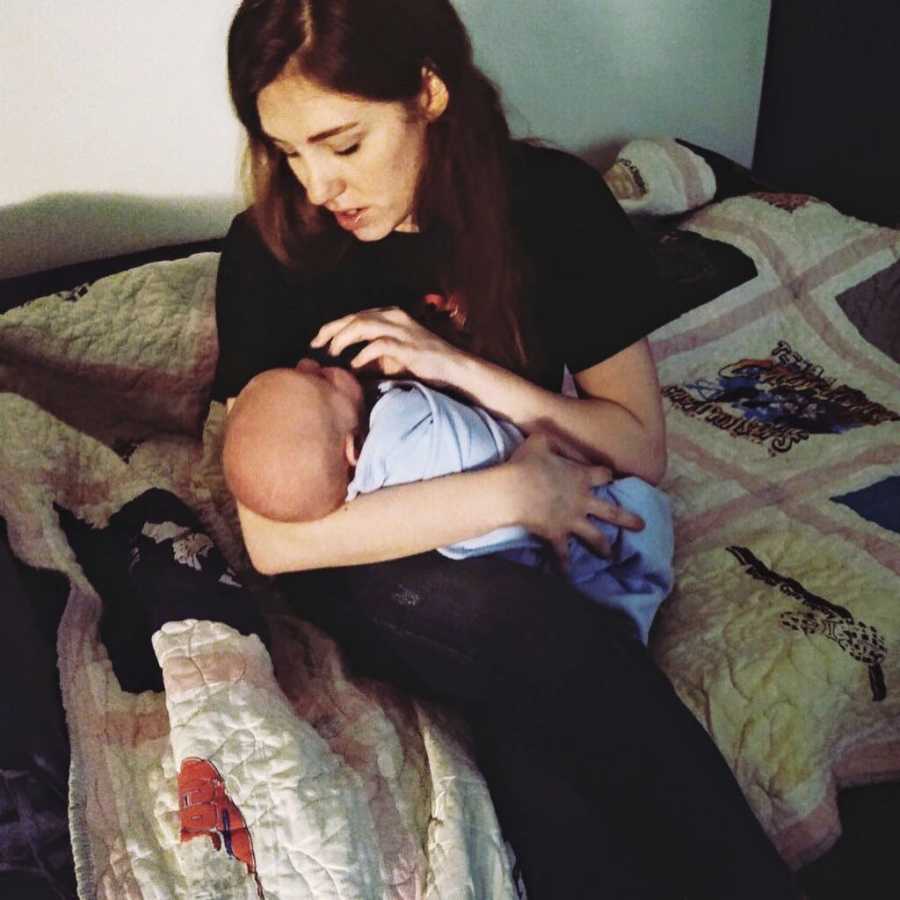 3. Fluffy Tummy
I didn't know how easy and difficult it would be to lose the pregnancy weight. At first, I was amazed at how easily the weight I gained during pregnancy seemed to melt off of me. I must have lost 30 pounds the first month without even trying. However, the last ten pounds are still here. The only positive is I am much too sleep deprived and exhausted to care about that at the moment.
4. Pimples?!
I didn't know I would start to look like a teenager again – by this, I mean my skin is awful! I started to have breakouts on my face during my third trimester. However, about a month after my son was born, it got worse. Every morning I am arming myself with facewash to try to rid myself of these pesky pimples. I am sad to say that as of now though, they are winning the fight.
5. Anxiety
I didn't realize how bad my anxiety would get after he was born. Okay, so maybe people warned me about this one. However, I think it is impossible to understand until after you have a baby how scary everything in the world becomes. It doesn't help I was pregnant and gave birth to him in the middle of a pandemic. I am terrified of germs, driving on the highway with him, kidnappers, unleashed dogs in public areas, and a myriad of other things that probably seem silly to most people. There are times when I am able to laugh off my fears, but there are also times when I just can't. So, if I ask you to Germex your hands and keep your lips away from my baby, just do it.
Motherhood is the most beautiful and stressful experience of my life. There is nothing in my life I could ever accomplish or do that means more to me than my son. That's just the plain truth. But, I wish I had known these things before I had my son. It would have been nice not to feel like a psycho when I cried all the time or have a stock of Proactiv ready at the house. So ladies, if you are pregnant, just know postpartum is a wild ass ride. Ask for help when you need it. Hang in there, I feel your pain.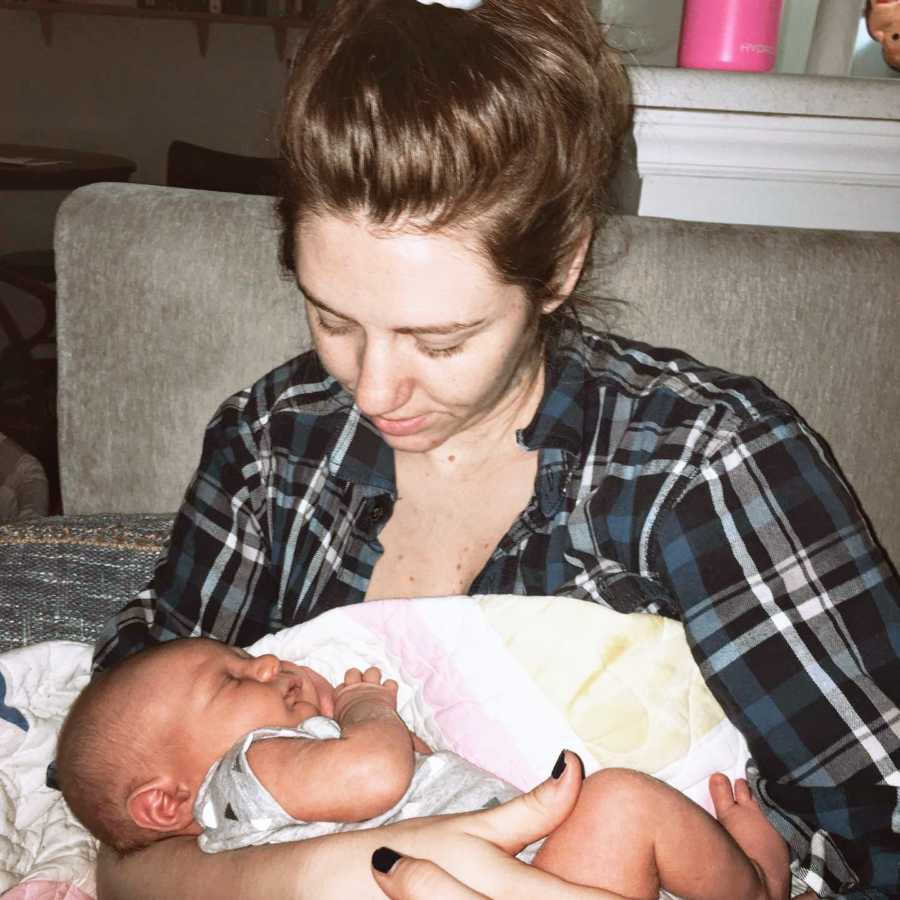 This story was submitted to Love What Matters by Lisa Carnett. You can follow her journey on Instagram, Facebook, and blog. Submit your own story here, and be sure to subscribe to our free email newsletter for our best stories, and YouTube for our best videos.
Read more from Lisa here:
'Am I going to throw up? Surprise! It's s—t. There's diarrhea all over. My husband is helping me with my hospital gown while simultaneously WIPING MY ASS.': Mom hilariously recounts precipitous labor experience
Read more stories like this here:
'Pregnant at 18, I heard, 'You're young, you'll bounce back!' It became etched in my mind. Stretch marks and loose skin? BAD.': Mom learns to cherish postpartum body, 'This body is my home'
'You're still pregnant, aren't you? Is there another one in there?' I'd given birth 4 days prior and was expected to 'snap back.': Mom embraces postpartum body, 'You've earned your stripes'
'Don't say, 'When can I see the baby?' Say, 'Let me know when you're ready for visitors.': Post-labor mom reminds us 'there is nothing more vulnerable than a freshly postpartum momma'
Do you know someone who could benefit from reading this? SHARE this story on Facebook with family and friends.