"This is me, 1 month postpartum.
1 month since I've been born again, and I don't mean baptized in holy waters.
1 month in my new body, mind, and spirit.
I'm learning how to feel and be felt. Again.
'You're still pregnant, aren't you?'
'Is there another one in there?'
These are things I heard only days after leaving the hospital.
This was my birth, right!?
Damn it, this IS my BIRTH RIGHT.
I had been growing an entire being within my body for the last 10 months, yet was expected to snap back in 4 days?
I felt myself shrinking.
Not physically, just mentally.
I hid behind my clothes, wondering if I would ever get my body back. Wondering if my partner looked at me the same way he did 10 months ago when we created this tiny human.
Wondering if this was the same way mothers all around the world were feeling moments after their life's greatest accomplishment. Small?
I instantly took my power back. Each day I walked past the mirror and stared a little longer. A glimpse became a gaze until a gaze became a stare. A stare of admiration. That this little body of mine not only created an entire being who will grow to be bigger than me, but carried him for an entire 10 months.
Oh, but there's more…I labored and pushed him out of my va-gin-a with not a drop of medication. He stretched me in every way that one could be stretched. Physically and mentally.
I remembering the times I spoke of having a child and hearing, 'Don't mess up that gorgeous body of yours,' from the very women who gave me this body.
And knowing now that not only is my body gorgeous, but it's strong, it's resilient, it's warm, it's loving.
Knowing now that this body is protective armor that houses my vulnerable soul and once made space for another vulnerable soul…
and is still working overtime as a powerhouse that provides nourishment for that same soul.
I mean, really? Who the hell wants to look like a snack when you can be soul food?
So now when someone tells me how beautiful I am, it penetrates a little deeper than before. Bouncing off my walls like an echo in a dark cave.
Learn to be patient with yourself.
You aren't who you were 10 months ago, and you never will be. But THAT'S OKAY.
You grew in a major way. Girl, you got marks to prove it. So, continue to stretch, continue to grow, and love yourself easy during the process.
I would've thought new era cut you a deal the way you've been sporting all those new hats. Effortlessly.
Love, Self.
P.S. It's safe to say…
You've earned your stripes."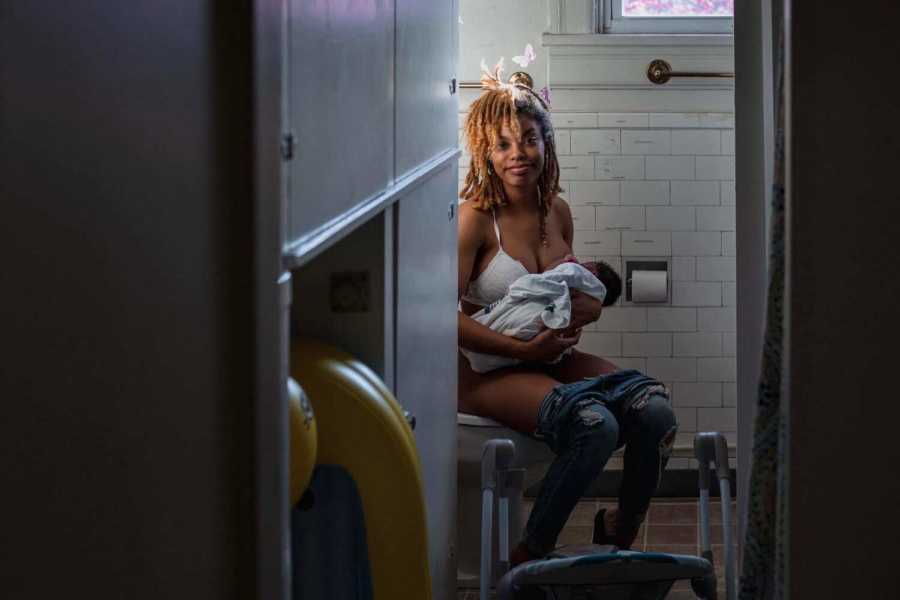 This story was submitted to Love What Matters by Shay Ayala of Solflower. You can follow her journey on Instagram. Be sure to subscribe to our free email newsletter for our best stories.
Read more from empowering mamas celebrating their postpartum body:
'Ewww put that away. I'll never get stretchmarks like that when I'm pregnant.' It was such a personal attack – feelings of shame and disgust had me cringing at my husband's touch.'
'It's not hard. Just stop being a jerk. I get praised for being a 'great husband,' but that's nonsense.': Husband gets super candid about wife's postpartum body, 'The soft, pillowy skin around her belly button held my 3 best friends for 18 months'
Provide beauty and strength for other mamas. SHARE this story on Facebook with your friends and family.