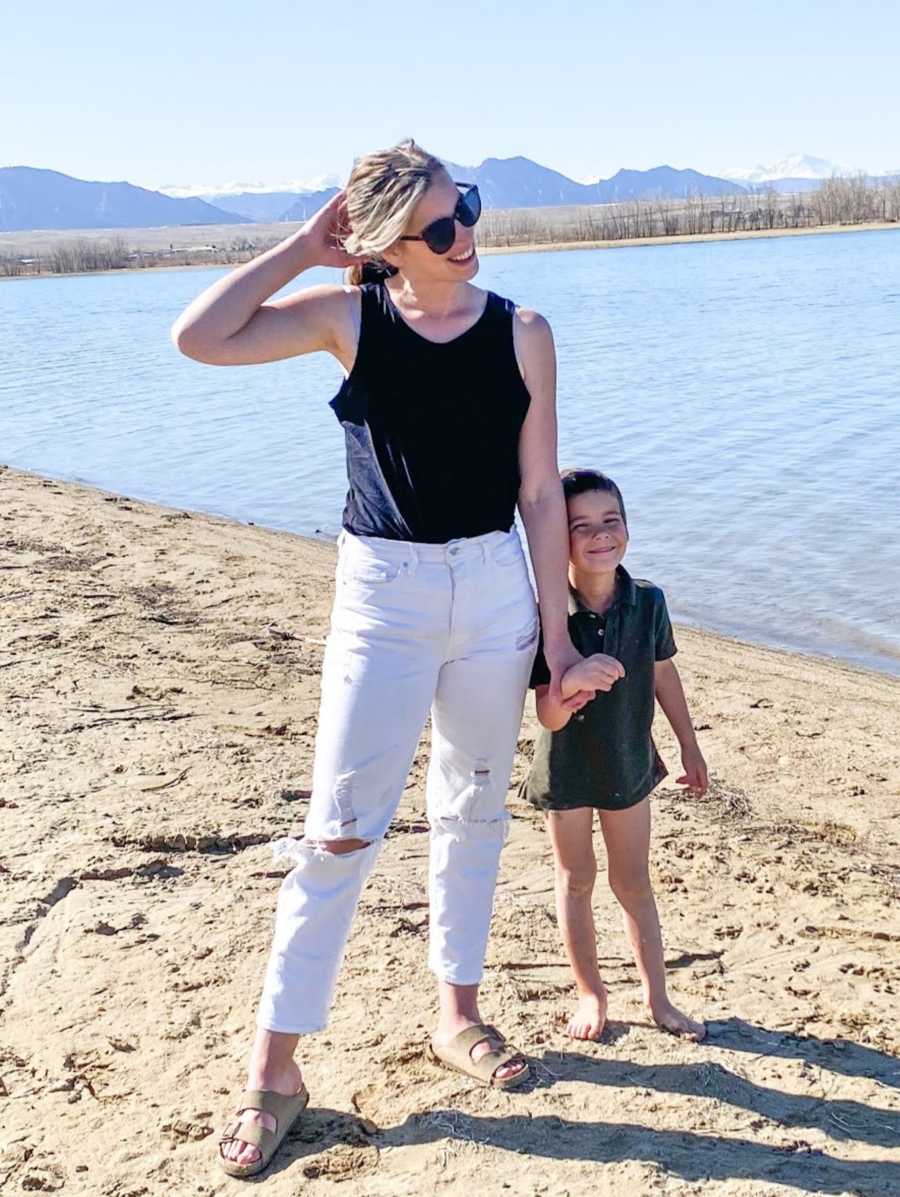 We can all agree motherhood is freaking hard! In every stage, at every age, in every situation – it's beautiful, fun, rewarding, fulfilling, but also just plain old hard. Teen motherhood comes with it's own unique set of challenges.
I became pregnant at 19. My oldest child is six now. I'm married to his dad, we own a home and a business, and also have two more kids, a cat, and a dog running around these days. I dropped out of university, but life has taught me it's fair share of lessons. Here are 6 things I learned as a teen mom:
1. Being A Good Mom Is Not Age Dependent
I'll say it again: being a good mom is not age dependent! Motherhood is tough at any age. As long as we are giving our babies our heart, and they are being nurtured and loved, we are off to a great start. Don't ever let anyone make you feel like you're less of a mom due to your age or situation.
2. Information Is Out There
I'm a researcher by nature, so one of the first things I did when I found out I was pregnant was go out and buy a book…and then another, and another. If you're feeling intimidated by what's to come, self-education can be a great way to help yourself feel ready. Labor videos on YouTube helped me feel prepared for childbirth. I followed moms on Instagram, and joined online forums. I looked up reviews for every baby item I bought, and did a whole lot of Googling. I still do.
When I don't know how to handle my kids new bedtime fighting phase, I turn to my friend Google. When I want to know the best way to introduce solids to my baby, I turn to Google. As a teen mom, I sometimes felt uncomfortable asking questions out loud to my support system. Google doesn't think any questions are dumb. It's a wonderful time to be alive!
3. My Parents Are Humans, Too
As teenagers, I think we all see our mom and dad as, well… Mom and Dad! With parenthood comes the distinct realization that our parents are actually in fact HUMANS, too! They have their own thoughts, struggles, baggage, strengths, and weaknesses – and they're just doing the best they can with the information they have.
In a way, the realization that our parents exist outside of parenthood feels a lot like the mind-blowing childhood realization that our teachers don't live at school! My advice for young moms navigating tricky relationships with their parents: remember they are humans, too. Their reaction comes from their own set of thoughts, emotions, and fears. The way you feel protective over your baby, they feel about theirs (that's YOU!).
4. Others My Age Didn't Get It, And That's Okay
When I arrived to Mexico during my pregnancy, I was ready to hit the floor running. I had a goal to learn Spanish by the time my baby was born, and had high expectations for all the new great friendships I'd be making. Turns out, it's not easy to connect with girls your age when you're young and pregnant.
Girls my age generally were in school, partying on the weekends, dating, and mostly not really interested in talking about convertible vs. infant car seats. Between the language barrier and the lack of things in common, it was tough connecting with other girls my age. As a new mom, my mind was consumed with mom things. You might feel the same way right now.
If this sounds familiar, I'd say try to just embrace this time in your life, and lean into it. Eventually, you'll feel ready to branch out again. Once I let go of the idea that my friendships needed to be the same as I was used to them being pre-pregnancy, I found it easier to connect and build relationships. Now I have great mom-friends who are 15 years my senior, as well as great childless girlfriends who are my age and share other interests with me, such as entrepreneurship.
5. It's Okay To Take The Path Less Traveled
High school, college, job, marriage, home ownership, baby…. there's a certain 'way' I was expected to go through life. It can feel weird to zigzag and skip through instead of ticking off the boxes linearly. When I became pregnant while unmarried at 19, and dropped out of university in favor of moving to Mexico City, I was roller-coastering my way through, rather than walking down the life path society expected of me. And you know what? Doing life the zigzag way is a-okay. I'll be 27 this week, and I'm still choosing the path less traveled in almost every choice I make. If your soul is in it, follow your gut. Chances are things will find a way to sort themselves out.
6. I Can Do Hard Things
Let me tell you, there's nothing like birthing a baby when it comes to proving to yourself you can do hard things. Teen motherhood showed me I can do things that are hard, and that are way (and I mean waaaay) outside my comfort zone. It has become a core belief for me, and I try to instill this belief in my children too. Hard things are 100% possible. When I started my business, I believed I could do it because I'd already done other things that felt impossible. When we sold everything and moved to Colorado, we knew we could do it, because we'd already done other hard things. Just. Keep. Going.
(Young) motherhood can feel all-consuming, and really, really hard. Don't be scared to reach out for help (even if it's from Google or online friends!), and trust yourselves to be able to get through this tricky patch. Family relationships might be strained right now, but do your best to work through the sticky stuff, because we're all just human at the end of the day. When it comes to friendship, know stuff might never be the same as it was, but new friends will come, and old friendships will evolve. Hold on to the knowledge that hard things are possible, and through overcoming, greatness comes. Girl, you've got this!
This story was submitted to Love What Matters by Laetitia Doets of Colorado. You can follow her journey on Instagram. Be sure to subscribe to our free email newsletter for our best stories.
Read part one of Laetitia's story here:
'Hands trembling, I wrote an email to my father: 'I'm pregnant. Don't worry. I have a plan.': Teen mom turned 6-figure business owner urges 'young parenthood doesn't need to be a curse'
Read more stories from teen moms here:
'You have 24 hours to tell your parents you're pregnant or I will.' She pressured me. I was 17 and scared.': Teen mom becomes widow at 18, 'I lost my best friend, my high school sweetheart'
Do you know someone who could benefit from this story? Please SHARE on Facebook to let them know a community of support is available.