"'How did you two meet?' As a couple in a new city making new friends, that's a totally understandable question that we get asked a lot. It would be so easy to say, 'Oh, we met at a farmers' market,' but the reality is much more complex. It's an interesting story of self-discovery, discovering love, and our big, blended family.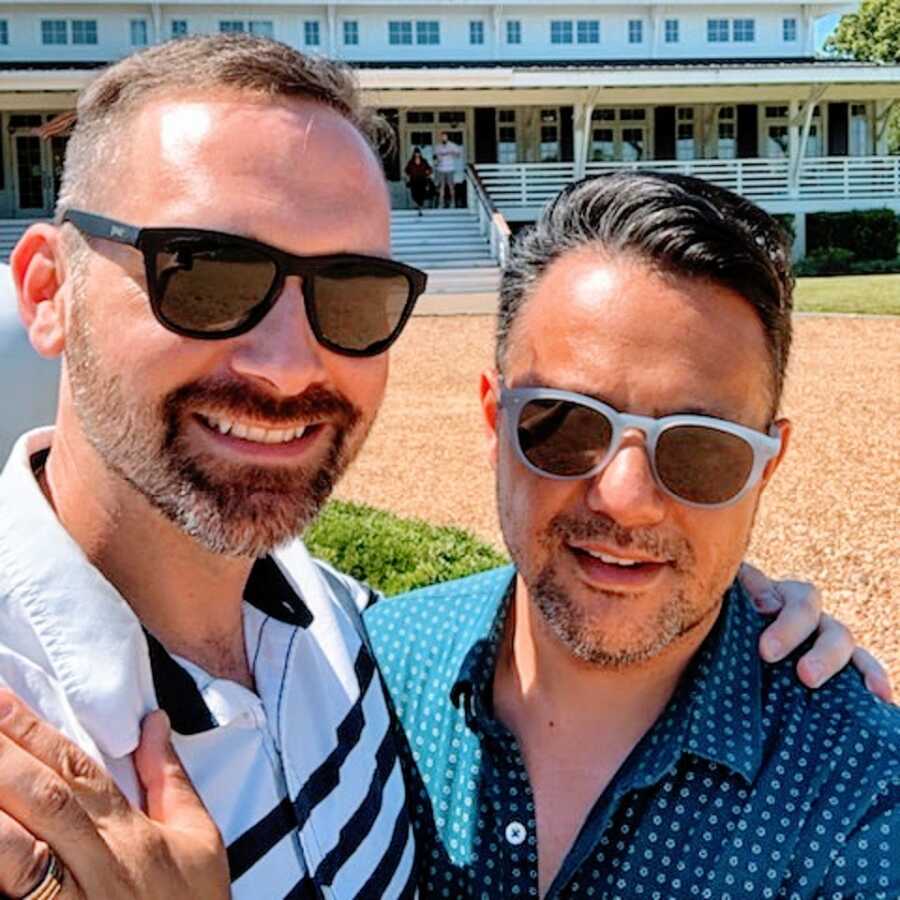 Our journey to finding each other began long before we could have possibly ever met. You see, Christopher and I grew up 1,000 miles apart, he in rural Virginia, and I in deep south Louisiana. Although we were in two different worlds, from two different cultures, with a twelve-year age gap, we were actually walking rather similar paths. In middle school, we both recognized that there was something different about each of us.
For me, it was a slow recognition that others in my grade were starting to pair off and date, yet I had no interest. Other boys were having conversations about girls they thought were cute, yet I had no interest. And then, one day in the seventh grade the revelation hit me—I was having same-sex attraction. It was around this same time I was called a f****t for the first time. I vividly remember the person who said it, where we were, the laughter that surrounded the person saying it. I felt attacked, othered, and utterly crushed. I agonized over how that person knew, and I launched into attempting to hide it further because I could not possibly go my whole life with the feelings I felt when I first heard that word! For me, hiding simply meant denial. I put up a mask, did the things I was supposed to do, and denied any thought that would lead me back to that feeling.
For Christopher, religion was a way to escape these same feelings. He tried his best to immerse himself in faith, with all hope that maybe it would just go away. Each of our paths led us to do exactly what is prescribed for a happy life—finding a wife, making a home, and having a family. But for us, each step of this journey was flawed because it wasn't authentic. After years of marriage, struggle, and introspection, we each found ourselves grappling with our emotions in a very dark place.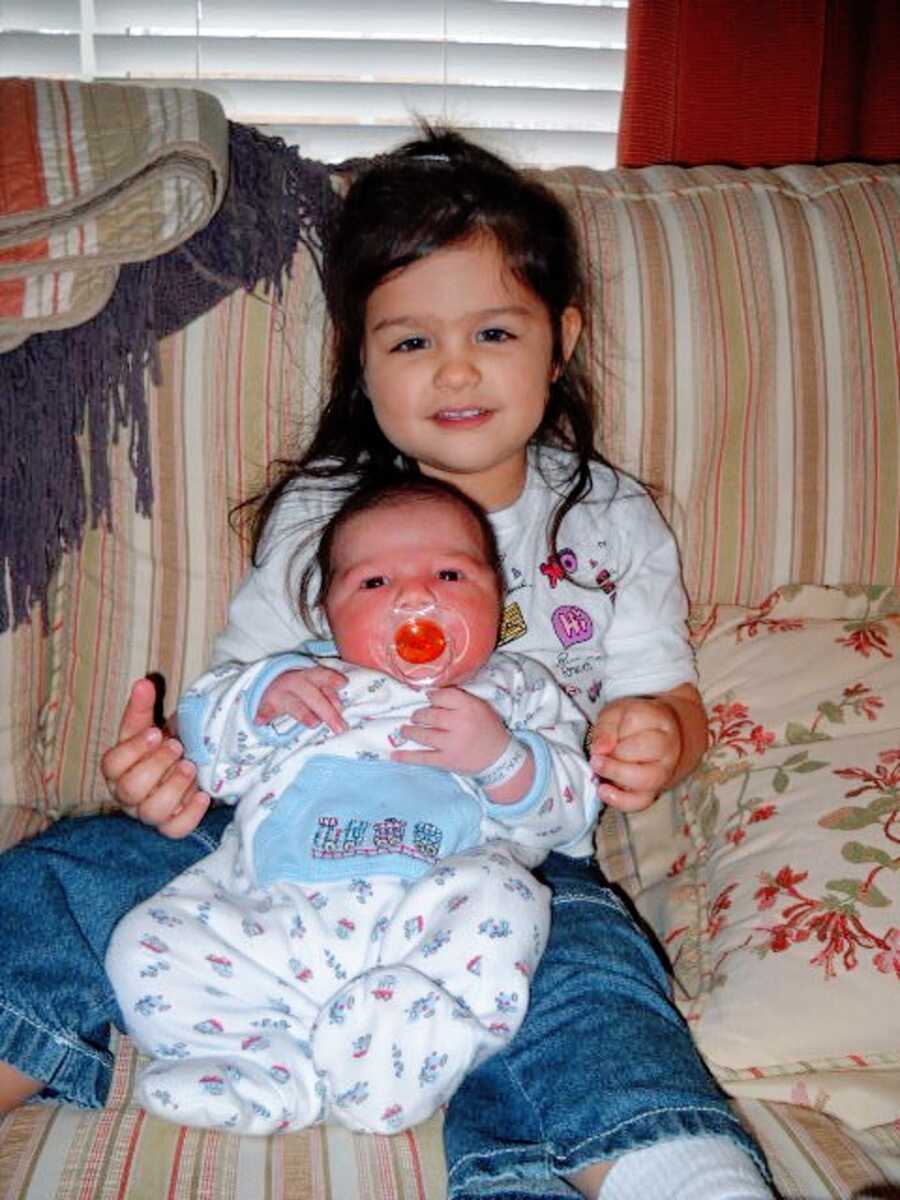 We came to personally accept the fact that we were gay, but what can you do with that information when you have a family? Coming out at that point seemed selfish because it would mean changing the lives of our wives and children, yet staying in the closet also seemed selfish because we would be denying them the truth. We ultimately knew it was in the best interest of everyone involved for us to come out, so we did, and that's where our worlds collided.
With few resources in each of our rural hometowns, we thought for sure we were the only people in the world going through this struggle. While going through the divorce process in 2019, we each sought to find some solace to this feeling of isolation where anyone does these days—social media. Through coincidence, or fate, or whatever one may call it, we each ended up finding a group for men who were going through the same situation. Suddenly, we were not alone—in fact, there were hundreds of men who were in the same place.
Christopher and I connected there and became fast friends. There was something incredible about the way he was so willing to be encouraging and so generous with his time, while he too was in need of support in a difficult situation. We saw each other through some of the toughest moments in our lives, like when I called him on his drive home from the first time he dropped his kids off at their mom's house or when he walked me through coming home to an empty apartment. During one fateful late-night phone call, something shifted. I remember saying, 'What are we…?' and him saying, 'What is this…?' and after stumbling over words for what felt like days, we finally admitted how much we meant to each other and officially began dating long-distance.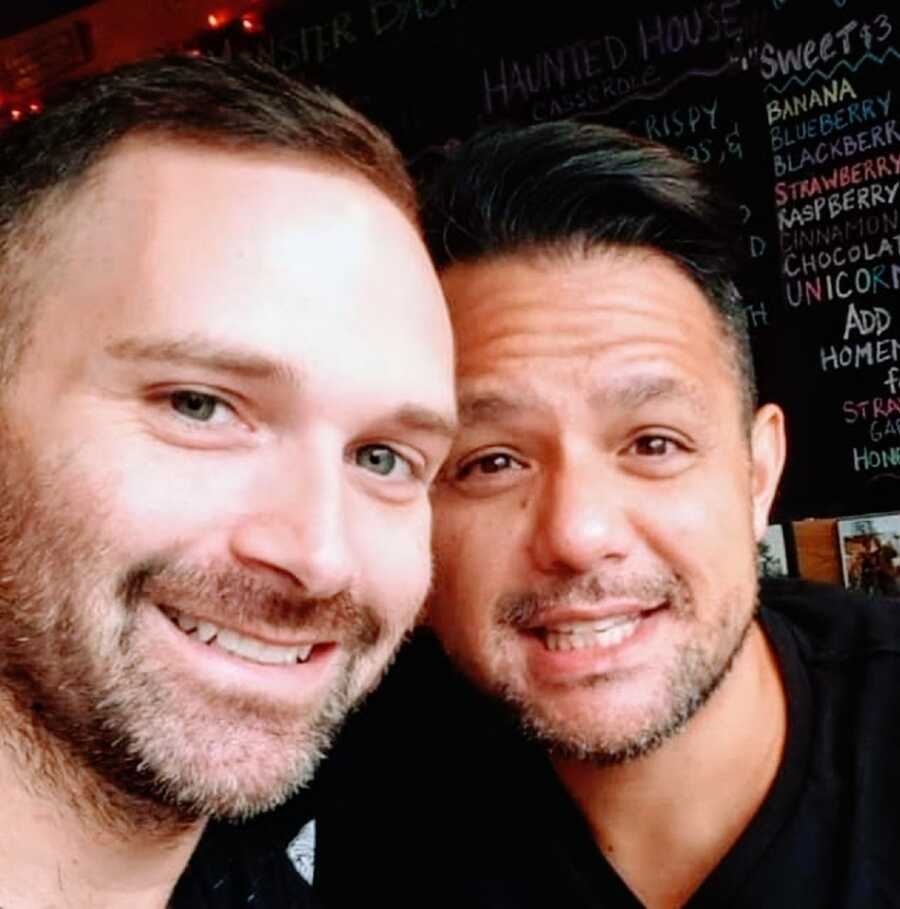 I will always vividly remember the first time I met him in person. I tried to sleep on the plane from Louisiana to calm myself before reaching him in Richmond. I landed and walked through the terminal, a bundle of excitement and nerves. I spotted my exit, my hands were shaking, and then I saw him—he and his bright smile, his gleaming eyes, his shifting, almost dancing feet. He took my hands, his hands were shaking too, and he calmed me. I immediately felt safe and cared for, and, for the first time, completely loved.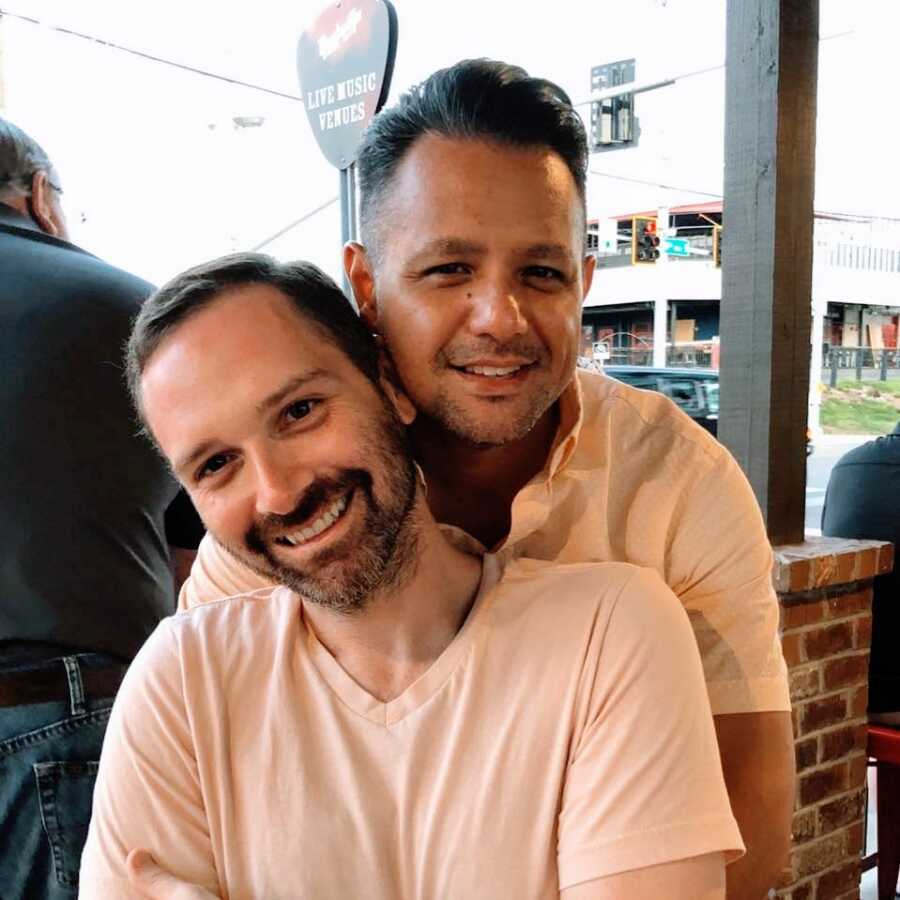 Our relationship grew tremendously from there. Having both been in marriages before, we had a great idea of what we wanted in a partner and of what we wanted in our relationship, and we communicated those wants so well. Family and friends saw that we were each other's complement. I helped him to open up and relax, while he helped me to focus and plan for the future. It also became incredibly evident that we were in love—like sobbing while watching The Notebook because I cannot imagine a day without him kind of love.
Because of our protective Daddy nature, we had each stated we would never introduce our children to someone we were dating until we knew it was very serious. That was easy enough to say, but what do we do when the relationship actually does get serious, and it's time to be introduced to kids? How does that work? Christopher's kids, Delaney and Cooper, are older, so we knew we wanted them to be a part of the process. Christopher started by having a conversation with each of them individually to explain that he was dating and share some details about me.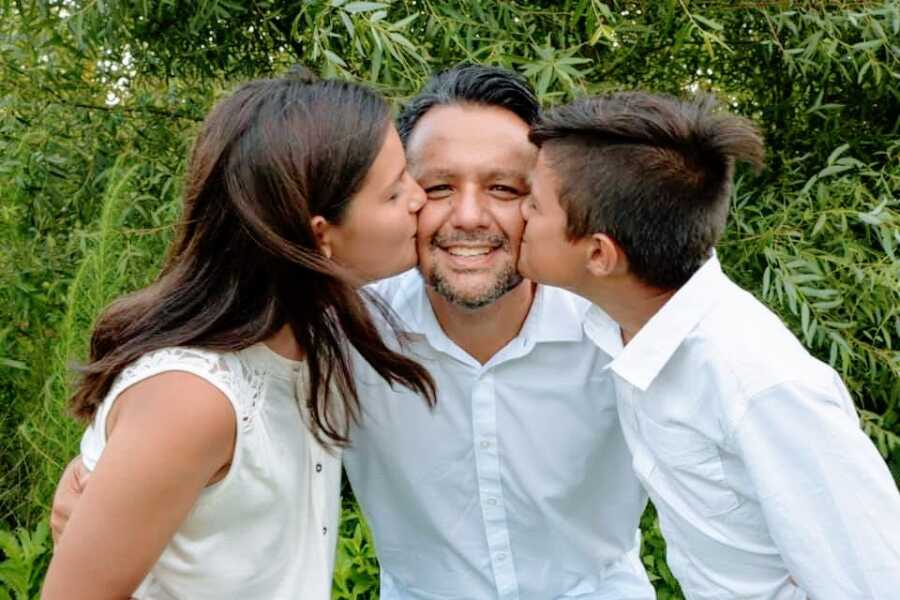 The most important part of this conversation was Christopher giving each of them the ability to express when they were ready to meet me. Cooper initially stated he was ready, but Delaney felt like she needed some time. She was apologetic, but I sent her a note to tell her not to apologize because I was very proud of her. I expressed gratitude for her honesty and admiration for her ability to communicate her needs. I told her I was really looking forward to meeting her but also was more than happy to respect her need for more time. This note went really went a long way. Shortly after, Delaney was performing in her school play and asked if everyone could come to see her—including me. The performance was wonderful, with both Christopher and I cheering entirely too loudly. We then went out for dessert and began the process of getting to know each other as a new family.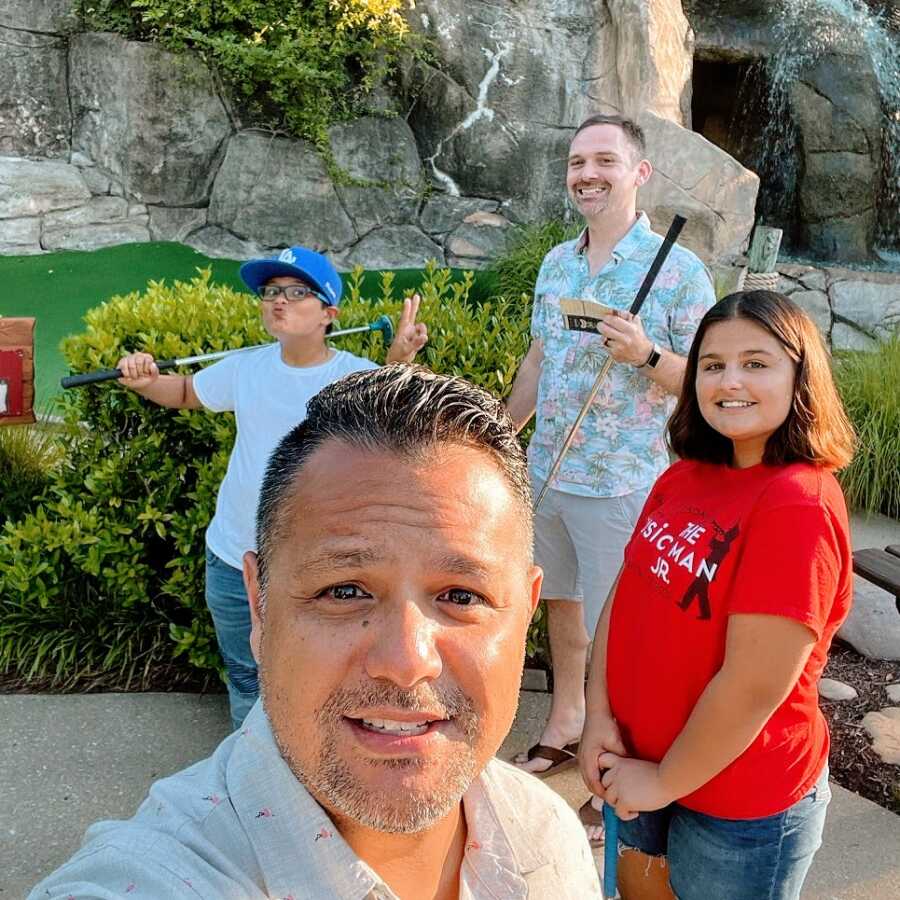 Since my kids, Sawyer and August, are significantly younger, a different tactic had to be developed. We began by introducing the boys to Christopher via FaceTime. This allowed them to see Christopher from a safe space and allowed me to answer any questions they might have before ever meeting in person. Christopher decided to send the boys little gifts from time to time, which certainly went a long way! When the day came to meet in person, Sawyer and August were incredibly excited to see him. August especially immediately bonded with Christopher, making those two special buddies.
Then came the time to have our children meet each other. This too began with FaceTime calls. The kids really enjoyed getting to talk to each other, sharing silly stories, and joking. The boys spent entirely too much time talking about poop—much to Delaney's disgust. When it came time for them to meet each other, we knew this was going to be a monumental moment. We planned a trip to New Orleans and allowed the kids to take ownership of the trip by choosing activities they would like to share with each other. We spent a week exploring the French Market, holding alligators, playing at parks, and eating way too many donuts. The shared experience really brought everyone together, and we left the trip exhausted and emotionally full. Now, we are looking forward to celebrating the anniversary of our wedding and are able to reflect on this journey.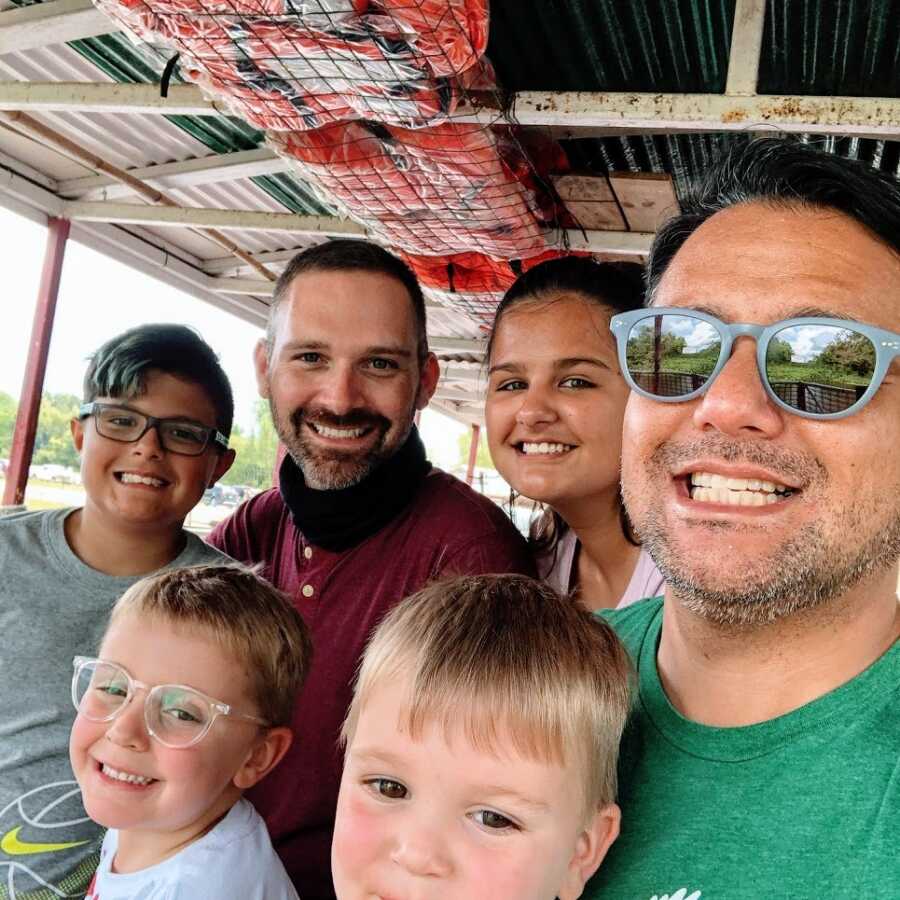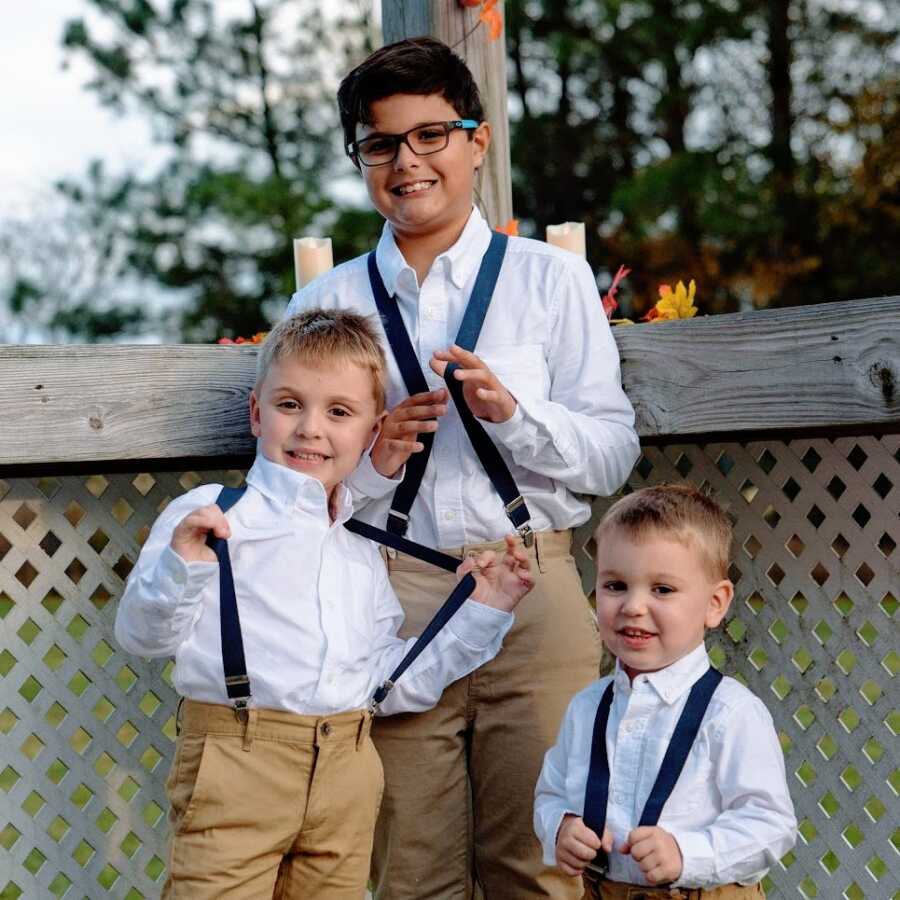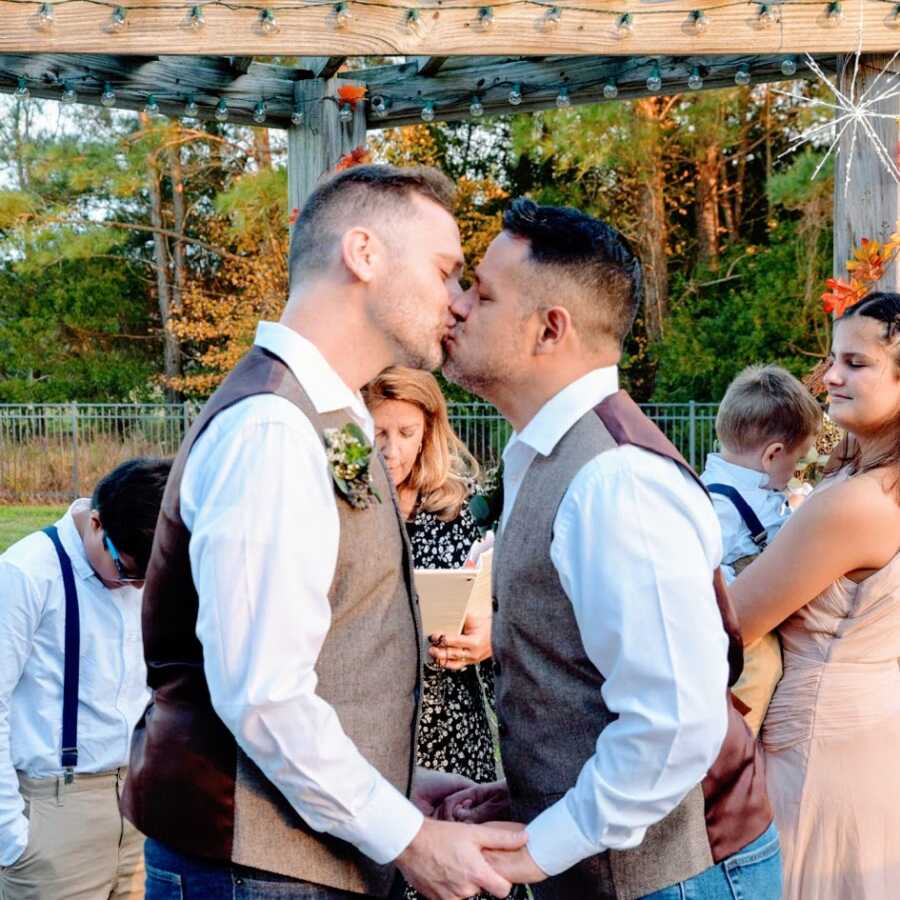 It certainly wasn't all smooth sailing. Although our story came with a lot of hurt, it has led us to be honest, genuine, emotionally generous people. Are there things about this story I would love to change? From the perspective of not hurting others along the way, absolutely, but I have to believe my exact series of actions lead me to have great friends, beautiful children, and the absolute love of my life—and for that, I can have no regrets. I also genuinely believe that our children will be better people both because of our decision to come out and because of each other. Our older children are already able to express this. They're able to see their dad truly happy and healthy. For our younger children, I hope that we're giving them a much better idea of what love is—not a preconceived, picture-perfect magazine image of love, but real love, deep love, authentic love.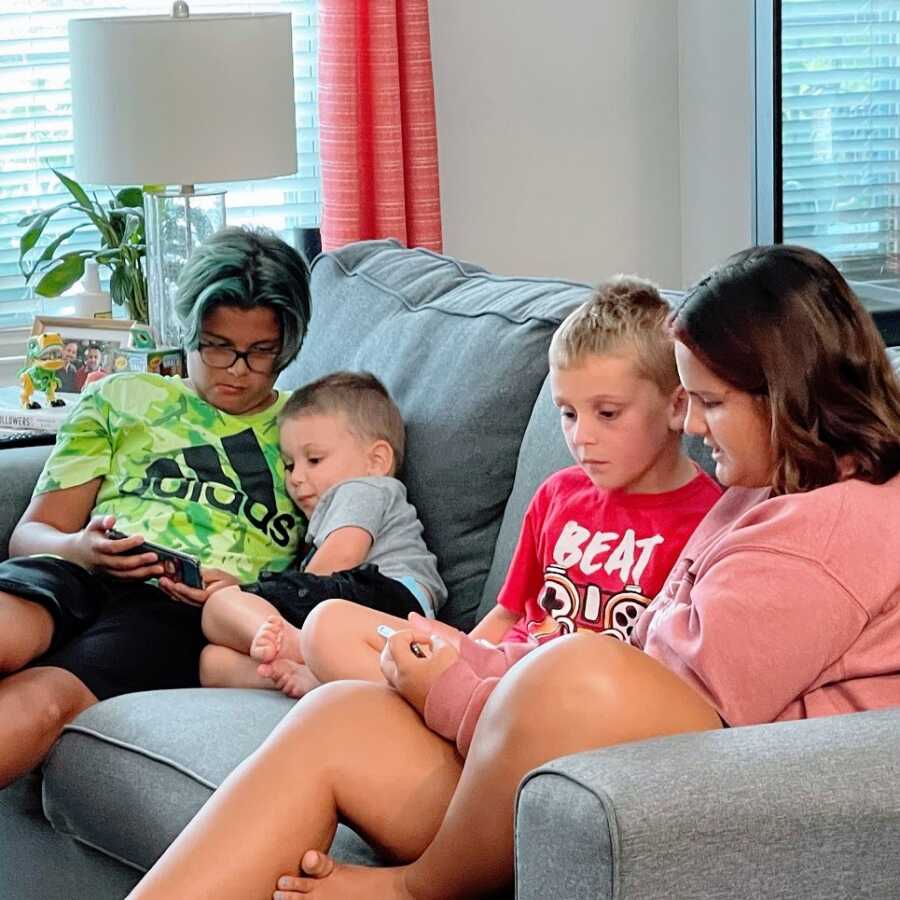 We share our story because of that moment just before we found each other, that moment when we thought we were the only people in the world who were married, had children, and then struggled with their sexuality. If you find yourself here, please know that you are not alone and your journey is valid. Coming out is something deeply personal. It is a process much more than a single activity, as you really have to do some deep introspection, assess your needs and your safety, form a plan, and work your way to saying the words. Take your time. Know that self-care and self-preservation are not selfish. Ultimately, your family, yourself, and the world will thank you for presenting your most authentic self."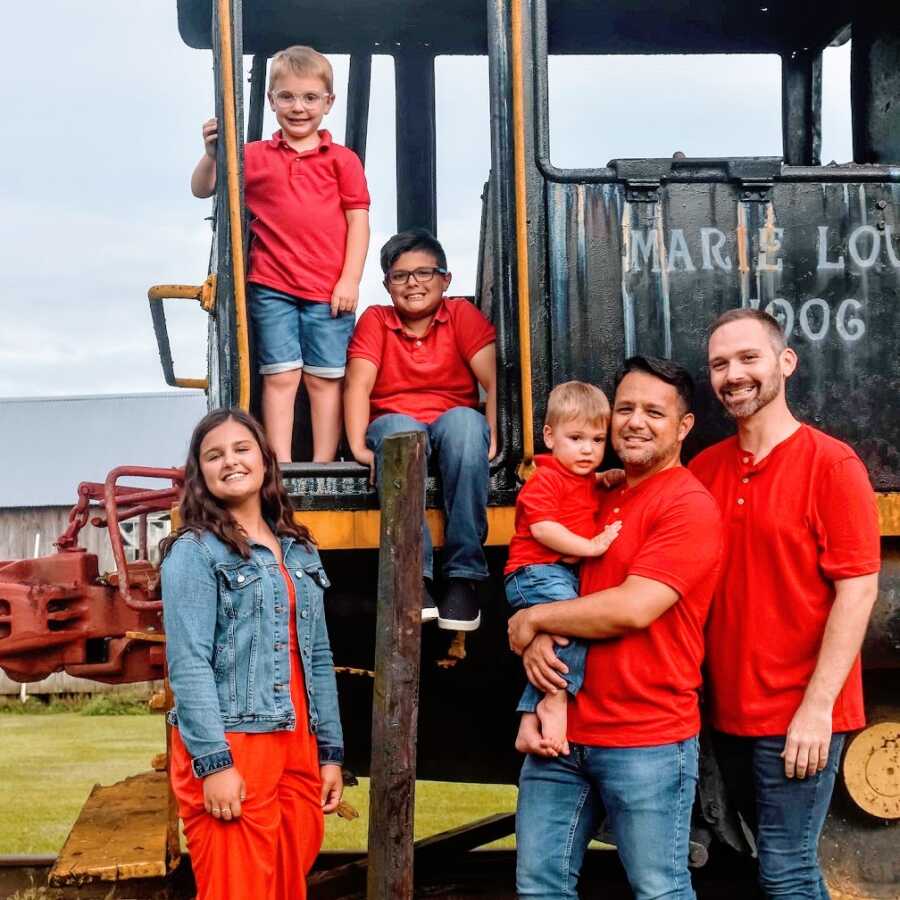 This story was submitted to Love What Matters by Joey and Christopher Pierce of Alexandra, VA.  You can follow their journey on Facebook, Instagram, and their website. Submit your own story here, and be sure to subscribe to our free email newsletter for our best stories, and YouTube for our best videos.
Read more stories like this here:
'We met when we were married to our second husbands.': Lesbian couple share journey blending families, having transgender child, 'Find people who accept you as you are'
My partner announced, 'I'm trans.' It felt like the rug had been pulled out from under me.': LGBT couple share beautifully complex love story
You're going to be parents!' Our son has 3 parents who love him. He gave him his name, I gave him biology, and his mom gave him life.': Gay dads and boy's mother parent together as Tri-Custody family, 'the more love a child receives, the better'
'I was called 'gay' before I even knew what it meant. I have to be a strong papa to my girls. I can't let them see I'm hurting.' Gay father from deep south says he's just like 'any other family', finds confidence after years of bullying
ovide beauty and strength for others. SHARE this story on Facebook with friends and family.