Disclaimer: This story includes descriptions of abuse and suicidal ideation that may be triggering to some.
"At the young age of 19, I sat in my then-boyfriend's bathroom and saw two pink lines. I was scared and in shock. I didn't know how I was supposed to take care of another human as I had no idea how to take care of myself. I came from a very abusive home life. When I was younger, it was my parents going at it, but after my father went to prison my mother took all that anger out on me, and here I sat in a bathroom, alone and pregnant with a man I barely knew. I was depressed and suicidal. My world was an absolute mess, and here I sat pregnant with a baby I never asked anyone for. A piece of me died that night while another was born within me. I didn't know who God was then, but I promised that baby I'd do right by them that night.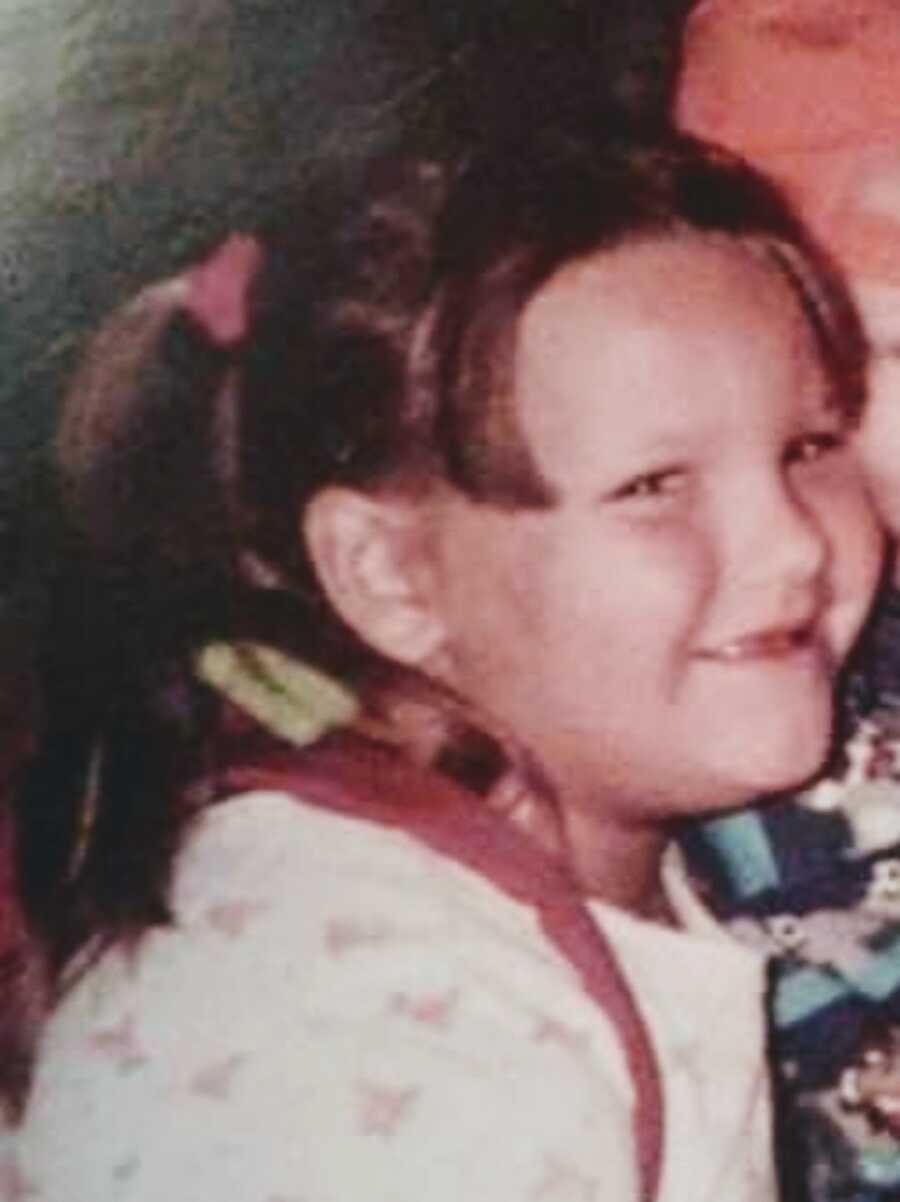 A few weeks later, my mother found out I was pregnant within the walls of a restroom at a local grocery store. I was forced to take a test, and when it came back positive, I was told abortion would be the only way to go and that was the right decision for me. I later got beaten so badly I had to cover my stomach to protect what was growing inside of me. I was in a constant state of torture and manipulation by her and my brother. They controlled me more than I can even come up with words for. After four years of abuse, I had enough on that last night. I mean, my baby was almost killed. I went to work the very next day with zero of my belongings and never returned home. I went to a women's shelter that night. My coworkers fed me, bought me clothes, and gave me rides to and from work. About a week after I ended up at the women's shelter, my grandmother from Texas came to get me. She was my angel.
Texas was very different than North Carolina, but not being in a constant state of abuse felt so freeing. I was working full time, and I was finally allowed to get my driver's license, I had control over my own money, and I could buy whatever my heart desired. It felt so weird. My pregnancy was going smoothly too, and the baby was surprisingly healthy. At 23 weeks, I found out my precious miracle was a baby girl. After that discovery, my body quickly changed, and I had some of the hardest few months of pregnancy. I had headaches so severe I'd be in the middle of conversations with someone, and I'd fall asleep mid-sentence. I also blacked out at work. It was so scary, yet I was told everything was alright and we were healthy. In November of 2013, I birthed the most incredible human I've ever met. Looking in her eyes, I knew I'd be nothing like my mother. I was so proud. Yet a year later, I was back to being sick.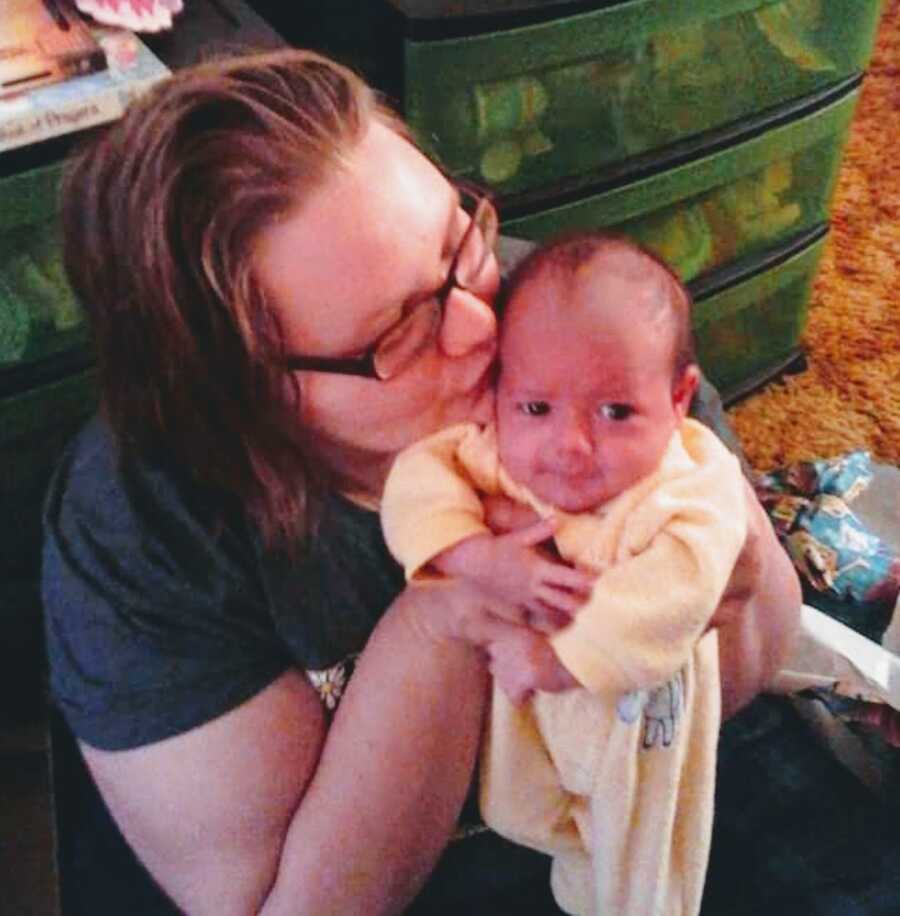 The headaches started again. I can't even begin to explain these headaches. They are excruciating. It really felt as if someone was throwing a baseball at my brain every day and it was being crushed. I had two spinal taps and left with 0 answers again. Four months after those MRIs, I sat at my job where I worked in a home taking care of people with disabilities. I couldn't stop crying. The pain was back. I immediately left and went to the emergency room. They gave me IV medications. That week I saw the ER staff more than I saw my child. Then the unthinkable happened. I lost every single ounce of my vision. My grandma came to get me and my child from our little apartment on campus and took us home with her. She spoon-fed me, washed me, and prayed over me. Finally, we went to the doctor…again. Dr. Donahue is a small-town doctor in Stephenville, Texas. He delivered my daughter, Kaylee, and I would have trusted him with my life. He explained that with my history of abuse, I needed to get to Fort Worth immediately. That drive was so scary, and all I could think was, 'How am I 21 and this sick? How on earth does this happen?'
I got to the hospital in Fort Worth, and a nurse with a wheelchair was waiting for me. I was sent back for a spinal tap. My pressure was 45 that night. Pressures can range from about 7–15, yet here I was with a number like 45. My brain was literally crushing itself. That night from the ER neurologist I got the diagnosis of Idiopathic Intracranial Hypertension. My body believes my brain has a tumor when it doesn't. I get symptoms like nausea, headaches, vertigo, weakness, and memory loss just to name some. The doctor told me that some get surgery, but most people can deal without it. He handed me a bottle of medicine and told me if I took the medication my vision would come back. I was happy, thinking I finally found the answer, yet I was worried knowing that I found out those answers a little too easily. I never imagined this hospital visit would haunt me, but it did. I found out a year later I should have had surgery then.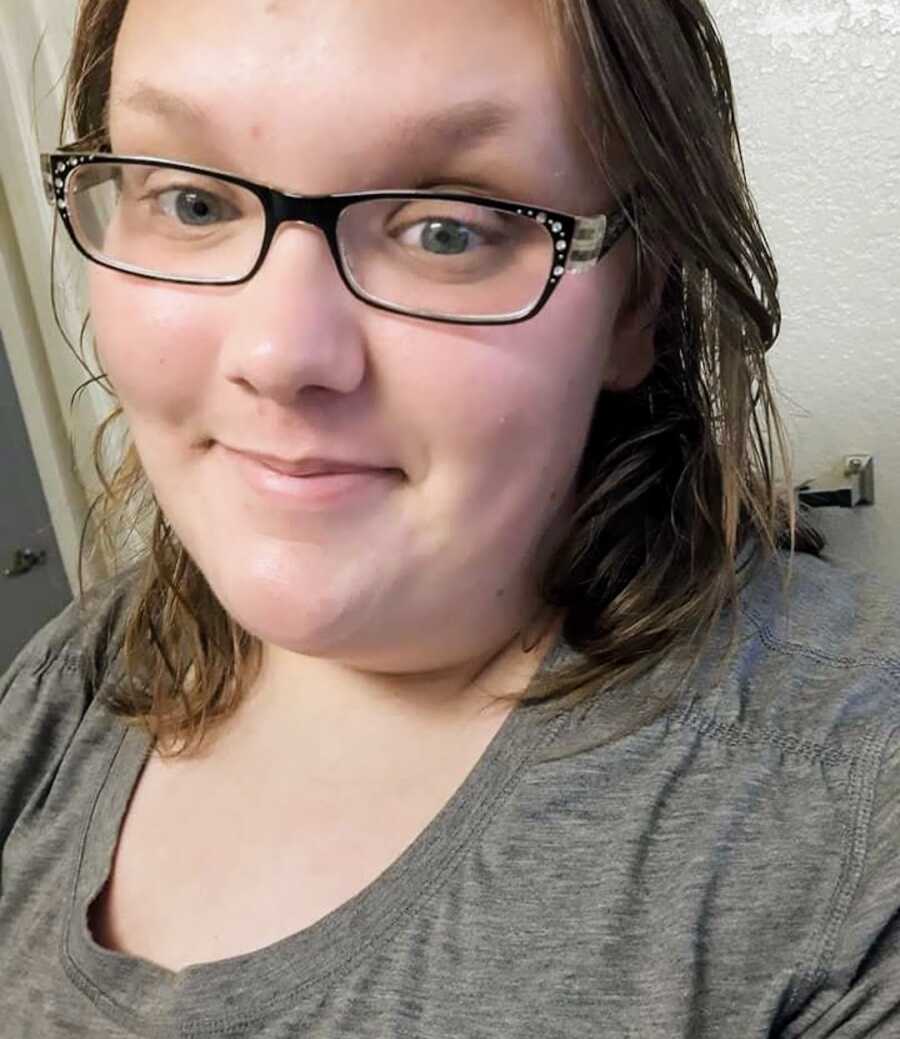 A year after the hospital visit, where I was handed a bottle of pills, I ended up at the urgent care because I was sick. At this time in my life, I worked two jobs, I was a full-time mom, and I was going to school full-time for social work. My life was full, and I had no time to be sick. One night, my boss came up to me and said, 'Amanda, you still sound awful. Please clock out and do not come back to any of your shifts until you have gone to the doctor.' Where I didn't have any time to be sick, I also didn't have any time to not be working, either. So, I clocked out and immediately went to the after-hours urgent care clinic.
When I got back to a room, the doctor on call that night came in. He did a checkup and prescribed me a z-pak. Then, he said, 'Before you go why did you put on the form that your Intracranial Hypertension was a past illness?' I told him what the ER neurologist from a year ago told me. He then told me it was usually something people dealt with for the rest of their lives. He told me to leave immediately from him and go to the emergency room and that he would be calling them to let them know I was coming. My life literally flashed before my eyes on my ride there. How on earth could this be possible? What did this mean for me now? I was so mad at not only myself for not getting a second opinion but at the ER neurologist and God too.
Upon my arrival at the Stephenville Emergency Room, I was evaluated and was told that my vision was horrible. They tried to do a spinal tap but couldn't get the needle in the correct spot of my back, so they sent me to another Fort Worth emergency room via ambulance. In the matter of an hour, I went from having a cold to being a serious medical case. During my ER visit in Fort Worth, they did a spinal tap. My pressure was 60. My intracranial hypertension was back. My heart broke. I wanted no part of this. How was I going to be sick and parent my 2-year-old? I literally wanted this to end. It was a total nightmare.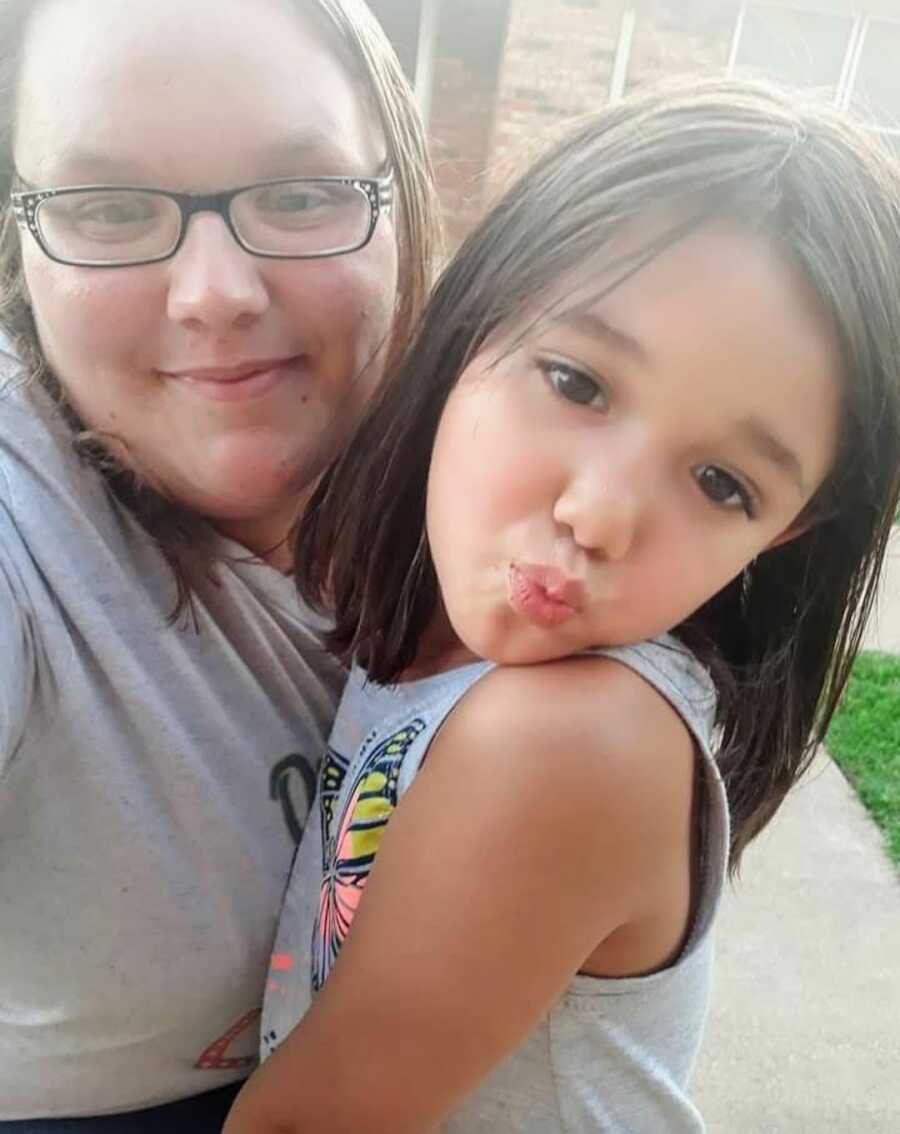 The very next day I saw Dr. Trevor Kerr. He is a neuro-ophthalmologist in Stephenville. I saw him every single day for about two weeks. He let me know I shouldn't be driving with how my vision was, so I gave it all up. He called hospitals trying to get people to understand how severe my case was. Even though I most definitely didn't want surgery, it was the only thing that would save the remaining vision I had. The first hospital he sent me to was in Dallas. I stayed there for about a week and had eye surgery where they went in behind my eyes and cut a slit in them to relieve pressure from the brain. I was told there was a chance I could wake up blind, but I did it anyway. I wanted to do everything I could to possibly save any vision I had left.
A couple of weeks later, to my horror, my intracranial pressure had risen again. By now, I had quit both of my jobs and dropped out of school. My health overtook my life. Another visit with Dr. Kerr, and I was sent to Temple, TX for shunt surgery. In this kind of surgery, a shunt is inserted into the brain with tubing connected to the valve that goes down your side into your stomach cavity. So, when my brain couldn't relieve the pressure, this device was supposed to do the job. I was there for two weeks. The surgery felt invasive yet freeing. I just wanted to feel normal again. I didn't realize I never would.
In the months following my brain surgery, I saw Dr. Kerr regularly and my new family doctor, Dr. Marcum. I brought up disability with them, and they agreed that I should probably start that process because even with a shunt I still accumulate pressure. I tried to start living the best I could and make the best out of all of this, but come August I would undergo another brain surgery.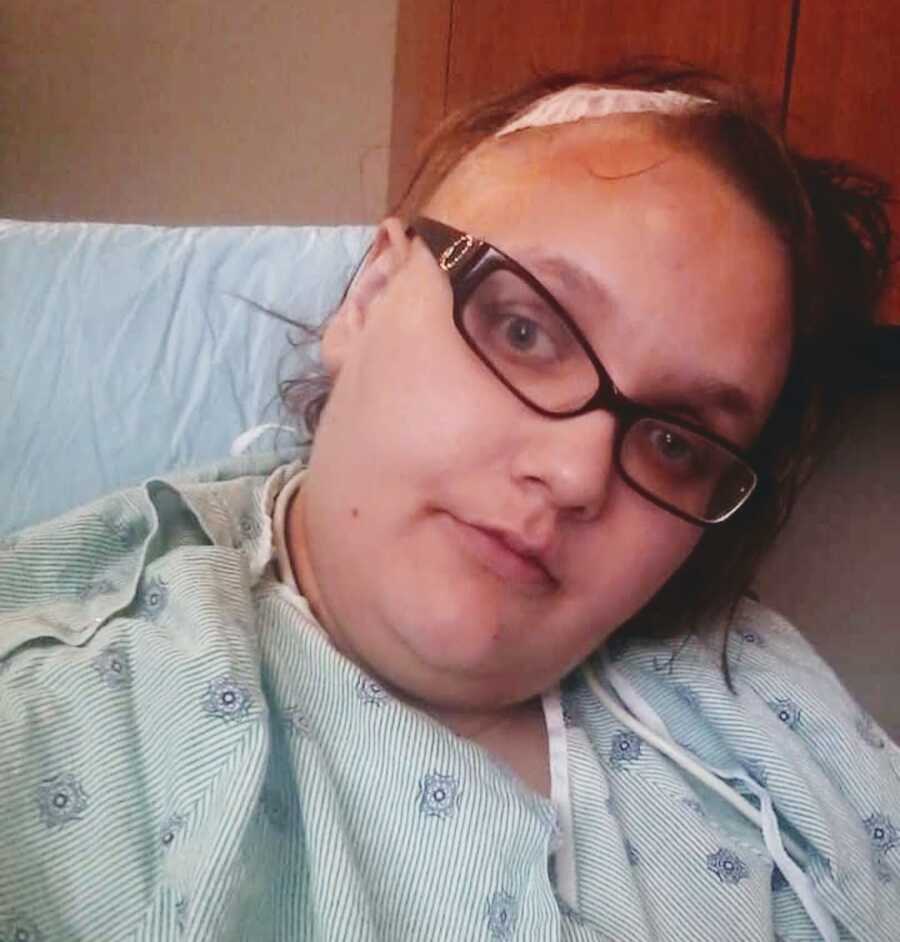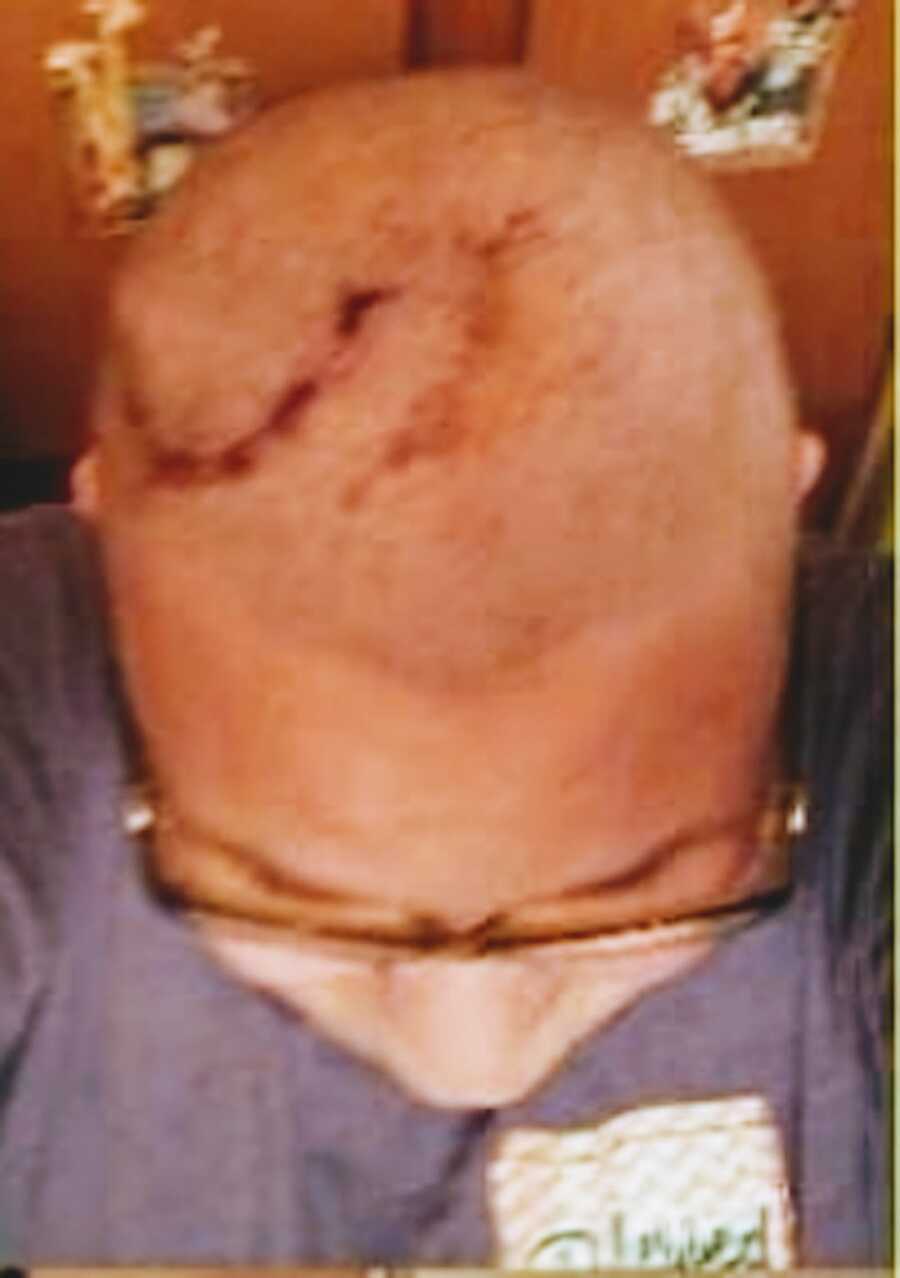 I was at Walmart with my daughter, and I went completely blank. I lost all vision, and everything turned dark. My shunt broke. My heart shattered on the Walmart floor that afternoon. I felt absolutely hopeless. Upon my arrival at Scott and White in Temple, they immediately scheduled surgery. I didn't get there until 4 p.m. that afternoon. Surgery was scheduled that night, and I had emergency brain surgery. When I woke up, I had a needle in my foot and was told there were complications and that was the only place they could prick me for an IV. I lost half of my hair during this surgery (eventually the other half came off too), and I still didn't gain any eyesight back, but I had a little and that was all I needed.
After arriving home as a single mom, I also needed to do the grocery shopping, so a couple of days later when I had enough strength I went. While I was in the produce section in the middle of Walmart a lady came up to me and started crying. She saw my scar and instantly thought I had cancer. I said, 'No ma'am, I have a brain disease.' Yet, right there in the middle of Walmart, she prayed with me. I felt both breathless and shocked. I was amazed that someone who was a complete stranger could say such a beautiful prayer, yet I just wanted to scream and beg God, at whom I was angry, for an answer! I didn't deserve this. I did absolutely nothing, and here I was with battle scars bigger than Texas.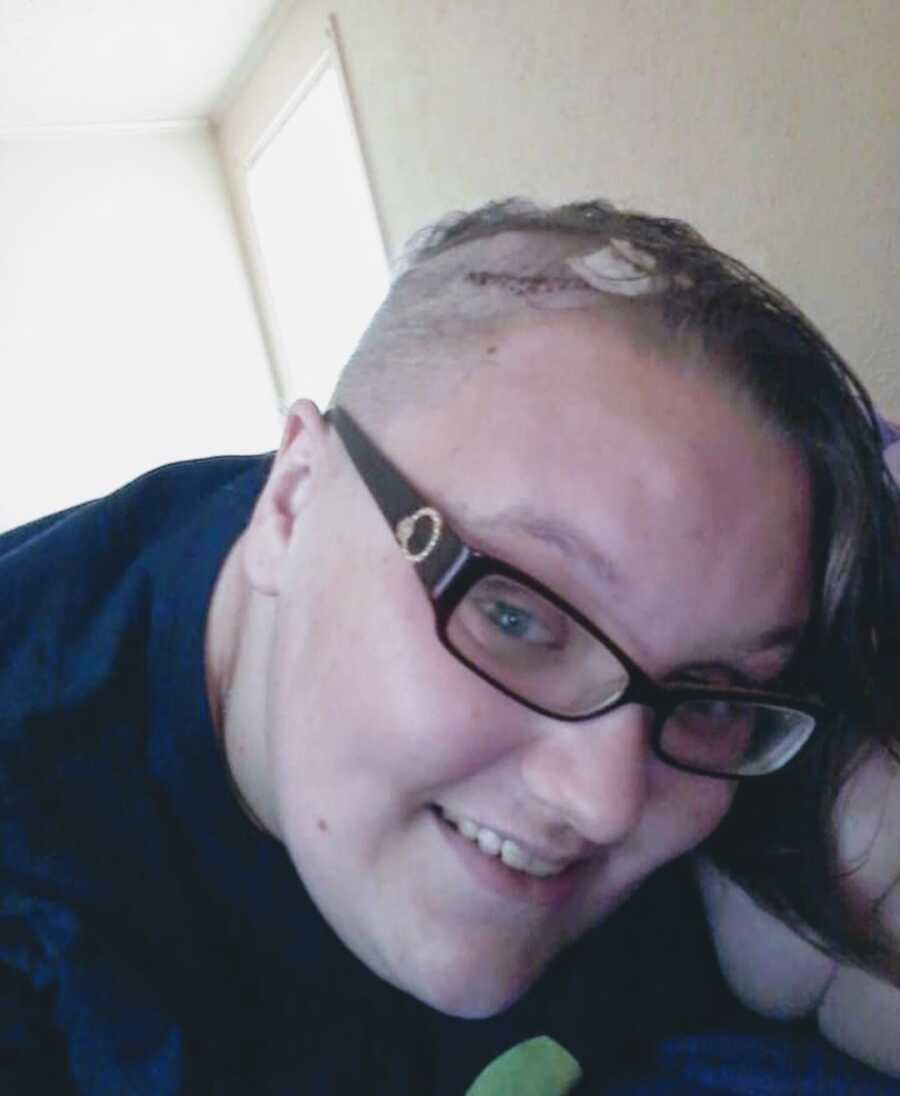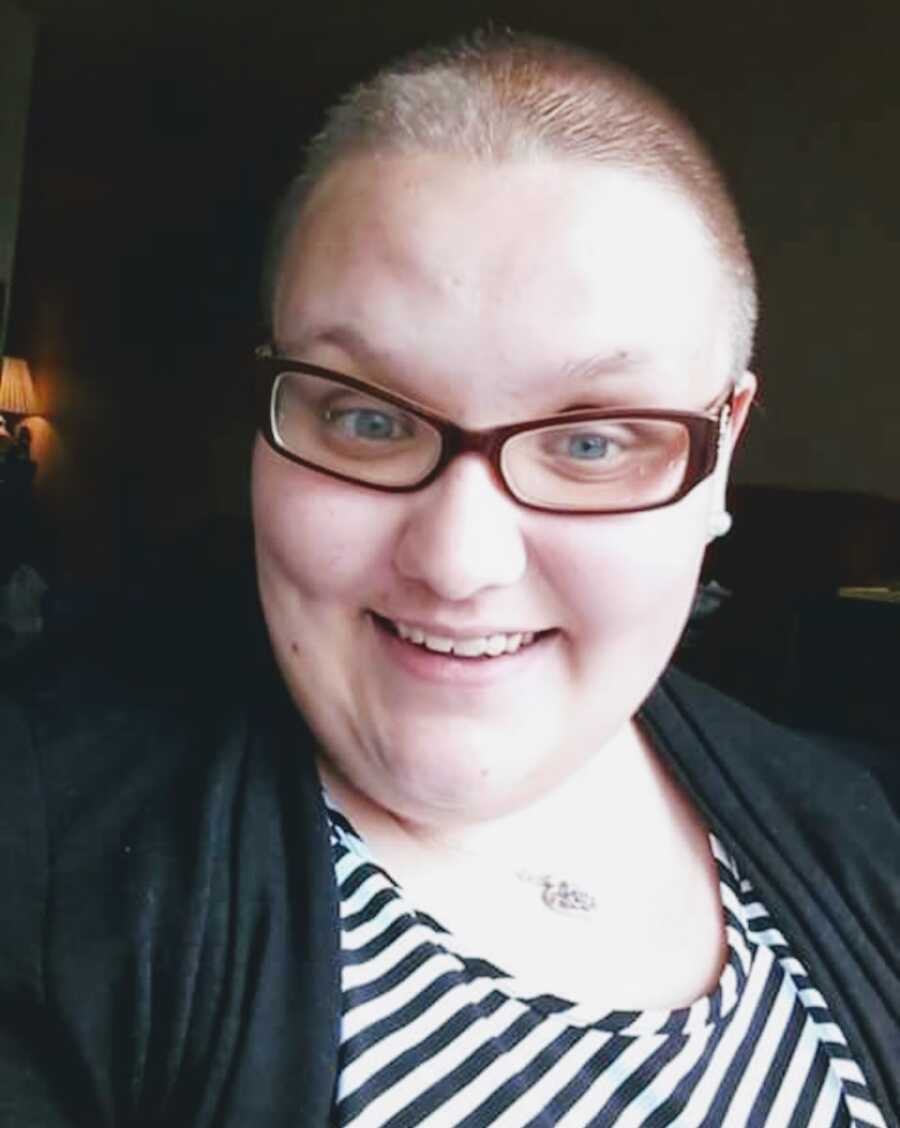 The months to follow were very hard. I had to learn who I was all over again, I had even more ambulance rides to ERs and doctors' visits than I've ever had in my life. I battled a severe case of depression and, like in high school, I wanted so badly to end my life. I opened up on one of my visits about it to my doctors, and they changed up my medications and told me if it got worse to go to the hospital immediately. I truly owe a lot to the doctors. I give them all the credit for saving me.
After everything slowed down, so many people didn't believe I was really sick or downplayed my illness, which hurt like a straight shot to the chest because I was living this nightmare every day. I lost a lot of people in my life because of that. It's hard for people to truly understand how aggressive a brain disease is or any chronic illness really. It is the hardest thing I have ever lived with in my life and if it wasn't for my precious miracle baby, I don't think I would have made it this far. Kaylee gave me a reason to live. When everyone around me left or checked out, she stayed by my side. This definitely was not easy for Kaylee, either. My illness has affected her so much, but she loves me effortlessly. I'm thankful for that love.
In 2018, I went to the ER because of shoulder pain. It hurt so badly, I thought something was wrong with my bones. After scans were completed, they found bulging disks and bone spurs in my back that were a direct result of the 20+ spinal taps I've had. They also discovered a bone fracture that was old, and she said it probably resulted from the abuse I endured as a child.
It has now been five years since my surgery. I have not had to have any more brain surgeries, but I've had a lot of medical visits. I am now on disability and am a full-time mama to my now almost 8-year-old. Kaylee has only remembered me as sick, and she has such a giving heart. She truly was the blessing I never knew I needed at 19. Some days are better than others. Some days, I must lay down for hours. Other days I can do all the things but then I'll be vomiting for hours afterward.
Life has truly thrown some curveballs over my lifetime, but I'm thankful for it all. I don't think I would have so much appreciation for my life or just being able to breathe or to go play hide and seek at the park if it wasn't for my disease. My disease has taught me to take life seriously, love my little with all of me and try my very hardest at everything I do even if it's hard stuff. I'm no longer mad at God, and we attend church regularly. I don't have a ton of family in my corner, yet I have some great friends who are all blessings. Life has been very good to me even in the unknown. If I can give anyone advice going through anything I've gone through, it would be to just hold on. Sometimes life gets muddy, but it doesn't stay that way for too long. There is beauty in the ashes."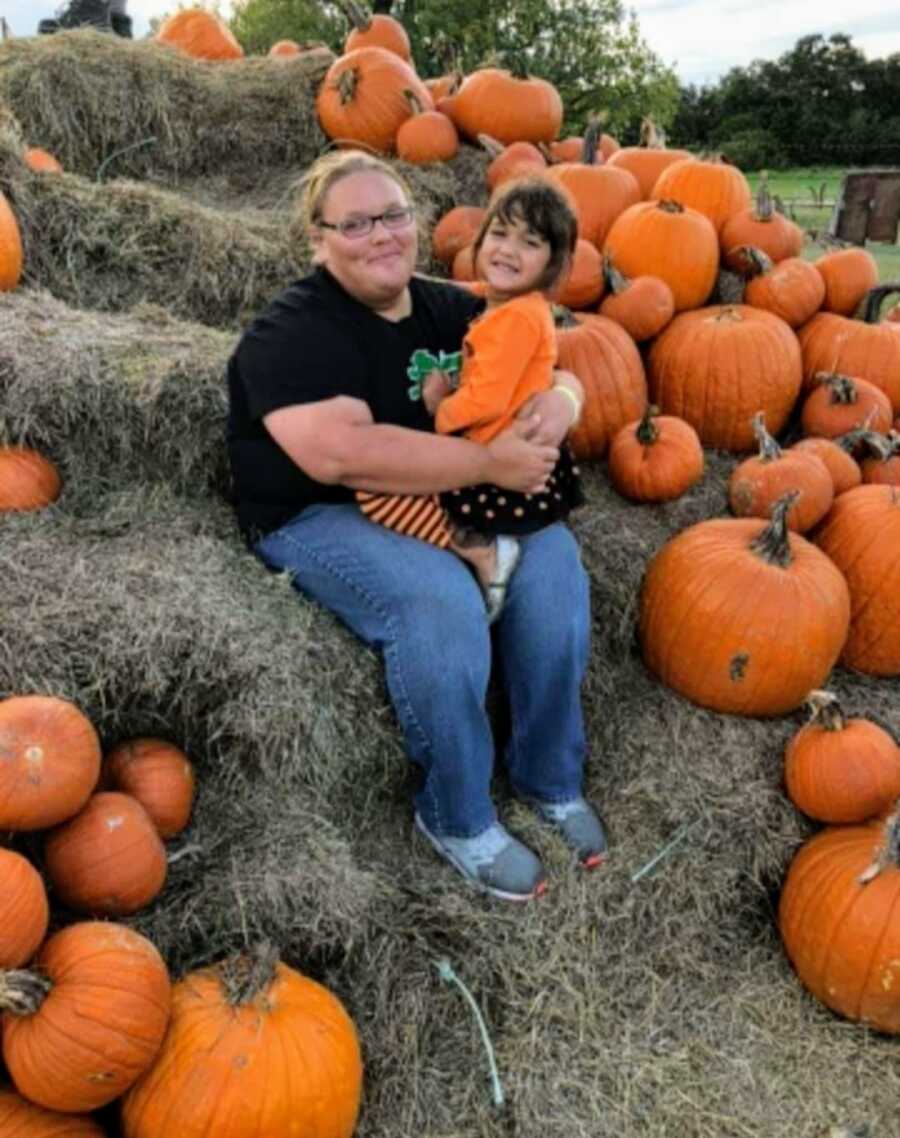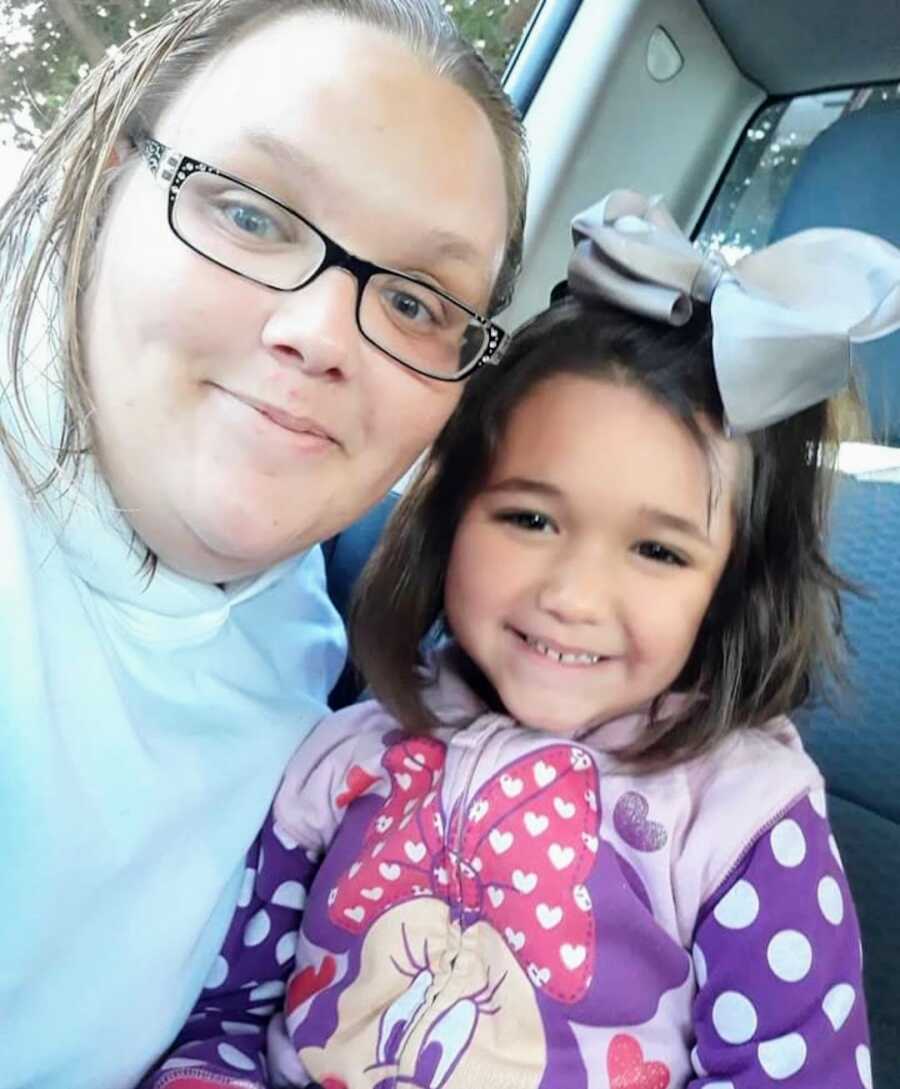 This story was submitted to Love What Matters by Amanda Hatley of Abilene, Texas. You can follow her journey on Facebook. Submit your own story here, and be sure to subscribe to our free email newsletter for our best stories, and YouTube for our best videos.
Read more stories like this:
'My brain and body are deteriorating.': Woman shares candid reality of battling rare Idiopathic Intracranial Hypertension
'I went into anaphylactic shock and had to be given adrenaline to keep me from dying. My body turned red and I started to pass out. She had to speak to me through the doorway.'
'I love when you are healthy, and can play with me,' my son said. That CRUSHED me. I was forced to observe my son from a distance, watching his life from afar. I couldn't join in.'
'I became severely ill. He said, 'You just want to be sick.' I could not keep anything down. The people who were there to help me were saying I WANTED this to be happening.'
Do you know someone who could benefit from this story? SHARE this story on Facebook to let others know a community of support is available.