Everything Seemed Fine
"In the very beginning of my pregnancy with Damian, things were totally normal. A lot of morning sickness, but that was to be expected since I had it badly in my previous pregnancies. Things were going well, and like typical expecting parents, we never ever imagined anything would go wrong. It never crossed my mind.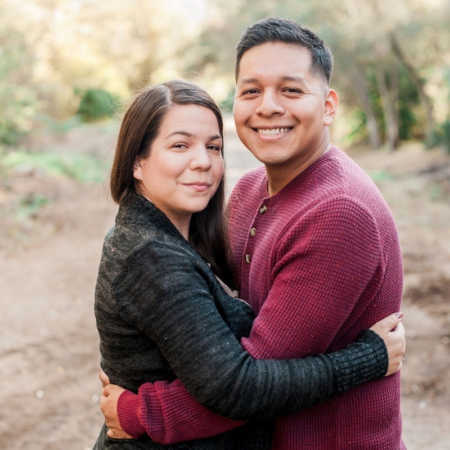 It all started when I got a 'quick' ultrasound done at my small doctor's office. We were told we were having baby BOY #3! I was not surprised at all, even though deep down I was hoping to hear we were going to be having our first little girl. The office staff said I needed to get my 20 week ultrasound scheduled. I was very familiar with what is known as the 'anatomy scan.' We were sent to a high-risk doctor to get that done and I figured it was because I had a delivery complication with Johnathan they needed to monitor.
Discovering Problems
We arrived to get our 20 week scan done. Alex and Michael went with me. I remember the ultrasound room had a huge screen on the wall, perfect to view the baby as the tech was scanning. I was getting ready to sit down on the chair when the tech said 'they saw something wrong with the brain, right?' I told her I had no idea what she was talking about. She went on to tell me that at my last ultrasound, they saw abnormalities on his brain images. I was more confused than anything, for some reason I was not worried. We went on with the scan and we got ushered to a small, private room. The room was pretty empty, and only had a box of tissues on a small table next to a window. Soon, a (pretty awesome) doctor came in and said he wanted to let us know what they saw on the scan. He told us our baby's brain ventricles were enlarged with too much fluid. Not too enlarged, but they were enlarged to the point we had to closely monitor the situation. After speaking with him, I felt very calm and reassured everything would be okay by the time we had our next scan.
Staying Strong
That next scan came quickly and before I knew it, I was getting ready for another scan. This time all alone. I walked in there with confidence, convinced all of the issues we saw previously, had disappeared. I laid down to get scanned and noticed his brain looked very similar to last time. At that moment, I felt my heart drop and I felt very scared. I was no longer calm, no longer okay. The tech did not say much as she left the room to go get the doctor. I sat and waited. The same doctor from the previous time came in to the ultrasound room and he sat next to me. He had his hand on my shoulder when he told me that my son's condition has gotten worse. For the first time in the pregnancy, I broke down and sobbed. I couldn't hold it in, my heart was broken. The doctor held me and told me we will figure this all out. 'Your sweet little boy needs you to stay strong' he said. 'He is still absolutely perfect.' The doctor got out his notepad and wrote down some blood tests he wanted me to get done. Step #1 in figuring out what was going on. On the way out, I ran into the restroom to compose myself before checking out at the front desk.
Soon after that, I transferred care to the hospital where Alex and Johnathan were born, UCSD Medical Center. We immediately got in for our first ultrasound, this time with Michael by my side. The scan revealed his ventricles were still growing significantly. The high risk doctor there told us at that point, there was a 15-20% chance of developmental disability. And that number went up, as his ventricles increased in size at each appointment. She also wanted us to get a fetal MRI done, as that would give us the best view of what really was going on.
Getting An MRI
The day we went to get the MRI done was very scary. They were going to try to get MRI images of HIS brain while he was still inside of my uterus. They explained there was a chance no clear images would be obtained, due to fetal movement. The MRI was very uncomfortable and loud. I laid there and prayed we would get some clear images.
A few days later, I was at work and noticed a missed call on my phone. UCSD had left me a voicemail saying they wanted to speak to me regarding the MRI results. I went numb. I went outside and called back, but I was told the doctor would call me back soon. The rest of the workday was a blur, I wasn't all there. Michael picked me up from work that day. Just as we were a few blocks away from home, my phone rang again. I took a deep breath, and then answered it. The doctor explained they went over his MRI images and said the words 'Your baby had a stroke.' Those words cut through me like a knife. There was no way. That doesn't happen, how could it? My mind automatically started racing. I managed to hold it together throughout the short phone call. But as soon as I hung up, I cried like I never cried before. Barely getting the words out to tell Michael what just happened.
Struggling With Depression
I ended up taking a week or so off work after that, and I fell into a depression. It was hard to do daily tasks. My heart was broken for my unborn baby, who I already loved so much. I had conversations with him multiple times a day. I told him that in my eyes, he was perfect. There was nothing in the world that could change my love for him.
The whole time we thought his ventricles were enlarged, but in reality, the fluid was just filling in damaged areas of his brain. The last couple of months of my pregnancy were filled with NST monitoring and biophysical profile tests, twice a week. He failed almost every single test and we ended up admitted for monitoring a few times. Due to his medical issues, and all of the unknowns, I decided with our team it was best to bring him into this world via c-section. His older brothers were born by c-section as well, and I was extremely nervous about having my third. All of the doctors told me to keep in mind he will look like a 'normal' newborn. And that all of his issues would be more apparent as he got older and bigger. We also were told he would be spending some time in the NICU. That wasn't new to us because Alex and Johnathan both had a NICU stay.
Having A C-Section
The night before he was born, I started having pretty bad contractions. I knew I was going into early labor. The next morning, Michael and I dropped off the boys with my best friend and headed over to the hospital. Once I got on the monitors, it was very obvious I was having regular long contractions. Some were so intense I wasn't able to talk over them. I was prepped for surgery and was mentally preparing myself for the birth of our third baby. This felt so different though, there was so much fear, so many unknowns.
Surgery started and I tried to think positively. I filled my mind with happy, loving thoughts. I mean, after all we were about to meet the newest member of our little family! It wasn't long before everyone started shouting, 'baby is almost out! he's almost here!' Next I heard, 'look at all of that beautiful hair!' Right after that, I heard the sweetest little cry. They held him over the curtain for me to see and it was such a beautiful moment. He was crying so strongly, he seemed so healthy. Damian James was born on Sept, 22nd, 2014 at 2:42pm. Weighing in at 6lbs 2oz and 19 inches long, at 36 week gestation.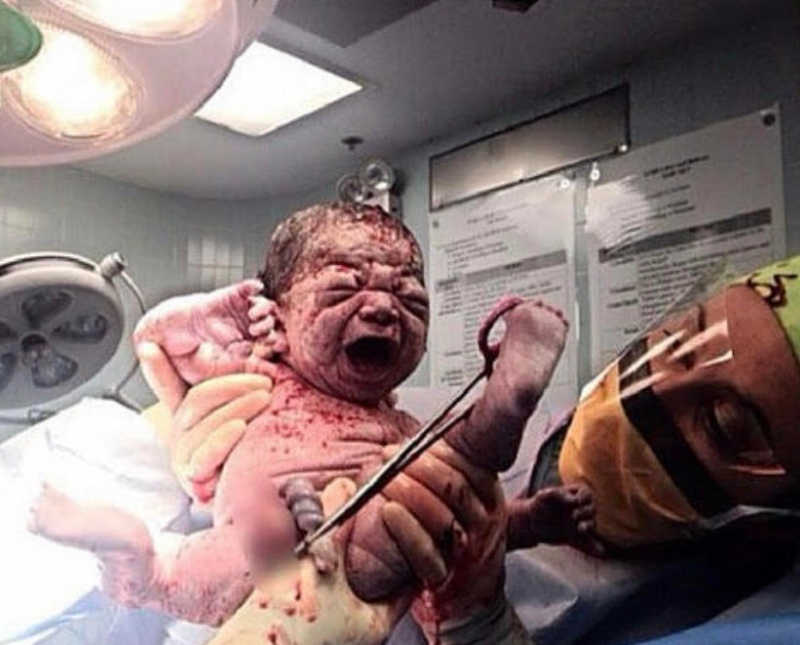 Soon enough, they bundled him up and brought him over to me. He was so warm and smelled so nice. My little guy was right next to me, it felt so surreal. At that moment, everything was perfect. No fears, no doubts, I didn't care about the unknowns. For that moment, all I felt was love. My heart was so full. Damian was truly, absolutely perfect.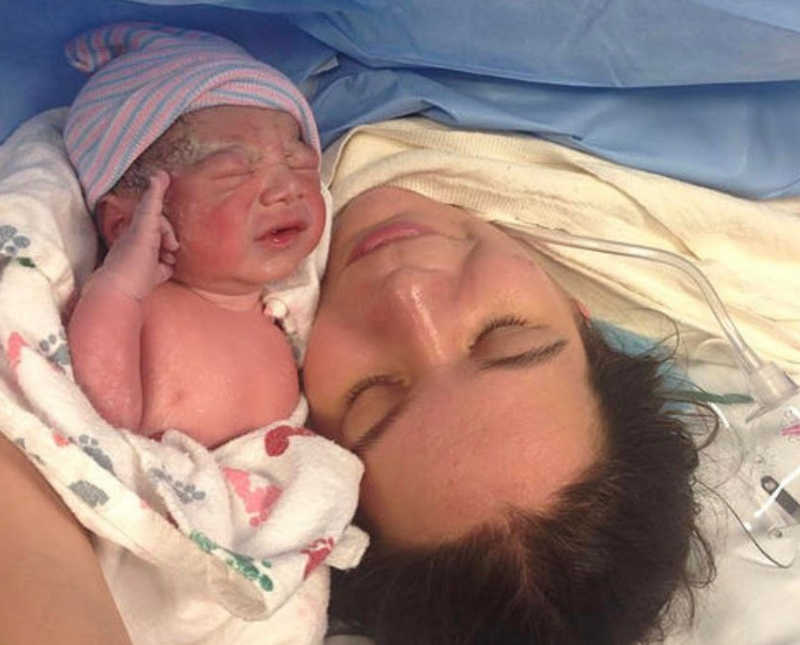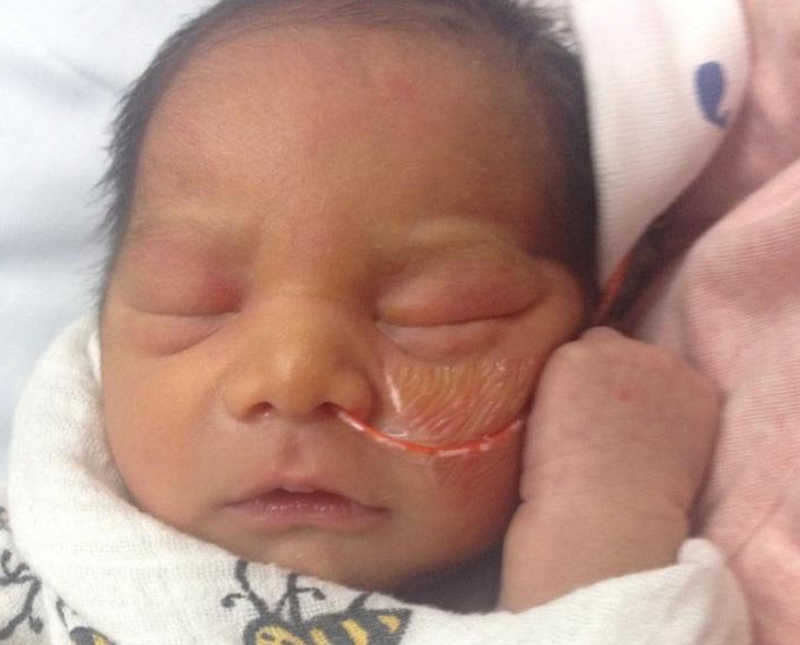 After he was born, Damian was diagnosed with a blood clotting disorder called Factor V Leiden. His team is confident that was the cause of his strokes. The strokes happened very early in gestation, and they caused catastrophic damage. Usually cases like these result in a miscarriage. But Damian is here with us.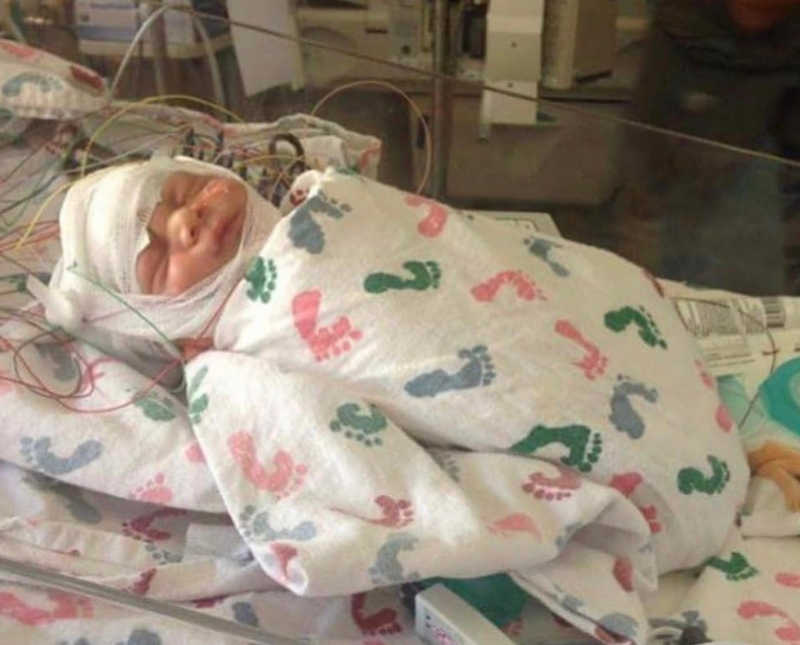 Damian's Struggles
He has severe cerebral palsy, he can not walk, crawl, sit or talk. He relies on us for 100% of his needs. He is visually impaired, we know he can see. We just don't know how much. He has asthma, respiratory issues, reflux, other GI issues, sleep apnea, and is also g-tube fed. He developed severe intractable epilepsy at the age of 5 months old. We tried everything to treat it, and he was still seizing every single day.
On August 13th, 2018 Damian underwent a left functional Hemispherectomy. Meaning his surgeon disconnected the entire left hemisphere of his brain to decrease his seizures. It was a success, and he has only had a few seizures since then. He is still recovering and we are trying to get him back to where he was before surgery. That could take years, as it was a very major surgery.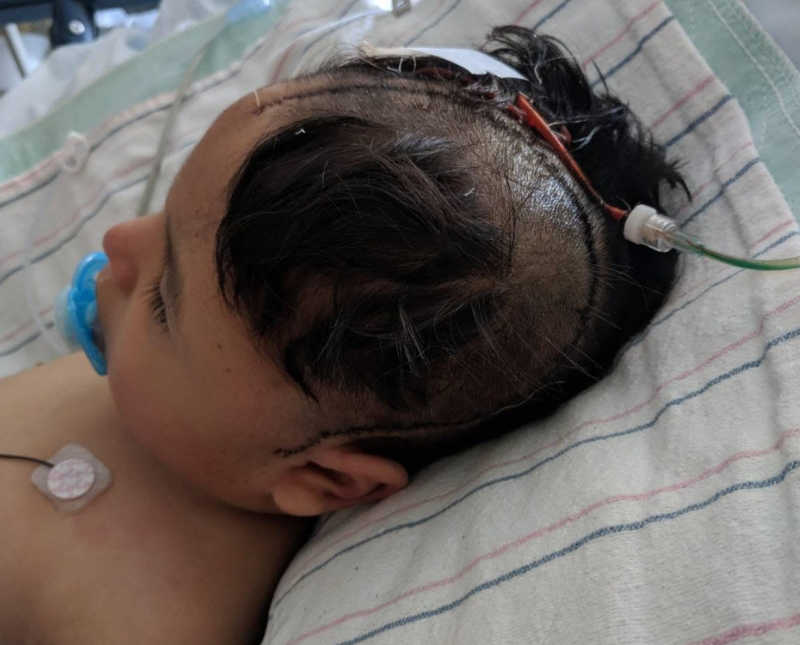 Life Today
Today Damian is 4-years-old and is the perfect addition to our little family. He is so full of joy, and his smile can light up a room. His favorite activities include playing with his big brothers, and cuddling with mama. Damian has taught us so much and changed our perspective on life. Although he is small, the amount of strength he shows is huge. I am so beyond proud of him."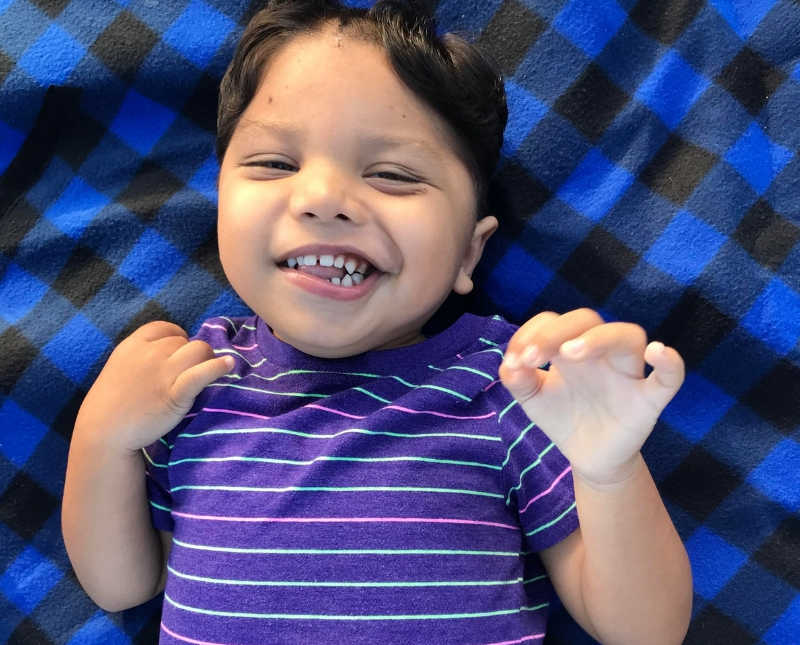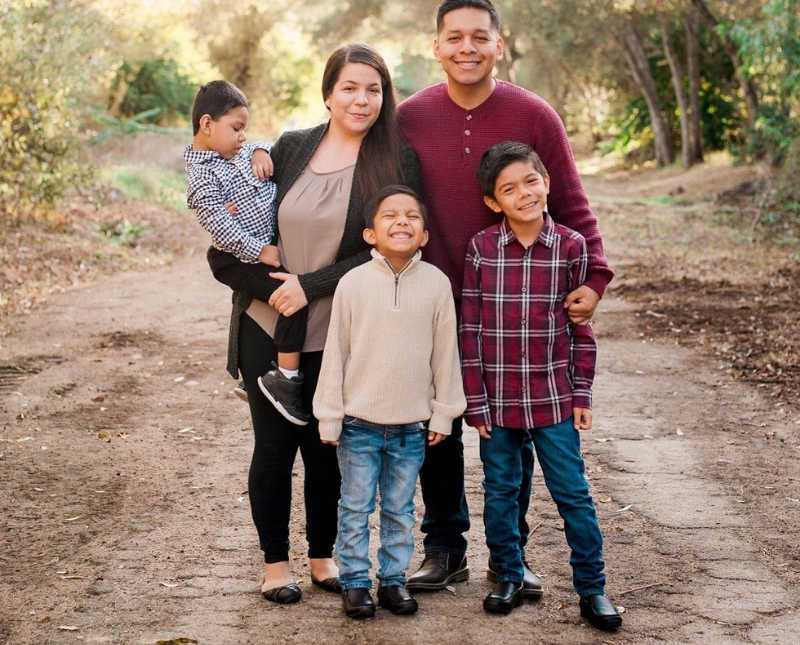 This story was submitted to Love What Matters by Andrea Fierro of San Diego, CA. Follow her journey here. Submit your story here. For our best stories, subscribe to our free email newsletter.
Read more inspiring stories about children with special needs here:
'I am not sure how you do it.' More than one child is rushed to the emergency room at once. If I'm being honest, I'm not sure either.': Special needs mom births 3 children, fosters and adopts 8 more
'He said, 'Mattie, where I send Hannah, she won't know the language. Teach her MY language.': Mother of special needs child finds comfort in faith, 'Their purpose is greater than their diagnosis'
SHARE this story on Facebook or Twitter if you know someone who may benefit from this story.