"And that's a wrap! Officially divorced and going to live happily ever after!
At approximately 7 months pregnant I was told, 'No one cares about you or that damn baby that doesn't have a name yet. And no one would come looking for you for two weeks if something were to happen to you anyway.'
It's hard for me to share my story. It's crazy the things we will put ourselves through to stay with the ones we love. Thinking they didn't really mean to say those hurtful things. Or didn't mean to physically hurt you. I remember making excuses or telling myself things would change and get better.
I want anyone who may experience a relationship, with any form of abuse, to know there is a way out. You're responsible for your happiness. You aren't stuck, and by any means, you do not deserve to be treated in an unloving or disrespectful way.
My relationship with my ex was a roller coaster. We met in October of 2010. We broke up and got back together, only to break up before he moved to Iowa for school. Then back together again. In 2015, my dad was diagnosed with pancreatic cancer. I chose to move back home to help out. We broke up from 2015 through 2016. But the thing is, the heart loves who the heart loves. May of 2016, we got back together, and things took off fast. He proposed in August of 2016, we were married October of 2017, and had our first child September of 2018.
It all started with the comments of, 'I wouldn't have all this if it weren't for him.' The house, the car, and all the materialistic things. The verbal and emotional abuse became more frequent and I was beginning to feel like I wasn't good enough. There were plenty of times I'd find out about him having affairs, and I became insecure and had a hard time fully trusting.
Having a newborn was the hardest adjustment for us. We didn't know how to parent. We became more distant than ever. His drinking became more excessive. Late September, he got arrested for drinking and driving. Him making the decision to still drink and drive… one night in October, he came home to all the doors locked. When I let him in, he got in my face and started screaming. Then he choked me — not once, but twice. He also took my dog by the neck and threw her across the living room to the kitchen.
Not a lot of people know this, but last January, I had a miscarriage. I passed the baby at the house, at about 7 1/2 weeks. It was terrible, but I realize God has a plan and it wasn't meant to be. Honestly, with everything going south in our marriage, it was a blessing in disguise.
I think I was in shock of what was happening. I didn't want to believe I was in a relationship like this. I signed us up for marriage counseling, all to be told it's a joke. He continued to push me down where I would hit my head on the floor, and say the most hurtful, degrading things to me. He was financially controlling. Very manipulative. And we became more distant than ever. He would sleep in the spare bedroom. In April, I got really sick and had to drive myself to the ER, after begging him to help me take care of our daughter.
May was when enough was enough. He bit me and scratched up my arms, and wiped blood on my face. When the police responded, I could only tell them the truth of what happened. He was arrested for domestic assault and endangering the welfare of a child. I got an order of protection and he filed for divorce in June.
Reporting an abuser doesn't ruin their life. They did that themselves. Reporting an abuser doesn't damage their reputation. It makes it more accurate. Reporting an abuser doesn't hurt their family. It protects them from abuse. Reporting an abuser isn't gossip, it's integrity.
I realize abusers wont abuse everyone they come in contact with. Even though this isn't the way I pictured my life being at the age of 28, I know God has a plan for me. He blessed me with the most beautiful daughter in the world. I've been able to stay strong in my faith, and through a great support system from family and close friends. I'm beyond happy to close out this chapter in my life and focus on true happiness."
When you pass through the waters, I will be with you; and when you pass through the rivers, they will not sweep over you. When you walk through the fire, you will not be burned; the flames will not set you ablaze. (Isaiah 43:2)
No weapon forged against you will prevail. (Isaiah 54:17)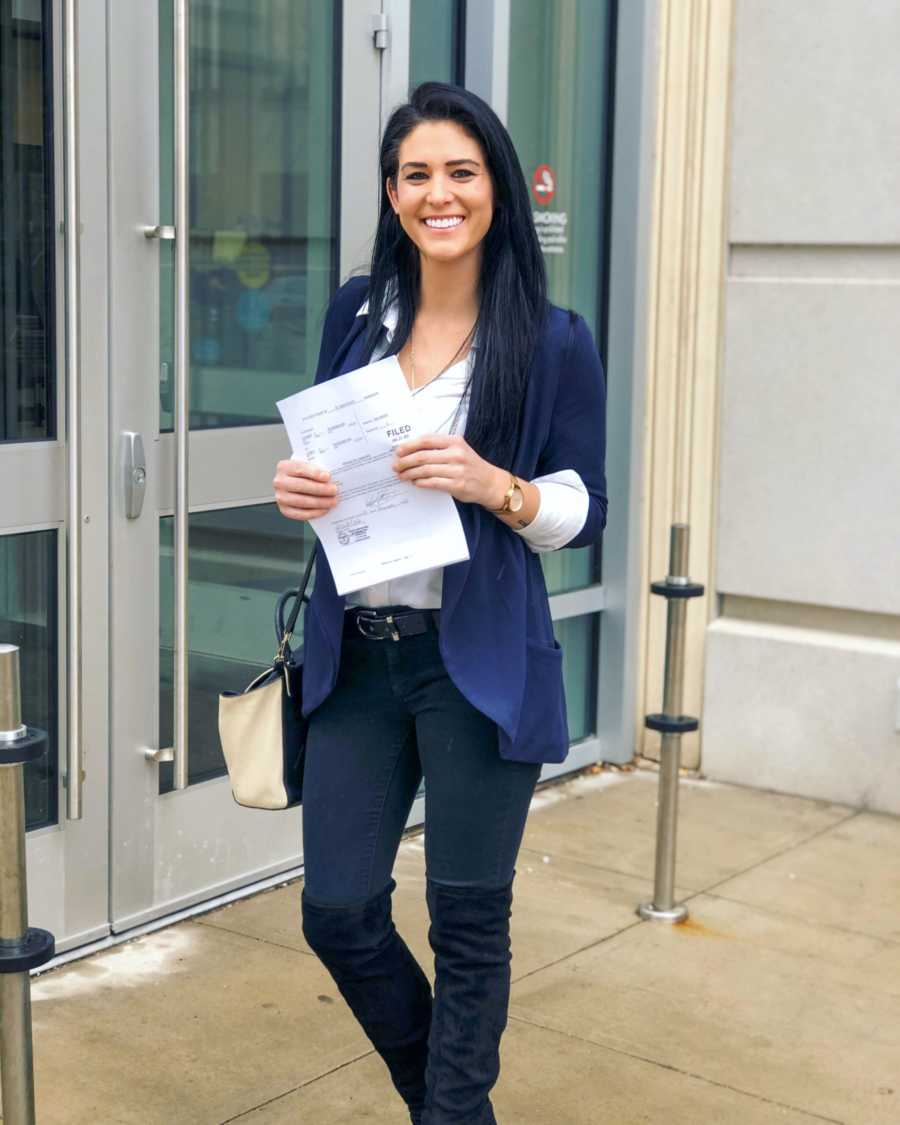 This story was submitted to Love What Matters by Elizabeth Ridenhour. Be sure to subscribe to our free email newsletter for our best stories.
Read more stories like this:
'He kicked through the glass, unlocked the bolt. He cornered us. Too beaten to fight, I went cold and numb.': Dog rescues 2 women from domestic abuser, 'Dogs aren't just man's best friend, they're our heroes'
'Learning his mistress was pregnant with twins felt like his hands were still wrapped around my neck.': Woman escapes domestic abuse relationship after neighbor overhears desperate pleas for 'help,' raising little boy has been her 'saving grace'
Do you know someone who could benefit from reading this? SHARE this story on Facebook with family and friends.