"The barricade brightly covered the parking lot. The two-toned pattern of police tape and I weren't strangers. As a television reporter, I would walk over many to talk with police officers to gather information for the news.
This scene hit close to home. It surrounded my husband's record store.
At the store parking lot, I had urged the officer to share with me what happened. He ushered me into the store. 'I am sorry to say this, but your husband died tonight,' said the police officer. I don't remember the officer's name, but I do remember the store being filled with gun powder. Once the officer told me, I fell to my knees and cried. I looked across the room to find a pool of blood.
Brian was 30 years old. His life was cut short in such a unique scenario. He lost his life in a mock robbery. He and his business partner ran a drill, to see how they would respond if someone were to break into their business. His partner (whom I will not identify in this article) didn't realize the gun was fully loaded and shot him in the face.
Sadly, the person who truly felt robbed was me. We had just gotten married only 86 days before. I felt robbed of dreams of motherhood, seeing him become a father for the first time, and seeing our aspirations become reality as a couple and individuals. Our life together was gone.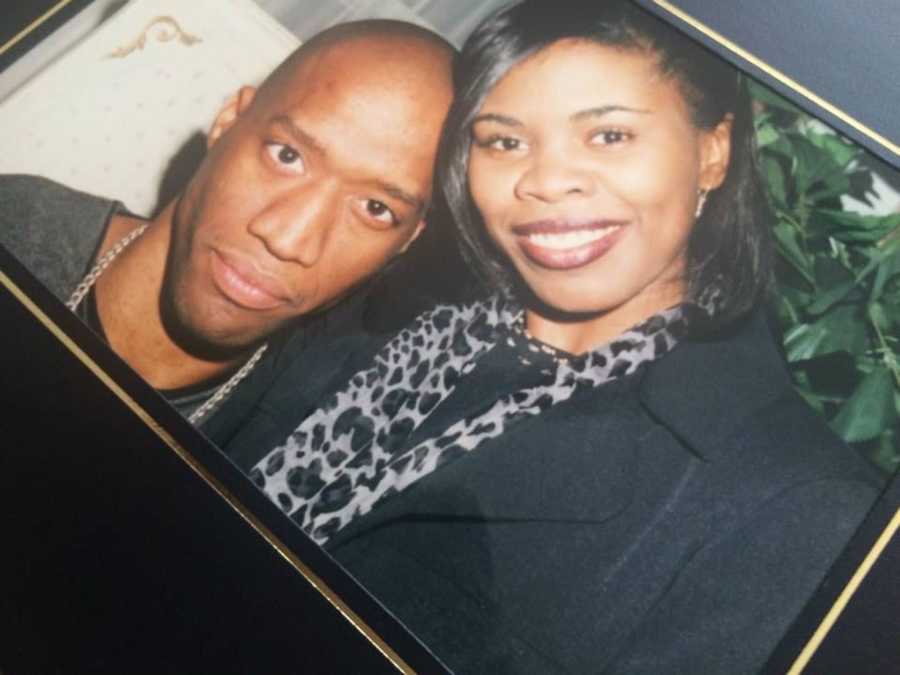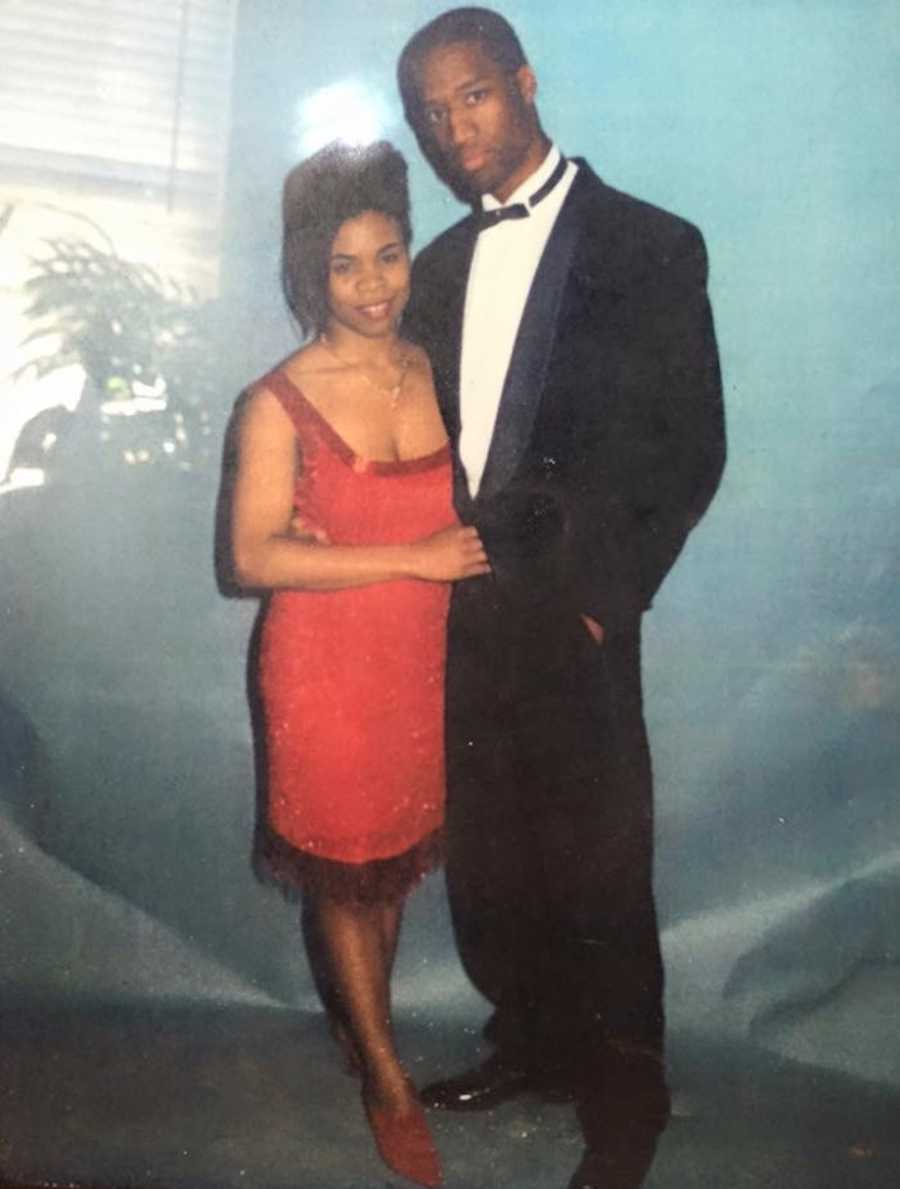 Years prior, when I was 22 years old, Brian told me, 'If something happens to me, I would hope you find a man that will keep a smile on your face. You have such a beautiful smile, Kortni.' I would always laugh it off. After his death, those words were not only a gift but became a guidepost.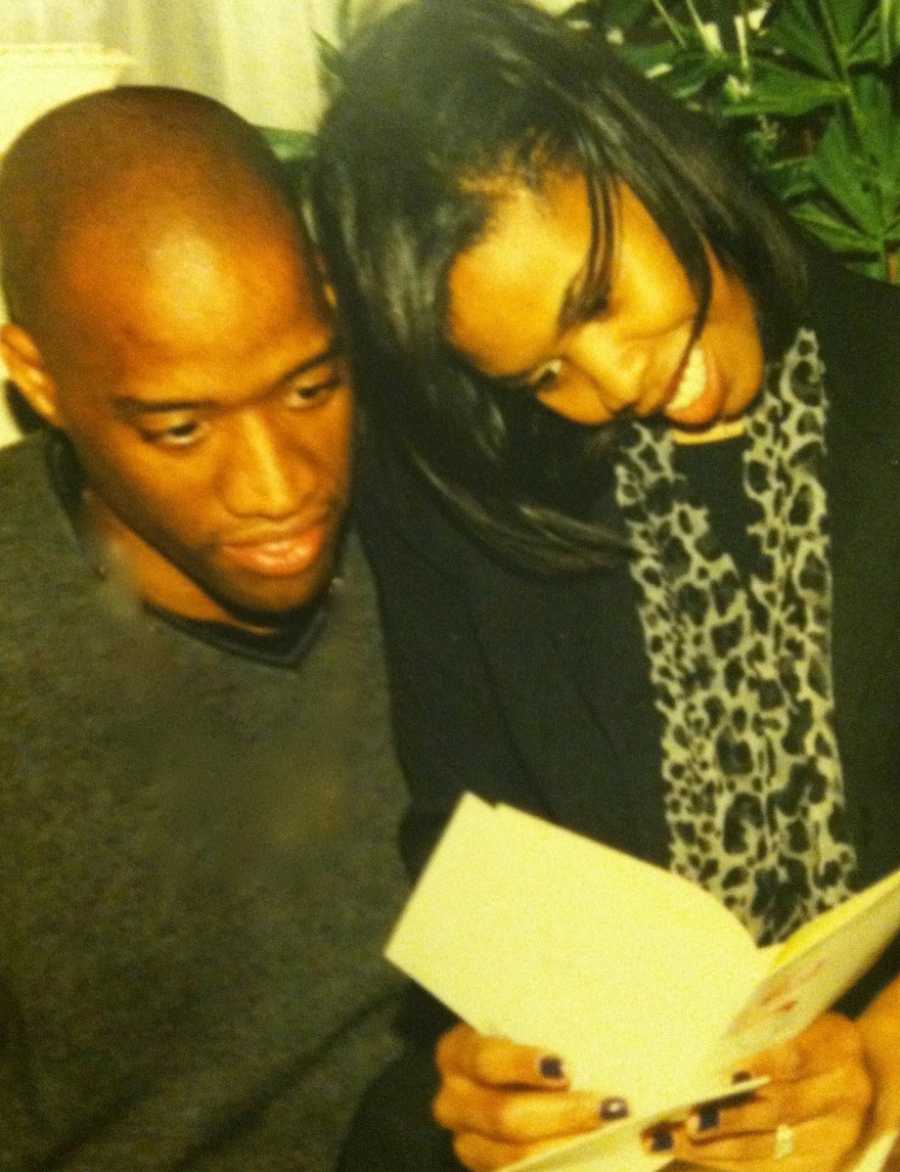 At 25 years old, I had a status that was unique in my age group. 'I am a young widow,' I had to tell people. I felt so alone. No one in my circle shared this status. It was so hard to believe I was living my dream job as a television reporter in the Philadelphia market when sadly, I was living a nightmare.
For nearly a year, Brian and I had a long-distance engagement while I worked 1800 miles away at a small market station in Midland, Texas, cultivating my skills as a TV reporter. I finally landed a job that was not only close to home but in the fourth largest television market in the country. I was in Philadelphia, the city of brotherly love, feeling unloved and lost.
His death made headlines. I remember being in Brian's parents' bedroom saying how this would make me stronger. I remember looking in the mirror crying and saying. 'Kortni, it's okay.' With tears rolling down my face, like a river, I'd add, 'It's okay. You are going to make it through this.' But, to be honest with you, it was hard to believe that no matter how many times I told myself.
Three weeks before our wedding, my mom had emergency surgery. She was diagnosed with sarcoma cancer. I remember telling Brian I couldn't see myself getting married without my mother there. I urged him to wait to get married until her health was more stable. Brian said, 'Kortni, I have waited my entire life to marry you. If we have to get married at the foot of your mother's hospital bed, then we will. I am not waiting another single moment.'
Brian's death taught me to value time. It made me rediscover a new purpose. The day he died, my mother was scheduled for her first chemo treatment. My calling shifted to helping more people with loss, helping individuals find happiness, and serving the world as a happiness scholar. I went back to college to acquire an MBA, and later a Ph.D. at the University of Florida, finishing when I was 42 years old. As a full-time student and graduate assistant, I finished my doctorate in four years. Hours after defending my dissertation, I received an invite to do my first TED Talk to share my journey as a widow and divorcee, and tell how I found fulfillment in positive psychology as a happiness scholar.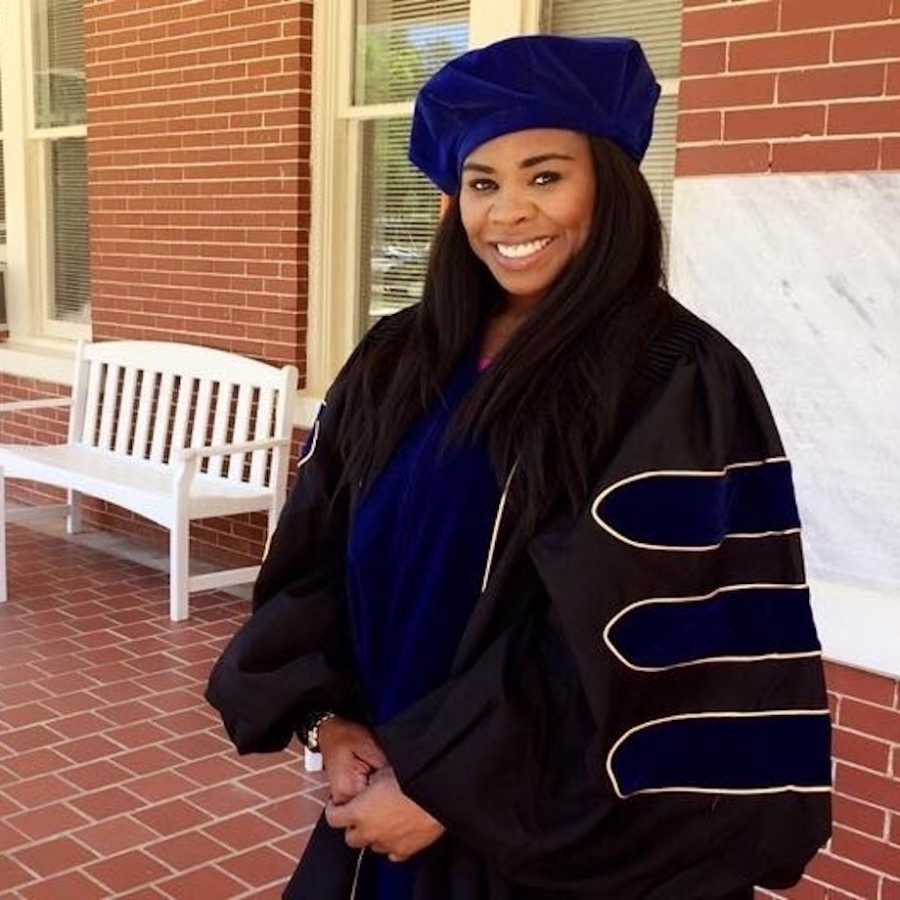 Before obtaining my Ph.D., I remarried but that was short-lived. I ended that marriage in divorce.
Going to the TED x Cooper River Women event meant returning to the area where my late-husband lost his life. This was the first time I had been back to that community in 17 years. It felt surreal. When I accepted the invitation, my mother was alive. She died two months before my TED Talk was produced. She would live to see me get my Ph.D., but never to see my work as a happiness scholar.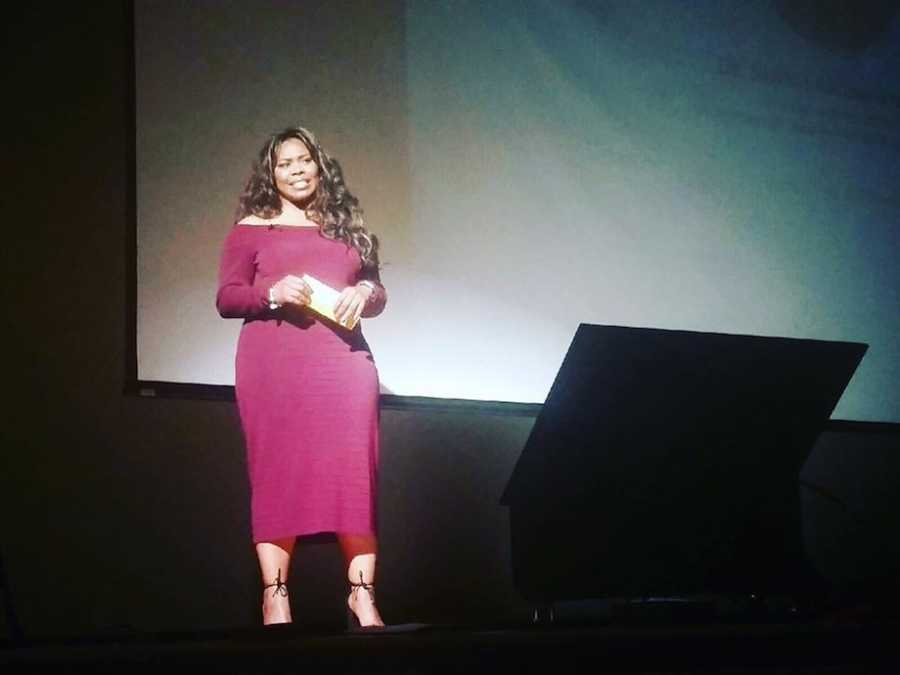 After my TED Talk, Brian's best friend, Thomas Ireland, picked me up at the hotel to visit the cemetery. In his car, we reminisced about our time with Brian, and I shared a story with Thomas. 'Brian told me if something happened to him, to find a man who would keep a smile on my face.' My eyes flooded with tears. I revealed, 'I haven't found that man. I have had so many broken promises and have yet to find a man to make me feel this way, a man who makes me feel loved, happy, and safe.'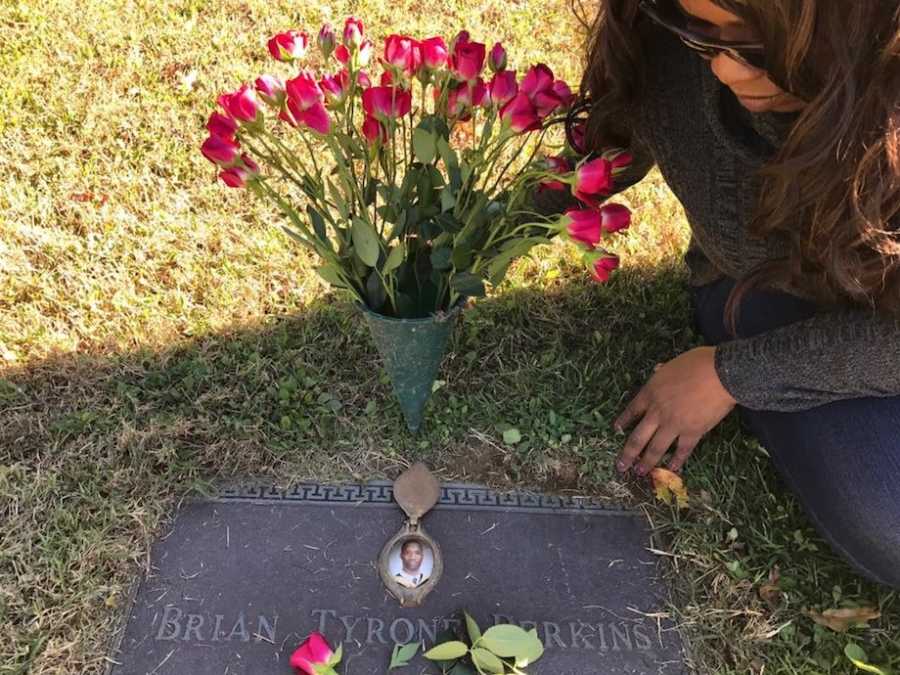 If I could go back in time, I would tell the newly minted Dr. Kortni Alston, 'Hang tight. Yes, you will. He is on his way and he is beyond your wildest dreams.' In a week, I met the man who would soon be my fiancé and best friend, Ken Lemon.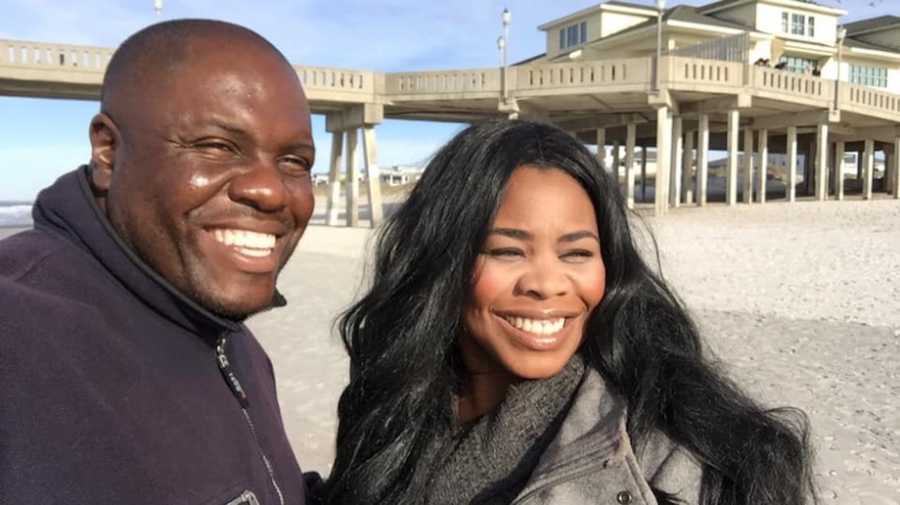 Ken is a TV reporter in Charlotte, NC. We met through our journalism organization, NABJ, the National Association of Black Journalists. I was on Facebook and noticed Ken posted about losing a friend. I sent him a message to tell him I was so sorry to hear about his loss, but I am here if he needs to talk. He reached out and we haven't stopped talking.
Our relationship started with Ken driving in a snowstorm to see me. At that time, we lived 263 miles away from each other. I remember once he got to my subdivision, I ran outside in the rain to kiss him. Every phone conversation we had, we drew closer. We were long-distance, but Facetime allowed us to feel connected. Every night, we would keep Facetime on as we slept, even though we were far away. We still woke up together.
At the beginning of our relationship, weekends were treasured moments. As a college professor, I would pack the night before and put my suitcase in my car before work. As soon as my last class ended, I would drive 244 miles to Charlotte from Milledgeville to be with him. During Ken's weekend, once he finished his live shot for the 6 o'clock newscast, he would travel to Macon. Our time together was sacred.
Our weekends were always fun-filled and romantic, from a horse-drawn carriage ride in downtown Charlotte to leaving love notes in our hotel suite.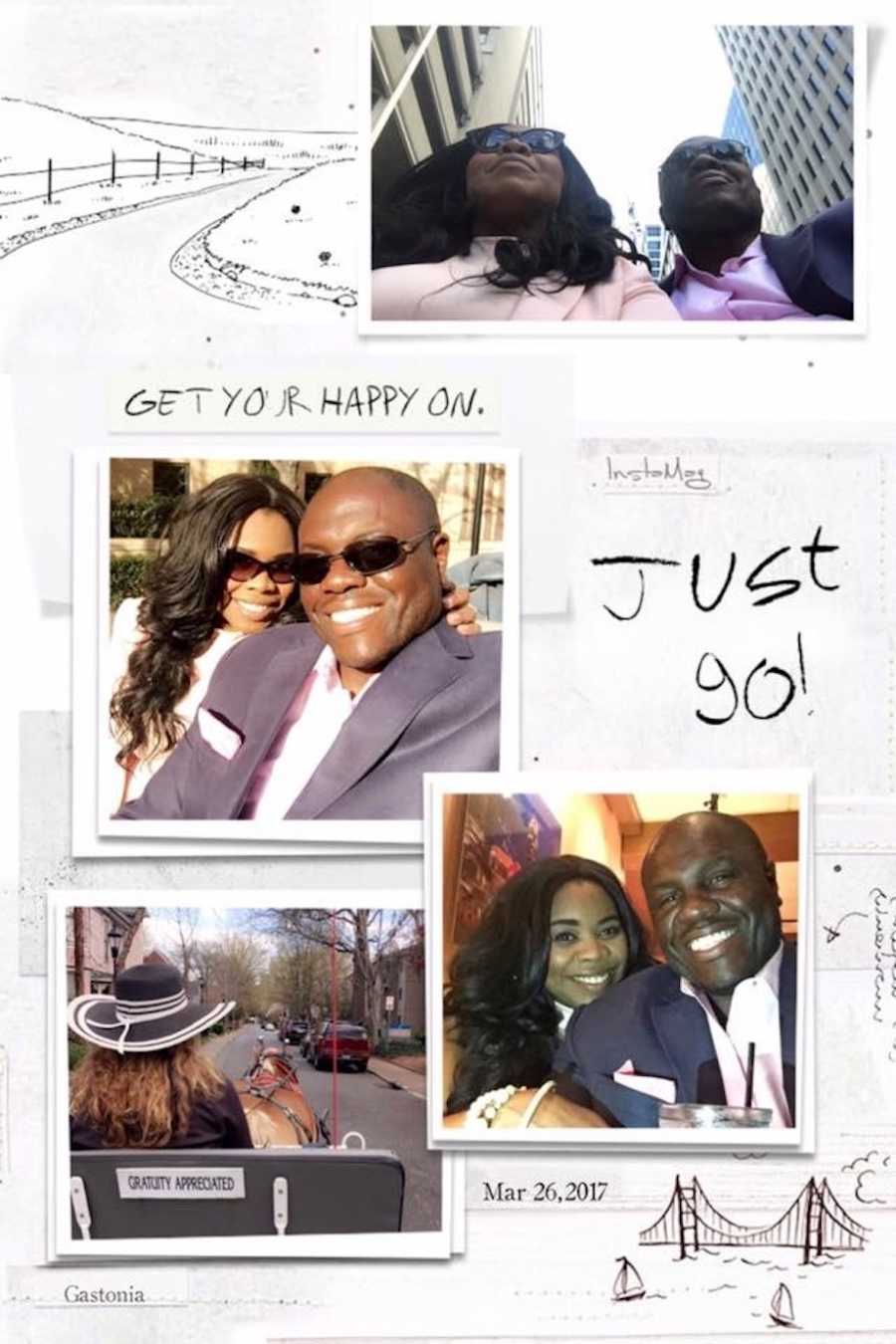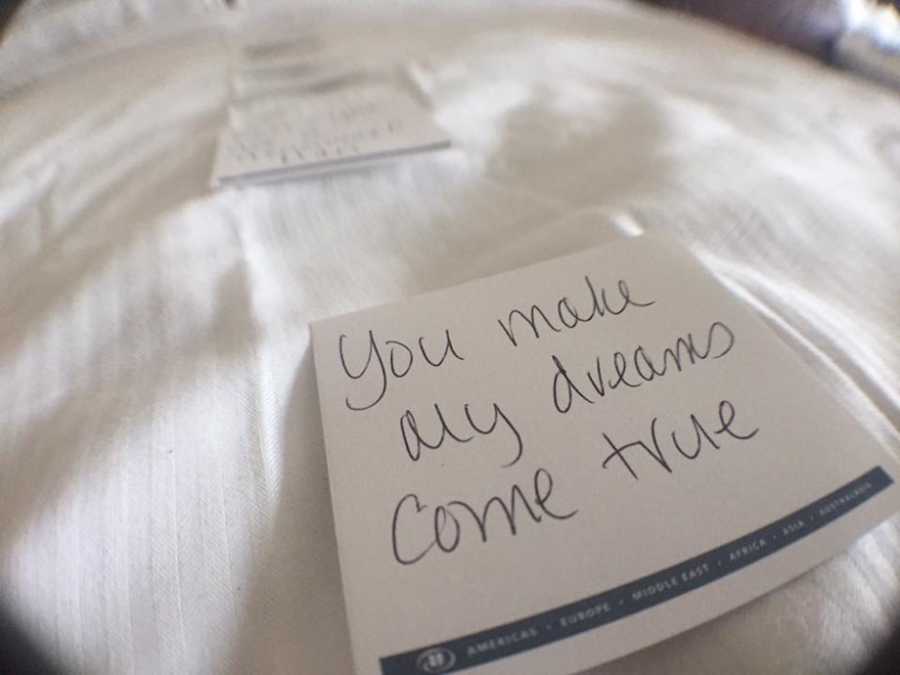 We have always been vulnerable with one another. Ken talked about being divorced and I talk about being both widowed and divorced. We never thought we would ever find this kind of love. It is so deep, we feel a spiritual connection to one another.
All this happened after I thought I would never love again. A year into our relationship, I was asked to speak with a group of widows and divorcees in Charlotte. In that room, with Ken sitting there supporting me, I shared, 'I am here to say you can have two soulmates. You can find happiness after loss. You can fall deeply in love again.'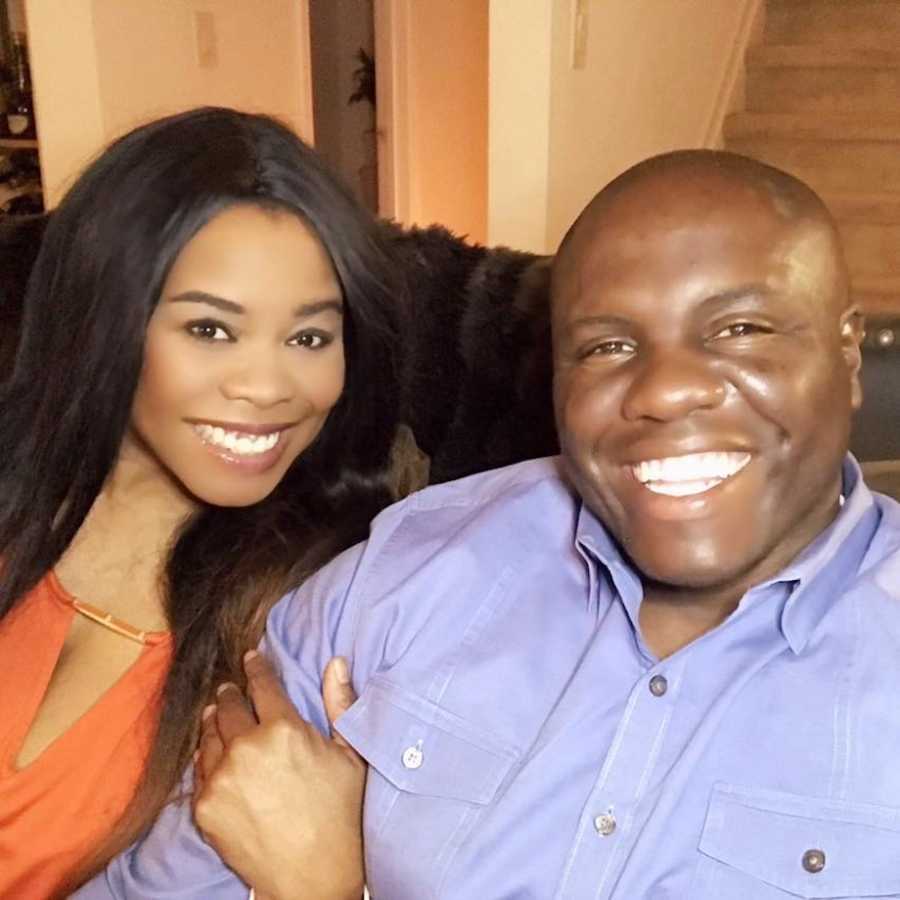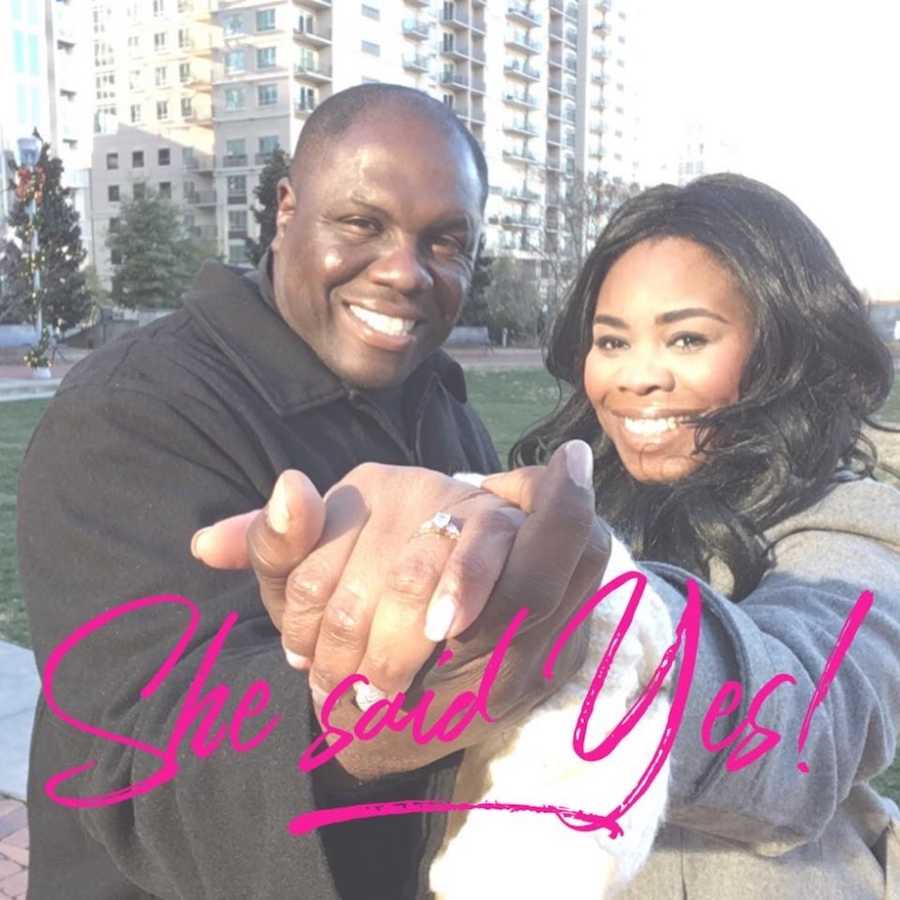 Ken proposed to me before my move. He surprised me at Romare Bearden Park, our favorite place in Charlotte. He is so romantic, he tricked me into making a video, not knowing it was our marriage proposal. I was surprised. I knew he was going to propose, but I didn't know when. In the video, you see my joy, but what was missing are the words of me sharing how after widowhood, I never thought I would fall deeply in love again. I'm grateful.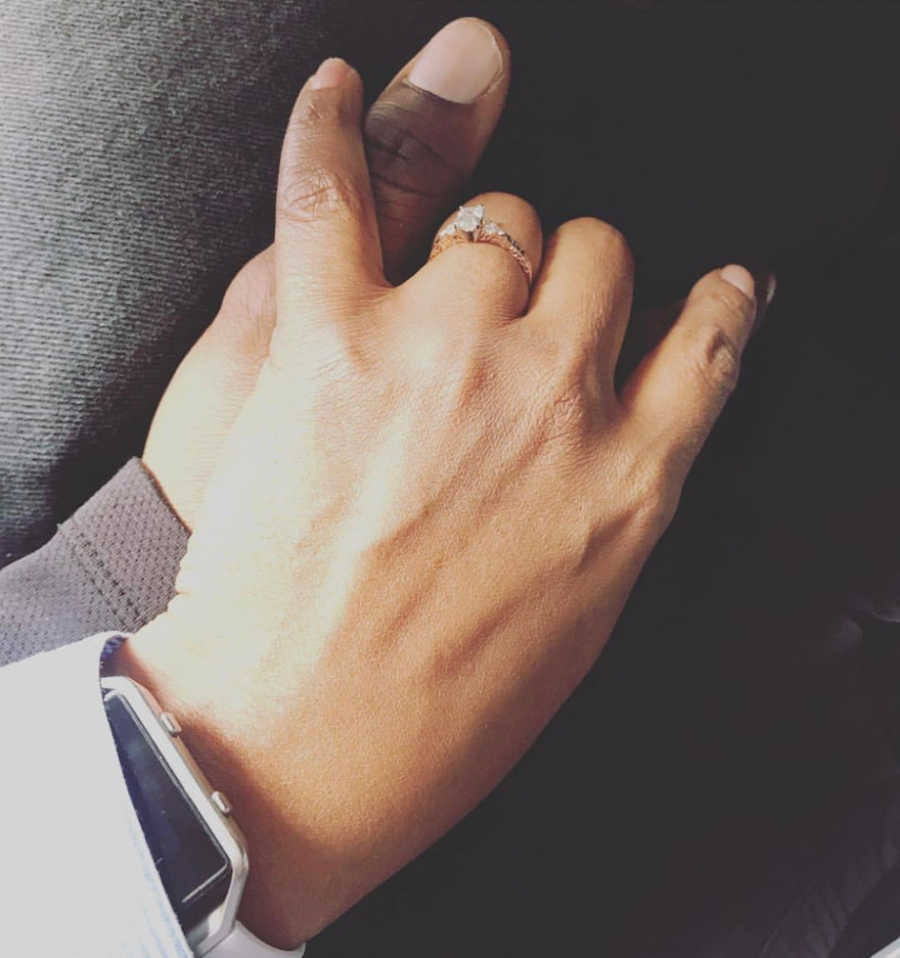 As a widow and divorcee, marriage has meant loss. But when I fell in love with Ken, it wasn't about being married again. It was about marrying him. It was about being with him. We both found it hard to believe our faith in marriage had been restored and renewed through our love for one another.
Now, we are officially living together. I was able to get another professorship in the state of North Carolina. It is nearly a four-hour roundtrip commute from our home in the Charlotte area to my new university, but every mile is treasured by our time together.
Ken Lemon is my everything. I call him my Superman because it feels like he flew into my life and showed me his greatest superpower: unconditional love. I often wish Ken was with me when I dealt with my beloved mother transitioning. I worked on my doctorate in a competitive Ph.D. program. It wasn't easy at all. But I also know his love is a gift and it was right on time. I have learned so much about me. I have learned the value of believing in yourself, commitment, and surrounding yourself with empathetic individuals.
Ken's presence in my life feels like breathing. He is so supportive of me. I am launching my first online course to help those who suffer loss find happiness, and he has been so instrumental in helping me share this message. He has produced content to help me share my story of loss. He never feels threatened. I really believe it speaks to the love of our relationship. Being in a healthy relationship is about lifting one another up and loving one another through the journey.
I'm grateful for this voyage. It has made me into this woman. I'm a person who treasures people because I know how fleeting time can be. I know things can be replaced, but people can't. Life is too short not to treasure moments. Being present is a present. On my mother's death bed, we looked back at fond memories. I want a life lived with purpose, of helping people live their best lives by understanding happiness and purpose. I love that I will live this next chapter with my love, Ken.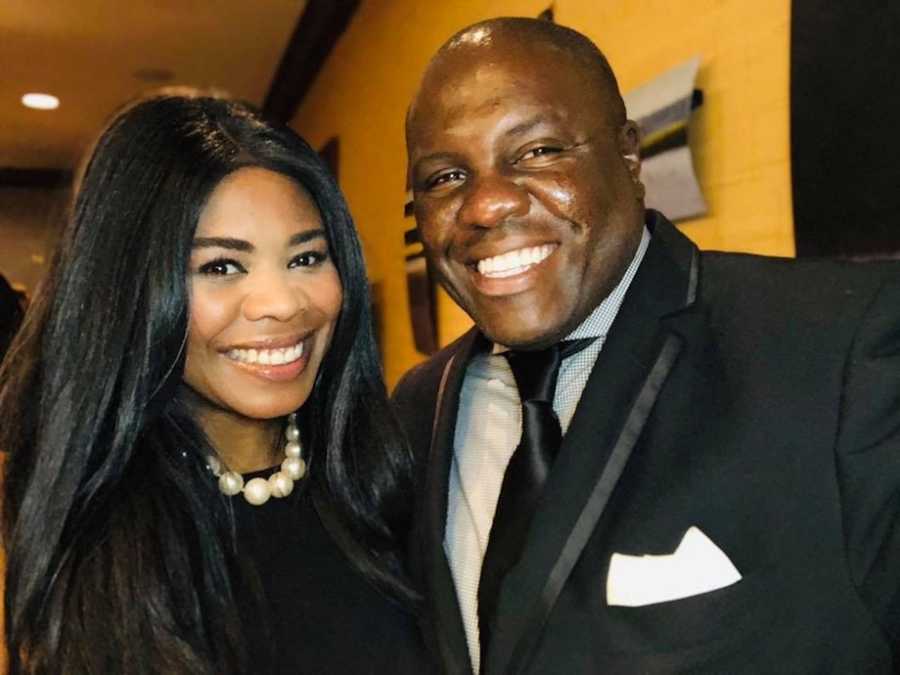 In positive psychology, the practice of gratitude is related to 23 percent of lowering levels of our stress hormones. It empowers our emotional lives and sparks positive emotions. I'm so grateful my guidepost came true. Ken brightens my world and widens my smile.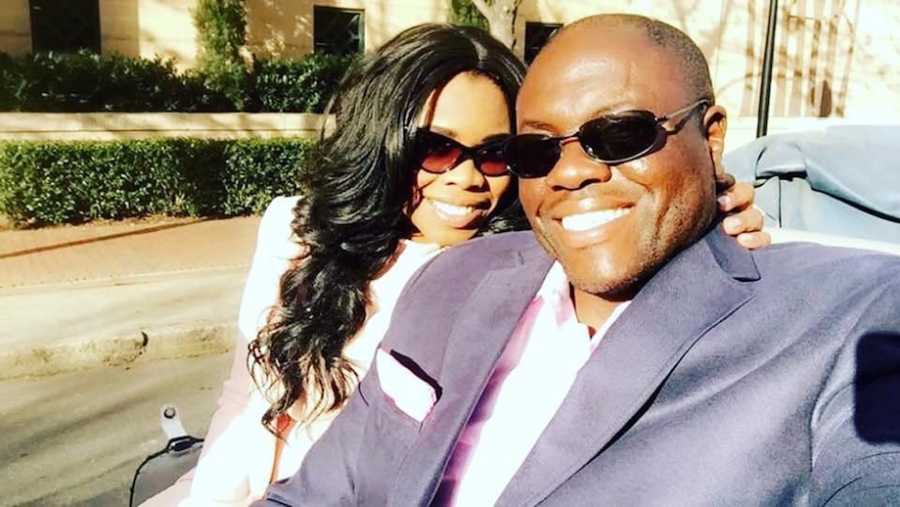 For me, I have learned many lessons from loss and love. Ken makes me feel so much love because I can be authentically me. He loves that at 45 years old, I adore Hello Kitty. I also adore Dolly Parton and Beyoncé. I still treasure people like Mister Rogers to Theodor Geisel, better known as Dr. Seuss. And I admire individuals like Dr. Carl Gustav Jung and Henry David Thoreau. I have been in relationships where I felt stifled and wasn't able to fully be me. Ken loves me for me.
The greatest gift has been the ability to shine. Our home is filled with a contagious superpower: laughter."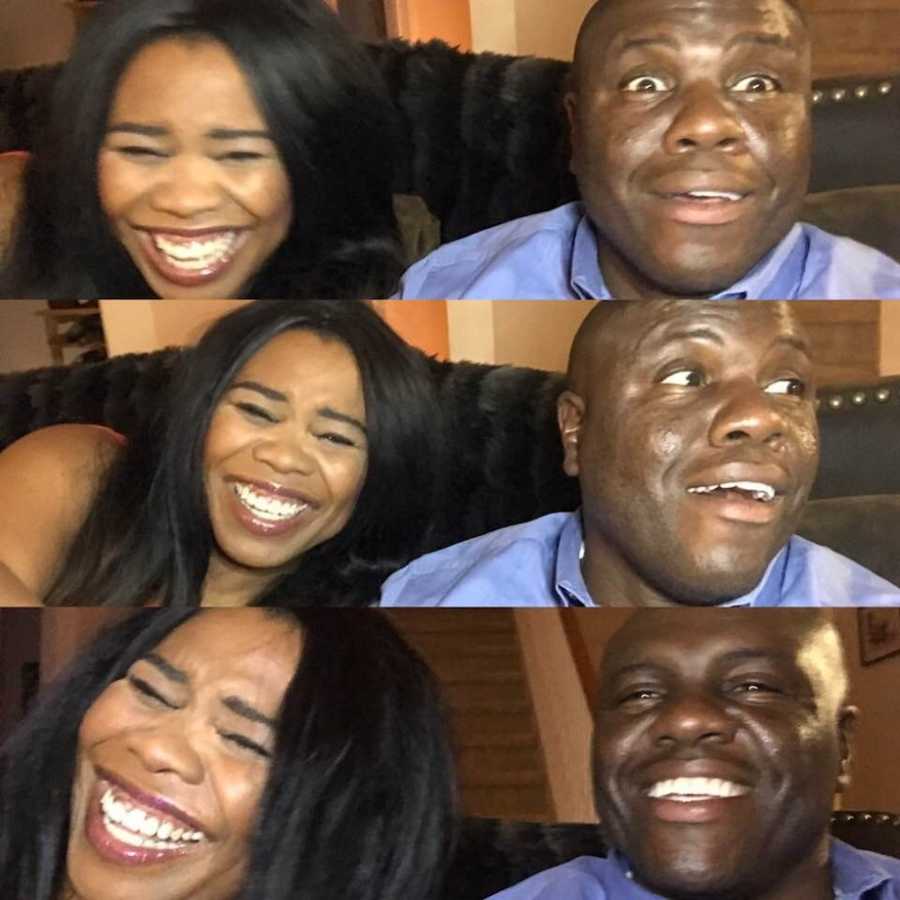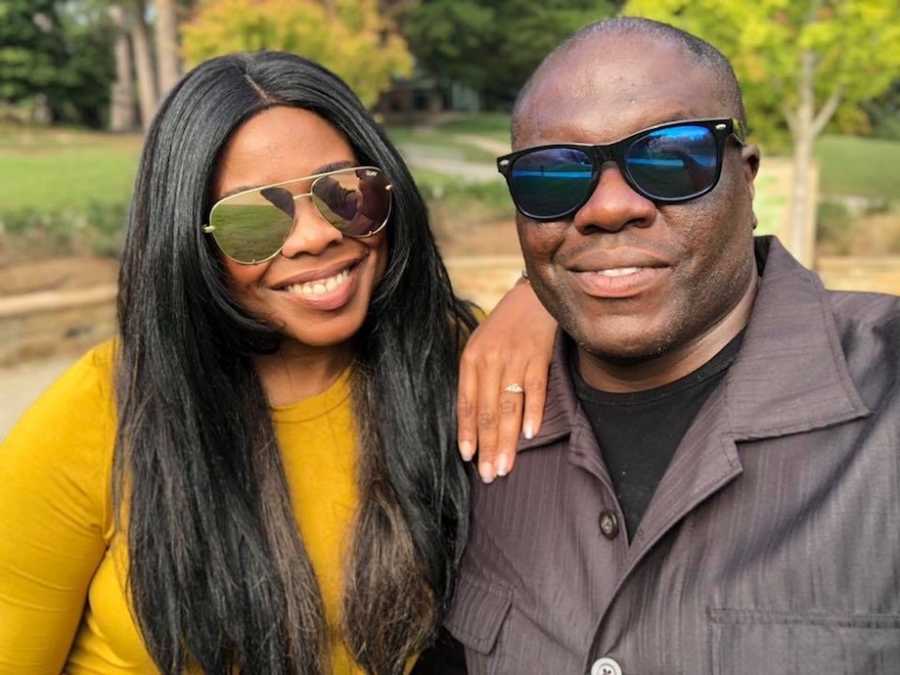 This story was submitted to Love What Matters by Dr. Kortni Alston. You can follow her journey on Instagram and her website. Do you have a similar experience? We'd like to hear your important journey. Submit your own story here. Be sure to subscribe to our free email newsletter for our best stories, and YouTube for our best videos.
Read more touching stories like this: 
'I know for sure that life is fleeting. It's short but always beautiful.': Widow reminds others that 'love doesn't end when a loved one dies' in wake of Kobe Bryant's death
'Mom. I need to talk to you.' She looked concerned. 'What's wrong?' I didn't want to disappoint her, but I am a grown woman.': Young widow scared to tell mom she's dating again, 'I severely underestimated my own mom'
Do you know someone who could benefit from reading this? SHARE this story on Facebook with family and friends.