"Can I let you in on a little secret?
I hosted Easter dinner last weekend…and I didn't cook any of it.
My BFF, Cracker Barrel, did.
They did all of the heavy lifting in the kitchen and then loaded it into my car, where I could drive it to my refrigerator and pop it in the oven the next day.
It gets worse.
We used…gasp!…paper plates.
The nice Chinet ones, of course, because I'm not a monster.
Then I paired my fancy disposable plates with the leftover napkins and plastic cutlery from our last get-together. (Somehow the clear plastic forks seem slightly nicer than the white ones?!)
I divided them into mason jars for easy access for guests, threw some plastic cups with a Sharpie for names on the counter, and called it a day.
And guess what?
NO ONE CARED.
The fact is, we get together with our family because we love them and want to celebrate the holidays with them, not because we're foodies.
I invite them to sit at our table to visit and laugh together, not to admire my place settings or fine china.
It might be different if I really enjoyed spending hours in the kitchen.
But…I don't!
And if interior design were my passion, I'd probably put more effort into pairing the right colors and textures to give the perfect pastel Easter vibe.
But the truth is, anything I cleaned and arranged perfectly was going to be immediately messed up by young children with sticky fingers and by adults doing normal things – scooping food onto plates, pouring drinks, etc.
I would rather spend my time watching my niece demonstrate her dance recital moves than wincing every time someone sloshed something onto the table cloth.
And I would rather sit back and listen to my dad and brother engage in friendly trash talk than spend an hour washing dinner plates and serving trays at the sink.
Go easy on yourself, friend.
Life isn't about perfection.
It's not about seeing how many likes you can get or taking perfectly color-coordinated family photos.
It's about family, friends, faith, sharing memories and quality time and laughs together, and just…being.
It's about breathing in the moment, taking it all in, and remembering that tomorrow is promised to no one.
And if you can gain more of those things by warming up pre-made meals or tossing paper plates at the end of the day then go for it!
Those who judge you for those actions weren't there for quality time with you in the first place.
And those who compliment your genius Cracker Barrel idea and bring their dishes in disposable containers to extend the stress-free vibe?
They're your keepers."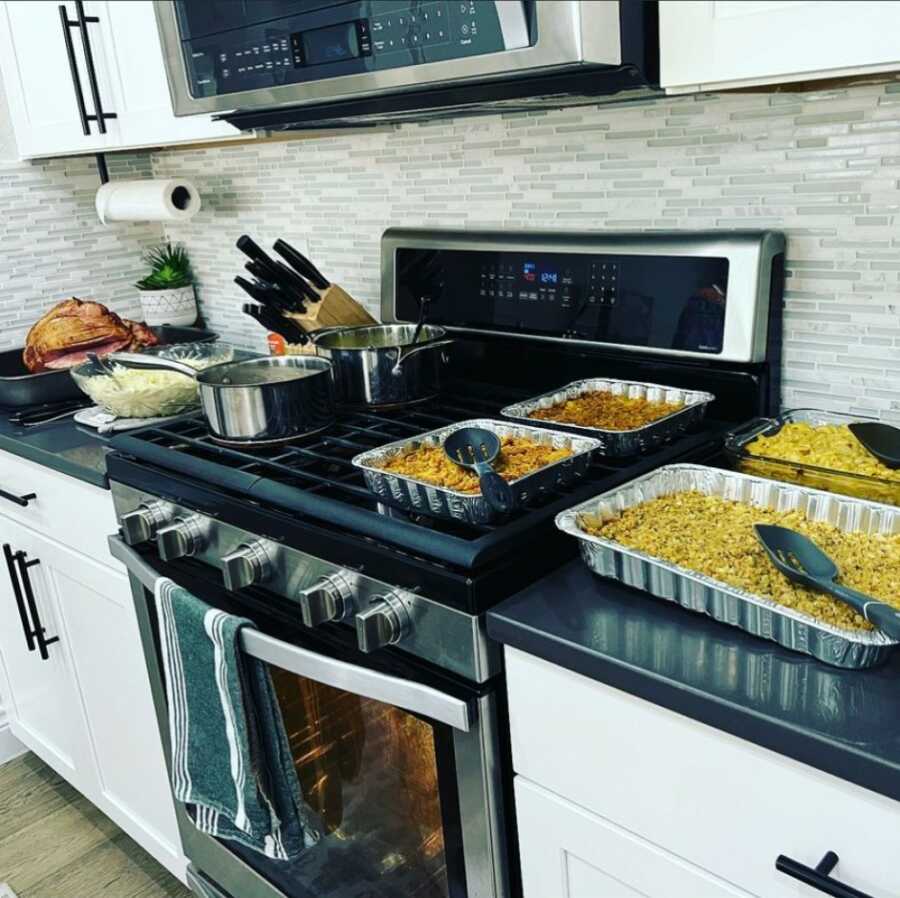 This story was submitted to Love What Matters by Deb Preston. You can follow her journey on Facebook and Instagram. Submit your own story here and be sure to subscribe to our free email newsletter for our best stories, and YouTube for our best videos.
Read more stories here:
'I went to a play date at someone's house. As I stepped through the front door, the mom giggled, 'Mimosa time!' and my body froze up.': Mom shares fear of judgement over sobriety, 'Alcohol free is a choice and shouldn't require an explanation'
'Once again, Mary was at the back of the class, watching everyone else have fun.': Mom shares heartbreaking photos of disabled daughter excluded from school Easter egg hunt
'Easter is not about eggs, bunnies, that new dress, or even a packed church.': Woman says 'may it change the way we look at Easter forever'
In Our House, We Chose The Dinner Table
Do you know someone who could benefit from this story? Please SHARE on Facebook or Twitter.