Finding Faith
"It was November 1, 2013. A decision here and another bad decision there and what do ya know… We were living in a mice-infested 2-bedroom duplex in East Arlington, Texas. There I was. Alone most of the time because my wife was spending her last trimester of her pregnancy working because I was struggling to pull my weight financially as the 'man of the house,' or should I say duplex. I'd take walks daily just to keep my sanity until something in the job market came through. On one particular day I was passing a church and a group was in the parking lot handing out water and hot dogs. I was 285 pounds, a hot dog sounded like a magnificent idea to me. I accepted my 'free' hot dog and water with a smile. The young lady that gave me the hot dog asked if I'd be interested in taking a Bible. I reluctantly said yes since she was strategic enough to offer me a hot dog and something to drink. I mean, the way to a man's heart is through his stomach, right? I had no intention of reading ANY book, much less, the Bible.
Several days passed and the Bible the young lady gave me remained in my kitchen chair that nobody ever used. You know, the one you only use on Thanksgiving and Christmas? Yeah, that one. One day I was bored out of my mind. I sat there and gazed at the Bible for a few seconds. I decided to go ahead and give reading the Bible another try. I'd tried a few times in the past but thee, thou, shalt and a few other confusing things led me to say, 'Oh forget it.' But this time something was different. I could actually read it and comprehend. It was called the 'King James Version.' Somewhere along the way my reading and interpretation of this book, I stumbled across a quote from the book of Job. I won't ruin it for those that would like to read it, but for the most part, this section described his remarkable faith in God. He'd been humbled down to nothing and still remained thankful and faithful for life alone. I found this story very inspiring. I decided to put my newfound inspiration to use. There I was, 33 years old, a broken relationship with my oldest son from a previous relationship, a middle son with Non-Verbal Autism, no job, third child on the way, yet faithful and optimistic about life's possibilities.
There's an old saying, 'If you take one step, he'll take two.' I decided to abide by that saying. I'm a college graduate so I felt like it was beneath me to work a laboring job. However, I decided to go out on a limb and apply at a plumbing company as a hole digger. Hole diggers are guys that dig the holes to find the damaged pipes. Guess what? I got the job! It paid a whopping $10 an hour. I bought my steel-toe boots and there I was on my first day. After the first week of digging 10-foot holes I knew this was not the career for me. However, I didn't quit. Every day after work I would get on my laptop and fine tune my resume in efforts to sell myself as a skilled electronic medical software technician. I understood that you should not leave one job until you found another, so I gutted it out until something else came along. Every night before I went to sleep I would pray for a breakthrough. This was big for me because I'd never been a super spiritual guy.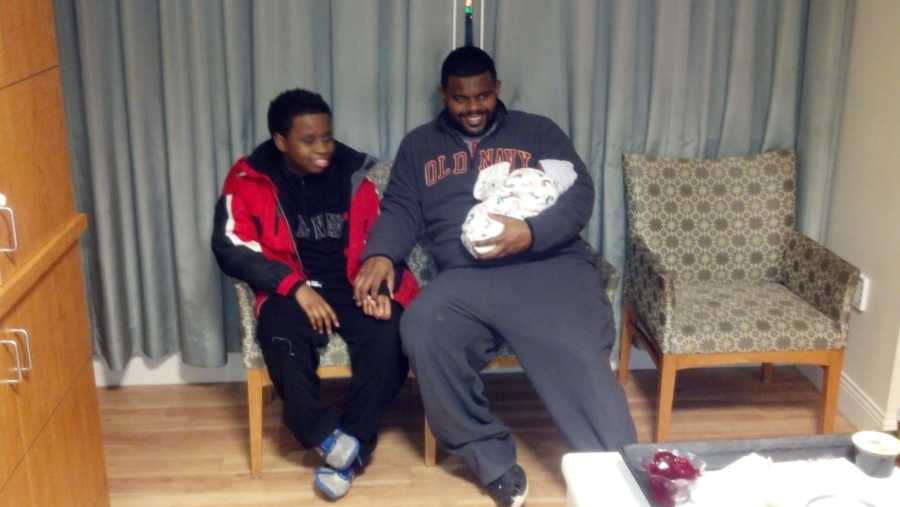 Becoming A Father
December 24th came and so did my son, Austin Alexander Perine. At this point my life would change forever. Austin has had a high IQ since the first day I laid eyes on him. When he came out of his mother, he cried as any normal newborn baby would for about 10 seconds. Next, Austin stopped crying, turned around to see his mother, looked at me and then resumed crying. I've never witnessed something like this in my life, a 10-second-old baby having enough intellect to stop what he was doing to identify who his parents were. One week later I got that Electronic Medical Record technician job that I'd been prepping for. Finally, I could stop digging holes. The job required me to travel 100% of the time but it was cool because I was making $45 an hour. The first thing I did with my first check was get us out of the mice-infested, drug-infested neighborhood we lived in. That wasn't fit for a newborn baby. I was able to facilitate the needs of Taylor, my autistic son. Also, the new gig allowed me to do things for my older son La'Mical that I had not been able to do. I bought him a car. That was the beginning of patching things up with him. I thought to myself, 'Wow, this faith thing really works.'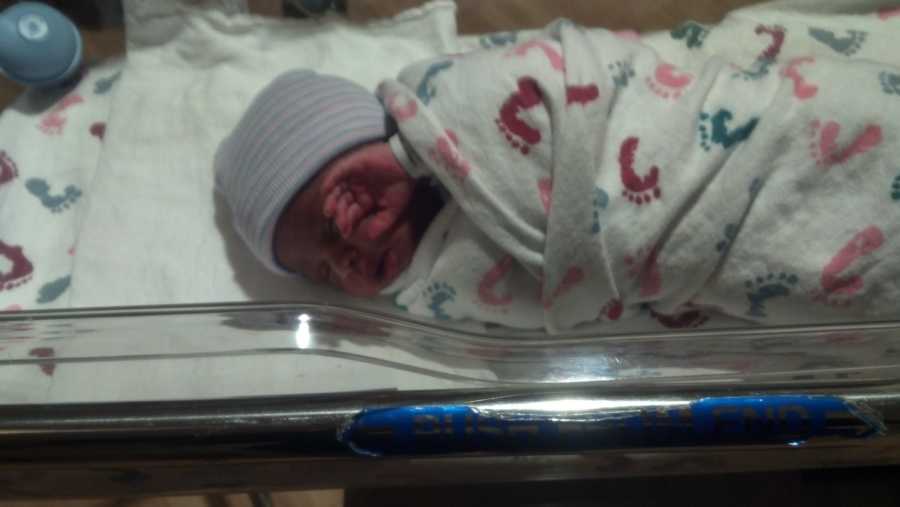 Let's fast forward 3 years. I was still traveling and making good money. On the other hand, Austin would be reluctant to play with me because I had been away for so long and I imagine I was foreign to him. During these 4 years my family and I acquired a new lifestyle that was fit for success. We moved from Arlington, Texas, to Birmingham, Alabama. The move was for several reasons. Alabama is home for us. We wanted to be closer to our parents who were getting older. My mother moved out of her 3,000 square foot home into her new 6,000 square foot home. This offered an opportunity for us to move into her old home without worrying about the rent tenant responsibilities. We went from mice infested duplex to normal duplex to a nice house in suburban Birmingham. At that point, the excitement of being a road warrior with a 6-figure income wasn't as exciting anymore. Hence, I took a job at a $50k pay cut in efforts to find stability and be with my kids every day. I'd reached 37 and it was time to enjoy the sentimental things in life. I began working for ASH renovations, a family owned construction company in Birmingham. I'd never done construction work nor managed construction workers but there I was, Project Manager at ASH renovations.
My new circumstances allowed me to put Austin on a youth wrestling team as he approached 4 years old. This decision was 2nd best decision I've made as Austin's Father. The sport of wrestling allows kids to understand triumph and defeat all on their own. It's a very tough sport. In wrestling, when you win you get all of the glory, and when you lose you get all of the disappointment. There's no blaming Johnny for missing a shot or dropping a pass. It's all you! Austin became a better brother. He understood teamwork and would help his mom dress Taylor for school. Austin transformed into Taylor's second dad. Austin became a better student. Although he wasn't old enough for public school yet, his mother has always had him on a learning curriculum. He learned how to follow directions during his lesson plans because of the discipline and instructions that his coaches provided. By the end of the wrestling season Austin had just turned 4 years old and was advanced enough to compete in the Alabama state wrestling tournament against kids as old as 6 years old. Austin's natural knack for success landed him as the 2nd best wrestler in the state of Alabama at only 4 years old. He became the youngest kid in Alabama to earn a silver medal.
Being Laid Off
At the end of 2017, a few weeks before Austin's 4th birthday. I found myself in a familiar situation. The owner of ASH renovations called me into his office. He said, 'You know T.J., you're a great guy, you're charismatic, and everyone loves you. But, I just don't think that you're cut out for this business. Unfortunately, we're gonna have to let you go.' Bam! There I was again. It was Christmastime, Austin's birthday was 2 weeks away, and I was unemployed. The company encouraged me to sell my car when I got hired because they provided a work truck, so I was also without a car. This time something in my spirit was different. I wasn't worried. They'd given me a $5,000 Christmas bonus but that wasn't why I wasn't worried. My wife hadn't worked in 2 years but still, I wasn't worried. My parents came over for Christmas. I remember the disappointment and concern on my dad's face when he found out that I was unemployed. 'Son, what's your plan?' He asked. My response was, 'I'm going to relax and enjoy the holidays.' My mom on the other hand said, 'Baby, this is an opportunity to figure out what your purpose is in life. Don't rush into another job for a paycheck.' I always ask God for a sign whenever I pray. I took that comment from my mother as a communication from God and she was just the vessel to deliver the message. Although my dad was worried, it actually worked to my advantage because he let me use his old truck (it was his second vehicle).
Approximately 2 months passed and Austin and I were riding in my dad's 20 year old truck. Austin says, 'Dad, I really miss your other truck (the company truck). This truck is old and dirty.' I had been poised for almost 3 months, but it finally hit me. When Austin said that, I broke down into tears. I called my cousin Tremayne Perine. He's like my brother because I'm an only child. I told him what Austin had said to me and clearly he knew I was crying from the tone of my voice. I said, 'Cuz, I feel less than a man. What am I supposed to do at this point?' He replied, 'If you feel less than a man there's something you can do about that and it doesn't pertain to money.' In suspense I said, 'What's that?' He said, 'focus on Austin!' At first, I got off of the phone thinking, 'Thanks for nothing Tremayne.' But then I thought to myself, 'TJ, you're already at home with them all day. Most dads would love to be in position to be at home with their boys.' Tremayne had said something simple, but very profound. 'Focus on Austin.' At this point I knew that yet again that this was God answering my prayers. Tremayne was just a vessel. The message was from God. I obeyed the message and kicked our relationship into overdrive.
It was February 20th. Austin and I were watching a learning show as we had been doing since I kicked my parenting into overdrive. There was a mother panda bear that was leaving her cub unattended. The narrator explained that pandas don't care for their cubs like other species do. Austin asked me, 'Dad why is she leaving her baby?' I replied, 'That's just what Pandas do. It will be "HOMELESS' for a while, but it will be ok. He responded, 'Dad, what is homeless?' I said, 'It's when you don't have mom and dad around and sometimes you don't have food to eat.' I thought this would be the end of the conversation. However, when Austin and I would be riding in the car he would often mistake a random person walking into the store by saying, 'Dad, there's a homeless person!' I explained to him these were not homeless people and I promised him I would take him to see what a homeless person looked like if he did his wrestling workouts without pouting.
Helping The Homeless With My Son
Days later I was forced to honor my promise. I woke up that morning and took Austin to downtown Birmingham to see homeless people. My idea was just to ride by and let him look out of the window at them. Austin said, 'They look hungry. Can we feed them?' I paused because I really didn't want my 4-year-old baby boy subjected to everything on the streets of Birmingham. But, it's hard to tell a 4-year-old that wants to #ShowLove 'no.' I rode to the closest Burger King and we ordered 25 chicken sandwiches. We got out to feed the homeless and Austin wasn't afraid at all. He walked up to the first guy and said, 'Would you like a sandwich?' The guy said, 'sure!' He gave Austin a high five and Austin moved along to the next person. The first guy pulled me to the side and he said, 'I want to thank you for doing this with your son because I have nephews that treat me like scum of the earth because I'm down on my luck. I wish I would have done this with them.' At that point I made the decision to do it once a week.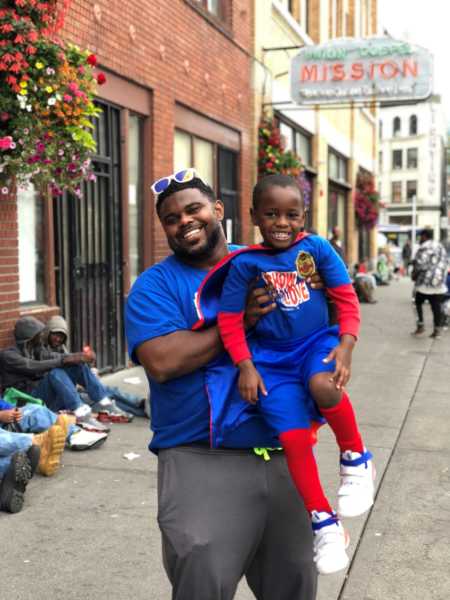 I explained to Austin that daddy didn't have as much money anymore and he had to make a decision with his toys. Either you can get your toys every week, or you can feed the homeless. He said, 'Dad, I wanna feed the homeless.' I posted a video of Austin feeding the homeless on my social media and the story went viral. The local news stations came knocking. One reporter asked Austin, 'What do you do when you meet homeless people?' Austin replied, 'Show love, of course.' In fact, every person that Austin gives a sandwich also gets his message. 'Don't forget to #ShowLove.'
Starting Our Nonprofit
This inspired me to start a nonprofit named #ShowLove Inc. A phrase so simple, yet so profound. Since then, we have been feeding the homeless at least once a week. Austin and I have been honored at the Atlanta Braves game, featured on ESPN Sports Center, featured on The Steve Harvey Show, featured on Access Hollywood, CNN, CBS' 'On the road with Steve Hartman,' gotten a letter from Lebron James, and we are currently on a 10-city tour with Southwest Airlines to feed the homeless.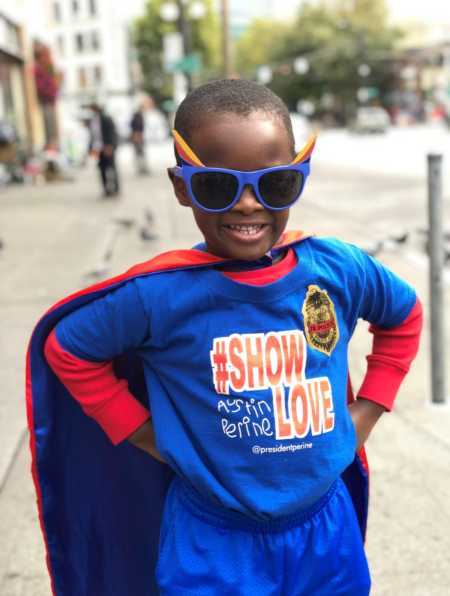 I love all of my kids the same, but Austin was my first opportunity to do the dad thing the right way from beginning to end. Austin has made me laugh, he makes me proud, made me cry, seen me cry, cheered me up, kept me on my toes, and driven me crazy at times. But Austin is a promise that I will have a friend forever. Taylor has started to find his own way to communicate and express himself. La'Mical is a student and star running back with The University of Florida Gators and headed to the NFL. Happiness is when you realize that your children are turning out to be good people. Today I live in such a way that if my children are ever asked for the definition of LOVE, they'll answer, 'my dad.'
My biggest takeaway that I've gotten out of this journey is: One touch of love can save somebody's life. (Imagine if that lady wouldn't have smiled and offered me that hot dog?)"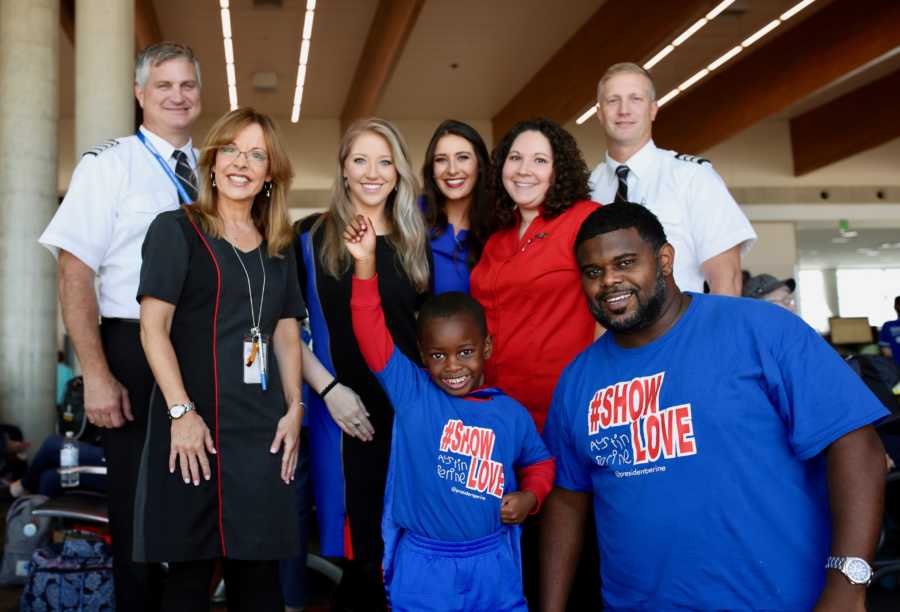 This story was submitted to Love What Matters by Austin's father, Terance Perine. Be sure to subscribe to our free email newsletter for our best stories.
Read more like this here:
'My parents taught me it's a blessing to be a blessing.': 13-year-old boy uses only Make-A-Wish to feed homeless community
Homeless Man Reunites With Long-Lost Family After Kind Barber Gives Stunning Makeover
Help us show compassion is contagious. SHARE this beautiful story on Facebook with your friends and family.