"Dear big kids, I love having you home. But I wish you didn't have to be here.
I wish you could be where you thought you'd be or where you want to be or where it would be easier for you to be right now.
Don't get me wrong: in so many ways, this is a mom dream I never dared dream come true. Having this unexpected time with you is a gift. The family dinners, the games, the movies, the sense of riding out a storm together…all of these make my mom heart so grateful. (And I didn't even have to ask for them or talk you into them! You were literally executive-ordered to be here!)
But this isn't like having you home for Christmas or summer vacation or a snow day, when we can all lean into togetherness without reservation. A much as I love having you on my couch and at my table—because you are some of my favorite people in the entire world—I don't love how hard it is for you to be those places when you expected to be somewhere else right now.
You expected to be at high school or on a college campus. You expected to be in a dorm room or a friend's bedroom. You expected to be at the library or taking a class. You expected to be coming and going. You expected to be working and playing.
You expected to be seeing friends face-to-face, not FaceTime to FaceTime. You expected to be hustling to get to class with teachers and professors who are in the same room, not zooming to a lecture or lesson.
You expected to be practicing for spring sports or watching friends compete. You expected to be rehearsing and performing. You expected to be celebrating victories and end-of-year accomplishments in the ways others before you have celebrated.
But life threw us all a curve ball, and so now you are trying to play your game on a whole new field with new rules that are being rewritten every day.
It is a privilege to watch. You didn't ask to be thrown in, and I'm so sorry it's so hard for you, but watching you play on is one of the honors of my life.
So while you do all the hard things only you can do in ways you've never done them before, I'll do what I hope I always do: cheer you on. And if there is a crowd, I hope my voice is the loudest of all.
Love,
Your first and always fan"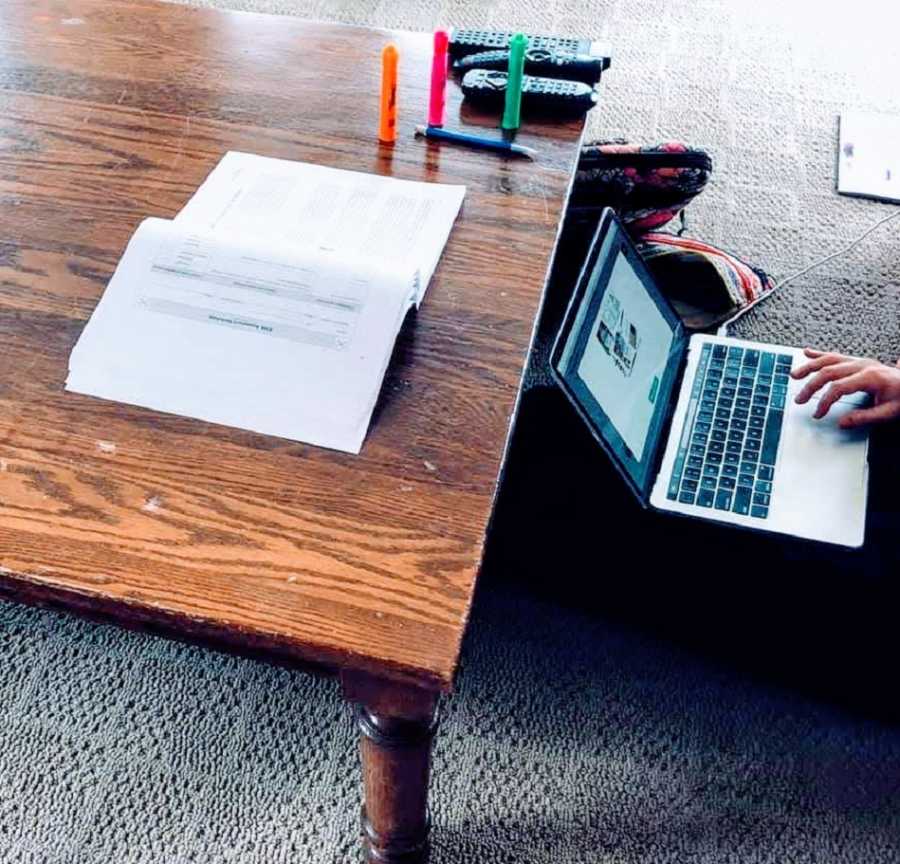 This story was submitted to Love What Matters by Elizabeth J. Spencer, blogger at Guilty Chocoholic Mama, of Battle Creek, Michigan. Submit your own story here and be sure to subscribe to our free email newsletter for our best stories.
Read more from Elizabeth:
'They made life easier by doing the things for me I couldn't do myself, and even the things I could.': Mom shares emotional ode to parents, 'I hope with all my heart to follow in your footsteps'
'I'm just tired.' I didn't press her about what was wrong. I let go a little. All their lives, we do this game of letting-go and holding-on.': Mom of teen shares candid reality of having to 'let go' 
'I understand you're not in the stadium to see the marching band or cheerleaders, but PLEASE clap for our kids, too.': Band, cheer mom reminds us to 'yell, applaud' for the marching band, 'they work incredibly hard too'
Do you know someone who could benefit from reading this? SHARE this story on Facebook with friends and family.