"My dad was the king of nicknaming people. He came up with nicknames for all of our family, our family friends, and even my friends. While I was in high school, he decided to coach my lacrosse team. My best friends decided to give him his own nickname: C-Daddy. We had this shirt made that he wore to every game while he coached. Since his death, this raggedy old T-shirt is one of my most cherished items of his.
He was alive for the birth of my four daughters, but he wasn't here for the birth of our son two weeks ago. The realization that they would never know each other and the realization that there would be no pictures of them together wasn't fully felt until I was holding my son.
During the middle of my pregnancy he came to me in a dream. In this dream, he was holding a baby wrapped up in a pale blue blanket. He walked towards me, smiling, and handed me the baby. It was a powerful moment for me since we chose to wait on finding out gender until birth. But I knew after waking up that the little baby inside of me would be a boy and that my father was taking care of him before it was my turn to. It's the only tangible memory I have of them together.
While my father is one of the main people my child will never know, I also have awesome grandparents in Heaven as well. I decided to write a universal letter to all of them, expressing my emotions on the relationship that will never exist between them. Maybe a few others can relate to how I am feeling right now.
To my loved ones in Heaven that my child will never meet:
While I truly believe with my whole heart that you held my baby before I ever did, I'll never get to experience seeing those beautiful moments myself. I'll never see you sniff his head or kiss his cheeks. I'll never watch you try to make him laugh or console his cries. I'll never hear you tell him you love him or sing him to sleep. I'll never witness your heart burst out of your chest with pride at the little life you yearned to meet.
I can imagine those moments all in my mind but experiencing them will never come to fruition. It's a bitter reality to live, trying to imagine memories that will never happen.
The pictures of you cradling my child will never physically exist. There will never be proof that you two ever knew each other. He will never run, barreling into your arms, as you bust through the door on Christmas morning. He will never get to experience the extra spoiled love and attention you would have bestowed on him. He will never see you standing on the sidelines, cheering him on. He will never search for your face in the crowd of people at his school graduations. He will never call your number to tell you good news, nor will he ever dial that same number for advice when he needs it.
Your name is something he will read, but never characterize.
Your face is something he will see, but never admire.
Your voice is something he will hear, but never recognize.
Your love is something he will feel, but never comprehend.
The 'that will never happen' list is miles and miles long. Sometimes it takes my breath away when I think about it for too long.
Grief is a wound that gets scratched open and made raw again and again, no matter where we are in our lives. I grieve your death here and there, but now I am grieving a relationship that will never blossom in this lifetime.
It seems completely impossible and unfair that people I love so much will never know each other.
I know this is the way life was meant to be. But it's still a hard reality for me to maintain day in and day out. How can there be a world where I don't get to see you two interact? Even for a day? How can a place exist where we aren't all together, enjoying each other's company? How can it feel so selfish to want things that can never happen?
Why does life have to feel so cruel?
Even through my own emotional battles, he will still know you. Or at least in the best way he can without ever meeting you. We will talk about you and we will share the joy you brought to those who loved you. We will make sure your name is spoken in a way that makes you feel real, even though your presence is lacking. We will share your story in the best way we remember it, trying to emphasis the good over the bad. Your spirit will always be around us and I hope that it stays close by, always.
Who you are will never be far from his life. He will 'know' you through the pieces of me that are you. Some of my own personality and tendencies are you. He may never realize those parts are actually you, but he will still experience them. Maybe he will even inherit some of your quirks and mannerisms, himself.
My heart cracks over and over knowing that the only thing we have are pictures and stories. But I have faith that as his guardian angel, you will always be there for us throughout this lifetime, walking alongside us. We may not see you, but we will feel you during the highs and lows of life.
Thank you for making such a big impact on my life that I have vowed to keep you alive for my own children.
Thank you for showing me how important it is to appreciate the time we do have with those we love.
Thank you for giving me a love that transcends time and space.
Thank you for being you.
Man, do I miss you. But I'm so grateful to have had you.
I love you."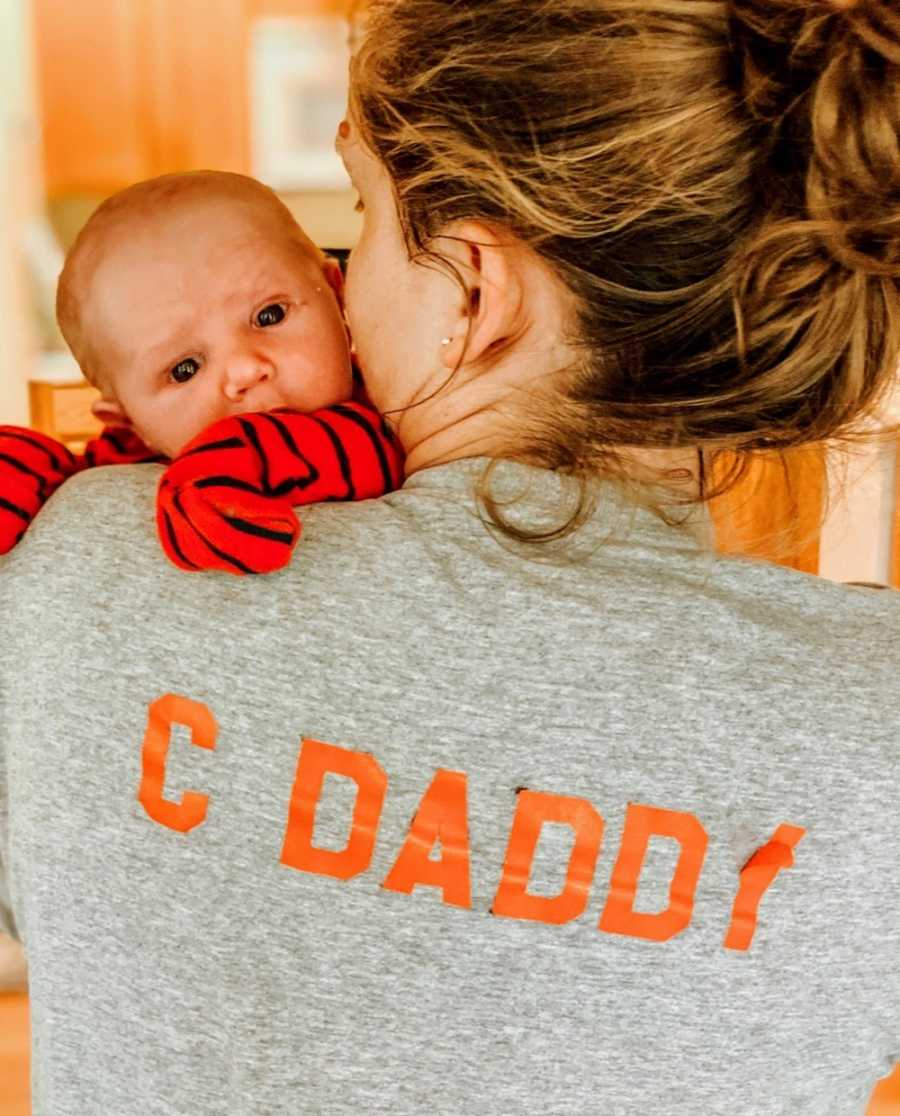 This story was submitted to Love What Matters by Molly Schultz of Tried and True Mama. Submit your own story here, and subscribe to our best stories in our free newsletter here.
Read more from Molly here:
'Your dad isn't ready to give up the cuddles he's getting in Heaven yet. He knows this baby will never know him. He wants to get to know baby as long as possible first.'
'My daughter said, 'There's a light coming into the picture.' It wasn't just any light. This was a beam straight from HEAVEN itself.'
'I didn't realize how much I would miss my dad's handwriting. I didn't know handwriting could be part of the grieving process. Mourning handwriting? But I did. I still do.'
Provide beauty and strength for others. SHARE this story on Facebook with your friends and family.