"My name is Anna Snyder, I am a mom of four amazing children Robert (13), Brenden (12), Connor (11), and Clara-Marie (8). I want to take you back to the year of 2007. I was a senior in high school and found out I was pregnant. I was scared and did not know what to do. At that time, I had been dating my high school sweetheart for four years. His name was Justin Rye. Even though I was pregnant, I went on to graduate high school with my class.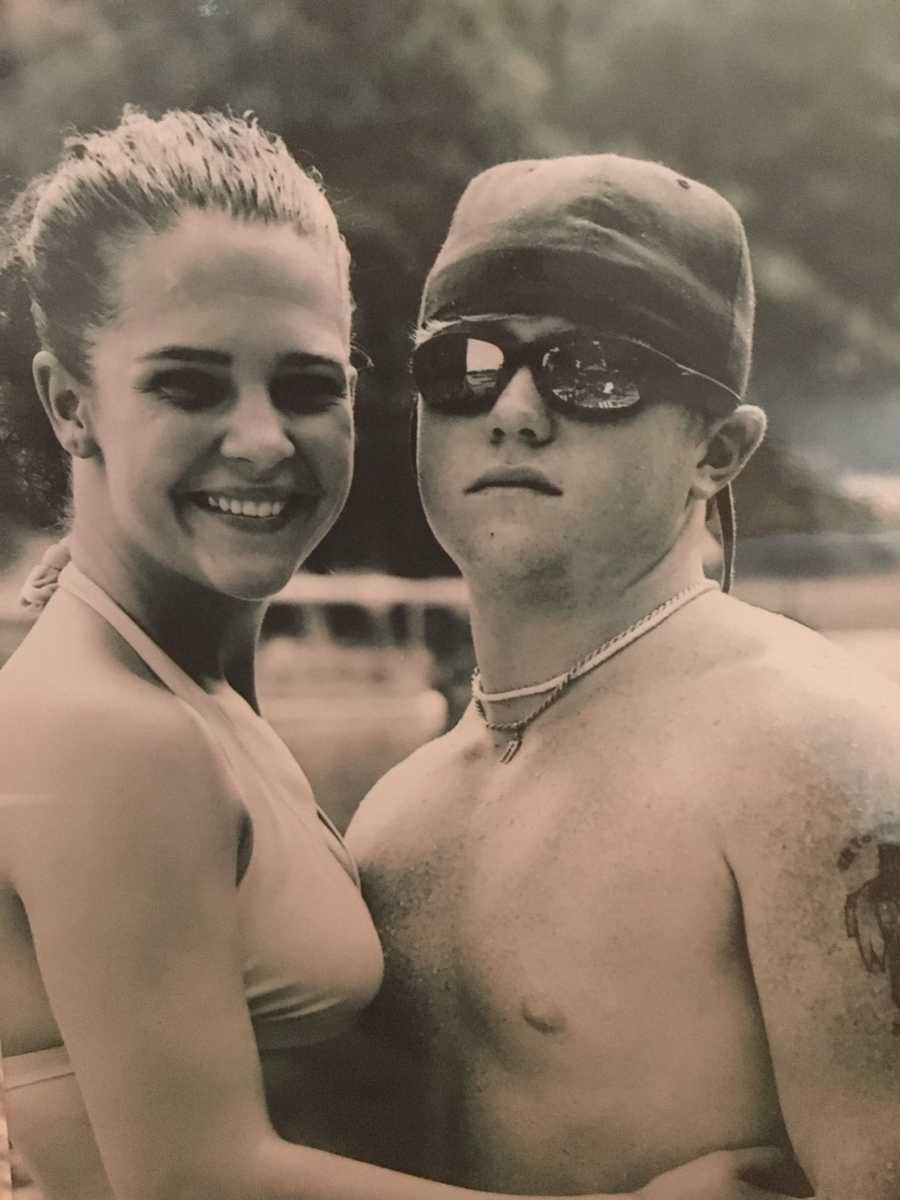 On October 15, 2007, the most amazing blessing came into our lives. We named him Wilson Connor Rye, and decided to call him 'Connor' for short.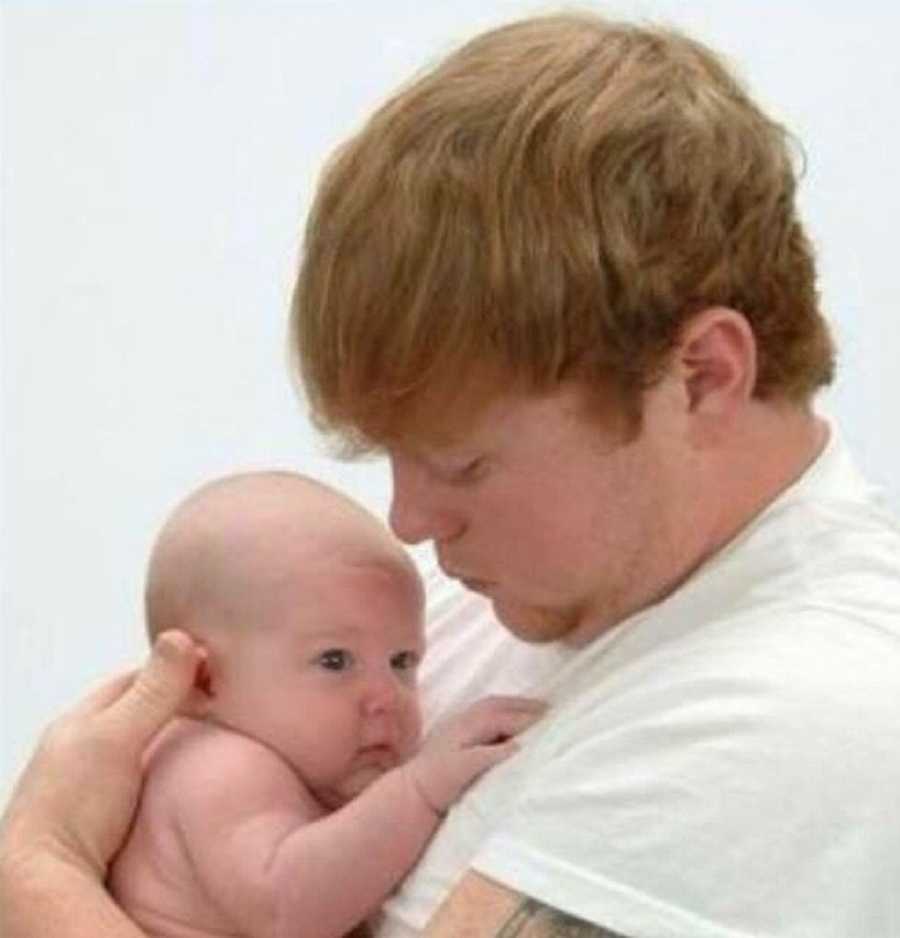 Shortly after he was born, Justin and I got engaged and bought a house together. Life was amazing, but soon, it turned for the worse. On August 10, 2008, Connor's and my life changed forever. Justin had been shot and killed at a party. As everyone at the party stated, 'Justin was in the wrong place at the wrong time.'
Justin was standing up for a friend who was being bullied at the party and got shot in the process. The kid that shot Justin was sentenced to 21 years in prison. I was left a single mom and lost without my best friend.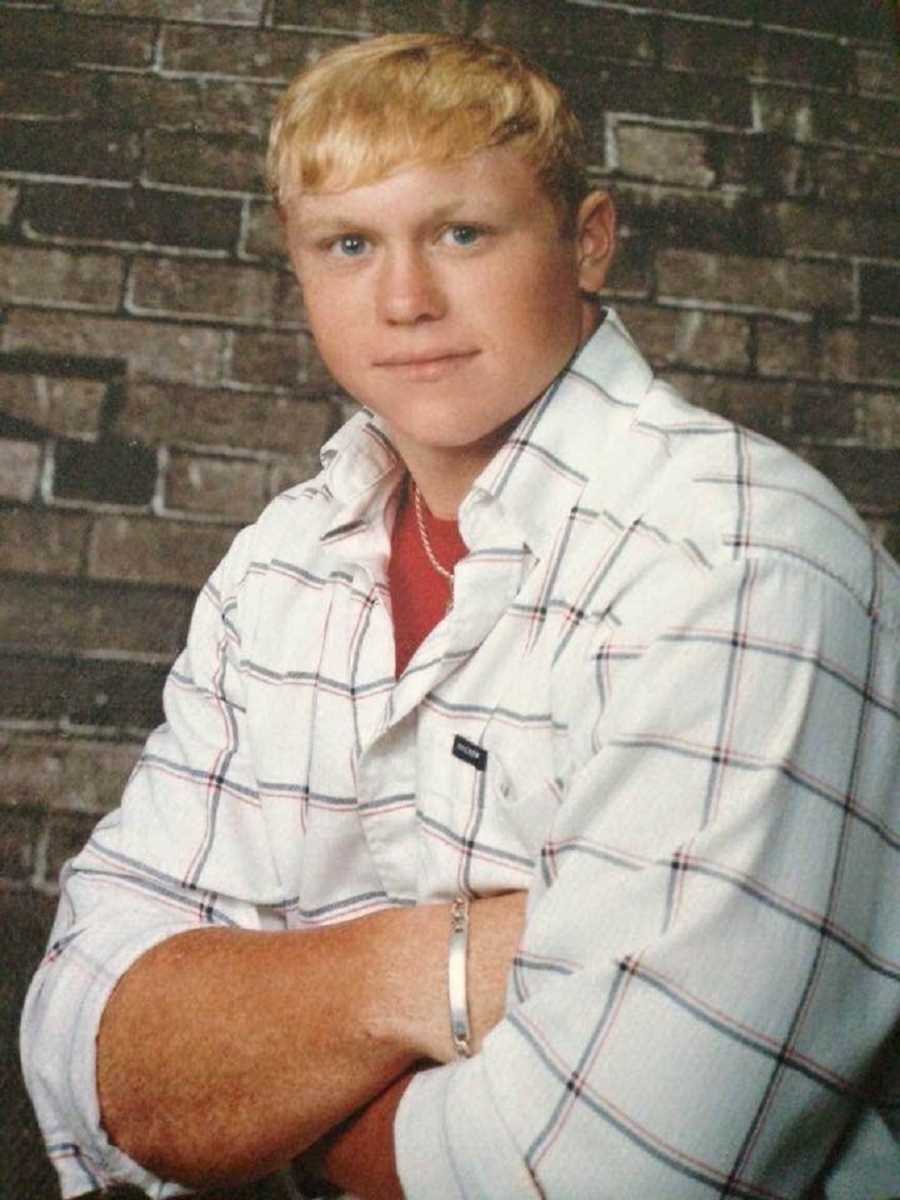 I questioned God, I yelled in anger, 'Why me?' I was angry with the boy who killed him, and I laid at night crying myself to sleep. However, my amazing family and friends picked up my broken heart and helped put it back together.
My dad Jimmy stepped up and helped with 'fatherly duties.' Connor really didn't understand what happened because he was so young at the time. However, many questions ran in my mind. 'How will I ever explain what happened to my son's father?' 'Will I ever be able to do this by myself? This isn't fair for Connor to grow up not knowing his dad.'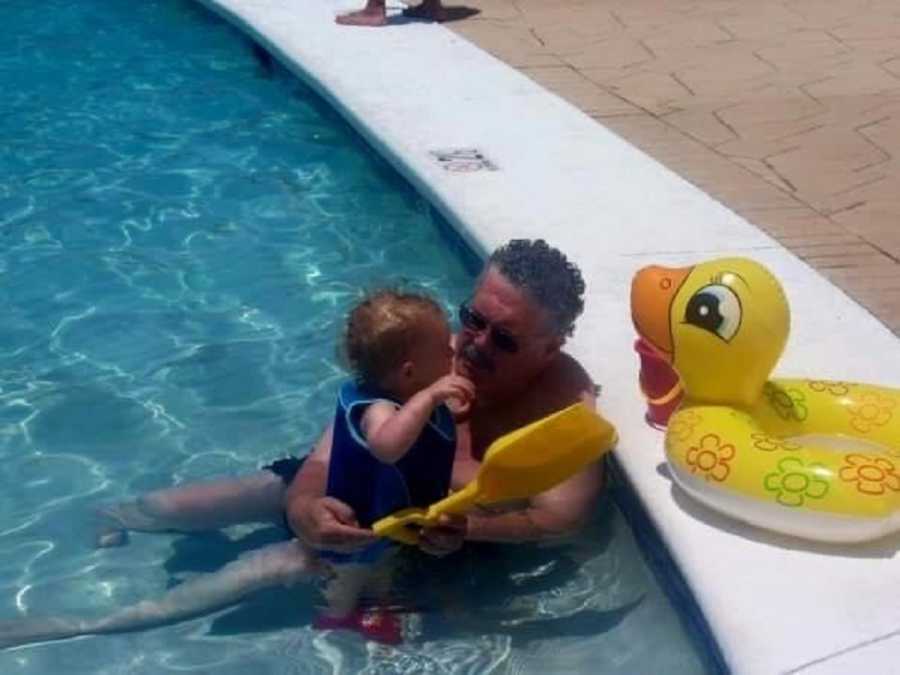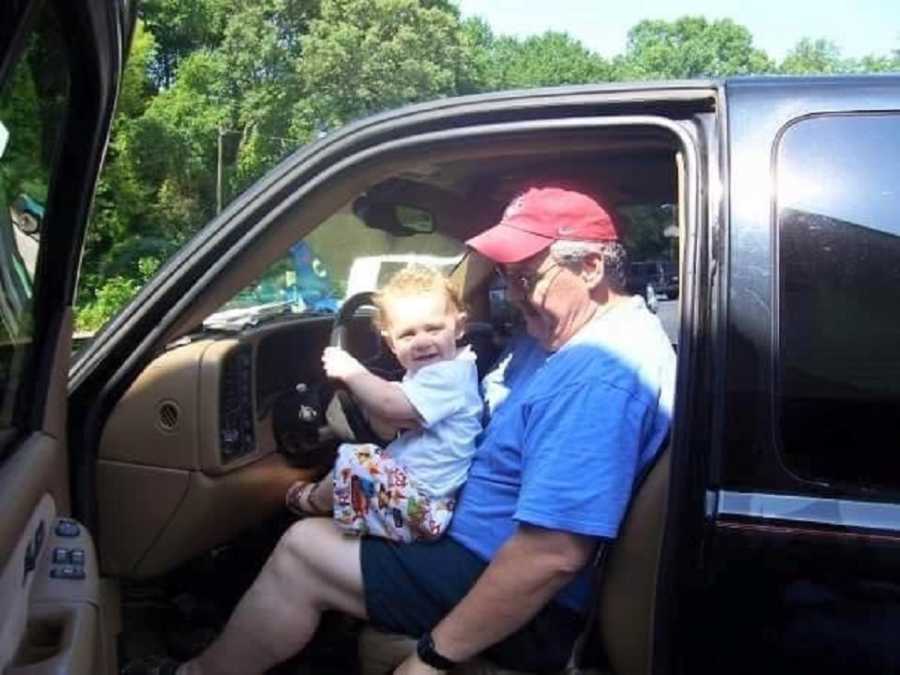 Fast forward a few years to January 3, 2011. Connor and I would once again face another hardship together. My dad (Connor's grandad) had a tree stand accident. He fell out of a 20- foot tree stand, hit his neck on something, and passed away. Connor and I were once again left feeling lost, but now we were both without a father. Connor took this death a lot harder because he knew my dad and looked up to him. They were best buddies. They went hunting and fishing together all the time.
A few days after my dad passed we went back to where the accident happened. As we were all standing in a circle, Connor said, 'Let's sing 'Jesus loves me.' My Pawpaw would love that.' It's the small things like this that make such a tragedy seem not so hard to bear.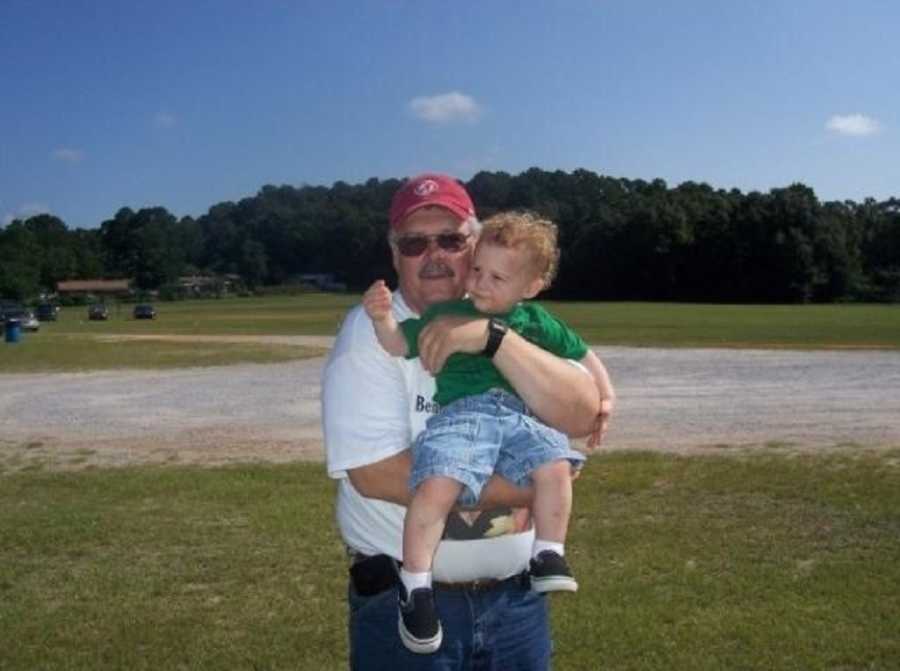 In February 2012, I met the man who would forever change mine and Connor's life. Jonathan and I began dating and I quickly fell completely head over hills for this man. As so did Connor. They became best friends really quickly! I had dated men in the past and they just didn't understand our story, and most of the time, they didn't care to keep Justin apart of Connor's life. However, from the start, Jonathan told my family and me he would never try to replace Justin, but that he would be a dad to him and treat him like his own. I knew then that Jonathan would one day be my husband.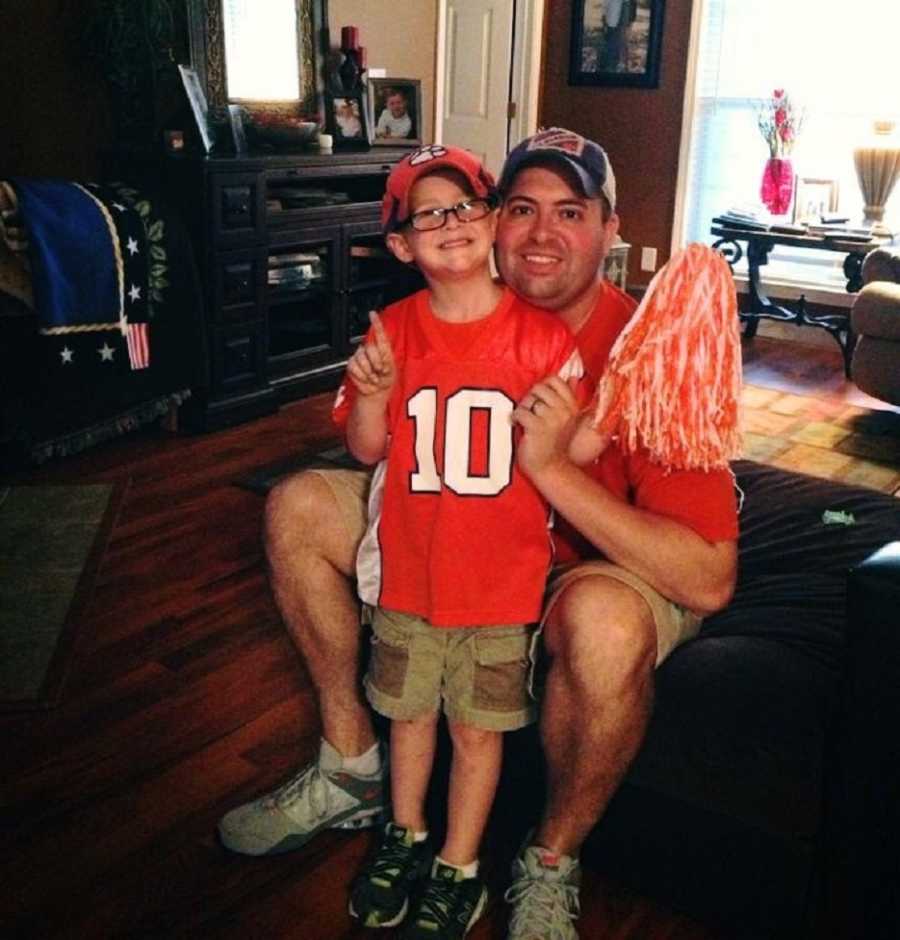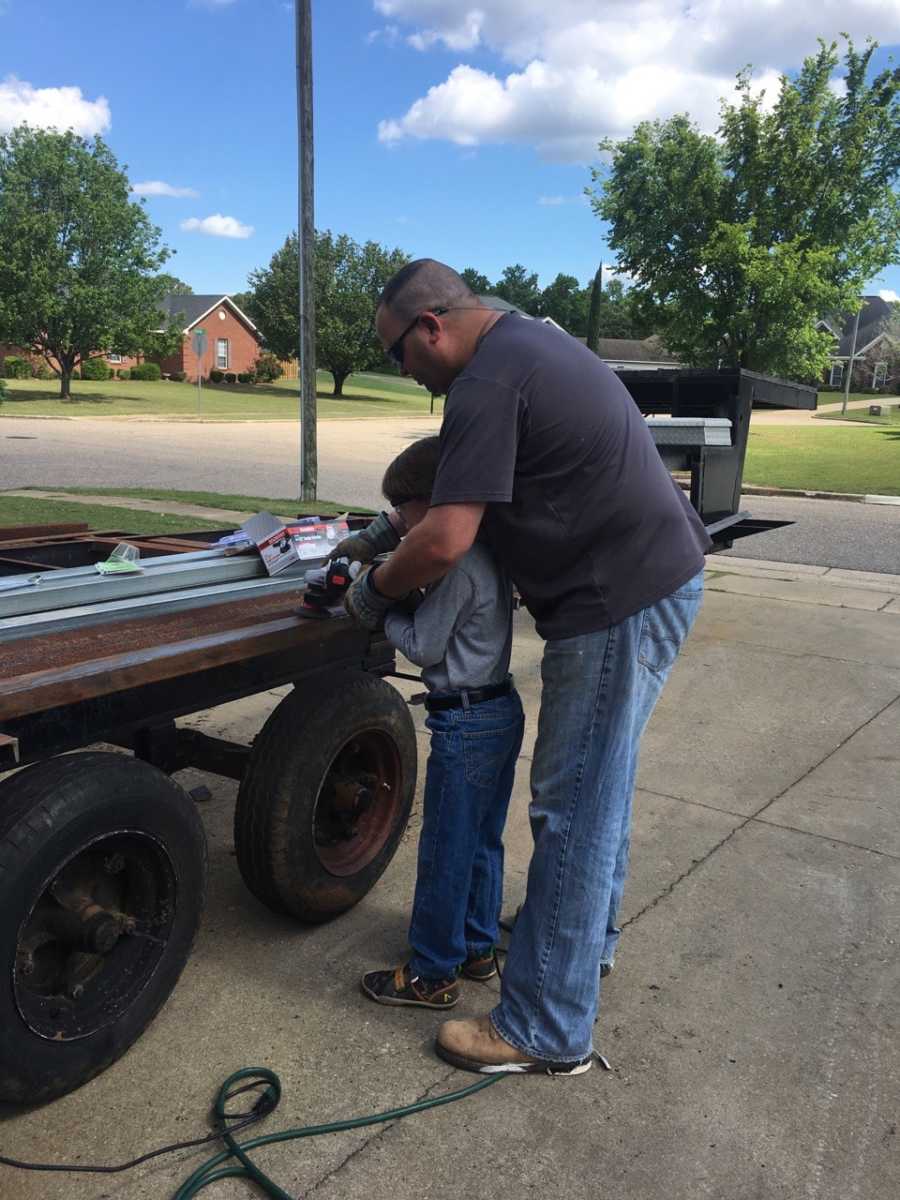 On August 12, 2012, that dream came true. Jonathan and I got married at a very small church wedding. So, I guess you can say August was a sad month that now can be celebrated as a great month. To us, Jonathan has always been Connor's father. This man stepped up and took care of this amazing little boy when his daddy was taken from this world. This man has helped kiss every wound, dried every tear, and is always cheering him on. I am forever grateful for this selfless and amazing man for treating Connor as his own. He has never tried to replace Justin and has never tried to take his place. He is not intimidated to talk to Connor about Justin, or teach him who his dad was.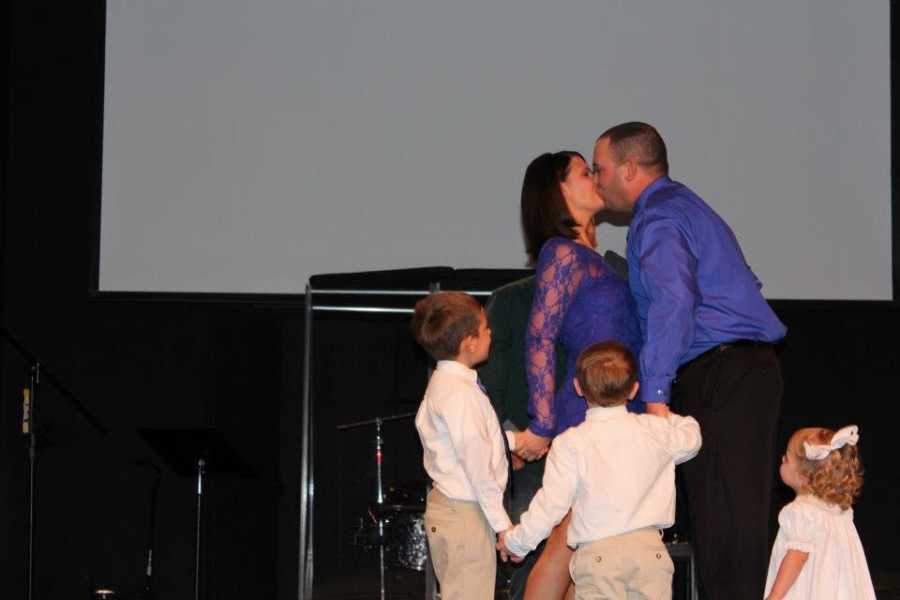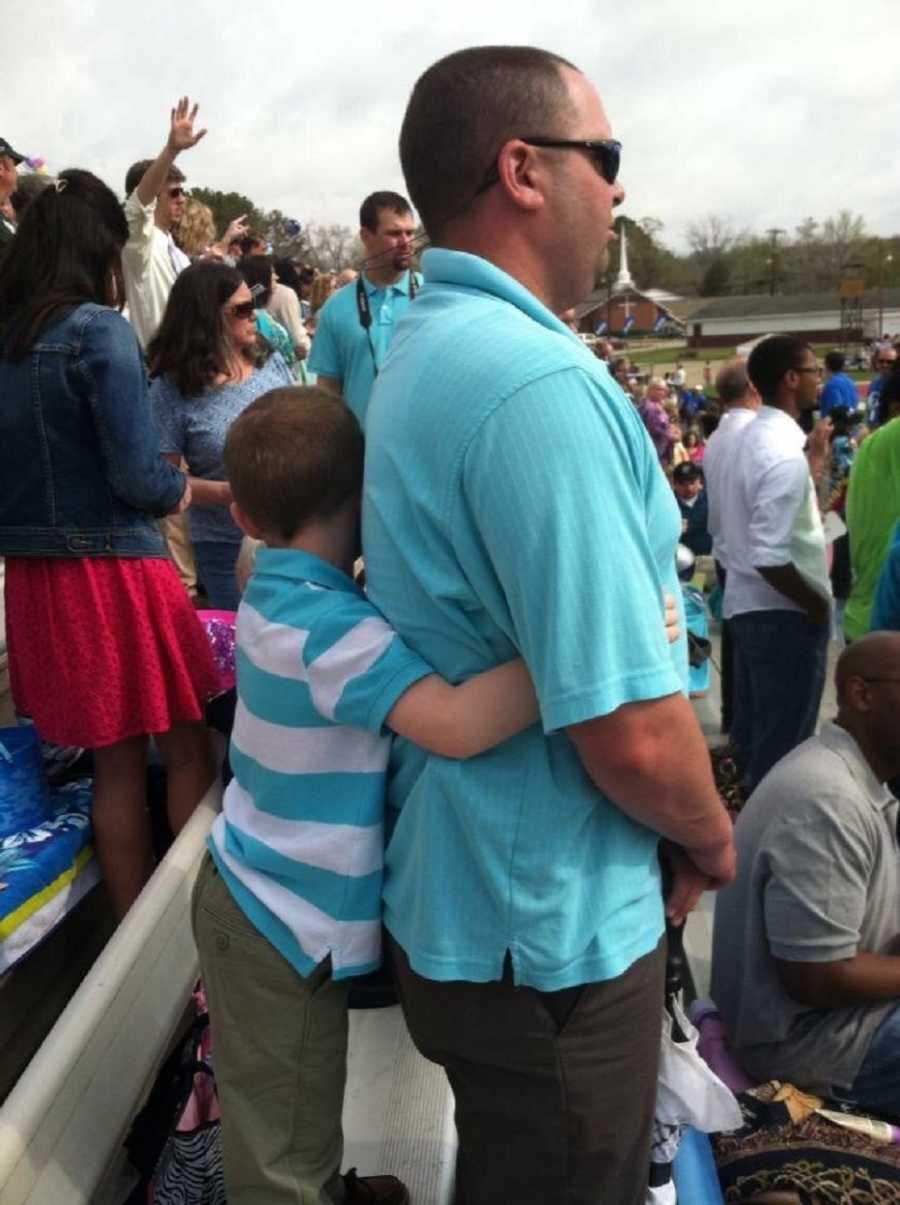 In January of 2019, Connor came to me and asked if he could ask Jonathan to adopt him and make Jonathan his 'forever dad.' I told Connor that was the sweetest thing I had ever heard. 'Why do you want to do that?,' I asked him. 'To make it official,' he replied.
'Do you want to tell Jonathan, or would you like me to ask him?,' I questioned.
'No, I want to surprise him,' said my sweet boy.
That is when we started the planning.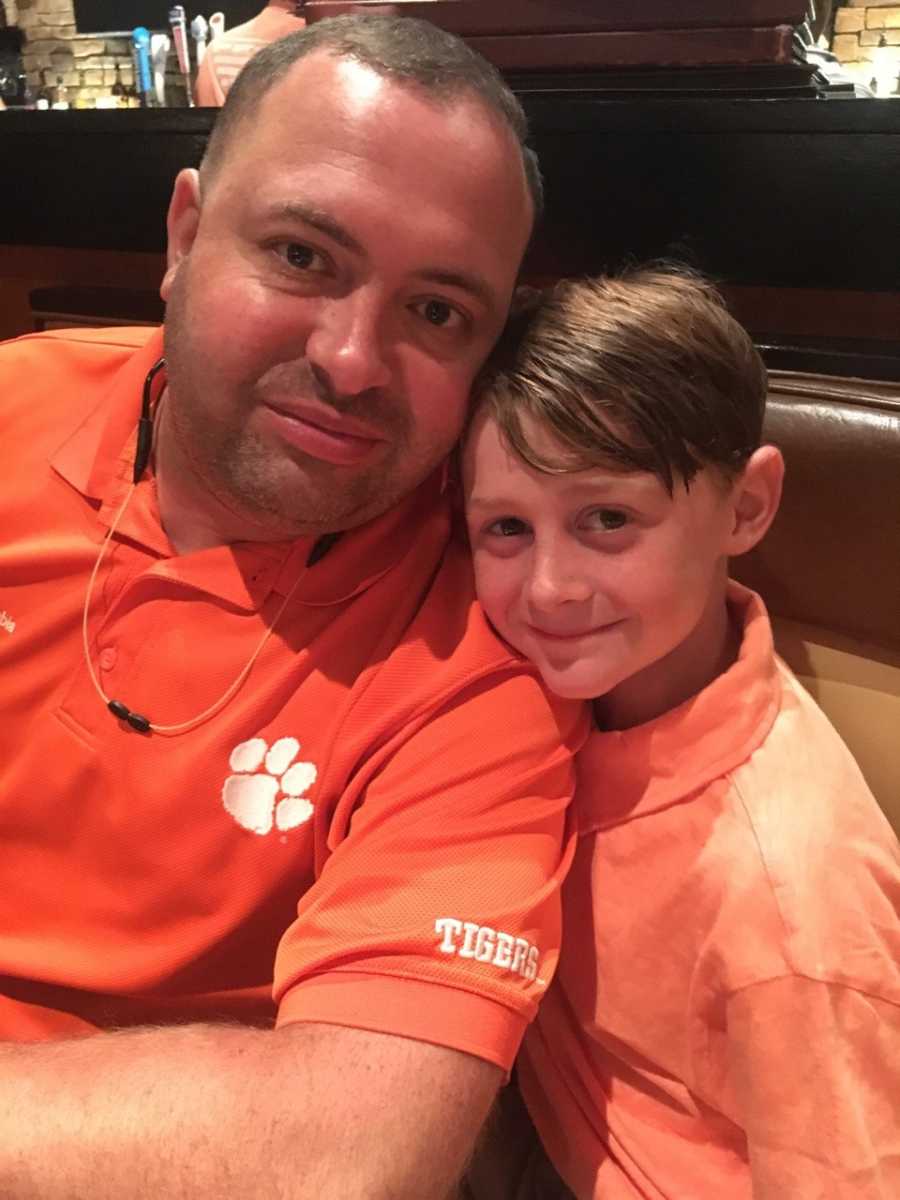 Connor and I worked together to keep it a secret. I hired Lauren Prevette with Milly photography, SarahMarie Kelley for the sign, my make-up, and my hair. I contacted Carol Carter for the legal paperwork. I then contacted the immediate family which included my mom Marie, my sister Michelle, Justin's dad Danny, and Justin's sister Kayla.
Justin's sister brought up a good point that struck me. 'Everyone hears the story about a child asking their stepparent to adopt them, but how many of you have heard it from the viewpoint of the family of the parent who passed away? Well here you go. I am so thrilled Connor asked Jonathon to adopt him, and I'm even more thrilled I was asked to be a part of such a special day.'
Justin's dad agreed. 'I am thrilled to be a part of this special day! I couldn't have asked for a better man to raise my grandson or a better father.'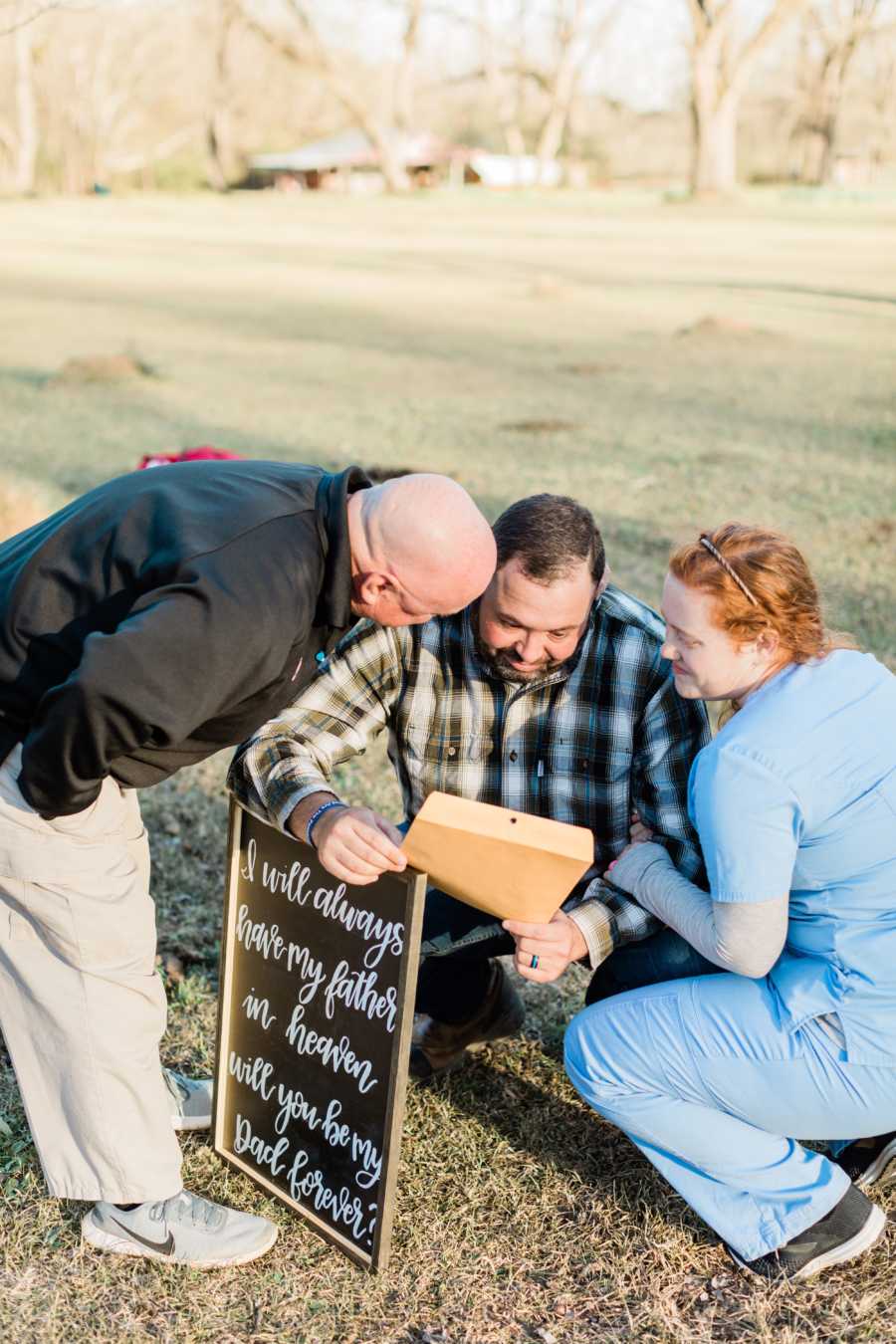 March 6, 2019, was the big day. Connor and I told Jonathan we were just having family pictures taken at our barn. After we took a few pictures, I sent Connor to the car to 'get the things I forgot.' However, the family and Connor were getting all set up for the surprise.
I then said, 'Hey, Connor is taking too long. Let's go on back.' That's when I told Jonathan to close his eyes – we had a surprise. As we walked up, Jonathan kept saying, 'What is this?'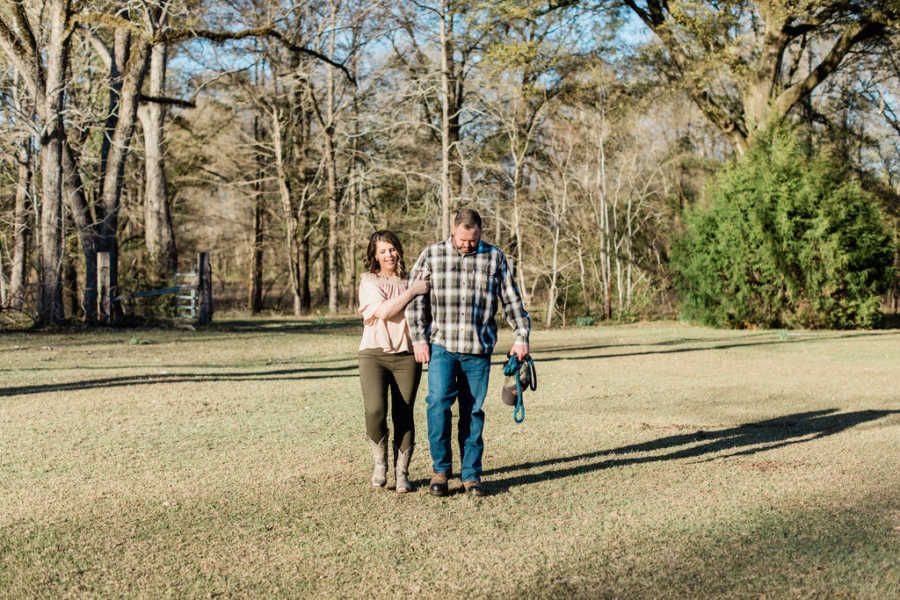 Once he got up to Connor, I said, 'Ok, open your eyes. Once he read the sign, he just started balling his eyes out.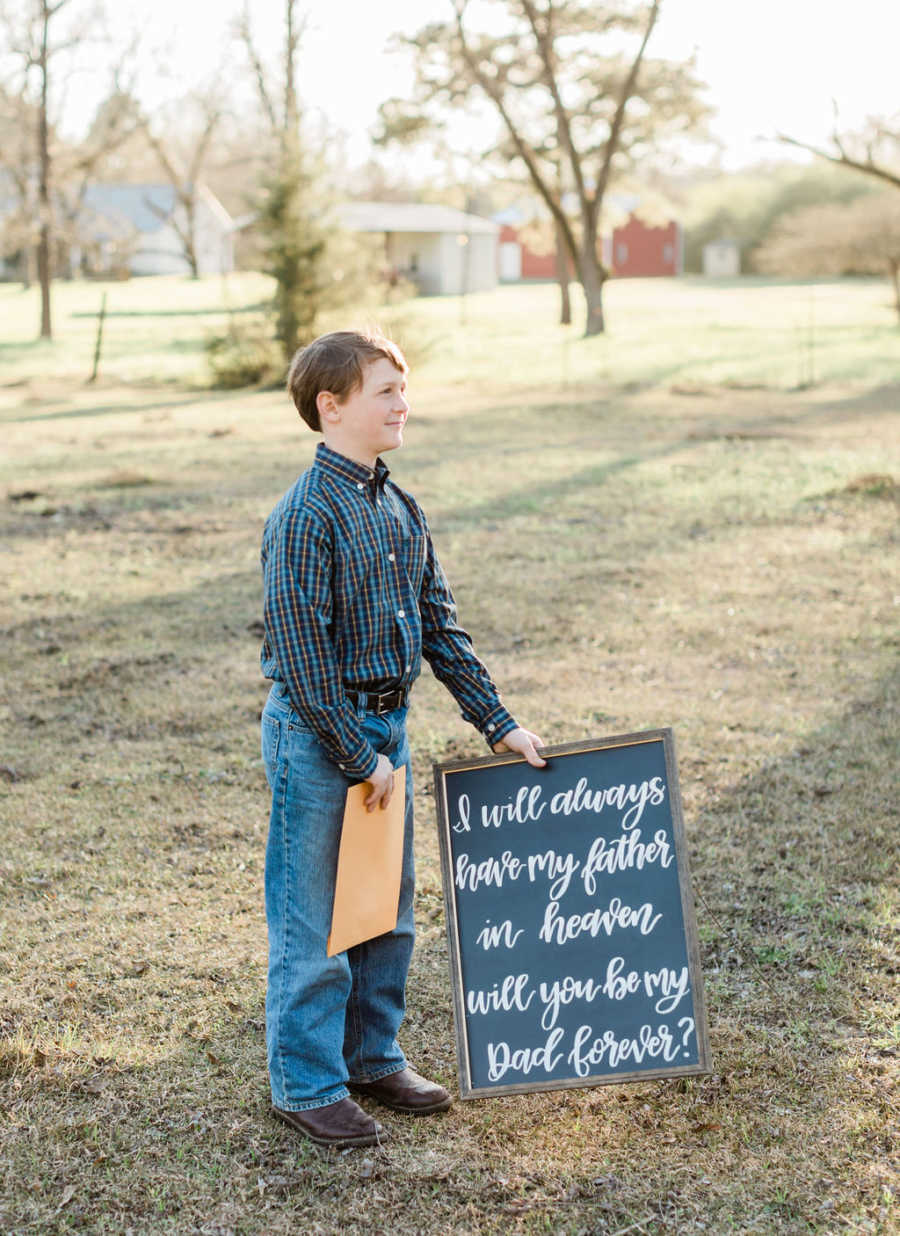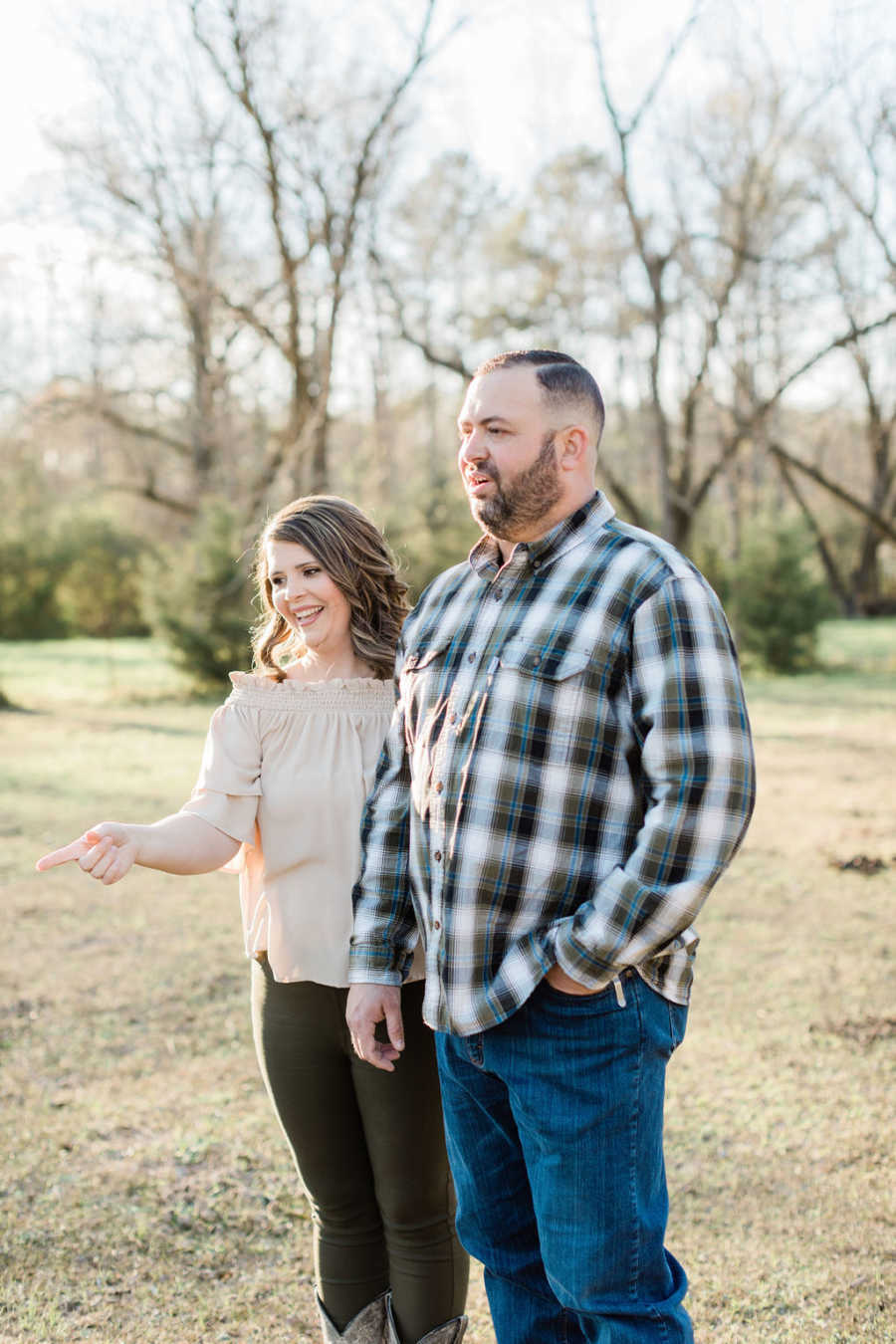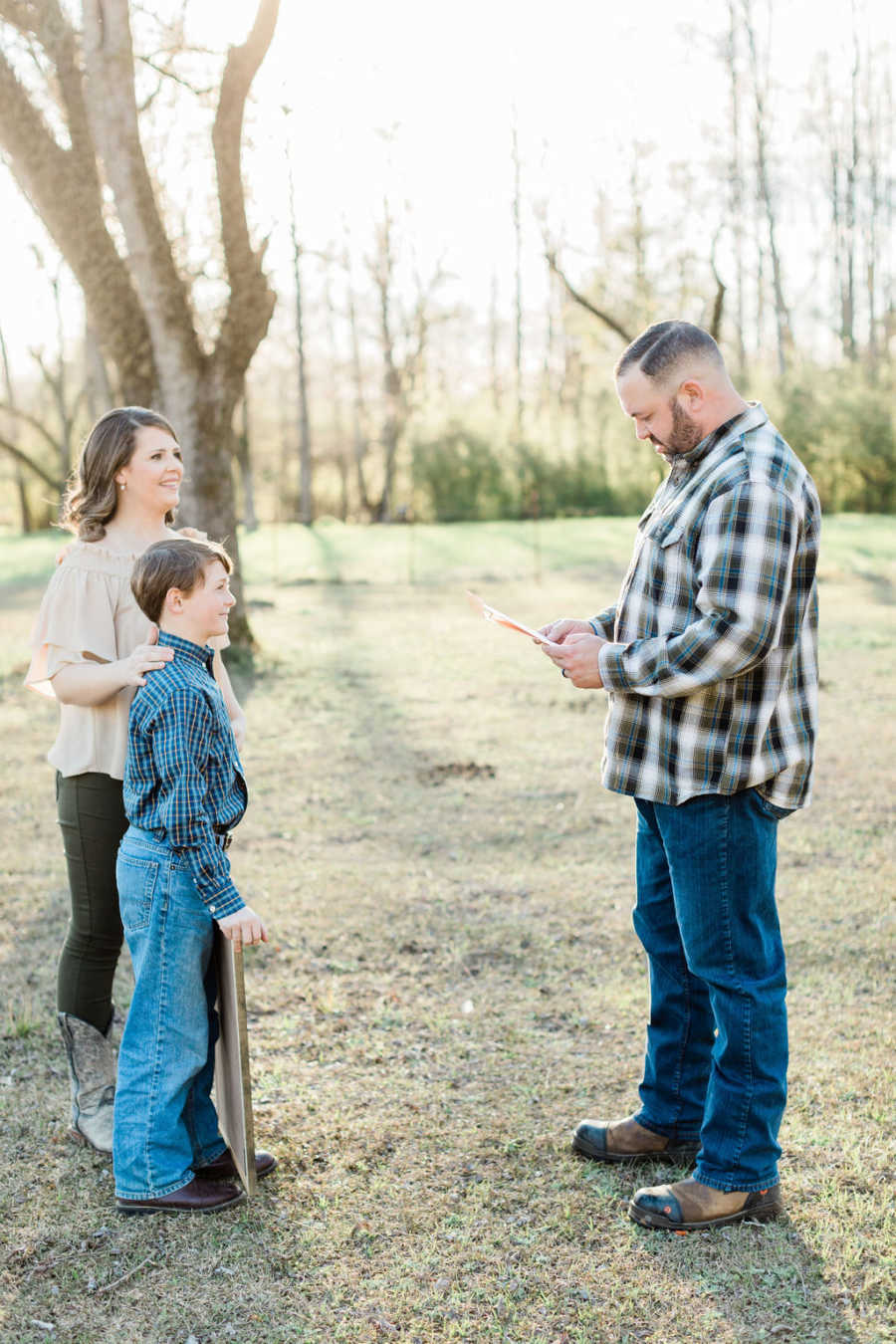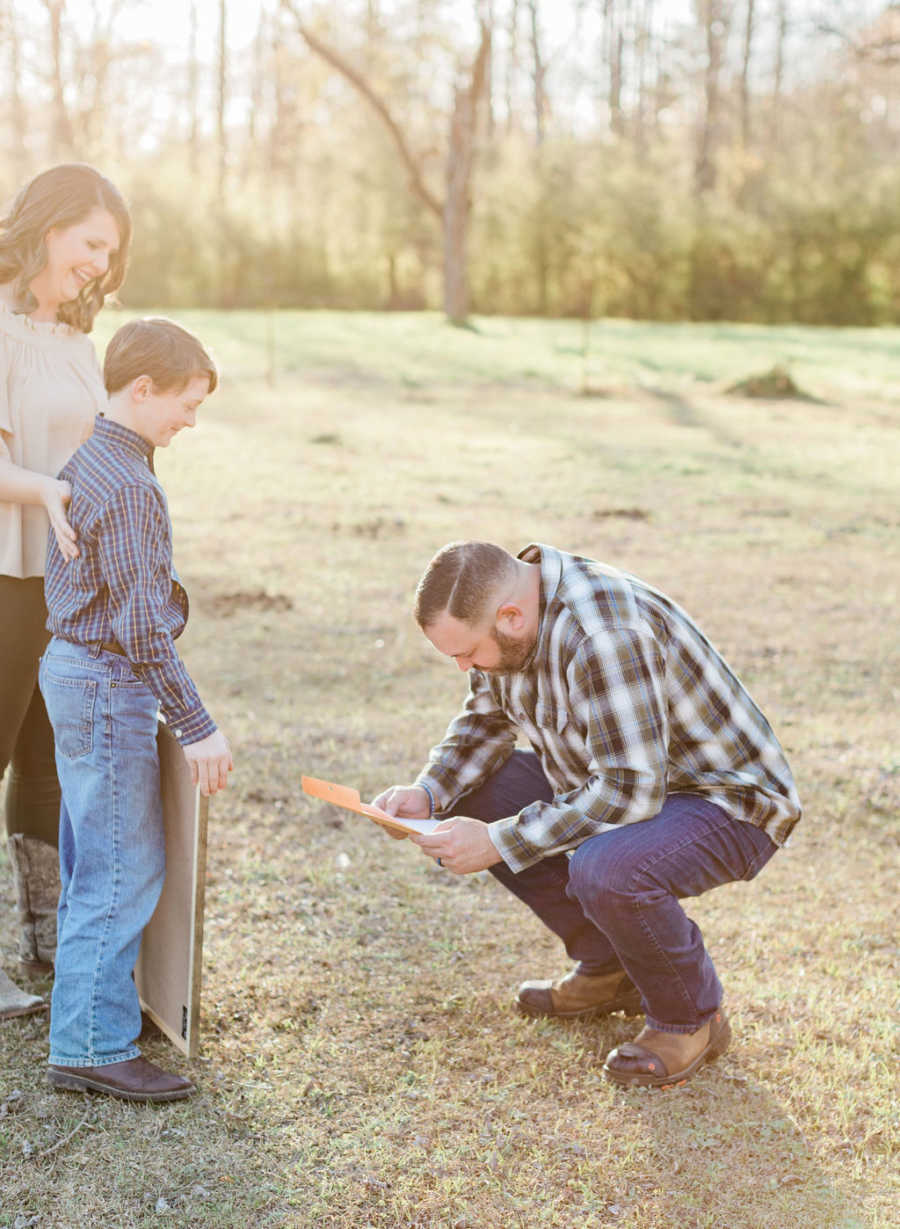 He kept saying, 'What is this, what is this?' He then grabbed Connor, hugged him and picked him.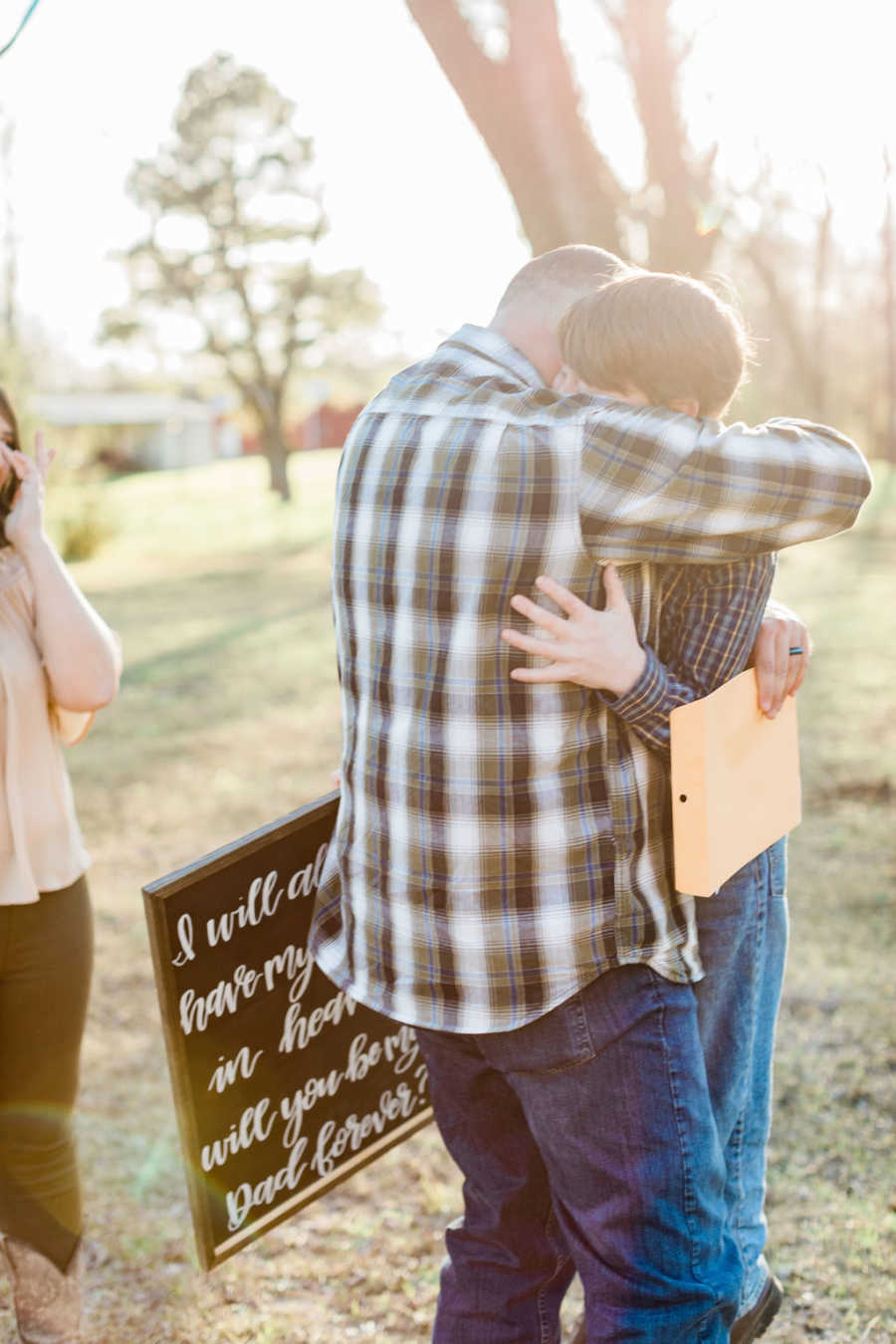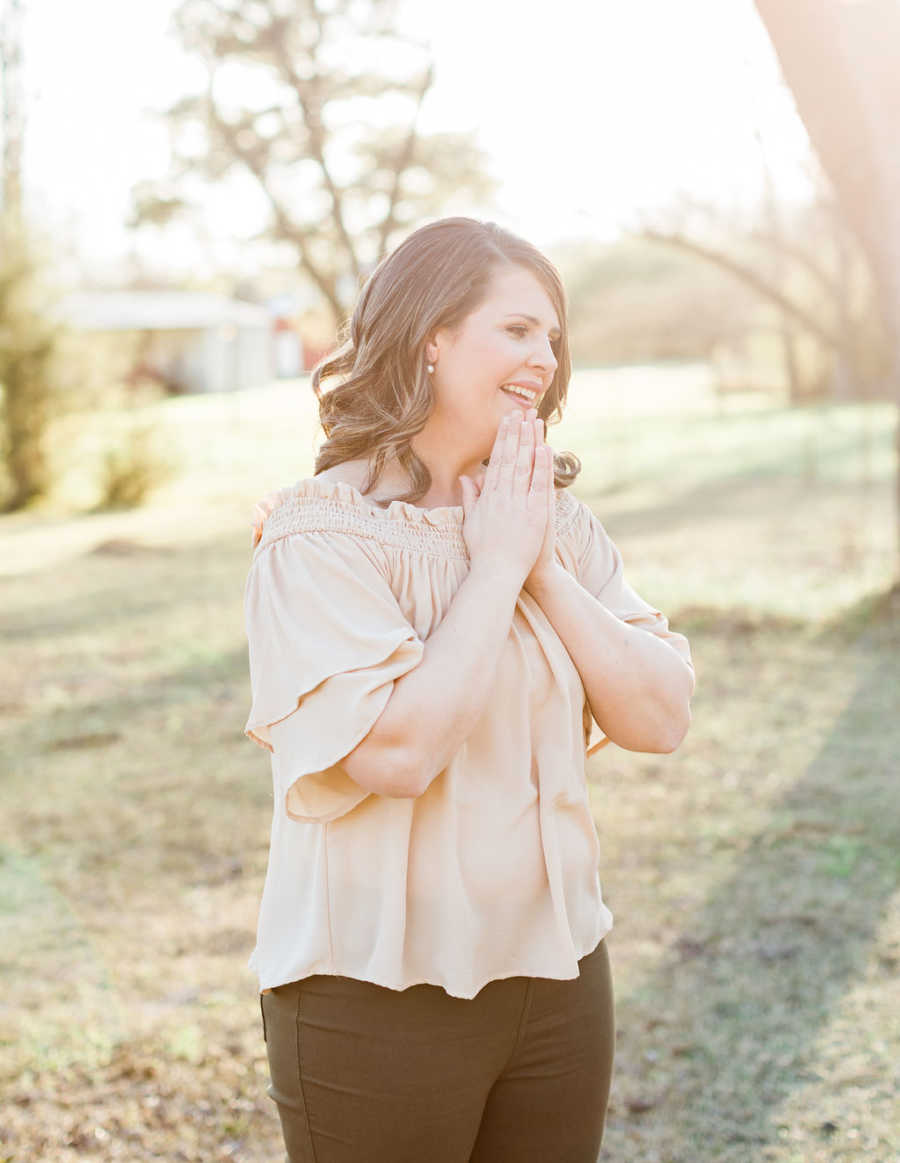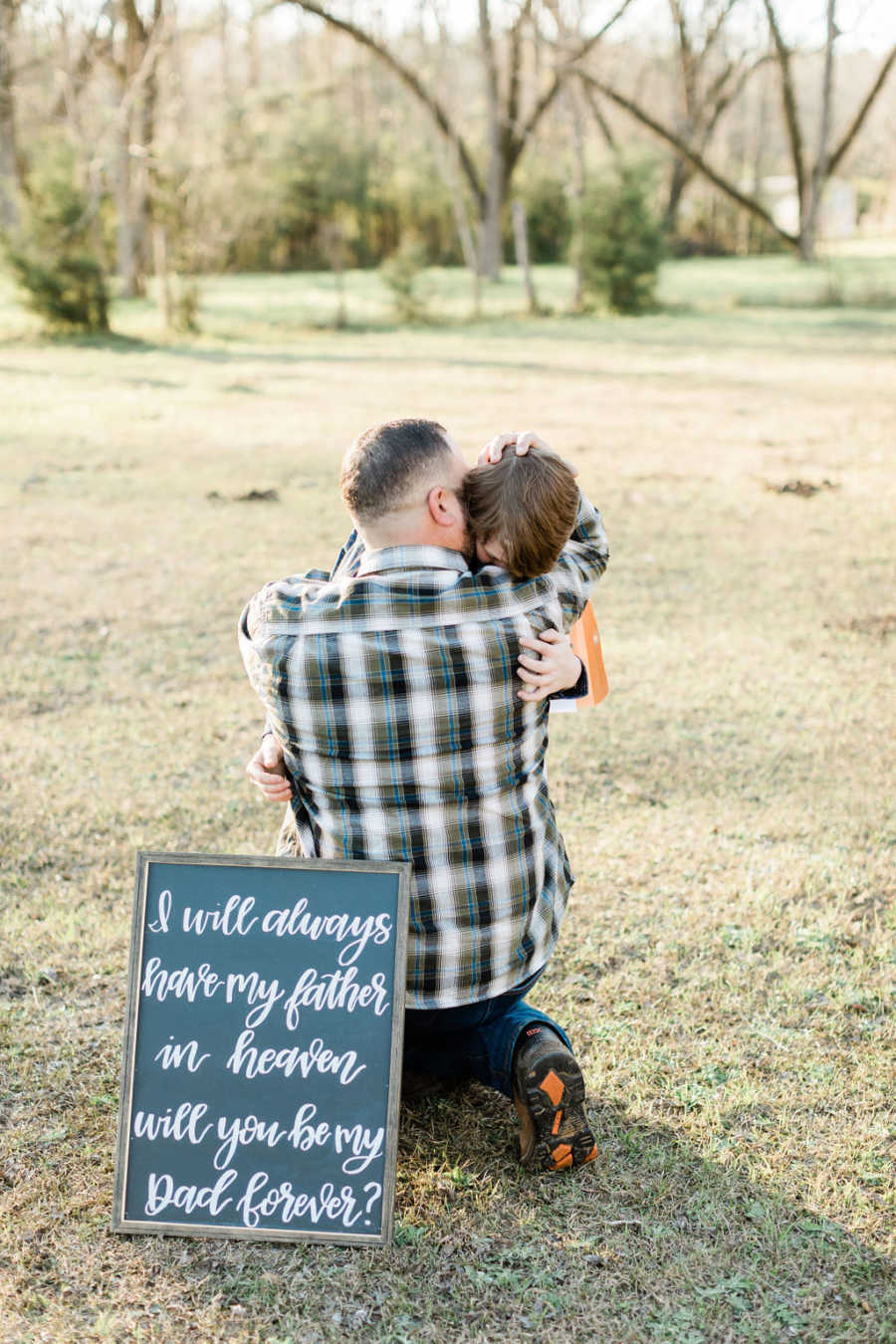 'Son, did you want to do this?,' he asked.
'Yes,' Connor replied. 'Will you be my dad forever?'
'Of course,' Jonathan said. 'Son, I already am!'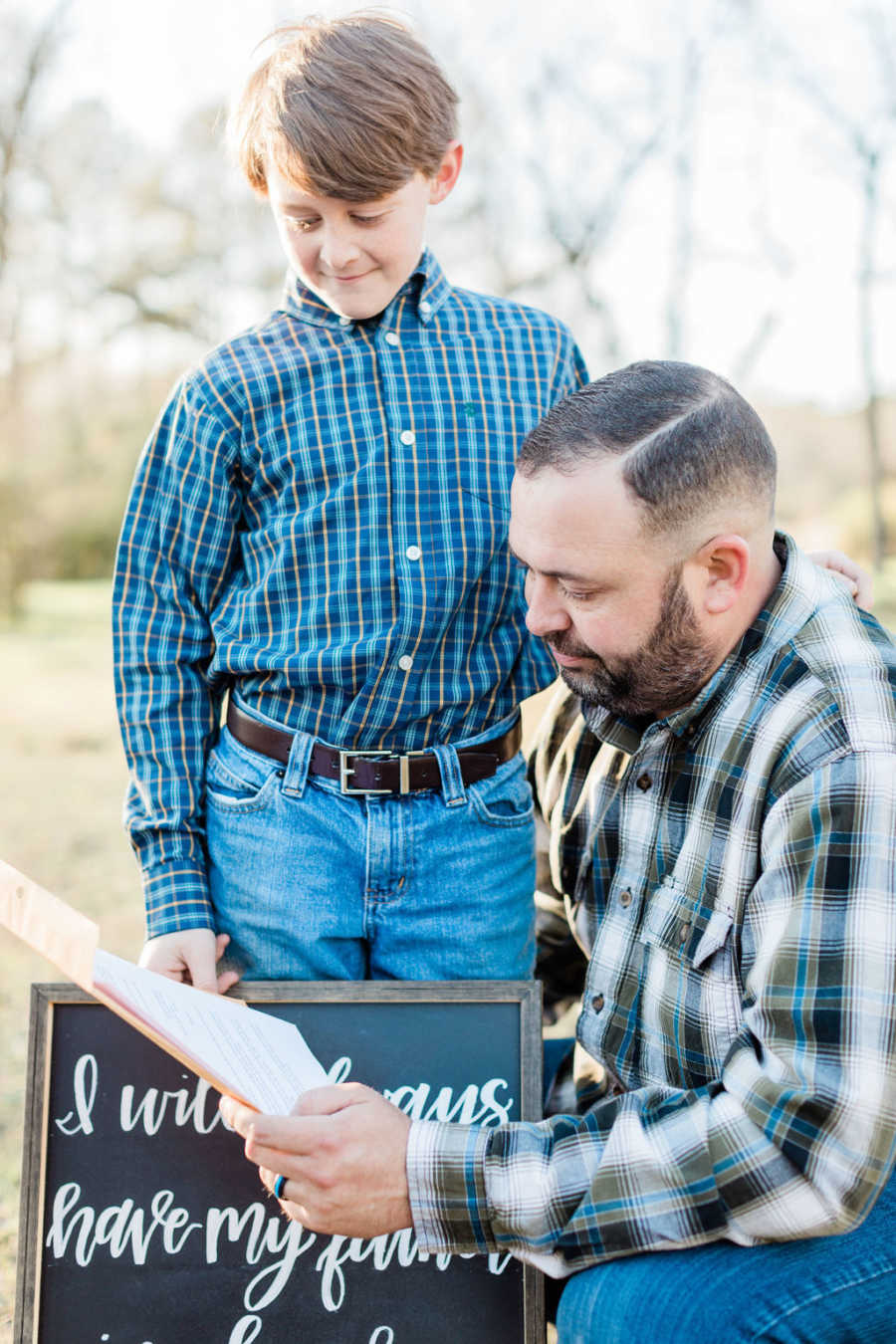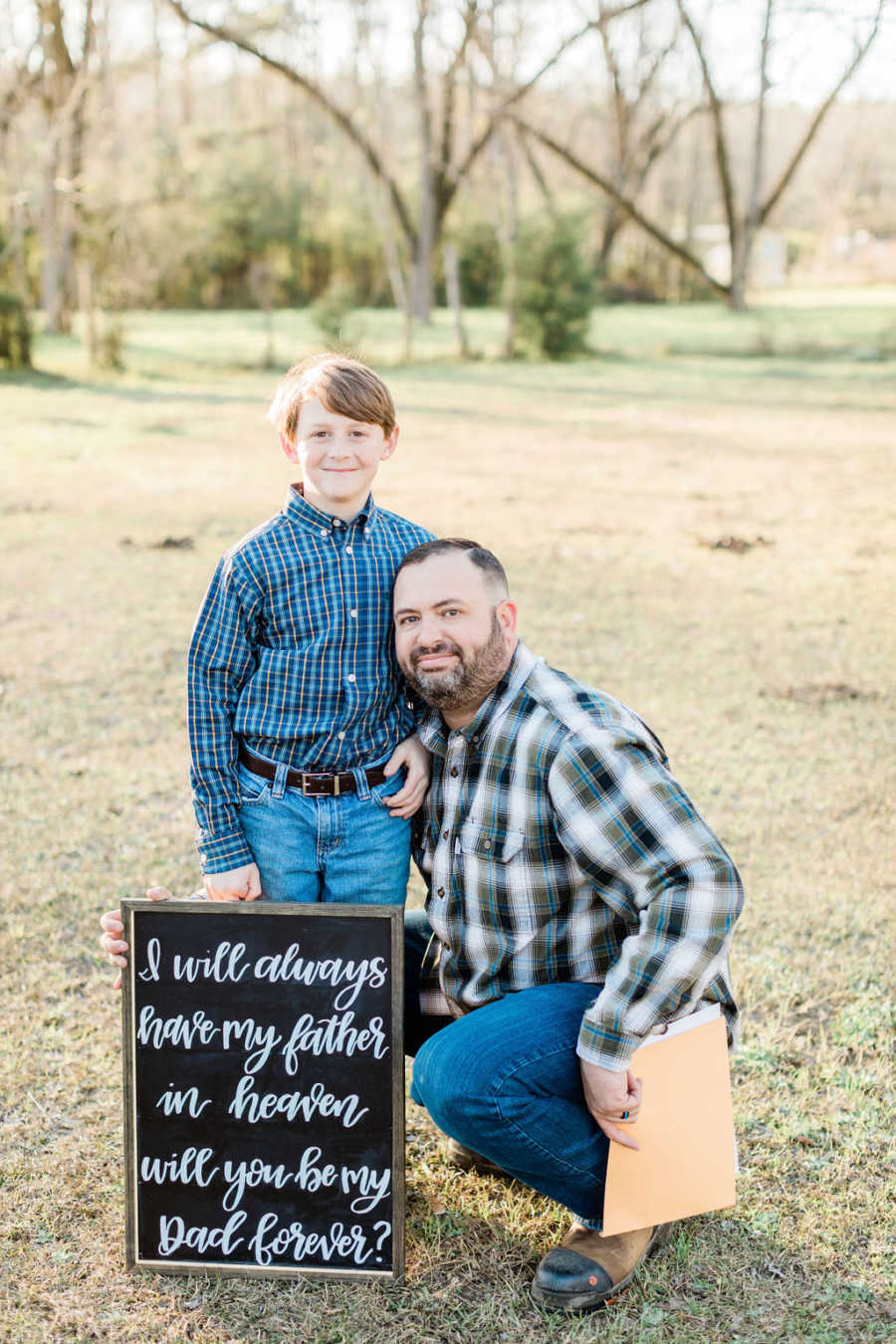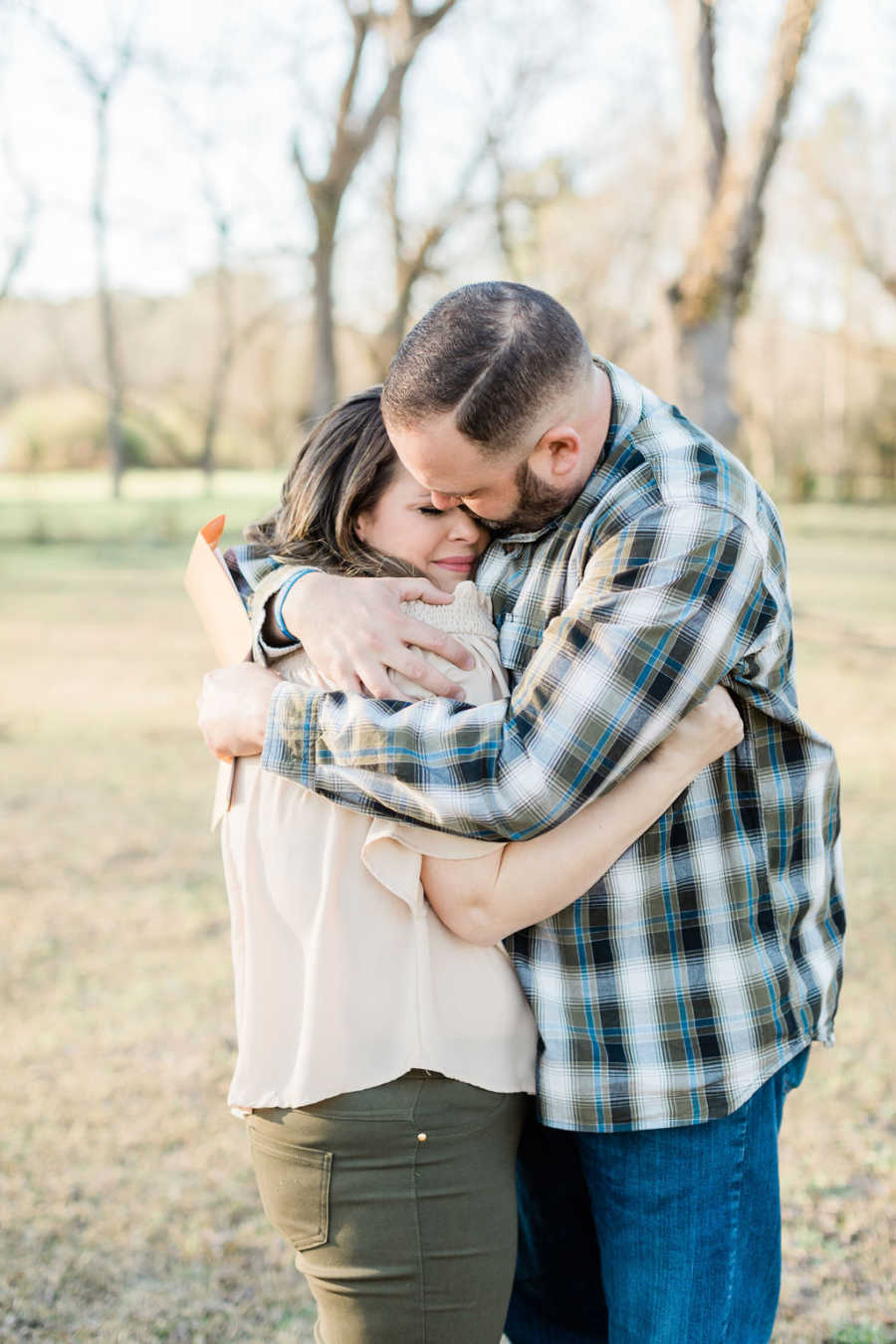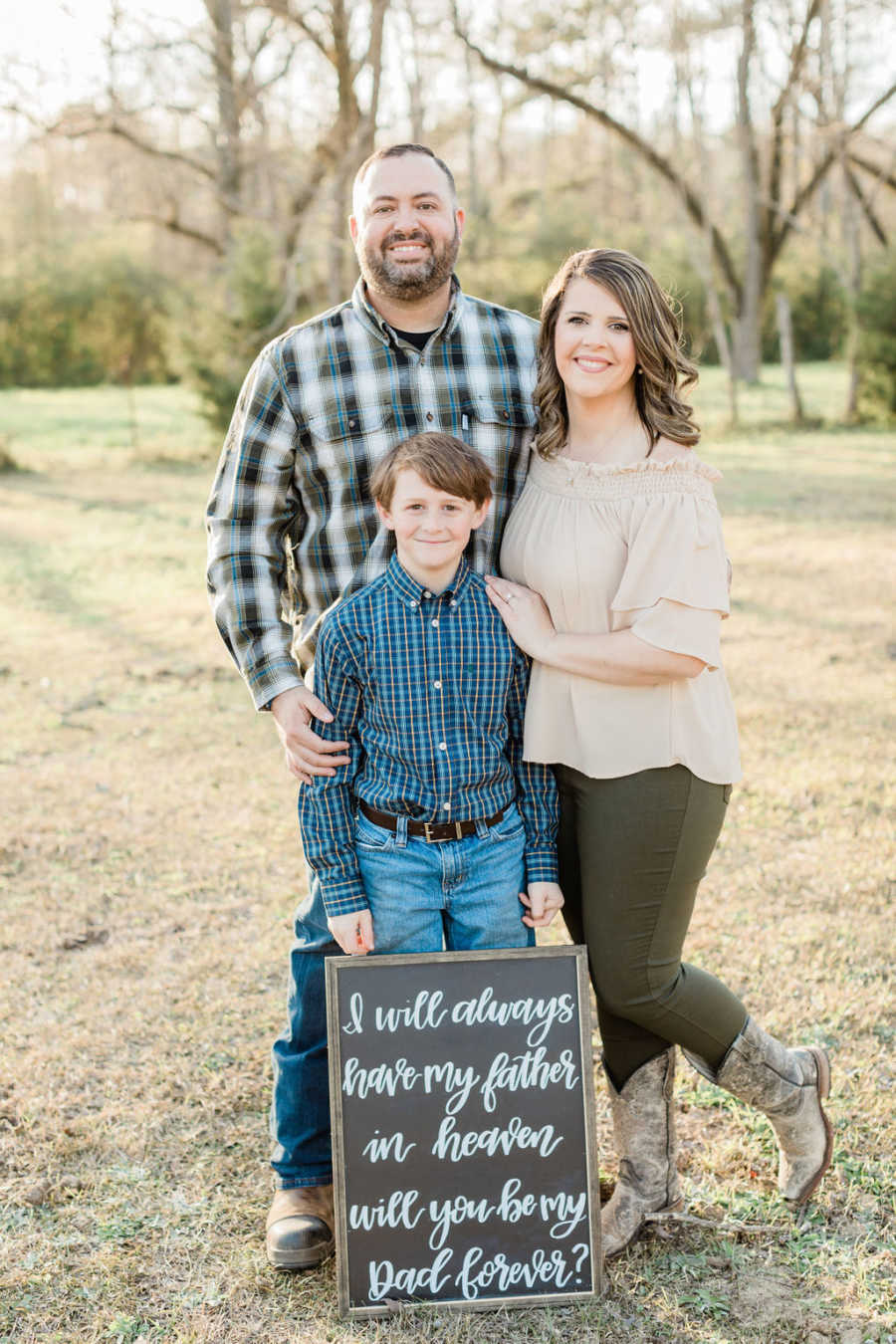 Robert the 13 year old is adopted too. His mom (Jonathan's sister) passed away when Robert was 6 weeks old. Brenden the 12 year old was from Jonathan's previous marriage. Clara-Maire 8 year old was born before I met Jonathan. We love our beautiful, blended family."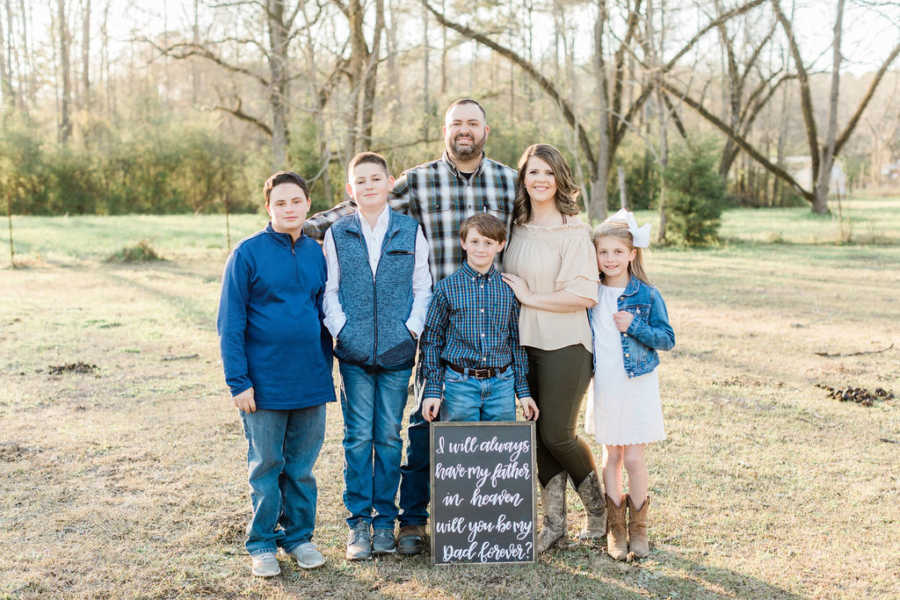 This story was submitted to Love What Matters by Anna Snyder of Prattville, Alabama. Do you have a similar experience? We'd like to hear your important journey. Submit your own story here, and subscribe to our best stories in our free newsletter here.
Read more stories like this: 
'My daughter said 'Daddy!' the first time she met him. I was mortified. I thought my abusive past would be a deal breaker.': Stepdad adopts wife's 3 kids after her abusive relationship, loves them 'unconditionally' as his own
'This is my dad, mowing my mom's lawn. They've been divorced 28 years.'
'I got on the bus. 3 boys yelled at me, 'Hey white boy!' 'Mom, I was nervous.' After all, I was the only white boy on the bus. They asked if I use the N-word. 'No,' my Stepdad is black. He's my family.'
Please SHARE this story on Facebook to encourage others to cherish every moment and love what matters most.