Disclaimer: This story contains details of abuse, drug use, and human trafficking that may be upsetting to some.
The Consequences Of Walking Away
"October 1, 2019 was a day I thought I'd want to forget. I appeared before a judge that afternoon because of a drug abuse instrument charge. But when I walked through those courtroom doors, I was offered the fresh start I desperately needed.
My life leading up to that fall day was tough. It all started in 2017 when I chose to leave the father of my children, but I had no plans and nowhere to live. I just knew I needed to get out of the relationship. It was unhealthy in every way.
I lost everything I loved when I left – he refused to let me see my toddler son and infant daughter and I had to move in with a family member and their friend so I could simply have a roof over my head. My self-esteem was low. I thought I was at rock bottom.
Although I am proud of my choice to walk away from my ex, my life got worse before it got better. My family member and my family member's friend did awful things to me. I didn't put two and two together at the time, but I'd become a victim of sex trafficking.
I was manipulated to the point of thinking I was doing this willingly. I believed it was my fault. I was being abused and assaulted on a regular basis. This was my real rock bottom. I was constantly surrounded by drugs and used them to cope with the pain… I never felt safe.
So, why didn't I leave? I tried. I really, really tried. But people threatened to find my children and hurt them if I spoke up. On two separate occasions, I told a police officer what was happening to me, but neither instance proved to be effective – they thought I was lying.
Every night for three years, I prayed things would improve. I prayed I could find a nice home and be reconnected with my children. I prayed I could be in a place not surrounded by drugs. I prayed someone would see my pain and advocate for me.
Someone Who Understands My Pain
But on October 1, 2019, my prayers were answered. The Akron Municipal Court has several diversion programs. Since this was my first drug related offense, a male Probation Officer pulled me aside. He spoke to me in the courtroom and told me about a program sponsored by the court for first-time misdemeanor drug offenders called Recovery Court. It would be a rather lengthy time commitment, but I'd have to agree to be screened for drugs regularly and get counseling. I'd have to come to court every other week and share my progress and my charges would be expunged if I participated.
It was that male Probation Officer who listened to me. He actually listened. I told him a little about my living situation and it was enough for him to realize I might be a victim of human trafficking. He never used the words 'human trafficking' in our discussion, but he told me the court sees many women come in with similar charges who might be living in an unsafe environment.
Of course my environment was unsafe. After all, I was forced to perform sex acts or else people I loved would be hurt. Money and drugs were being traded for sex. This was my moment to speak up and I am grateful I had the courage to do so.
The male Probation Officer had me talk to a kind woman who was also a Probation Officer. She seemed to understand what I was going through. She told me about a similar program that was recently started for women facing tough situations. They thought it would help me more than Recovery Court. I'd still have to have regular drug screenings and go to counseling, but they would help me find a safe place to live. I could meet other women who had a similar experience to mine. The program was called Restore Individual Self-Empowerment, or RISE for short. Judge Ron Cable had started it in 2018 for victims of human trafficking, prostitution, and sexual exploitation.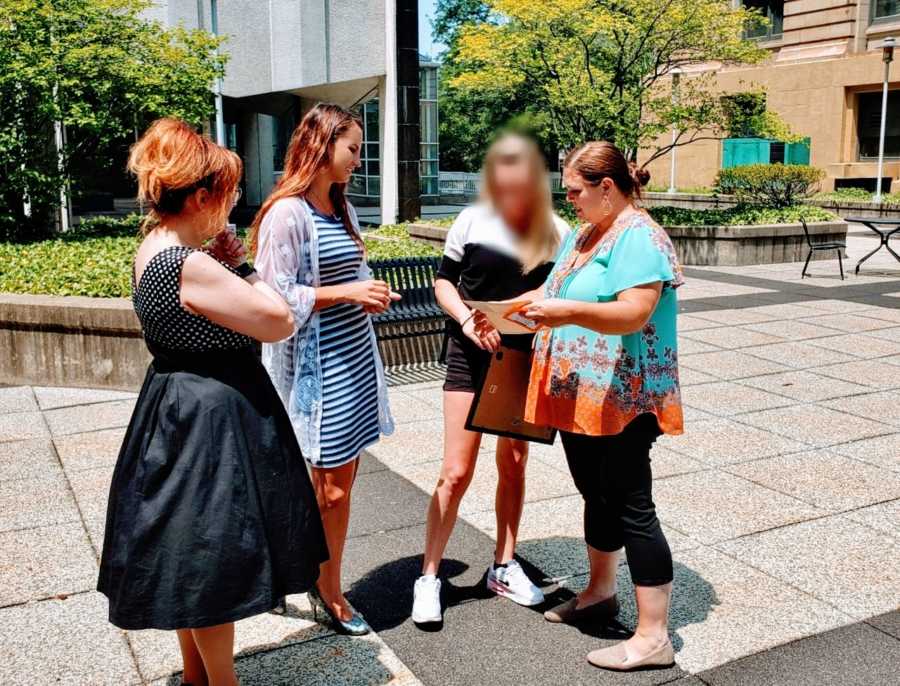 Getting Help
There were about eight or nine other women enrolled in RISE when I first started. At first, I was shy. I didn't want to talk, but I listened to the stories of other women who had also been trafficked. Judge Cable and his team led each session and made sure we had housing, clothing, and other resources. They found a sober house with a space available for me which was a blessing. Receiving a spot in the sober house was my turning point. This was the moment I began believing in myself and seeing my future as a bright one with endless possibilities.
At our biweekly RISE meet-ups, we celebrated one another's successes and everyone was so supportive. It took some time, but I realized the people who worked for the court weren't going to hurt me. It was the first time in my life that a group of people cared about me and my well-being. Over time, I opened up more and came out of my shell. Through the talk therapy sessions RISE coordinated for me, I realized I was a victim and the pain I was feeling wasn't my fault.
The other women in the program have called me 'bubbly' and 'friendly.' I have come so far from the shy girl who sat in the corner and rarely spoke. I had regular check-ins with the RISE Team. I even call my Probation Officer anytime I want to share news – both good and bad – and she is always happy to hear from me. She and the team have walked me through challenging times and cheered for me when positive life events occurred.
I graduated from RISE on July 6, 2021. I am RISE's first graduate. That day, I got to have lunch with the other women and the RISE Team, who all said such nice things about me. They gave me a medal engraved with the words 'Still I Rise,' which I will treasure forever. July 6th will always be an anniversary for me, just like October 26th, which is my sobriety date.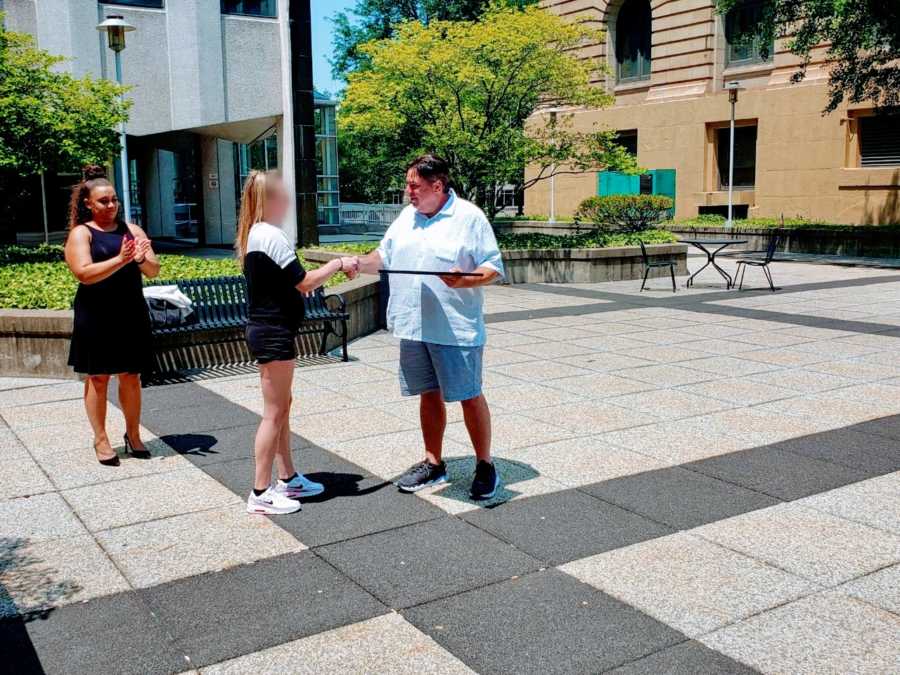 Moving On
My traffickers took three years of my life, but you know what? I'm not looking back. I am only looking forward. I am free. My children are back in my life and I recently gave birth to another son. I am a mom to three sweet kids and I am truly happy. I met my best friend during my time in RISE.
I wish there was someone who could have come to me during my darkest moments and said, 'Don't give up' and 'This isn't your fault.' If you're in a situation similar to mine right now, I want to be that person for you. So, let's say it aloud together: 'I will not give up. What is happening to me is not my fault.'
I believe my story is one of hope. I had started a job working at a diner and I loved it. Recently, I was offered a new position with more opportunity for growth. I am now able to afford my very own house. Most importantly, I feel safe there. I never thought I'd make it this far. I never thought I'd be able to write the words, 'I feel safe' and mean it.
I am proof that anyone can be an ordinary girl one minute and a hollow person the next. I had entered RISE as a broken, empty soul, but I am whole now. So, what's next for me? I have repurposed my pain and want to use it to help others. My plan is to pursue a degree in social work.
I feel inspired to advocate for children because I facilitate meetings for children with a parent involved in the criminal justice system. It's a support group setting and the boys and girls are allowed to talk about how their parent's choices impact them. I comfort and enlighten them as we discuss what their parent is going through. I explain how it isn't their fault and to not give up.
I am 29 years old and have a whole new life ahead of me. I will achieve my dreams and will not let anything stop me. My life and dreams matter. I am worthy of happiness. You are, too."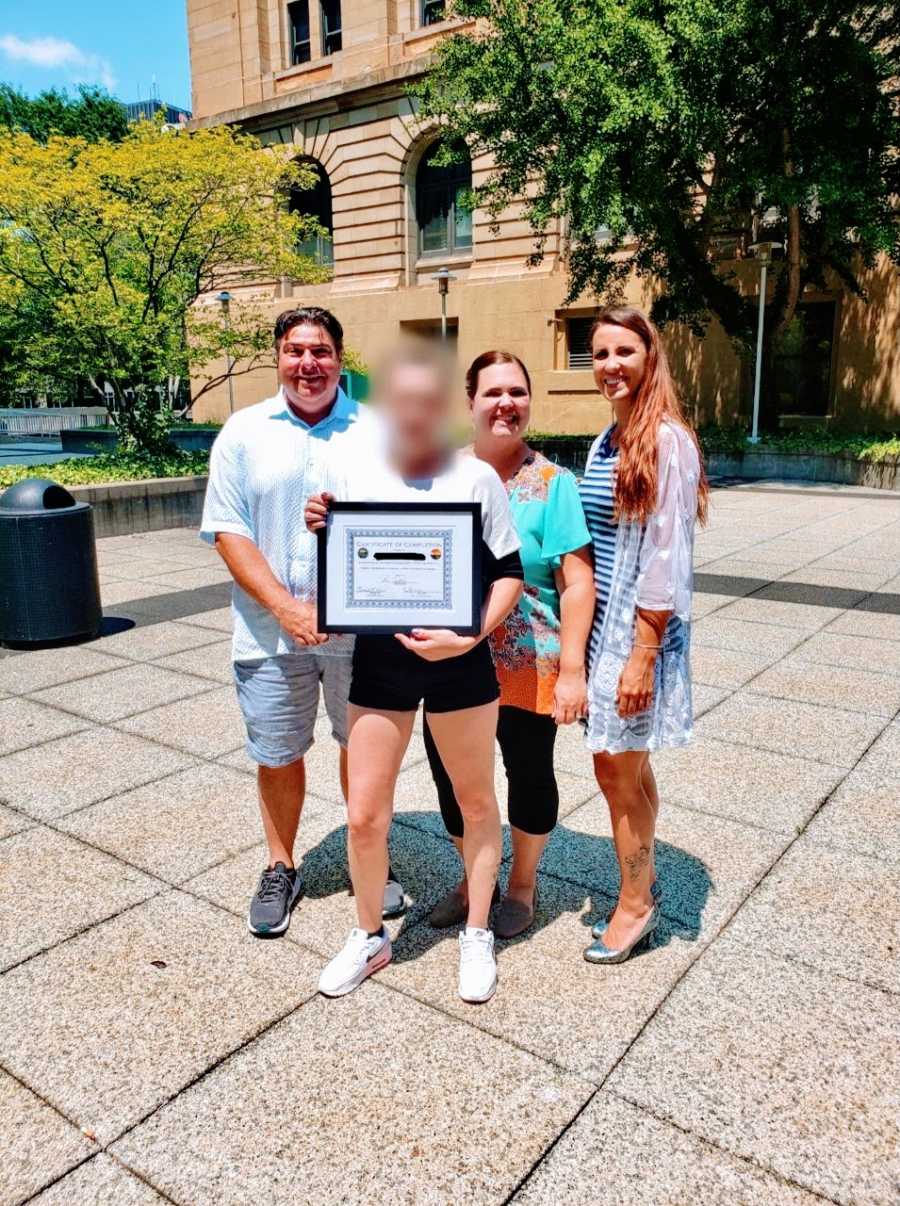 This story was submitted to Love What Matters by Jessica. Learn more about the RISE program here. Submit your own story here, and be sure to subscribe to our free email newsletter for our best stories, and YouTube for our best videos.
Read more stories like this here:
'I was offered a 'fashion model' job. Naive, I took it. It was a false company ran by dead people in other states.': Human trafficking survivor speaks out, 'I never thought it would happen to me'
'The clerk answered the phone in a shaky voice. 'Oh my god, sir. Is your son tall and strong with black hair?': 16-year-old 'hero' rescues 3 children from sex trafficking, 'Love conquers all'
'When I saw the image, I instantly started to cry.': Mom starts petition after daughter's photo is turned into Amazon sex doll
'The police said, 'If she gets caught using drugs, THEN it's our problem.' My sister was missing and vulnerable. I just wanted her back.': Woman searches 20 years for addicted sister, 'In looking for her, I lost myself'
Spread hope and strength for others. SHARE this story on Facebook with your friends and family.