"I am from a small town outside of Sarnia, Ontario. With being stuck at home with my two small boys during the pandemic, I decided once things started to open, this mom needed to go out. I went to Karaoke nights every Thursday at a local bar. I am the kind of person who can read almost anyone, and anyone who knows me would tell you I am not shy. 
One night, I noticed a young man who looked a little off standing outside on the patio. I approached him and introduced myself. He (Wyatt) looked like he had been upset. I could tell by the crowd he was in that something was wrong. I talked to him. After a while, we had some heart to heart conversations, and he had spilled everything to me from his bad breakup to trying to stay clean off crystal meth. Wyatt even lost a brother and sister to a drug overdose. It is hard when you don't have many options and the wrong choice of friends.
For the next few weeks, I made an effort to be there for Wyatt as a friend. A good friend. One that wouldn't pressure him into anything or hurt him, and he did the same for me. He was very broken and just needed to know someone cared and valued him. We started by going to Karaoke nights together. I introduced him to good people and helped him make a good choice of friends. Wyatt would come with me to take my dog for walks. 
I encouraged Wyatt to go to rehab. He tried but got refused due to previous charges. He is on probation for 18 months and has almost completed a year! It was unfair to refuse him help. This is a young man who truly wants the help he should be able to get. Not everyone who makes a mistake should be labeled as a bad person or a threat forever.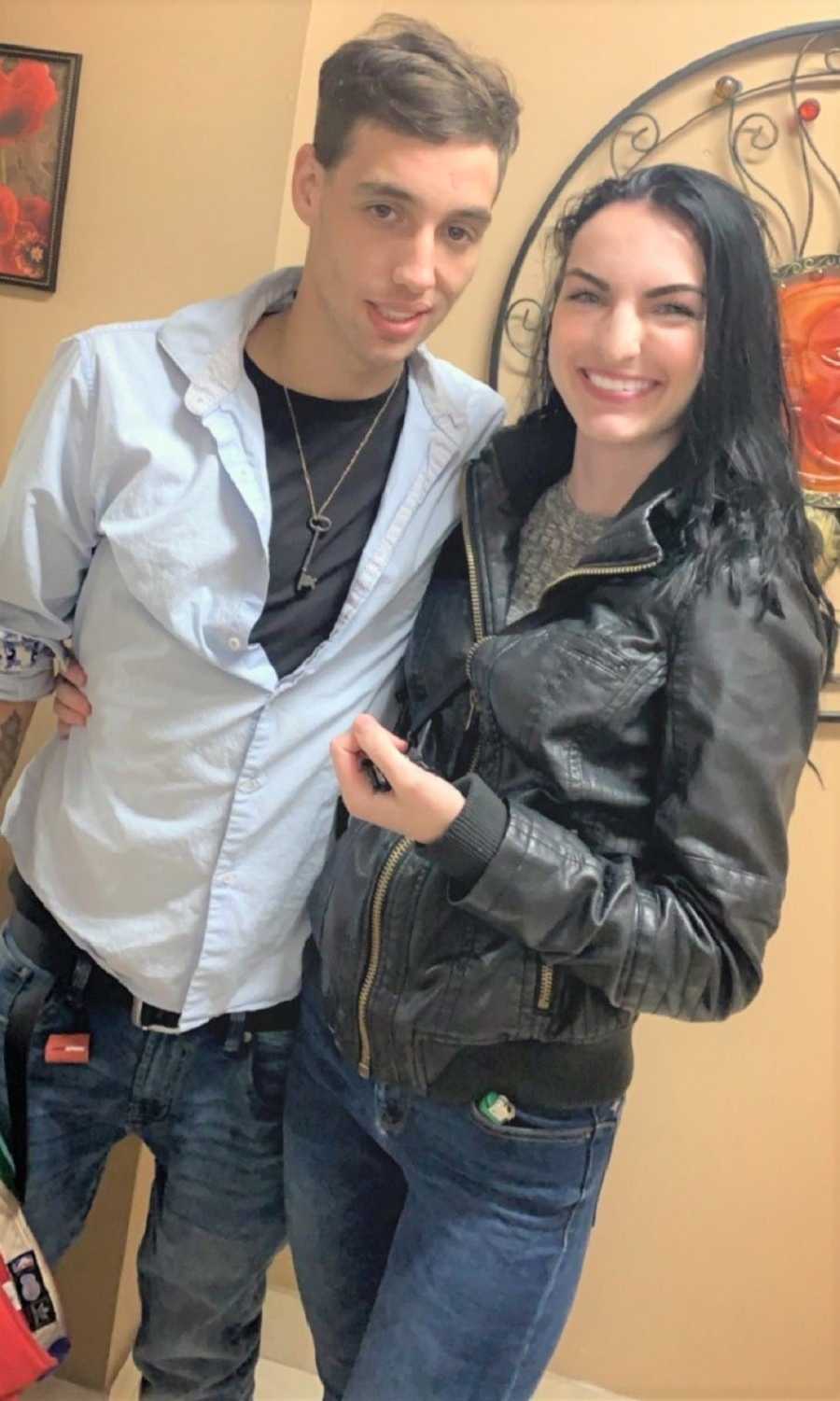 Wyatt is currently staying with a friend we met at the bar. They are an amazing person and a great support for him. Wyatt is working on getting employment and changing his life around; I couldn't be more proud of him. I knew Wyatt wasn't just saying he wanted to change because he made recognizable efforts. I helped him with his resume, saw him calling his probation officer, and watched him on his journey to recovery.
One night, I got a message from Wyatt. He said he was feeling like he was going to break down. He was very upset and hitting rock bottom. After everything he's been through, there was no way I was letting him break now. I have a big heart especially with being a personal support worker and having kids of my own. When I put effort into someone, I don't give up! 
I instantly met up with Wyatt and went for a walk with him and my dog on the high school track. I told Wyatt, 'Think of where you want to be in three years, dream big. Wake up every single morning and push yourself into that direction because every small thing impacts your future. If you wake up and you're doing things that are not going to help you get to your 3-year plan, then re-evaluate.' 
Wyatt said something to me that gave me a different perspective on life. He said, 'I have been surviving for so long and now I just want to live.' He had a deep understanding of life that made me realize we think we have it rough sometimes, but there are people who just want to be able to feel like they have a chance to live. Not just get by, have a place to sleep for the night, or food to eat, but really live. 
Wyatt is still clean and has been doing amazing. Even though it's only been a short amount of time, I want him to know he has potential and he has people who care about him. I wouldn't want to see him or anyone throw their life away to a drug that takes over. 
He gave me a hug and thanked me for being a positive influence in his life. My best friend caught the photo, but the story behind it means so much more. I struggle with my own mental health, so not only did I save Wyatt (he tells me that all the time), but he helped me when I was going through a hard time and the friendship helped us both a lot!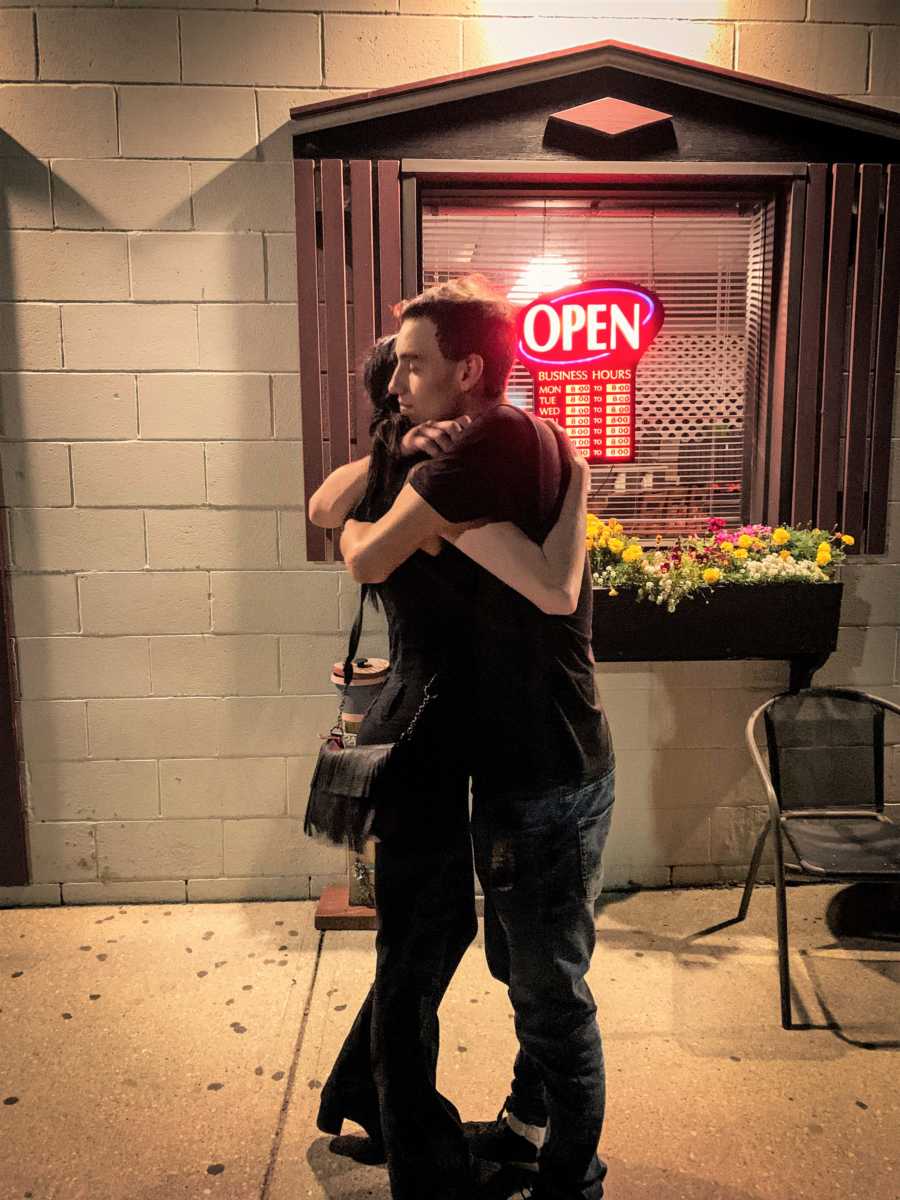 Wyatt would like to eventually go scuba diving and he really enjoys fishing, which is something I am very good at. I told him if he stays clean, which he has, he can do anything he wants. Everything is mind over matter and those with a good mindset can accomplish anything. 
I encourage all of those who are suffering, feel alone, feel like the drug is going to take over, or feel like you can't escape from your past choices to know they are so much better than any drug. You can change your mindset. I wish everyone struggling could see themselves and their potential like how I did for Wyatt!"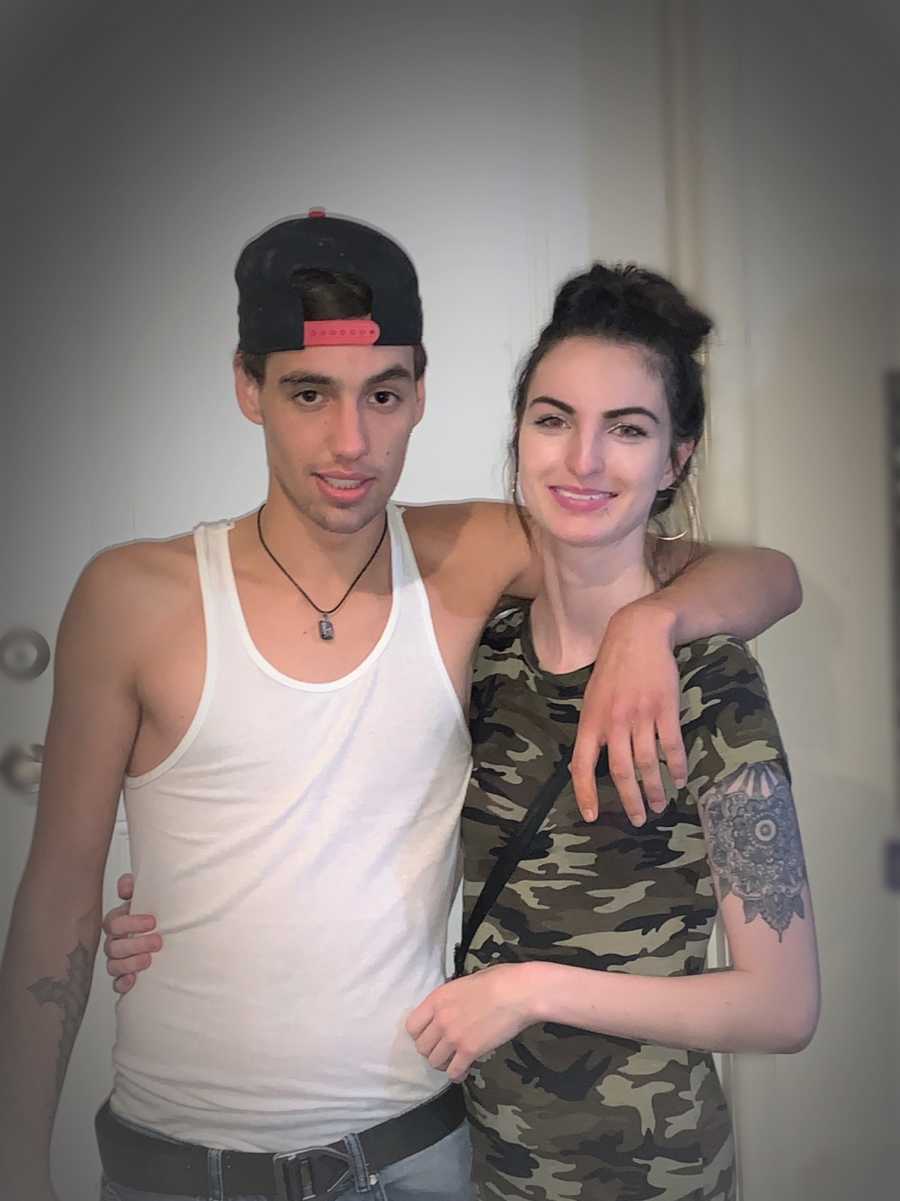 This story was submitted to Love What Matters by Madison Loreli of Petrolia, Ontario, Canada. Submit your own story here and be sure to subscribe to our free email newsletter for our best stories, and YouTube for our best videos.
Read more stories like this:
'I was incarcerated at age 12. I sold all my parents' electronics and disappeared. By the end of the night, I injected heroin into my arm.': Man beats life-long addiction, 'My recovery is nothing but a miracle'
'I found his gun while blacked out. I held it to my head, trying to pull the trigger. His roommate ripped it away.': Woman's life has changed 'drastically' since becoming sober, turned her 'nightmare' into a 'blessing'
'I was prostituting. We had sex, he paid me, but I didn't leave right away. I was infatuated.': Woman credits abusive relationship for sobriety after meth addiction, 'I got sober for a man, stayed sober for my baby, now I stay sober for me'
Do you know someone who could benefit from reading this? SHARE this story on Facebook with family and friends.