"There are several dates in our lives that will forever stick. On September 24th, 2011, I gave birth to my princess. June 25th, 2017. November 15, 2019, my Enzo made his entrance into the world. I planned for these days and waited patiently to wear the dress and count the toes and see the tiny smiles. Then there are dates we never plan for but will change us forever. They will shake the entire foundation of our beings. April 10, 2020, will forever be one of those moments for me.
I woke up and gave my son a bottle like I had every day for the past 5 months. I sat in my room, talking to him and waiting for my husband to return from the bathroom so I could get dressed and start what was sure to be another boring day of quarantine thanks to COVID-19. After, my brother, Vinny, came in to tell me about a news story in my older brother's neighborhood where a 22-year-old female and a 33-year-old male were shot. My younger brother was certain it had to involve my brother. I picked up my phone to discover a 3-minute voicemail from my dad of nothing but screaming and chaos. After several phone calls to both my dad and older brother and text asking my brother if he is okay, my dad finally called back. All he could say was, 'He is dead.'
I didn't know how to respond. My entire world fell around me. I had a ringing in my ears and all I could think of was my brother's smile and his laugh.
After finding someone to watch my kids, my husband and I rushed to South Philly to see my dad and figure out exactly what happened. My dad was at my brother's house still. Walking in was like something out a dream, nothing felt real. There was blood on the rug and table. Just the knowledge my brother was no longer alive was unreal. This was the place he died, this was the place he took his last breath, where he felt the bullet go through his body. This is the place where he was scared, unsure. I tried to make sense of it all as my dad went over the story again and again.
After leaving the house, which now was nothing more than a crime scene, we drove around the city making phone calls and stops, trying to locate where they brought his body. By the time I arrived home, I was mentally and emotionally exhausted. I handled the business end of death. I called the funeral home, did the information for the death certificate, and ordered the urn. I did all this while trying to ignore the fact it was for my brother.
The pain some days is completely unreal. I almost convince myself it's a bad dream or I'm being overdramatic and making this all up but then reality sets in. The pain is all too real. The feeling of loss and emptiness once again washes over me and I do my best to smile and not let on to my kids that I'm dying inside.
Yes, he was my older brother but he was much more to me. He was my behind-the-scenes support. He was my biggest fan at times and at others, my worst enemy. He was my friend. He was the person who, growing up, told me the scary stories and the one who sat up with me when I was too scared to sleep. We have lived separate lives for much of our adulthood. He chose a life of freedom and fun parties on the weekend, drinking with his friends. I have Disney movies, fingerprints, and long nights with crying babies. Even though we have gone down such different paths, at the end of the day, he was there if I needed him, just a phone call away. He was always praising me on Mother's Day and telling me how proud he was of me, reminding me how strong I am on the days where I didn't feel I could be the mother my daughter needed.
I haven't yet accepted that he is gone. I might never accept it. I look at his pictures and I hear songs and I want nothing more than to call him and hear one of his ridiculous stories. My life will never be the same. I know it might sound strange but I feel like that bullet not only took my brother but it took a piece of my identity. I will forever miss him. I will hold on to my memories for as long as I can and do my best to always make him proud."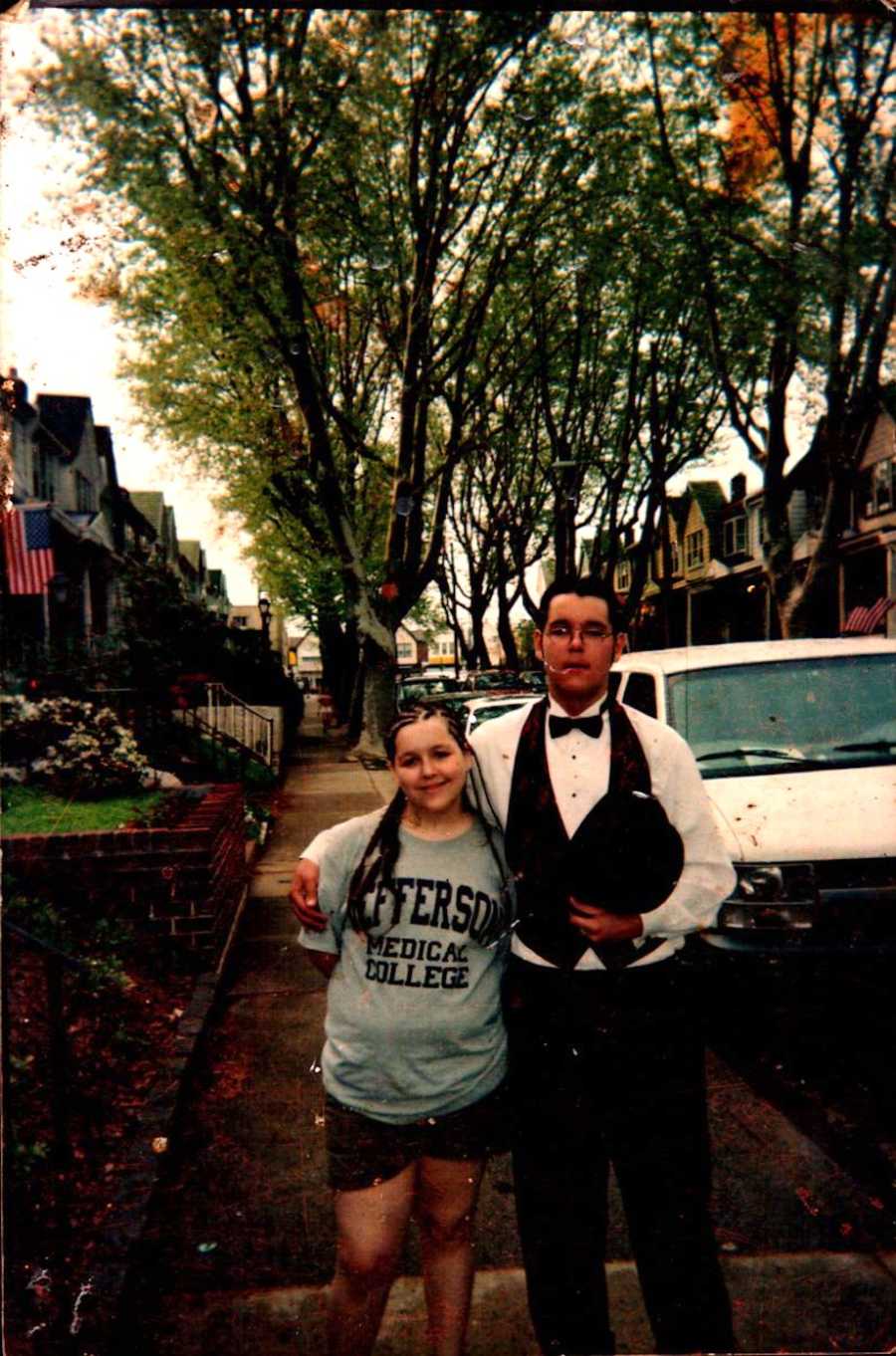 This story was submitted to Love What Matters by Emily Cola. Do you have a similar experience? We'd like to hear your important journey. Submit your own story here. Be sure to subscribe to our free email newsletter for our best stories, and YouTube for our best videos.
Read more touching stories like this: 
'I don't want to hurt you. I just feel so much pain all the time.' I had to pick up his gun.': Woman mourns little brother to suicide, 'We will always grieve the loss of the man who kept us laughing'
'It's just you and me now, kid.' I lost both my brother and my mom. My dad was the only one left.' Woman confronts depression after family loss, 'I feel lighter and freer now'
Provide beauty and strength for others. SHARE this story on Facebook with your friends and family