"I didn't think my sweet Spike was going to make it to our wedding, but I'm so happy he did.
To tell my story about my 'baby' Spike, first I must tell you how Spike came into our lives. I met my husband in April of 2006, and within a month, we were dating. In July of 2006 my brother happened to come across a dog who was being used as a bait dog in a dog fighting ring. Now, my father always told us he didn't raise a thief and a liar so stealing or lying in our family is a huge deal, but this time my dad allowed it when my brother stole this poor little dog from someone's house to take him home to raise him, and give this dog the life he deserved. This dog's name was Duke and is the father of our beloved dog, Spike.
Spike came home to Jason and me in January of 2007. Through the years, Spike has been the best dog we have ever had, he is literally a gentle giant. Being a pit bull, everyone looks at him and immediately thinks of all the stereotypes, but he is such a chill guy and loves anyone he comes into contact with. My husband Jason always jokes I spoil our pup way too much. To me, his name is not Spike, it's Baby Boy, unless he's in trouble, then it's Dude. He has been my guardian and has been my best bud since we got him.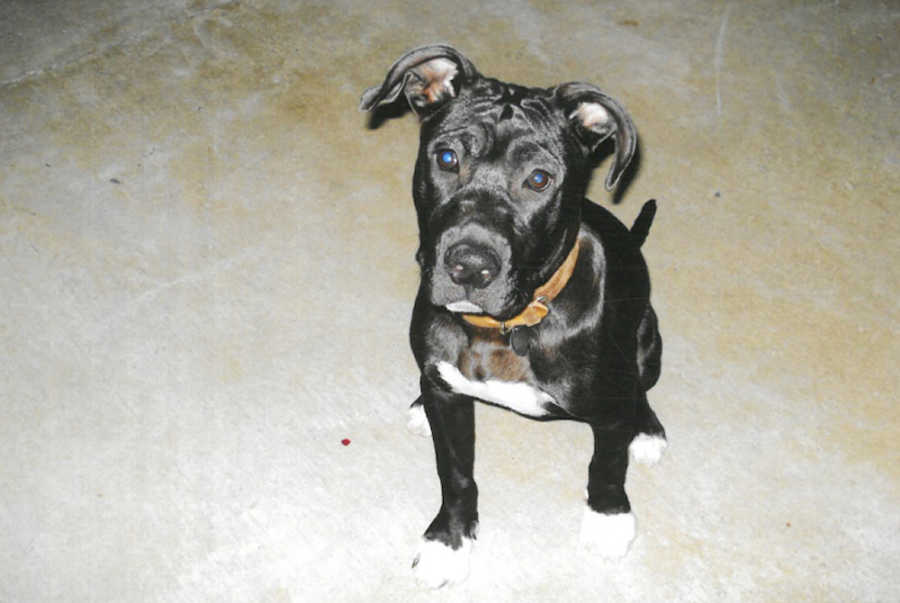 In May of 2016 I was diagnosed with two types of cervical cancer, squamous cell and adenocarcinoma, that resulted in a hysterectomy in October of 2016. Getting that kind of news really rocked Jason and my world. Having both types of cancer at the same time is very rare and Jason and I were terrified. I think I was more concerned for Jason and what would happen to him than what would happen to me. The moment I found I out, I called Jason and he came home from work early. Jason, me and Spike laid on the bed for a while, Jason holding me and Spike laying as close to me as he could curled up in front of me on the bed. Sspike knew something wasn't right and I truly believe he could tell it was cancer. Looking back now, a few months before my diagnosis Spike would follow me to every room and would not leave my side, and I remember telling Jason, 'Either this dog is dying or I am because he will not leave me alone.' After being turned down from our first referral to an oncologist because of insurance reasons, we found another gynecologist oncologist who truly was a blessing. She stated no chemo or radiation therapy was needed, but I underwent a cone procedure where they take out most of your cervix in order to tell the severity of the diagnosis. If the results came back negative, then just a hysterectomy would need to be done.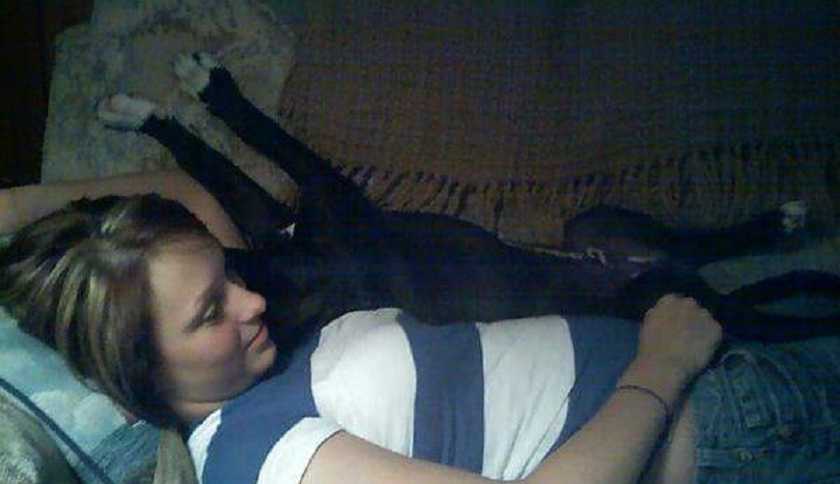 After my first surgery I was off for a week. We have a rather high king sized bed so climbing into that bed was not going to happen, so I slept on the couch. Spike never left the living room that whole week. He had to be laying in front the couch at all times, or if  I got up to go the kitchen he was right at my feet to make sure nothing happened. After my hysterectomy it was the same scenario, he had to be as close to me as possible. He loves to cuddle and up with me and sleep on me like he's a baby with his head on my chest. He really keeps me calm and is truly is my protector.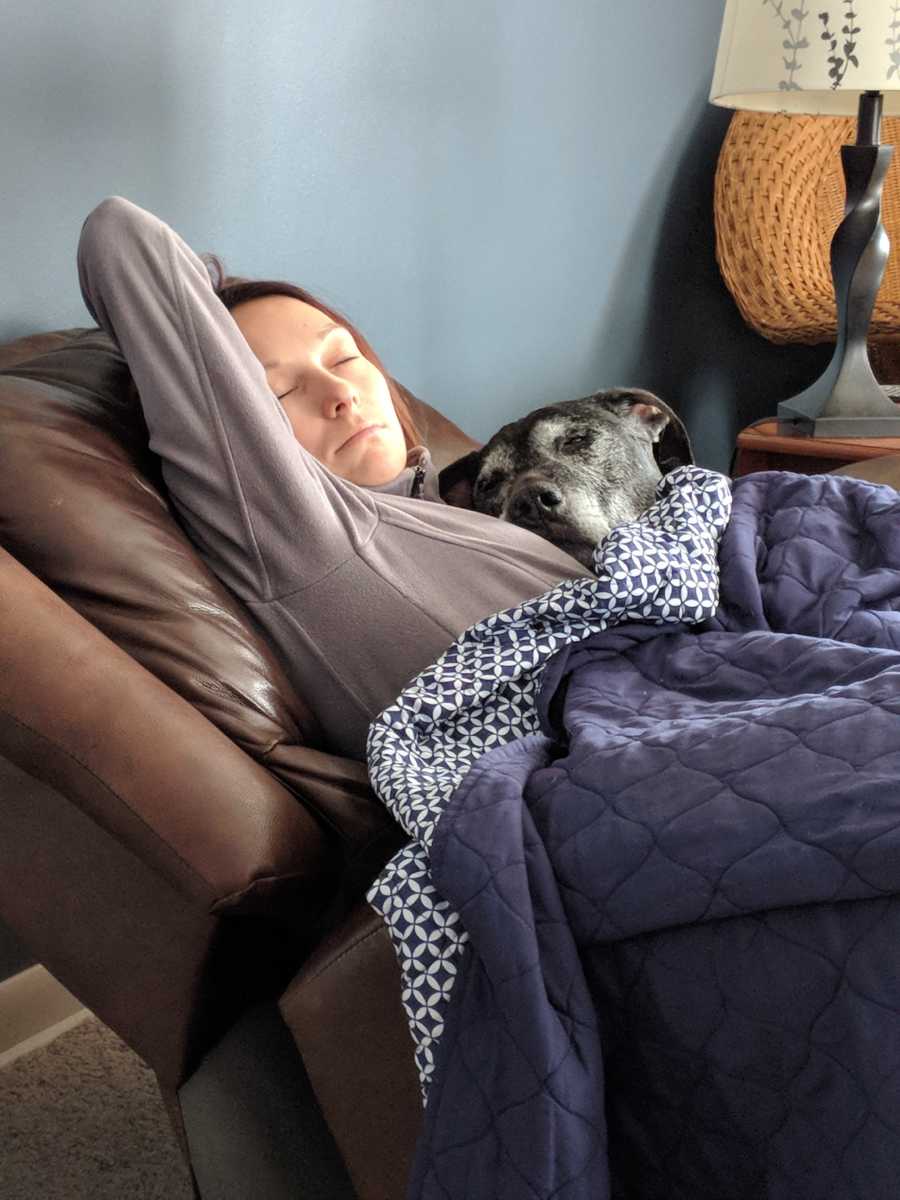 In November of 2017 Spike started showing symptoms of a UTI so I called the vet and brought in a urine sample that gave negative results. Immediately we scheduled a veterinarian appointment and took blood work that only resulted in showing signs of high liver enzymes. The veterinarian gave us a liver supplement and sent us home. One month later I could see he was only getting worse, going out to the bathroom every two hours and was getting really lethargic, not acting like the spunky guy I know. Off to the vet again we went. This time she checked his urine and our vet stated he had a urinary tract infection and needed medication. I did not believe that could be the only thing wrong with him with the way he was acting. Being an X-ray tech/ C.T. Tech, and around the medical field for the past 5 years I have seen a lot of cancer. Even though dogs and humans are different species, I feel they can mimic the same type of symptoms, so  I asked for X-rays and an ultrasound thinking to myself he had prostate cancer due to the way he was acting.
'Our eyes met. They were her begging eyes. Eyes that said, 'Help me Mama.''
She did an ultrasound and found nothing. She then did an abdominal X-ray that showed a large tumor inside his bladder. When the vet came in with this devastating news,,our heart's broke. My poor guy was sick and I was being told there was nothing we could do. I could see the devastation on Jason's face and I just remember thinking, 'I'm not ready yet. I don't know if I could do this.' We took Spike home and that night he had an accident on the kitchen floor, (he has never had an accident in the house before). He looked up at me with the saddest eyes telling me, 'I'm sorry momma.' He was really lethargic that night and hadn't eaten anything that day. We laid on the kitchen floor with Spike, both crying, both thinking the worst for our guy. Spike made it through the night without any other accidents and Jason and I had warmed up some leftover food in the refrigerator to get him to eat. We went to bed that night thinking we would be making another trip to the vet in the morning and that it was going to be the last trip.  But our guy pulled through, turns out that bowl of food gave him enough energy to get back to his feet, and we started him on the chemo medication that next day. We told ourselves we would see where he is in a week before jumping to any conclusions – we had to give him a chance to fight.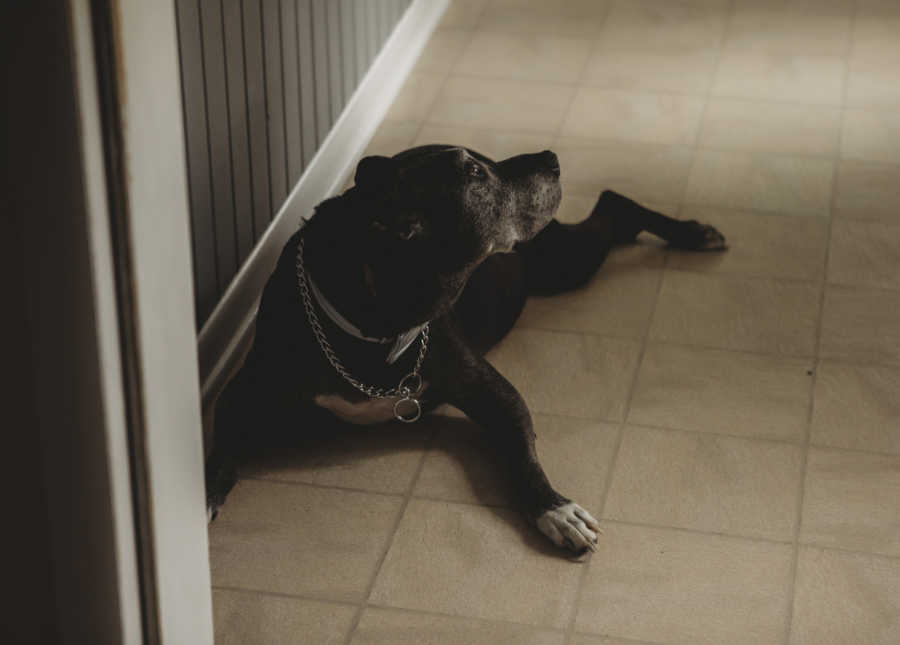 The vet said surgery was not an option due to its location and that surgery would just cause more problems for him. Our only option was to keep him comfortable with an anti-inflammatory/chemo pill for dogs. Her prognosis for Spike was 2 months, this was in December. He has since been doing great for a dog with cancer but like any person battling cancer or any sickness, he has his good days and bad days. The tumor continues to grow, and is now palpable, it is a little larger than the size of a golf ball. We have been starting to notice other tumors on his belly also, but most days he is spunky, playing with his ball or laying in the sun. He still has some days where I have trouble getting him to eat his food or play at all and those are the days I think, 'This is it! There is no way he is going to make it to our backyard wedding.'
As we planned for the wedding, all the little details right down to Spike's bowtie and what to do if it rains were very stressful. We had gotten 3 inches of rain leading up to the Saturday of the wedding and we weren't sure we were going to be able to have the ceremony at the house. All I could think was, 'If it's not at the house, then Spike will not be there.' No different than missing your grandparents or any other loved one that could not be there on your wedding day, Spike being there is what I wanted most. I didn't care if my dress or hair got ruined, I just wanted Spike to be a part of our big day. I wanted everyone to be able to see him strut his stuff outside and for him to get one final big day before what might be his last. I could not imagine Spike not being there with us that day. We would have been crushed, since he has been like our child.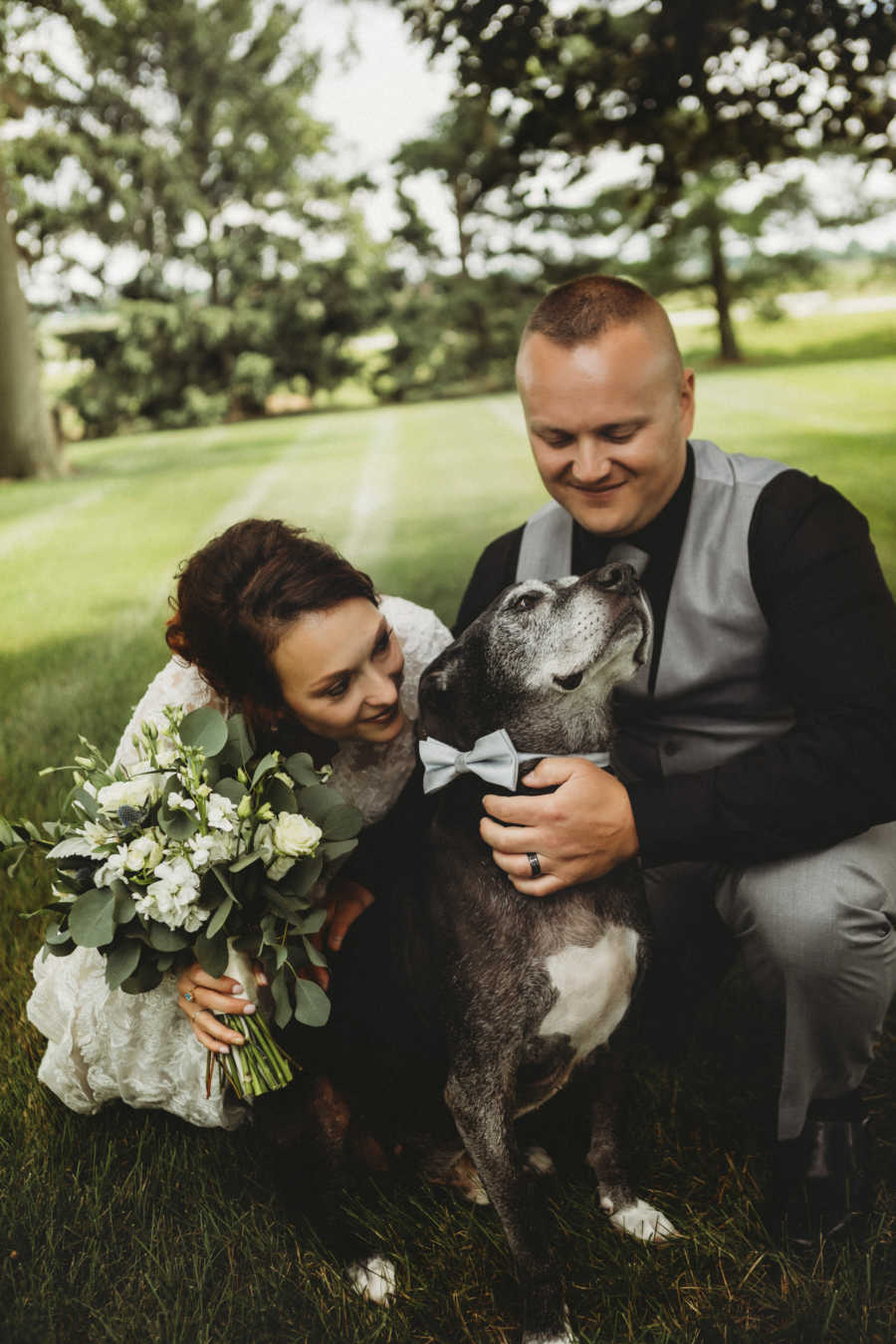 I kept telling with my husband he was hanging on so he could walk me down the aisle. He looked so handsome in his bowtie and I'm ecstatic he was there to share our wedding day with us. My father-in-law is always telling us 'you only get one great dog a lifetime,' and he is right. Spike is my baby boy, the one who is there to greet me as soon as I get home, cuddle with me, and I always feel safe when he's around. He is my rock.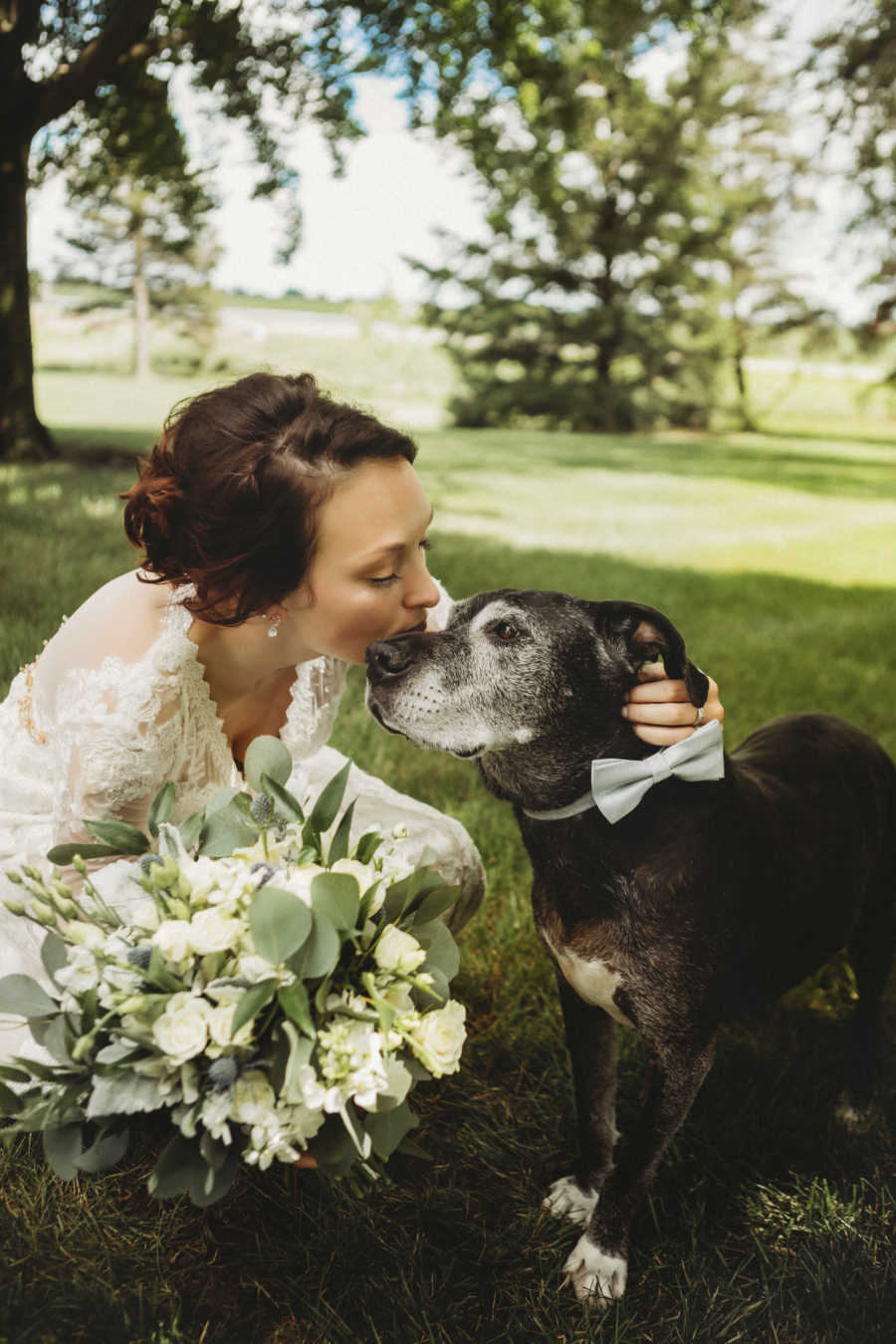 I can only hope the cancer stays at bay for as long as possible, although I know the day he goes I will be an absolute mess. I'm not one to show a lot of emotion but for this guy, it will be impossible to hold back. I know when his time finally comes and he is not there to meet me at the door anymore or lay by my side and comfort me, that my heart will break. He will forever have a piece of my heart. Life will never be the same without him and I will never forget all the things he and I have been through. My heart is breaking just typing this. I fear that day is sooner than later, but I'm so grateful for the precious memories captured on our wedding day, and I know Spike is happy and so proud he got to join in us on our special day."
This story was submitted to Love What Matters by Jamie Gehrlich, 33, of Ohio. Submit your own story here, and subscribe to our best stories in our free newsletter here.
SHARE this story on Facebook or Twitter to show how much of an impact animals have in our lives.