"I opened my eyes and stared at the white textured ceiling in my bedroom. My eyes were heavy from exhaustion — I had arrived home at 7 a.m. after a redeye flight from Denver. I made my way downstairs to the living room, where I found my mom sitting on the couch, still in her pajamas, curled up underneath her heavy fleece blanket. It was October, and the air had an autumn chill even inside the house with all of our windows shut. Yet my mother's cheeks were flushed. When her eyes met mine I could see she was as fatigued as I was. I sat down in the chair next to the couch still trying to wake myself up.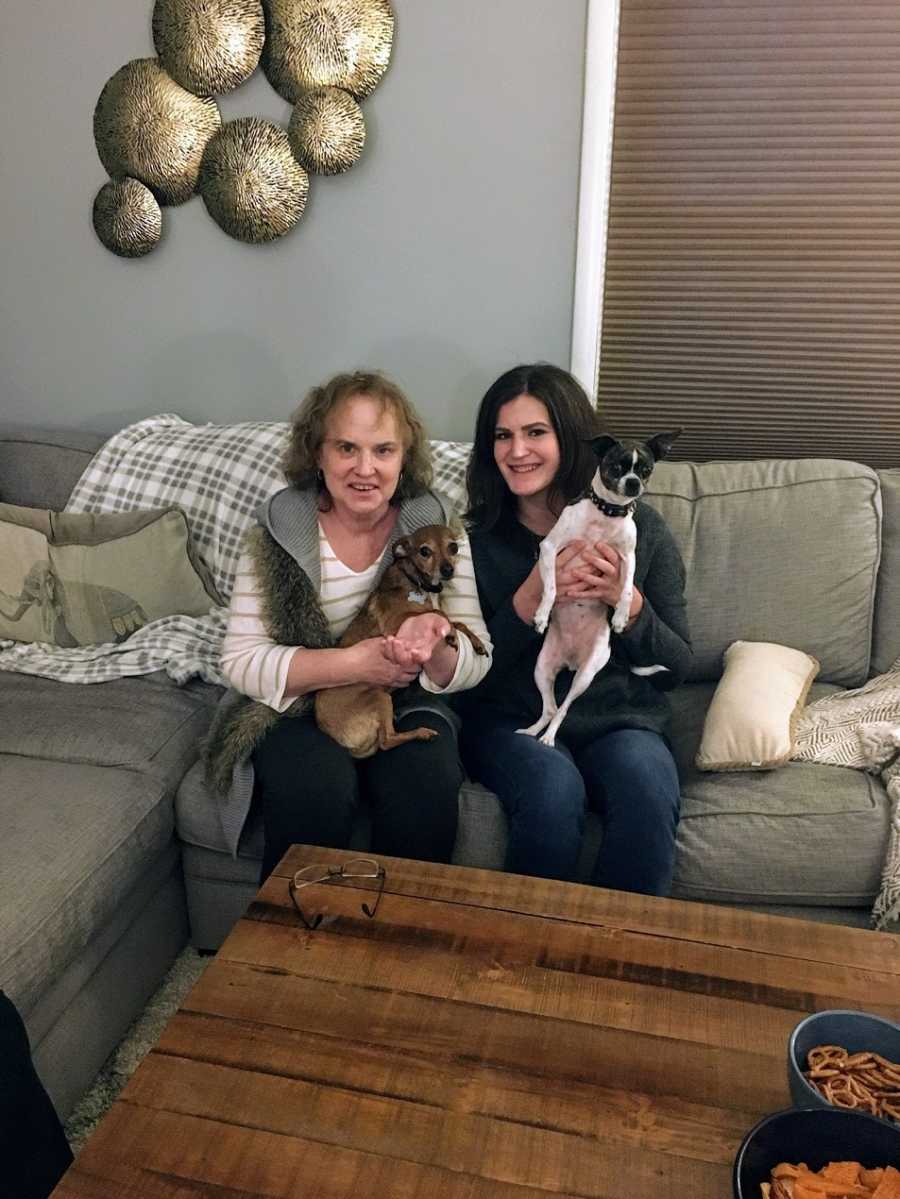 As I was sitting there thinking about making a trip out of the house to Starbucks, my mom began to cough somewhat persistently. In between these fits, there would be moments of a brief pause where she would wheeze. I could tell she was struggling. She told me she had been diagnosed with pneumonia. Her doctor had prescribed her an antibiotic she had started taking by mouth while I was away for my cousin's wedding in Colorado.
As she talked, I continued to watch her stopping to catch her breath in between sentences. I looked down at her feet when she moved the blanket away, and I noticed the swelling in the tops of her feet and ankles. She has the smallest size 6 feet, something I myself was not blessed with and often envied her for. But in that moment, they were puffy like little pillows that compressed when I reached out and touched them with my finger. It was then I knew something was really, seriously wrong. Later that night, I helped my mom get into her jacket, she slid her swollen feet into her clogs and I drove her to the emergency department. Little did I know how much my life as I knew it was about to change.
Even being a nurse myself, when my mom got to the emergency department, that role took a backseat for me. I was pushed against a wall in that hospital room watching nurses, doctors, respiratory therapy, and a paramedic hovering over my mom's petite 5'3" body lying on a stretcher. I became the anxious daughter, trying my best to not let them hear the crack in my voice as my tears welled up inside, and I listed off her medications one by one.
All I could do was watch the numbers on the monitor as they worked to give her oxygen. I am used to the fast-paced chaos of the emergency department, but in that moment, I felt like I was watching my life unfold in slow motion. It took the doctors no time to decide my mother needed to be admitted to the hospital for more testing. I had just moved home to help my mother out and also work on saving money at the end of August. It quickly sunk in that I would be returning home alone to a quiet, empty house.
For as long as I can remember, it has been my mother and me. My dad passed away three months after my first birthday. Although he had a heart condition, from what I have heard from both my mom and extended family, you would never have guessed it. My father was an avid boater and water-sport enthusiast. For the longest time growing up, long after my mom sold our boat, his windsurfing board remained in our garage. He spent much of his free time out on Lake Champlain waterskiing, windsurfing, and boating. In the winter in Vermont, he could be found on his other set of skis on the mountain.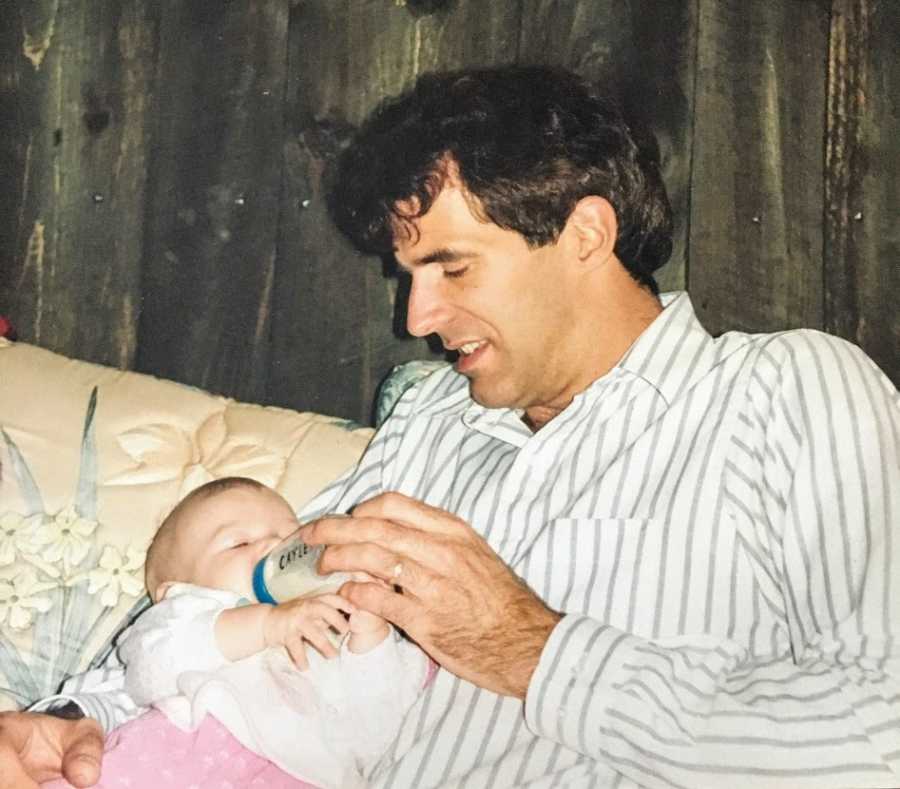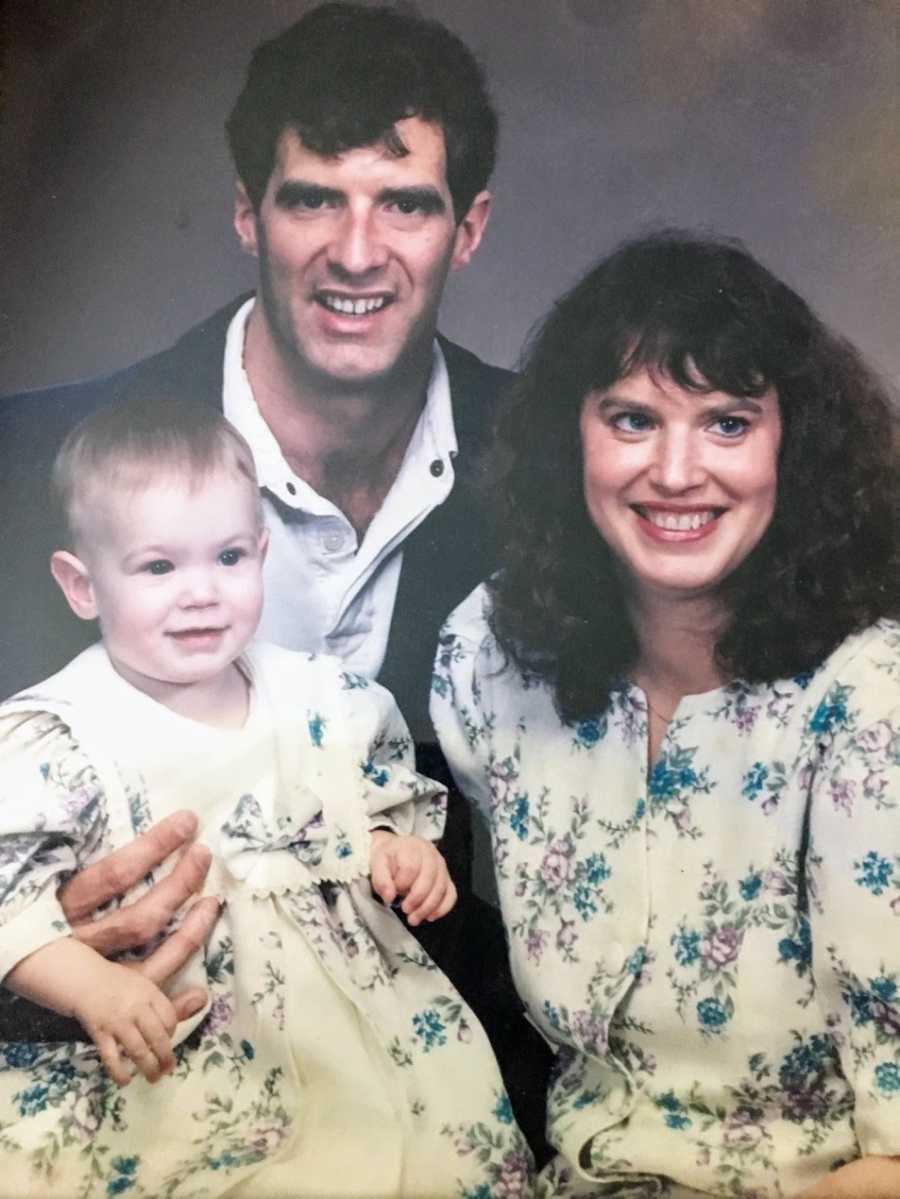 I know from pictures he was 6'2" and physically in very good shape. Despite maintaining good physical health, following up with his doctors regarding his heart condition, and taking medications, he had a sudden cardiac event and passed away when he was 36. I grew up learning about him and honoring his memory through pictures. My aunt and uncle would host Sunday night dinners where we would gather around a table and they would tell their stories of childhood and their fondest memories of my dad.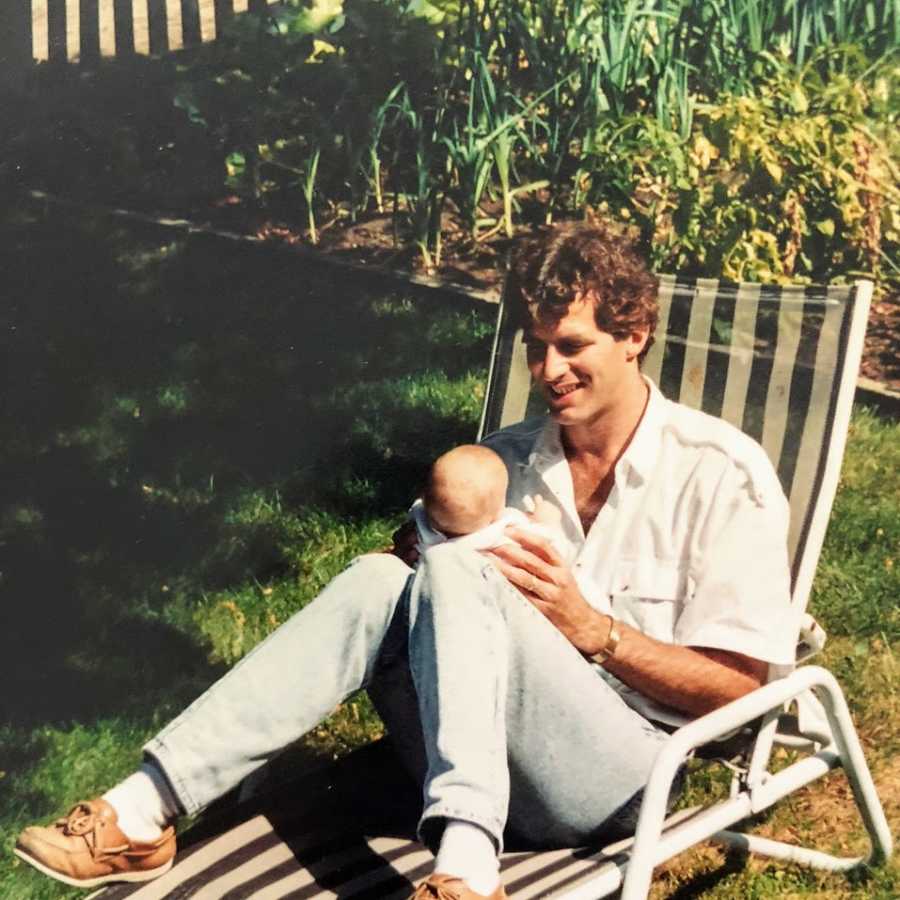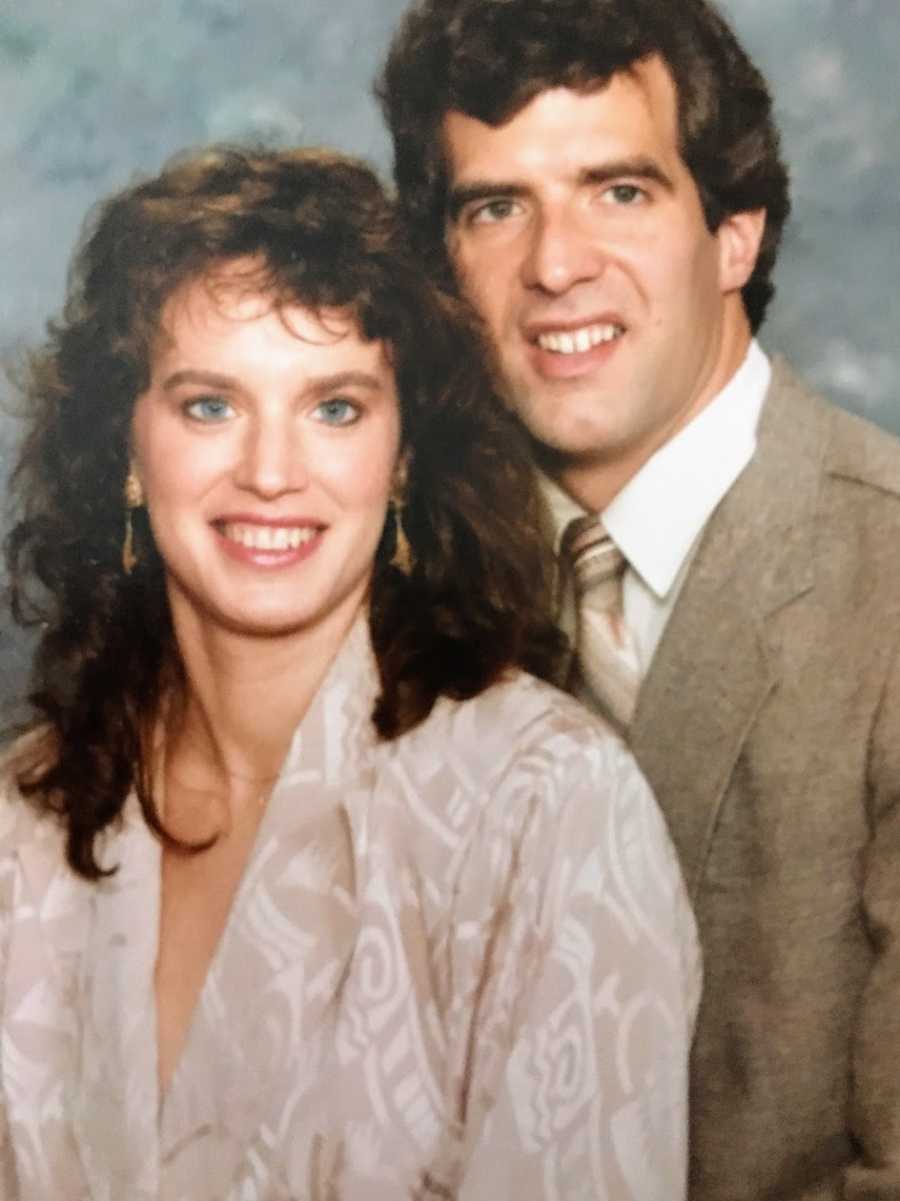 I felt a certain void as a child growing up with a single parent. Not because my mom didn't love me enough — she never hesitated to show me how much she loved me. My mom was very hands-on — always giving out hugs and kisses. She made a point to always tell me how much she loved me. But still, I would dread being in school every year in June making projects for Father's Day. I would give them to my Papa or my Uncle Russ, but I did not have the same experience making these gifts that a lot of kids my age had. I just wanted to know what it was like to have that close bond with a father figure.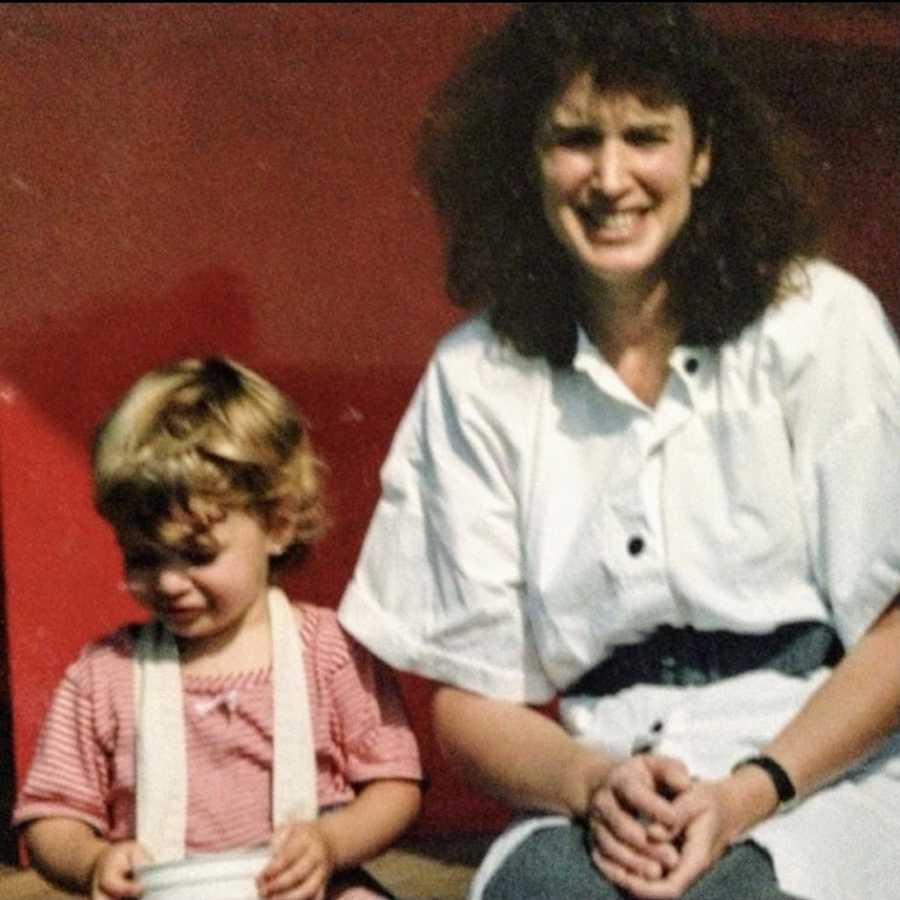 I often wonder what I would have learned if my father had been able to watch me grow up. I think about how different my life could have been. It has only become more apparent to me as I continue to get older how much I long for the support of a second parent, how much I am missing not being able to look to a second parent for advice. I needed my dad the most in the moments when I felt like I was losing my mom.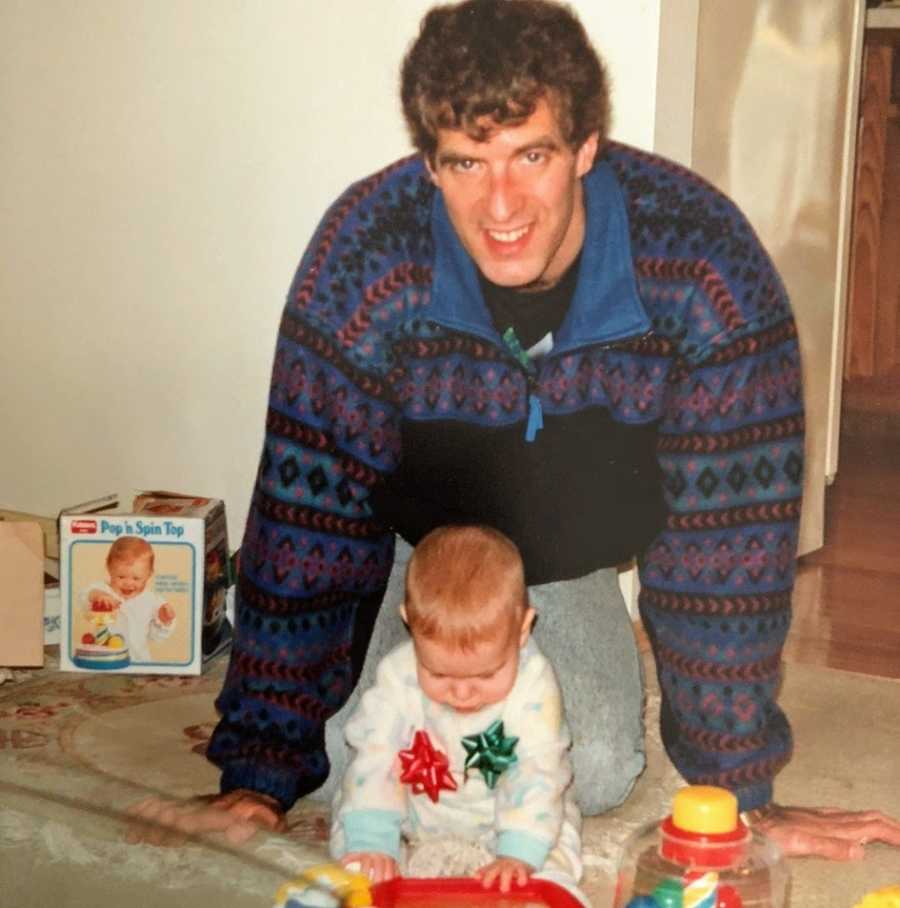 My mom has been sick for most of my life. She was diagnosed with breast cancer when I was only three years old. Too young to understand such a terrible disease, my mom had me bring my teddy bear with me to the hospital when she underwent surgery to remove the tumor. As she was about to be wheeled into surgery, she asked me to give her my bear. That was her way of helping me to understand she needed the comfort only a teddy bear could provide because she was sick. It's one of my earliest childhood memories. It's probably my earliest lesson in empathy. I also remember going with my mom to see her oncologist where I would be distracted from my mom's surgical scar and chemotherapy hair loss with glove balloons.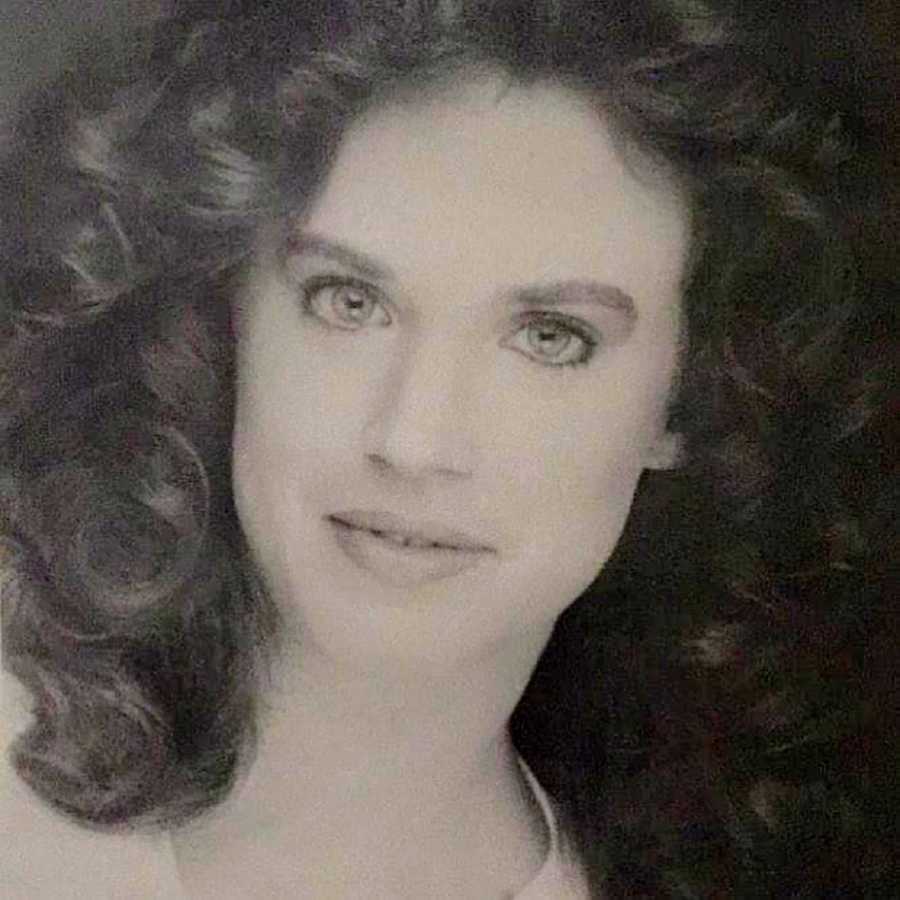 My mom never made her cancer out to be as big of a deal as it was. Even when cancer was taking so much from her physically and mentally, exhausting her body and her mind, she persisted in treatment. She kept up with all of her motherly duties as well, probably fighting twice as hard because she knew she was all I had. We were blessed to know what it was like to live without cancer consuming our lives for 13 years while my mom was in remission.
My mom's cancer reared its ugly head during my senior year of high school. In a time when I was supposed to be excited about choosing a college and a career path, I was filled with fear. I wanted to leave Vermont to go to Boston, but how could I be so far away from my mom? How could my mom endure treatment alone? These were the questions I could not get out of my head. Being the selfless person my mother is, she insisted I needed to pursue my dreams and said she would find a way to get through treatment without my being there.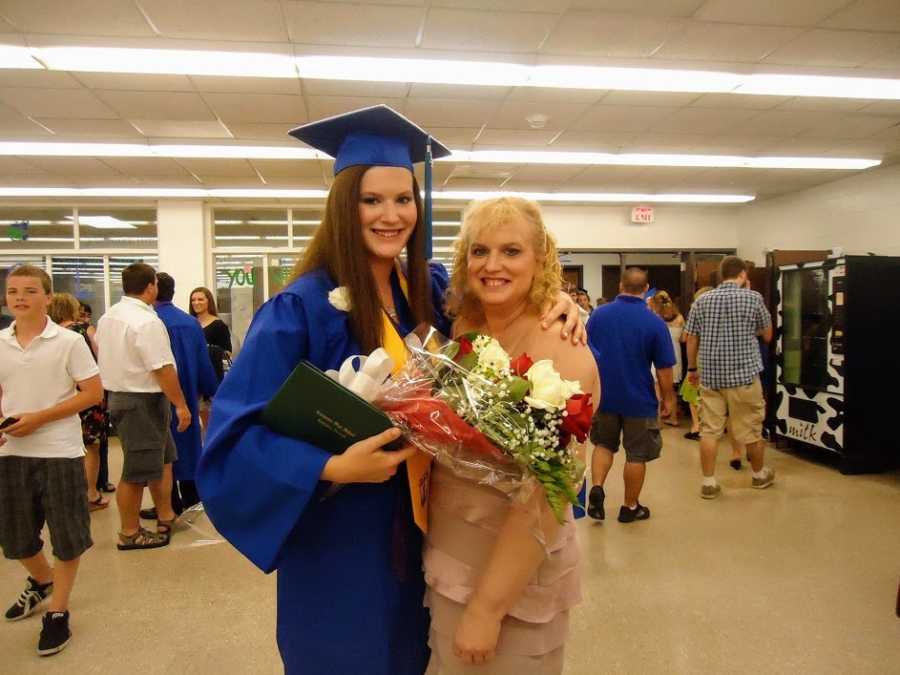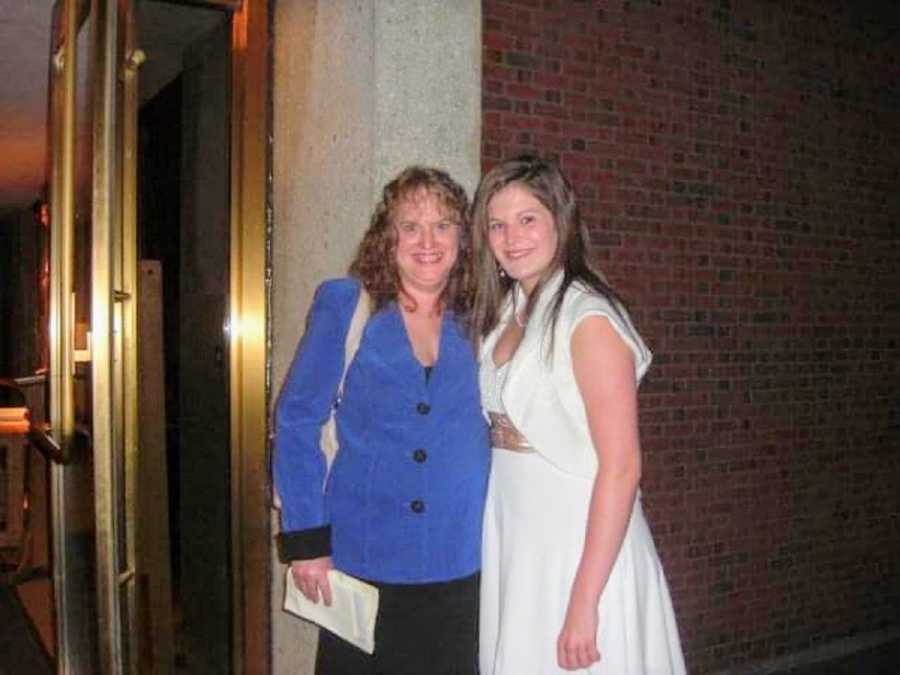 So I went to Boston, my mom stayed back in Vermont, and we both did what we needed to do. As I finished college, I decided I wanted to stay in Boston. My mom also was starting to experience some difficulty with her treatments, so she decided she would relocate to Massachusetts herself and pursue treatments at Dana Farber. Everything worked out as it should. Or so I thought at the time.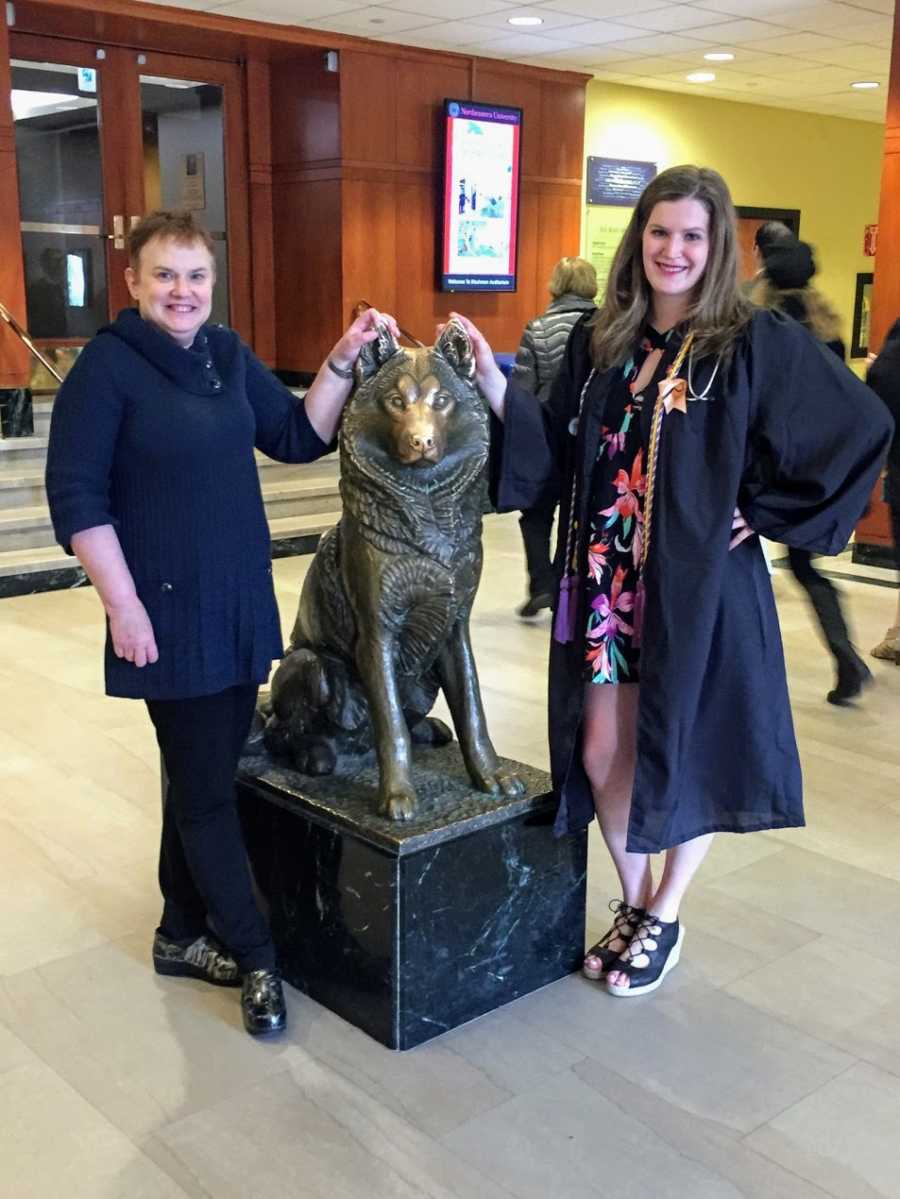 The routine of her going for treatment or blood work or a doctor's appointment weekly became our new normal. In between all of this, I got my first job as a nurse in the city, I moved into my first apartment, and then my second apartment, and I changed jobs. Life continued on despite the fact that my mother's cancer kept returning, showing up in her lungs, her lymph nodes, her skull. It took more and more away from my mother every chance it could. If it wasn't the cancer, it was the treatments themselves, causing blood clots, nerve damage, vocal cord paralysis. It kept adding up. I look back now, and I should have seen it coming, but I didn't. I was naïve to think I would have my mother forever.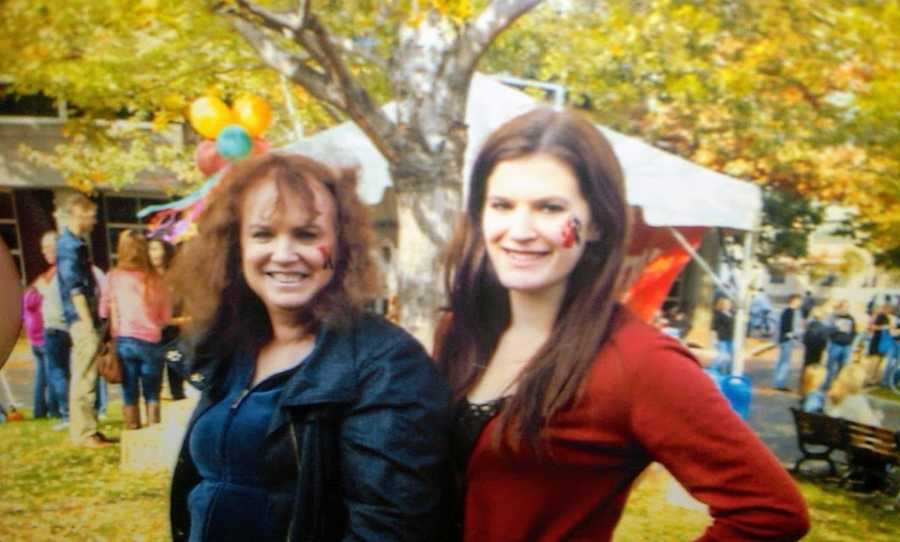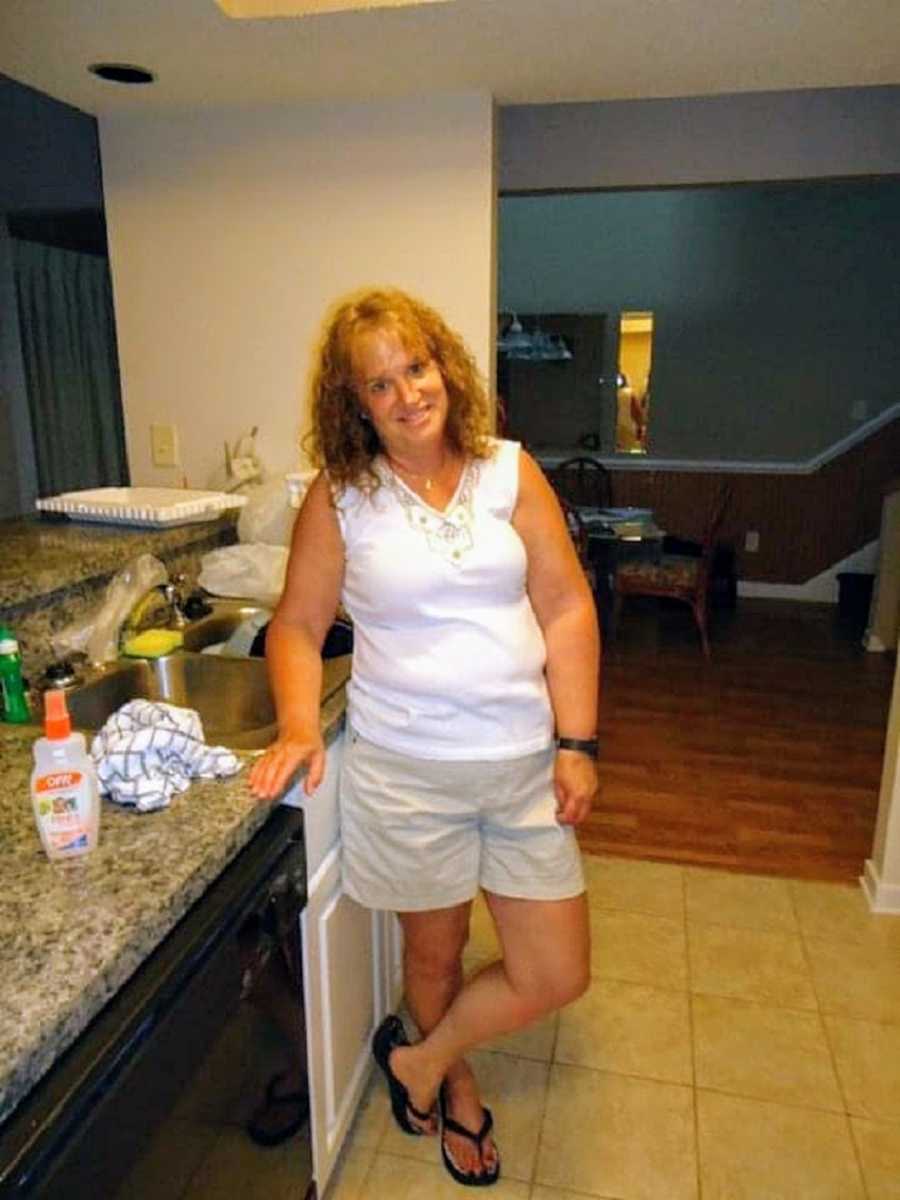 I returned to the hospital the next morning, driving alone through the thick fog as it rolled off the dewy grass, leaves rustling in the wind as I made my way inside from the parking garage to the hospital floor. I arrived at my mom's room to find she was off the floor for testing. They were doing an echocardiogram to look at her heart. After about 20 minutes, they rolled my mom back in on a stretcher. She walked from the stretcher back to her bed. We had a few minutes to catch up on how her night was, how she slept, if the floor was loud, before her doctor burst into the room.
My mom was standing at the bathroom sink in her room when he came in. He asked me where she was. I told him she was just washing her hands and would be out in a minute. He looked nervous; I was unsettled watching him impatiently shifting his weight, flipping through his papers standing in the room. I could tell whatever he needed to say was urgent. Finally, when he couldn't wait any longer, he said, 'She's going to have to be transferred to Boston.'
He quickly explained to me that my mother's heart was being restricted from filling properly because of fluid compressing her heart. He said they needed to drain the fluid to restore the heart's function. He warned me she was stable, but her blood pressure was low and they were worried. He had to make some phone calls, but the plan was for her to have emergent surgery later that afternoon. He left the room, and I turned to my mother. She looked at me, and I couldn't help it: I started to cry.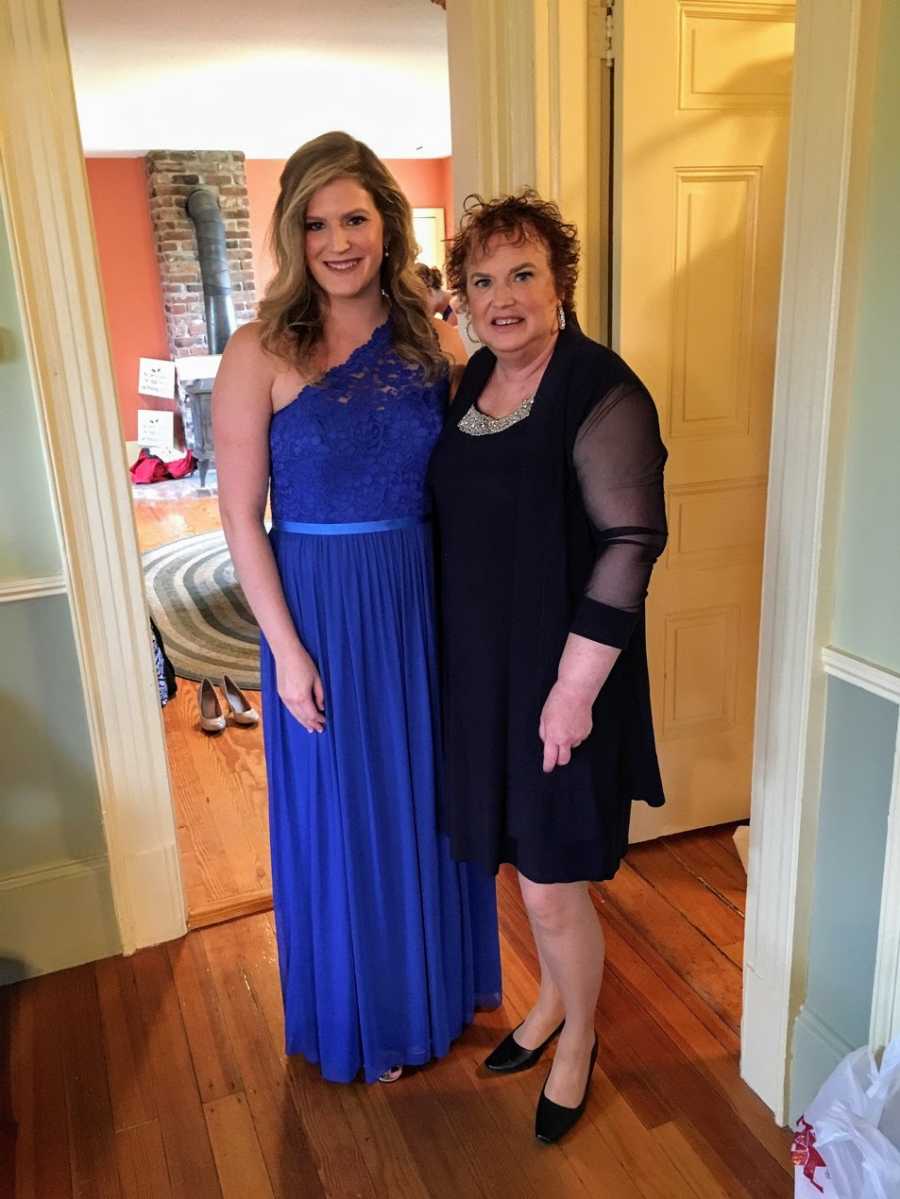 It's different when it's your mom. I was helpless. She was not my patient, I could not do anything to respond to the doctor's sense of urgency regarding my mother's condition. All I could do was wait and watch. I walked out to the waiting area to call my manager at work. I made it two sentences into our conversation and started sobbing telling my manager everything the doctor just told me. She talked me down as best as she could, encouraging me to go with my mother and telling me for my own safety to please not drive. I listened the best I could, but I was already thinking ahead to the next phone call I had to make to my family. All I wanted in that moment was my father. I wanted to have that second parent to defer to, to confide in and to hug me and hold me and to tell me it was going to be okay. But I didn't have that.
My mother ended up not being transferred at all, she had surgery in that same hospital near our house. Since they were worried about her traveling by ambulance at all, the surgeon traveled to her. I waited hours, pacing back and forth, walking to the café then walking back up to the waiting area, thinking about the best-case scenario and the worst-case scenario, begging, pleading to a higher power for my mom to be okay. I was desperate to hear about how my mom was doing.
Finally, when her surgery was complete, they called me, but they told me I would have to wait to see her until she was settled in the ICU. I cried again. I was the last remaining family member in that surgical waiting room, and I had to continue to sit there alone until my mom had made it out of recovery and into the ICU. I felt like an eternity passed. I couldn't leave until I knew my mom was all right. I knew she would be tired and groggy, but I wouldn't be able to go home and sleep until I was able to at least squeeze her hand.
Finally, my mom made it to the ICU, and I was allowed to go in and see her. It was such a humbling experience seeing your mom as the patient in the bed. It was my mom covered in monitoring wires with an arm board immobilizing her wrist where the arterial line was, a fresh chest tube draining fluid from her left side. It was a collision of my two worlds, being a nurse and being a daughter. I knew too much about what was going on, but yet not enough.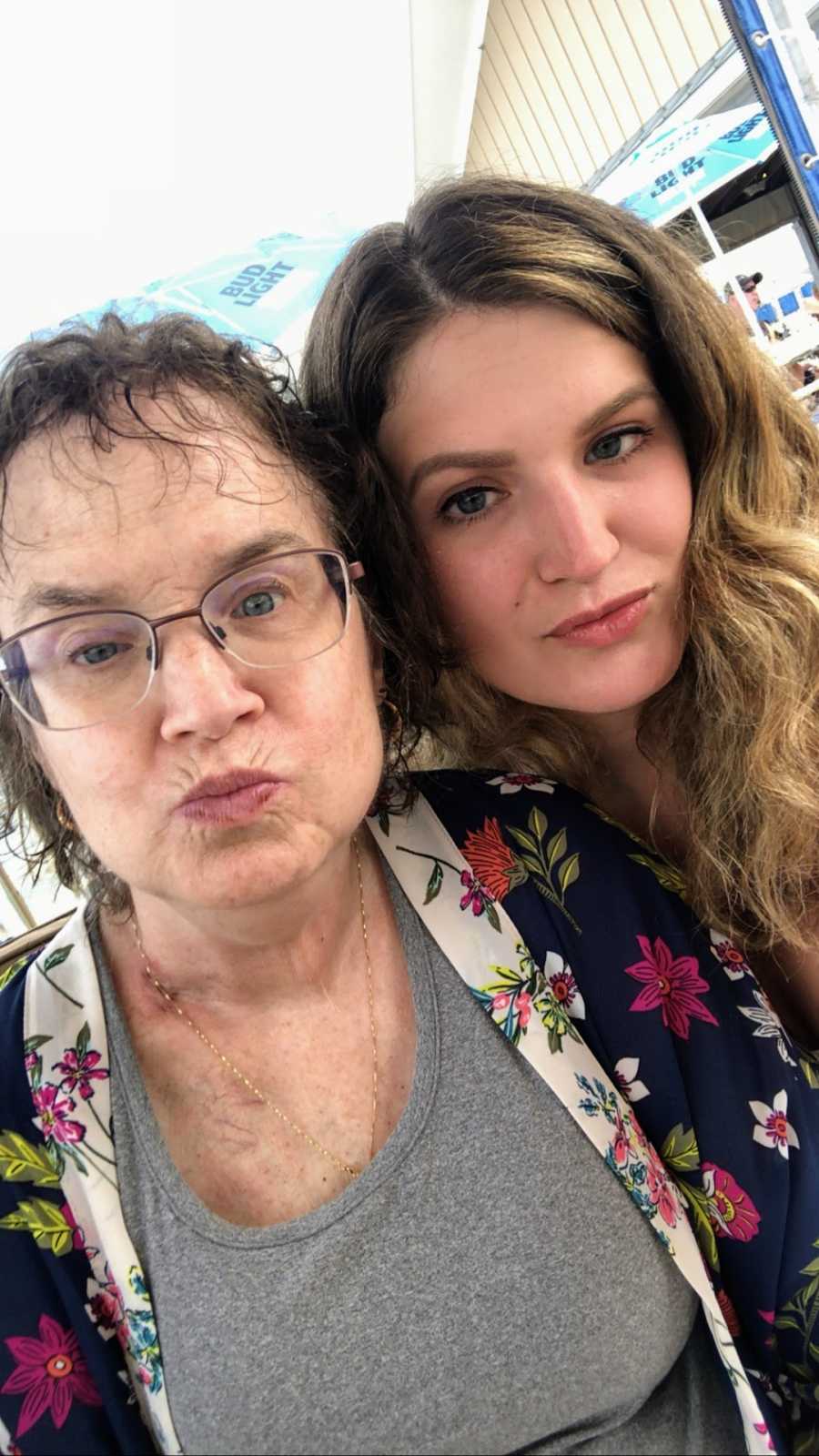 My mom spent a few days in the ICU before she was transferred to a floor and then eventually to a rehab facility to regain her strength. I hated to leave her because it meant going home to that empty house. Her Jeep sat out front, untouched. Eventually, I had to start driving it just to make sure it would keep running. I kept thinking it would just be a few more days and then my mom would be home. Days turned into weeks. My mom went back to the hospital from rehab, spending less than a day at home in between stays. I felt defeated. I began to wonder if I was going to get my mom back as I knew her.
The biggest blow came six weeks after that first hospitalization. My mom was sick with a stomach virus she had gotten while being in the hospital. They were worried about her losing blood so they transferred her to a larger hospital in the area that would be able to scope her to identify the source of the bleeding. When she arrived there, she also had some swelling around her left eye. The doctors ordered a CT scan of her head because of the swelling.
It was a cold Friday afternoon in December, I had just had lunch with two close friends, and I was on my way to go visit my mom in the hospital. I was 10 minutes away from the hospital when her oncologist called me. I didn't recognize the number, but I answered the phone anyway. When she told me who was calling, I pulled over to the side of the road. She spoke very calmly, in an even tone. I was thinking about my mom's heart, her stomach virus, and all of the other newer health problems we had encountered lately, but I wasn't thinking about her cancer. She told me my mom was failing treatment; when they went to look at the swelling around her eye, they found her cancer had spread to the lining of the brain.
Instantly, a lump formed in my throat, I knew what was coming. She continued to update me, telling me there were not a lot of options regarding treatment and treatment would be very aggressive. She was honest — she told me she was not sure if my mom could endure such a treatment if that would be something my mom would want to go through.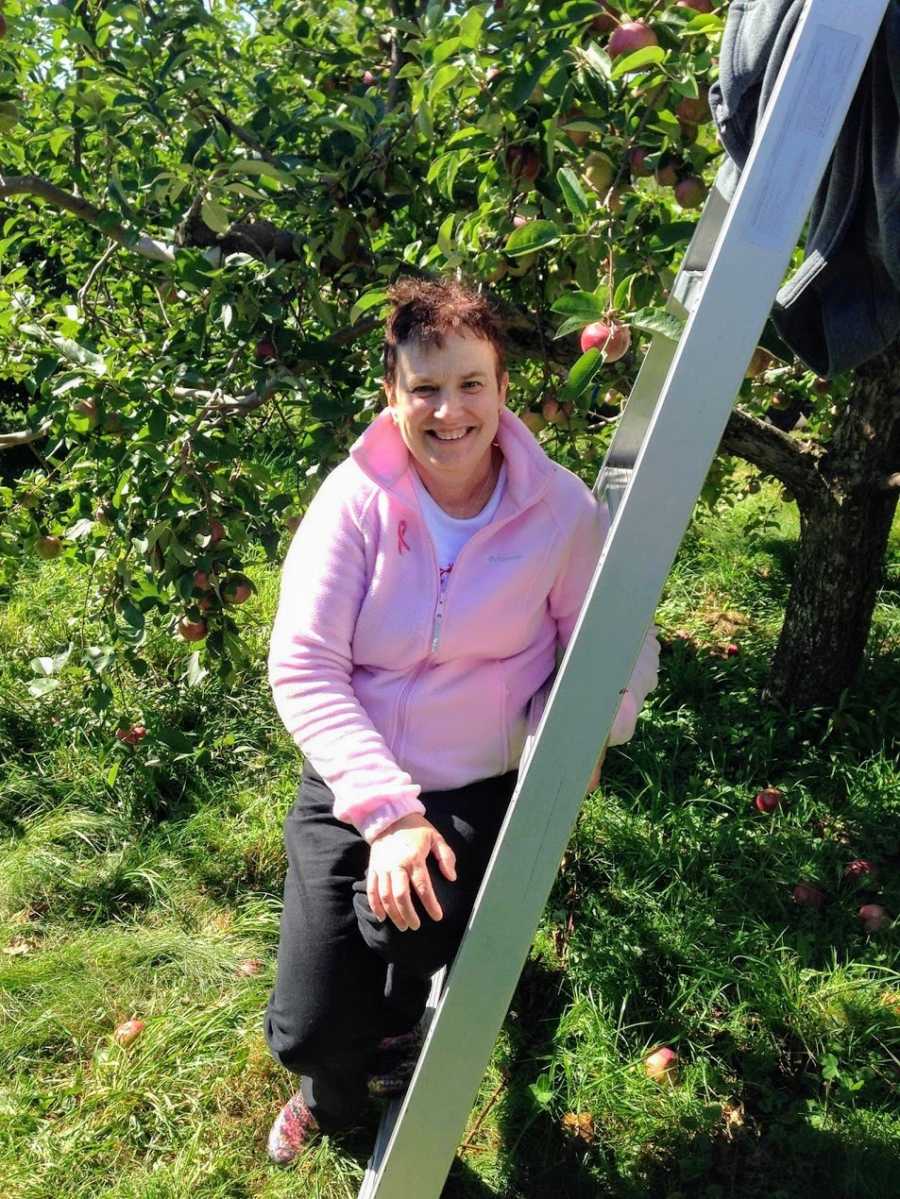 I sat there on the side of a random road in Worcester, fading in and out of this conversation with my mom's oncologist, close enough to the hospital that I could hear an ambulance's siren in the background getting closer. As she was talking, the tears slowly starting pouring down my face. I knew my mom was sick, but I didn't know she was dying. I replay this scene of me driving in the car receiving that phone call often. It was the phone call you never want to get. I felt like something was slowly pushing down upon my chest, preventing me from taking deep breaths, I felt crushed. After I got off the phone with my mom's doctor, I had to pull myself together to face my mom. She did not know the news yet. I wasn't going to be the one to tell her, but I still had to be there. I needed to be there for her, but instead, as usual, she was there for me.
The doctor came in and sat down to deliver the news, slowly explaining to my mom what the tests showed, what it meant, what her options were, and finished by asking what her wishes were. I tried to hold my composure, staring down at the beige tile on the hospital floor, looking up occasionally to stare out the big hospital window to watch the sunset over Lake Quinsigamond. When he finished talking, he left the room to let my mom and I digest all he had said.
My mom looked at me and asked me if I knew. I got up and sat on the side of her bed leaning in to hug her. I let the tears roll down my cheeks, soaking her hospital gown. Once again, she was comforting me. For the first time in a long time, I saw my mom cry too. She cried and said it was so unfair. I agreed. How could life be this cruel to me? Why did I have to lose my mom too? Was I really going to be 25 and parentless?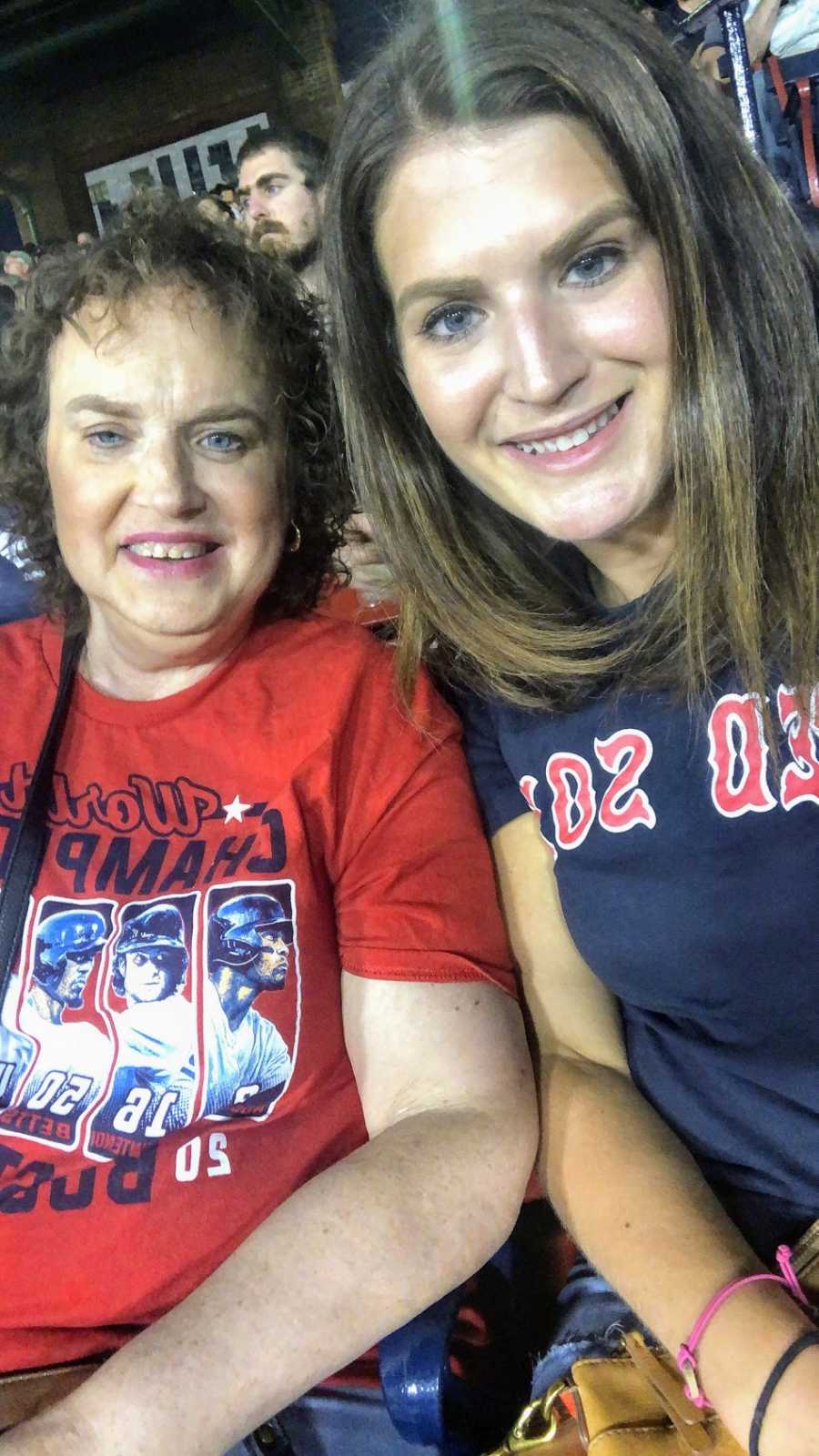 The next few days were a blur. I was overwhelmed with information about hospice care. I admit I did not know a lot about hospice until my mom and I sat down with the palliative care team. My mom had made it clear this was the route she was choosing to go. After almost eight weeks of bouncing back and forth between hospitals and rehab, she was ready to be home. She wanted to be back on the couch, underneath her fuzzy blanket, watching me decorate the living room for Christmas. It wasn't a guarantee she would be able to be home for Christmas if she went to rehab.
For me, it became an easy decision to make. I was quite honestly terrified and not prepared in the least to provide end of life care to my own mother, but I couldn't risk losing any more time without her. I was already down these eight weeks she was away from home, and that was enough for me. I had missed out on so many of her chemotherapy treatments and appointments while I was in college or working, I didn't want to miss anything else. Time was as precious now as it had ever been.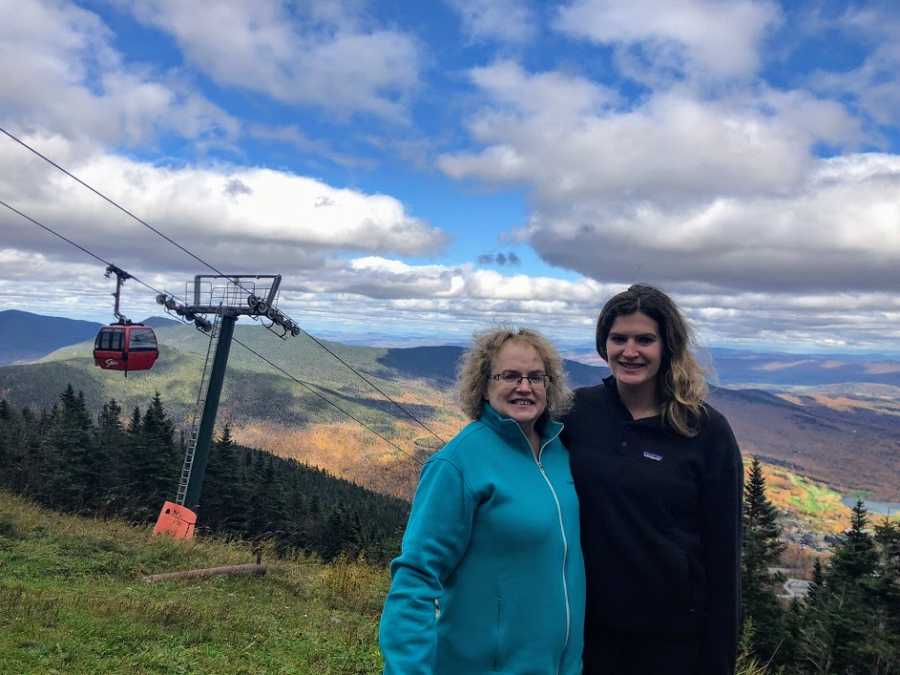 I had spent a lot of time with my mom of course over the years, but I knew if I didn't take the time to be present with her now as we approached the end of her life, I would have to live with a lot of regrets later. My mom is my biggest supporter: she is the first person I call with good or bad news. I know no matter what, she'll make herself available to lend an ear or offer a hug at any hour. Our bond is very strong because I learned from a very early age I could always depend on her.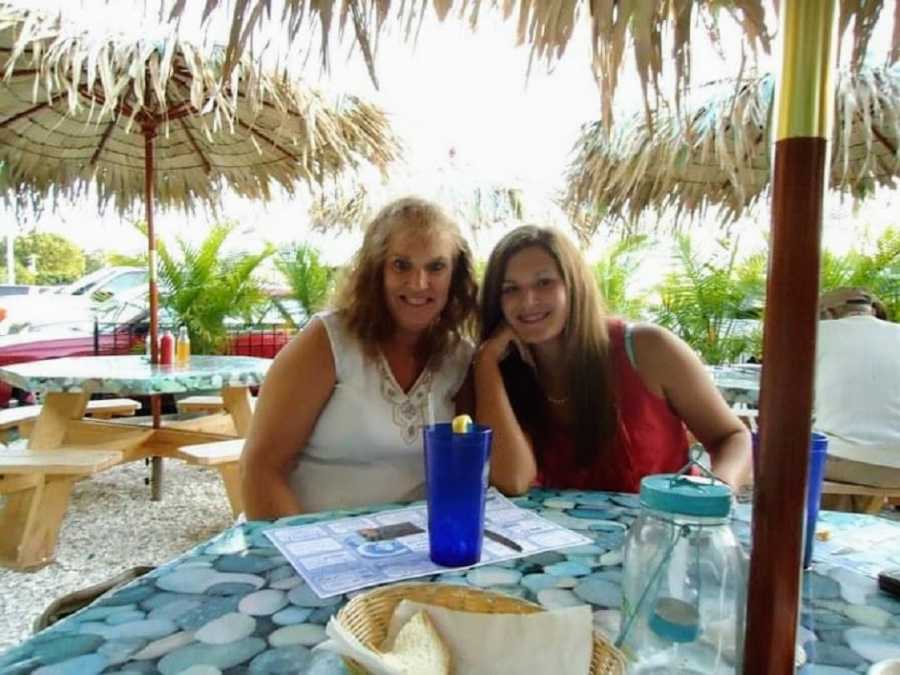 Now the roles are reversed, my mom depends upon me. I stepped up to the challenge because I wanted to. It's not that I think I can repay my mom for all she has provided for me and sacrificed to be able to provide me with everything I needed to be successful. I know I can never repay her. If anything, I think I will pay it forward with my own children.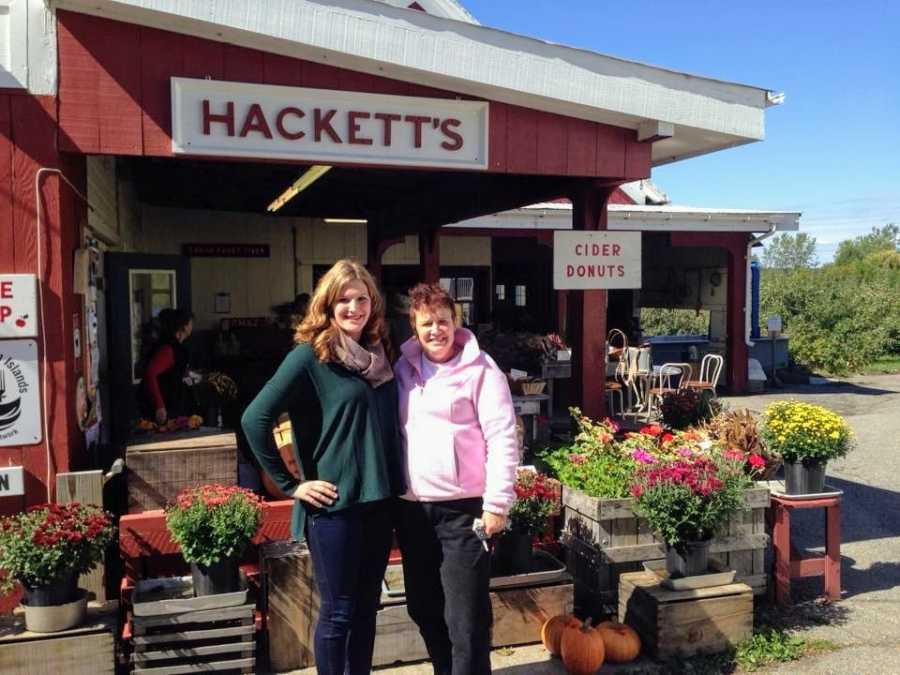 I have learned so many valuable lessons about how to love, how to struggle, and how to stay positive in the face of adversity from everything my mom and I have gone through together. I want to do this for my mom and make my mom a priority because she is and will always be such an important person in my life. I want her to have this place in my life, to be my priority at this time, because I have realized we don't have forever. Our time is more limited than it ever will be. I want her to feel she is just as loved by me as I am by her.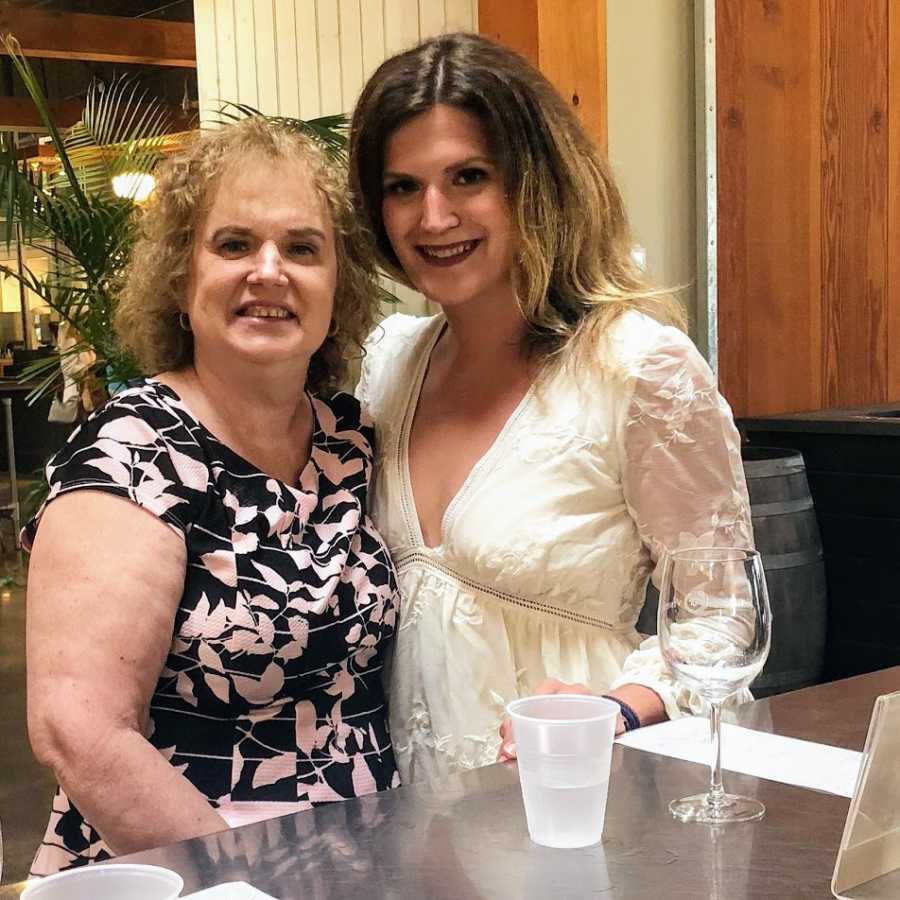 My gift to her is my time and my presence as her caregiver. Our gift to each other is our memories that will live on forever, regardless of whether or not she is here with me. It's making me a better person every day. Some days are better than others: I struggle with patience a lot, and I am constantly reminding myself it's not a rush. I need to enjoy the moment now before it passes. So, I try to focus on just being present.
My mom and I are not running around trying to make it through a bucket list of things we have to do. Instead, we are often just sitting together at home, flipping through old pictures, scribbling down memories in a legacy book, reminiscing, laughing, and taking it one day at a time. I have noticed little changes in my mom especially with her memory as the days continue to pass by, as the leaves change and begin to fall once again. I know we are not in the same place we were almost a year ago, but missing the past isn't going to change my future.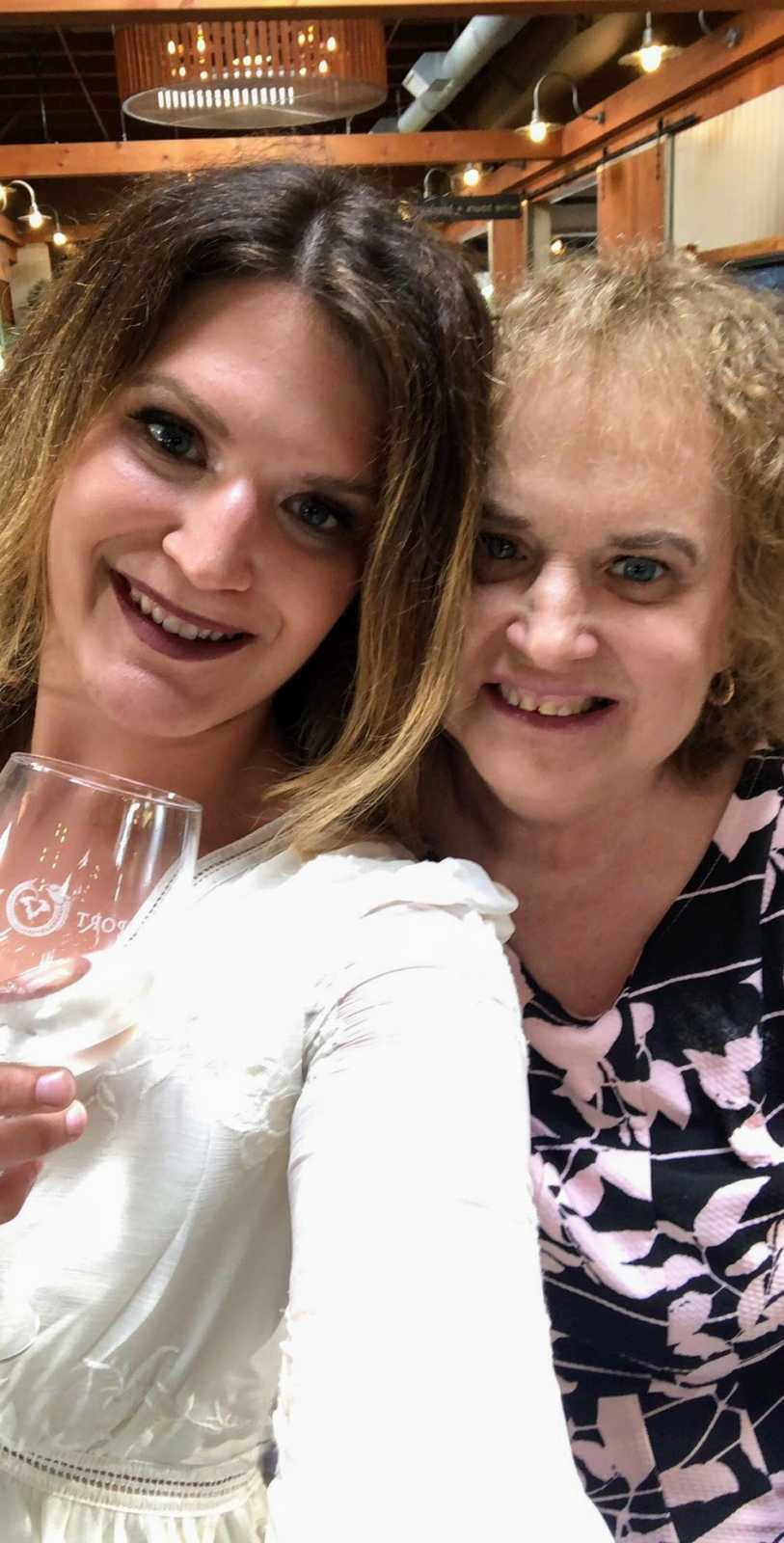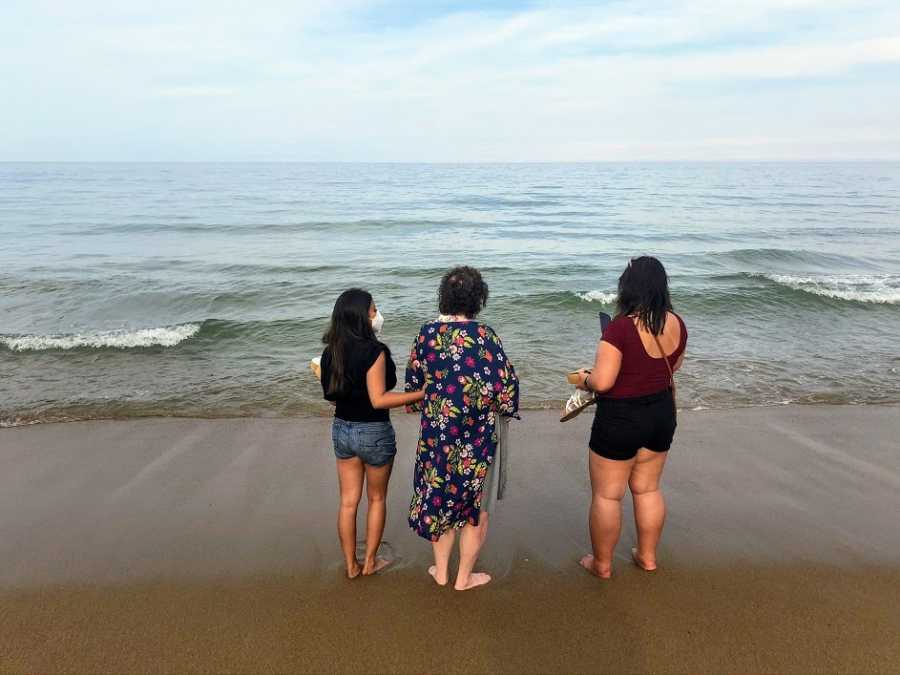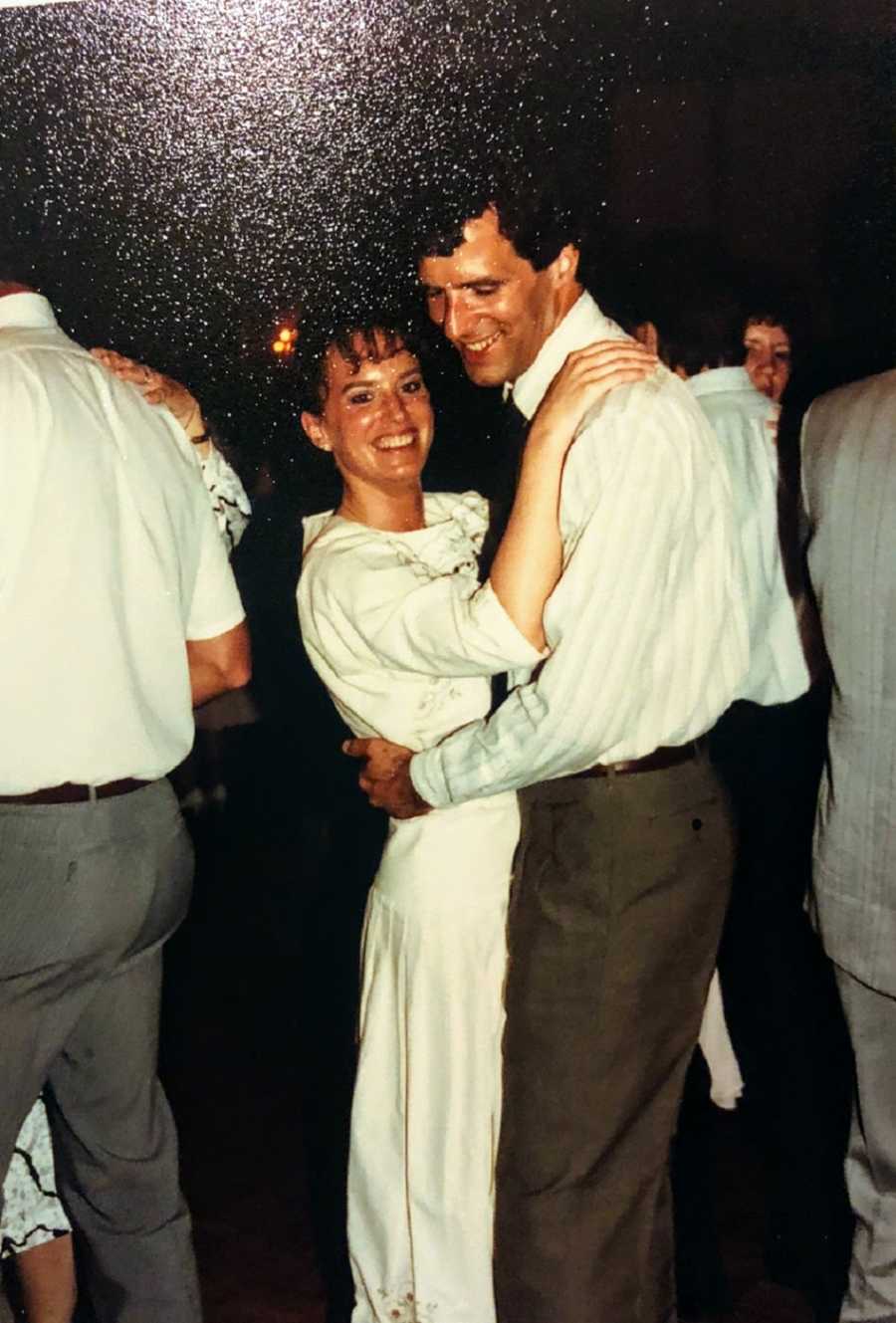 I let myself be sad, I cry when I need to grieve. I don't know how long I have left, but I think the best thing I can do is to end each day grateful to have had another day with my mom. Every day I get to hug my mom before I go to bed is another reminder to take it all in while I still can. So these days, I hug her a little longer and a little more often."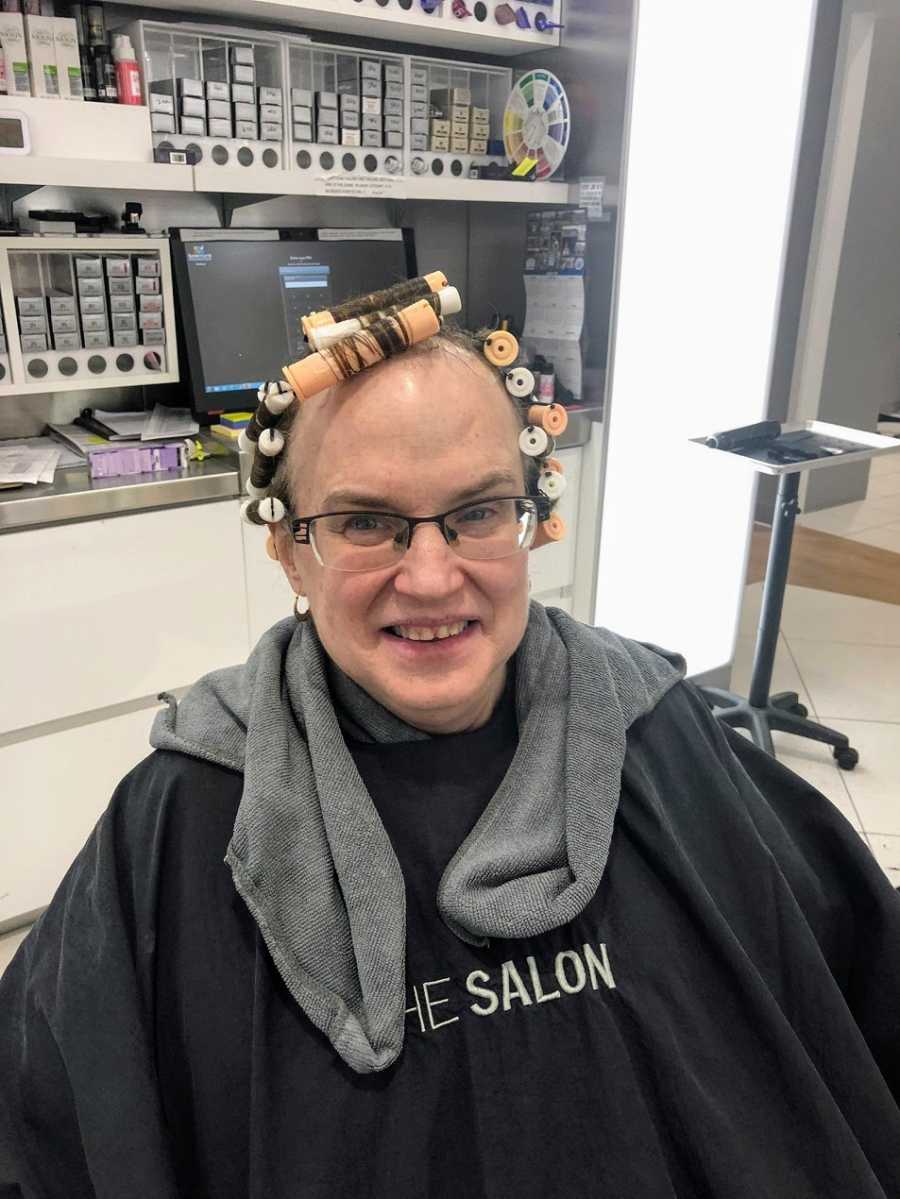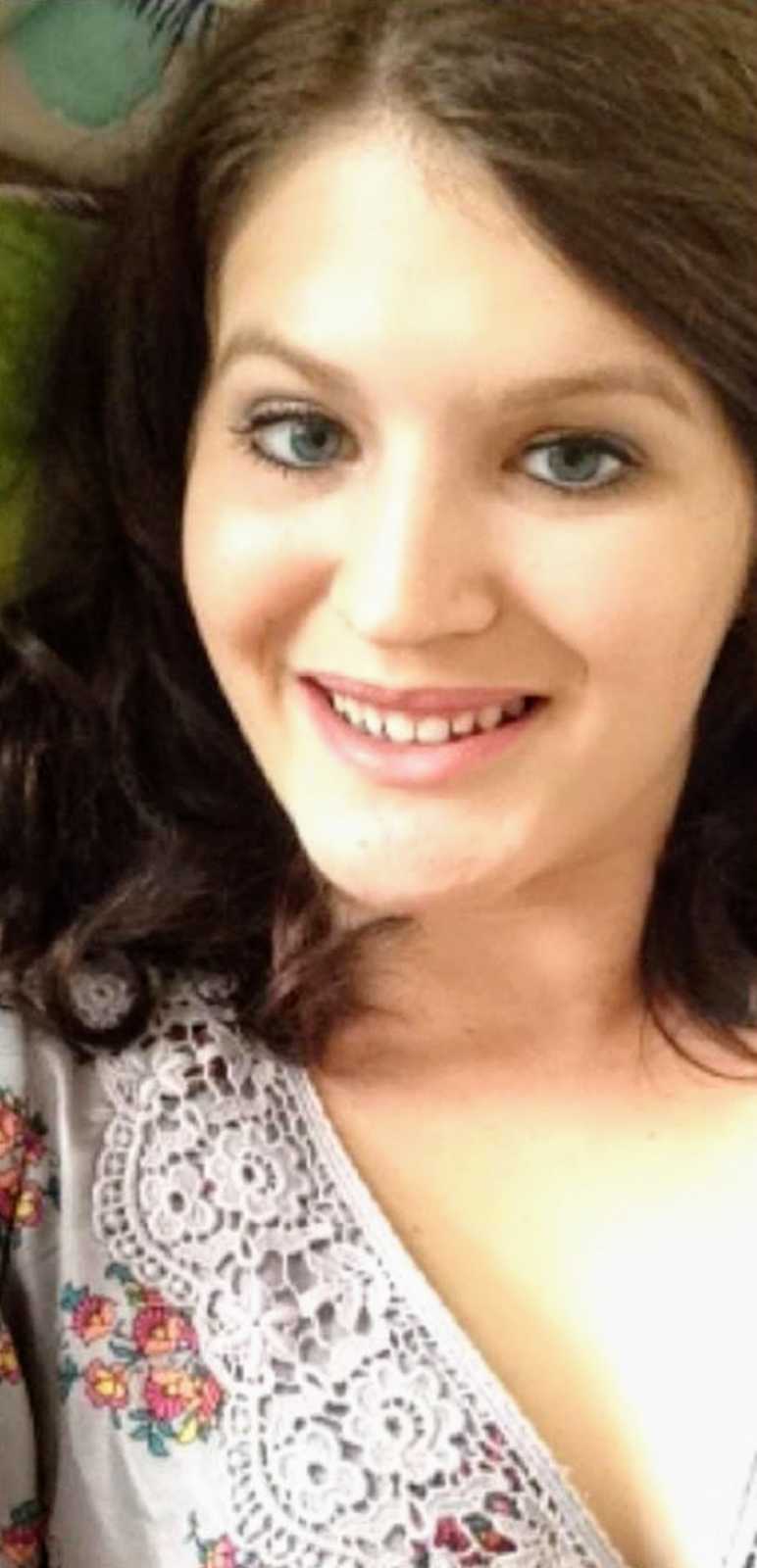 This story was submitted to Love What Matters by Cayley from Boston, MA. You can follow her journey on Instagram. Submit your own story here. Be sure to subscribe to our free email newsletter for our best stories, and YouTube for our best videos.
Read more stories like this:
'She pointed to the TV to distract us. We looked back, and she was gone.' That was the moment I became an adult orphan.': Woman earns college degree in honor of late mother, jumpstarts grief support groups
'Can we talk?' I want to give you a big hug. I'm a motherless daughter, too.': Woman says she's 'here for you' through heavy grief, 'I will understand your silence'
'She's going to have emergency brain surgery.' I screamed. What the hell would I do without a mom?': 19-year-old daughter suddenly loses mother to stage 4 cancer, finds healing through 'roller coaster' of grief
Provide hope for someone struggling. SHARE this story on Facebook to let others know a community of support is available.