"The story of real-life Dr. McDreamy, Dr. James Strainic…
There are moments in life you can never forget. They call them core memories. I was lying down on my bed, five months pregnant, tired from crying, recalling those words over and over: 'Your baby will need multiple surgeries in the first two years to be able to live with half of a heart. Don't expect to see her have a normal childhood like other kids; she will be delayed. This is her life expectancy. Nothing can be done to prevent it.'
I don't remember ever crying like this in my life and I had lived through wars. I needed to catch my breath. With my eyes closed, everything went black. Out of nowhere, this scene jumped into my mind – the vision of pink lights in the womb, the music in the scene.
If you have watched Grey's Anatomy before, you will remember how special it was. Why did I even recall it at the moment, I still have no idea! Wait, surgeries for babies in the womb don't exist. Is it fictional or real? We had never heard of it in real life! I opened my eyes, automatically unlocked my phone, and searched if there was in-womb heart intervention for the type of congenital heart disease Nadine has, and it was there! It did exist.
I couldn't believe my eyes. Ever since I was in school, Grey's Anatomy has been my favorite show…but never in my wildest dreams did I expect life to cross lines with it like this. I called my husband. I was barely able to talk. 'They can do surgeries for babies in the womb for this condition!' For 48 hours, we didn't sleep. We contacted many hospitals around the world – in the USA, Japan, Turkey, India, and Singapore.
We had only a few weeks to save my unborn baby's heart from developing a life-threatening condition called Hypoplastic right heart syndrome or 'half of the heart syndrome.' It was a rare surgery and only a few places in the world had the technology for it. Even the few hospitals who had it didn't respond to us within the critical time; it could take months and Nadine would be born already! Then, we found one research paper online.
My husband kept telling me to contact the email of the doctor, her name was Dr. Aimee Armstrong. Two days later, I received a response from her colleague, Dr. James Strainic, and this moment changed everything!
7,000 miles away, this amazing human knew how critical this time was to save my baby and how scared I was. The care and support he provided for us in this difficult time were incredible. He wanted to make sure making the trip across the world for this intervention would be beneficial for her. He asked for a clear image of her heart.
Despite the time difference and distance, every day he did meetings with his team to discuss my child's heart case and contacted us and our doctors until we received the words that made me cry out of joy: 'I can help your baby!'
After we made the nearly impossible trip and reached Cleveland, he and his team were ready with the same compassion to make history with this new intervention in a once in a lifetime shot for Nadine. When we finally made it to the operation room, a medical team of 15 led by Dr. James Strainic, Dr. Aimee Armstrong, and OB Dr. Ellie Ragsdale were ready to make history.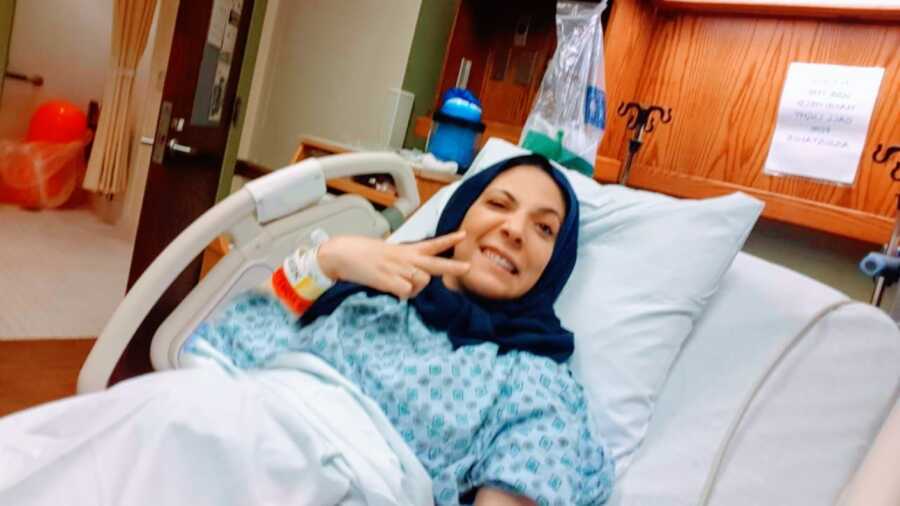 The main goal was to open the pulmonary valve that connects the heart and lungs. Due to Nadine's CHD, it was blocked and prevented blood from going to the lungs and stopped the growth of the right side of the heart. There was a 10% chance I may lose my baby and a possibility the intervention may not work. I was looking at a big ultrasound screen showing the heart and blood going in the wrong direction on the right side!
The plan was when Nadine would be in the correct position, they would open my epidural, give her a sleep injection, then guide a hairline-sized wire across the abdomen wall and uterus to her heart to open the valve. But guess what Nadine was doing? She was dancing all along!
For long hours, whenever she was in the right place and my epidural was on, she would move again! With the epidural on-off, Nadine moving, me walking around the room, squatting, doing every exercise to move her, along with the attached epidural and anesthesia team who wouldn't leave me for a second, the doctor's called the day off. They went to inform my husband, who was with my toddler outside, that it didn't work out.
The next day started; I was already tired and almost lost it! In the first trial, Nadine moved. In the second one, the epidural was on and she started to move again! Then I heard Dr. James' voice, 'Noooo baby no,' and saw him and Dr. Ragsdale holding Nadine in place with their hands!
And that was it! They gave her the sleep injection and I watched the wire on the screen going through until it opened the valve! Everyone started cheering and clapping and I had happy tears all over my face. It worked! Seeing the blood flow in the right direction on the monitor was the best thing I ever saw in my life!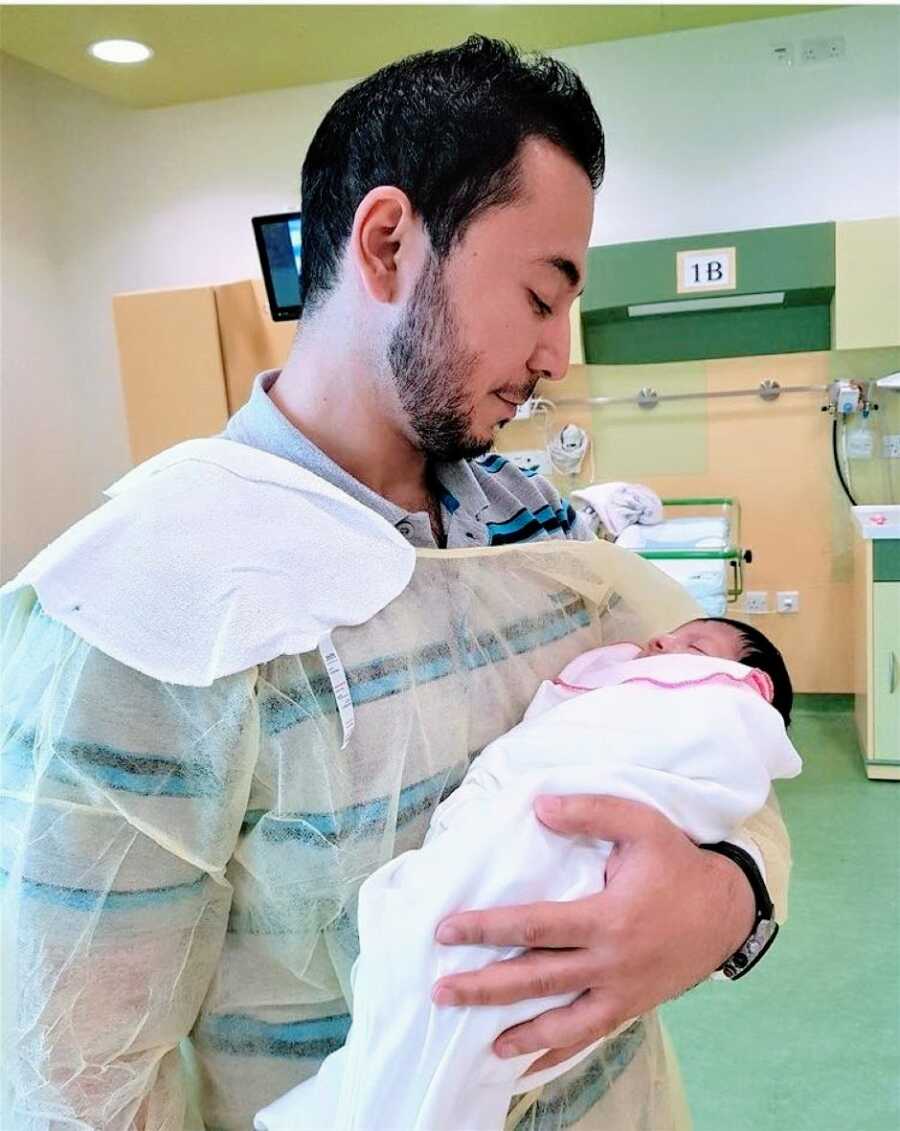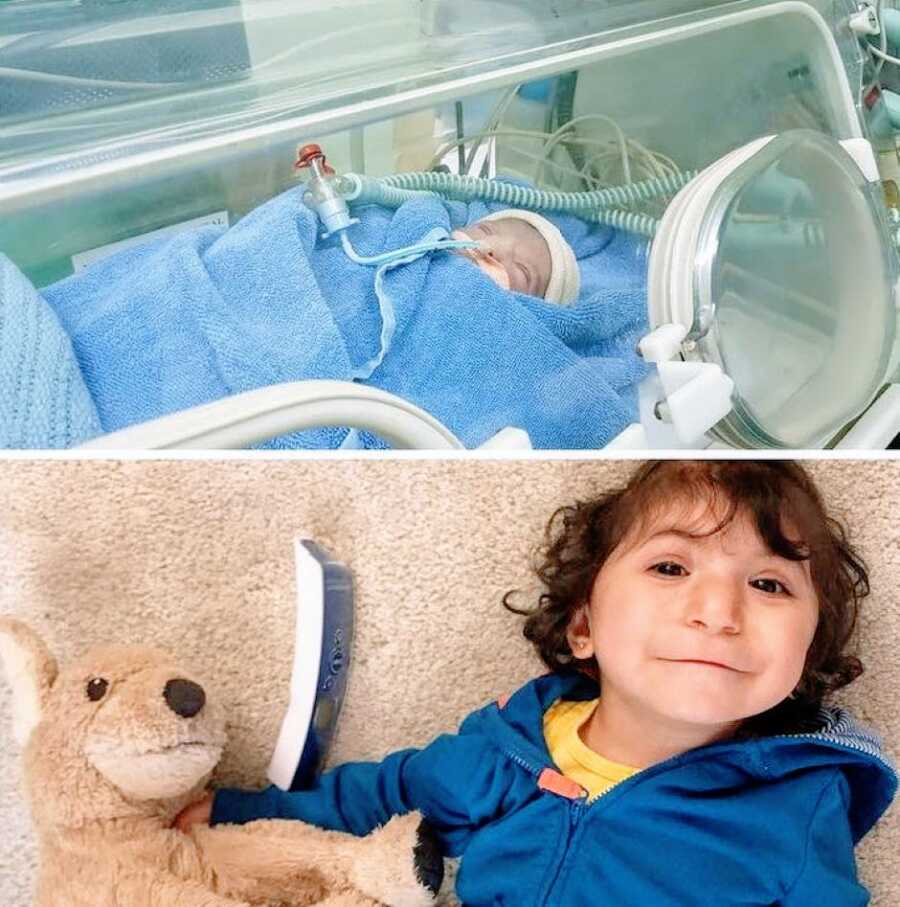 Not only did this save her heart, but her story has also saved many other children, and still today the congenital heart collaborative in Rainbow Children's Hospital Cleveland are doing their miracle's work. We will always be thankful for Dr. James, not only for saving Nadine's heart, but also for restoring my faith in Humanity."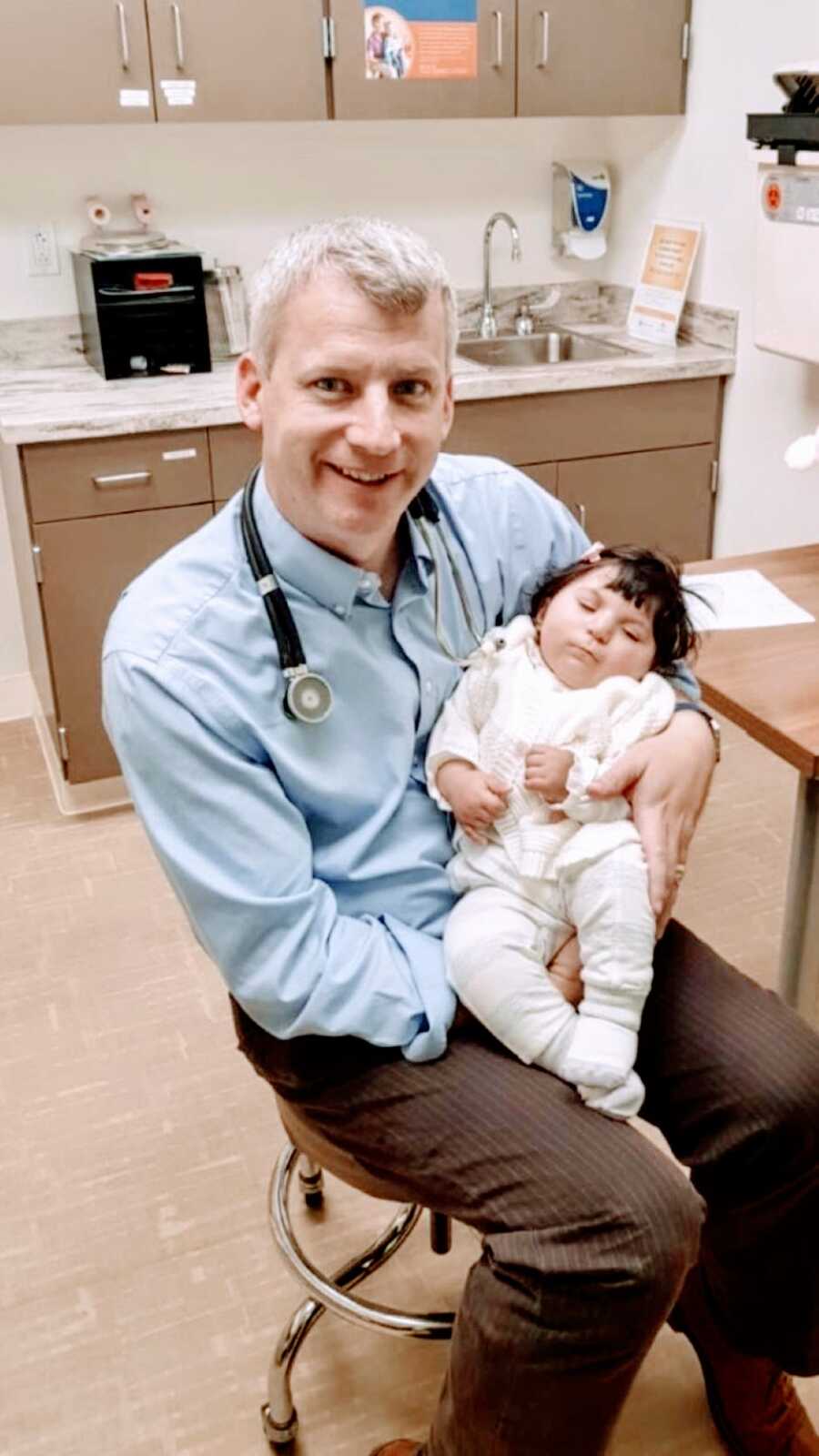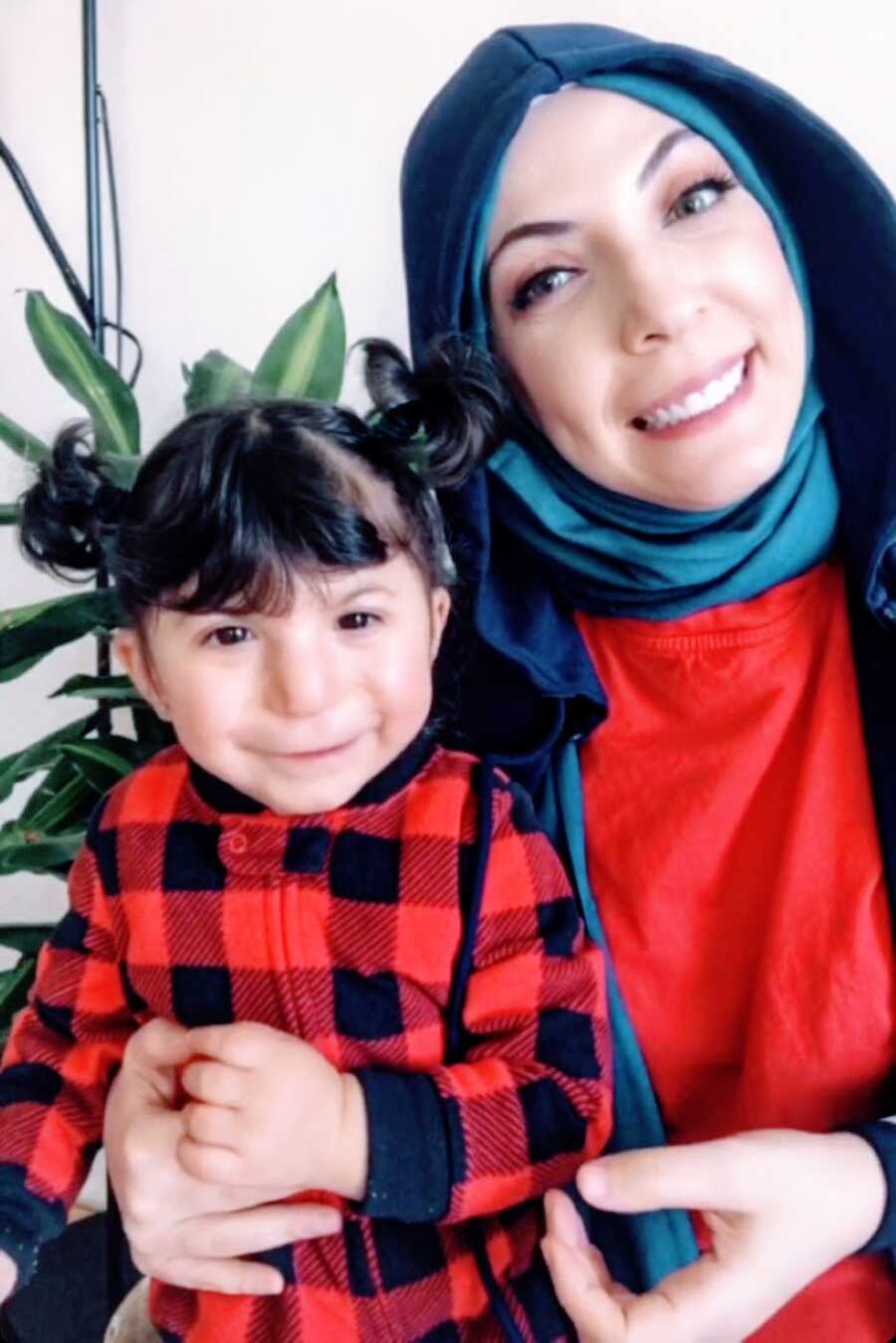 This story was submitted to Love What Matters by Dowaa Saleh, also known as Dr. Doaa Alsamrae, a dentist, health/women and children's rights advocate. You can follow her journey on Instagram here and Nadine's story (@nadines_heart) on Instagram, Facebook, and TikTok. Submit your own story here. Be sure to subscribe to our free email newsletter for our best stories, and YouTube for our best videos.
Read more stories like this here:
'The sonographer said, 'There's a foot in your vagina.' I didn't hear my baby cry. 'Is she alive?': Woman gives birth to micro-preemie, 'My life plans didn't include a NICU stay during a pandemic'
'We can't do anything else.' I was 18 with a deceased baby. They pulled a drain tube out and her little belly filled with blood.': Teen loses daughter to congenital heart disease, donates 455 oz. of breast milk to save sick NICU babies
'She looks like she's been submerged under water.' We never left the hospital. Her 321 days of life were there.': Couple welcomes miracle baby 'hand-picked' by his 'perfect sister in heaven' after she died of congenital heart disease
'Dear teacher, I need to apologize for my wife and I. We are going to be knee-deep in your business.': Self-proclaimed 'helicopter parent' pens touching letter about why he's overprotective of son with congenital heart disease
Provide beauty and strength for others. SHARE this story on Facebook with your friends and family.