"February 17, 2015, was the day we found out we were going to welcome our 4th child! Would this be the 4th girl? A boy? Regardless we were excited!
My first few doctors' appointments all went well. I was sick just like I was with the others so that was no surprise.
It was time for my anatomy scan June 4, 2015.  We didn't think anything of that, just another appointment and excited for a sonogram. On this day after my sonogram, my doctor comes in and says, 'After looking at your photos, we are going to send you across the street to the specialist just so we can get better photos of your baby's heart.' I was surprised but still was thinking all was okay and honestly not worrying at that point. The doctor says, '9 times out of 10 all is fine, but we just want to make sure.' My appointment with the specialist was June 9, 2015, and that is a day that will forever be so vivid and so clear in my mind.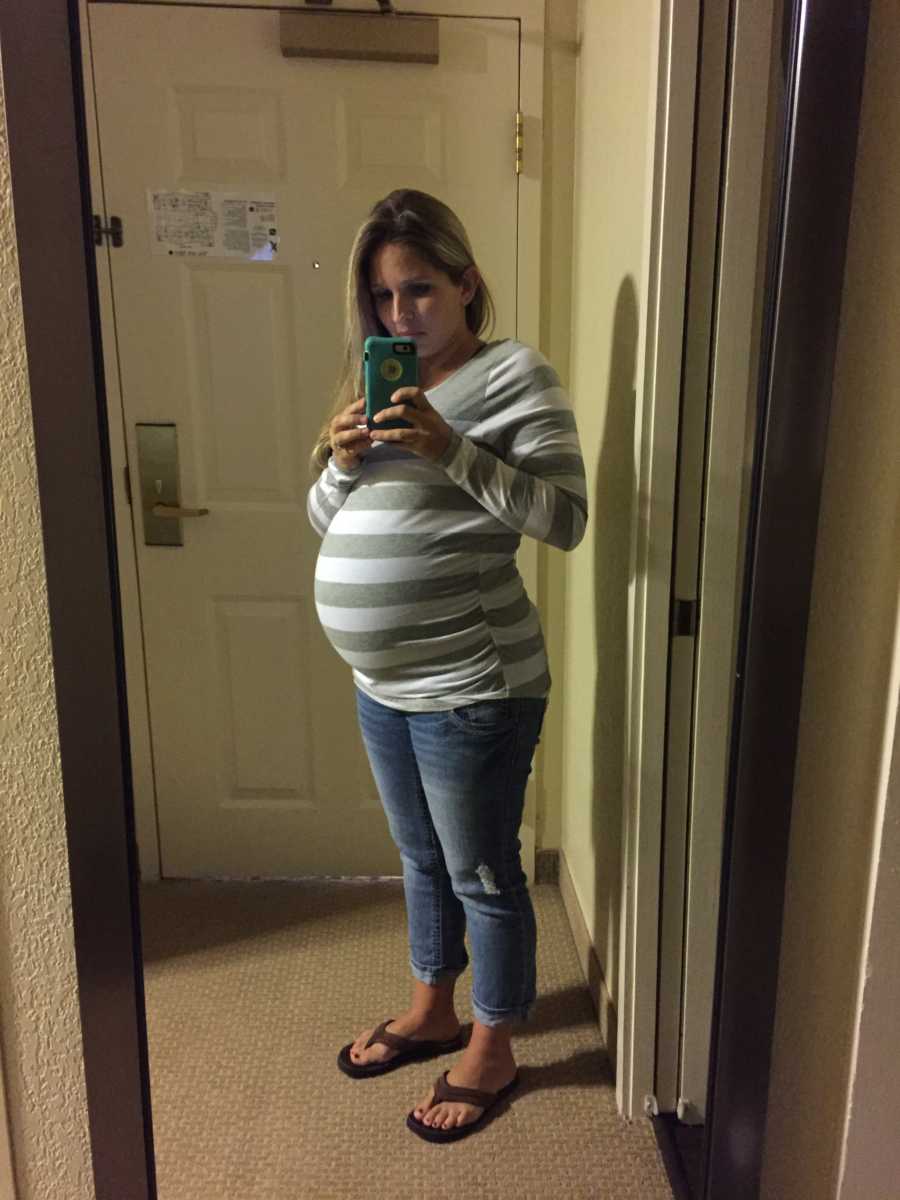 I head to see the specialist still feeling good, so good that I told my husband to go ahead with work and I would just call him.
After I have my sonogram done the nurses have me sit in front of a big white screen on the wall. The doctor was in Chattanooga, so this was something they called tele-medicine meaning we would Skype.  My nurse says to me, 'It won't be long. The doctor will walk in the room you see to tell you what he has found.'
He walks in and takes a seat. He says to me, 'So why don't you tell me why you were sent here.' My reply was short and simple. I stated that they couldn't get good photos of the baby's heart. This is exactly what the doctor says to me: 'YES, I can see why! The left side of your baby's heart is severely underdeveloped, and this will require open heart surgeries in order for her to survive.' My heart sank, I get chills as I write this and even think about it to this day. I begin to cry right away. The nurses grab tissues and ask if they can call anyone. I say no and the doctor continues on. They schedule an appointment for me in Chattanooga, Tennessee, with the specialist himself.
As I'm leaving this office, I call my husband Tyler and tell him he needs to meet me at home now. I pull in my driveway at home and Tyler gets in the front seat of my car. We stay outside because not only was I so distraught and upset, we also had 3 children in the house that I didn't want to know this yet. I inform Tyler of everything I was just told. We both are sobbing and at a loss for words. Complete, utter shock is an understatement. We were 100% beside ourselves with uncertainty.
We have our appointment in Chattanooga and get more details. Our unborn child has Hypoplastic Left Heart Syndrome. We then do our own research on surgeons and children's hospitals. We decide that Vanderbilt in Nashville, Tennessee, is the place for us. This is 3 hours north from our home in Cartersville, Georgia.
Somewhere between June 9, 2015, and my first appointment at Vanderbilt July 23, 2015, we sit with our 3 daughters to explain what has unraveled. At this time Kelsey is 14, Kylie is 12, and Jersi is 5. So many different emotions and questions from them. As a mother and father, it's just not something you ever want to have to do.
I continue my appointments with my regular OB doctor, the specialist, and once-a-month appointments at Vanderbilt. At my appointment on August 20, 2015, at Vanderbilt we also found out that Berkeley had a restrictive atrial septum. This was more devastating news for us on top of what we already knew. This meant right after birth she would have to go straight to the cath lab and then a few days later have her first open heart surgery.
Tyler and I head to Nashville on September 24th to stay and wait for her arrival. As it got closer to time, I remember thinking, 'How are we going to walk through halls and see all these sick babies with tubes everywhere?!' One day Tyler and I were sitting downstairs at the hospital after an appointment to get a bite to eat. I look over at him and he has tears running down his face. I look around and see a dad sitting with his daughter. This dad was putting juice through a feeding tube for his little girl.  Little did we know at that time there would come a day where we knew all about feeding tubes.
Berkeley was born with Hypoplastic Left Heart Syndrome on October 11, 2015. We had about 18 people in my room for delivery to make sure all went as smooth as possible. She came into this world screaming and looked better than I anticipated. We held her for only a couple of minutes before she was rushed off to the cath lab. It was so hard having to lay in this bed and watch her be taken like that. It was less than 24 hours and I was walking over to the Children's hospital to see her as much as I could.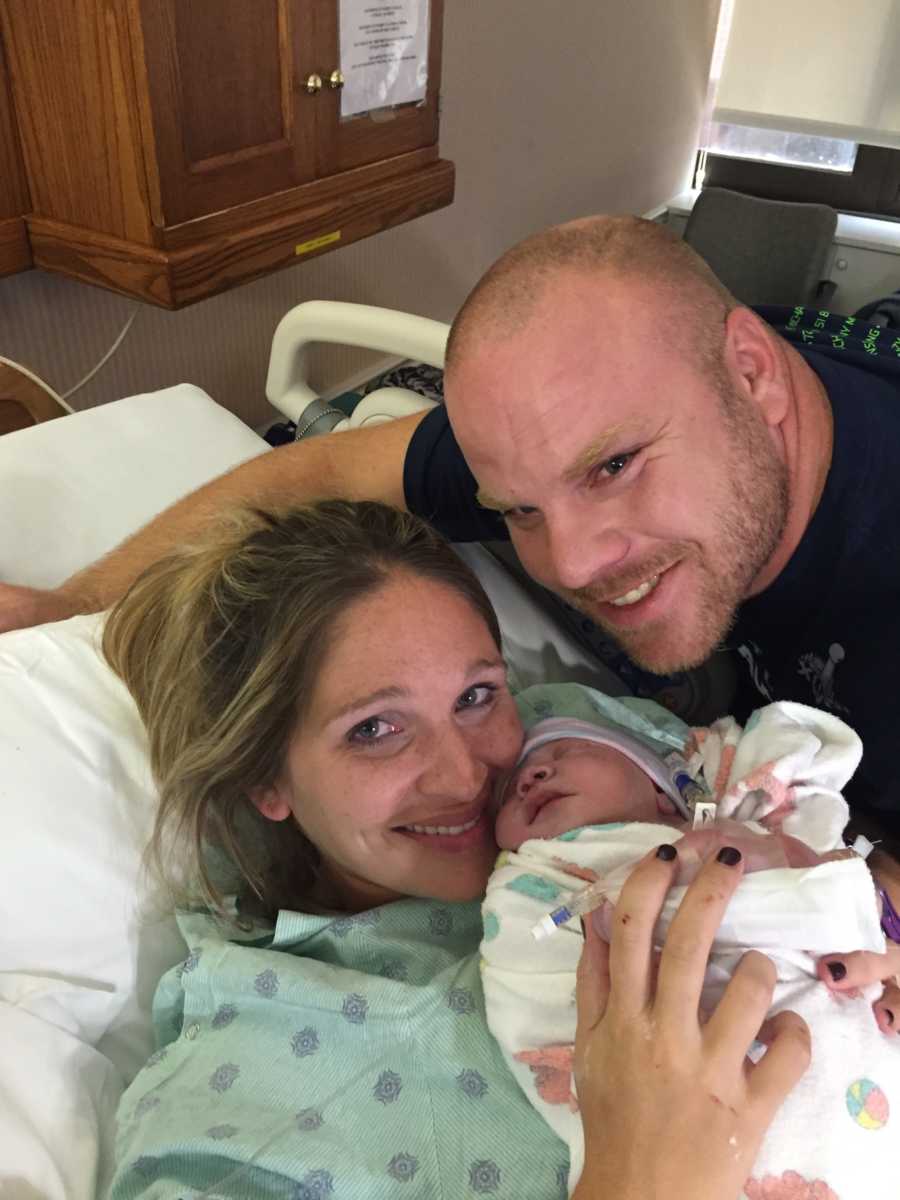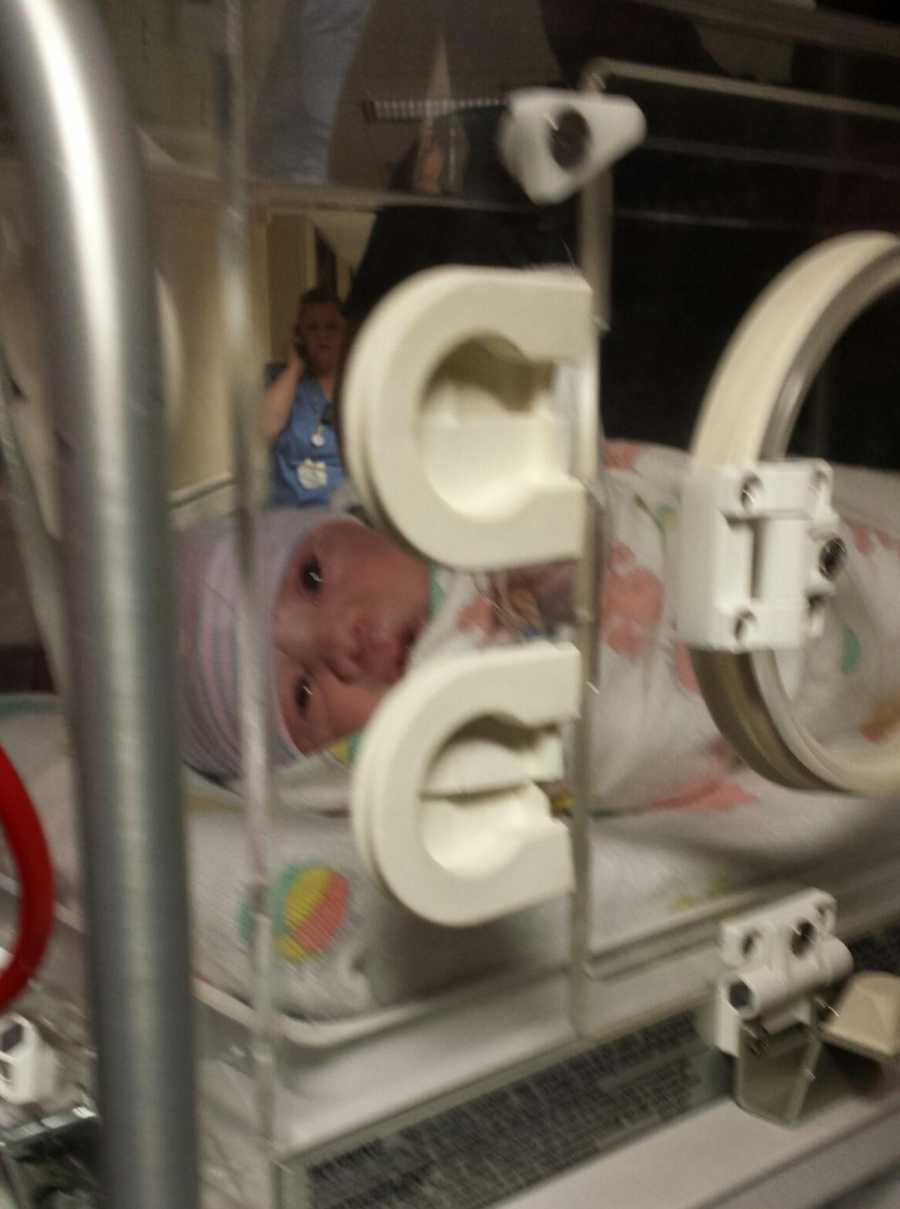 Berkeley had her first open heart surgery (Norwood) on October 15th, what a long day that was. All went as well as they expected. We were still just going minute to minute and learning along the way. We had hoped that recovery would go smoothly and maybe even be able to go home in-between her Norwood and her Glenn. That didn't happen. We never left the hospital. Her 321 days of life was spent right there.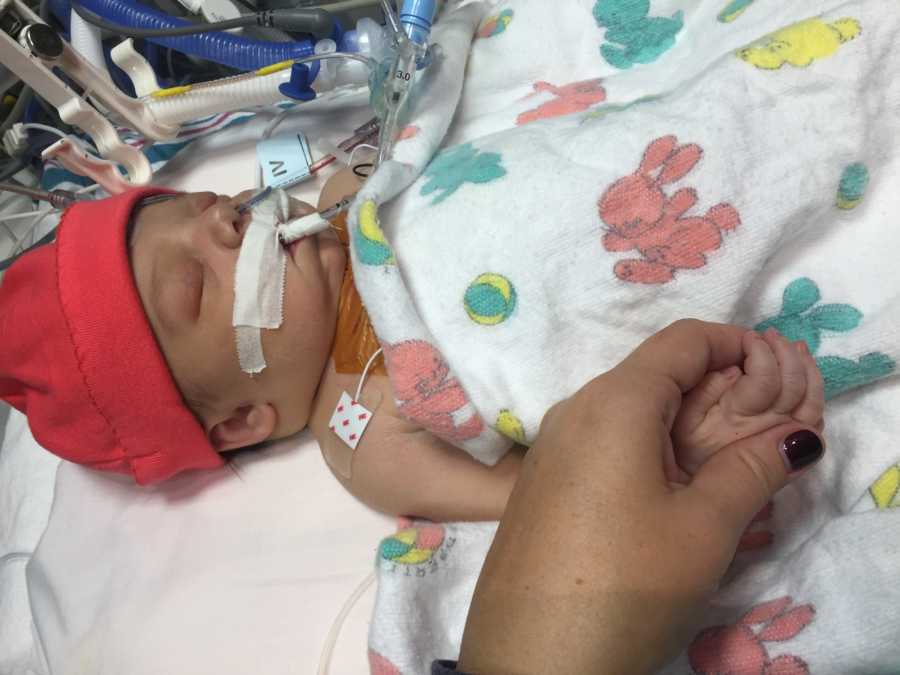 While all of this is taking place, we still have 3 daughters that need to be taken care of. For the most part I stay in Nashville and Tyler is with the other children/working. Lots of visits here and there or I would drive home for a day and see them and then drive back. To this day I still thank God for giving us the best surgeon, doctors and nurses we could ask for. We had primary nurses who loved Berkeley like she was their own. These people were like my new family for almost a year, I love them with my whole heart to this day! They cared for us in a way that I can't even describe and made me feel comfortable enough to walk out of that hospital to see my family. I wanted to be there at all times, but I had 3 other girls that needed me too and that I missed dearly.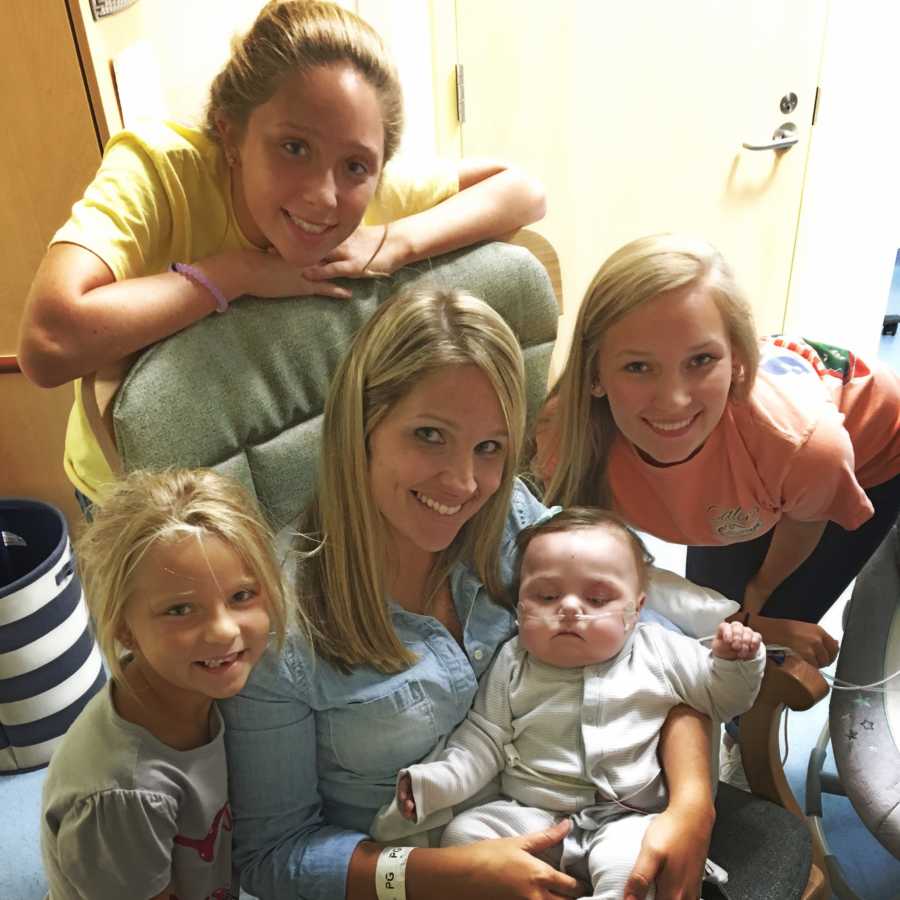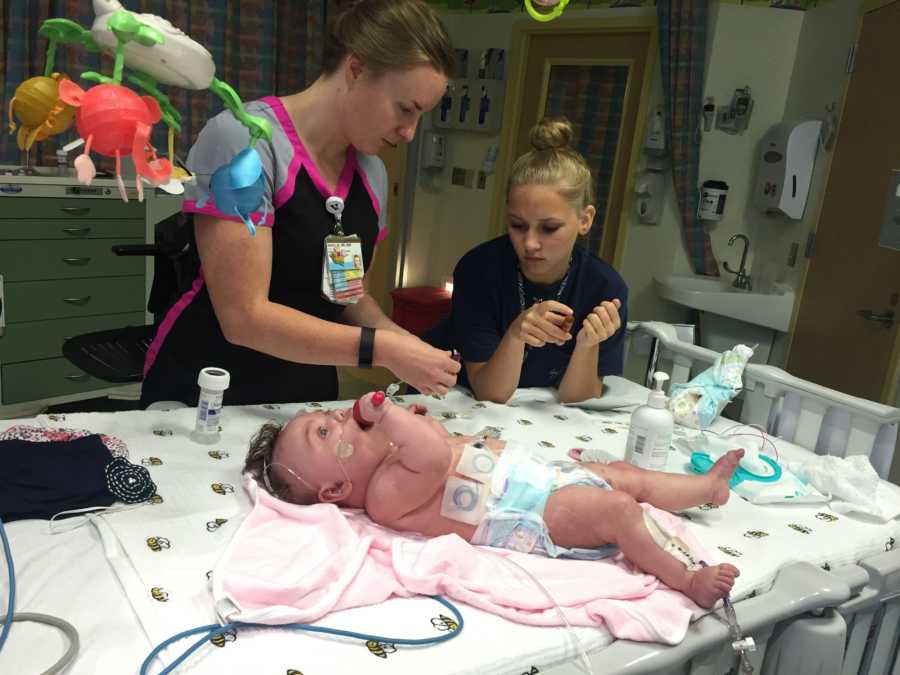 The first time I thought she was not going to survive was January 2016. Our sweet Berkeley developed yeast in her blood and was so sick. She was so swollen and looked so pitiful. I said to Tyler, 'She looks like she's been submerged under water.' That was one of the times I had to make a call and tell Tyler to drive the 3 hours because I wasn't sure she was going to make it. Luckily my dad had a job at the time that would allow him to stop what he was doing and get to my kids and help us out.
By the Grace of God, she pulled through that and made an unbelievable turn around quickly.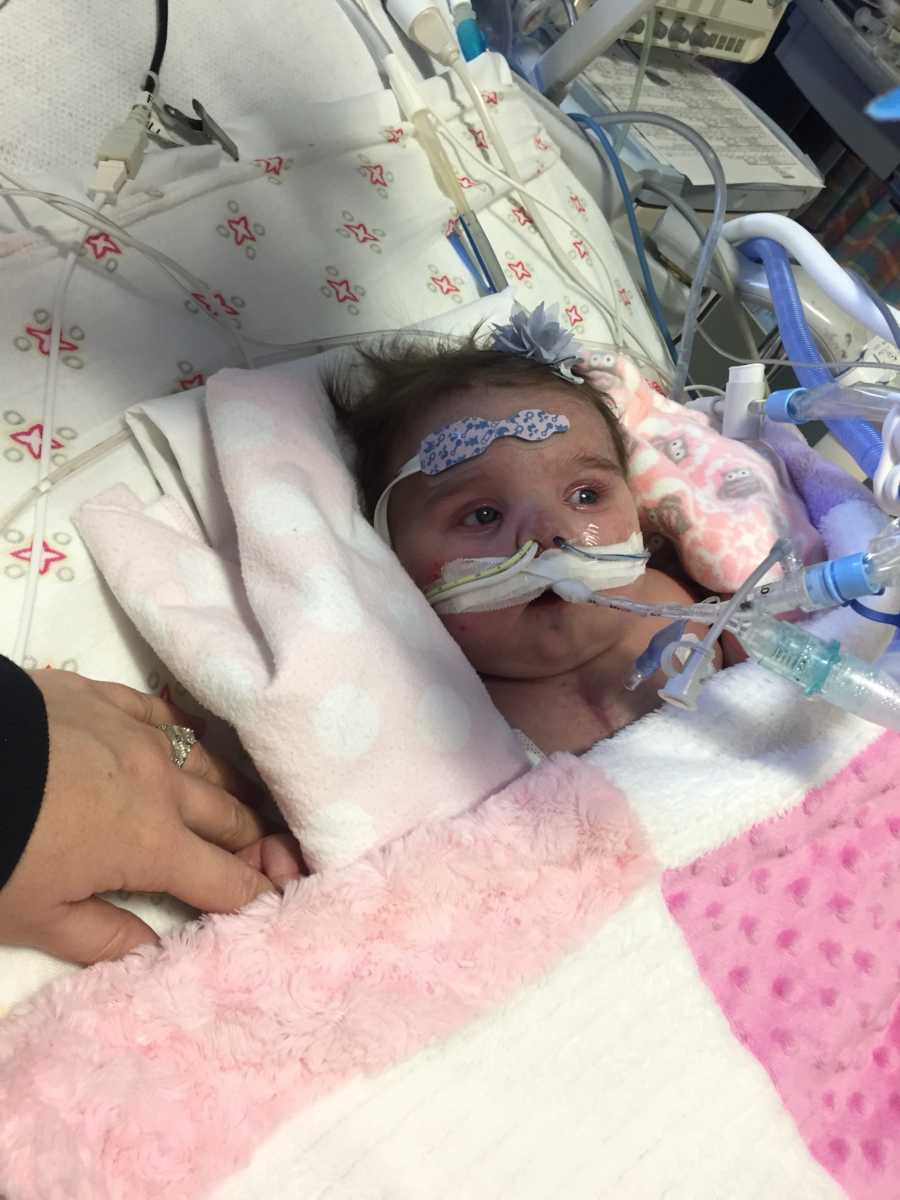 We move on to her second open heart surgery in March (Glenn). She does well but again bumps along the way. She had a severe feeding intolerance, it was always a work in progress to find what worked for her. Even with her having a feeding tube, we still had so much trouble.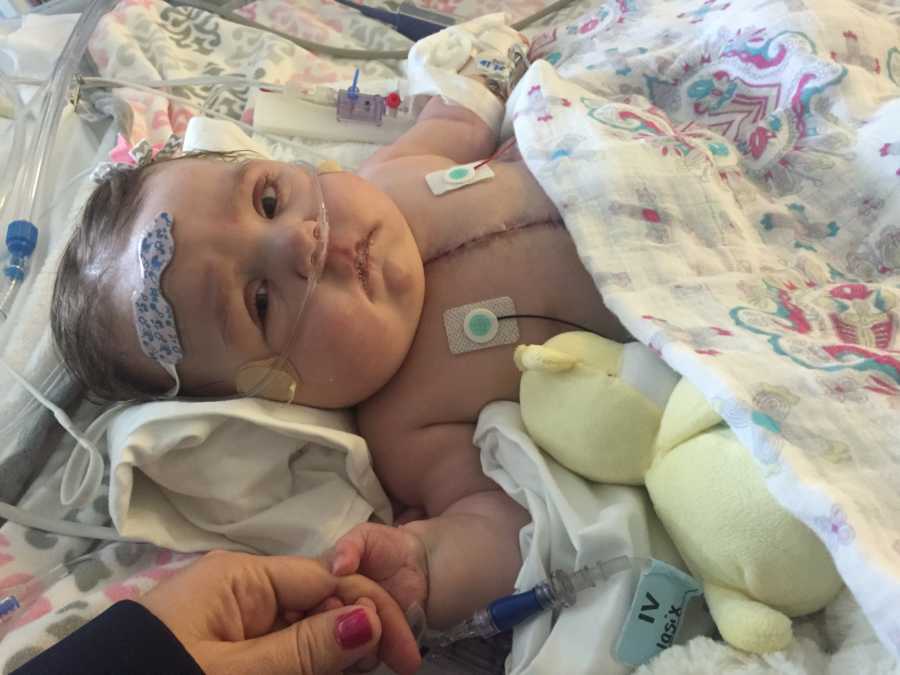 We got a glimmer of hope in July with serious talk of us getting to go home. I go home for the 4th of July because that's one of our daughters' birthdays. I leave on the 4th to get back because we are being moved to the step-down unit to prepare for home. That didn't last long, we were back in ICU the 5th. Within an hour of being back in ICU, the bottom falls out. The code alarm sounds in the unit! Berkeley goes into cardiac arrest and gets 15 minutes of CPR. Again, another time that will always be so vivid in my mind. I fall to the floor in the hallway hysterical thinking she's dying. I call Tyler and tell him to start driving. They end up getting her back and somewhat stable. Long days ahead from here. She suffered a stoke, she's being monitored for seizures, and the list goes on.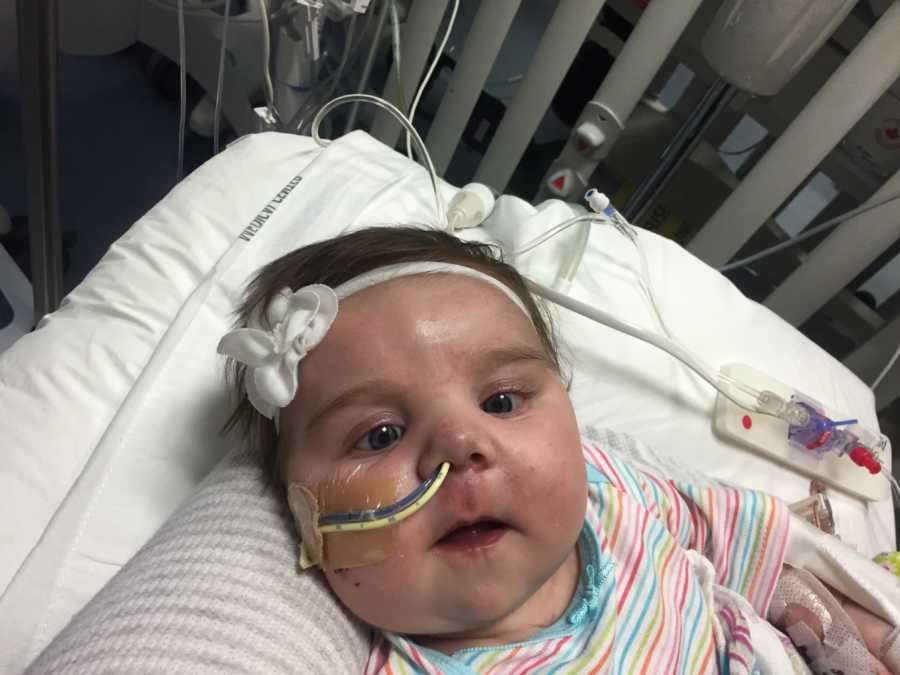 She actually makes great strides again. Her will to survive was like something I've never seen. She fought and she fought hard.
August 15, 2016, I'm driving home to be there in time to get our daughter from school. My dad leaves that same morning to head to Alabama for work and Tyler meets me at the house later. I talk to my dad on my drive home, he didn't feel all that good and said he may need to stop. We hang up and a little later I try calling to check in and get nothing. I call and call and call. Nothing. Later that same day, I get a phone call from the ER in Huntsville, Alabama. My dad has had a stroke while driving and was airlifted off the interstate. Tyler and I gather ourselves and the girls and head to Huntsville. We meet my 2 younger brothers there and some other family. Dad is in critical condition. He makes improvements while spending the next 3 months in the hospital. I go back to Nashville and a few days later make my first hour or so trip from Nashville  to see Dad. I'm 20 minutes away from Dad and my phone rings! 'Krissy, I just want to let you know Berkeley is okay and currently stable, but she's had another cardiac arrest.' This time it was 2 minutes of CPR. I see Dad for a minute and go back. I cry all the way back praying to God and simply just begging to catch a break.
Today Dad is okay, he's made small improvements, but speech is impaired and he is not able to walk. He's considered disabled now.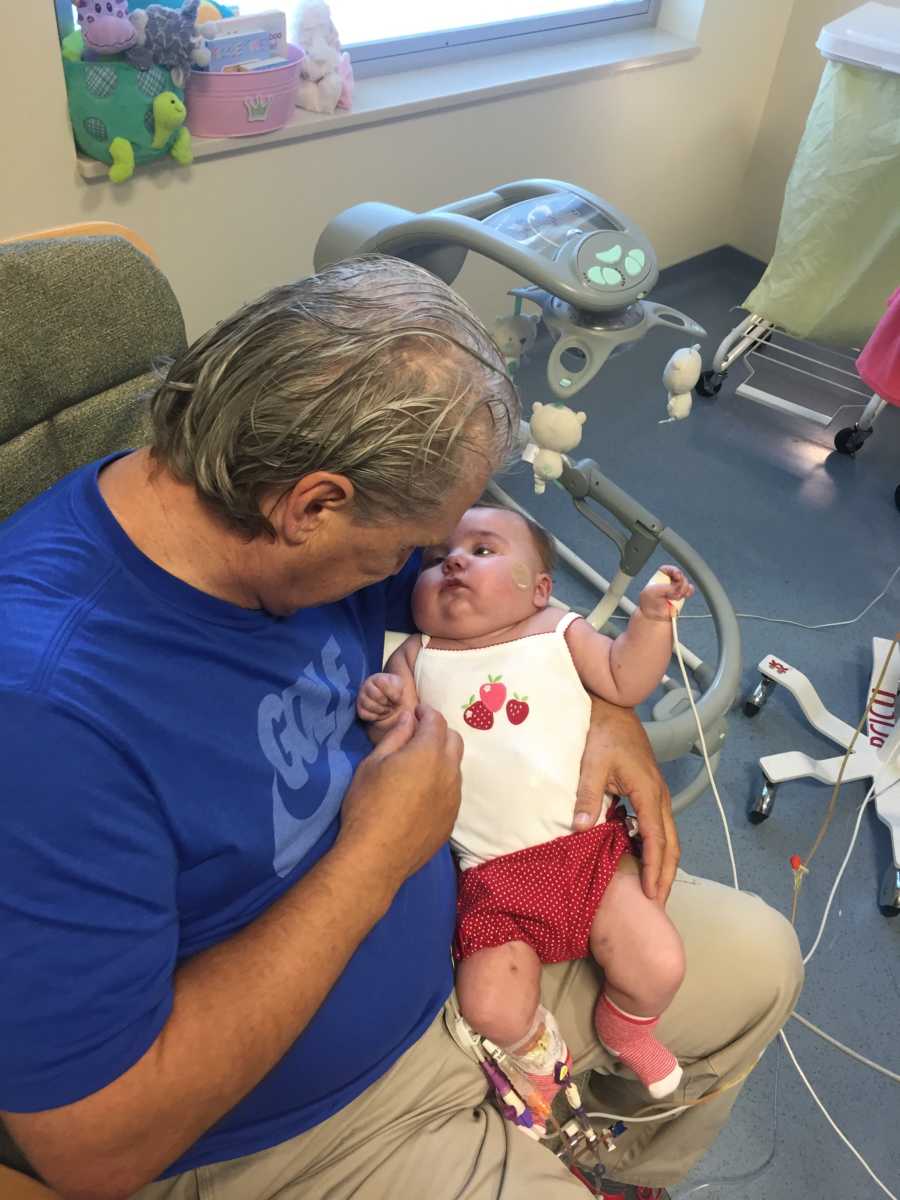 After much communication regarding Berkeley over the coming days and so many different conversations we were pretty much told she wouldn't be a candidate for her Fontan (third heart surgery) and she wouldn't have a life outside the hospital.
My heart was telling me she was beyond tired. My heart was telling me she can only handle so much CPR and my heart was telling me she's been through way too much in her short life on this earth. Selfishly I wanted to keep her regardless if that meant sitting in a hospital or not. She was always kept comfortable and I did my best to see to that, but the pain my baby endured is enough to rip my heart out.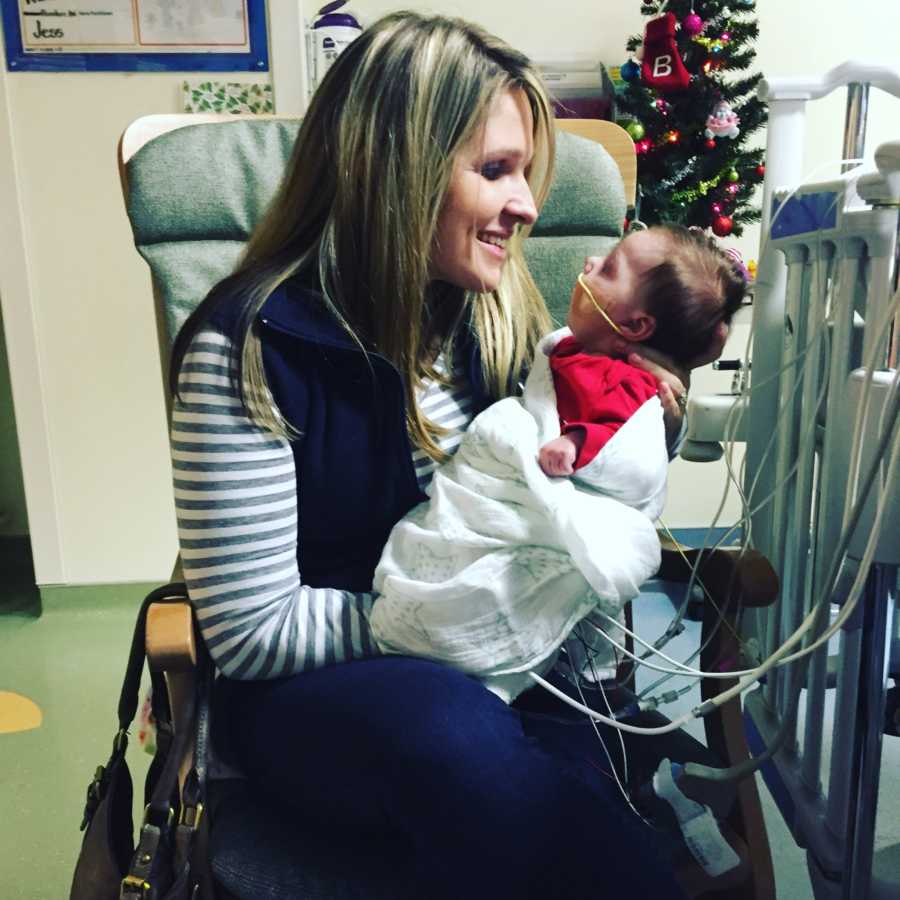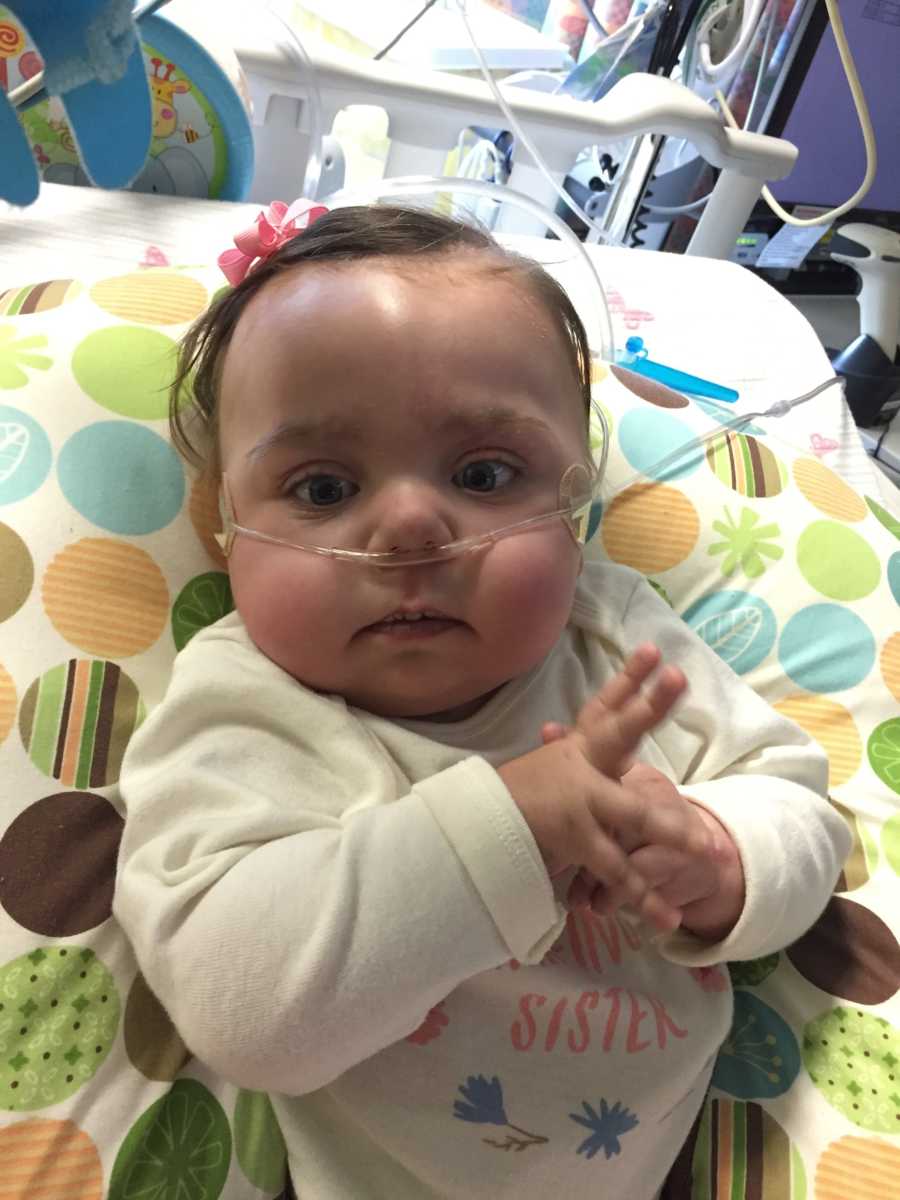 Tyler and the girls came to spend the next few days at the hospital so we could be a family. We decided to go ahead and list Berkeley as a DNR. On August 26th she was being taken off the ventilator. We expected her to do well, but no one could really say how that would go. We leave and get some dinner and little bit later I get a call saying Berkeley's Co2 level is rising and we should head back up to hospital. We sit in her room for the next 5-6 hours holding her.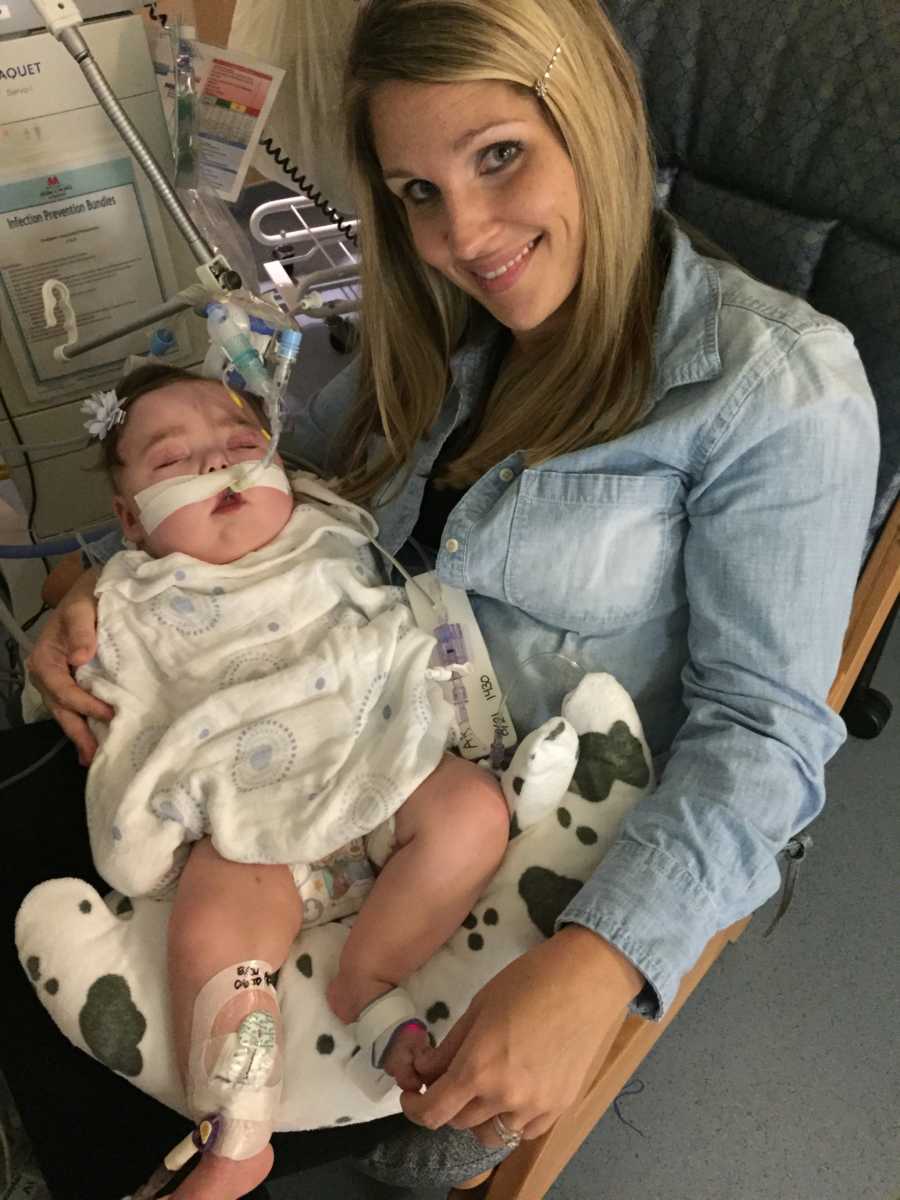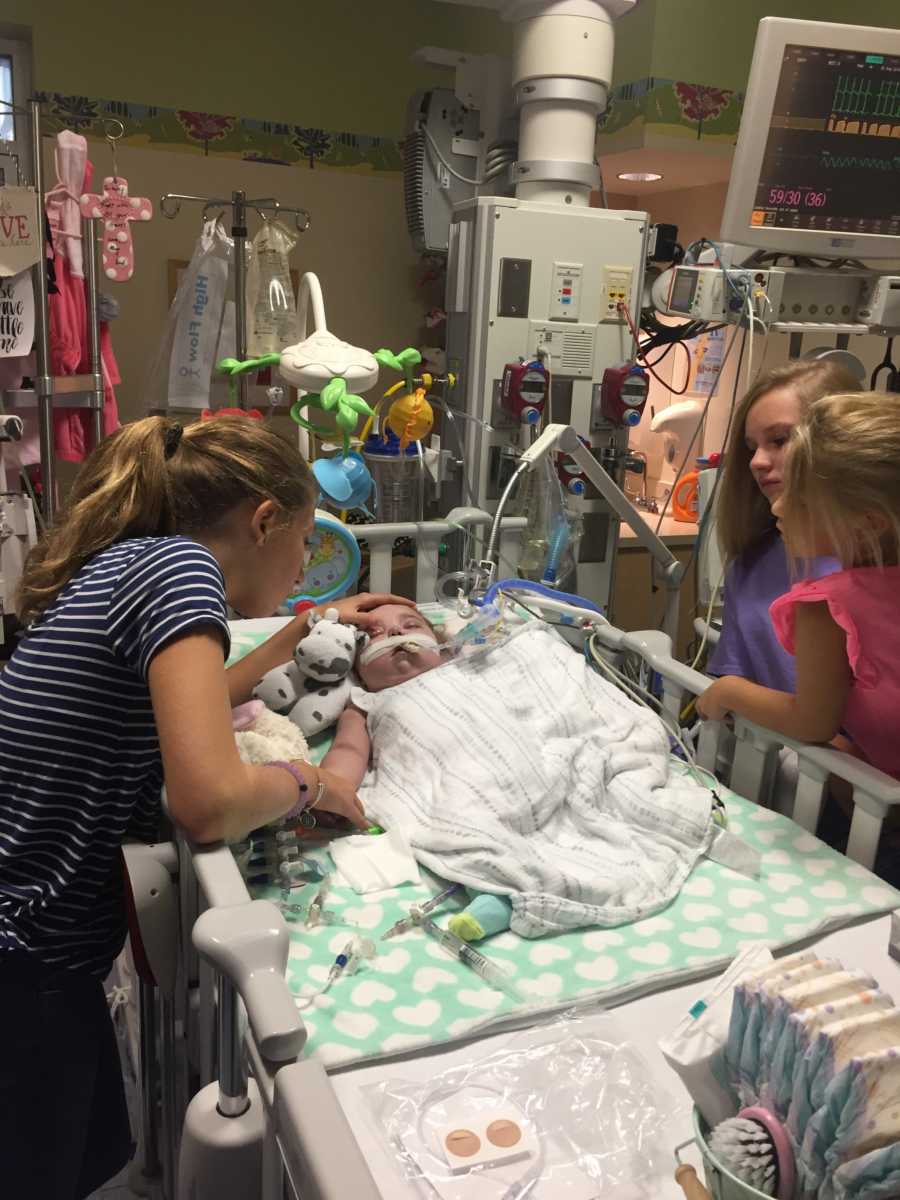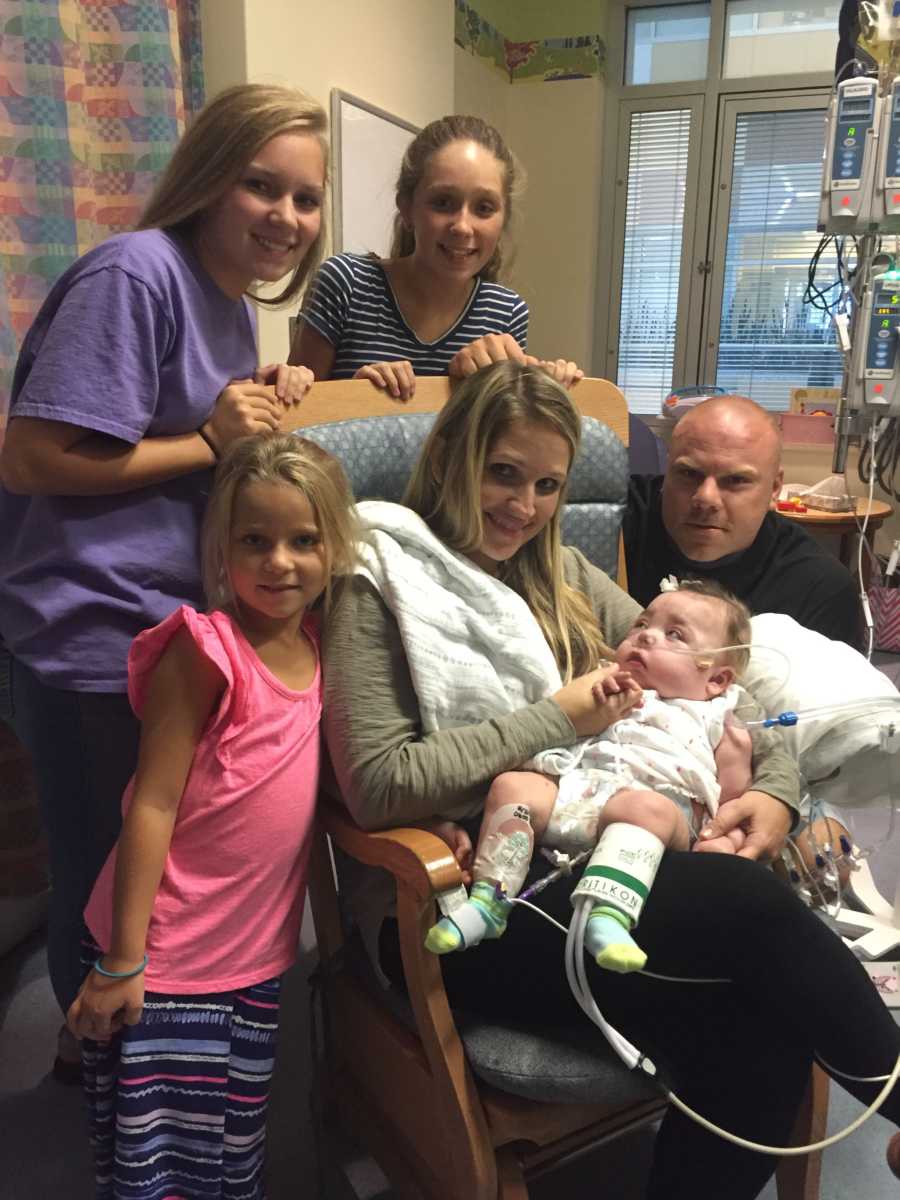 After a long and hard fight, Berkeley left us on the morning of August 27, 2016, about 2:15 a.m. to go to heaven, a place we all want to be. It is a day that will forever be etched in our minds and hearts. She was only 10.5 months old. That was God's plan and we believe that. We always say God's plan is far better than ours regardless of our pain and grief.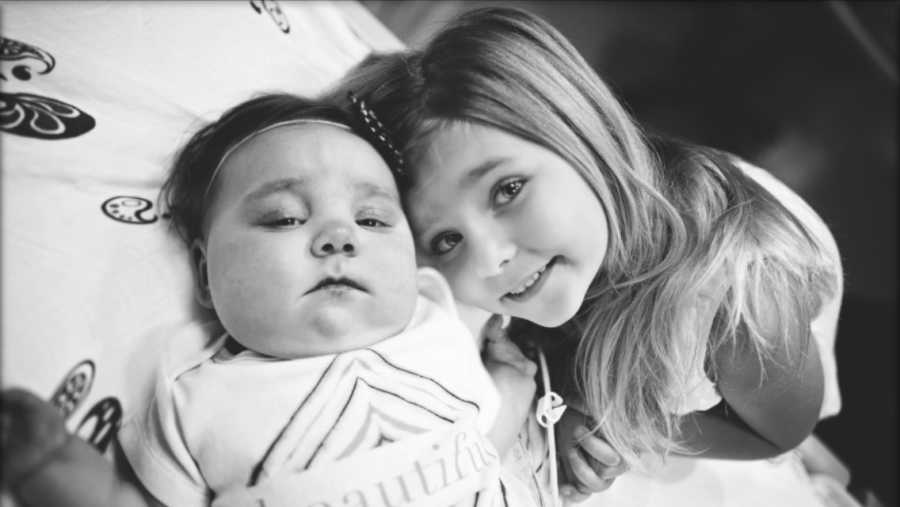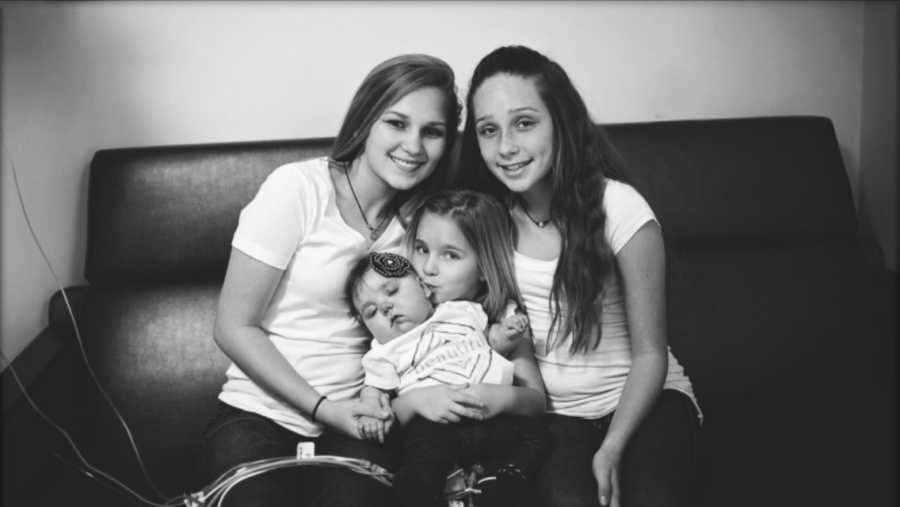 The pain of losing a child is like no other pain in this world. It's awful, it's hard, it's devastating, it hurts, and it makes you wonder how you can carry on in this world. I am often told, 'I don't know how you do it.' I reply back, 'You would do it also if you had no other choice.' God chose us to be her parents and I'm glad he did. As we approach Year 3 without physically having Berkeley, she, of course, remains in our hearts and my love for her continues to grow.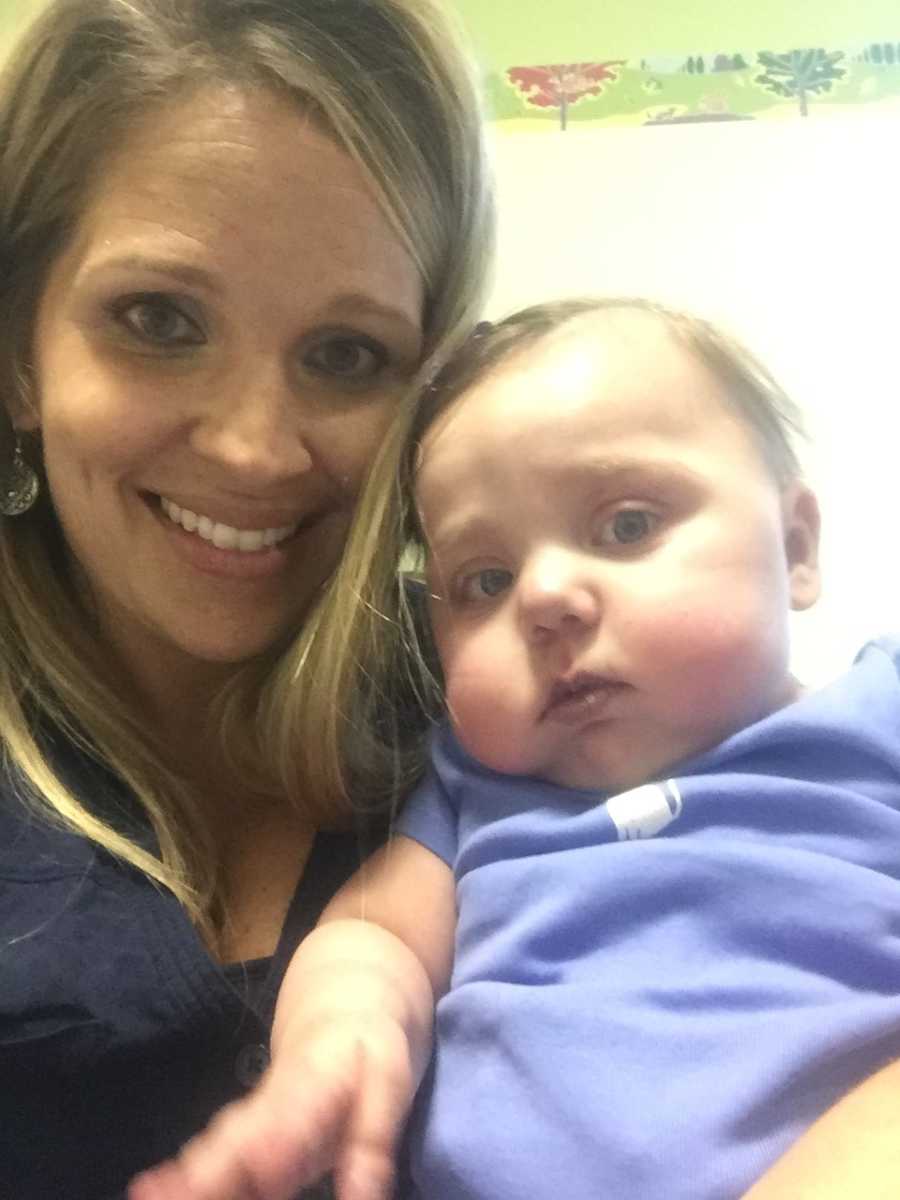 She passed away that morning and has left a legacy and a purpose for us as her family. We are forever changed. We wouldn't have traded her for the world. I believe her three sisters feel the same way. They handled the loss of Berkeley better than we anticipated. They experienced death at a young age and I know it changed their perspective on life. It's very hard as parents to watch your children hurt and grieve.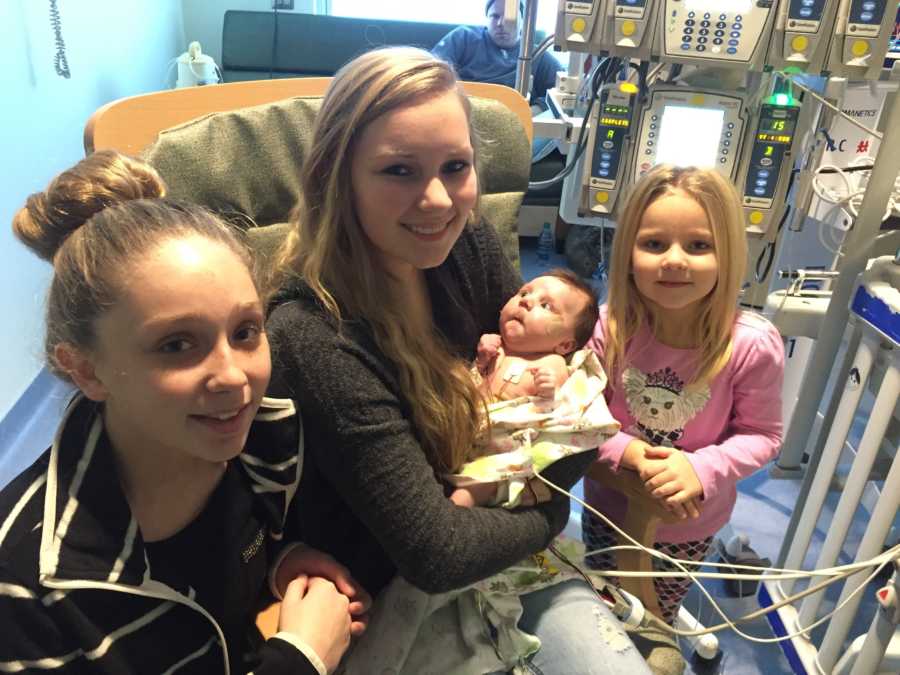 As a mother, I went through every emotion possible. I remained strong because I prayed and I prayed for God to give me peace and strength to keep on going for my husband and my other children. They still needed me just like they did before. I want them to look back one day and be able to say their mom went through something so tragic and so hard, but she still stayed strong for them and kept their family going. Mentally I felt broken and my heart was shattered into a million pieces, but having other children to care for gave me no other choice but to get up and still be there for them. God, Tyler, and my children give me strength.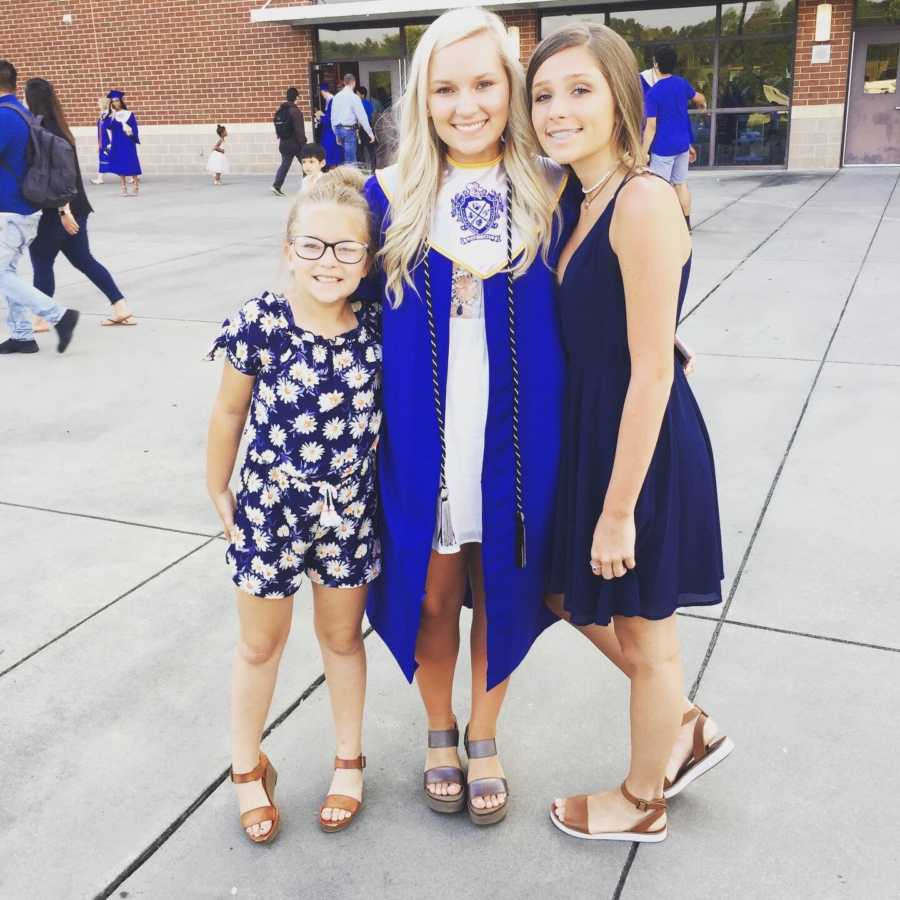 Even before Berkeley's passing, we both knew we wanted to have another child. Due to the history of all we've been through, I feel like I worried about everything. The heart, of course, but also everything else. I just prayed for a healthy baby. My anatomy scan was very nerve-racking. I watched every single thing they did. I had seen so many ECHOs with Berkeley. I watched very closely for a four-chambered heart. Tyler and I were both very emotional. We couldn't help but cry throughout the entire appointment.  It was a true blessing to hear the baby had a whole, healthy heart.
On September 15, 2018, we were blessed with a little boy named Beckett Tyler Best. He's a miracle baby for us, and he was hand-picked by a perfect sister who happens to be in heaven. Beckett looks a lot like Berkeley and reminds us of her daily. I believe God made it just that way for a reason. Beckett smiles all the time and is the happiest baby I've ever seen. I believe God knew we needed this. He's a bright light on our darkest days.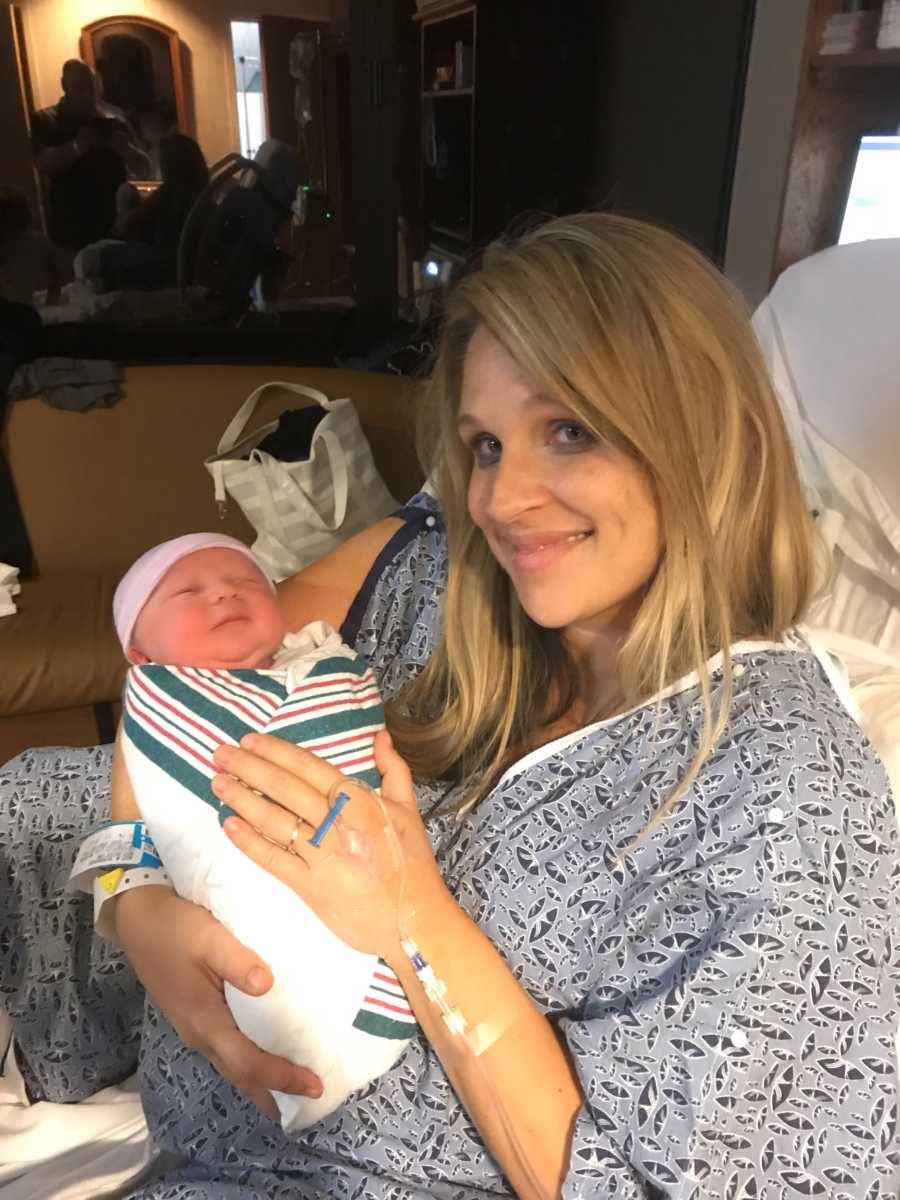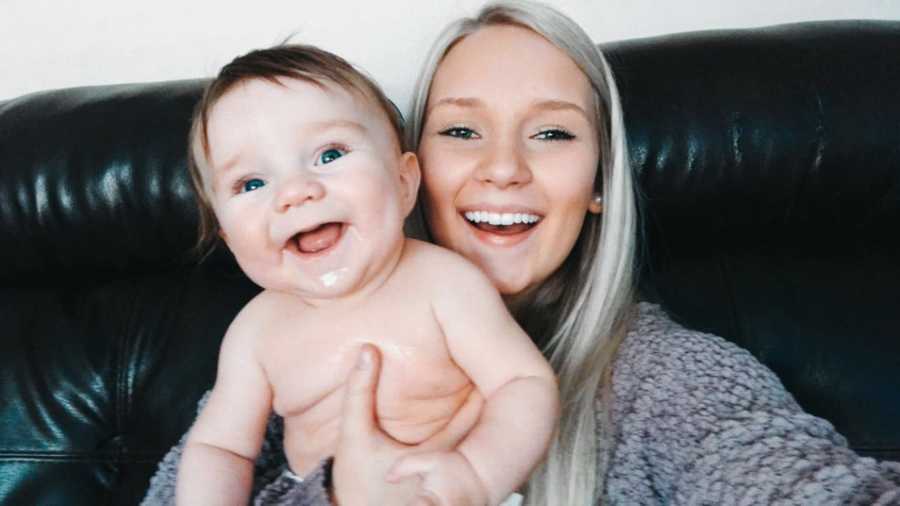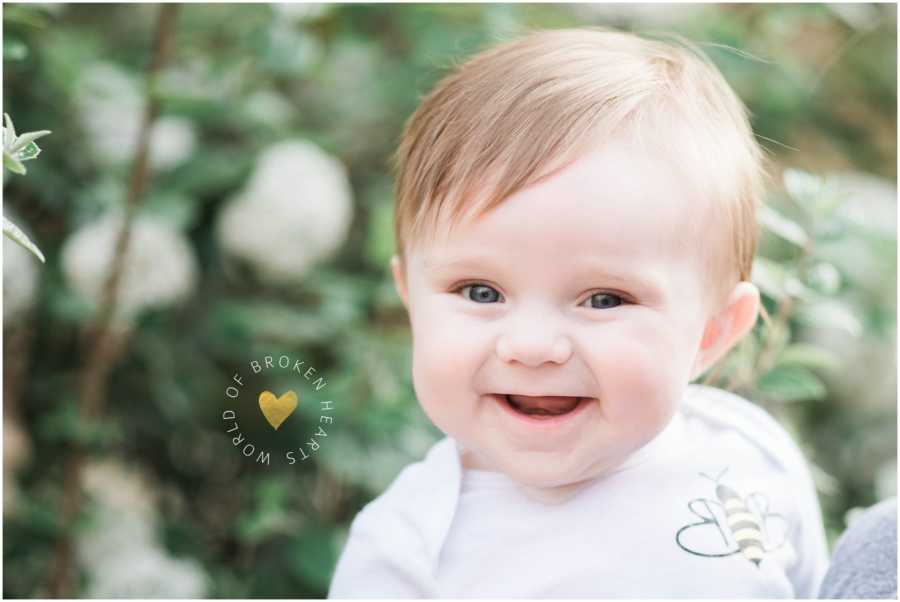 To keep Berkeley's memory alive, we've hung pictures of her everywhere in our home. We all wear something that reminds us of her. A bee necklace, or a bee bracelet. We even have things in our cars. We release balloons on her birthday and the day she passed away. But to truly honor her life, we decided to start a non-profit. It was so heavy on our hearts to make a difference for other congenital heart disease (CHD) families. We know how they feel. We know their pain. We know how long and hard the days can be. And we know their fears and worries.
We want Berkeley Bees Heart Foundation to help families who are battling as we did. Our mission is to help with their housing needs while having a long stay at the hospital. We had to pay for two places to live for a year and that can be tough. Costs for food and gas increased. We would love to be able to assist with these types of needs. I often think if I could make a difference for at least one family, I'd feel a sense of relief. It simply helps us grieve.
To the ones going through so much, although your heart is shattered, you will make it through this, whether you think so or not. Let your faith be stronger than your fear. People say time heals everything. I disagree. Over time you will just find new and different ways to cope with losing your child. Honor your sweet child and let this world know all about their fight and who they were. God's watching over all of us and remember the plan he has for us is far better than we can even imagine.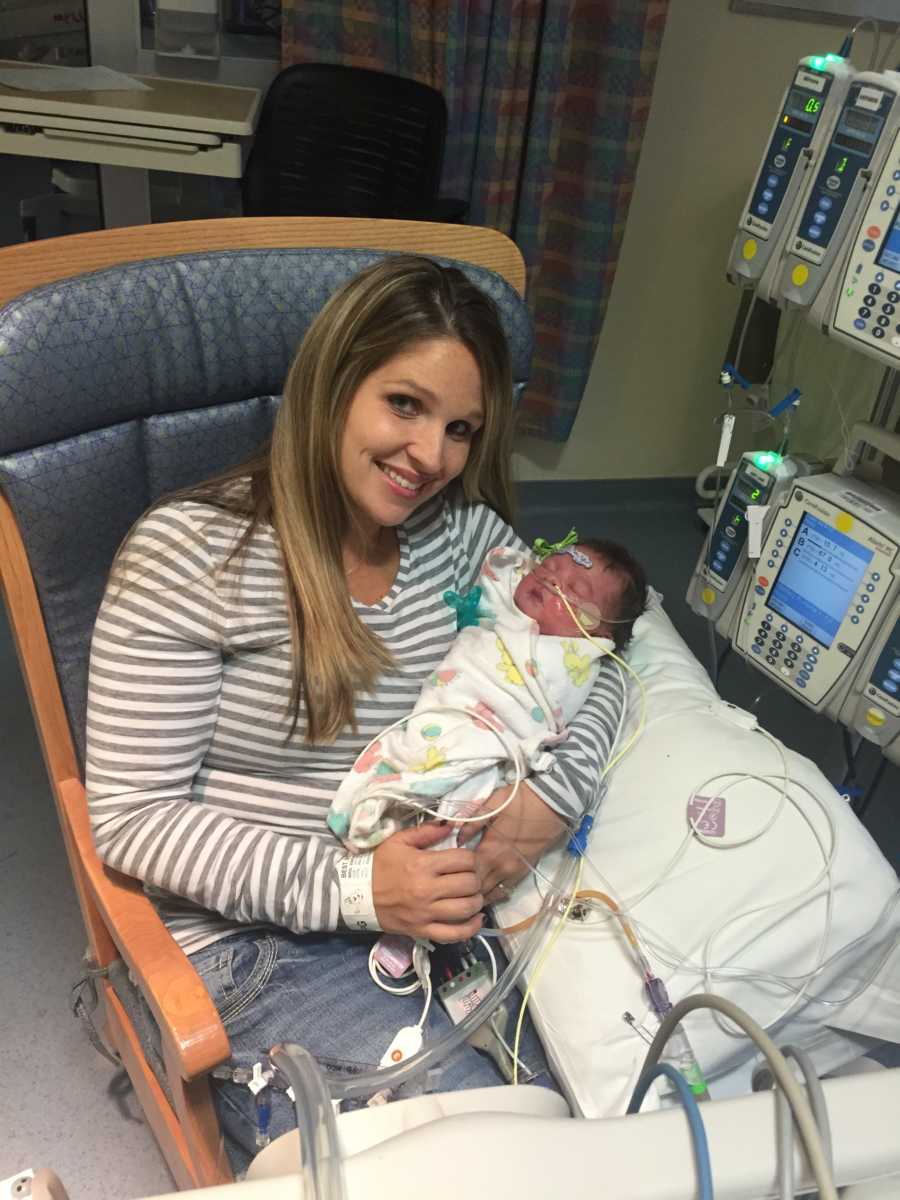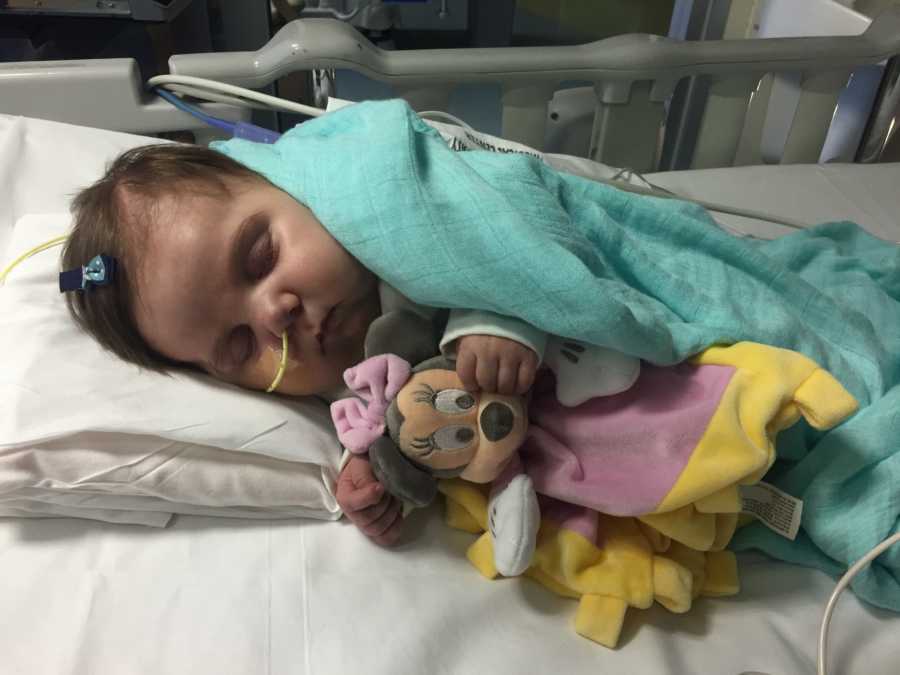 The grief we continue to feel and the heartbreak that can bring me to my knees is hard and will always be hard. We do our very best as a family to hold on to one another and not take a single day for granted. We are so proud of our children today and who they are becoming. They are proud to say Berkeley is their sister and continue to share her story. God keeps us strong and we continue to walk by faith and not by sight. We will indeed see Berkeley again one day and oh my goodness what a perfect day that will be."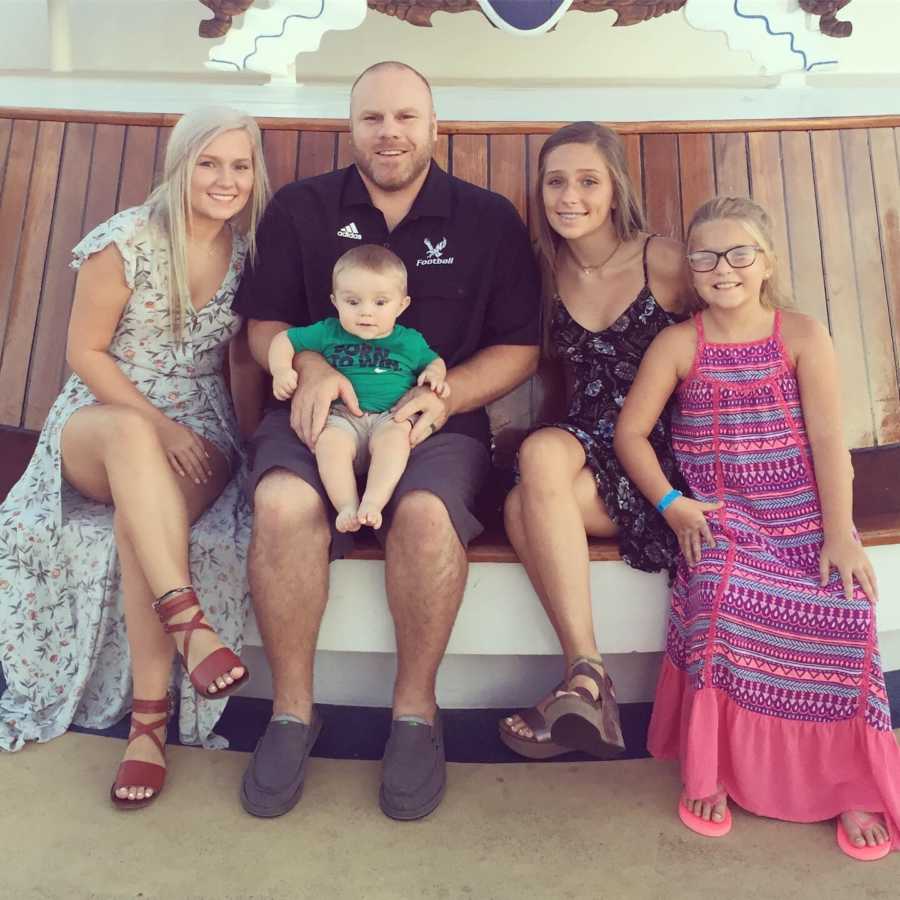 This story was submitted to Love What Matters by Krissy Best of Cartersville, Georgia. You can follow their journey on their website. Do you have a similar experience? We'd like to hear your important journey. Submit your own story here, and be sure to subscribe to our free email newsletter for our best stories.
Read more powerful stories like this:
'I put you in your mom's arms so you could be snuggled while you drifted off to sleep. I hid behind the curtain and shed silent tears. I still hear the echo of, 'I'm so sorry, but he is gone.'
'I need to apologize for my wife and I. We are going to be knee-deep in your business.': Self-proclaimed 'helicopter parent' pens touching letter about why he's overprotective of son with congenital heart disease
'Do you want to tell me about her?' I will never forget the way you leaned in, just like we were friends, and asked me about Dorothy.
Provide beauty and strength for others. SHARE this story on Facebook with your friends and family.