"I have been a critical care ICU nurse for over 10 years. It has become more than a career for me, it's a part of who I am, it's part of how I define myself. When others run from death, we face it head on. We run toward the figurative fire. We pride ourselves on compassion, empathy, and being there in life's toughest, most critical moments. I think any ICU nurse would agree, to be successful in this career, you have to compartmentalize some of the things you see. To separate it from your everyday life.
August broke me.
The war we had been fighting for a year and a half, it finally caved me in, it brought me crumbling to my knees. For the first time in my career, I felt broken. I brought home the stress and the guilt to my family, as they watched me unraveling. They saw the pain in my eyes, the anxiety creeping in, the pain I could no longer ignore. Because I couldn't get it out of my head.
The sounds of their lungs gasping for breath, the beeps of the pumps. I heard their families weeping, the sound of the code blues echoing down the corridor, knowing another one had lost their battle as they took one last painful breath and we pounded on their chest. I knew I was the face, the face they would see last. I was the last hand they would hold, the last voice they would hear. Did I say enough? Should I have said more?
But I couldn't lie anymore. I couldn't tell them it would be okay because I knew it wouldn't be this time.
I watched as my pregnant best friend, the friend I stood next to on her wedding day, put on a plastic gown, a paper mask, and a thin vinyl shield. I prayed it would keep her and her unborn baby safe again this week. I remembered how it felt when I had to do the same with my baby inside of me and the pain I had felt taking on that burden every single day I came to work.
Was she scared? Should I say something to help her feel less afraid? I put on my own gear, thinking of my family at home, and went into another room filled with aerosolized virus. I thought of my kids who were too young to be vaccinated, who I was putting at risk. My parents who had high risk health conditions. I prayed the PPE would keep me safe and them too.
But I couldn't stay home, I couldn't not go in. I wouldn't let my friends, my team, do it alone. When I looked into the patient's room I saw my friends' eyes, wide behind her mask, behind her CAPR hood, and they were filled with tears because she knew her 40-year-old patient's time had come and he was going to code soon. So I put my gear on and I went in too. Because I wouldn't let her go through losing another one alone.
And then I went home. I went home and I saw your meme on Facebook. The thing you posted on a whim that called Covid 'fake news,' the hate you posted about having to wear your paper mask to the grocery store that day. I saw you posting false information about the vaccine that a politician told you wasn't to be trusted. The Google search you had done that you called research and fact. And it broke me.
I saw you hiding behind your 'liberties' and blaming it on the American spirit. Calling it your choice. I saw you going to parties, hanging out in big crowds and it felt like you gaslighting me. It felt like their pain, their stories, our stories were in vain. People who once called me a hero now telling me I'm a liar and my firsthand stories can't be true. I show them the numbers of the people dying, the people hospitalized. They call them made up, they say they are falsified, but I know they aren't. I've seen these people with my own eyes.
And I weep. For my coworkers who can hardly bare another day, who struggle like I do. I weep for my family and the fear I feel inside knowing I can't protect them. I weep for the pregnant mamas who will never know their babies. For the husband who will never get to see his kids graduate or walk his daughter down the aisle. For the cancer patient who got vaccinated, but just needed to go to the grocery store and caught Covid from an anti- masker who wouldn't wear one to the store. And I feel broken and hopeless.
This is my plea. This is my hope. That by telling you my side, by screaming louder, you might finally hear me.
This is real. This is bad. This is scary. And it's absolutely not fake news. Please get your vaccine, it's the only way to protect yourself, your family, and help your society, to stand for the greater good. And if you can't, or you simply won't, then at least stay home, or wear your mask and physically distance. Someone's life absolutely depends on it.
And when you need me, or your family member, I will be there. I just pray I'm not the last face you see."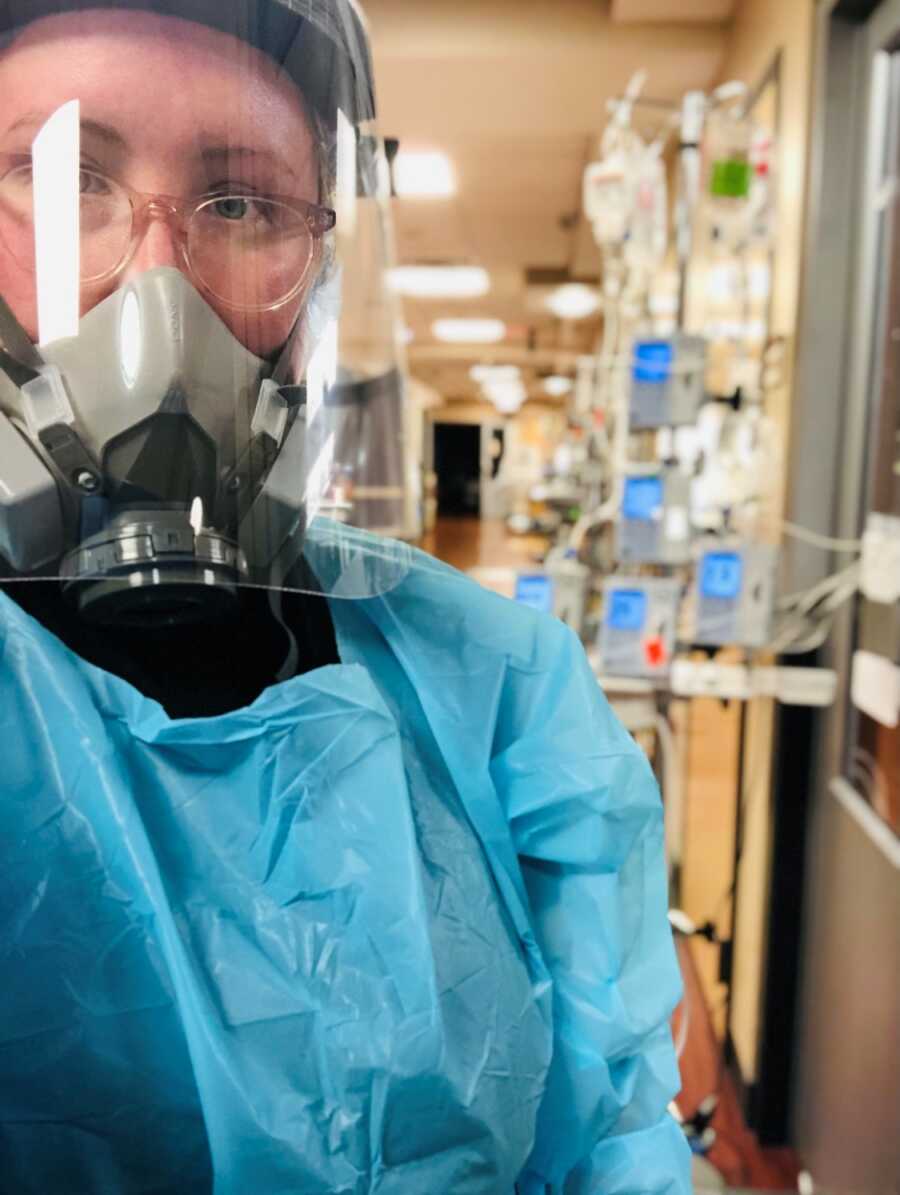 This story was submitted to Love What Matters by Katie Larson. Submit your own story here, and be sure to subscribe to our free email newsletter for our best stories, and YouTube for our best videos.
Read more stories like this here:
Physician Assistant's Spin On 'The Giving Tree' Classic Perfectly Depicts Healthcare Worker's Frustrations During Covid-19 Pandemic 
'I muttered 'I'm sorry' to my newborn over Zoom from a different hospital. I didn't know I'd delivered a baby, or what month it was.': First-time mom recounts giving birth during post-Covid pneumonia battle 
I Got The New Covid Variant—Here's What Happened
'My wedding dress came from Amazon, as did his tie and shirt. We call it our Amazon wedding.': COVID bride details pandemic marriage journey, 'I married my husband twice!
Do you know someone who could benefit from reading this? SHARE this story on Facebook with friends and family.