"I drove a complete stranger's Prius to work today.
When I went to my car this morning to go work, I quickly realized my battery was dead…so dead that my car wouldn't even unlock.
I knew how to get the actual key out of my fob, but couldn't get it to open the door. I heard a big truck driving into the parking garage and thought, 'This is my chance.'
I waved at the driver and asked if he could help me jump start my car (I even have cables!).
After he said of course, I explained that I just needed to get the door open first but I was having trouble. Well, he couldn't get it open either. I ran and got my other fob just in case – no luck. I tried turning the dumb thing with pliers – no luck.
Next, I called the Lincoln people who were able to expedite someone to come unlock my car and that they'd be there in about 45 minutes. At this point, I was already late for work. I'm standing there, irritated and overwhelmed and in scrubs, and the man says, 'So, you're a nurse?'
I said yes. He then asked, 'Are you going to be late?' I said at this point, yes. He thanked me for everything I did, and a few minutes later he said, 'I know this might sound strange…but I've been in quarantine with my wife for a while now. I have nothing to do. I can stay here and wait for the locksmith and you can drive my other car to work if you want. We won't need it.'
After asking him several times if he was serious and sure about that, he said it was the least he could do. This man literally handed me the keys to his Prius. I asked him for his name and phone number to give the locksmith guy, and drove his car to work crying most of the way.
I've never had this amount of generosity bestowed upon me before from an absolute stranger. I hope I'm able to pay that forward someday.
Times like this show me that maybe people really are good (cue more tears for my drive home)."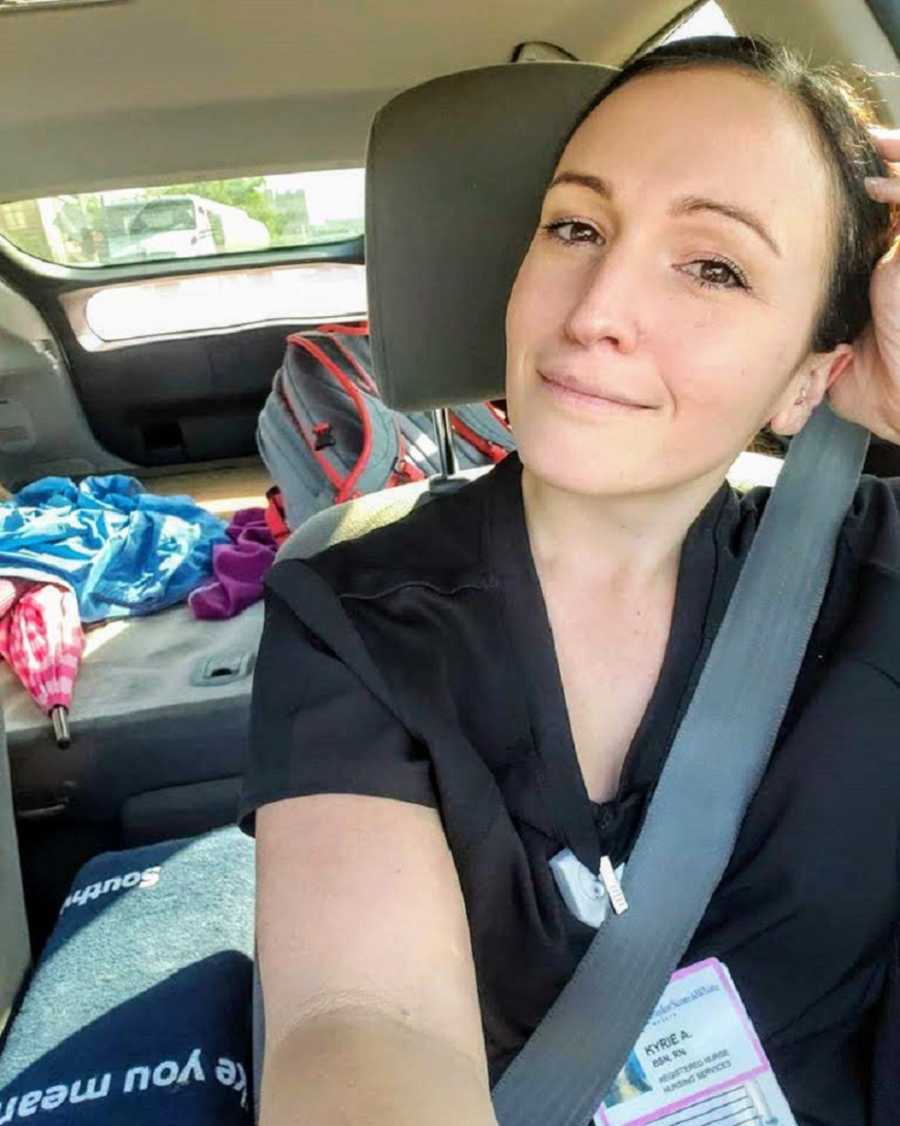 This story was submitted to Love What Matters by Kyrie A. and originally appeared here. Submit your own story here and be sure to subscribe to our free email newsletter for our best stories.
Read about more amazing acts of kindness:
'I put down my window. She handed me a bag and said, 'We want to thank you for what you're doing. You and all truckers working hard to keep our supply lines open.': Truck driver 'touched' by stranger's act of kindness during pandemic
'My family and I live check by check. 'The lady in front of you wanted you to have this.' I'm pregnant and super emotional as it is. I start bawling my eyes out in line.': Woman thanks stranger for act of kindness, 'There are still great people in this world'
Help us show compassion is contagious. SHARE this story on Facebook with family and friends.