Becky Gacono of Annville, Pennsylvania, chronicles her mother's dementia journey each week for Love What Matters. This week she discusses the pain of the progression of her mom's dementia and the affects it's having on her dad and all of those who love her.
"Mom is adjusting so well at her new assisted living home. She gets to wander in a safe environment. They have things she can fold, rub, pull on and play with wherever she stops along the way. She is content and her pain is controlled. I assumed all of the things I just listed would translate into some kind of peace for us, and in some ways it does. But for me, it is incredibly gut wrenching.
I knew this was coming. She has had dementia for 9 years. I knew she would one day stop seeing me even though her eyes were open. I knew she would stop using words that made sense. I knew she would sink farther into herself. I knew all these things, but I had tucked them away inside my head and my heart in the hopes that maybe, just maybe, it would not happen to our mom.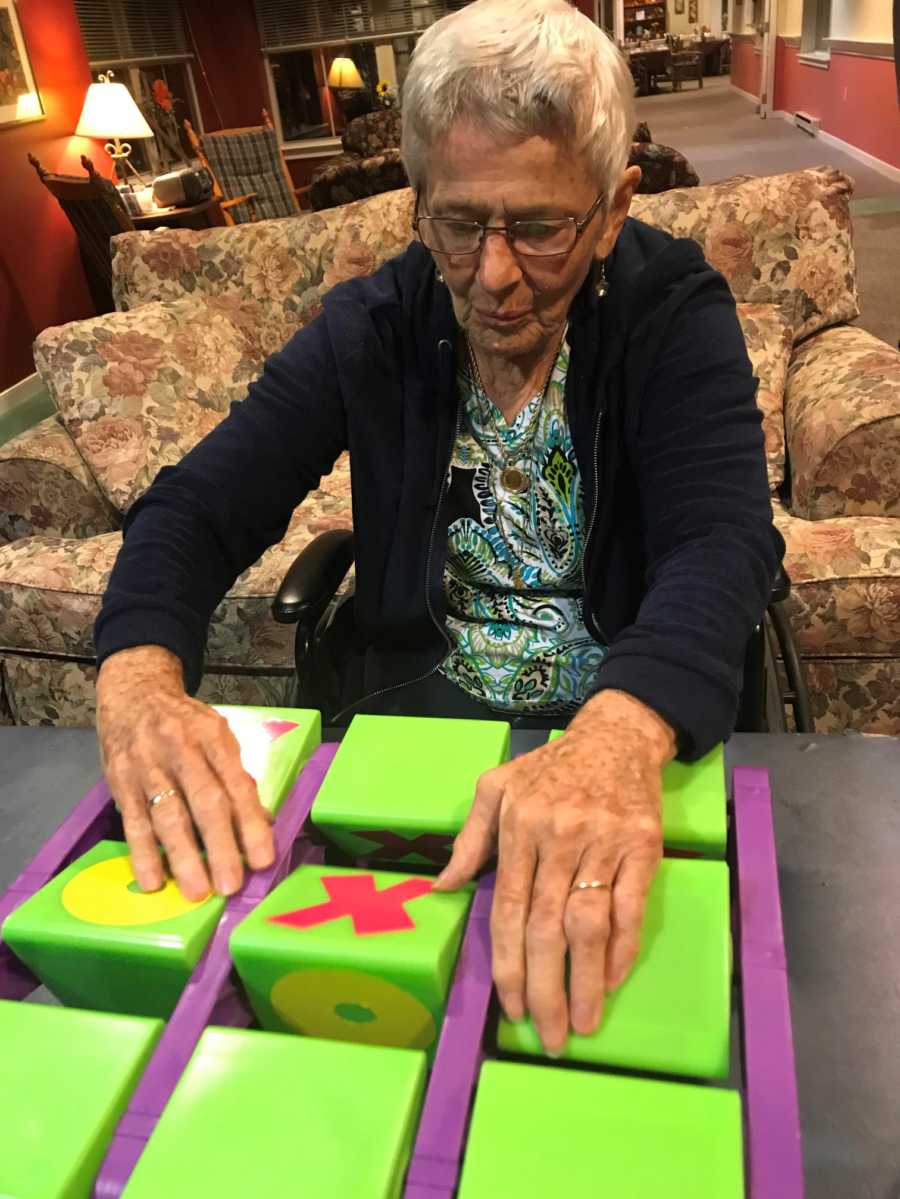 Last night I went to visit and she was being pushed down the hall in her wheelchair. They were going slowly so mom could reach for things and take in the things around her. I walked up next to her and touched her shoulder. She kept looking straight ahead. They stopped pushing her and she stared straight ahead. I leaned in and said, 'Hi mom.' She continued to stare, but not at me. I kissed her forehead and said, 'I love you.' Still nothing. No eye contact. No smile. No acknowledgement at all.
Her caregiver said, 'Becky's here' and my mom looks around me and says, 'Becky?!' I couldn't believe it. She said, 'Becky.' I haven't heard her say my name since my birthday almost a year and a half ago – the last time she knew who I was. Then in my moment of joy, I realized she was looking for Becky. I was beside her and she was looking past me in the hopes of seeing her Becky. I don't want to sound greedy for wanting more, for wanting her to say Becky and for a split second look at me and know I was there, but I did, I wanted it all – the whole Becky package. I replaced my greed with a moment of hearing what it sounded like. How I didn't want to forget the sound of my name coming from her. I kept hearing it inside my head and I wondered how long it would stay there. I was wondering if I would ever hear it again. I was wishing I had recorded it so I would have a guarantee to forever hear my mom say my name – just one more time. But for now, I will keep it safe inside in the hopes it never disappears.
I gathered myself and walked into their room to see Dad. He was in his recliner and he was so happy to see me – to see anyone he loves. I kissed him and handed him a warm baked oatmeal muffin stuffed full of blueberries. He ate it and asked how my day was. 'How was the office? How was the bakery?' He asked me to talk to him about anything. He wanted to hear about life outside the walls of this place he was in.
We talked – which was actually more like yelling since he lost one of his hearing aids. I sat down in mom's spot on their sofa and he reached for my hand. He asked to hold my hand. He said, 'I miss her.' She sat behind us in her wheelchair playing with her fidget blanket. We sat in the quiet for a little while because it was too hard to fill the space with words.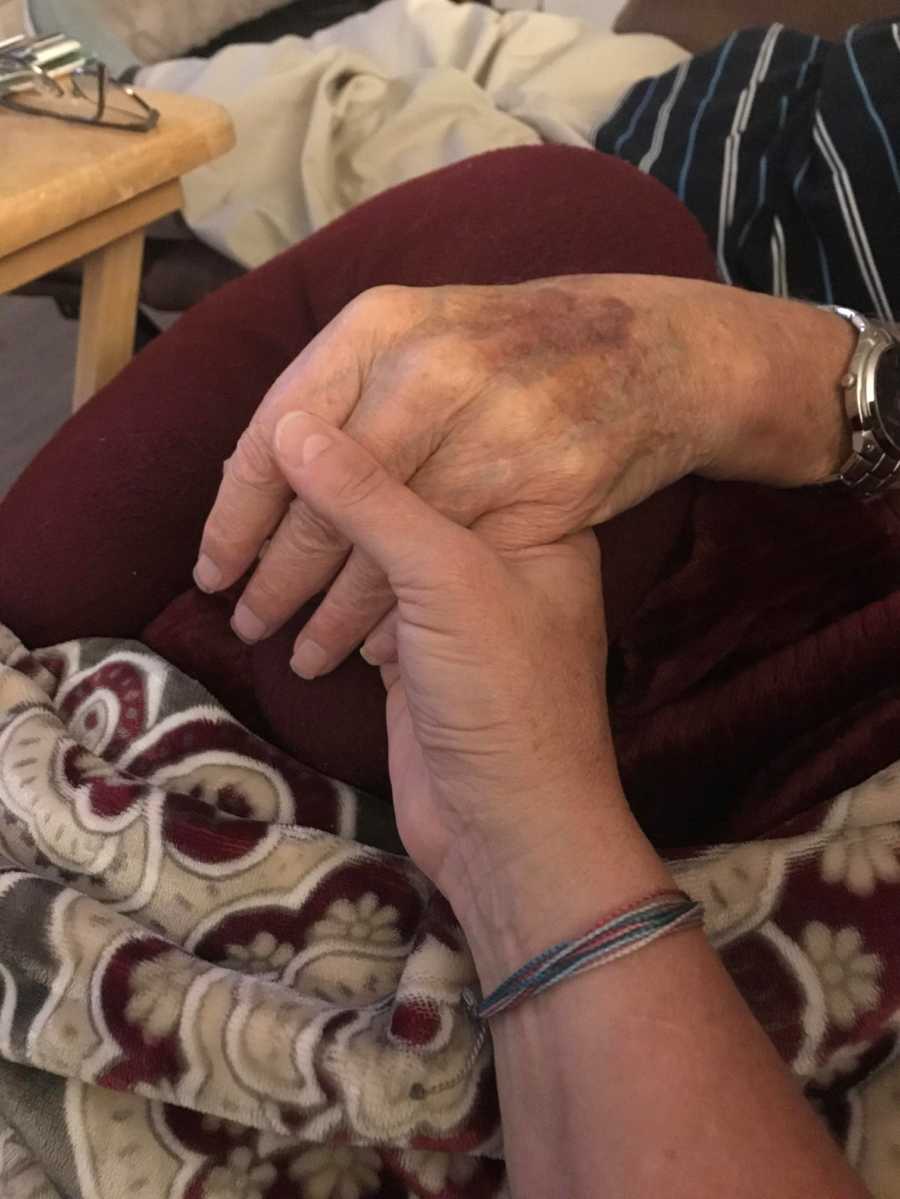 When he let go of my hand I stood up and stood behind him and rubbed his head. I used to rub my brother, Jeff"s, head when he was so sick and it was the one thing that always seemed to calm him down. My dad remembered and said he liked his head rubbed just like Jeff liked his head rubbed when he needed to not hurt. I realized the power of the human touch. A gift so powerful when given it can calm the soul, soften the pain, push amazing love through our bodies – all with a touch. I also tried to imagine life without human touch. How lonely and empty it would feel when no one reaches out to touch you again. I realized the grief dad must be feeling knowing this horrible disease that had not taken mom's touch from him had finally won, and for the first time ever, I can see what defeat looks like in my father's eyes.
When I think this disease cannot take more from my mom, I am tapped on the shoulder and reminded it will continue to take from all of us – and I cry some more."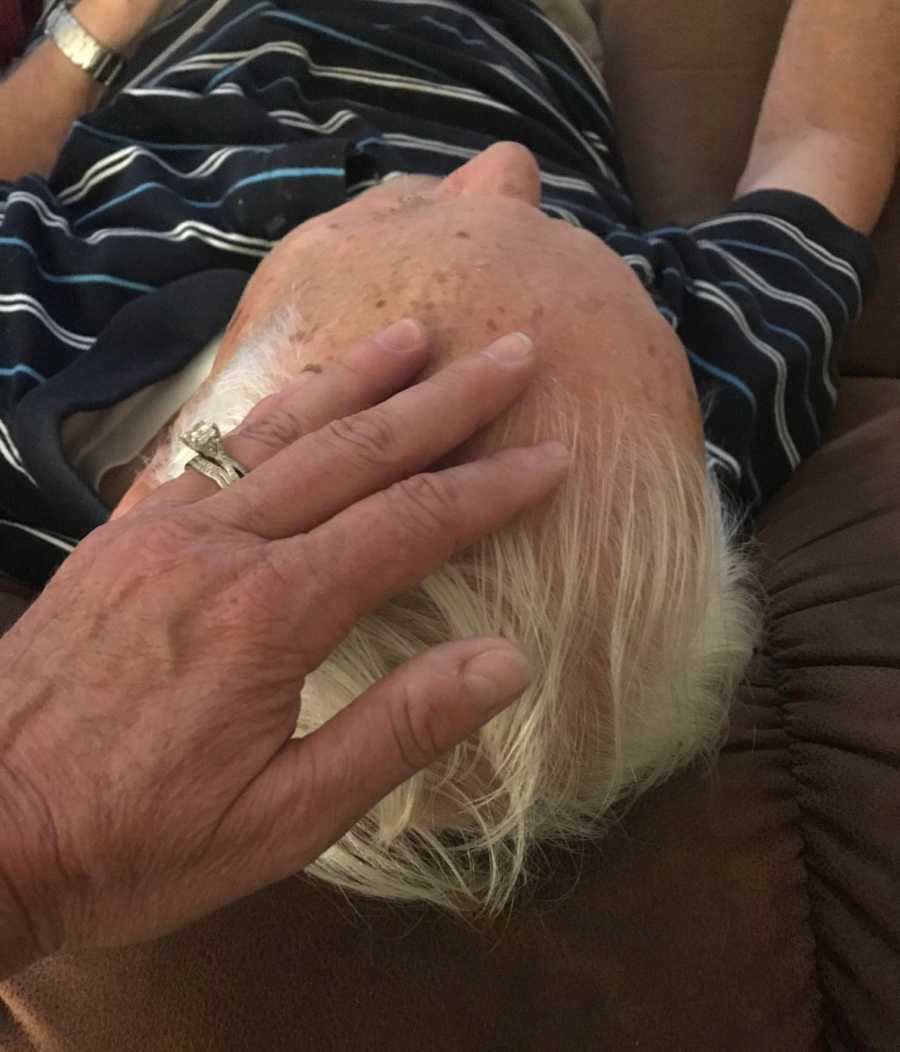 This story was submitted to Love What Matters by Becky Gacono of Annville, Pennsylvania. She is chronicling her mother's dementia journey on their Facebook page, Our Journey Through Our Mom's Dementia, and in a series of posts for Love What Matters:
'They don't really feel pain anymore.' WHAT?! The hardest thing we had to do was say goodnight, and walk out of her room that night.
'His love for her is palpable': Doting husband's explicit instructions for wife with dementia's morning routine
'I'll get to her outfit later': Daughter's humorous attempt getting her mom with dementia to the doctor
Submit your own story here, and be sure to subscribe to our best love stories in our free newsletter here.
Do you know someone who could benefit from this story? SHARE on Facebook to let them know a community of support is available.