"This year my nephew was placed with us through children's services. We're moving forward with adoption and our court date is next month. This is a letter I'd send to my sister if I was able.
To my sister,
My best friend. Truly. You were the one who always made sure your ride to school could fit me in the car too. A freshman riding to school with the seniors. Your kindness to me never went unnoticed. I'd seek you out at school to say hi to you. I loved being your younger sister. If I had nothing to do on a weekend, more often than not, you invited me along to the parties with you and your friends.
I still remember the outfit I was wearing when mom, dad and I brought you to Bryant for your first day of college. I tried so hard not to cry on the way home. But again, you still invited me down and I spent many weekends with you and your sorority sisters. You taught me to stand up for myself.
When you graduated and decided to backpack through Europe with your roommate, I knew you were a little annoyed when I asked if I could come too. And don't get me wrong, I know for a fact dad had a hand in convincing you to bring me! But, regardless, you once again let me tag along. And what an awesome month we had!
College gave us space, so when you moved to Arizona, it wasn't as hard for me anymore. I still flew out many times to visit and meet your future husband. A kind husband who I loved so much. We grew apart for a few years. Things were starting to change with you. Subtle changes, but still changes. Then you had your first baby and I was right back in it with you. Flying out to meet him at 6 weeks old, I was in love. You were the most AMAZING mother. Honestly, you were simply amazing. You researched everything before you had him. You made sure you did everything right. You left detailed lists of schedules inside your cabinet door; feeding, diapering, tummy time. You were on it! And then your second baby came. This time I flew out there with my future husband. We were so in love, and again, we saw your mom skills in full effect. You loved those boys with all your heart. I remember stopping over for a few days during a work trip. You went in to work and called me constantly to make sure I was keeping the boys alive. I had to text you photos!! My husband and I would become your second baby's Godparents soon after.
The distance was tough, but we stayed close. When I found out I was pregnant, you were the first person we told. Sitting on our couch at our old house, we FaceTimed you hours after I found out. You micromanaged my entire baby shower! You flew home over my due date to be here when the baby was born. Of course he was late, like my babies are! You were driving to the airport ready to leave when I found out I was going to be induced. I had to stop you from turning your car around and missing your flight.
We had the most amazing times together. My maid of honor at my wedding. I never would've made it through that family stress without you. When you called to ask me to be your VIP guest for the MTV Music Awards in Vegas and your company flew me out there. A year or two later when you invited me to be your guest again at Fashion Week in NYC. I will never forget walking in to Kimora Lee Simmon's fashion show and you discovered they only had 2 seats reserved for your company. Without a second thought, you gave that second row seat to me and your colleague and you stood in the back. I love you so much for that.
I love you so much for everything you've done for me over the past 40 years. Now it's time for me to show you my love. A love I prayed to God I'd never have to show you. Drugs are the evil of all evil. They were the reason for you losing your beautiful boys and loving husband. And the attraction that led you to your new husband. Good can come from any situation, and your new baby boy was the proof of that. Unfortunately, you loved the drugs more. They have taken over your life.
I hope one day you can understand the reason why my husband and I did what we did. In your right mind, you would never want your child, or any child, to be in the situation your beautiful boy was in. Living in a hotel surrounded by needles is not ok. We had to step in. We had to step up. We had to show that beautiful 2 year old all of the love you once showed me.
My sister, my best friend. You had a happy childhood, a loving family, a solid college education and the most amazing career. Now you have the clothes on your back. Literally.
So now I will show you my love. My family will take your baby with open arms and make him our own. He will know love from here on out. A love I know you desperately wanted to give him, but are incapable of. He will know where he came from. He will know about his birth mom and her struggles. But we won't dwell on it. We will move on. He will have our last name. He will look up to his brothers here and across the country. He will have the best life possible surrounded by opportunities, friends, animals, fresh air and love. So much love.
I will always pray for you and pray you one day find your way. For now, it's time for me to let go. Let go of you so I can focus on raising my three boys in a happy home. Let go of you so I can have happier conversations with my husband. Let go of you, because if I don't, it will kill me too."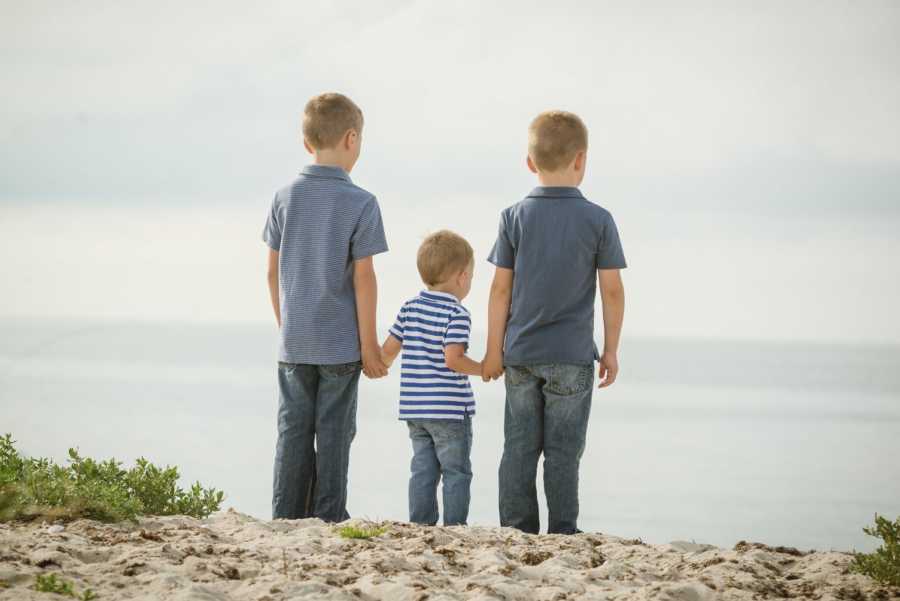 This story was submitted to Love What Matters by a loving and passionate mother of three. Have you overcome your addictions and would like to share your journey? We'd like to hear from you. Submit your story here, and subscribe to our best stories in our free newsletter here.
Provide hope for someone struggling. SHARE this story on Facebook with your friends and family.