"I was carrying out my normal morning scurry after yet another sleepless night. My four-year-old had been having night terrors on and off for about a week and a half, something I'd never experienced with my oldest. Needless to say, it left this mama sleep deprived for quite some time.
I flew out of bed, tossed my hair into a messy ponytail, brushed my teeth, threw on whatever clothes were lying next to my bed, and woke my little one. 11 minutes left on the clock.
'Okay, mommy,' he said when I tapped him. 'Gooood morning, sunshine!' I kissed his forehead.
The next frenzy of minutes included changing his diaper, throwing on his clean batch of clothes, helping him brush his teeth (he's scared of toothpaste, don't ask), making a quick cup of coffee, and shoving three strawberries down my throat. 4 minutes left on the clock before the point of no return. Next, I called my ex-husband to ask how our oldest was doing. 'Still asleep. I'm waking him in 5 for school,' he said.
Call? Check.
Clothes? Check.
Teeth? Check.
Coffee? Check.
I thought I'd ran through all of the boxes. I was superwoman! I was winning! Take that, sleep deprivation.
Just then, I swooped up my little one and made an airplane noise. 'Nyoom. Off we go!' I carried him to the car to speed up the process. I placed him gently into his car seat and strapped him in. Then I passed him a small container of fruit and a bag of muffins to fill his belly before school.
Just then, I turned on the engine and headed up the block. Right before I could make the first turn, I heard my little one speak:
'Uhhh, mommy.' There was concern in his voice, maybe even a little terror.
I made the turn. 'What is it, sweetie?'
'Aren't you forgetting something?'
Oh sh*t. My coffee (or so I thought). It was too late now. There was no turning back. 'Don't worry about it, sweetie. Mommy can get it later.'
He breathed deeply and gave me a sigh. 'Okaaayyyy.'
Eighteen minutes later, and seventeen deep into 'Johny Johny Yes Papa' hell on a loop, I pulled into his school parking lot, pulled out the keys, and ran around to the back right door to scoop him out.
When I went to unstrap him and pick him up, he had a concerned look on his face. He crossed his arms and stared back at me. 'What? What is it?,' I asked.
'Aren't you FORGETTING something,' he repeated. That's when I noticed it.
I looked down at his feet. Bare. No socks. No shoes. I could see all of his toes. All ten digits. Shorts, shirt, and NO shoes. I've never face-palmed so hard in my life. 'Is this what motherhood has come to?!' Queue his roar of laughter.
Let's just say the lady in the office wasn't too pleasant when I showed up 40 minutes late to drop him off.
When I got home, I saw these, mocking me.
Oh, and that superwoman title? Fully revoked. Gone. So not winning. But I guess it's just part of being a mom. Can I get an amen for the momma brain farts?"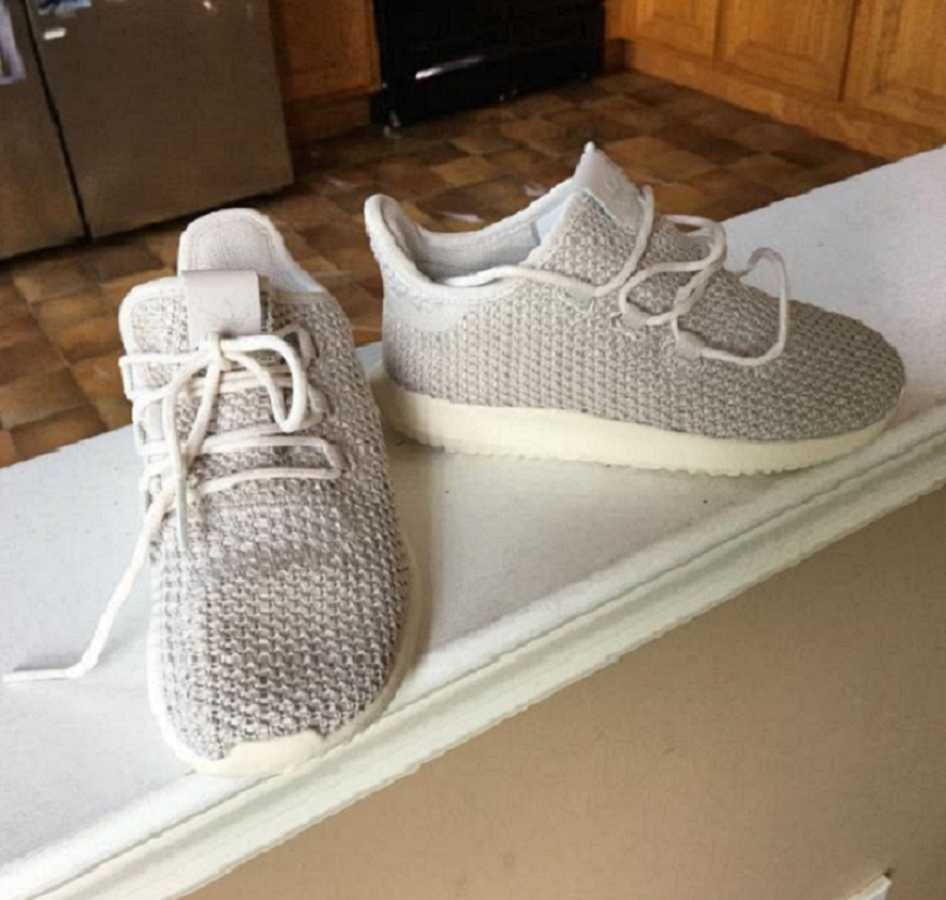 This story was submitted to Love What Matters by Toni Z. Be sure to subscribe to our free email newsletter for our best stories.
Read more stories like this:
'The nurse asked my husband, 'Are you the FATHER, or just the one she's pregnant with?' I hated the disapproving nods and strange stares. I stopped going out in public with my kids. I felt inadequate.'
'Are you ok tonight?' I was in the grocery store trying to pretend everything was OK, but it wasn't. I was bawling my eyes out 'This isn't a forever feeling.' I'm so grateful to you.'
Do you know someone who can relate? SHARE this story on Facebook with family and friends.