"September 16th, 2017 was the day our lives changed forever. Our 6-year-old son Adrian had been complaining of stomach pain every few days. He would wake up in the middle of the night saying his stomach was hurting. I thought he maybe was having some acid reflux but didn't think it was anything really bad since he would drink some water and say he felt better and go back to sleep. He had a well child check up in about a month so I figured I'd mention it when we went to the appointment. Shortly after that we noticed  his belly looked kind of swollen and was sticking out on one side. He started running out of energy pretty quickly and he looked like something was not quite right. I started having this overwhelming feeling that something was wrong. When his appetite started to decrease my husband and I decided  we would not wait for the appointment and instead I took him to the emergency room.
Thankfully they decided to take an X-ray. I was standing next to the woman that took the X-ray and when the picture came up, I saw the shock on her face. It seemed as though she froze and didn't know what to do or say. I immediately felt like something was wrong and asked her if everything was ok and she said she would be back. When she came back she said they had ordered two more X-rays but this time of his chest and lungs. By this point, deep down I knew they had found something…but I still didn't think it was something so severe and life threatening. We went back to the room and not even an hour later the doctor asked if we could step into the room next door. That's when I heard the words that made my entire world crash around me. 'Your son has some sort of lymphoma. His spleen seems to be swollen. You need to go to children's hospital right away.' I was by myself since my husband had stayed home with our other children. I was shaking uncontrollably, tears were streaming down my face, and I couldn't breathe. I knew lymphoma was cancer. I'll never forget the look on the doctors face as she told me that my son was very sick. She was trying to console me but all I kept saying was, 'oh my God, it's my fault for not bringing him in sooner.'
I had to call my husband to let him know that our son had cancer. I kept asking myself how I was actually going to tell him that without breaking down, or passing out. I really felt like I was going to pass out. Everything felt like it was spinning and I kept telling God, 'I'm not strong enough to do this. I'm not strong enough to go through this!'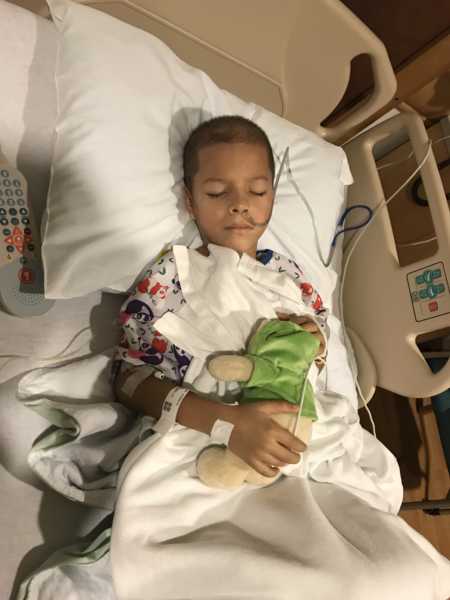 I called my husband and while crying, told him what the doctor told me. In disbelief, we both decided to call our parents so they could help with our other children. The closest children's hospital is about 2 hours away and it was already late. We're very blessed that most of our family lives nearby. They rallied around us and helped us through the worst day of our lives.
When we got to the children's hospital, they immediately took Adrian for a CT scan. Within a few hours they knew exactly what Adrian had. It was not lymphoma, it was Stage 4 Wilms tumor (kidney cancer) that spread to his lungs.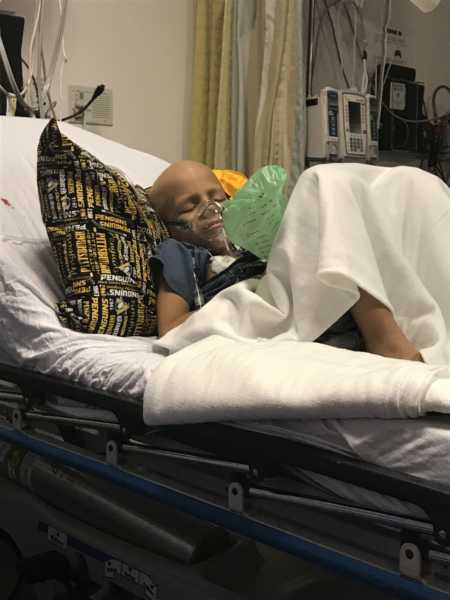 He had a biopsy and thank God his tumor was favorable. (reacts well to treatment and gives him a good prognosis) But Adrian was still going to have to fight to beat this. His tumor was very large. It had completely taken over his kidney and the cancer had spread throughout his lungs. Instead of taking the tumor out right away they decided to shrink it first. After 6 weeks of chemo his tumor shrunk enough to remove his kidney.
The surgery went very well and Adrian was ready to get moving by the next day. A week and a half later he was already home, playing and running around with his siblings. After a few weeks he started chemo again. His treatment plan was about 7 months total to clear up his lungs and get rid of all the cancer that spread. He is still fighting cancer and should be done with treatments by June of 2018. It's been a long journey so far. Adrian has been so brave and strong. He is our little superhero!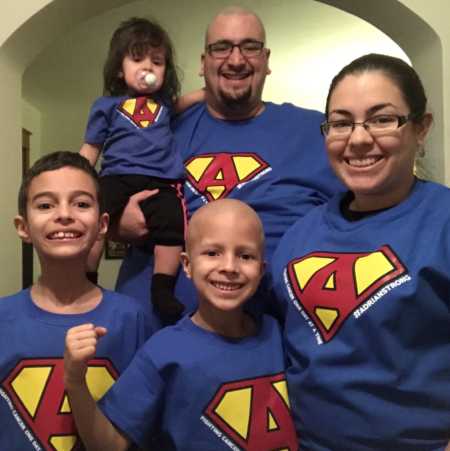 He has gone through countless blood draws, X-rays, CT scans, surgeries, hair loss, isolation, hospital stays, etc. There have been many tears. Our faith in God has gotten us through along with all the prayers and well wishes we've received. So many have stepped up to help us. We truly have felt loved and cared for. Adrian is a warrior. We know he will beat this! There's no way we would have been able to know that Adrian had cancer, it was only a matter of weeks and his health declined rapidly. Had we waited any longer his condition could have been so much worse and a lot harder to treat.
Childhood cancer is not rare. Children get diagnosed everyday; leaving families heartbroken and children fighting for their lives. Parents, listen to your gut. Don't wait if you feel something is wrong."
This story was submitted to Love What Matters by Martha Caraballo of Pennsylvania. You can follow Adrian's journey here. Submit your story here, and subscribe to our best love stories here.
Please SHARE this article with your friends and family on Facebook or Twitter to raise awareness about childhood cancer.
SaveSave
SaveSave
SaveSave
SaveSave