"I wasn't prepared for what motherhood looked like post divorce. It's messy and I didn't know how I'd come out on the other side.
I knew from growing up and seeing the varying motherhood styles of my friends' moms, parenthood was incredibly personal and subjective. What I never realized, however, was how your motherhood journey can't be planned. Like I'm sure most children do, I possessed this naivete that had me believing, when you became an adult, you set a plan in motion. When I would get married, when I would have kids, and how many I would have. Obviously, as I matured and understood the intricacies of dating and relationships, my view began to shift, but I still had a lot of life lessons waiting in the wings.
I went through the natural progression of a college romance that eventually led to marriage and a baby. But none of it was according to plan. I didn't account for the tumultuous times and a devastating divorce. I didn't think I would ever be a single mother to a toddler at the ripe age of 30-something. I didn't dream after 18 years with the same man, I would be starting over and feeling like a geriatric contestant on a bad dating show. I didn't envision any of it, yet there I was. Broken. A shell of myself, with an impressionable little girl watching my every move. I held it together for her and would fall apart in the shower once she was in bed or curl up in the fetal position on the closet floor of my single mom den.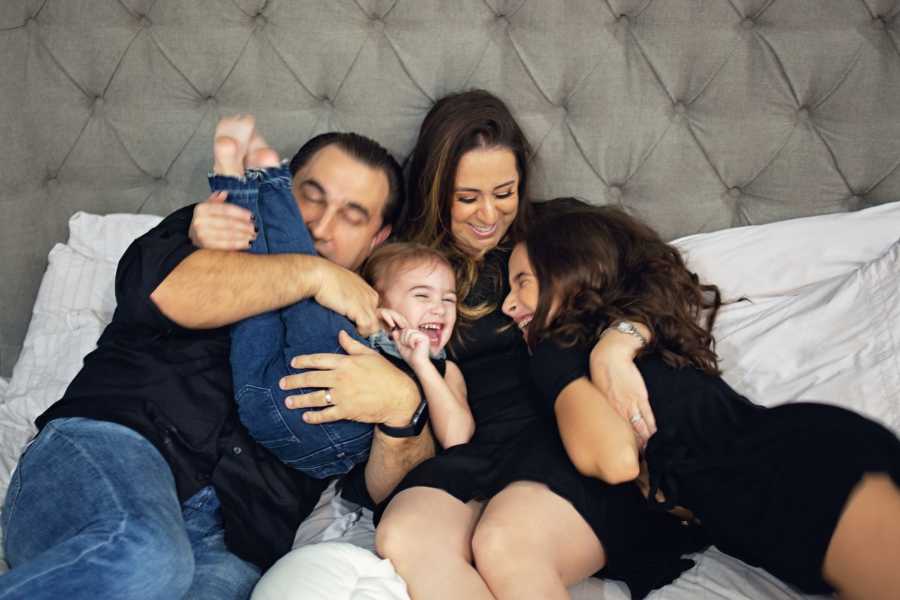 As the perpetual fifth-wheel among a sea of couples, I felt like exploring my inner recluse and reveled in the nights out with my small selection of single friends which made me feel less like a pariah. All of a sudden, I was concerned about what I wore, matching my undergarments, how my hair looked, and if I needed to shave my legs passed the knee. Thoughts that seemed foreign after getting comfortable and complacent in a lonely marriage with a child in the fold before it reached its tipping point. It was equal parts fun and terrifying. I wasn't even sure if I wanted to date or stay home and gorge on chips and guac in my non-thong underwear in the privacy of my lair. But I forced myself out until it felt like less of a chore because I was terrified of becoming a sad spinster nobody would want around.
My daughter bouncing between two homes like a ping-pong ball paralyzed me with copious amounts of mom guilt. I had to keep reminding myself her fate would have been far more stressful had we stayed married, and with time we would all become accustomed to our new broken family dynamic. Surrounding myself with only my closest friends and family, engaging in a steamy rebound and a lot of inner dialogue swirling with affirmations, helped build me back up and find my voice. And then I panicked at the realization that if and when I did start dating, it wouldn't just affect me. I'm not just a single woman looking for a mate. I'm a mother.
You know going in motherhood will be messy in terms of diaper blowouts and spit-up shooting right down your cleavage on the way to a work meeting. But nobody talks about the other kinds of messy. The stuff you have to think about and navigate as a single mom. The kind of fear where it feels completely intimidating to imagine anyone entering the little routine you've solidified as a single parent. Where someone who is not your child's biological father will now have to bear witness to epic meltdowns and you losing your cool. Where you have to cancel a date because your kid is puking her guts up, and you trade sexy pumps for a ponytail and sweats as you do laundry all night to keep pace with a relentless stomach bug.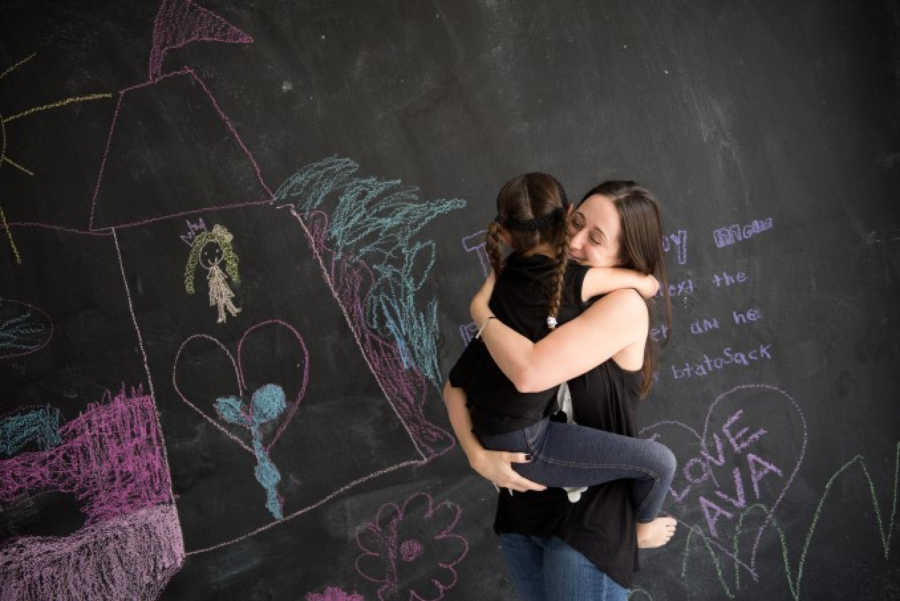 How do you find someone who's ready to walk into all of that without breaking a sweat? Do they really exist? 'Rachel, one day you are going to find your prince charming.' Those words were on a constant loop from my mother who saw it before I did. I always put being a mother first (still do), and decided if I didn't meet someone who I knew would fit into our little duo with ease, I was okay just focusing on her and only her for the rest of my life. 'He's coming, Rachel. Just you wait.' And then there he was and I knew it from the beginning. The quiet to my loud. The calm to my crazy. The perfect puzzle piece who checked all of the boxes and accepted me and my daughter with the most open arms that ever existed. No games, no drama. Just pure, unconditional, patient love, for both of us. If you think you can't find a Prince Charming in the bowels of the online dating world, I'm here to tell you it can happen. 'See, Rachel? What did I tell you? A mother always knows.'
I'm not saying it was and is always easy. Divorce, whether it's amicable or not, comes with inherent kinks, both logistical and emotional. I think the best decision I made when starting our relationship was letting my freak flag fly early. All the skeletons out of the closet. All my neuroses laid right there on the table. Honest conversations about expectations around our relationship, including my daughter. And he did the same. He honors my flaws. Accepts me in every way with no question and treats my firstborn like he's been there from the beginning. He respects me first and foremost, as a mother. Every maternal part of me breathed a sigh of relief because he wasn't just the one for me, but for us. We married and it changed everything.
I gained a true partner to help me weather parenthood. He talked me down when divorce got the best of me. He held my hand and comforted me when mom guilt crept in. He mended my fractures and showed me the support I didn't even know I needed. He carried my mental and physical load when we lost our first pregnancy, stroking my hair as I clung to him while I miscarried and felt hollow and numb. Although he was hurting, he focused on me and ushered me through one of the darkest times of my life. He understood my hesitation to even try again. He didn't push me. While I felt like a failure as a mother not being able to conceive another child with him, he never made me feel like less than a goddess. And then we defied the odds and got pregnant when my doctor was in the process of sending us to a fertility specialist. When I ended up on bed rest, he did everything and did it graciously. He took care of all of us, a role I had carefully coveted but was now grateful to share.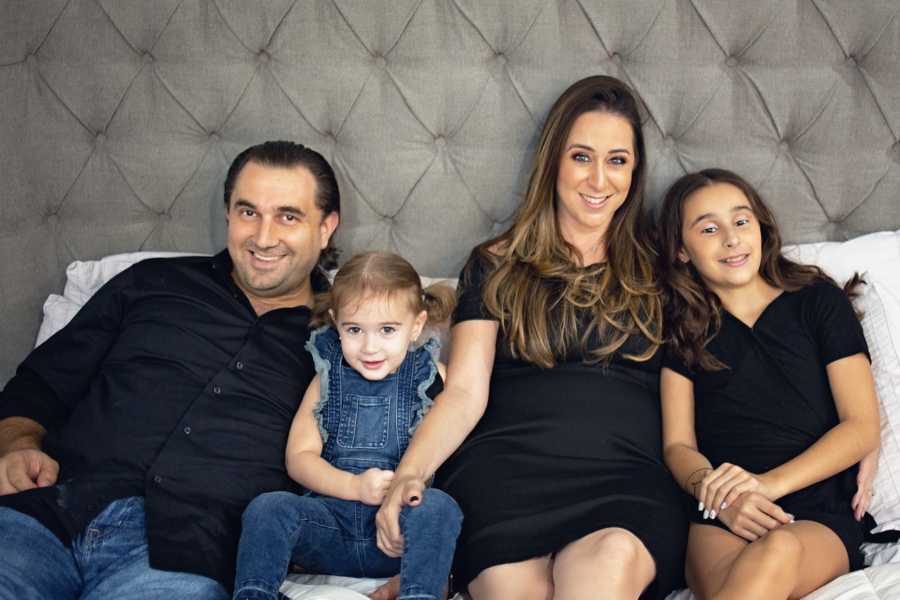 After she arrived and we now had two girls, I thought I screwed up our family. What was I thinking having kids 8+ years apart? How will they have any common ground? How will they bond as sisters when they are not living together every day? A newborn was rocking all of our worlds and it was overwhelming. We all lost sleep. We all cried. We all felt frustration. But we all felt like a family. A loving, fortunate, messy family steeped in chaos. And that's when I realized that motherhood is not picket fences and perfectly packed school lunches in bento boxes. It's stressful and complicated while also being fulfilling and making your heart fuller than you ever imagined. It's good mixed with ugly. It's yin and yang. It's real life.
Those plans you had when you were 22? They're not based in reality. You can't plan motherhood. You are not in control of it. It owns you completely because you are simply a participant in wherever the journey takes you. And all of my fears were dispelled when I watched my girls interact. My older one jumped right into the role of fierce protector while her little sister immediately idolized her. They steal moments playing with one another. They giggle and fight and love each other like crazy while driving each other crazy. Just like siblings are meant to do. People have asked, 'Do you have regrets? Do you wish the divorce didn't happen?' It's not a valid question. Nobody wants to get divorced, especially as a mother. It's not fun and not having your kid under your roof every day just plain sucks. You don't get used to it. You don't get over it. You just live it. This may not be the motherhood journey I mapped out in my very misinformed younger mind, but it's very much mine. It's intensely personal and I love it. Every single part."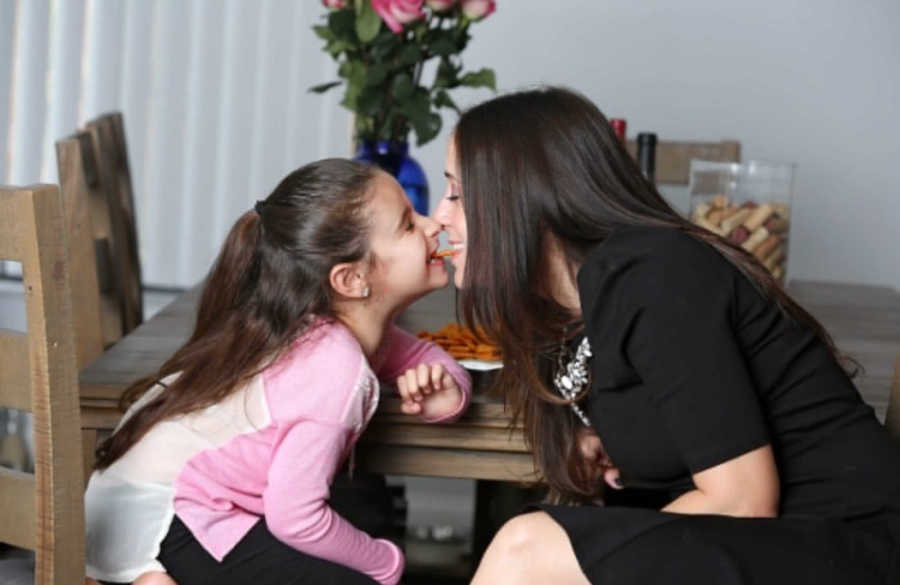 This story was submitted to Love What Matters by Rachel Sobel. You can follow her journey on Instagram. Submit your own story here, and be sure to subscribe to our free email newsletter for our best stories, and YouTube for our best videos.
Read more powerful stories like this:
'I am OK being single.' I don't 'husband hunt.' I didn't grow up learning kids are a blessing.:' Woman celebrates being single after growing up in divorced family, 'a relationship is not where happiness begins or ends'
'My son was 6 and my daughter was 3. Where do I go for guidance? I opened up to my best friend about divorcing my husband of 11 years.': Mother of two finds strength in sharing divorce journey
'I put my husband on the backburner. Sex became a chore. We were roommates who co-parented. Our marriage lost its spark.': Woman candidly shares lessons she learned from divorce
Do you know someone who could benefit from this story? Please SHARE on Facebook to let them know a community of support is available.