"We have five kids. Our first three were the 'fun way' as my husband, Randall, likes to say. We knew we wanted to adopt 'someday' and we even made a few calls, but we really knew nothing and it felt like we'd hit a dead end. It was around this time we met a young mom and her baby. They were homeless, but she'd walk to church and record the worship on her flip phone. We'd see them in town walking the sidewalks with that Sunday's worship music playing in the stroller. Shortly after we met, her baby was placed in foster care and we entered the journey with her through the process of reunification.
I remember one chaotic dinner (when I was just trying to get food on the table) and she looked around and said she'd never had this. I asked her what she meant, thinking she was referring to the pasta. She said, 'A meal with a family.' She was such a good mom and was overcoming a lifetime of barriers from being in foster care herself. She just needed support. And, later that year we had the joy of celebrating with her and all she'd accomplished as she welcomed her baby back home!
We didn't want to keep talking about adoption 'someday' and decided to put a date to it. We agreed when we turned 35 years old, we'd pursue adoption. Thirty-five was seemingly a random birthday, but we both knew the chances of pregnancy complications increased, in particular the chances of having a child with special needs like Down syndrome increase with age (of course, we see the irony, as we're now currently parenting not one, but two amazing girls with Down syndrome, added to our family through adoption). After our 35th birthday, we met with an adoption attorney to see how to go about starting the process.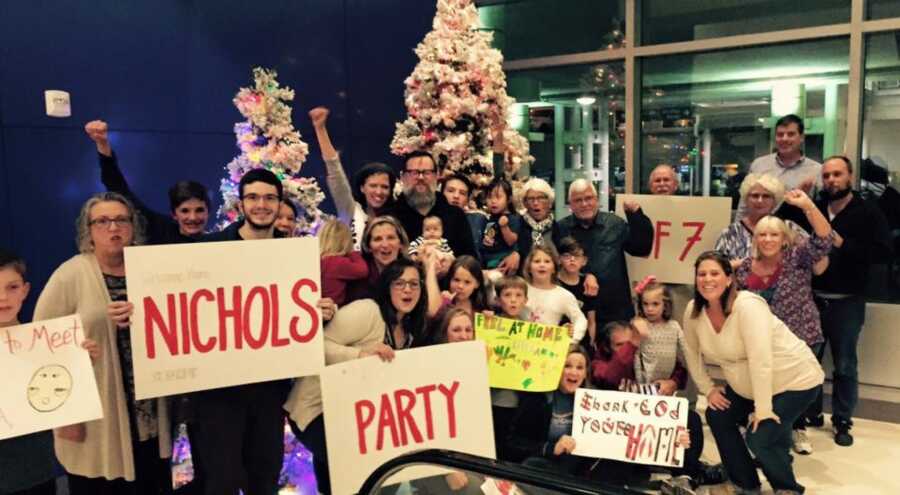 Within a few months, we were connected to an agency that asked us to consider what medical conditions and/or special needs we were open to pursuing. We thoughtfully poured over the extensive needs list and then came to the conclusion, if we had a biological child with special needs, we'd figure it out. And so we just said yes. To whatever child needed a family. We were driving home from a day trip when I saw our daughter's advocacy post. She had Down syndrome (plus a heart defect and big neurological question marks). She was in China. And international adoption was expensive. But none of it mattered. She was our daughter and we knew we'd cross the world to bring her home.
People thought we were crazy. Some questioned how it would impact our bio kids and a few friends even told us we were ruining our kids' lives. But for the most part, our community rallied around us. They helped us fundraise and kept showing up to support us to help bring our girl home.
Fourteen months later, we boarded a plane to China. It's laughable now to think of how unprepared we were. My biggest travel concern was losing our kids on the bullet train (an understandable fear, as you have precisely 120 seconds to board the train with luggage, while passengers are also exiting). But after three days of travel via planes, trains, and an unforgettable bus ride through the mountains, we finally made it to her orphanage.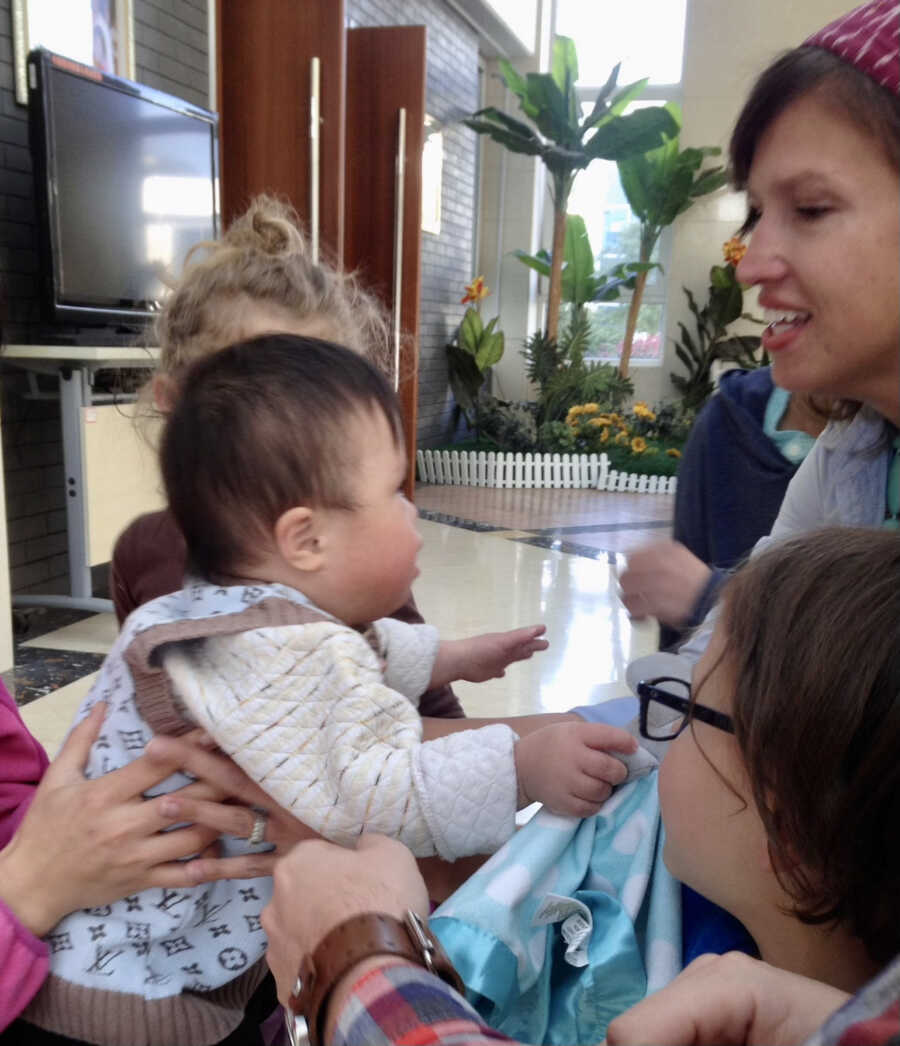 Her nanny brought her to us and we were all crouched around her, saying hello. She was so beautiful and so serious as she studied each one of us and then reached for me. After a few minutes, my husband couldn't stand it any longer. He patted his chest and said, 'Baba,' (the Chinese word for Daddy). She reached back and quietly whispered, 'Baba,' and then laid her head down on my chest and went to sleep. She was sick with a fever and rash we'd later discover was Rubella (which earned us a few extra days in-country awaiting medical clearance for visa approval).
We had the opportunity to tour parts of her orphanage. The rooms were so silent. Babies quickly learn crying wastes energy because no one is coming. At that moment, we knew we'd adopt again. We had too many reasons to say yes and any reason to say no was squelched against the volume of those quiet hallways and silent children who needed families.
Two years later, we were just beginning to make good on the intent to adopt again. We were made aware of a baby in the NICU of a Seattle hospital. She had Down syndrome and multiple complex medical needs. Her biological mom was in the US on a travel visa that expired soon and she did not feel she had the services or support needed in her home country. She felt adoption was the best option. We said yes and FIVE days later I was on a plane to Seattle.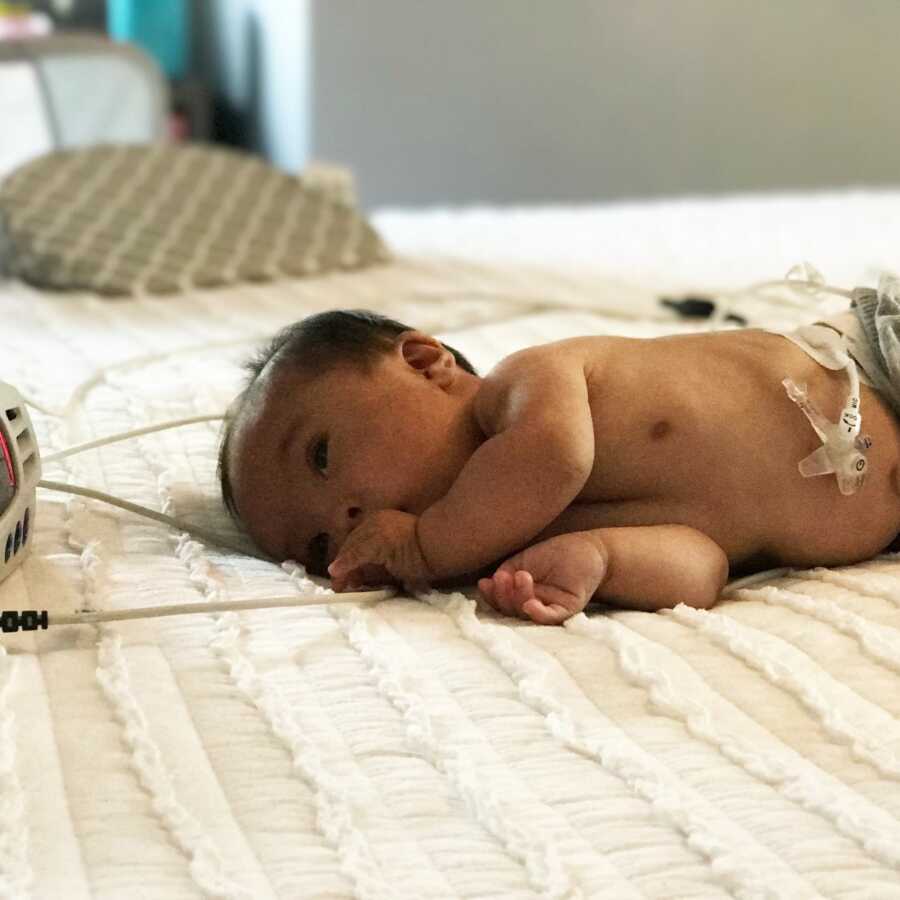 I walked into the NICU and saw this sweet baby girl for the first time. We hadn't seen her photo, so walking into the NICU room took my breath away. She was perfection swaddled in pink. And she looked just like her beautiful first momma. There was such an emotional weight hanging heavy in her NICU bay. I felt like an invader being there. This baby was very wanted and loved by her first momma and it just wasn't fair she wouldn't be going home with her family. Caseworkers and attorneys exhausted every option to preserve this family, but there were no good options and her first mom chose to move forward with the adoption plan.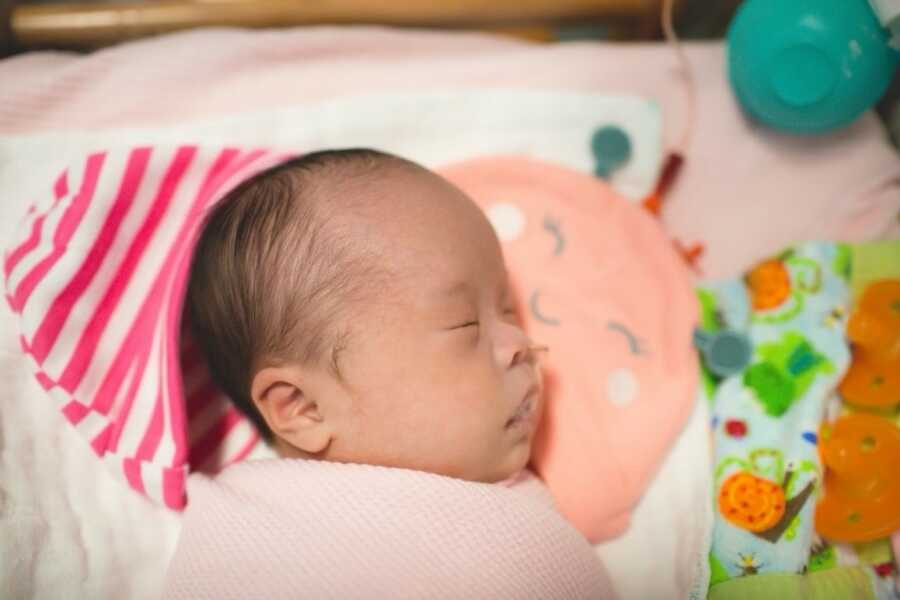 While our baby girl was in the NICU, it was her biological mom who stayed with her, who changed her diapers and pumped and fed her breastmilk through a feeding tube. But as discharge approached, she asked that her baby go home with me. The morning of discharge, her first mother asked to stay at the hospital. It had become their home together, and she wanted more time. I couldn't bear the thought of leaving her alone, but the social worker reminded me how important it was we respect her wishes. The walk to the hospital entrance was heartbreaking—it was this palpable shift, this handover, from first mom to me. And then I drove away with her baby.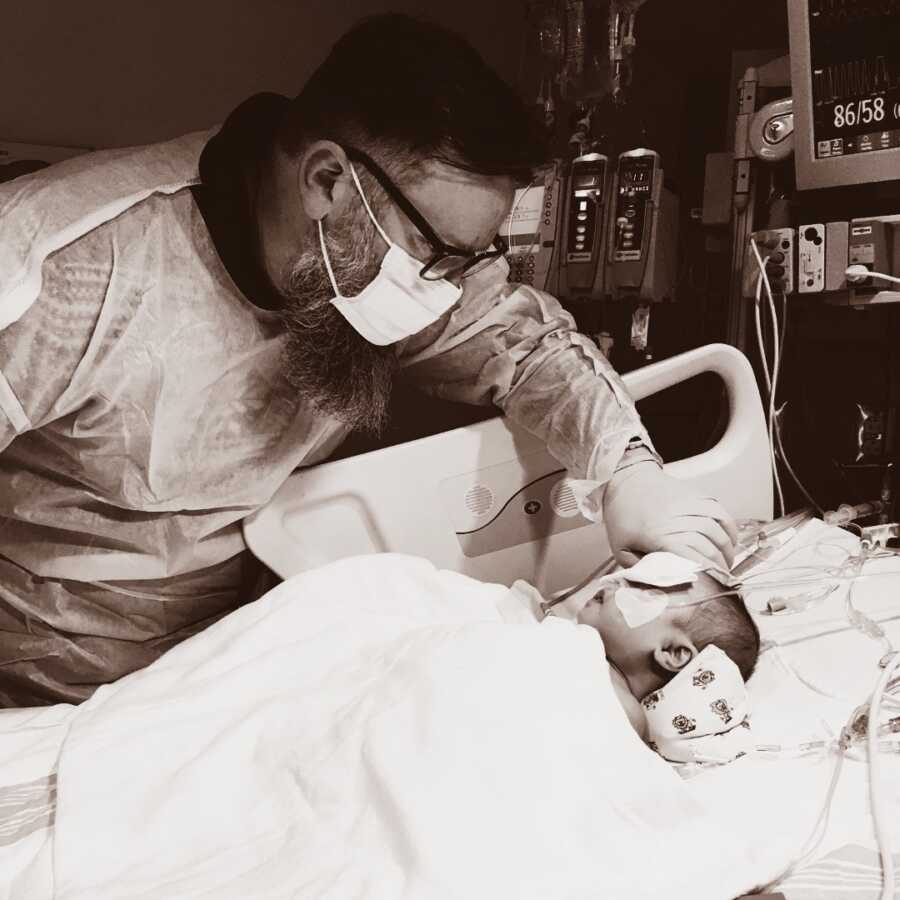 Our baby girl has a farm in a faraway country named for her. And one day, when we visit, we'll all have our photo taken at her farm—all of us together as a family. Until then, we share photos and schedule late-night video calls. Her first momma cheers her on from half a world away and I gush over her new baby brother. It's so beautiful—and so hard—but we are grateful for this family God's given us and so these phone calls feel like sacred ground.
We were able to say yes to her adoption because we were so well supported during and after our first adoption. Some people thought we were crazy. But the ones who came alongside us prayed with us and cried with us, and they pulled all-nighters to prep for fundraisers. And after we brought our daughter home from China, they kept showing up. Usually with groceries and dinner and coffee. Some knew nothing about adoption or special needs. Some were walking the exact same special needs adoption road alongside us.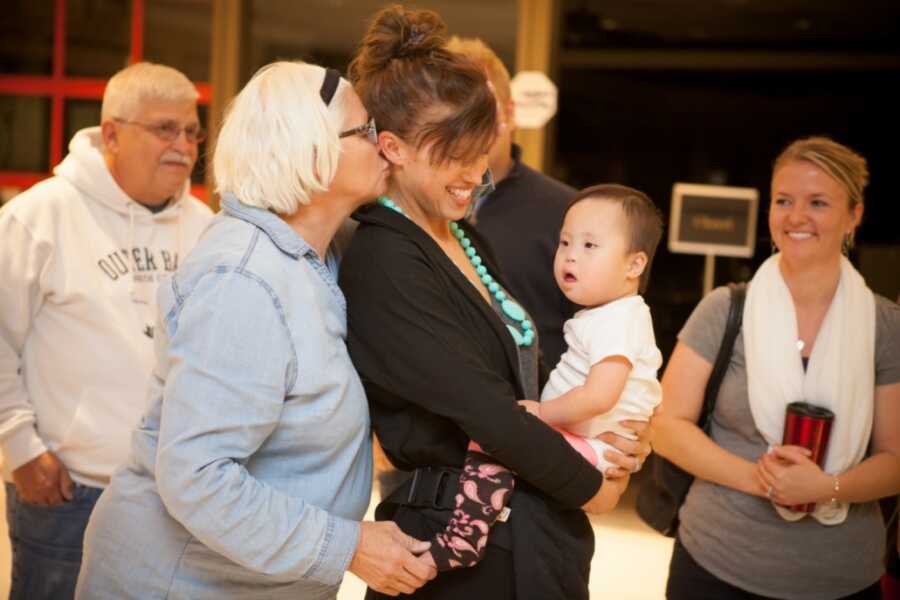 It's not all sunshine and rainbows. This is not an easy life. We're in and out of the hospital often. We're constantly juggling therapies, appointments, and working with the needs of our family (which includes five kids and a sometimes neglected marriage). We don't live near family and we can't easily travel, which means we don't see much of our family unless they come to us. Social gatherings are hard. School and church can be a challenge. Trauma and medical crises easily overwhelm our daily rhythm. But these people—our community—continue to show up and circle around us, holding us up and carrying us forward.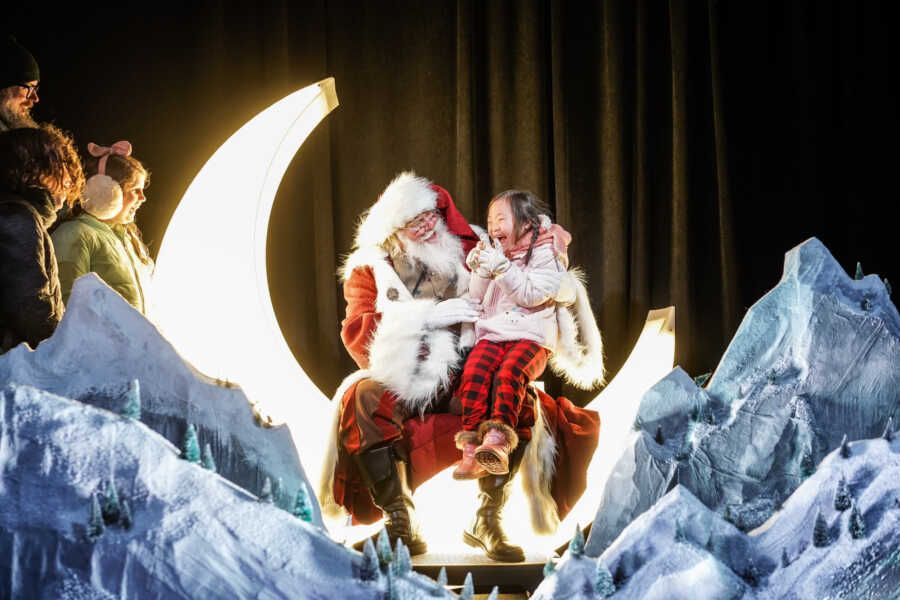 People often say they could never do what we do. But we are nothing special (we forget to charge the pulse oximeter or clean the feeding pump and get impatient with each other and our kids, our home is a mess, and I could go on and on). But I think what they mean is they can't imagine doing it without a community behind them.
And so we thought, what if we built this community? What if we leaned into our local churches and rallied the community to become a support system to care for the needs of vulnerable children and families impacted by foster care and adoption? What if we could encourage families to welcome children into their homes? What if children with loving parents didn't have to enter foster care?
Two years ago, we officially launched ECHO Family Care Partners rooted in the belief every child deserves a safe and stable family, every family needs a caring community, and everyone can do something. It's all built on the concept of community. Seeing each other's needs—biological families, kinship families, foster and adoptive families— and leaning in to care for one another.
What we've seen is the shift from people telling us, 'I could never do what you do,' to, 'If you can do it, I can do it.' And we have the privilege of supporting them as they say yes to foster care or adoption, yes to kinship care, or yes to mentoring teens and tutoring survivors—yes to our growing community."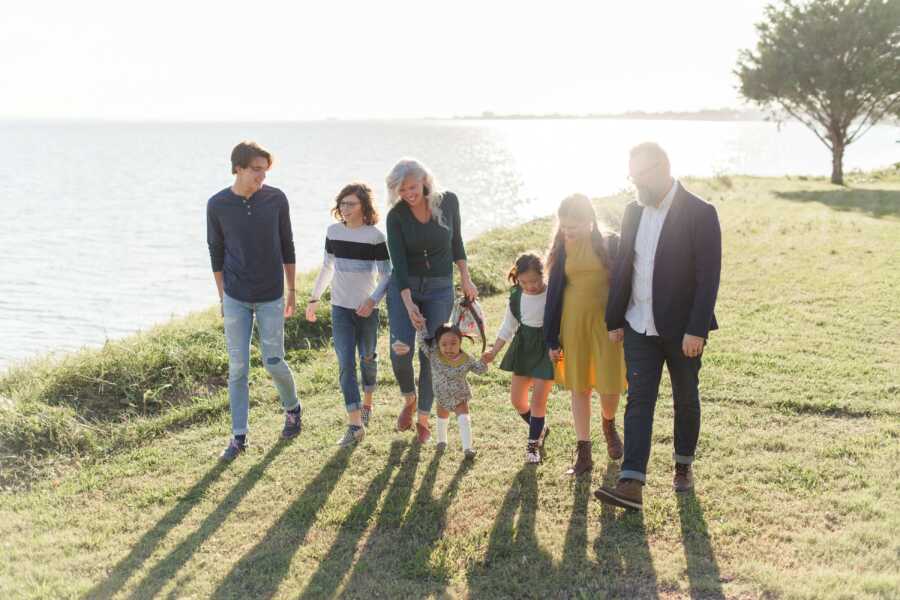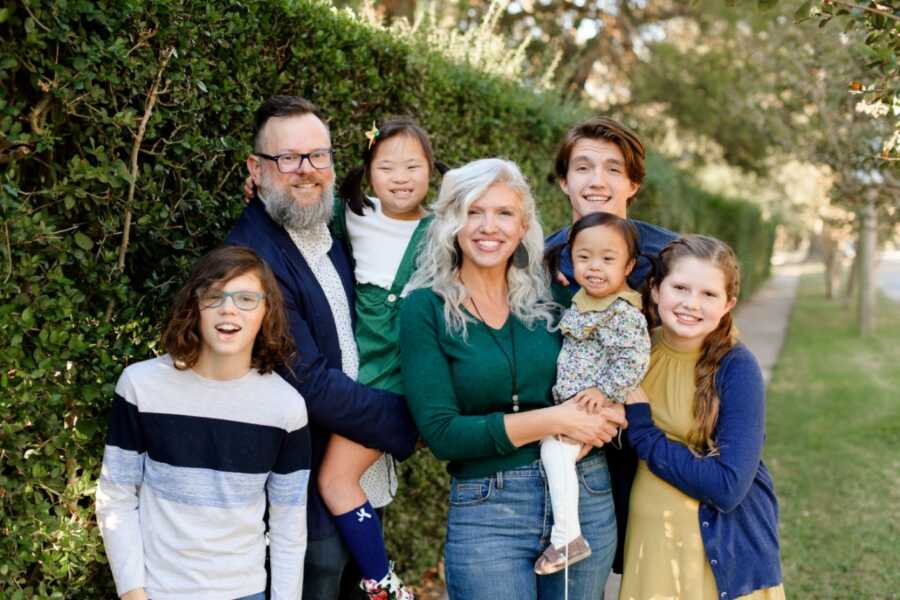 This story was submitted to Love What Matters by Kelley Nichols from Coastal, Virginia. You can follow her journey on Instagram, Facebook, and their website. Submit your own story here and be sure to subscribe to our free email newsletter for our best stories.
Read more stories about foster care and adoption:
'He was named 'Baby Boy' since his mother left just hours after birth. Could they have the same mother? Something was different about this one.': Mom 'miraculously' adopts children with same birth mother
'A baby was born yesterday. He may have been exposed to meth.' There was no doubt in our minds. We turned around and ran to our baby.': Couple shares adoption journey, 'We're meant to be'
'Don't you want a child of your own?' I do have a child of my own. She's our child in every sense of the word.': Mom shares grief and anxiety in international adoption journey 
'That was my son. This precious boy was going to become OUR boy. We thought our hearts would burst.': Woman shares international adoption journey, 'We love that we get to be their parents'
SHARE this story on Facebook to support other adoptive families.