"It was Christmas. My divorce was finalized. And my ex brought me coffee in bed. 
It sounds like that ice breaker game, Two Truths and a Lie. The one I often used with young drama students in order to warm the room at the start of a class. 'With which of these three things I'm telling you am I trying to snow you?' sorta deal. But in this case, there ain't no lies in the mix.
I started and ended the day with the beautiful man I will now ever refer to as 'my former husband and beautiful and forever friend, Keith Aaron.' It's a bit more of a mouthful than 'my ex,' for sure. But it is also ever so much more real. So much more honoring of this man with whom I shared the rigors of becoming grown-ups. With whom I stood side by side and laughed and cried through three decades of living this life. Of building a home together. Of bringing children into the world and raising them. Of building two businesses. Of watching both of those wither. Of fighting to keep the one business not only alive but now flourishing in ways no one could have ever scripted. Of burying my Dad and his 'father.' Of helping to bury a nephew who was far too young to have left us. 
And of navigating one 'bastardous' stroke (but ultimately a blessing). It was Keith's — a horror and a challenge and a gift that you could only understand if you lived through it, as he and I both did, from our unique sides of it. As our beautiful children (our I-can't-even-f-ing-breathe-because-they are-so-damn-beautifully-hearted children) lived through it. We are all survivors of that journey, of its terrifying onset and of the many, many years of adapting and coping and self-protecting and wall-breaking. Years of breathing through it all and holding on and letting go and just doing the very best we each could with what we had.
Nobody else knows the dark and light corners of our lives as well as the four of us do. Nobody ever will. Just like we will never know all the intricacies of anyone else's lives. And because of what the four of us have shared, we will always be bonded in ways the other beloved souls in each of our lives — both those long known and those yet to come — will never fully understand. 
Nobody else will ever fully grasp what Keith and I know best about the how and why of the evolution of our relationship. But nobody needs to understand it in order to recognize that it is still a thing most lovely, if not conventional. That it is a thing most honest, if not normative. That it is a thing most holy, if not perfect. Keith and I having made the hard choice to end our marriage, after two years of the most earnest, enlightening, painful, angst-ridden, truth-telling, and grace-bathed work we hopefully will ever have to do in this life (outside of having raised two kids) There are just no words, save for perhaps this one: gratitude. 
I am grateful to the Creator that brought us together and has helped us to be so very good to one another. I am grateful to the Giver who gifted us the two very best children. And that this same Giver gave Keith and I to our children. I am grateful to those two kids, now young adults, and how they have navigated the pain and challenge of something we never wanted for them. For their beauty and their honesty and their strength and their tender and loving hearts. For their loving of their mother and their father, imperfect creatures that we are.
And I am and will forever be grateful to the man who brought coffee to me this morning as I lay curled next to our daughter in her bed within his home. I had lain there last night so as to wake to sharing the high holy of Love with our children and him, this good man, my former husband and beautiful and forever friend, Keith Aaron. 
Gratitude."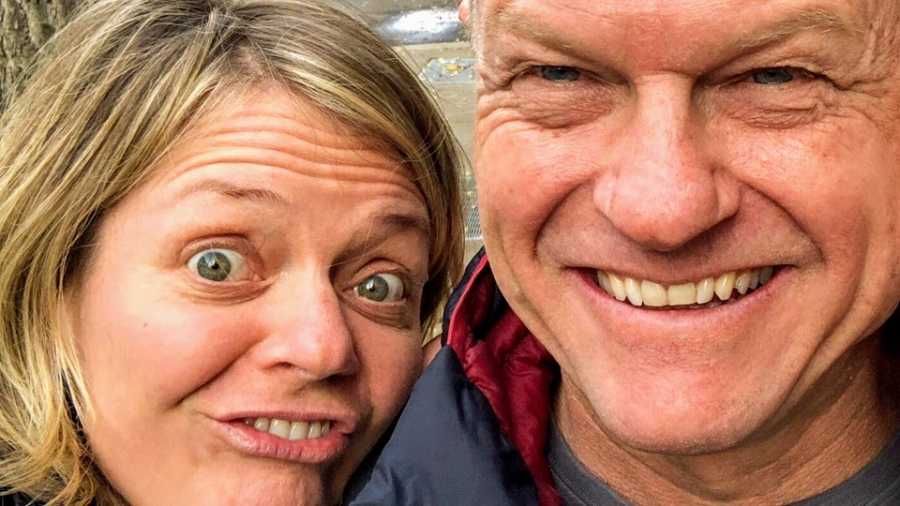 This story was submitted to Love What Matters by Amanda Aldrich. Do you have a similar experience? We'd like to hear your important journey. Submit your own story here. Be sure to subscribe to our free email newsletter for our best stories, and YouTube for our best videos.
Read more stories like this:
'Are you gay?' 'No,' he said immediately. I looked at his wounded face. It turns out, I was right.': Husband comes out as gay, couple divorces but continues to live together happily co-parenting, 'I have chosen to continue to love Josh as my family'
'My ex picked up our daughter from a visit, smiling at his phone and texting a whole lot. I knew he had met someone else.': Woman says 'put on your big panties and make co-parenting work'
Do you know someone who could benefit from reading this? SHARE this story on Facebook with family and friends.