"To my friends having babies — you are not my trigger.
The past six months have been challenging for my family. We live in beautiful, but sometimes overwhelming, chaos. Our two year old is strong willed and, when left unattended for a moment, he has figured out how to scale the walls and swing from the ceiling fan. Okay, so maybe that was a bit dramatic. More like shoving plastic Christmas berries up his nose, but you get the picture. Close behind him is our beautiful yet sassy one year old redhead. And let me tell you, redheads do indeed have an attitude to be feared.
Along with our two children, Liam and Saylor, we have three babies who we have lost. Two miscarriages and one ectopic pregnancy within six months. Grieving is a process, but as a mother that process must often be put on hold, shelved for a later time. Thankfully I have an amazing support system who has been on this journey with me.
This is baby season for many in my group of friends. A lot of them are welcoming their first child while others are adding to their tribe. One of my good friends is having her first baby the same month that I would have welcomed Haven, the first baby that I lost. Maybe this should be hard and I should be retreating.  Maybe I should be putting blinders on and just not participating in this celebration of babies.
But I am here to say to you, dear friends — you are not my trigger.
We all grieve differently and we all have different needs through painful seasons, but I have found my safe Haven celebrating in this season with you.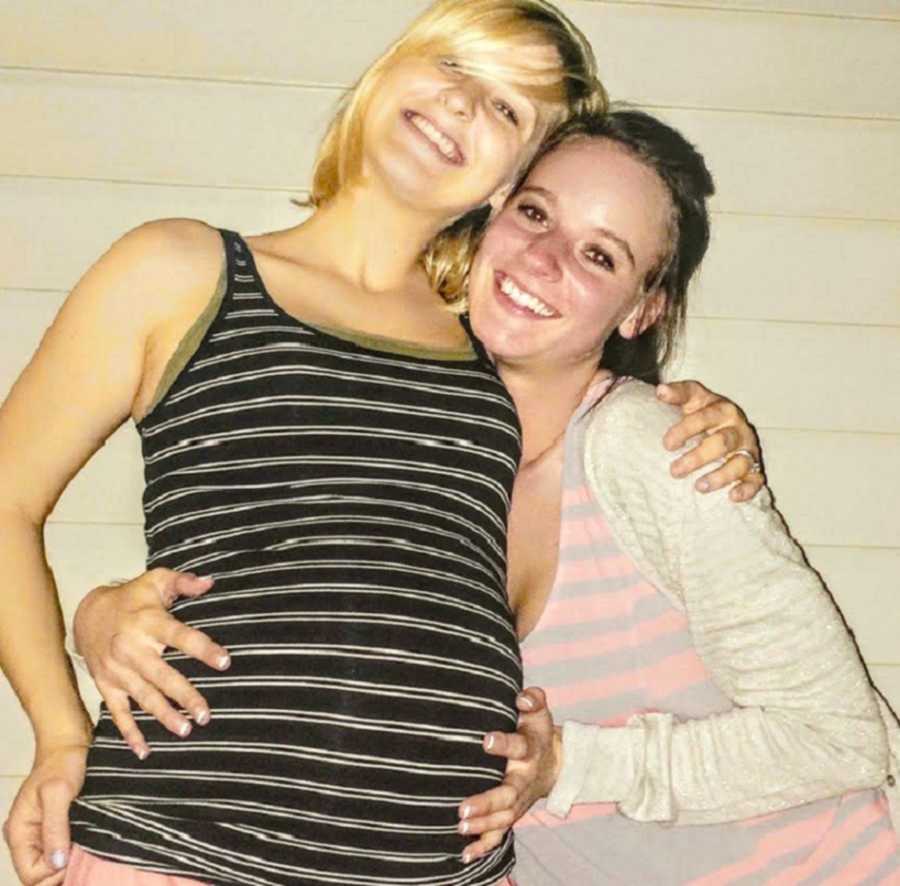 I absolutely love attending your baby showers.
I enjoy purchasing those tiny little newborn clothes for your newest addition.
I feel blessed to be able to sit on the couch with you and cry as you begin your journey with your newborn while also navigating postpartum.
I am overjoyed to bring your family a meal.
I am honored to celebrate with you.
Dear friends, let me reassure you once again, you are not my trigger.
I am in the trenches of motherhood with you. When I welcomed my babies into this world you were on my doorstep with a meal, encouraging me with a sweet texts as I struggled through sleep deprivation.
Holding my baby so I could eat a quick meal.
Allowing me to cry tears of frustration during breastfeeding days (and long nights).
You reminded me that I was a good mother even when my toddler was throwing yet another major tantrum.
Through each season, you were there for me. Through infancy, toddler tantrums, and pregnancy loss, you were there.
I am honored and comforted to be walking with you into your new season of life. I am here with the numbing spray, bottle of wine, and open arms to help you along the way. Dear friends having children — you are not my trigger. You are a source of joy and celebration, of blessings. Of hope."
This story was submitted to Love What Matters by Ashleigh Beaver of Matriarchs and Maids. You can follow her journey on Facebook and Instagram. Submit your own story here, and subscribe to our free email newsletter.
Read more from Ashleigh:
'No, mommy. You obey ME!' My son was LOSING. HIS. MIND. Tears were flowing, arms flailing. He threw his sandwich on the ground in protest. All I could think was, 'I'm failing.'
'Everyone poops during labor,' she warned. It was my first time. I couldn't stop asking questions. 'Is it normal my water hasn't broken yet?' 'Should I push? When do I push?'
Spread beauty and strength for others. SHARE this story on Facebook with family and friends.