"This picture. December 27. For the rest of my life, I will never look at a Ferris wheel and not remember this day.
We were back on the East Coast visiting family for Christmas and decided to do something fun and take the kids to the National Harbor, just outside of Washington D.C.
You see, I was 13 weeks pregnant here, and we had just spread the news to our family members about the surprise pregnancy. It was joyous.
At the harbor, we asked a random man to snap this picture. Little did we know that literally 10 minutes after taking this picture, while standing in line to board the Ferris wheel, we'd receive the most memorable phone call of our lives.
It was the doctor's office. I knew the number and answered hurriedly, knowing they had the gender results from my blood test. I excitedly told the lady, 'Don't tell me!! I'm going to have you call a friend with the results (for a surprise gender reveal party).'
I felt something off in the lady's energy. 'Okay, ma'am, but can we schedule you to come into the office as soon as possible?' My heart dropped…WHAT? WHY? I told her we were on the East Coast for another week, and I couldn't come in. We scheduled an appointment for the second week of January.
But, wait… my heart was beating out of my chest. 'Wait. Ma'am, I can't wait for over a week for whatever news you need to tell me. You have to tell me now.'
She took an audible breath. 'Your blood test results show that your baby has an 89% chance of having Trisomy 21.'
BAM. I'll never forget the feeling. My heart felt like it plummeted to the ground. My husband was standing beside me — he saw my mouth drop, my eyes instantly welling with tears.
'You mean… my baby has Down Syndrome?' Words I never imagined myself saying.
The nurse sighed, 'Yes, I'm so sorry. Would you like for the doctor to call you to discuss more?' I agreed and hung up hurriedly, not caring what the gender was. It felt so insignificant now. We had much bigger 'issues' at hand.
My husband grabbed me and hugged me tight, 'We've got this, babe.' Time stopped. My tears felt like they were freezing as they fell down my cheeks.
It was our turn to board the enclosed Ferris wheel capsule with the kids. It was stifling in there. I couldn't breathe. I wanted to lay on the floor in the fetal position and just cry my eyes out.
I had to put on a show for the kids so they couldn't sense the despair. 'Oh, look down at that!' 'Wow, look at the lights.' My husband and I couldn't make eye contact or it'd turn into catastrophe. I wanted to scream. I wanted this to just be a nightmare.
The ride felt like it'd never end. The ups. The downs. When would this ride just be over? When we finally stepped back onto the ground, I immediately excused myself from the family and escaped the cold by finding a quiet and hidden corner in a nearby hotel lobby.
I allowed the tears to flow. I called my Mom and told her the news, sobbing. We were both speechless. There was no way to process this. It felt like too much.
My phone rang. 'I've gotta go, Mom.' It was the doctor. He explained the probability of the baby having Trisomy 21. He was cold and very matter-of-fact. He didn't soften anything and then, verbatim, he asked, 'Have you thought about what you're going to do?'
I was so angry. I knew exactly what he meant. There was no guessing there. Had I thought about it?? Are you f-ing kidding me?!?! That's the question you ask me 30 minutes after finding out?? How insensitive. What horrible timing. Why would you even ask that RIGHT NOW?
You see, despite the pure devastation and fear I felt, this option was never on the table and was never even discussed by my husband or me. We literally never talked about it once. We just moved forward, through every damn emotion, until finally it was just pure joy and excitement at the end of the pregnancy.
Recently, I looked up the symbolism/omen of a Ferris wheel, and it said it's the 'wheel of change.' How ironic that we were at the bottom of a Ferris wheel at the exact time we got that call.
What I didn't know on that day and during the following months of hitting true rock bottom and probably clinical depression is that Harper would be our family's biggest blessing.
She's full of light. She's the happiest baby. Her family and, actually, the whole world love her an immeasurable amount. The joy Harper has brought is palpable. Everyone senses it. She's an old soul. This isn't her first dance. She's here for a big purpose, and we are here to help her fulfill it.
I feel so grateful, so blessed to be on this wheel of life with you, Harper. I'm so glad you're here.
P.S. We immediately fired the doctor."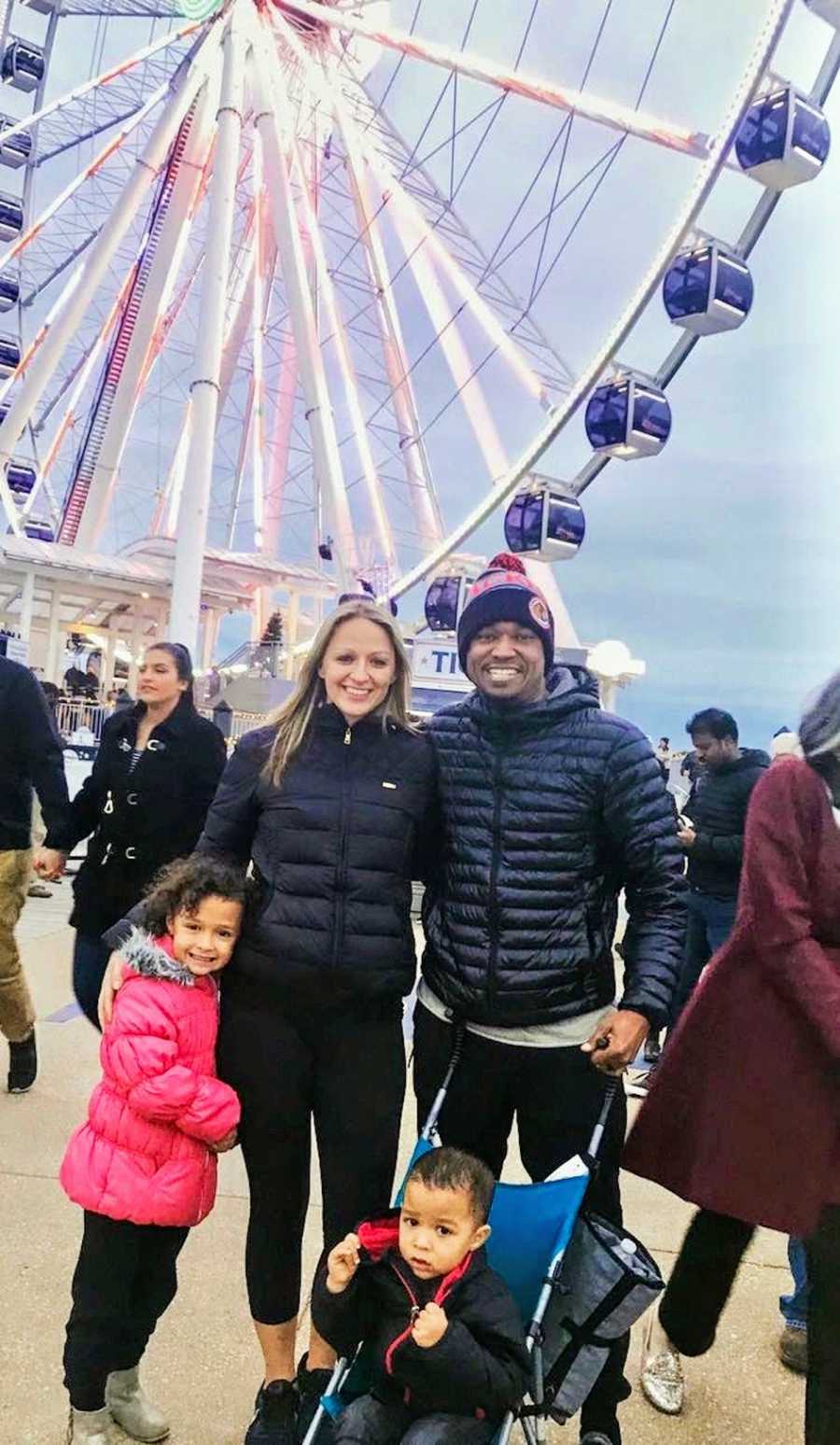 This story was submitted to Love What Matters by Ashlee Halsell. Submit your own story here, and be sure to subscribe to our free email newsletter for our best stories.
Read more stories like this:
'Today my little sister received her school yearbook. She was intentionally left out due to her differences in ability.': Sister to student with Down syndrome advocates for inclusion, 'There is no excuse'
'She's in heart failure.' I'd most likely never get to meet her. We could deliver our stillborn baby.': Woman gives birth to high risk Down syndrome baby, 'She defies all odds'
'I said to my husband, 'I think something is wrong with the baby.' There was fluid in the back of his neck. 'We need to admit you. Today.': Mom says 'Down syndrome is the best thing to ever happen to our family'
Help us show compassion is contagious SHARE this story on Facebook with family and friends.