"Have you ever met a woman that doesn't rest?
Have you met a 90-year-old woman who insisted on putting her own Christmas lights up?
Have you met a loud-spoken, hard-working farm girl who is the matriarch of the family?
That's my grandma, Eileen.
She's 93 now, and we don't let her put her own Christmas lights up anymore…but that was a fight.
I'm the youngest of her grandchildren and I have the youngest great-grandchildren.
I grew up and reside in 'The Biggest Little City'…Reno, Nevada.  My grandma comes from old farmlands in Ohio, and oh boy, does she have all the tall tales that aren't actually 'tall tales.'
She raised my father and his siblings in Los Angeles and moved to Smiley Park Running Springs, CA before I was born. We spent a week or two during the summers and she worked our butts off doing all the things.
I never learned so much in my life…how to plant, gut fish, bake rock-hard cookies, take a sponge bath. I learned how to swim during swimming aerobics. I learned how to play cards and fill potholes. I could go on and on.
When I was about 14, she moved back home to Ohio and literally built the same exact house as she had in the mountains. The first time I visited she didn't understand why I didn't know where the forks were and insisted it's the same place all my life…and it was, because her home was identical. Makes me laugh thinking about it.
I didn't see her but every other year after she moved. I missed my summers with her and my siblings. But, she was happy there with her family.
Life went on and we saw her for every other Christmas. When my first son was born she stayed for a week or two. They are 90 years apart. She came to stay when my mom was diagnosed with colon cancer, and last year fall of 2020 my dad and sister drove her across the country to move her to Reno.
She moved in with my parents and my eldest would get off the bus and walk down the street to my parents to play cards with her instead of up the street home. He was hearing all of her stories I've memorized and I smile thinking back.
In November of 2020, I was nine months pregnant with our 3rd boy. At the time, she'd been living in Reno for about two months when both my parents and her and my little family of four plus our two dogs were evacuated for a wildfire.
She thought it was the craziest and most exciting thing to stay in a hotel. She called all family in Ohio to tell them about it.
Well, we lost our house that day, thank goodness my parents didn't. So I moved my two sons, two dogs, my husband, and my very pregnant self in a house with my grandma and my parents. It was a wild ride, but as crushed as I was, who gets to live with their 92-year-old grandma? And cook for them!
On top of it, Skip arrived two weeks later. He came to the house I came to so many times; ironically, just as she was there when I came home, she was there when he came home. She held his tiny body and would say, 'I can't believe how little he is.'
My boys loved every second of their time, playing cards and asking Grandma why she says 'worsh' and not 'wash.' We had a few months with all of us there. A terrible blessing I call it.
Fast forward, grandma has her own place to stay. We moved into a rental while we rebuild and my parents are living just them. We go over and I make meals in her kitchen as my boys ask her stories of her life.
Skip steals her cane…he's learned she gives all the treats if he asks and she never refuses his little hand grabbing hers so they can go on a walk. It warms my heart that these boys of mine get to be meet one of the humans who shaped me.
My grandma is 93.
Skip is 1.
The youngest of her grandchildren, I never thought I would see my youngest child and my grandma going on a walk. That he would walk up and ask her. That he would be born in a home she lived in. That she would eventually move down the street from our 'home' (since we haven't rebuilt yet). But here we are.
Life throws you all the things. Good and bad. It's deciphering the reason and finding the good. I had a chance to live with my grandma while in my 30s with my own family. I have the chance to see my sons bond with a strong woman who taught me so many things. And this time, her stories won't be told by just me, but by them."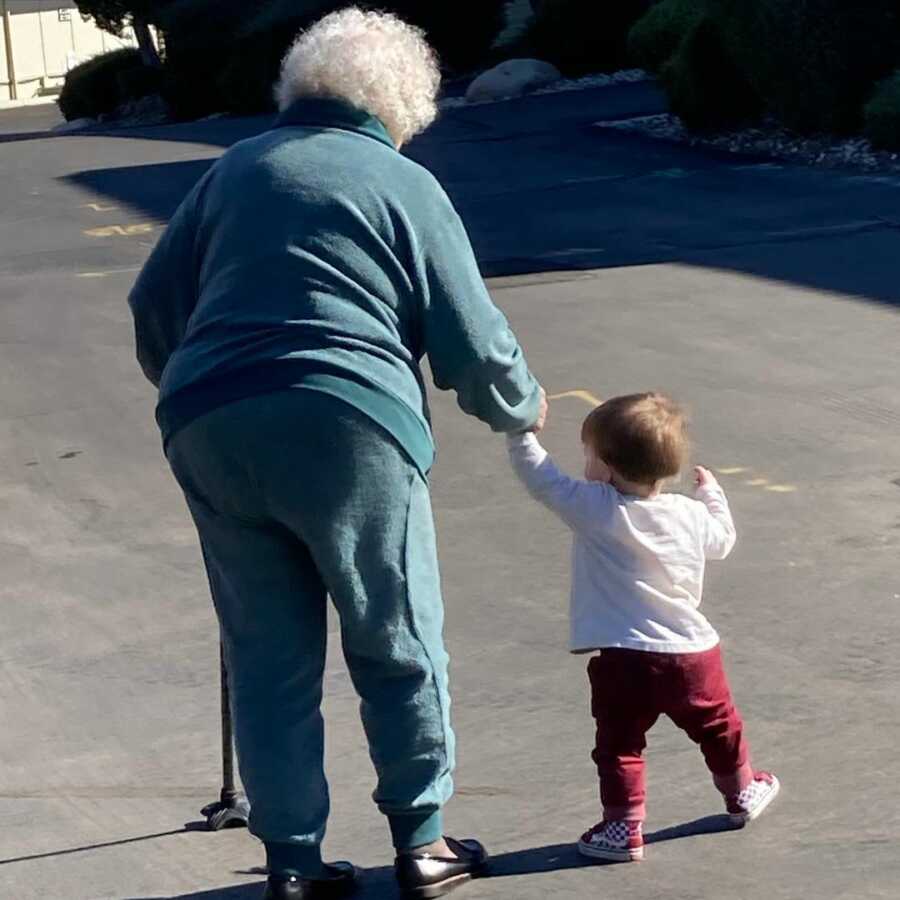 This story was submitted to Love What Matters by Marie O'Brien. Submit your own story here and be sure to subscribe to our free email newsletter for our best stories, and YouTube for our best videos.
Read more stories like this:
'Instead of packing the car for a fun weekend with grandma, we came here, to the cemetery. This is where we must visit her now.': Woman loses mom, says we should 'let grandparents spoil our kids while they still can'
108-year-old meets his 1-year-old namesake: 'You don't know what this means to me'
'Nana, when you get to heaven please send me lots of pennies': Grandmother sends hundreds of pennies from 'heaven' to symbolize her 'deep love'
'Take photos with your grandparents, because one day, when the dust has settled and the years have gone by, those photos may be all you have left of them.': Woman pens ode to grandparents
Do you know someone who could benefit from reading this? SHARE this story on Facebook with family and friends.