"My name is Joanna Ahti. In 2016, I was pregnant with my firstborn, Liam. Throughout my entire pregnancy, my cat Pippit would rest on my belly, and follow me everywhere.  She was very protective and honestly, she knew I was pregnant before I was. The pregnancy symptom of fatigue had hit me hard, and I would often fall asleep without planning it, just to find her laying on me.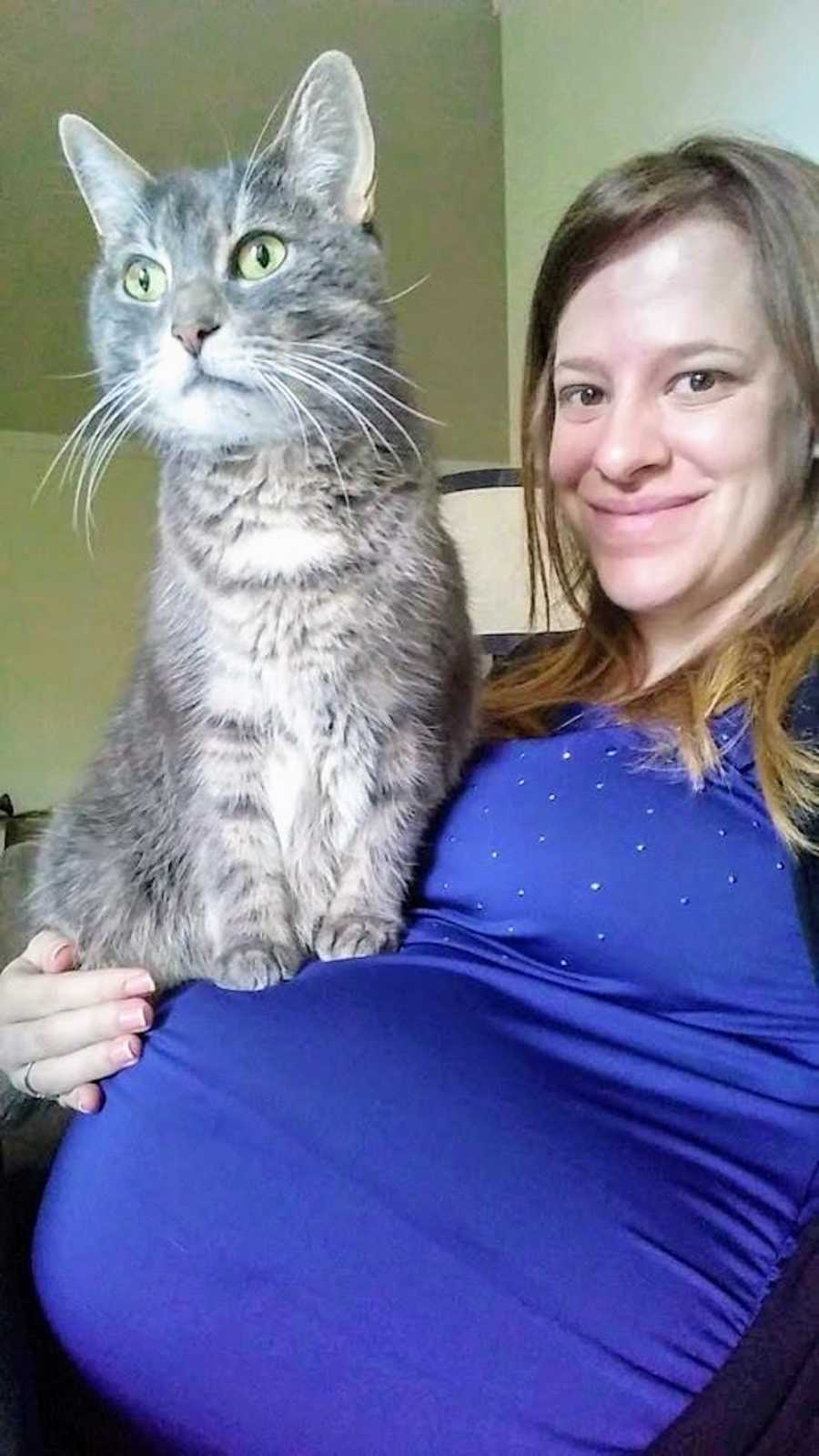 After my Son was born, there was an adjustment period for her, but she always took her catnaps next to us as we dozed off too.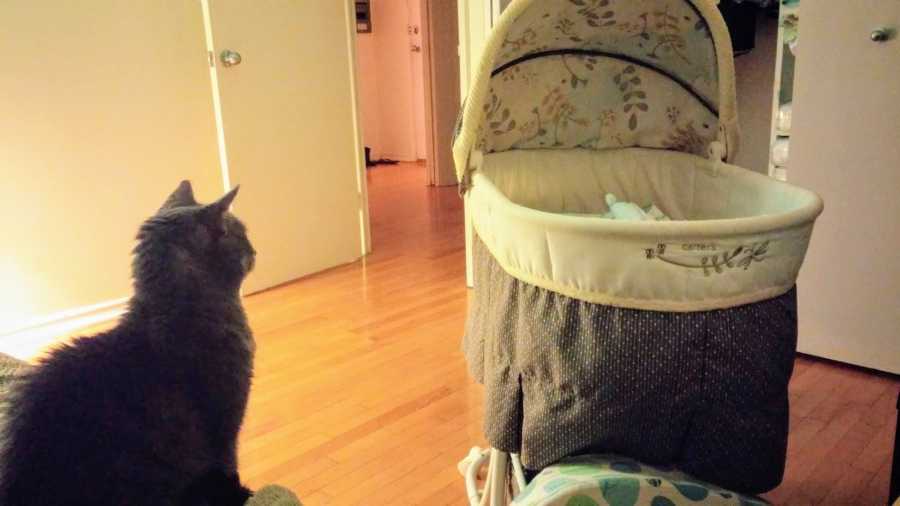 In February of 2018, my partner had snapped this photo of Pippit on me as we were watching an episode of This Is Us. Two weeks after he took the photo, I suffered a miscarriage at home.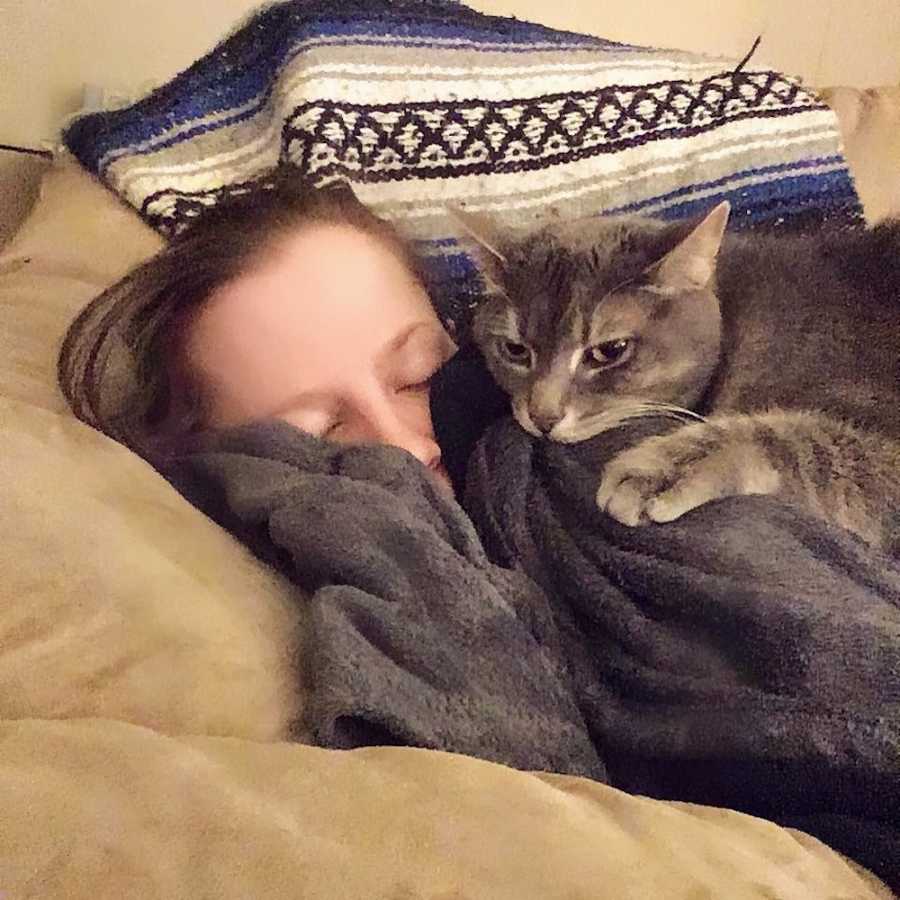 I hadn't known I was pregnant, but I have photos of Pippit hugging me like this as I slept while I was pregnant with Liam. I was emotional, exhausted and couldn't help but fall asleep when I least expected to. I had been four months pregnant, and I had no idea.  It was a shock and I was in disbelief.
I look back at this now, and it's hard to swallow. I often wonder how it was possible that I hadn't known I was carrying our second child. I was four months pregnant and I had no idea.  I had still been breastfeeding Liam, and my cycle had never gotten back on track. I had not experienced any symptoms, and the tiredness I felt, I had assumed was from taking care of my little one. People often make fun of women who don't realize they are pregnant, but as someone who has experienced it firsthand, let me tell you how possible it truly is.
'She must have known she was pregnant.'
No. If you ever believe that someone wants to find out they were having a baby in the exact same moment they give birth at home and lose their child, think again.
Later on, in the year, Pippit began acting extra protective again.  I took a pregnancy test, and I was thrilled to be pregnant with our Rainbow Baby.  Unfortunately, at 18 weeks, we found out at a routine Doctor's appointment, that there was no longer a heartbeat.  I gave birth to our Son the next day, and the cause of death was a true knot in the umbilical cord.
I am currently trying to heal from it, and part of doing so, is writing to let other Mothers that they are not alone.  Many women experience loss, and some don't even tell their partners because they feel ashamed, or like speaking about their loss is taboo.  Loss of any child, no matter how many weeks pregnant you were, is still a loss. Your feelings are valid. The loss is hard enough to handle, and many people grieve and cope in their own ways.  However, if you feel the need to talk about it, whether it's to a counsellor or a friend, you have the right to do so. Do not allow people to keep you, your baby/babies, or your story quiet just to make them more comfortable.  You are not alone.
Never let anyone, (including yourself), make you feel stupid or diminished just because their experience is different from yours."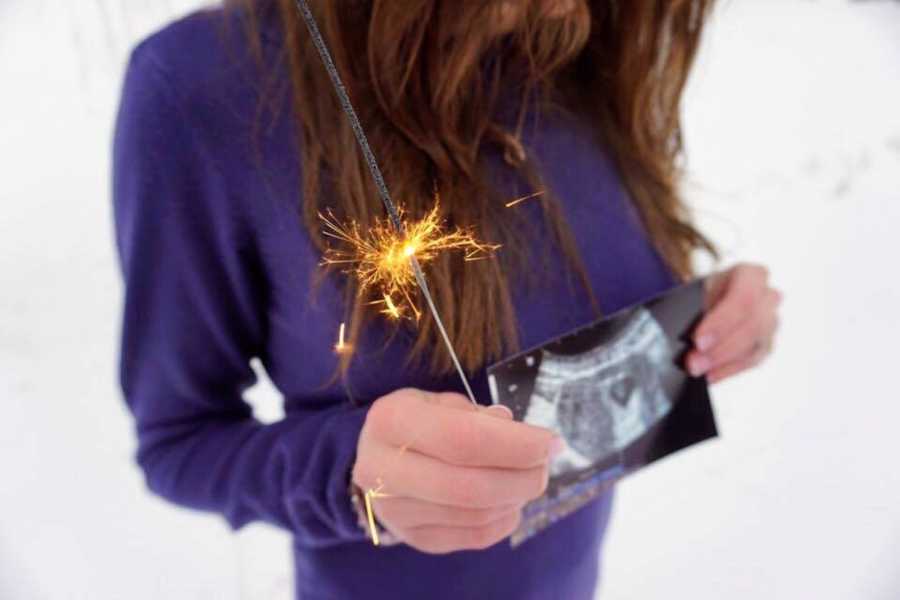 This story was submitted to Love What Matters by Joanna Ahti of Montreal, Canada. Follow Joanna on Instagram here and Facebook here. Visit her website here. Submit your story here, and be sure to subscribe to our best love stories here.
Read more stories like this:
'I was home alone, in a complete panic. So, I flushed. And hoped my toilet wouldn't clog. I hated myself. I mean, I FLUSHED my baby! And then it happened again.': Woman goes through multiple miscarriages before having her rainbow babies
'In a Waffle House bathroom, I wiped. Bright red blood. Stunned, 'Oh my God, this can't be happening again.': Couple suffers 5 miscarriages to finally welcome surprise rainbow baby, 'All 9 of my children are and were a gift from God'
Provide beauty and strength for others. SHARE this story on Facebook with your friends and family.