"I found out I was pregnant when I was 19 years old, in the hospital alone. I was so sick for weeks, worse than morning sickness. Being pregnant never crossed my mind, and when I found out, I was already 7 weeks pregnant. I told the doctors I thought I had food poisoning. He laughed and said, 'You thought you had that for 7 weeks?' I chuckled to myself after realizing how long I'd been throwing up. I had no plan to become a teenage mom, but I had no doubt in my mind I couldn't do it and beat all odds no matter how hard it will be. Telling my mother was the hardest thing to do. I didn't want to disappoint her, but we cried together and laughed. She told me that she would be there for me.
As I began to prepare for this pregnancy, my sickness never went away or got better. It became so bad I was on bed rest for 9 months and admitted into the hospital for almost all of my pregnancy. I wasn't able to work or care for myself. Most doctors believed I was suffering from something called Severe Hyperemesis Gravidarum, but they had never seen it that bad. Hyperemesis gravidarum is a severe type of nausea and vomiting during pregnancy.
Rarely, morning sickness is so severe it's classified as hyperemesis gravidarum. It usually goes away, but mine was persistent until the day I had my son.
Symptoms include severe nausea and feeling faint or dizzy when standing. It can also cause persistent vomiting, which can lead to dehydration. There's no cure, and not a lot of information on it.
I lost over 30 pounds. I went from 160 to 130 and sometimes lower. I also lost my hair. I threw up constantly, at least ten to twenty times a day, even throwing up blood. I was on multiple medications and lived on IV fluids because I could barely consume any food. I had a catheter placed into my stomach to pump nausea medicine directly into me. When that didn't work, they tried a holistic approach with Reiki, and it helped calm my anxiety. My medical bills were over $75,000 and continued to climb. Everything made me sick: phones, radiation, microwaves, being in cars. At times, it felt unbearable. Coming into this pregnancy, I never thought it would be like this. I didn't have a baby shower until my son was born, in fear I might lose him. I was so insecure I didn't take any maternity pictures.
Despite going through all this and knowing the risk, I still never questioned myself conceiving my child. Doctors and family members were very worried about my health, but I stuck it out. Something inside me told me to keep fighting, and I did. I would pray and cry all the time, but I still had a fight in me.
The last month into my pregnancy, I began to feel a little better. I came home from the hospital and was able to remain there until I went into labor.
I went into labor 2 weeks before my due date. I was in labor for 22 hours. The doctor broke my water, and it was time to push. I named him O'syah Armani Todd. I absolutely love his name — it's different, just like him. When my son arrived, I felt a disconnect and numbness, and I knew that moment something was wrong with him. I kept telling everyone, 'Something is not right!' Nobody understood why I kept saying that. My son came out, and he wasn't crying. One eye was smaller than the other, but the doctors kept telling me he was okay. That day, I knew I was going to have to fight for everything I believed in.
We came home from the hospital. He was little and small and just brought me so much joy and comfort. He was so flexible, it was like holding a rag doll. He cried a lot more than a regular baby. Being a new young mom, I felt as though nobody was listening to me. As the months went by, my son wasn't meeting any of his milestones. He couldn't tolerate tummy time, sit up, or rollover. At this time, we were going to Cleveland Clinic. I felt as though the doctors there weren't taking my concerns seriously, so I reached out to UH Rainbow Babies.
At this time, I was only 20 years and also a single mother trying to figure this out on my own. Thank god for my strong mother, who never left my side. Rainbow Hospital sent out a questionnaire packet to fill out. I cried filling it out just seeing how delayed my son was. He was almost 10 months old and couldn't do anything but lay there. One thing that still remains the same to this day is his joy. He is always was smiling and being goofy, despite his circumstances. His spirit always uplifted mine.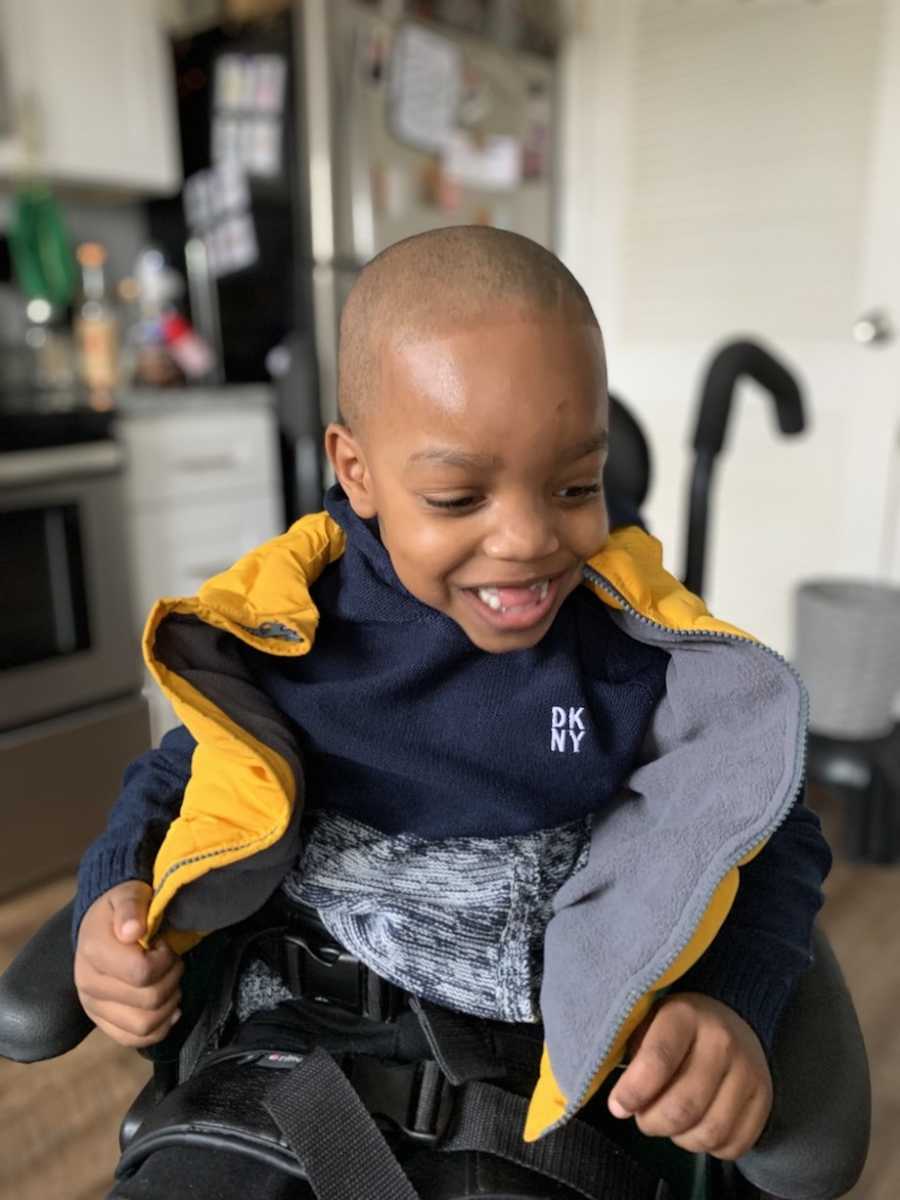 Our first appointment was with Denise Bothe, a doctor in the Development and Behavior department. Meeting her was a pleasure. She was so curious about O'syah and what was going on with him. She couldn't say what exactly but she did agree with me 100% something was wrong with him. She wrote a referral for us to go see Neurology. Her concern was maybe there was something going on with his brain development that might pinpoint what is going on. Neurology ran some tests but they didn't find anything unusual at first. He was only about 10 months old, so it was hard to tell if something was really going on. They wrote us a referral to go see a genetic doctor, who explained to me how the genetic testing works. It was going to be a series of multiple blood tests and blood draws. I felt like I was living in a nightmare, watching them stick him over and over, but O'syah is so strong and never cried.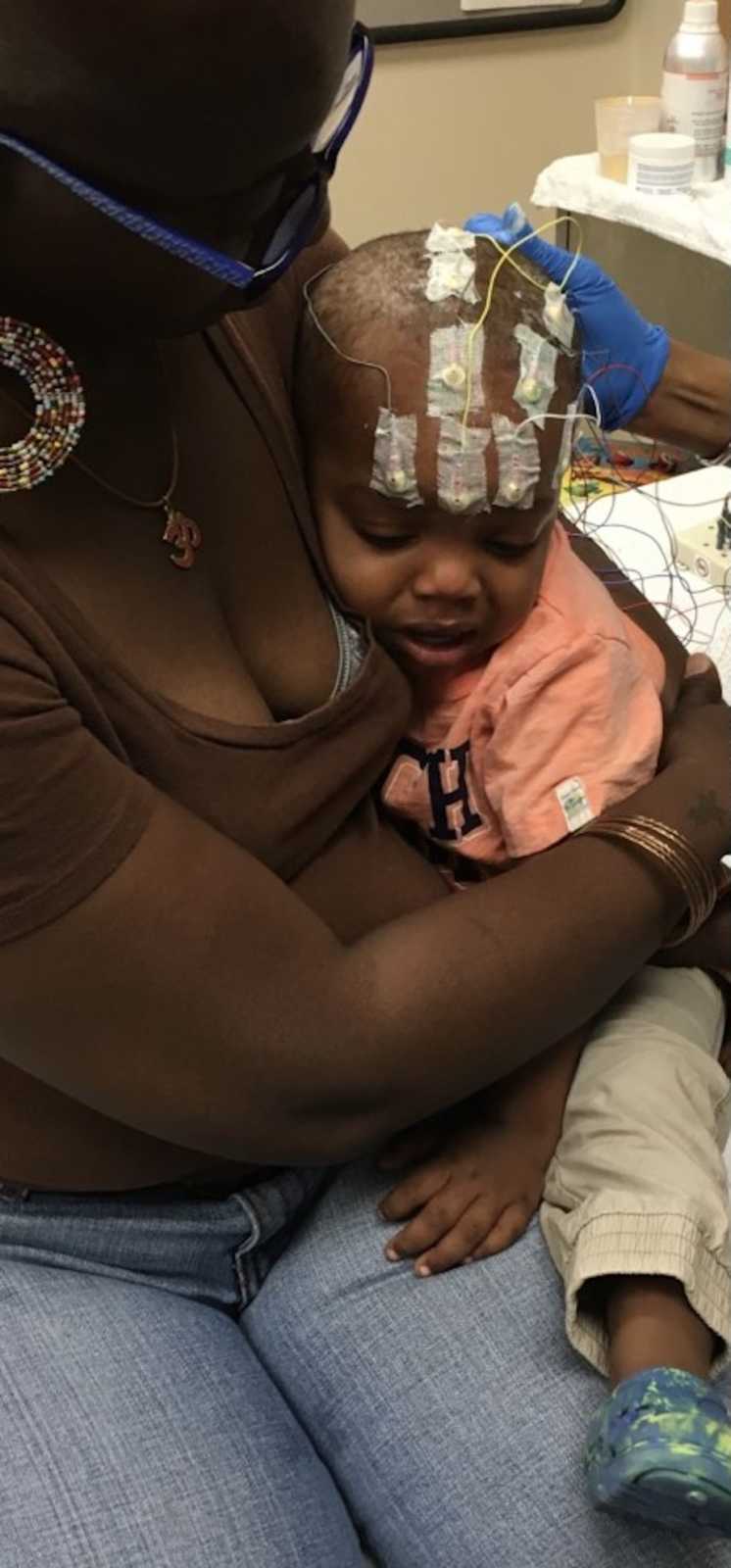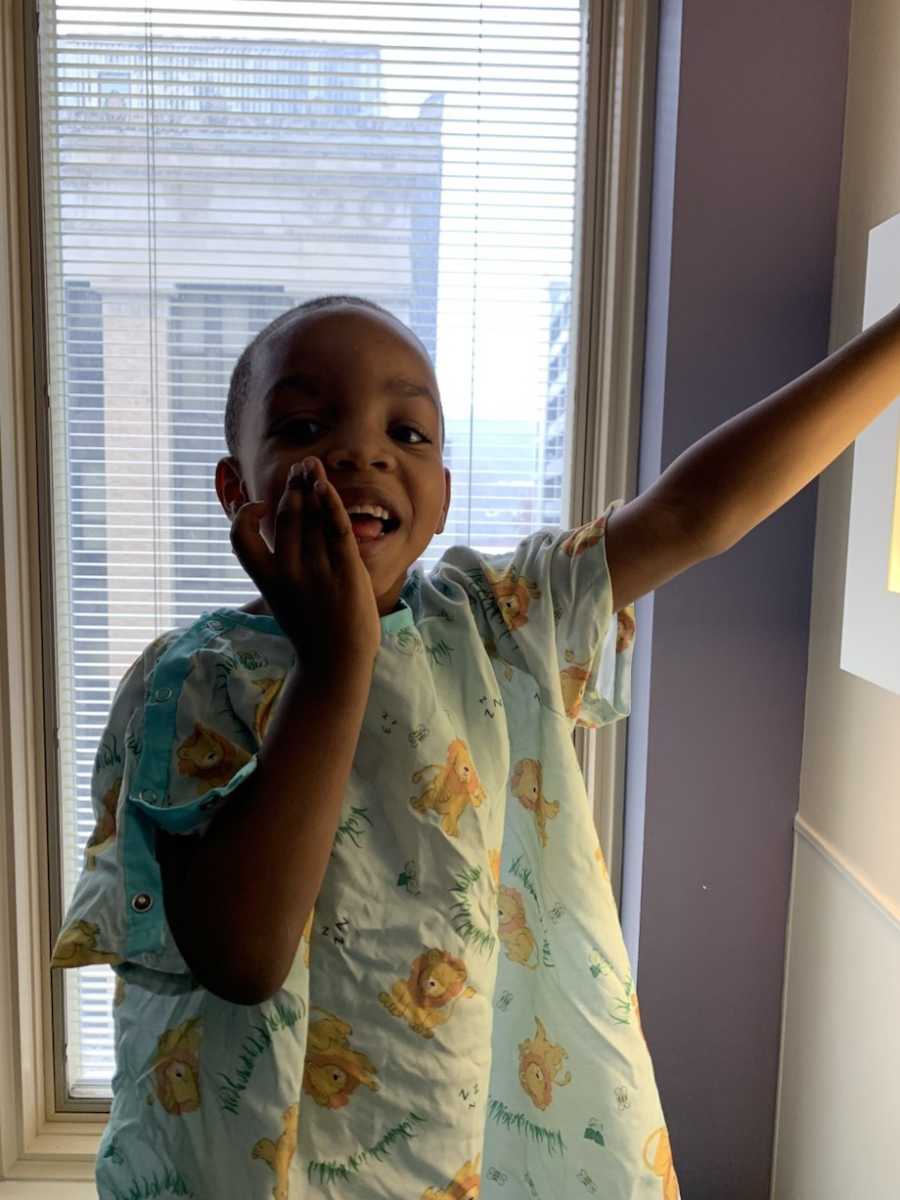 They explained to me how difficult it could be sometimes for insurance companies to approve genetic testing because of how expensive it is. It took about 6 to 8 months for the insurance company to approve his genetic testing. We did several blood tests and the first two things they tested him for came back negative. All of this took over a year and a half to complete. While this is all taking place, Osyah was placed into physical, speech, and OT therapy. The last testing they did came back positive, and that's when I was told he was diagnosed with a rare genetic disorder called STXB1 partial dilation. I remember the doctor handing me a pamphlet on a girl in Europe who was the first child to be diagnosed with this disorder. I felt alone once again. All the doctor could do was hand me a pamphlet?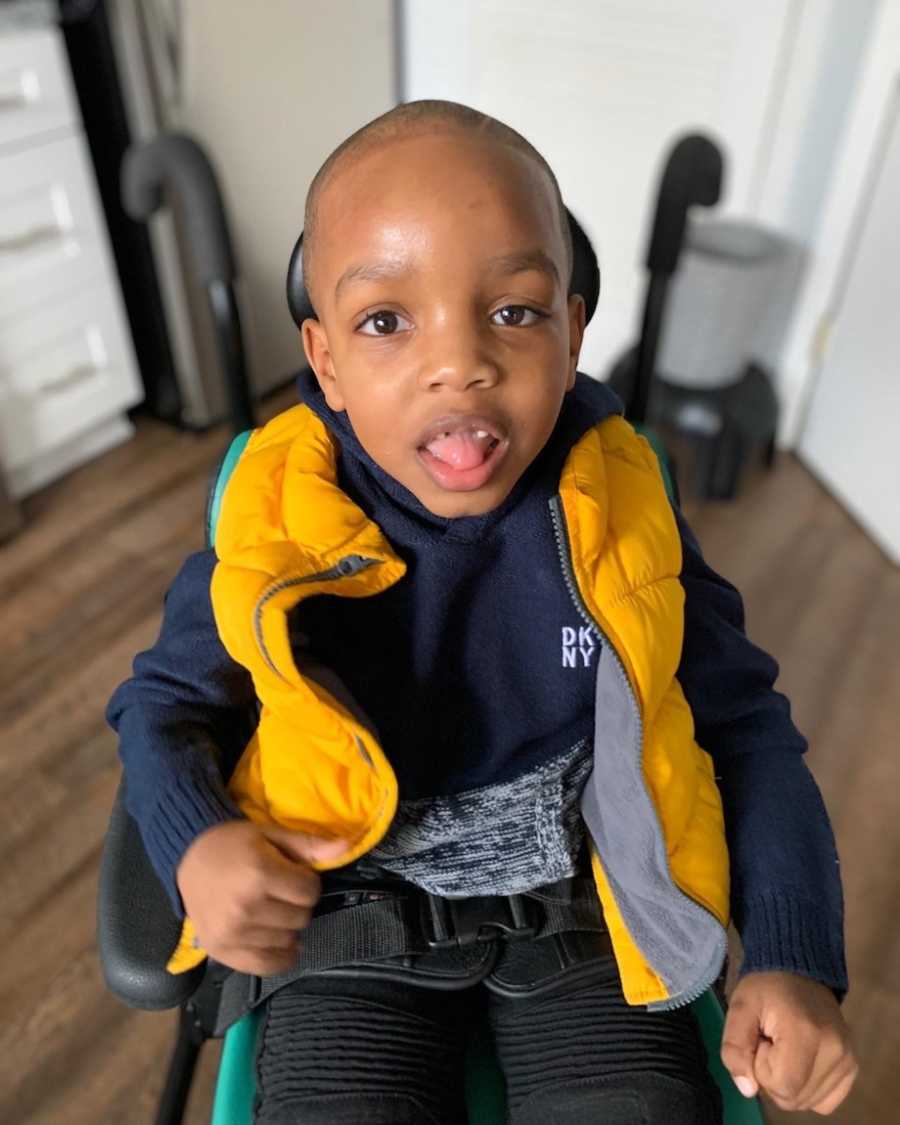 O'syah was diagnosed when he was 2 1/2, and at the time, he was still nonverbal and couldn't walk.
The day I found out what O'syah was diagnosed with, I was numb. I was just shocked knowing there wasn't a cure and they couldn't guarantee he would ever walk or talk. I was heartbroken. I had no clue what I was going to do, but I did know I was going to love him like nothing was ever wrong with him.
Part of me felt like it was my fault. A part of me blamed God, and I lost my faith. I couldn't understand why children had to go through things like this when they are so innocent.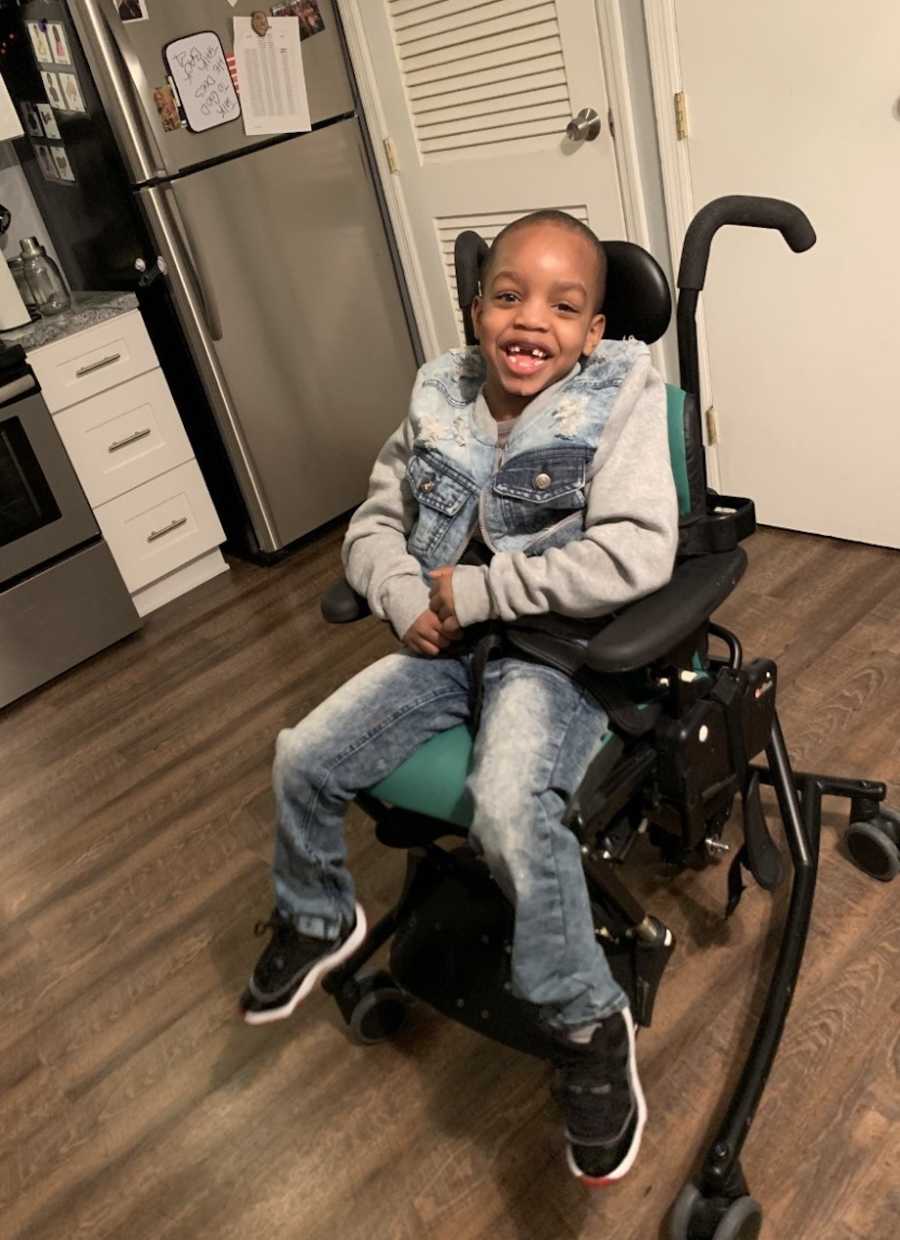 It wasn't until I started sharing my story on Instagram I realized this situation was bigger than me. My following started to get bigger and my voice started to get louder. I fight every day for what my son deserves in this world, just like any other child. I have become an advocate for special needs children, special needs parents, and special education.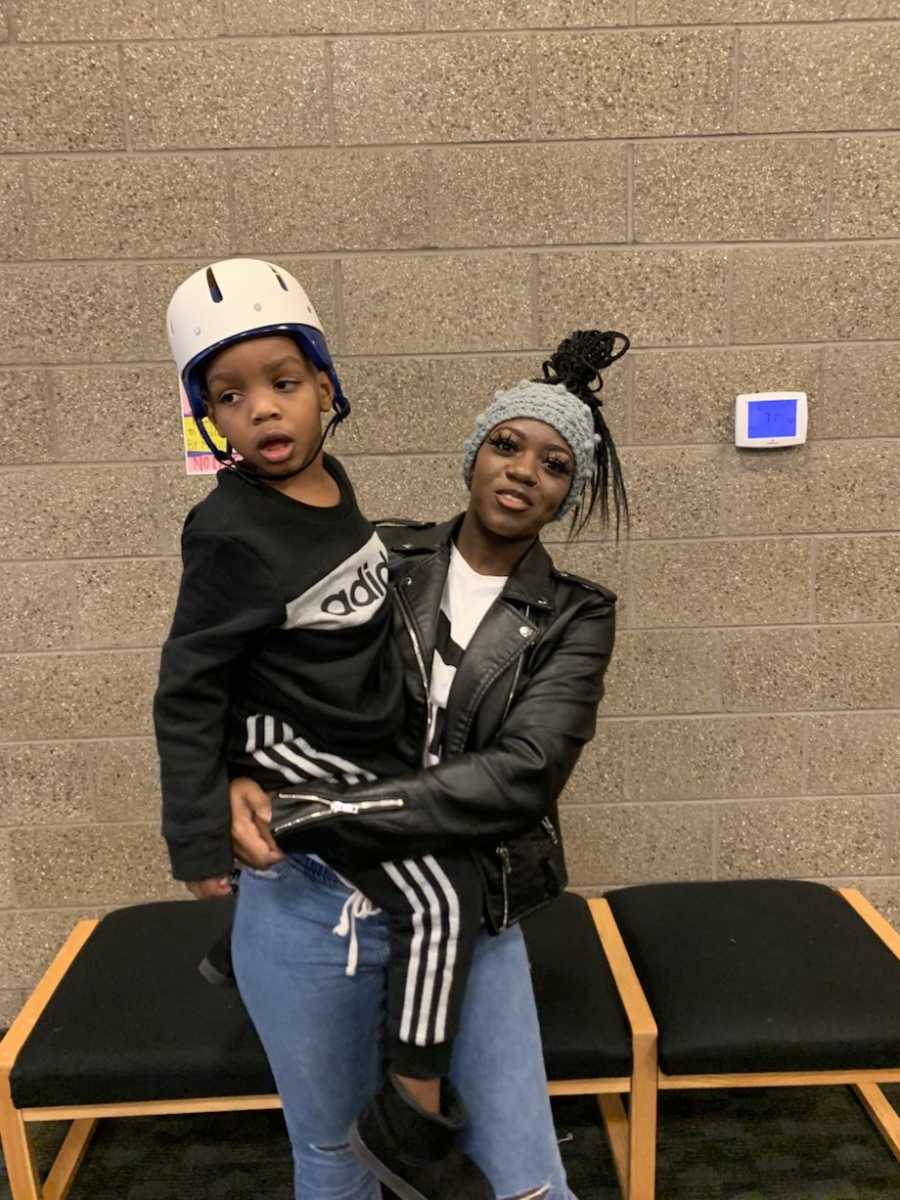 Over the years, I have taught myself how to navigate this lifestyle of a special needs parent. There was no blueprint or anyone to guide me. I figured it out on my own. Not only am I a special needs mom, but I am a single special needs mom, so I feel like my job is ten times harder because I am doing a two-person job. This journey has been hard, overcoming the stigma of what special needs looks and acts like. Looking at O'syah, you couldn't tell anything is wrong with him.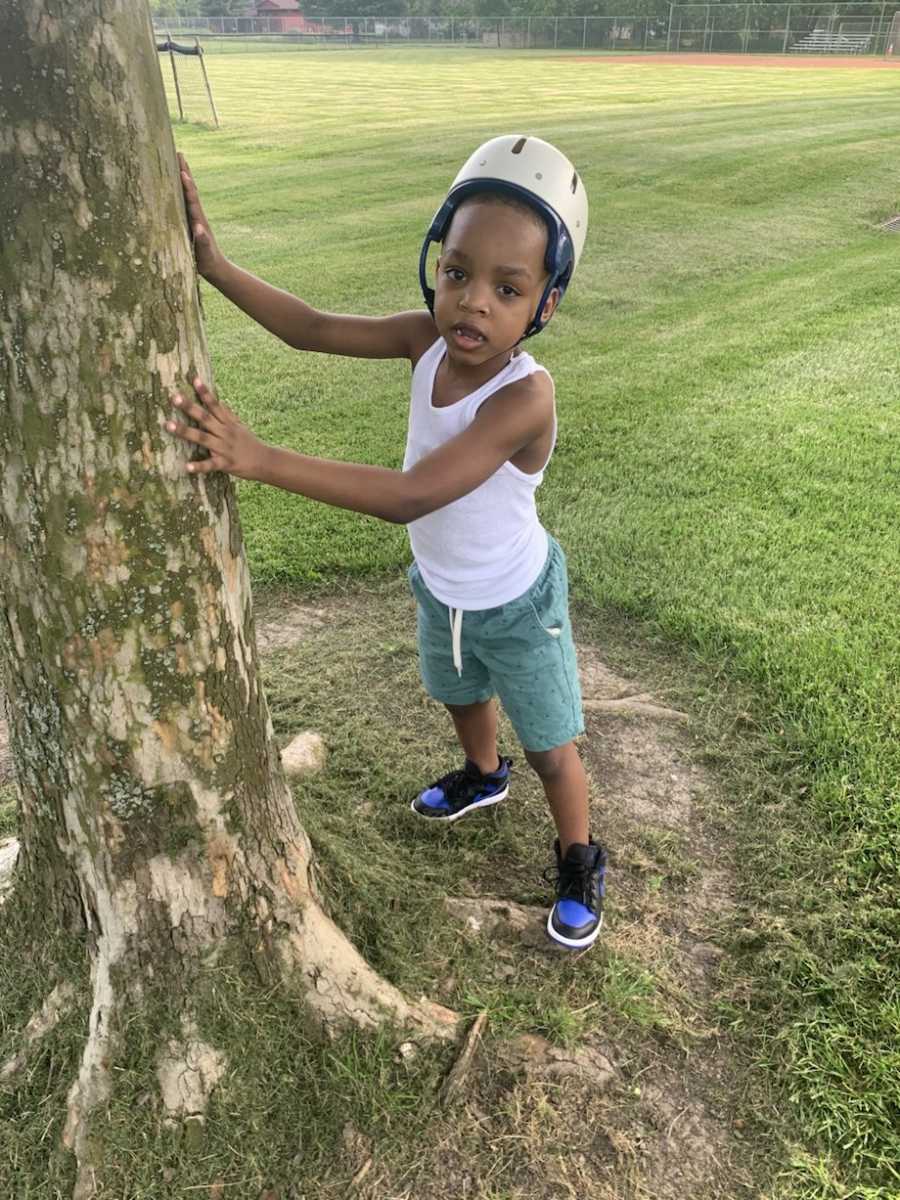 I want people to know and understand you never get used to this and it's okay to not be okay. It's okay to acknowledge you're sad, hurt, confused. It's okay to cry, be tired, want a break! I've been there before. I've almost given up before but just understand, nobody will ever love your special creation the way you do. I am the product of turning your pain into a story and into a testimony to help others around you.
O'syah is now five-years old, and he attends school! He's still nonverbal but is learning sign language. He goes to therapy three times a week. He can walk and run. He was recently diagnosed with myoclonic seizures, but we recently have got a hold of them. That was a scary time in our life. We basically lived in the hospital.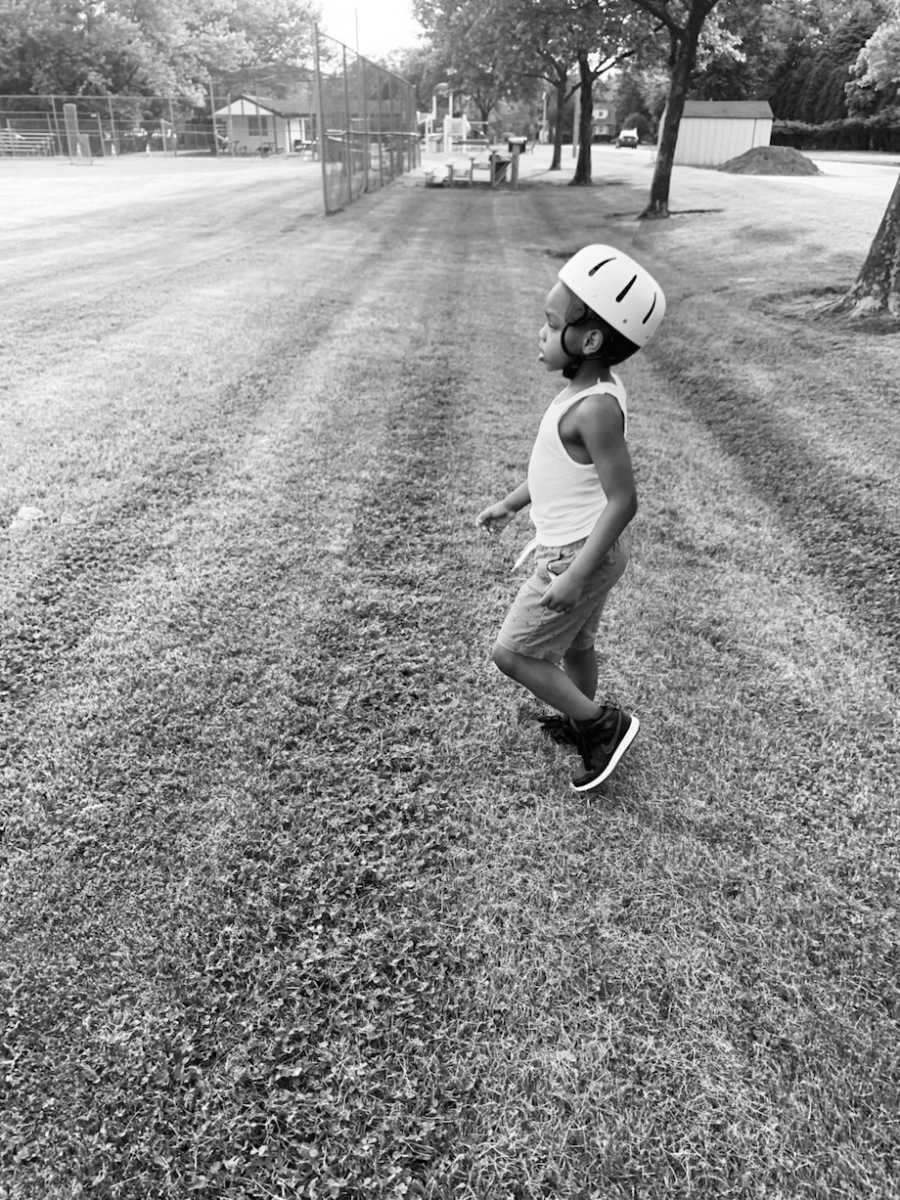 The one specific thing that keeps me going is how happy he is all the time! We have come along way and still have a long way to go but one thing is for certain — we are a team and we will continue to have each other's back. I recently started a nonprofit called special creations. My goal is to cater to the special needs community and help parents navigate this lifestyle while also bringing awareness to this rare disorder. I'm making it my job to show the disconnect of funding and resources available to the rare disease community.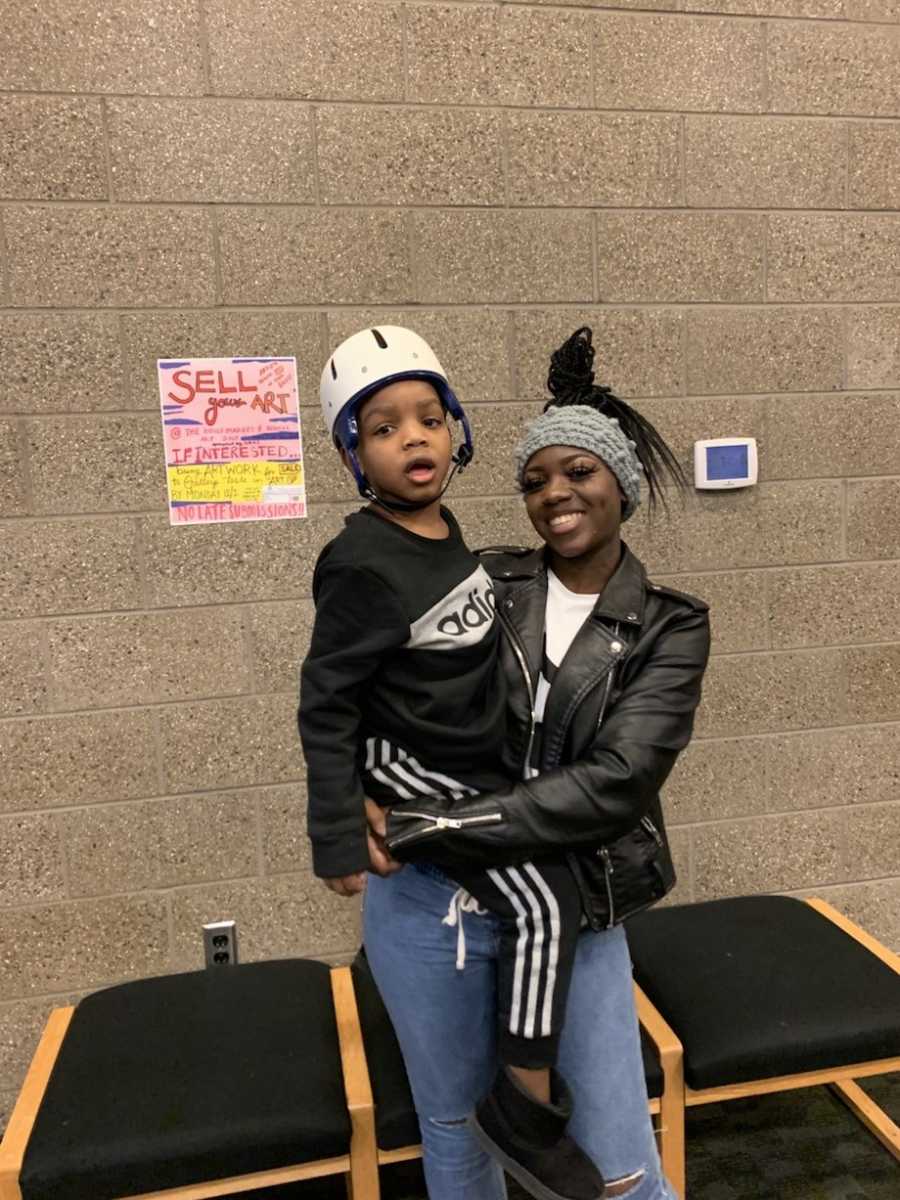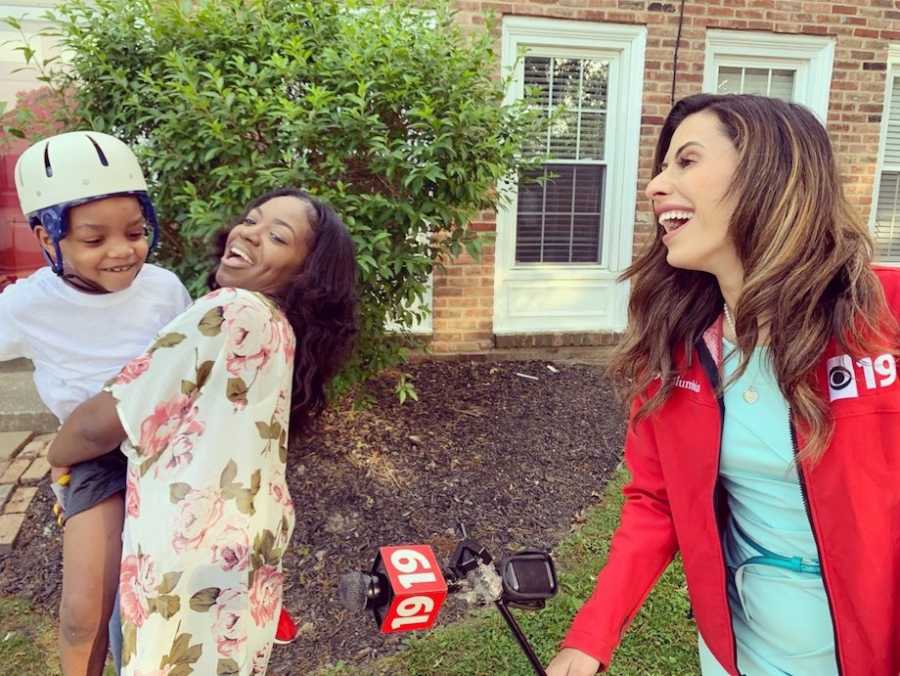 I still have my moments and I don't think they will ever go away but through this, I have found my purpose in this world. I am #SpecialNeedsMom
I want to dedicate this to my son, O'syah Armani Todd, and my mother, Josephine Brown."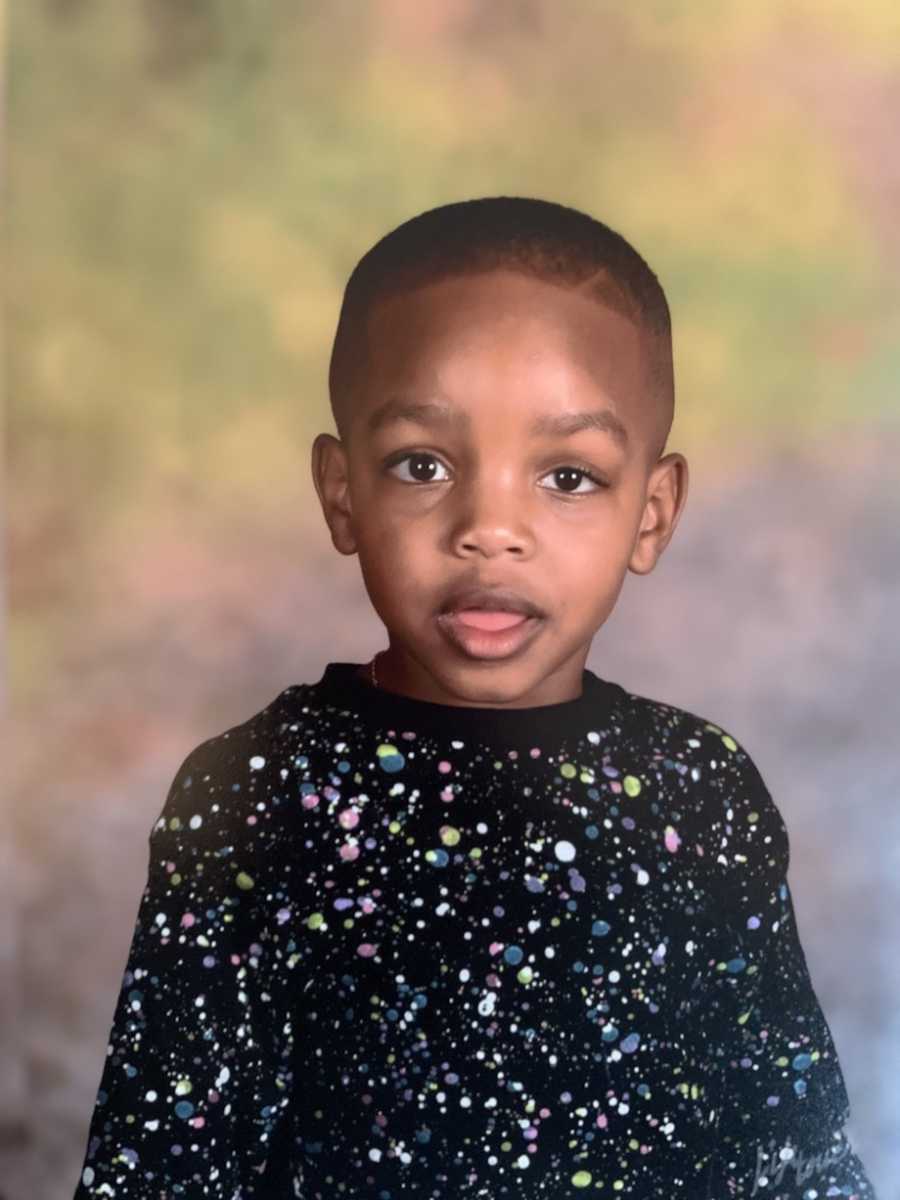 This story was submitted to Love What Matters by Marlana Kendricks from Cleveland, OH. You can follow their journey on Instagram. Do you have a similar experience? We'd like to hear your important journey. Submit your own story here. Be sure to subscribe to our free email newsletter for our best stories, and YouTube for our best videos.
Read more touching stories like this here:
'One day, he will fit the description. How will I protect my autistic son from his skin?': Special needs mom urges 'it is not my responsibility to end racism'
'Because of autism, my daughter doesn't know her beautiful brown skin is a threat in this world.': Mom to daughter with autism says 'I must worry about protecting her'
Do you know someone who could benefit from reading this? SHARE this story on Facebook with family and friends.