"On Saturday, my husband, mother in law, kids, and I went shopping and everything was fine. The kids were playing, laughing, and having a ball. We were on our way to my mother in law's house when my 6-year-old, Noah, started crying saying his head was hurting. I gave him some children pain medicine and he seemed okay after a few minutes.
He and his older two brothers begged to stay the night with their Nana and Papa and I said, 'Okay that's fine.'
I called my mother in law the next morning (Sunday) to check on the three of them. She said, 'They were okay, but Noah was still complaining of a headache,' and she had given him more pain medicine.
I told her to tell him to go lay on the couch and relax and I would be there shortly to get them.  So, I get ready and run by the grocery store, then get the scariest call of my life! My mother in law said, 'LoriAnne, something is wrong, Noah's not acting right… he won't answer.' I heard my father in law in the background saying, 'He wasn't himself, something isn't right.'  She said, 'I'm calling 911, get here now,' and hung up.
I freaked and ran to the car where my husband and other two kids were. We got to Canton as fast as we possibly could. The EMS was already there and checking him out. Noah's lips were blue, his eyes were fixed looking up and he was completely limp. He had a seizure. I panicked and everyone else did too. They carried him to the ambulance and checked his temperature. It was 102.3 — they thought it may have been a febrile seizure. They started IV fluids and got him stable. We left for Mission Health. On the way there, he had another seizure (and almost a third one when they gave him a medicine to keep the seizure away).
We got to the hospital and they immediately started blood work and did a cat scan, a spinal tap, urine test and chest X-ray. Everything looked okay so far, then the spinal tap results come back. He had La Crosse encephalitis, which is a virus that is cause from a mosquito bite. It puts fluid around the brain which is where the headache came from. They immediately admitted him to the 3rd floor pediatric ICU where they did more tests to make sure there wasn't something else along with it.
Here it is days later and my baby is the same. He's has had antibiotics, seizure medication, Tylenol, ibuprofen, and morphine. He sleeps 99% of the time and is only responsive a few times a day mainly when the pain meds are wearing off and he's uncomfortable. They said once he turns a corner and his body starts fighting it, he will make progress rather fast… it's just getting to that point.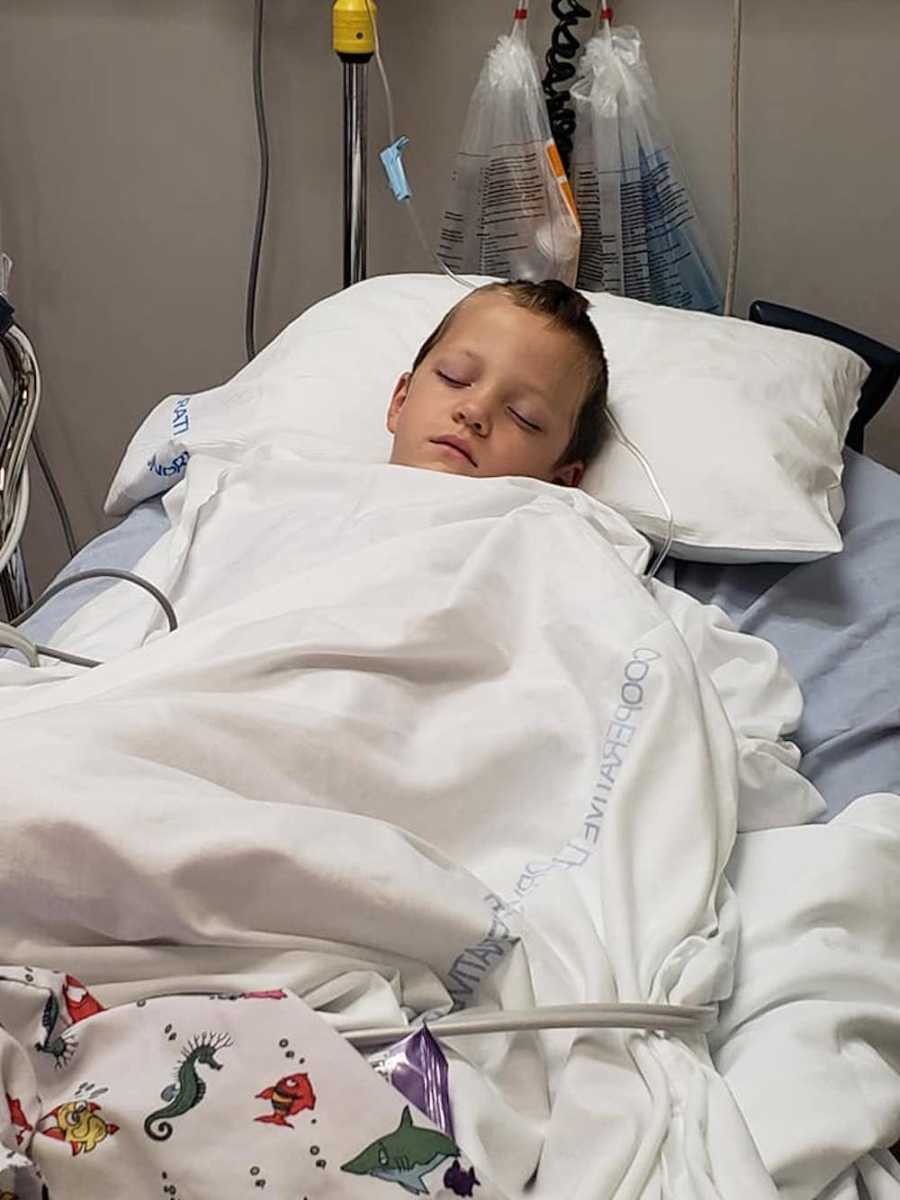 I am a mother of five boys and I am a firm believer in bug spray and all that to keep the bugs away, and this still happened to my little man. Noah is a spunky little dude and sickness never brings him down… so this is breaking all of our hearts.
My grandparents have my oldest two and my husband is taking off work to watch the two babies. Please pray for him so he can get better soon and please be cautious as this was something I thought I had prevented happening. I don't want to see another baby go through this. They told us it's like meningitis, so they are treating it the same way.
Use bug spray on your kids and check for bites. It's not 100% preventable obviously, but do what you can to try. His daddy and brothers miss him and we all want to be home together as a family. Pray for his brothers. Two of them saw it happen and it scared the daylights out of them. Pray for me and his daddy, and the grandparents and extended family and friends that are so worried about him. We appreciate all that everyone has done. I just wanted to let everyone know how this began and what was going on. Today his fever is still high, and headache is still horrible.
No baby deserves this. I also want to add that the doctors have told me it's very common in this area, but this is the first I have ever heard of it so that's why I wanted to make this post public. After having 5 kids I'm just now finding out about it, and I didn't want to find out this way."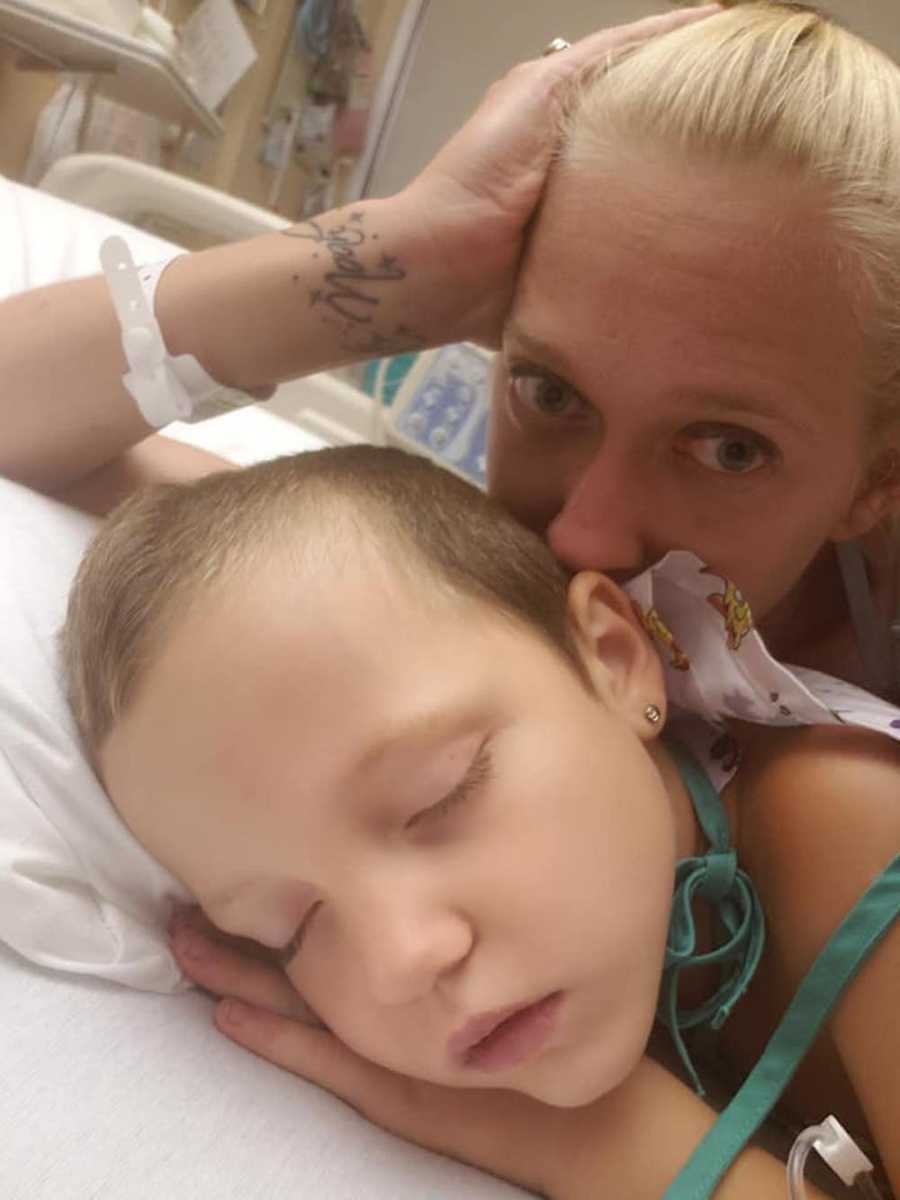 This story was submitted to Love What Matters by LoriAnne Surrett of Waynesville, North Carloina. Subscribe to our free email newsletter, Living Better—your ultimate guide for actionable insights, evidence backed advice, and captivating personal stories, propelling you forward to living a more fulfilling life.
SHARE this story on Facebook to encourage other parents to prepare themselves in case of an emergency.