"Do you ever read the paper or see the news and look at the location and say, 'Nah, that'll never happen to me'? I felt that way too. I was naive. Some of those things happened to innocent people, with no warning. I remember telling my sister, a few weeks before my story began, 'We are a very lucky family.' As in, the only 'hard thing' we had to go through was my grandmother passing of old age.
I was a 24-year-old Veterinarian Medical Assistant. I had finished college on the honor roll both semesters in 2015. I worked in the animal industry for over 10 years and knew I wanted to start helping.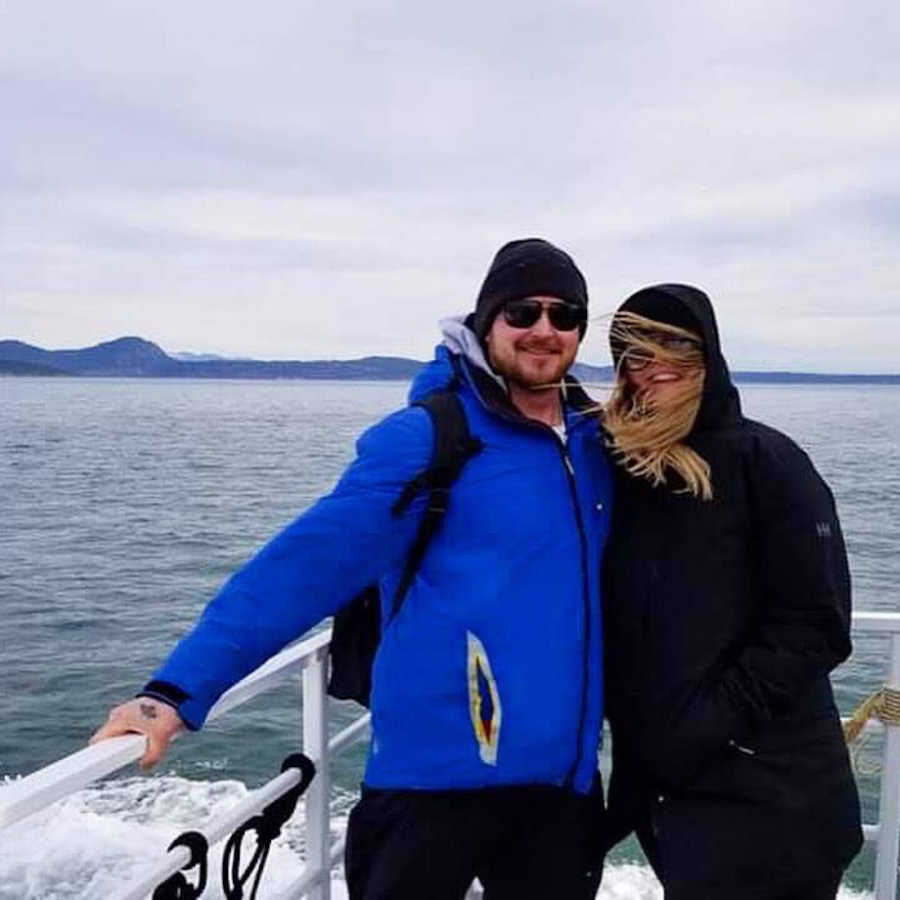 After college, my sister and I bought a home together and lived together for 3 years. My sister and I were, and still are, inseparable. We knew exactly what each other were doing, what we were going to say, and had even opened each other's phone with face recognition on the iPhone.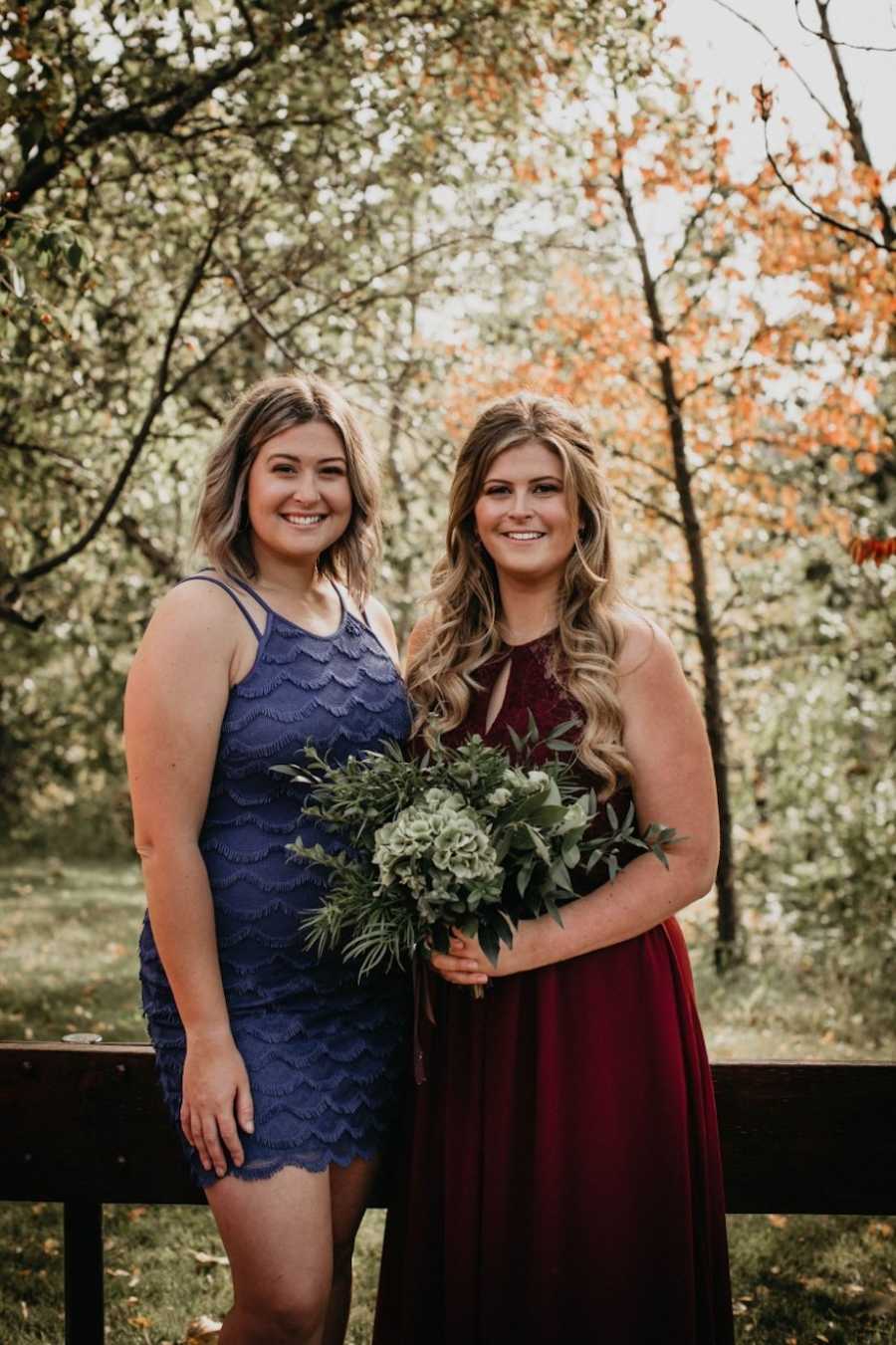 February 25, 2018, was a pretty normal day. I was at my parents' house, house-sitting for the week. I had visited my boyfriend at work that day as he was working for 24 hours. When I returned home, I started watching Fantastic Beasts.
My neck was a little sore as if I had slept on it weird. I decided to have a nap because I felt a little tired. I casually mentioned it to my boyfriend, and he told me maybe a nap is a good idea. I think I slept for 30 minutes on the couch, which is pretty normal for me.
Around 9 p.m., I wanted something to snack on. Everyone knows your parents always have the best snacks, so I found a frozen pizza! The pizza came out of the oven, placed it on the cooling rack, turned the oven off, and went to text my boyfriend. I remember it as if it was yesterday. 'Something's wrong,' I texted him. In a matter of seconds, it felt like someone spun me 180 degrees. I remember this part very loosely, but I guess I called my boyfriend and was trying to tell him, 'Something is wrong, get help.' I suffered from aphasia so he couldn't understand me.
At that point, I fell to the ground. When I fell to the ground, I managed to actually take a picture of myself and send it to my boyfriend. I was actually trying to take a video, but it came out as a picture. Either way, I think that selfie saved my life.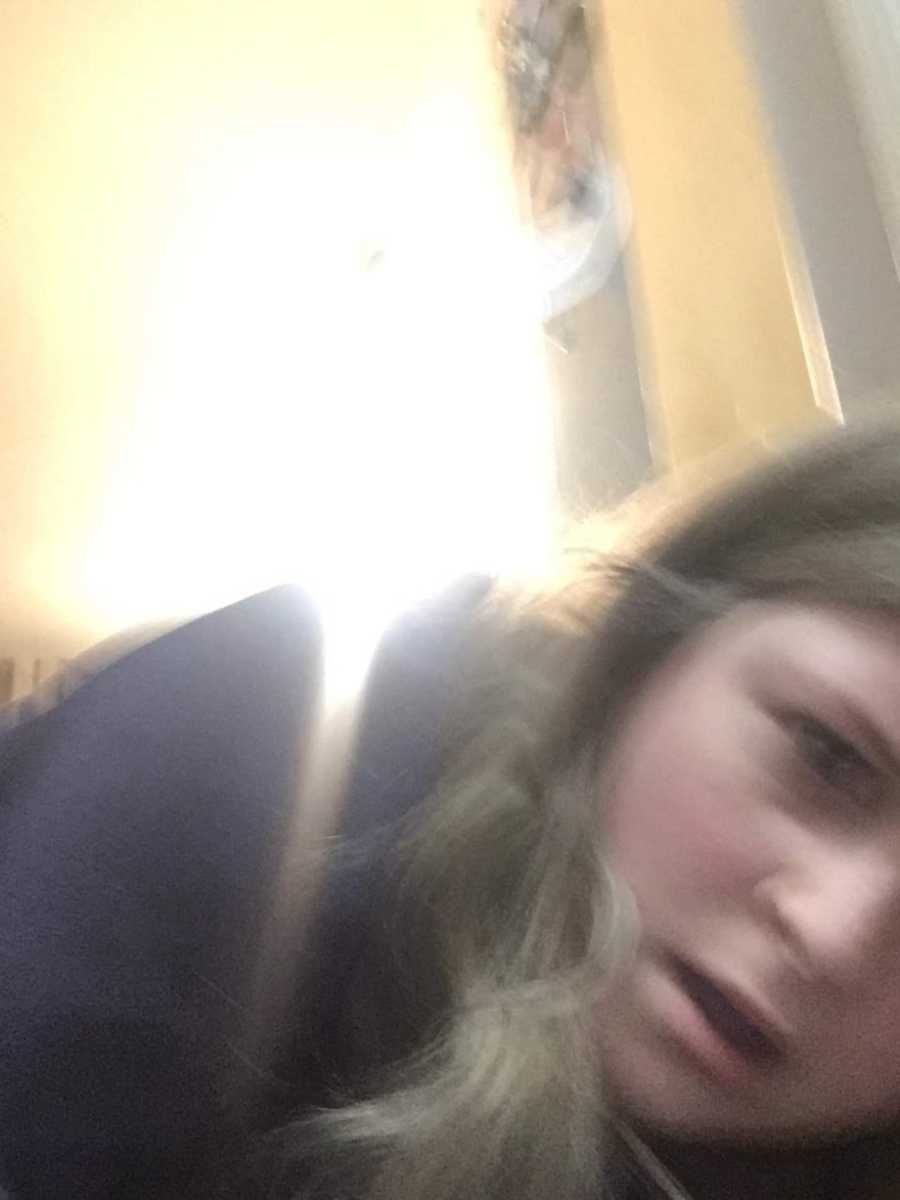 My boyfriend received the photo and was confused. 'Why are you on the floor? Are you drunk? Why aren't you texting or calling me back?' As he couldn't leave work, he called my sister.
In that time of getting off the phone with my boyfriend and being found by my sister, I went numb on my right side. I had no idea what was happening. 'Okay, Maysyn, everyone knows you're a bit dramatic, just get back up.' But I couldn't move my legs, arms, or even my head.
I was on the floor, by myself at my parents' house, not knowing who was going to save me or if I would die there. I remember hearing my phone ring over and over again. I knew I had to do everything in my power to answer that phone. I somehow managed to answer my phone. It was my sister. She was frantic, confused, and scared. I could hear it in her voice. She was trying to talk to me, telling me she was on her way, from our house to my parents. I kept trying to tell her, 'I'm in the kitchen, on the floor.' She couldn't understand me as I still had aphasia. She kept reassuring me she was on her way.
She found me 15 minutes later, breathing heavy, face down, fighting for my life, on the kitchen floor. She immediately called 911. She had no idea what's going on. She couldn't tell the paramedics what she expected because she wasn't expecting anything. All she could see was her baby sister struggling.
I remember laying up against the hallway wall, barely even able to hold my head up or even open my eyes. Lights hurt, sound was painful, movement made me feel nauseous. The paramedics thought I was overdosing. A young 24-year-old who was at her parents' empty house for the week. They soon found out I was not overdosing. In fact, I was suffering a stroke. They acted quickly and gave me the right medication. The ambulance ride was scary, and everything was happening too fast. I couldn't understand what was happening. What have I done to be in this specific scenario?
The last thing I remember of that ride was the doors opening to take me into the hospital. The next hour was just black. I can remember waking up in a hospital ER with doctors and nurses surrounding me. 'What's wrong with this young girl? What's her name? Where is she from? Where's the doctor? She's trying to open her eyes!'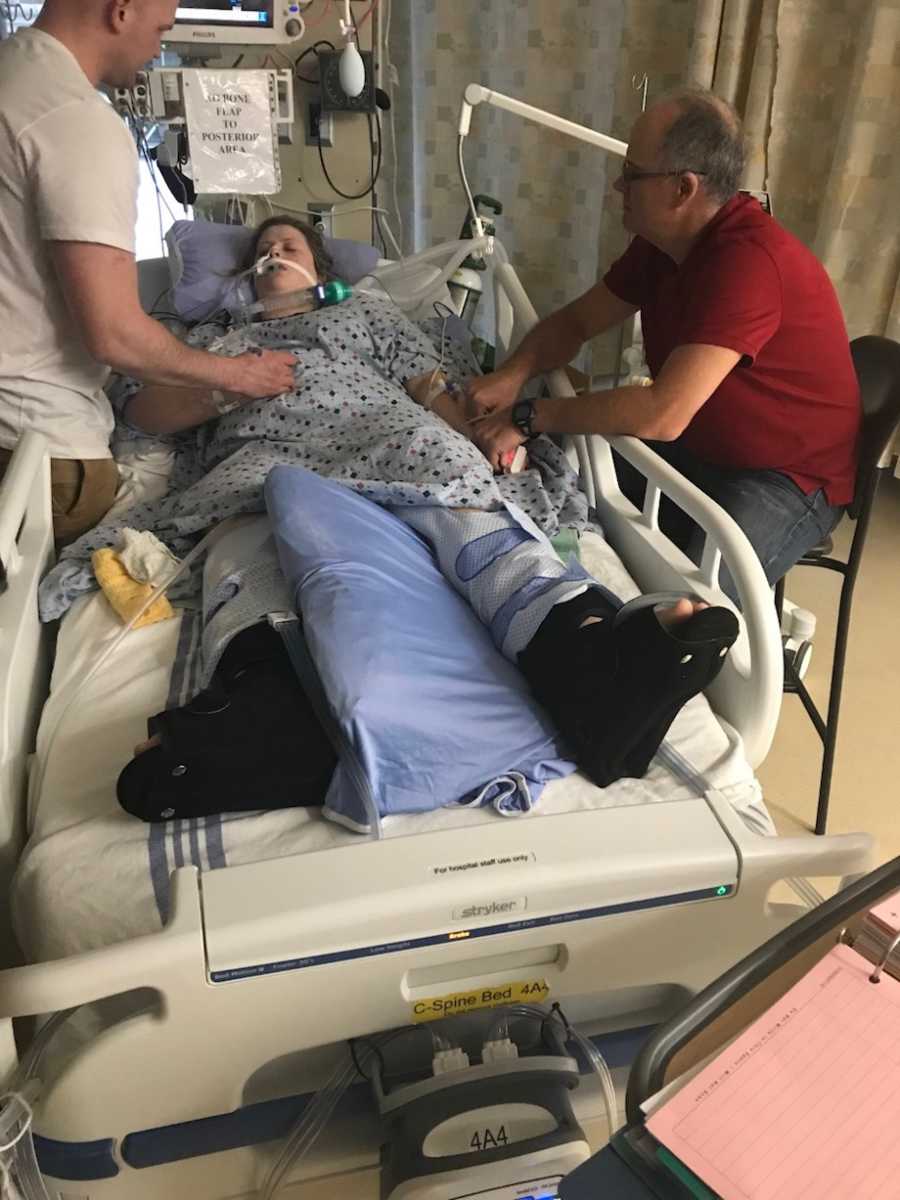 Opening my eyelids was as if they were cement blocks, scratching my corneas. I couldn't keep them open, the light was blazing. Sound was deafening and made me nauseous. I kept thinking, 'Where is this pain coming from?'
I laid lifeless on the bed, hearing all my doctors and nurses talk about me around me. It felt like I was in a dream. I was the fly on the wall, of my own life. The next 3 weeks seemed like 3 hours to me. I can remember little skits of certain days, but couldn't tell you if it was in one hour, one day, or one week. Even to this day, I wouldn't be able to identify when certain events happened.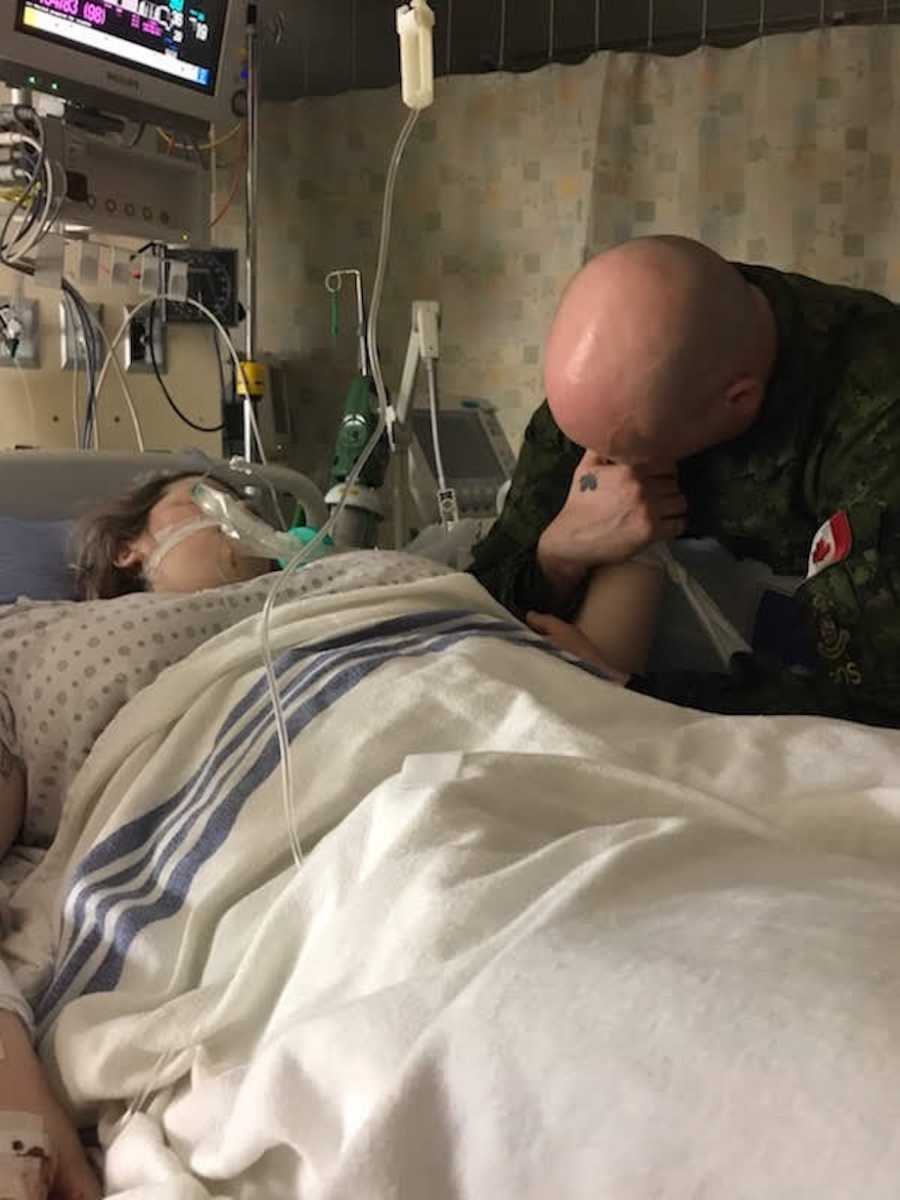 In those 3 weeks, a lot happened. I had several CT scans, x rays, blood work, testing, and had a piece of my skull removed to relieve pressure, which caused a second stroke. When they took me off the blood thinners to perform the bone flap surgery, the clot went straight into my brain again.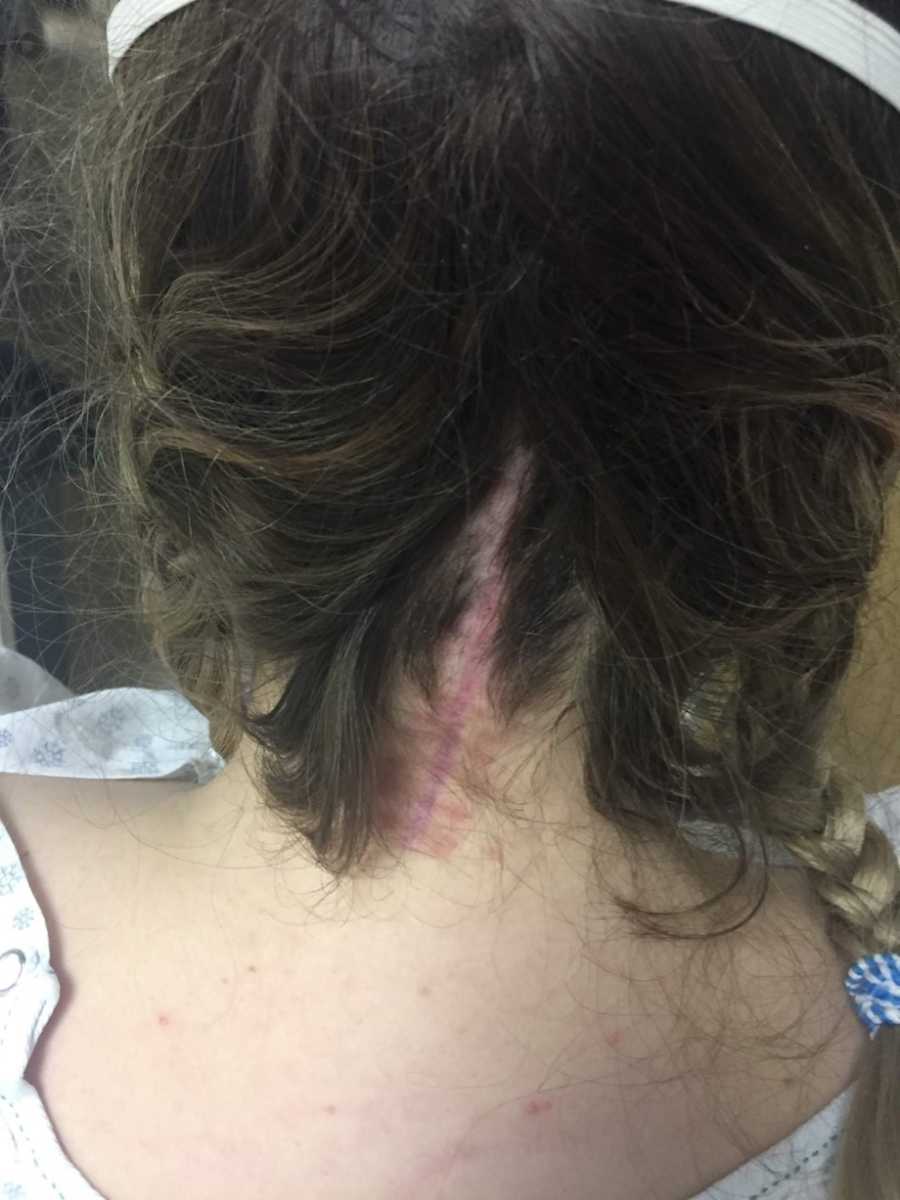 I stayed in the ICU for 3 weeks and spent 3 months in inpatient care. I was questioned if I had been to the chiropractor, been in a car accident, bumped my head, nothing. In high school, I was always the designated driver and never experimented with drugs. So that canceled all those factors.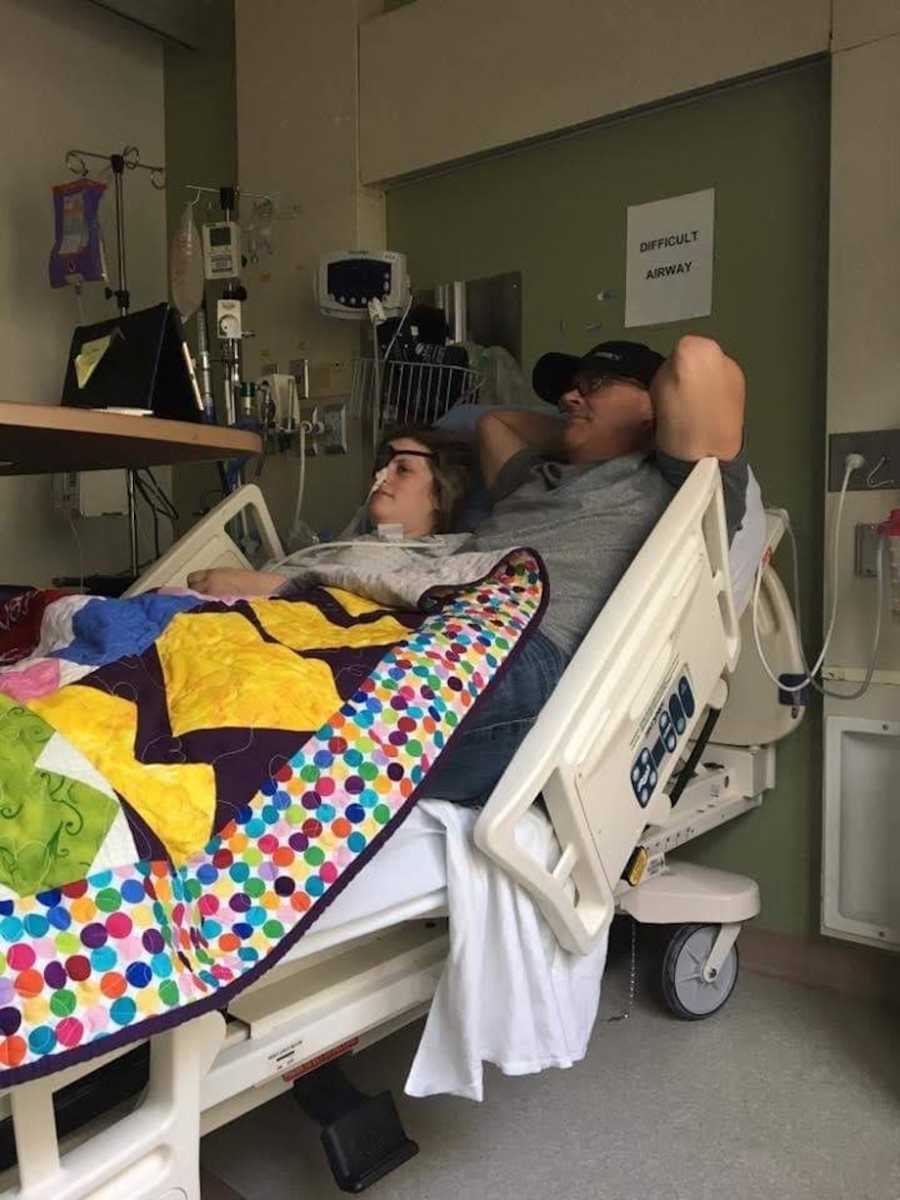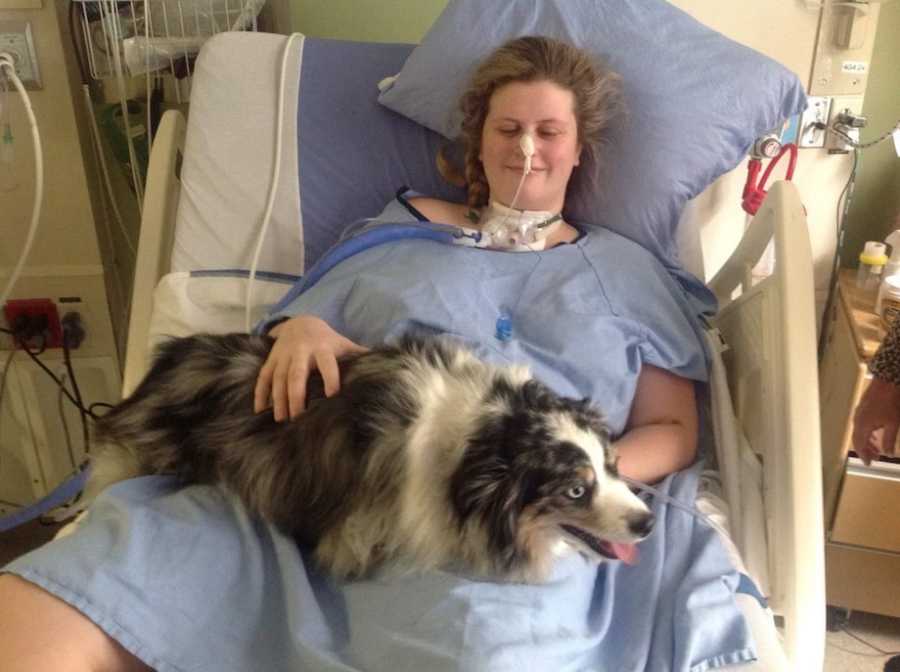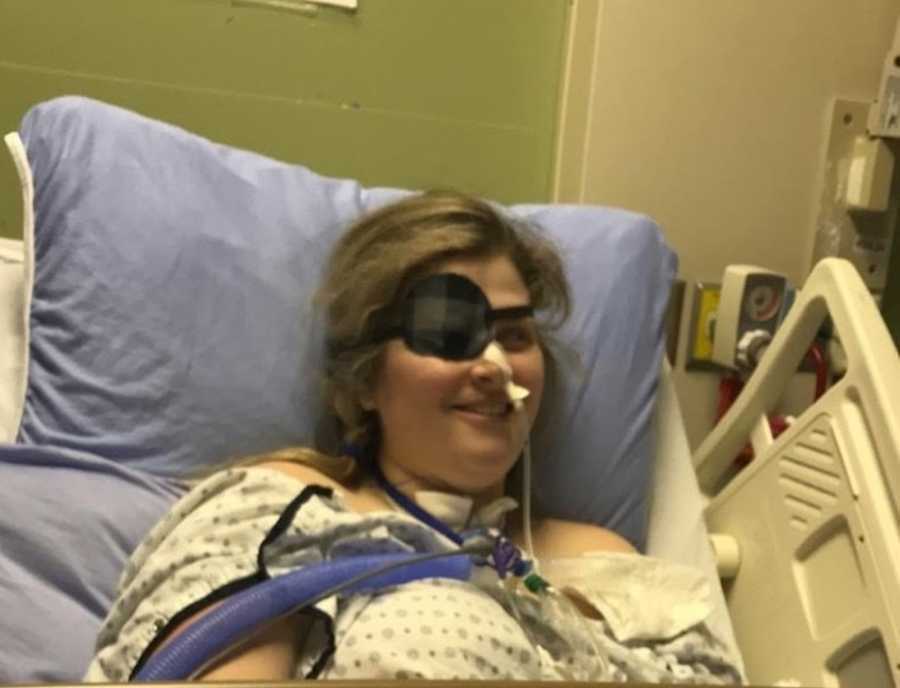 I was a medical mystery. My neurologist actually presented a PowerPoint to his students about me. No one could figure out what was wrong with me. Even I couldn't believe I had suffered not just one stroke, but two, and lived to tell the tale.
The next year, I was in three different rehabilitation hospitals, learning to walk, move my arm, and how to manage my breaths while talking and reading. It was all hard work, and it still is. I am nowhere near where I was 1 year ago or even yesterday.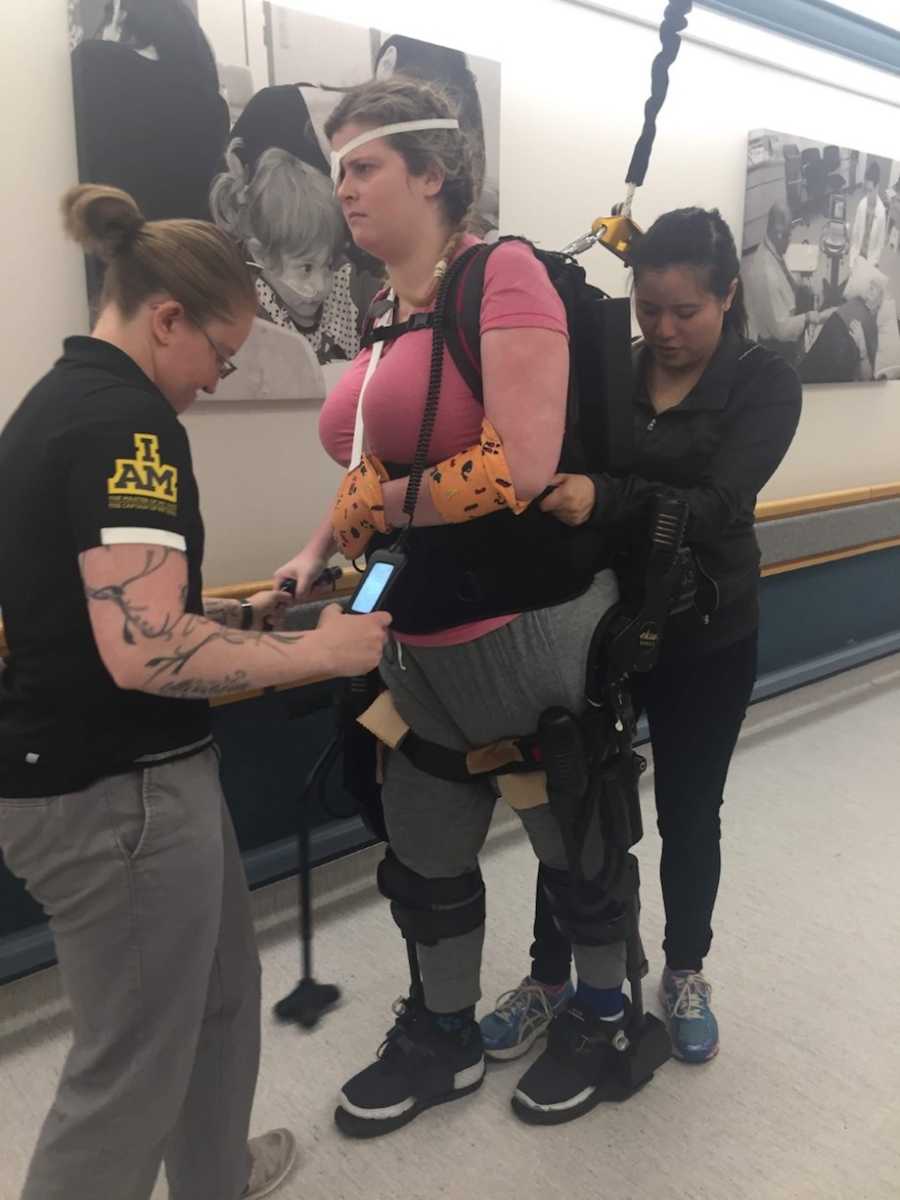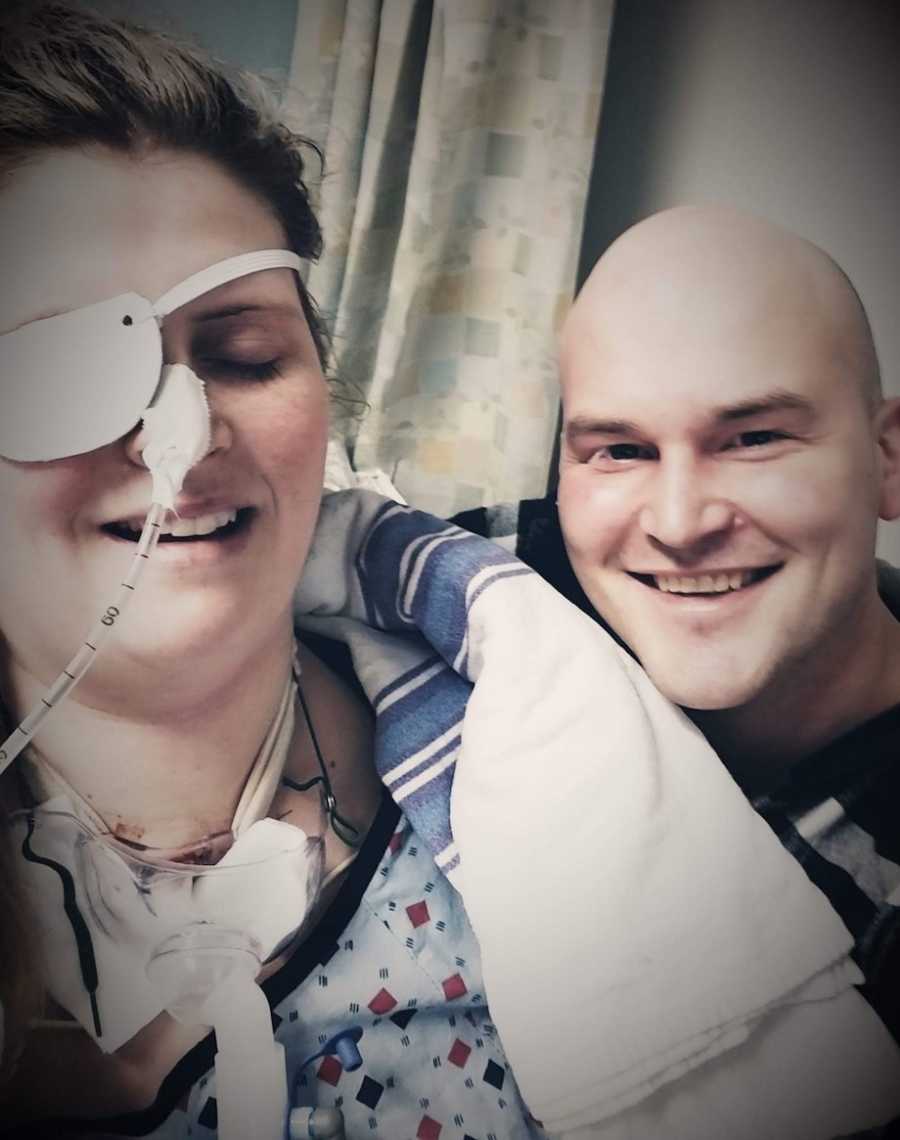 I have had throat surgery to remove a polyp that was restricting my breathing that had formed from my tracheostomy. I also had corrective eye surgery because my stroke caused my eye to go inwards, which made me see double vision for over a year.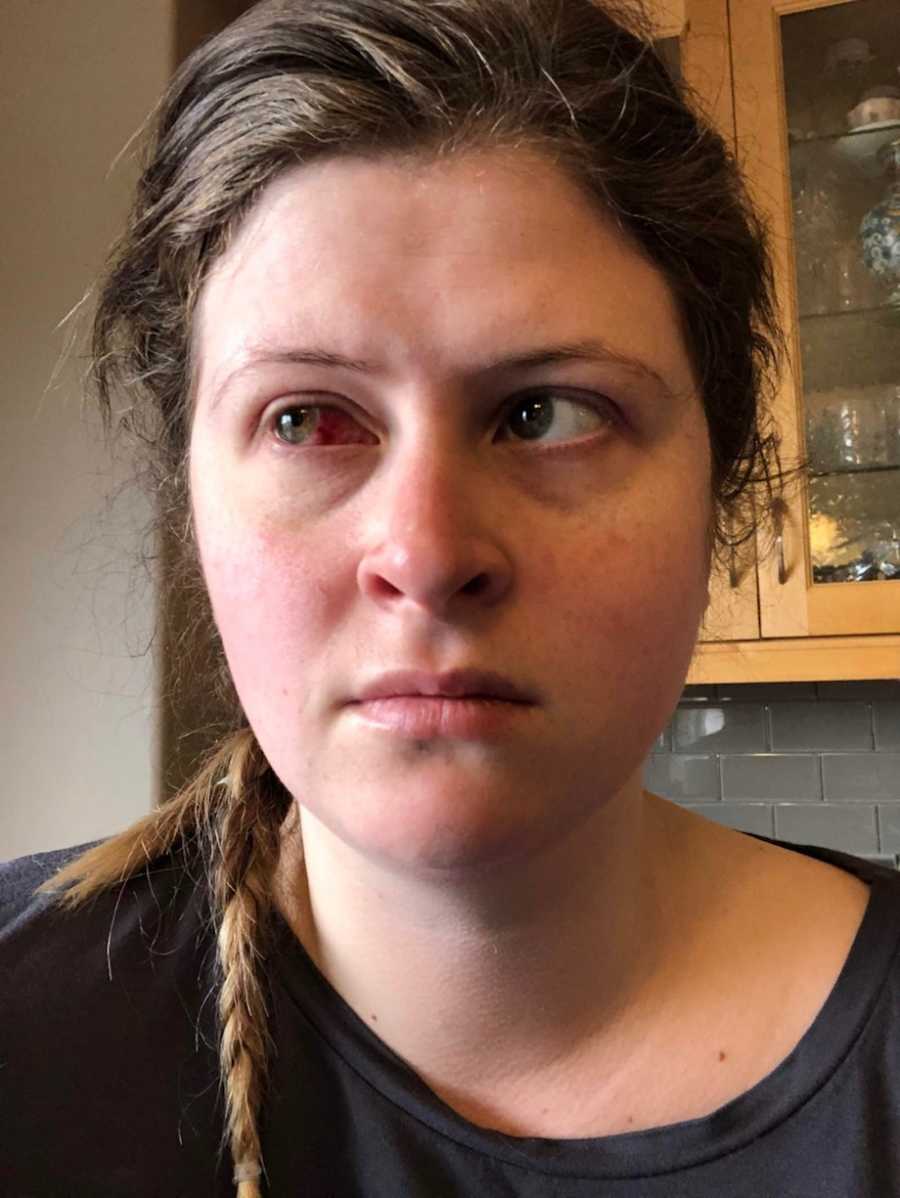 I was learning not only how to move my body again but I was re-learning my emotions. I was angry, sad, happy… it was all a rollercoaster of emotions. I couldn't control it. I was basically told my brain had its plug pulled unexpectedly. Before I totally crashed, someone just took all the wires and stuck them into whatever outlet they could. My recovery is about learning to rewire my brain. I need to learn how to lift my knee to take a step. Shift my weight towards one side before lifting my leg. Taking a deep breath before speaking. Swallowing only small amounts of food at a time.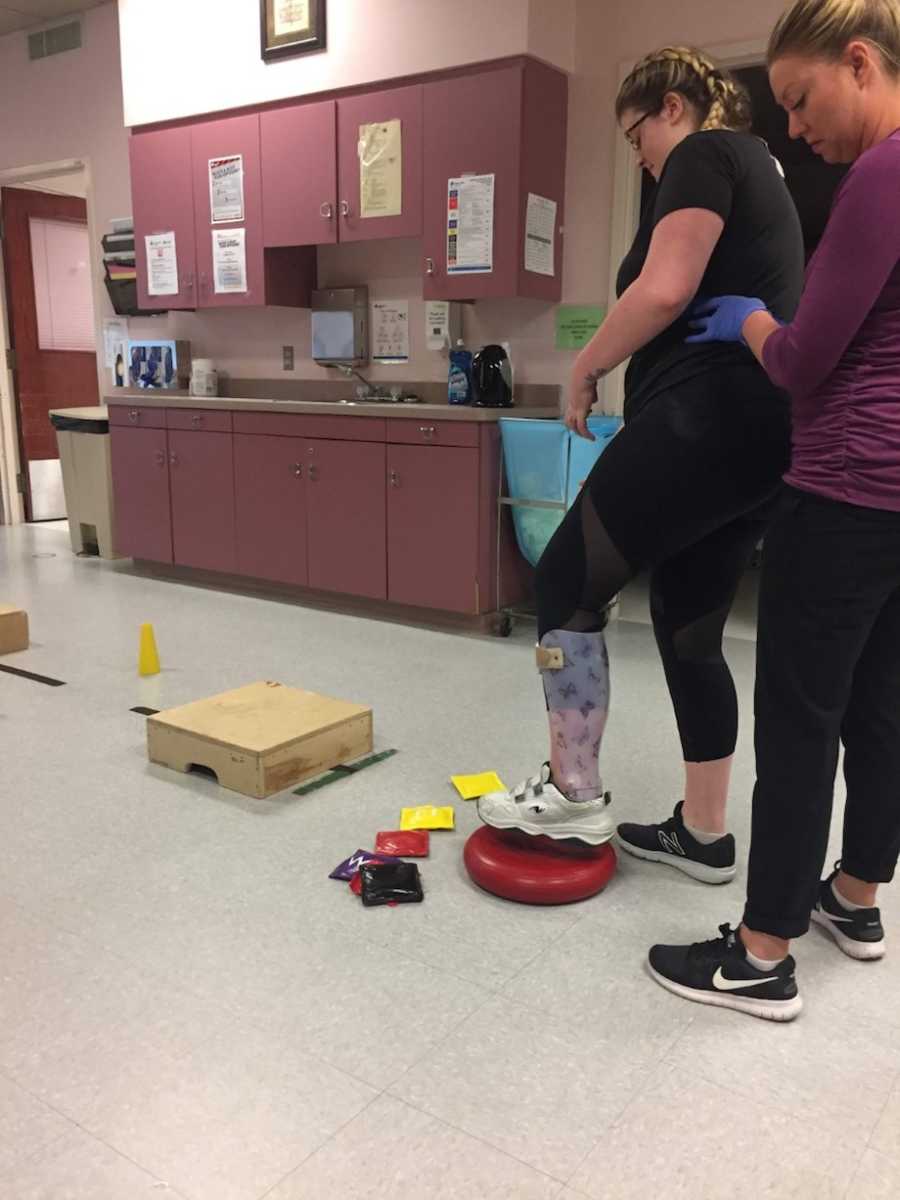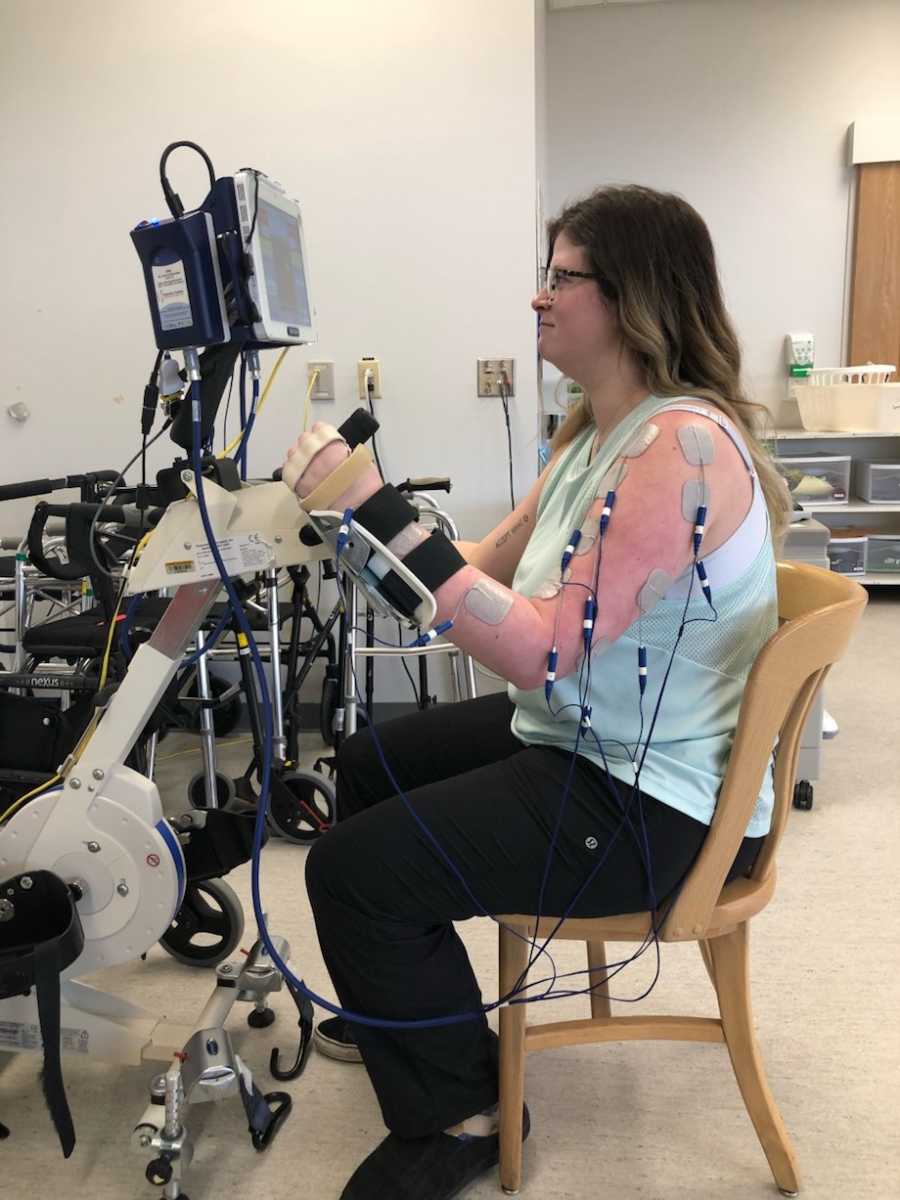 This has been a long, very bumpy, recovery. I am nowhere near 'finished.' I believe I will never have a point in my life, where my recovery is 'finished.' Every day, I strive to be a better person as the day before, as I think everyone should.
I don't want you to read my story and feel bad for me. That is not the reason I did this. I did this to help educate people. I am a human being, just like you. I have been through some things, but I am a The Bachelor loving, doughnut-eating, dog enthusiast woman. Since my stroke, I got married to my boyfriend in the Dominican, passed my driver's license test with certain equipment, lost 60 pounds, and have a greater outlook on life.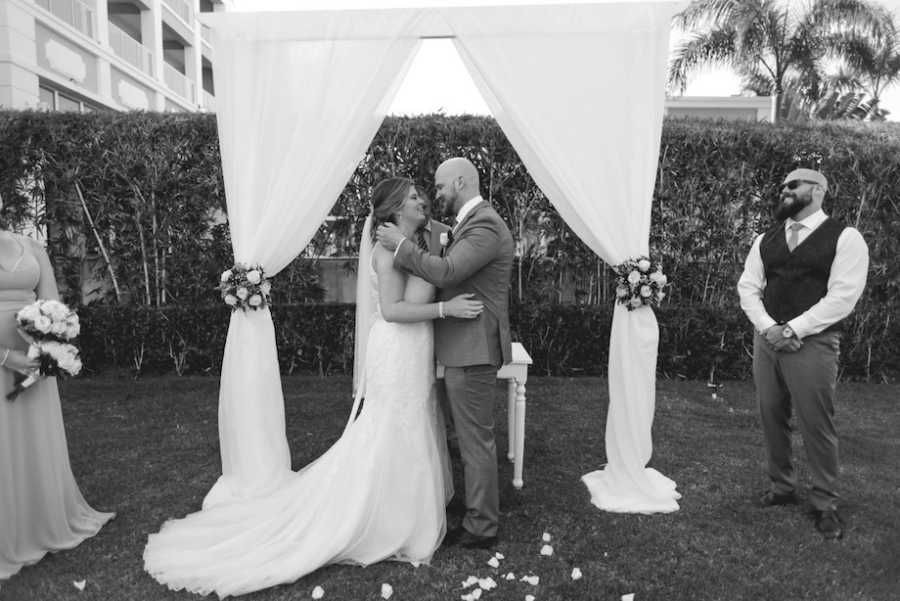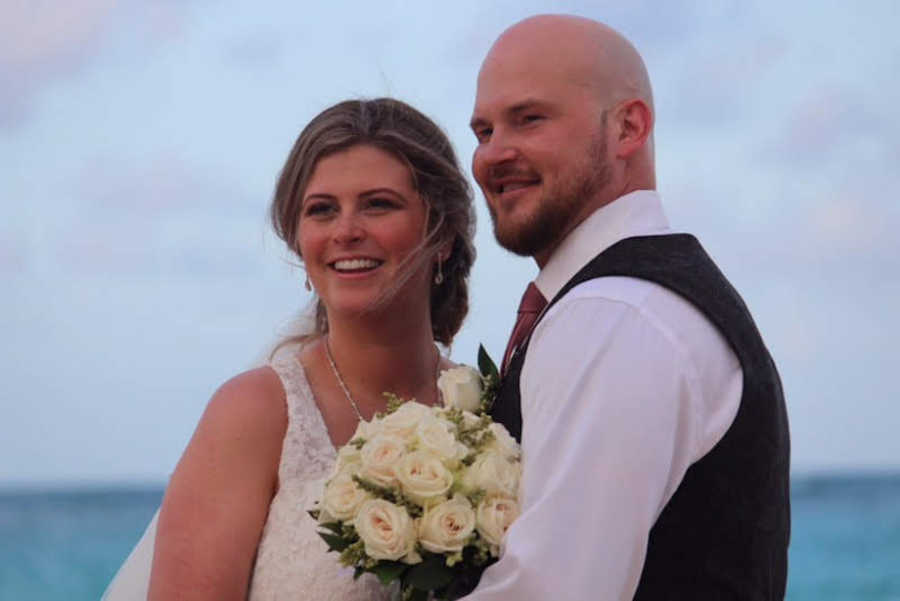 My advice for any stroke survivor, brain injury victim, or even disabled individual is to take your time. Don't rush things, trust the process. Everything won't happen in a day, a week, or even a month. I know you're impatient and you are probably reading this story and thinking, 'That's so quick! I want that to be me!' This has taken me over 2 years. I have come a long way but I still have more to go.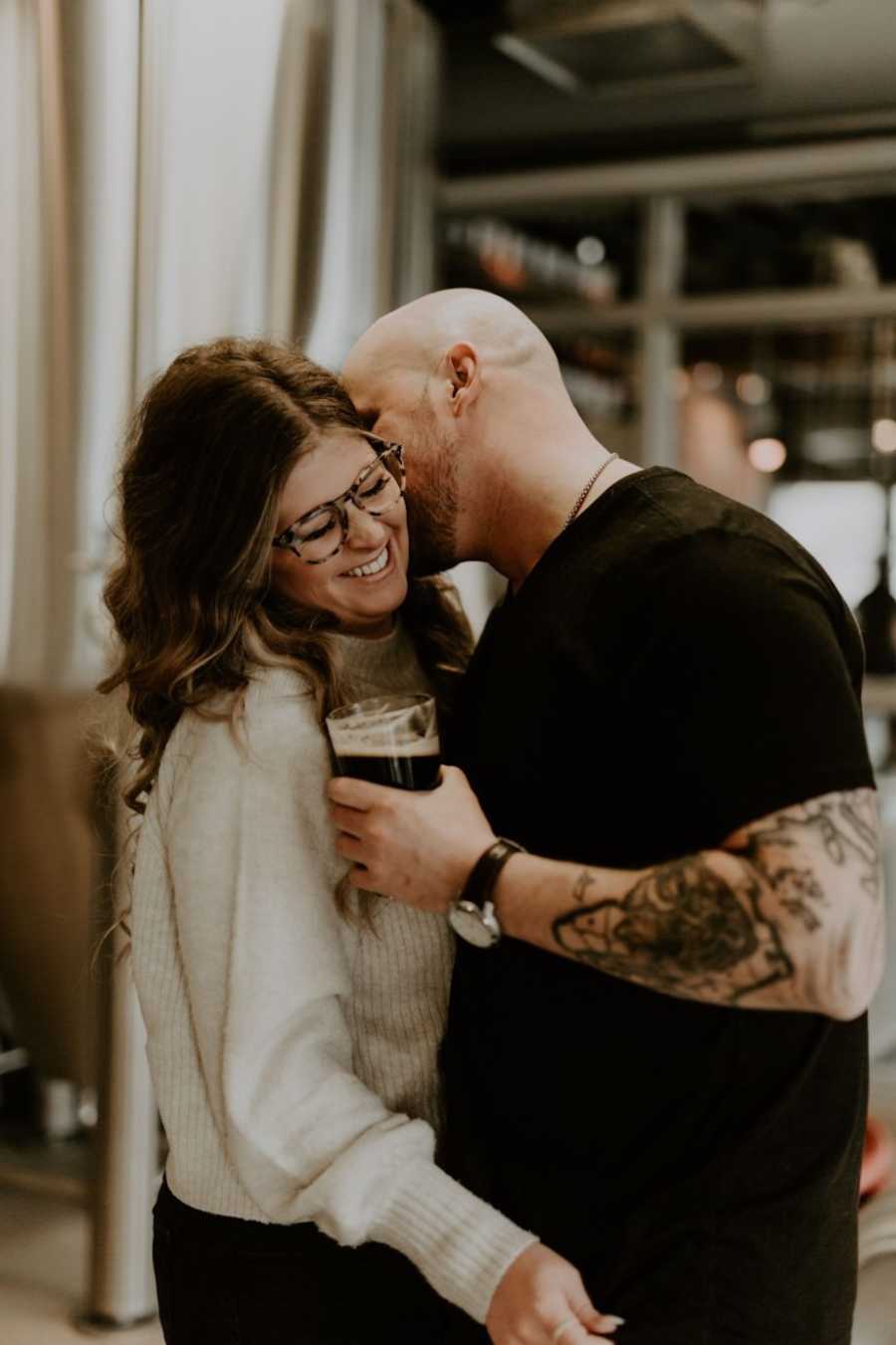 Stay strong, hold your head high. If there are days you just can't seem to do that, that is okay too. We all have bad days. We are human. Be yourself. My quote I'll leave you with, 'got dealt a crap hand, but you still got to play the game.'"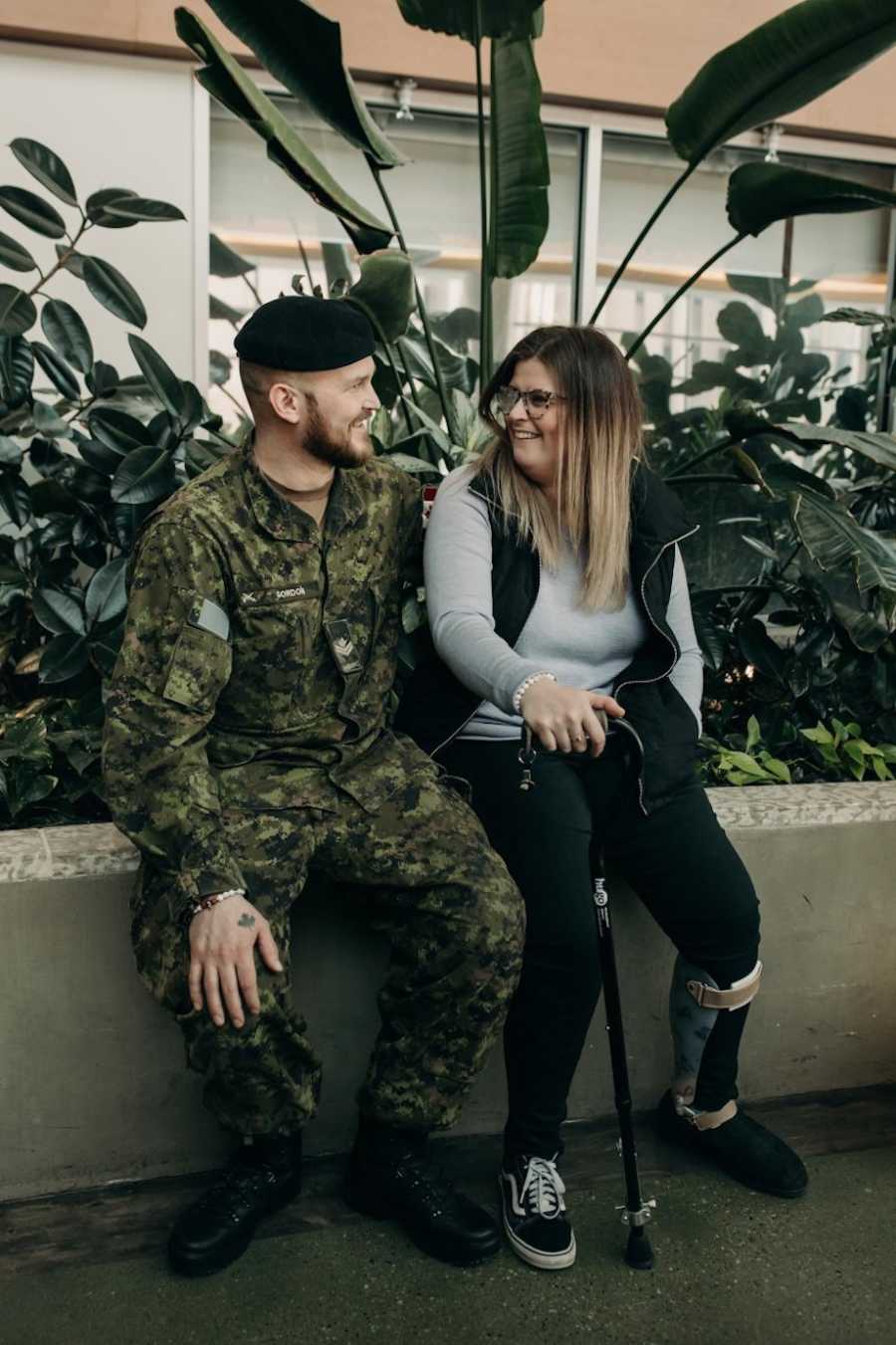 This story was submitted to Love What Matters by Maysyn G. from Edmonton, Alberta, CA. You can follow her journey on Instagram. Do you have a similar experience? We'd like to hear your important journey. Submit your own story here. Be sure to subscribe to our free email newsletter for our best stories, and YouTube for our best videos.
Read more touching stories like this:
'I think I can do a handstand on a kettlebell!' It was a dumb way to get injured. The room began to spin.': Woman has stroke after a fall, 'I had more time to pray and think during my recovery than I'd ever had in my life'
'My left hand went numb. It crept to the side of my face. 'I think I just had a stroke?' I turned to my boyfriend in fear.': Woman begins weight loss after stroke-like symptoms, PCOS diagnosis
'Is it cancer?' I had to tell my son, 'I don't know.' There's no treatment. We were told go home and live life.': Twin brother suffers 2 brainstem strokes caused by a cavernous angioma, mom says it's made her children 'kinder, better'
Provide beauty and strength for others. SHARE this story on Facebook and Instagram with your friends and family.