"I remember waking up in my twenties to a pained look on the surgeon's face. 'I tried,' he said. 'I did everything I could.' I was not going to be able to get pregnant. I didn't even know that was an option going into the surgery. 'It's okay.' I felt as if I was reassuring him. As a social worker, it's just what I do. I am in tune with other people's emotions and focus on them. Even with such startling news – my focus was on the doctor. I've been that way for a long time now.
My dad had four siblings and my mom had six. I have too many cousins to count. Big families are the norm. And big families mean big holidays. My mom was always willing to host, even though our house had no air conditioning and one full bathroom when I was growing up. We all squeezed inside with plenty of food and even more laughter. My mom didn't care that her house never looked like it came out of a magazine. It was far from perfect. But she wasn't entertaining people there – she was hosting them. She paid attention to what they said and made sure everyone felt welcome and wanted and loved.
My mom was known by many names – Tooth Fairy, Easter Bunny, Mrs. Claus, friend, volunteer, Eucharistic Minister, sister, daughter, Grandma of 100 kisses, wife – and now angel and saint. The only thing she valued as much as her family was her faith. She preached the gospel daily through her compassion and acts of kindness toward others. She never forgot a birthday. She never ceased to inspire. I wanted to be her. I wanted people to feel that way about me. I wanted to be that kind of person. That kind of mom. Because of her I realized in the end it didn't matter if my children had my eyes, only how they looked at me with them. So, adoption it would be. A boy and a girl.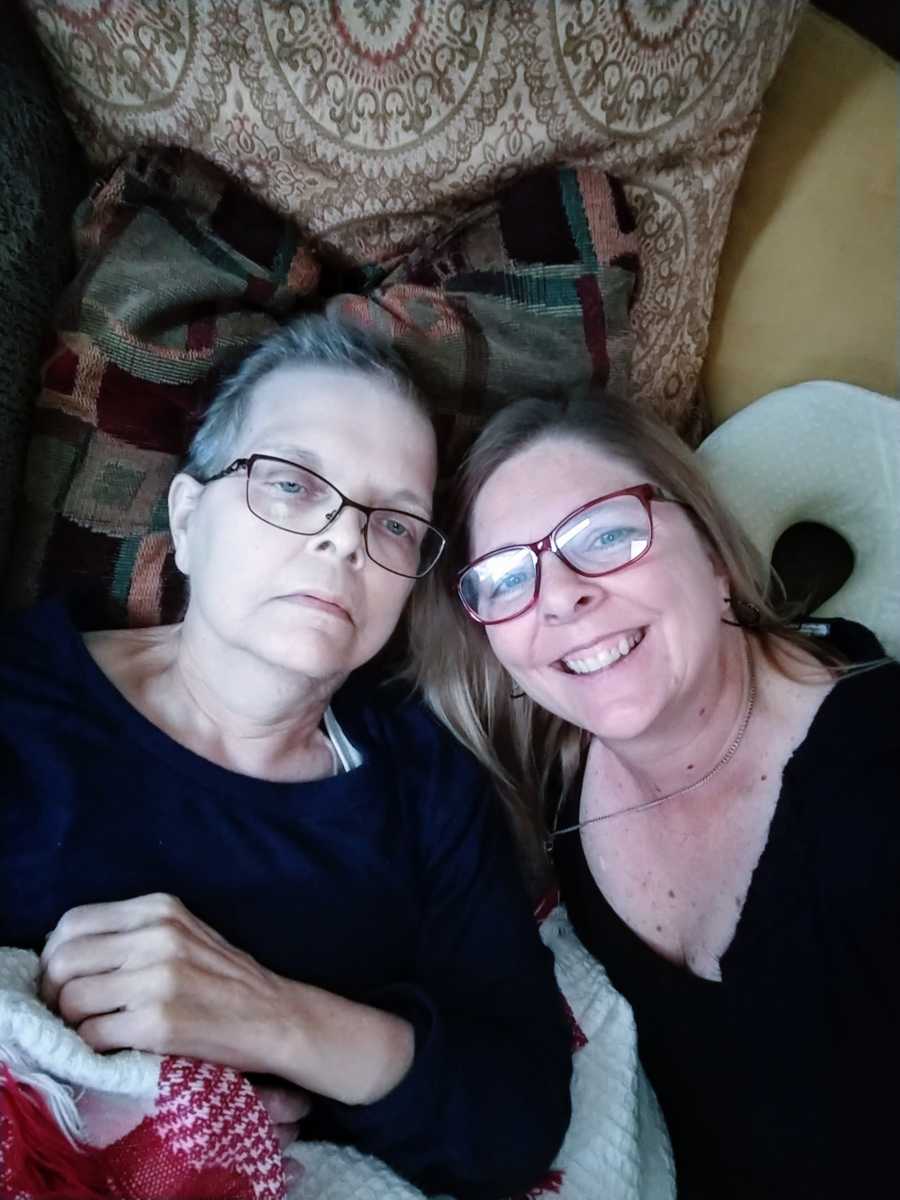 I was going to go to college until I had a doctorate degree, probably in psychology. I would marry and live in a house with a white picket fence. I would spend my days at work and my nights cheering on my children at whatever sport they excelled in and going to PTA meetings. It would be exhausting, but it would be perfect. I had everything planned down to the color of the house and the names of my future children.
When my son turned 14 years old and was going to high school, they started asking him what he wanted to be and what he wanted to do with his life. He told me this was overwhelming, and with each passing year the pressure seemed to increase. He is autistic, so he is not a big fan of change and pressure. But really, who is? I know this about him, so each year on his birthday I tell him the story of how we met. Here is the cliff notes version: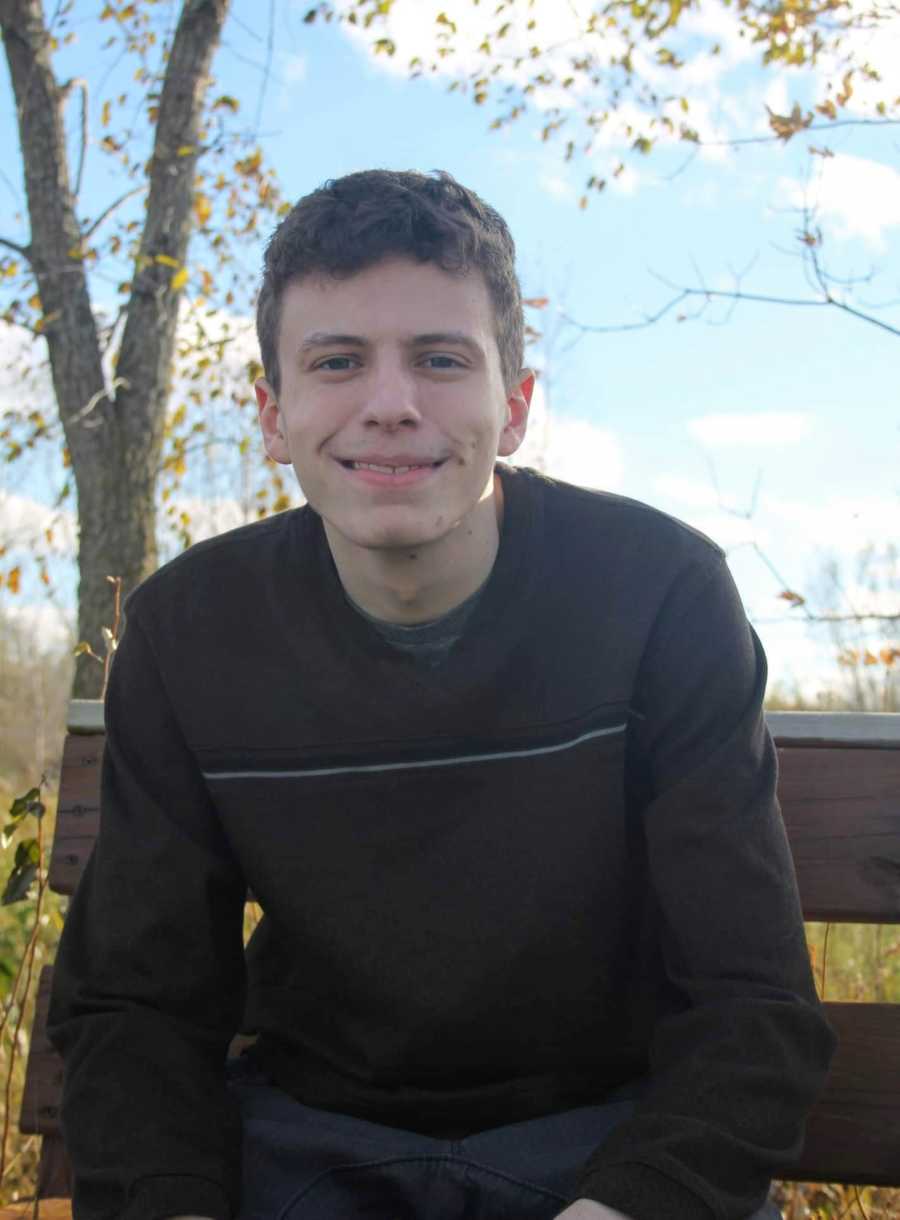 I was graciously invited to go to doctor's appointments with his birth mother. I had not met her before the adoption process. Every six weeks we went to her medical check-ups and then I shared a meal with her and her mother. After one check-up over dinner, the birth mother informed me that while she can put any name she wants on the birth certificate, she wanted to put the name I selected for her son. I had always planned on having a son named Alexander. But when I opened my mouth to answer her, I said Andrew. Why did I say Andrew? That wasn't the plan. That wasn't the name I wanted. Where did it come from? What was I doing? Will I sound crazy if I take it back now or tell her I changed my mind?
She politely told me what a nice name it was and then asked me what made me chose the name. Of course, I had no idea! Not wanting her to question her decision to entrust me with her child, I didn't want to say, 'I don't know,' so I just said the first thing I could think of that I thought would make me sound good…I told her Andrew was the first disciple and this would be my first child. She then asked me who Andrew was the patron saint of. Ahhh! I don't know! I laughed and I told her I wasn't that good a Catholic but I would look it up for her and tell her at our next meeting.
Six weeks later, I left work to drive to meet the birth mother for her next doctor appointment. As I was getting in my car I remembered my promise – that I would look up Andrew and find out what he was the patron of. I hadn't done it. I had to walk back into my office and turn my computer back on…no smart phones then. The computer needed to warm back up and then connect to the internet. It required patience, which I was desperately lacking. I was worried I would be late to the appointment and still terrified every day that she would change her mind about the adoption. I didn't want to do anything wrong. I was a mess. When I saw what the computer said however, I was not only smiling but washed with peace. Andrew is the patron of women who wish to be mothers! (He is also the patron of old maids – so I joked I was covered either way).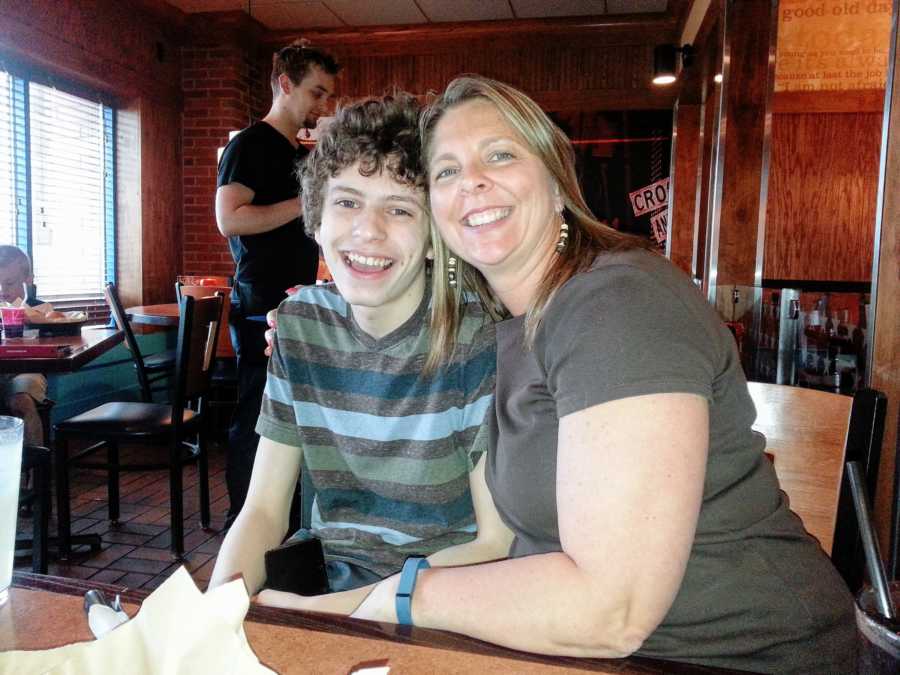 I hated the very first psychology class I took in college. Never took another one. I still don't have that doctorate. I'm not married. I can't get pregnant. Andrew doesn't like to play sports, and when he does he isn't very good – put a bat in his hands and he will swing at anything. I never did find time for the PTA and my neighborhood association doesn't even allow fences! My life clearly did not turn out as I planned – not even close. It turned out better.
Just when I thought autism was hard, then came Lidia. My daughter never slept. After adopting a second child, I found myself outnumbered and overwhelmed. I was supposed to bring her home from Guatemala when she was six months old. Due to lots and lots of issues in the international adoption world, six months turned to eight months and eight months turned into a year. The longer it took, the more disheartened I became. All I could think about was missing her first step, her first word, and those cuddly midnight feedings. *sigh*
Be careful what you wish for! When I brought her home the week of her first birthday, she couldn't crawl, much less walk. She didn't speak – only cried, and she definitely didn't sleep. Ever. Adrenaline, excitement, love, and caffeine got me through the first few weeks. Just when I thought I couldn't do it for one more day, my mom came to the rescue. She stayed with me for the weekend. When Sunday morning came and I was dragging myself out of bed to get ready for mass, my mom told me to just go back to sleep. 'The Lord forgives tired moms,' she said.
That was almost two decades ago, but I've thought about those words on several occasions. Partly because they came out of the mouth of a deeply religious and spiritual woman, but mostly because a light bulb went off when she said it. I didn't have to be perfect. I don't know if I am or ever will be the mother to my children my mom was to me and my siblings. I don't know if people enter my house and feel welcome and wanted and loved. I doubt myself often. My bills get paid late. I will probably die in debt. I sing off key, I'm overweight, I work too many hours and I'm almost always tired. Still, I wonder how my mom would think I am doing today.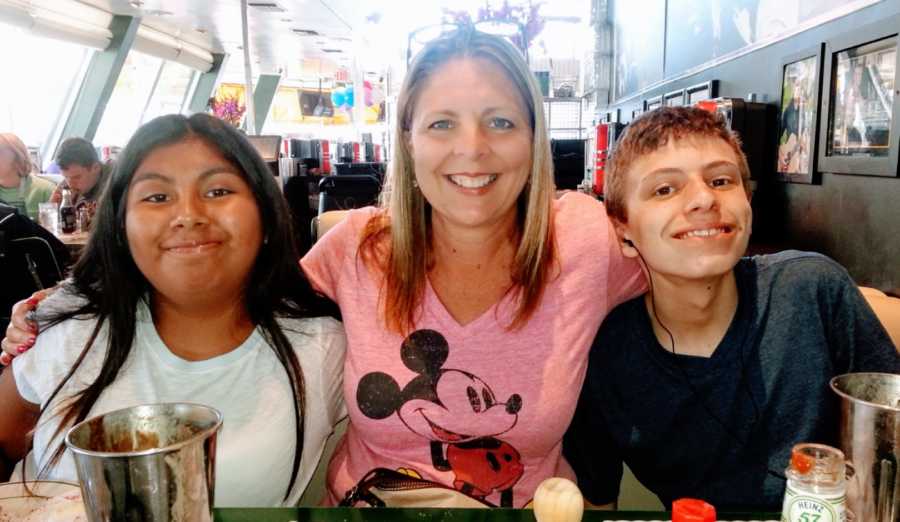 But now, in my fifties, I finally realize everyone has their own strengths and weaknesses. It is only when we accept everything we are – and aren't – that we can feel complete. As Mother Theresa said, 'God doesn't require us to succeed. He only requires that you try.' I hold on tightly to try. As my kids get older and face more complicated choices, I tell them not to worry. I don't think we need to be perfect. I don't even think we should focus on being successful. I tell my kids to just do the next right thing. That's it. Just the next, one right thing. We usually know what it is.
One of our family mantras is when we are the problem, we are also the solution. In our home, this means we have the power – the choice – to leave that place and create a change. We can choose happiness. And we can give ourselves permission to try. I, like too many people, wasted too many days comparing myself to others – and worst yet, comparing myself to perfection.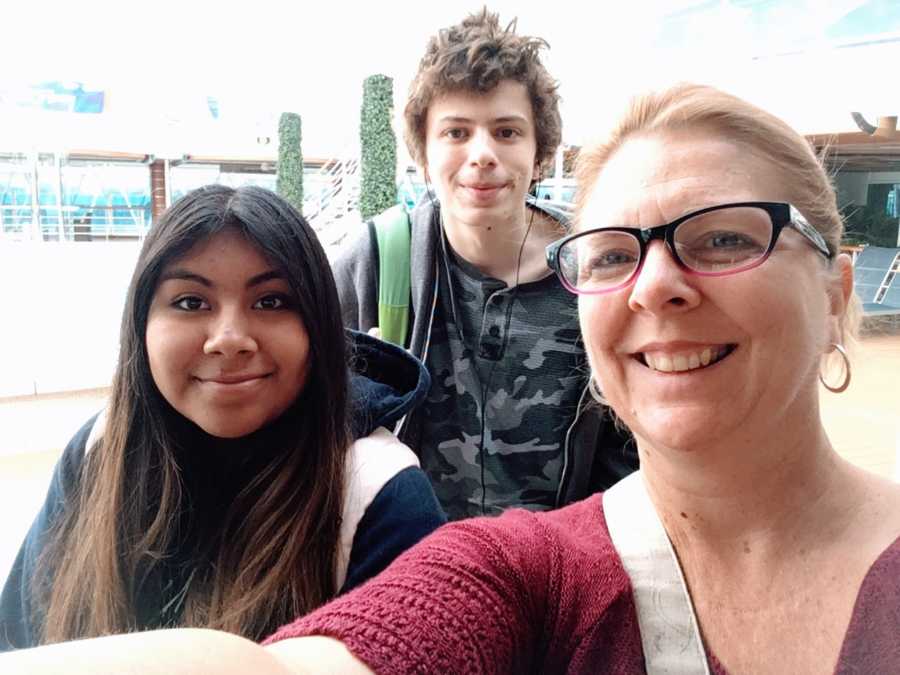 Thanks to my mother, I'm long done with success and failure, perfection and fault. I choose to live in try. I really like it here. Even when it is frustrating, it always seems to turn out okay in the end. I am done with worrying about other people's happiness first and focusing on the joy that is my life and my family. I think it would make my mom very happy.
So, now I will tell you what I told Andrew…to try to relax and not worry so much about the future. Make your plans and think about what you want to be and what you want to do with your life, but be prepared it may not turn out that way. It certainly won't if you swing at all of the curve balls that get thrown at you. So keep swinging, my friends. You won't hit them all, but occasionally you will make contact. Don't be afraid when you do. Instead just enjoy it, smile, and run. You probably won't have the perfect life you planned. But like me, you will have the life that is perfect for you."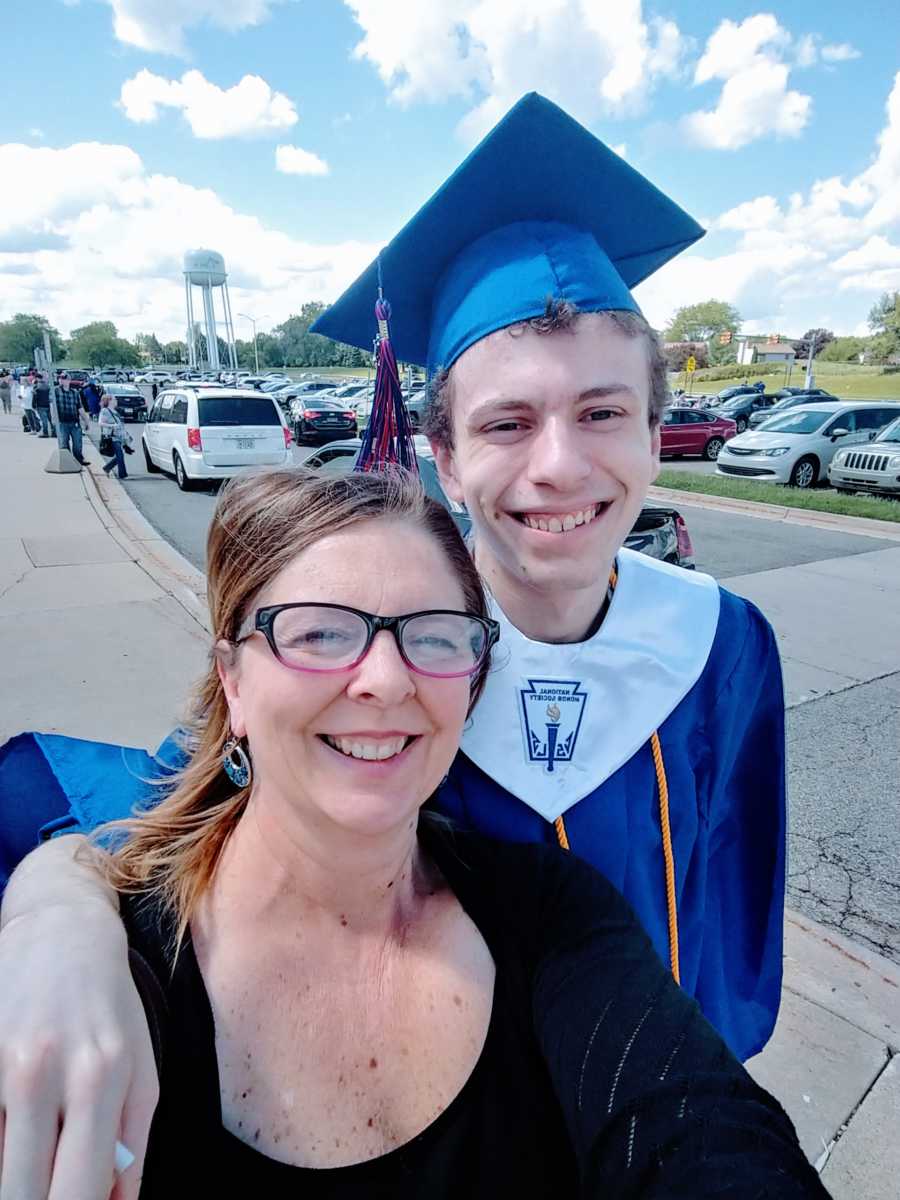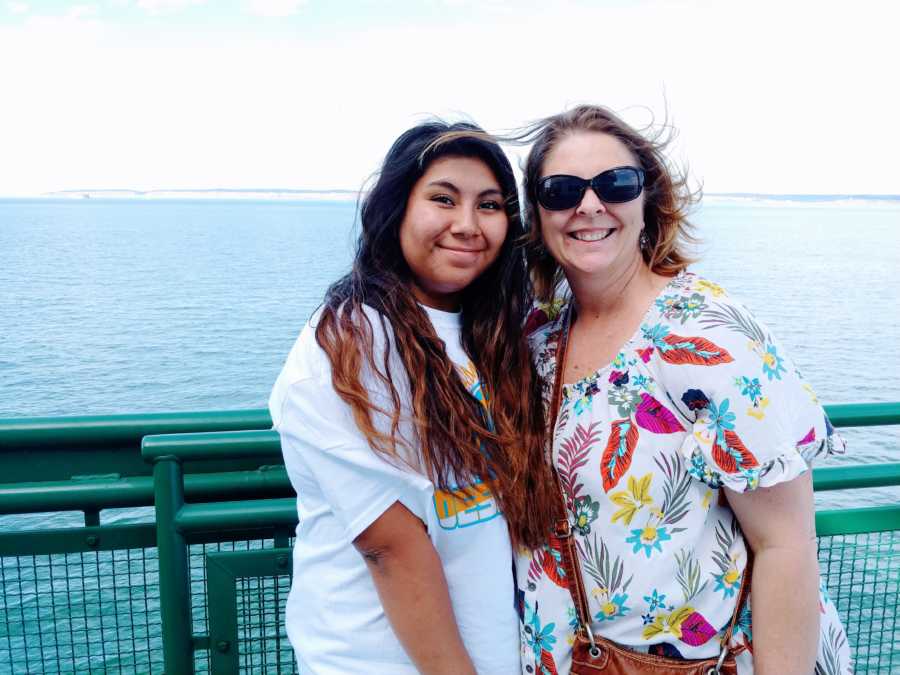 This story was submitted to Love What Matters by Jennifer Fopma of Charlotte, MI. You can follow her journey on Instagram, Twitter, and her blog. Submit your own story here and be sure to subscribe to our free email newsletter for our best stories.
Read more stories like this here:
'The family stopped answering. 'They've backed out of the adoption.' They wanted a healthy baby, not my son with a disability.': Mom of 5 adopts special needs child after rejections, now in beautiful open adoption with birth mom
'I can't foster. I'm a single mom!' I dropped my daughter off at school and the phone rang. It was just the beginning.': Mom becomes foster parent, 'My singleness was a gift'
'I can only do so much.' It's just the two of us. One day, I won't be here. Who will tell her I'm gone? Who will make sure she's safe?': Autism mom shares daughter's journey, 'I'll let her lead the way'
'I loved him when he had words, and when he lost them. Through the sleepless nights, endless screaming, and walking in circles. I loved him even when he couldn't say, 'I love you.': Mom to son with autism urges 'all you need is love'
Do you know someone who could benefit from reading this? SHARE with all the amazing special-needs parents out there!