"Being a mom has never been a question of 'if' in my life, it has always been a 'when' and a 'how.' I have known since I was a toddler that I wanted to be a mommy and dreamed of a big house filled to the brim with babies for many years. It has always been a part of my plan. That being said, my journey to motherhood has not been simple or easy. I am a single mom by choice, meaning I underwent fertility treatments known as IUI—intrauterine insemination—with donor sperm in order to get pregnant. There is no father on my child's birth certificate and no co-parenting situation. I am mothering on my own with the love and support of my own parents.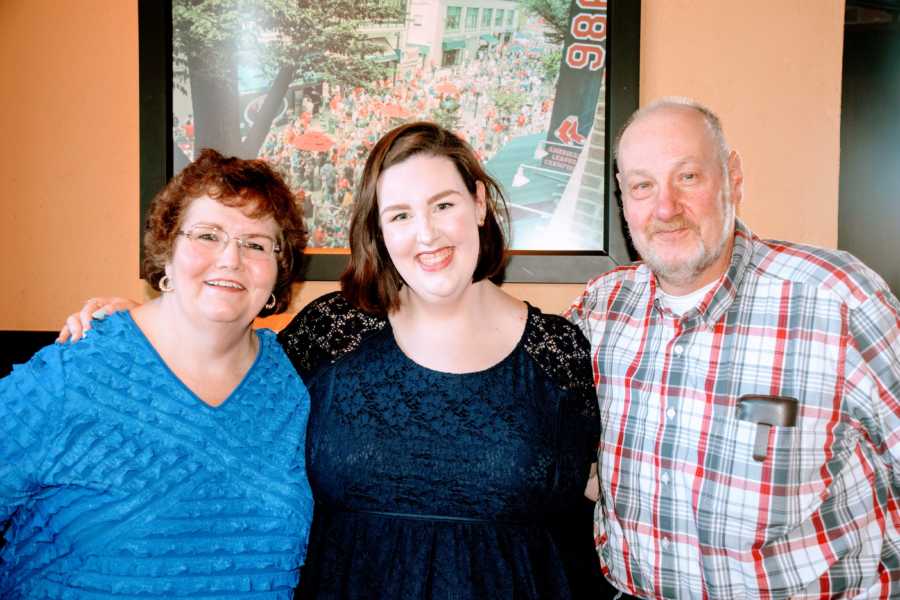 Single motherhood and fertility treatments came to me as a valid option in December 2013, when I nonchalantly mentioned to my friend over dinner (at 18 years old) that I could always have a baby on my own if I continued to be unlucky in love. I didn't really know what I was saying at the time, but the more I thought about this option, the more it intrigued me. So, I began to research fertility treatment procedures. I researched their costs and whether or not insurance covered it, other single mothers' stories—especially young ones—of which I found few, and tips for saving money and preparing your life for a baby. I had word documents on my computer dedicated to this research I was doing while also earning a Bachelor's degree in only three years, volunteering for a national nonprofit organization, working, and applying to graduate schools. I became dedicated to this goal of having a baby on my own, and it was no longer because of my 'luck' in relationships, but because I genuinely wanted to have a child on my own without needing or wanting a partner. It wasn't a plan B, it was my dream.
By the time I was 21 and had my diploma in hand, an entry-level job, a substantial savings account, and was enrolled in school to earn my MPA (Masters in Public Administration), I decided there was no time like the present to pursue my years-long dream of motherhood, and I started by telling my own mother my plan. 
My mom and I have always had an amazing relationship. She is one of the people in the world I am closest to, and she has been my biggest supporter and advocate for years. I had bariatric surgery at the age of 14, and at the time, was one of the youngest people in the country to have the particular procedure I underwent. My mom was there every step of the way fighting for my right to receive treatment for the disease of obesity and to live. 
But even though I knew my mom had always wanted to be a grandmother, I was aware this was not the way she had in mind for it. So, I wrote a letter and left it with her one night in September 2016, detailing my dreams and plans, supported by the extensive research I had done. This allowed her time to process my plan and we came to a compromise; she would keep an open mind and would ultimately let me decide what was best for my life, but I wouldn't pursue fertility treatments until I had graduated with my MPA in 2018. 
I spent the next year-and-a-half 'acting my age.' I went out with friends, dated a little, and worked my butt off in school and work. In January 2018, with a few short months left until graduation, I was more committed than ever to pursuing single motherhood by choice. And it was at that time my mom, knowing the time was approaching, suggested I have my baby while living at home in order to continue to save money and benefit from her help and guidance. And I am so glad she proposed this because hindsight is 20/20 and I don't know what I would have done with a young baby during quarantine without her. After that discussion, I moved forward, getting a referral from my OBGYN to a private fertility clinic here in Boston, who I immediately called and booked an appointment to meet with my amazing doctor on March 1, 2018. 
I remember being so nervous going into that appointment, believing I would most likely have to defend my choices to this doctor—defend my age, my weight (which was 150 pounds down from my surgery weight at 14, but was still not my ideal weight), my single-ness, and my dream. But I was pleasantly surprised when this doctor had zero judgment as he asked about my age, relationship status, and my 'why' for pursuing single motherhood. He wanted to ensure that I knew what I was getting into, but never passed judgment and provided me with so much information about the fertility treatment process—some of which I had researched and some I had no idea about. He set up baseline testing appointments and we made a plan to start my first round of IUI in June 2018.
Between March and June, I had extensive baseline testing and planned for a Clomid-medicated and monitored IUI process. I also selected and purchased donor sperm from a cryobank in May 2018 after reading so many profiles my head hurt and comparing a number of donors based on factors such as their family health history, physical characteristics, and even their SAT scores and college GPAs. I selected a donor that I lovingly refer to as 'Ted,' because calling him by his donor number felt weird after a while, and never looked back! 
In June 2018, I had my first round of IUI that included 5 days of oral medications, 3-4 monitorings (blood and ultrasound), an insemination one Saturday morning, and an excruciating two-week wait until I could take a pregnancy test. I went into the first cycle feeling overconfident—now I see I was incredibly naive to think I would get pregnant my first time ever trying, especially after my doctor told me there is about a 60% chance of getting pregnant in 3 rounds. I liked my odds though, and I was so disappointed when the blood test came back negative. But I brought the same enthusiasm into rounds 2 and 3, thinking that math was on my side and one of them had to work—I even calculated that round 3 would put my due date at May 19, 2019—my own 24th birthday! But those rounds were also unsuccessful. And my next round in September 2018 was canceled when my body naturally ovulated my only good follicle (the egg that would be fertilized and become a baby), so I considered that a half round—3.5 instead of round 4.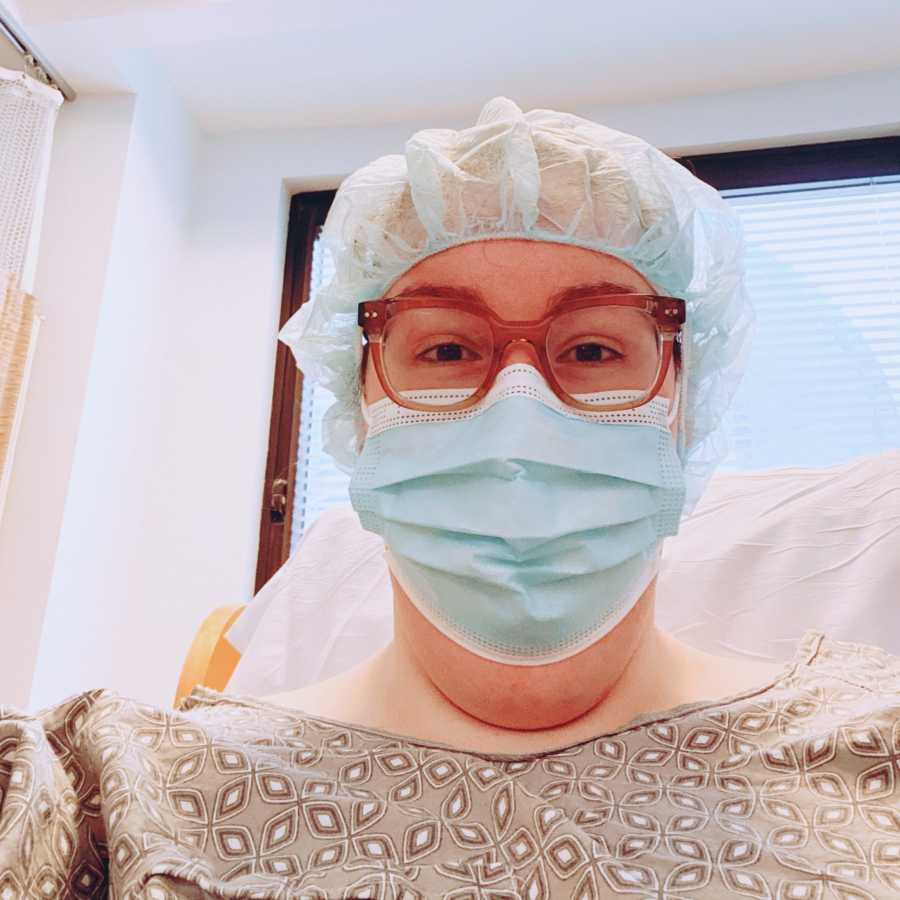 My real 4th round was the hardest experience of my life. My Clomid dosage was increased and I was inseminated on November 5, 2018. And almost immediately, I felt different than the other rounds. I knew within days of the insemination that it was successful and I was pregnant, which was confirmed on November 19 (the Monday before Thanksgiving that year). My HCG levels were definitely positive for pregnancy, but low, and the doctor feared a chemical pregnancy, which is really an early miscarriage, so I had to do a second blood test 2 days later (when I happened to be 600 miles from home celebrating Thanksgiving with my family in Pittsburgh). 
I still felt pregnant at this point, but was shattered when the doctor's office called me on November 23 to tell me that my HCG levels were going down and I should expect to start bleeding and lose my pregnancy soon. I did start bleeding the next day, and I was inconsolable as I sobbed for my lost baby. It gets worse, though. I had to have more labs to make sure my levels 'bottomed out' and I was no longer pregnant, only to discover they had risen again. After a very long and thorough ultrasound over a week later, it was decided I was having a 'presumed' ectopic pregnancy, mostly because my levels were increasing and my uterus was empty, but my left ovary was no longer visible. I had to be treated with an injection to clear my tube because ectopic pregnancies are dangerous and can actually lead to loss of the tube or even loss of life for the mother, and my hormone levels were monitored every other day until January 2, 2019, when I was no longer hormonally pregnant. 
My ectopic pregnancy was heartbreaking and is something that still hurts to think about today—I will forever regret that I couldn't carry my first pregnancy and will never know who that baby was. But when I was finally cleared to do another round of IUI, I entered it confident that the universe and my angel would send me a baby to keep, which didn't happen in round 5. By round 6, which is both the cap of IUI rounds needed by my insurance before they will cover IVF and the cap of what my doctor considers 'productive' rounds of that particular fertility treatment, I was out of hope. I went through the motions of the cycle; taking my increased dosage of Clomid and having my monitoring and the insemination procedure itself, but I had no hope for success. My doctor and I even met during that two-week wait to discuss moving on to IVF and what that process looked like. I was ready for March 29, the day of my pregnancy test, to come and go as usual so I could move on to IVF…
Except that March 29 was nothing like the cycles before. The nurse who called me started off with 'Congratulations' and everything else was a blur. I made her repeat what she said and I almost cried at my desk at work. I was finally pregnant after 9 months and 6.5 rounds of trying. I had a baby inside of me and my levels were so high that there was no doubt I would get to keep this one. It was the most amazing feeling and I spent the next 15 minutes calling my parents, my best friend, and my brother to share the news. I was pregnant! 
The first few weeks of my pregnancy were a mix of anticipation, awe, and fear. I think any woman who has lost a baby understands that being pregnant again feels so much more fragile and every second is full of worry for the tiny life inside. My first ultrasound was at the fertility clinic with my mom by the ultrasound technician that had done all my monitoring for my IUIs, and when I started crying after seeing my baby, she got teary as well. I carried those ultrasound pictures everywhere, but at 9 weeks I feared they would be the only thing I had of my baby when I began bleeding while walking into work one day. I had to rush back to the fertility clinic and they did an ultrasound to find the baby's heartbeat while I sobbed. Not only did they find a strong and steady heartbeat, but they also located the source of my bleeding—a medium hematoma located far away from my baby and causing it no harm.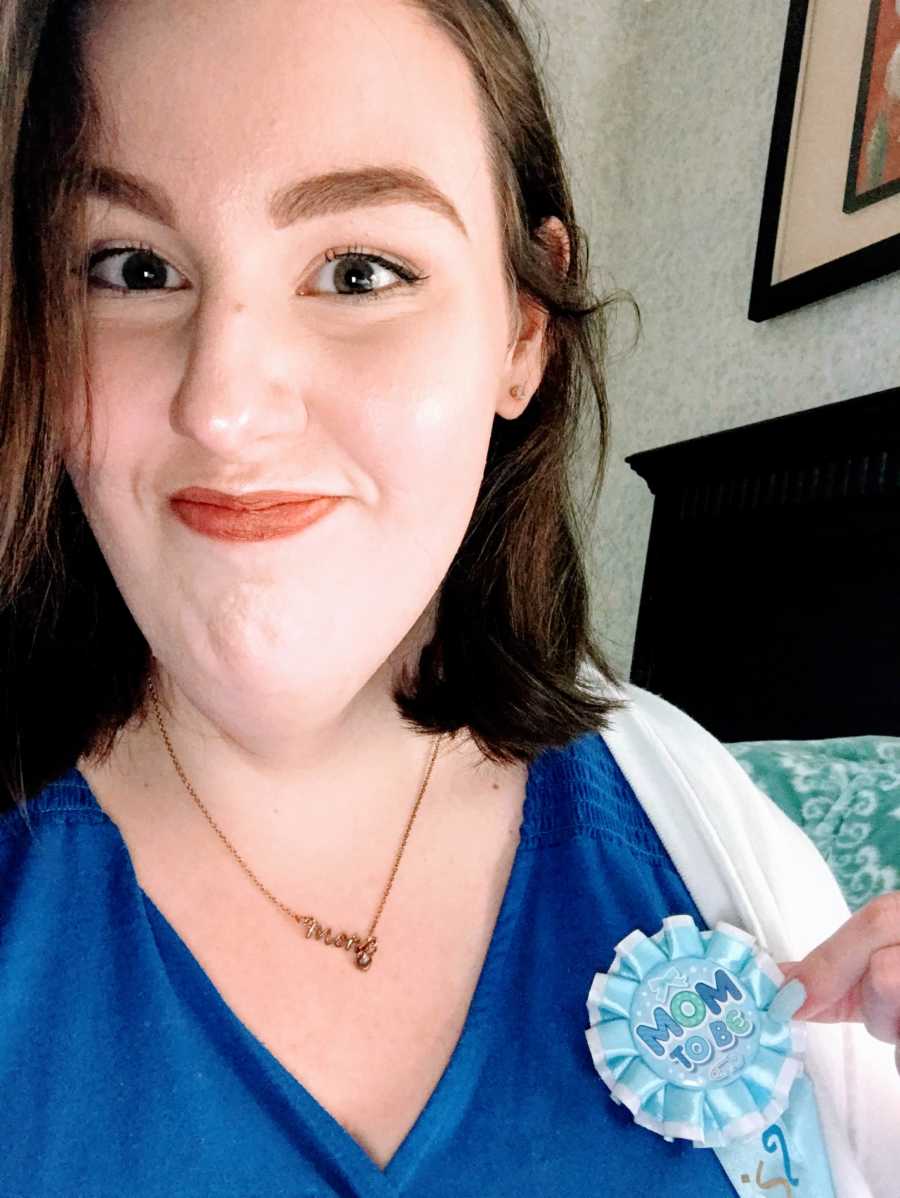 After that experience, I treated my pregnancy with kid gloves, and lived for my monthly ultrasounds. I was considered 'higher' risk due to my bariatric surgery—which could cause malabsorption for the baby, so I was monitored very closely for the baby's growth. I also learned at 15 weeks I was having a baby boy! I was shocked, but I got right down to business turning my room into a Toy Story nursery, planning (with my mom) my beautiful children's-book themed baby shower, and buying all the baby clothes and supplies for my baby boy!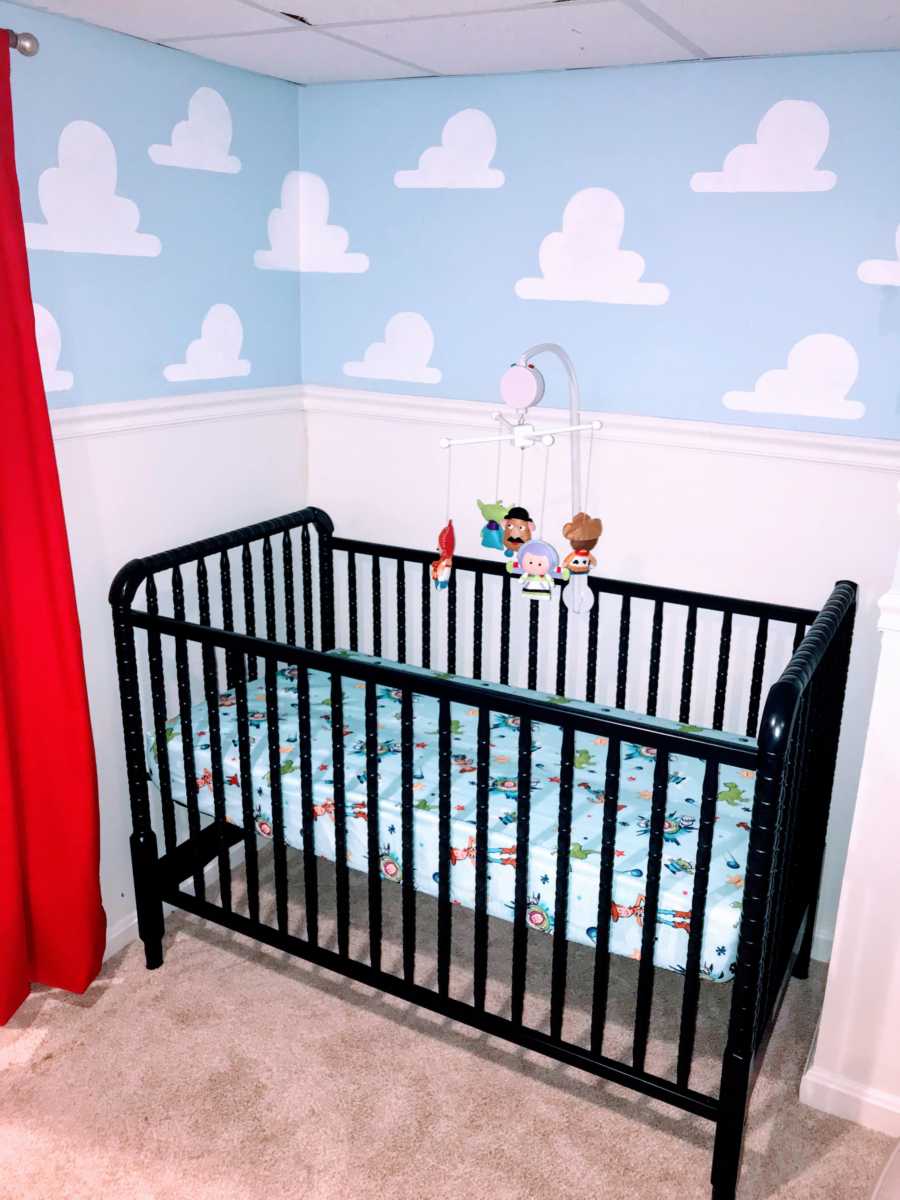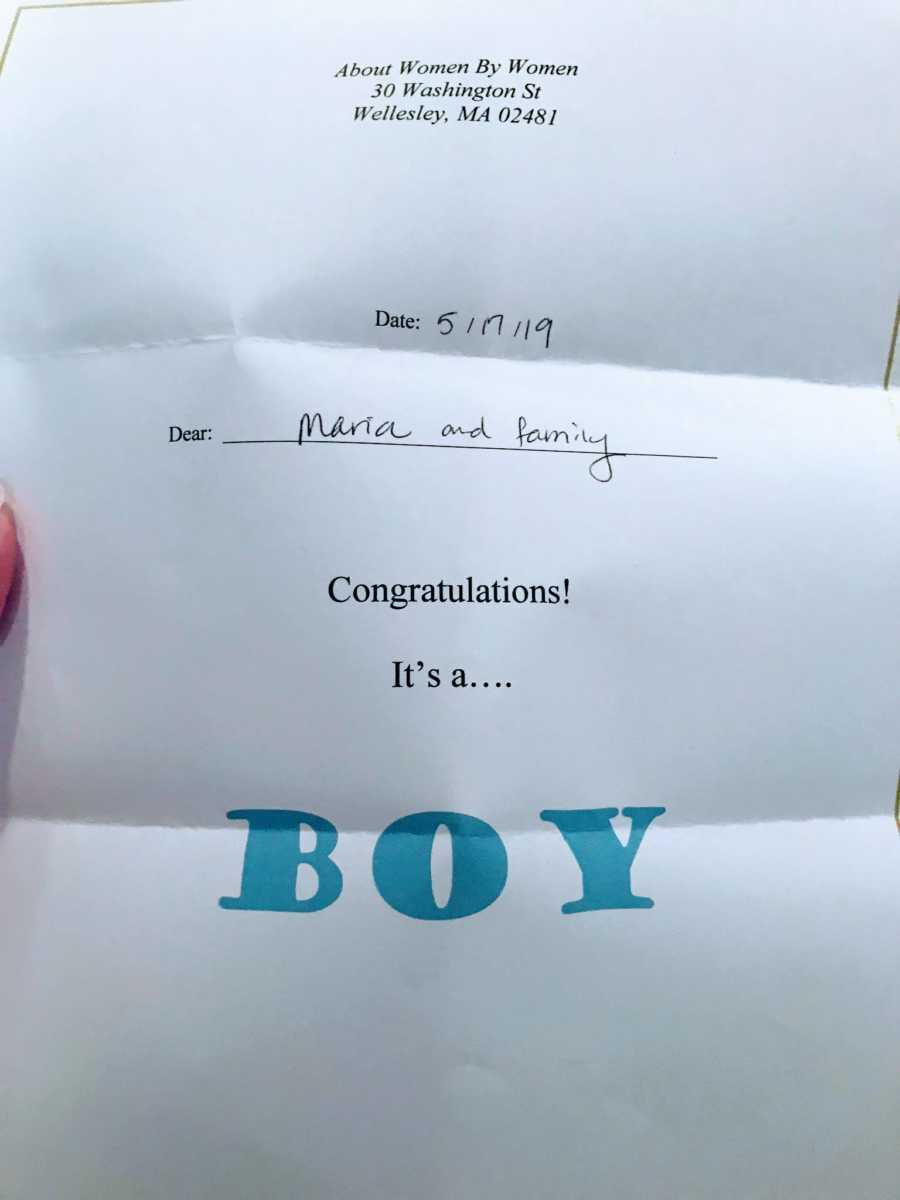 Other than the hematoma, my pregnancy was really easy and uneventful, though because I was considered 'higher' risk, my doctor and I planned an induction for a few days prior to my December 6 due date. I was induced on the morning of December 2 and was in labor all day. My epidural made the process fairly easy and I was able to rest and even watched some of 'Rudolph the Red-Nosed Reindeer' on TV that evening. Around 11:30 that night, I began shivering uncontrollably and asked my nurse for additional blankets. When she refused, I became worried and asked for my doctor who came and examined me, only to find I was completely dilated and the shivering I experienced was my body preparing to push. At that point, I bawled my eyes out because this was all real and I was so ready to meet my son. 
I pushed eight times over the course of 11 minutes with my mom holding one leg and the nurse holding the other. My son was born at 12:22 a.m. on December 3, 2019. They placed him on my chest and my world was forever changed. I can't even put into words the awesome love and wonder that I felt holding this beautiful redheaded little boy. I had been waiting years for him, and I finally got to look into his beautiful eyes, marvel at his cleft chin (the same one my maternal grandfather had), and count his tiny fingers and toes. It felt so surreal that he was here and he was all mine. I decided on his name about 12 hours after his birth because I felt that I needed to know him before assigning him a moniker. Harrison Blue Caprigno—Harry for short— is a combination of a name I have loved since I was in high school, that my mom unknowingly suggested as well because it sounded 'honorable,' and a way to honor my grandfather, as well as my aunt and uncles who served on various police forces. It is a name full of meaning and completely suits my little man.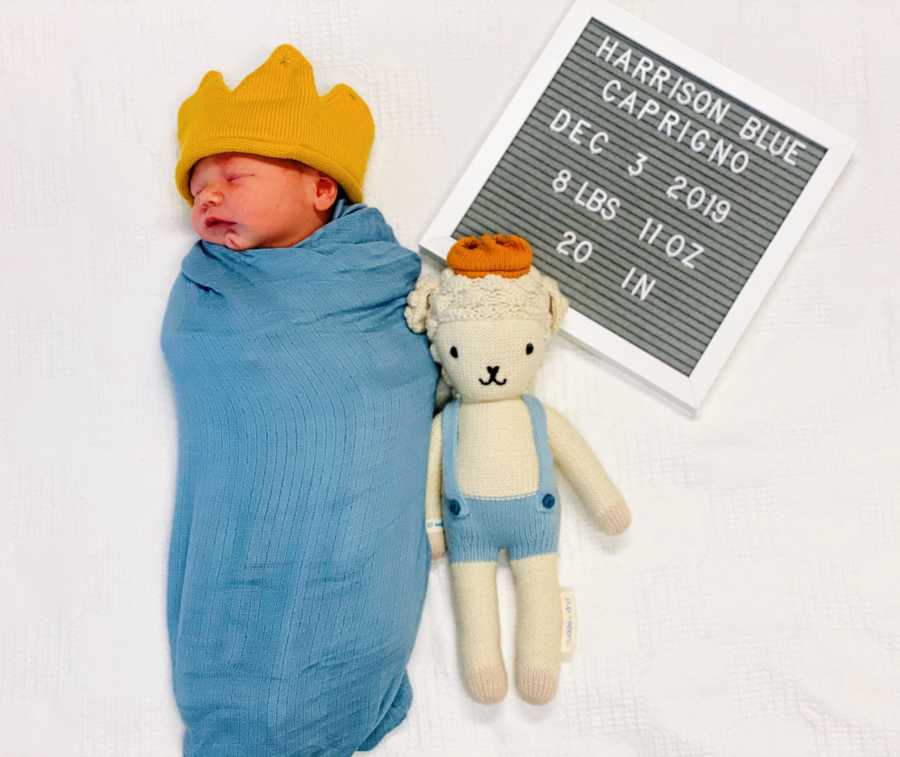 Harry has been a dream since day 1—he's what people call a 'unicorn baby' which is a baby who sleeps well and is just generally easy. He has been more than I ever deserved in life; my mom half-jealously states that she hoped I would have a monster baby like myself, but Harry has been an angel. His first year of life hasn't been the easiest, of course—2020 was obviously defined by the Coronavirus pandemic. I spent the year without a job (not really my choice), working on my second master's degree—this time in early childhood education so I could have a better work-life balance and hours that work with being a single mom—and raising a baby, in general, is never easy, no matter how angelic he is. But as hard as 2020 was, I am extremely grateful that this weird time allowed me to spend every day of my son's first year with him. I witnessed his first smile, first word ('mama'), first step, and all the little 'firsts' in between. I got to thoroughly enjoy being with the love of my life every single day, which is an opportunity I would not have had normally, and I know that I will not get to experience with any other children I have, so I am thankful Harry and I got this time together.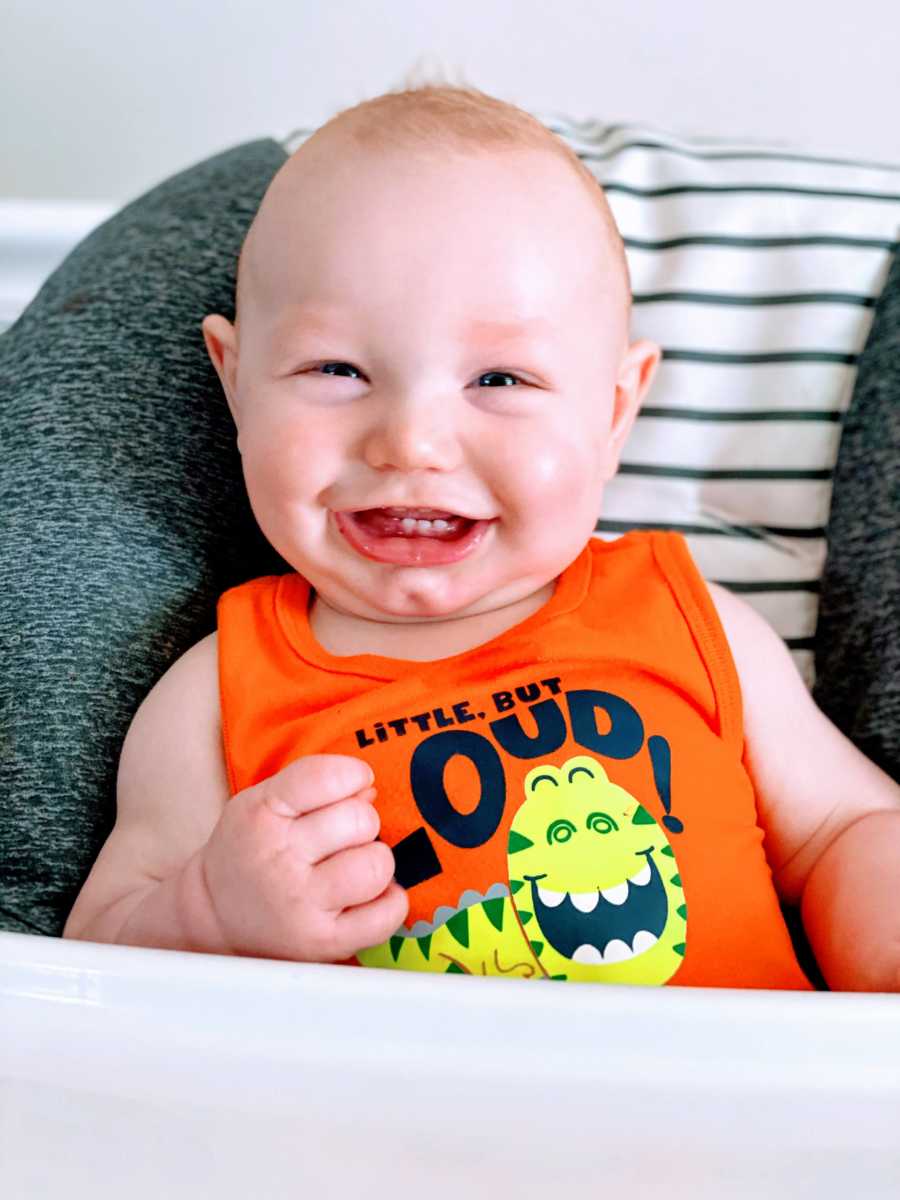 And I say other children—I do plan on single mothering multiple kids. I even used my 'free' time in 2020 to undergo the first steps in IVF—an egg retrieval on December 26 and embryo freezing, which will take place in the new year. I want to give Harry siblings, and I won't let my relationship status prevent that. Being a single mom by choice has not been easy, but it is the best decision I ever made. As I said to Harry on his first birthday: 'I love you with all my heart, and you are a thousand percent worth every second of the struggle it took to get you in my life. I wouldn't trade life with you for anything in the world.' I love this life. It's better than I ever could have imagined and more than I ever could have hoped for. I am definitely who I am supposed to be as a single mom by choice to my Harry."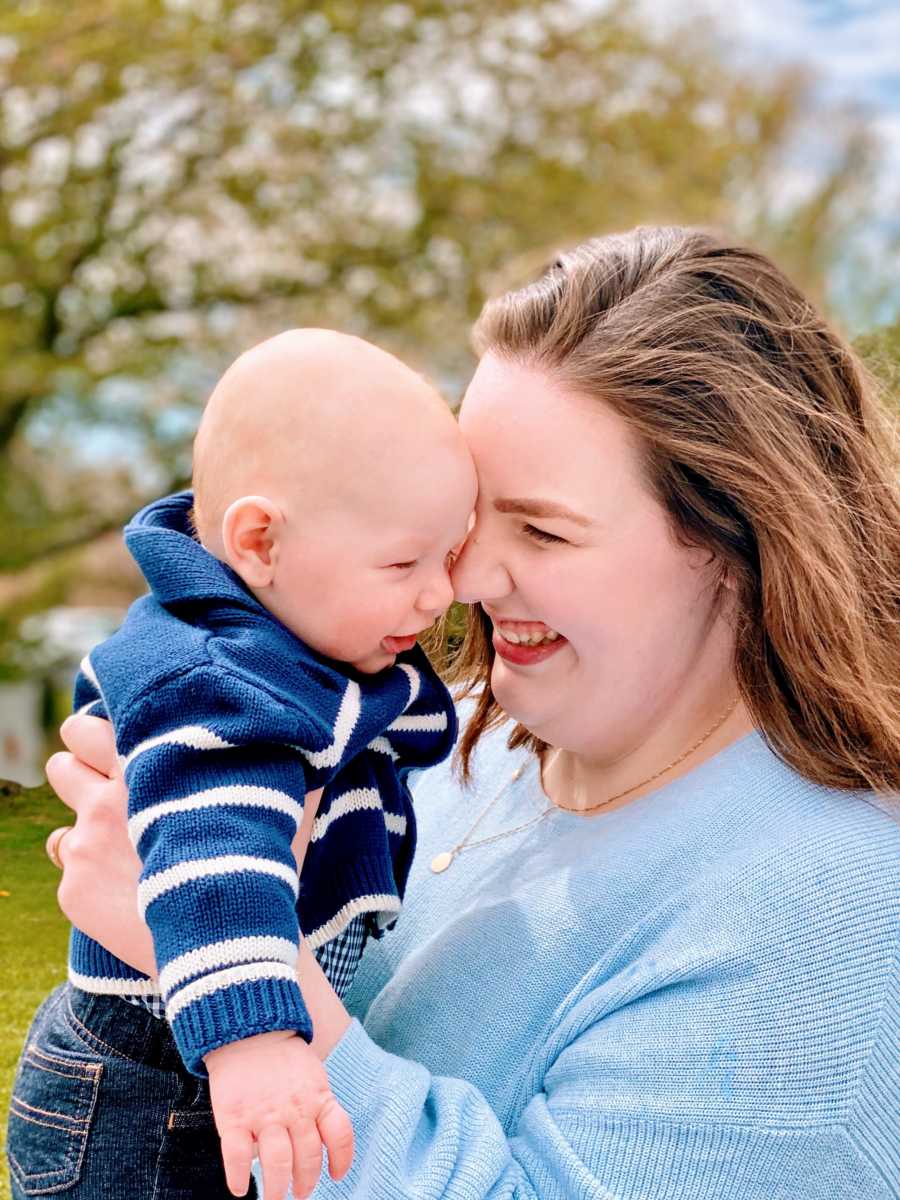 This story was submitted to Love What Matters by Maria Caprigno of Norwood, Massachusetts. You can follow her journey on Instagram and YouTube. Submit your own story here. Be sure to subscribe to our free email newsletter for our best stories, and YouTube for our best videos.
Read more stories like this:
'Where's their mom?' She assumed I was kidnapping my son. She didn't believe me when I said, 'I'm Dad.' The suffering of kids in foster care knows no color.': Single foster, adoptive dad says 'matching hearts make a family'
'She was abandoned with nothing, not even a name. 'There's a 10-day old baby girl,' he told us. 'She has a disease.' She only had 3% of a brain.': Adoptive mom now family of 5, 'We get to be the lucky ones who love them forever'
'Can we take him home with us?' My little patient had fought more in 6 months than most adults. He was in custody of the state.': Nurse adopts special needs patient, 'He is our little boy forever and ever!'
'That night I cried in my driveway for a child. 10 minutes later, I got a call. 'Can you take in 1-year old twin boys?': 26-year-old single foster mom says 'I was called for plans bigger than myself'
Please SHARE this story on Facebook to encourage others to cherish every moment and determine their own path.