"Ok here's my story and why I'm walking out. This is my fourth year teaching in Oklahoma and after taxes and insurance I take home $2,311 a month, $27,732 a year. I could make about 20 grand more by moving to Texas or Arkansas, and many teachers are doing just that. Oklahoma is losing qualified teachers every day. These kids deserve the opportunity of a great education but we cannot give them that if all our teachers are emergency certified or completely over worked.
I teach six classes each day. As of today this is how many students I have in art class:
2nd Hour – 30 students
3rd Hour – 27 students
4th Hour – 32 students
5th Hour – 19 students
6th Hour – 23 students
7th Hour – 30 students
This is way too many students for one class. Especially art class. I've had to cut back on the fun, ambitious, and exciting projects literally because there isn't enough room on the table for 32 kids. I literally do not have enough chairs for 32 students. This photo is something every one of my students is familiar with. This chair, or cheek-pincher, is what my students have to sit on. Most of the chairs in my room look like this. Once they get to this point it's only a matter of time before the bottom goes completely out. Today a student actually carried his chair with him to sharpen his pencil because he got in early enough to get a good chair. I've gotten a few new students and had to throw a bottom-less chair away so tomorrow I'm having to bring in a couple of folding chairs I have here at home. That's why I'm walking out.
These kids deserve so much better than this.
They deserve teachers who are qualified to teach.
They deserve classes that are small enough that the teachers can actually spend some time with each student.
They deserve CHAIRS.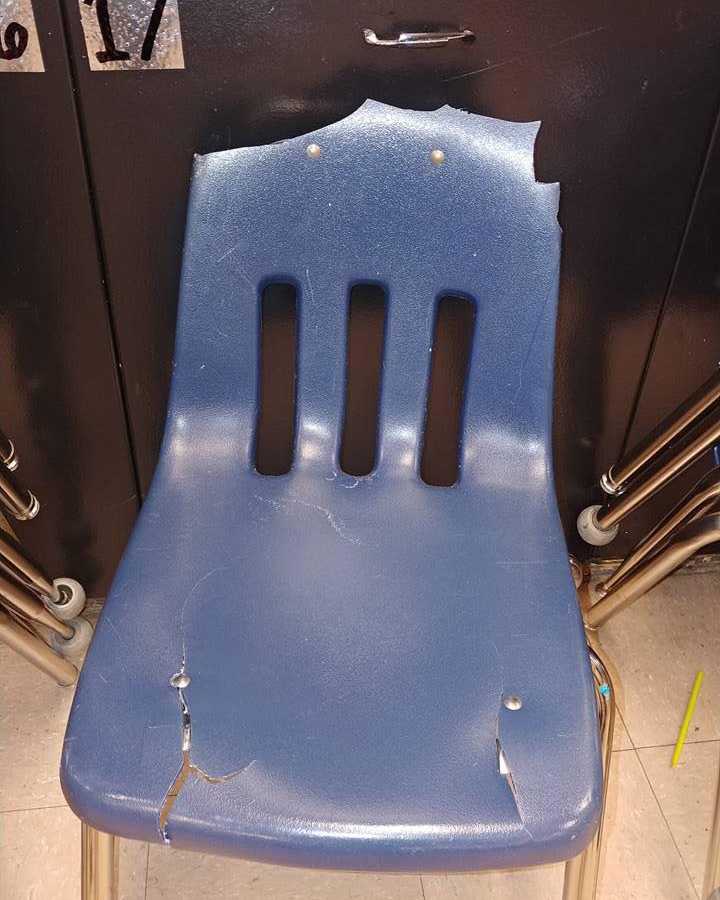 They deserve a quality education just as much as kids in surrounding states.
This is about so much more than a raise. It's about the future of Oklahoma. That's why I'm walking out.
And this bill that just passed is no where near enough to make an actual difference. I'm still ready to walk out and stand my ground."
This story was submitted to Love What Matters by Laurissa Kovacs of McAlester, Oklahoma. Submit your story here, and subscribe to our best love stories here.
Please SHARE this article with your friends and family to raise awareness about education issues.