"From the moment I took that first pregnancy test and saw those two little blue lines side by side I was flooded with so many overwhelming emotions, starting with panic and tears and ending with joy and laughter. With me being 18, having just started my first real job and about to start college, this was definitely not something I had planned on, but from the moment I saw those two lines I also knew it was something to be grateful for.
As soon as I found out, I made an appointment with a nearby OB to get me in as soon as possible to make sure everything was okay. I was that pregnant girl who was constantly paranoid and over the top careful about taking prenatals and watching what I ate and what medicines were safe for me to take. I did everything I could to keep my baby as healthy as possible.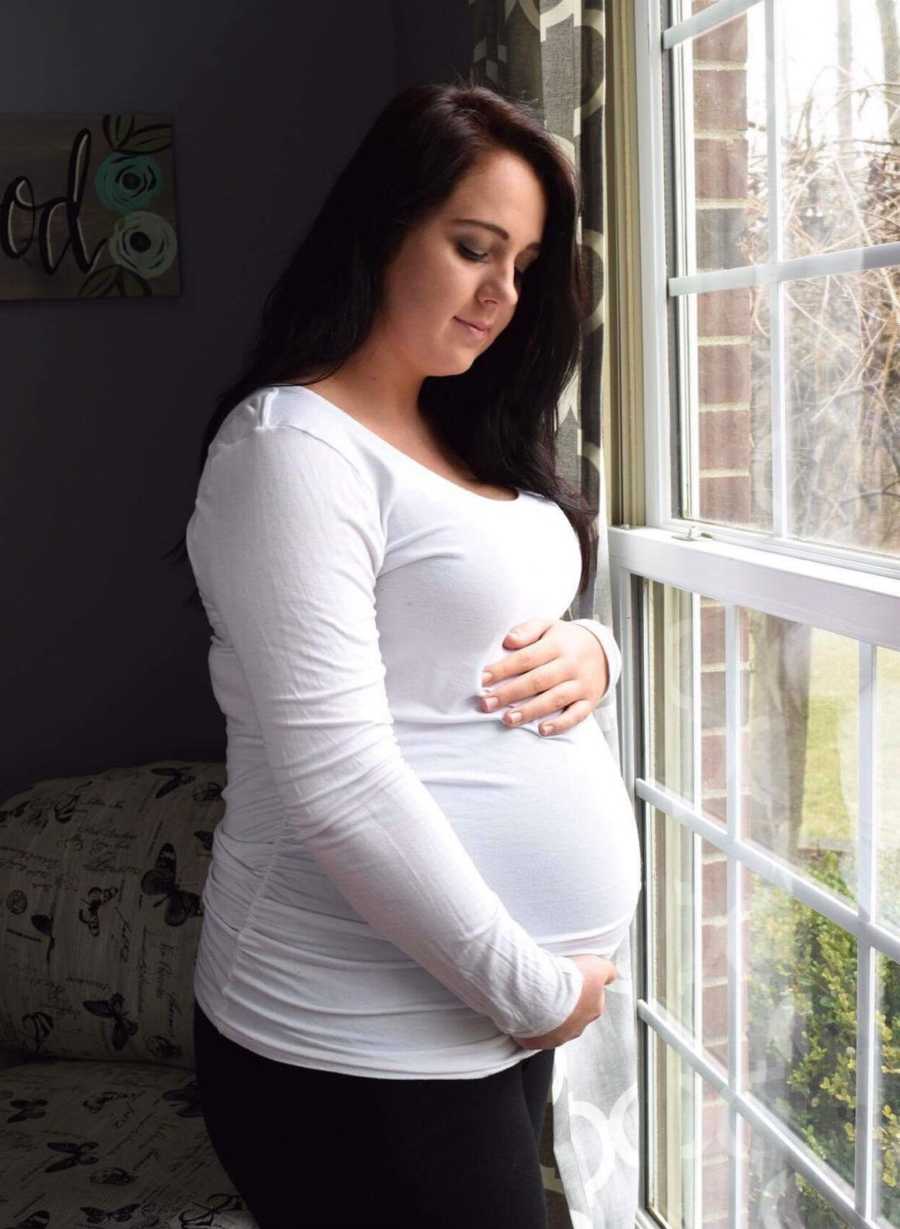 As far as we could tell she was a normal, healthy baby and extremely active. So active in fact that during her 16-week ultrasound appointment they didn't get images of everything they needed to, but the growth seemed normal and with all the activity, my OB seemed to assume that everything was fine so she didn't order a follow-up ultrasound to finish getting the images.
In the following weeks we found out the gender; it was a girl! We immediately started picking out names and excessively buying everything that was pink and covered in glitter in our excitement. We never imagined something could be wrong with the beautiful baby growing inside of me, until my OB went on vacation and I was scheduled with another OB while she was gone. During this appointment he was going over everything and saw that her 16-week assessment had not been fully completed and ordered for it to be finished immediately.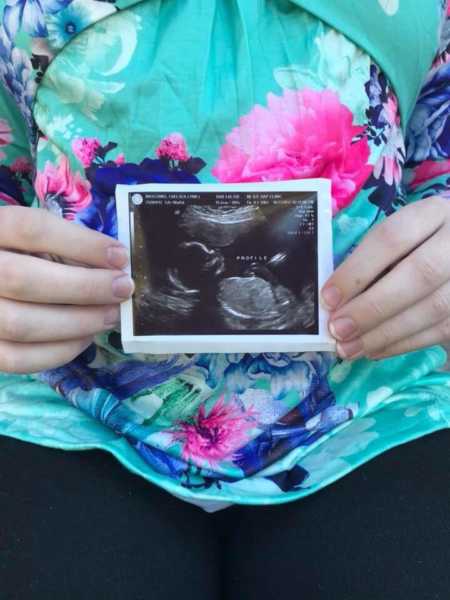 When he brought back the results we could tell that something was wrong. There's nothing like that sinking feeling in your gut when you know you're about to hear something you desperately hoped you would never have to hear. He told us that he could tell there was something wrong with her brain development. He wasn't sure what exactly was wrong because he wasn't qualified for that sort of thing, so he sent us somewhere that we could get answers: Riley Children's Hospital.
During my appointments at Riley I had countless ultrasounds, MRIs, blood tests and fetal echos. This is where they diagnosed my beautiful baby girl with spina bifida and Chiari malformation type 2 and proceeded to tell me that she may never have the ability to walk, go to the bathroom or have normal brain function. There's no way to accurately describe the way I felt that day, but I took comfort in knowing that she would be in good hands. They have the most amazing doctors and surgeons at Riley.
I had a scheduled C-section for March 15th but got diagnosed with preeclampsia and ended up having her on March 2nd.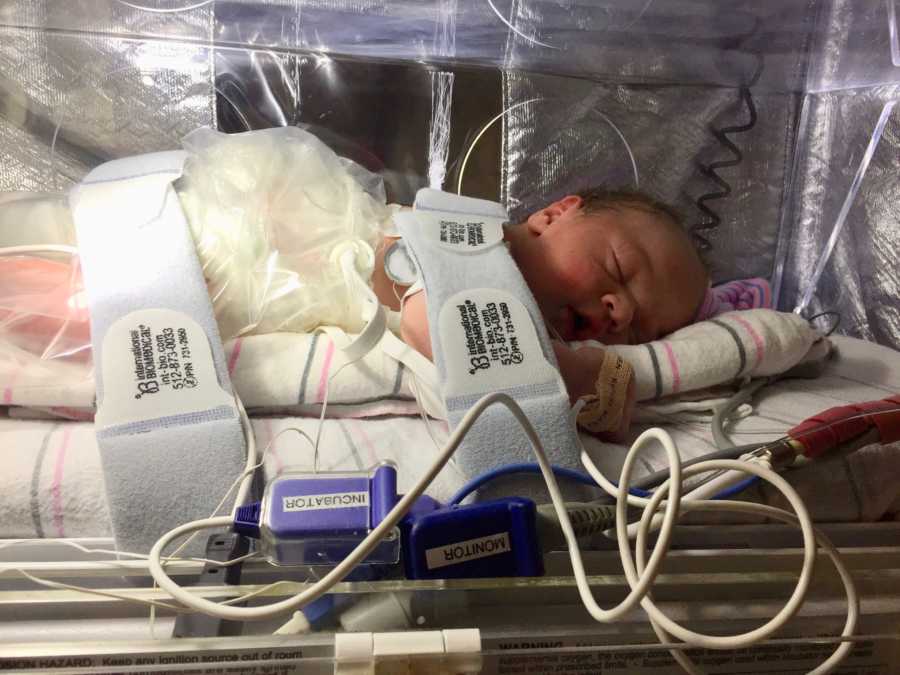 I only got to see her for a brief second before they wheeled her off to the NICU, and then she was sent to Riley for surgery a couple hours later.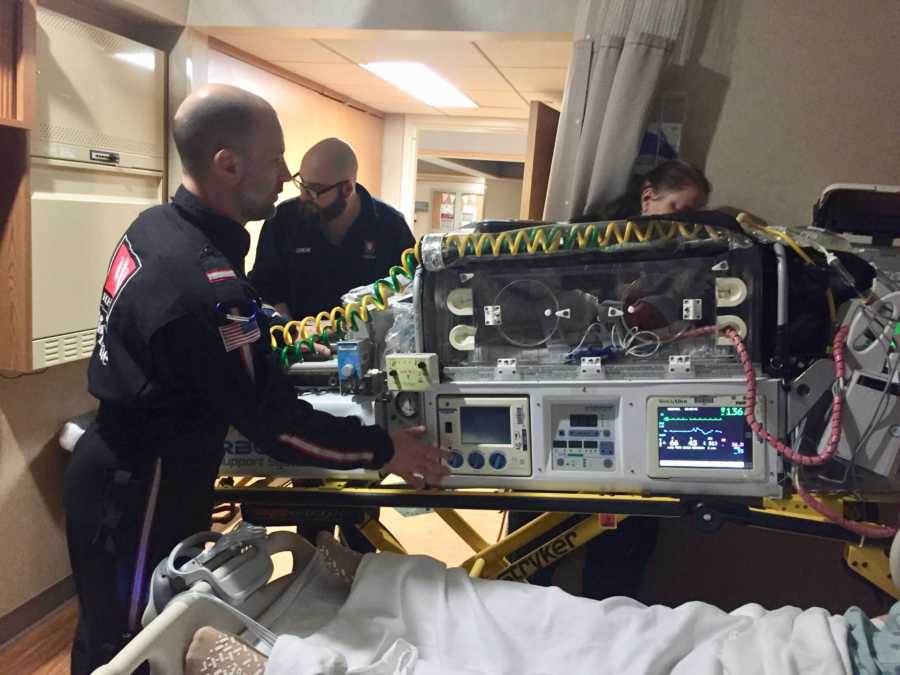 I named her Lily Belle and I have never been more proud of a human being before in my life. She was the strongest bravest person I'd ever met and she was only a few hours old.
After a couple of weeks in the NICU fluid began to build up on her brain causing sleep apnea, so my little girl went into yet another surgery where they placed a shunt to drain the fluid.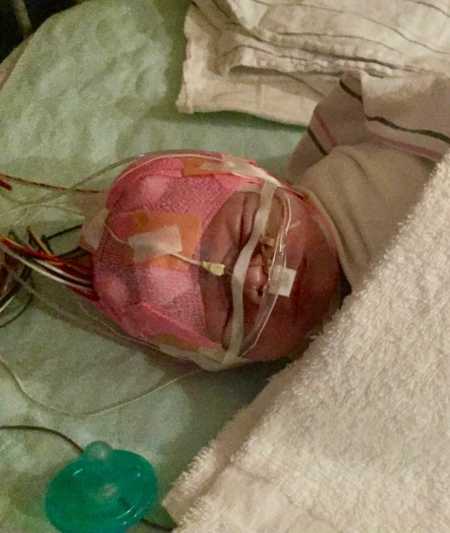 It became apparent during our NICU stay that Lily could move her legs, and even wiggle her little toes! It was truly the most amazing feeling to know that there was hope for my baby girl in her ability to walk.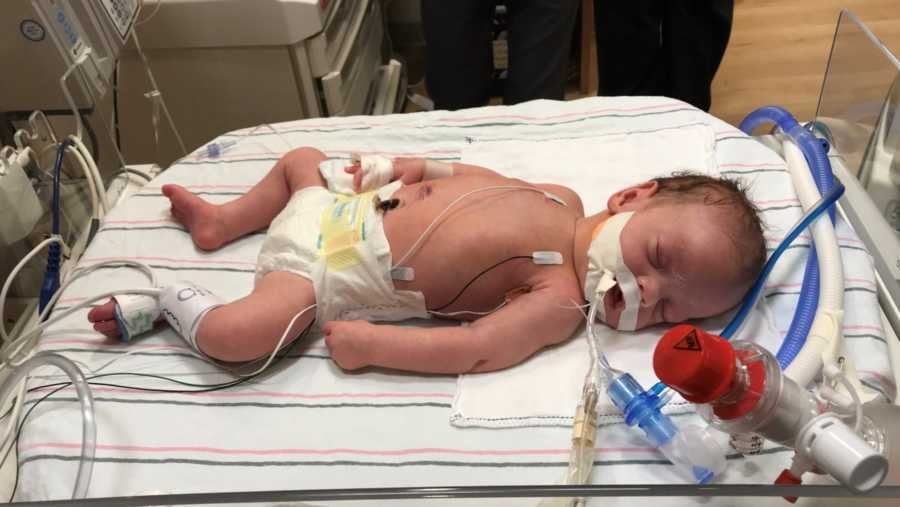 This picture of us together was meant to capture the moment in both of our lives when we knew the hardest part was over, and that we had the strength to overcome every obstacle thrown at us. A woman's body is strong and beautiful and capable of creating miracles. My little princess has spina bifida, and I'm rocking my C-section scar and stretch marks (battle scars) like a queen.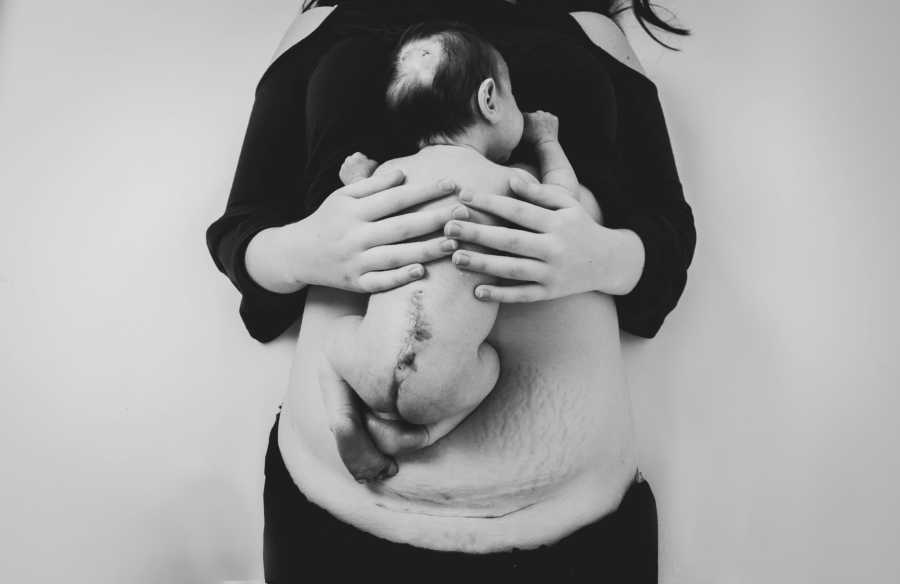 It's a picture that will be looked back on in the years to come and remind us of how strong we truly are and what is truly important in life. I hope this picture inspires others to become more aware of spina bifida and to be forever grateful for what they have. All of life is a wonderful gift and should never be taken for granted.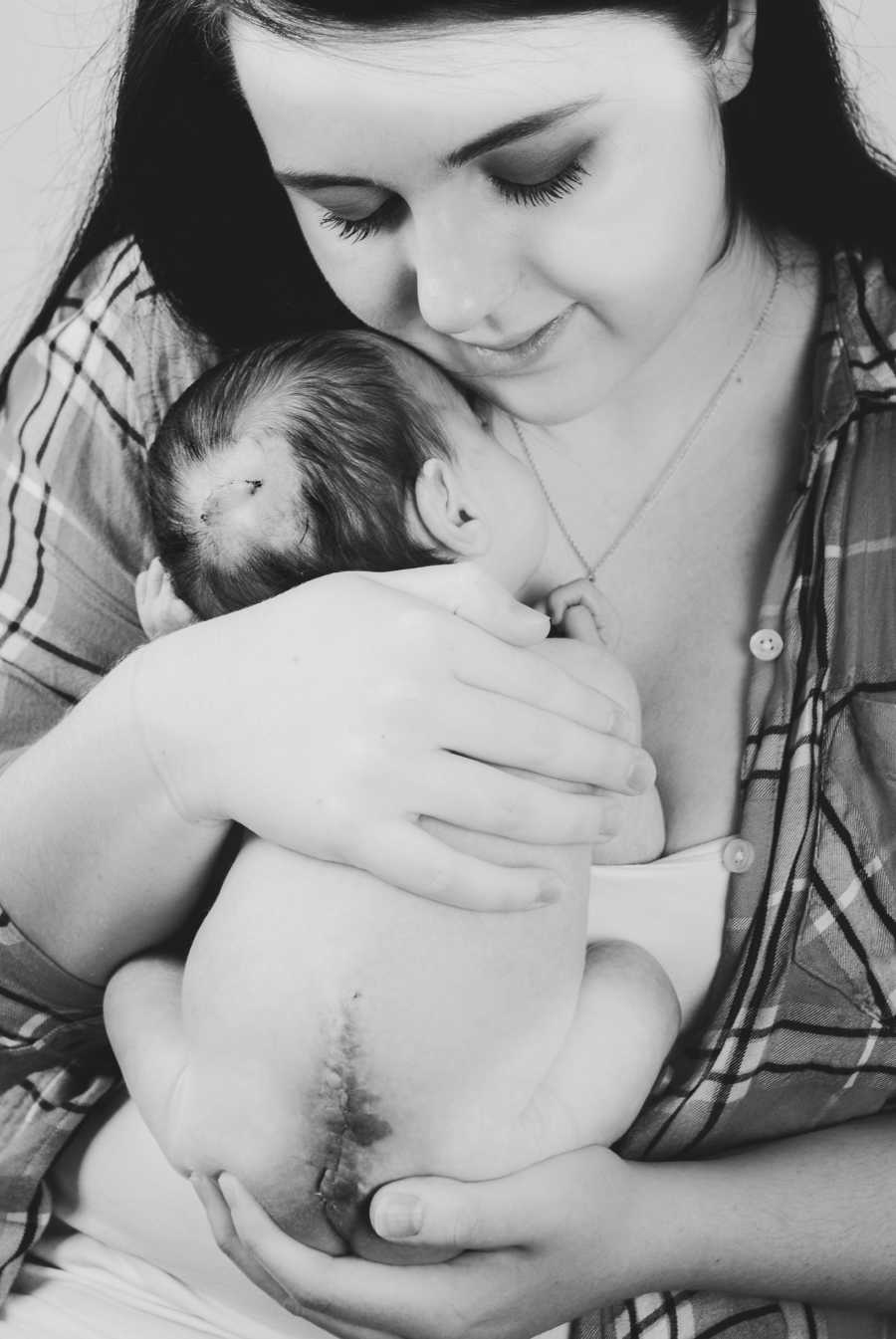 Now Lily is home and spoiled rotten, but I think she deserves to be after all she's gone through.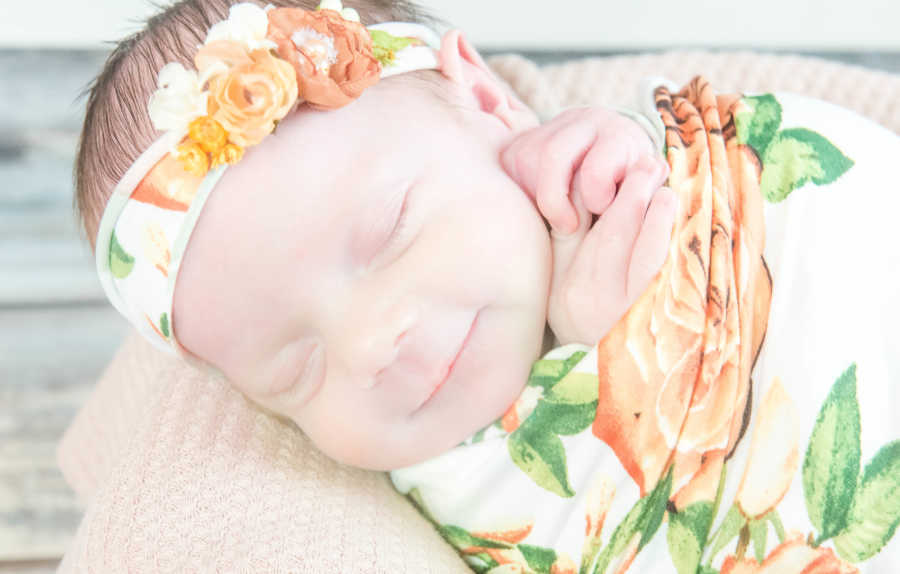 She does still need a catheter as she has no ability to urinate on her own but I am forever grateful for her ability to move her legs and we are truly blessed to have such an amazing girl in our lives.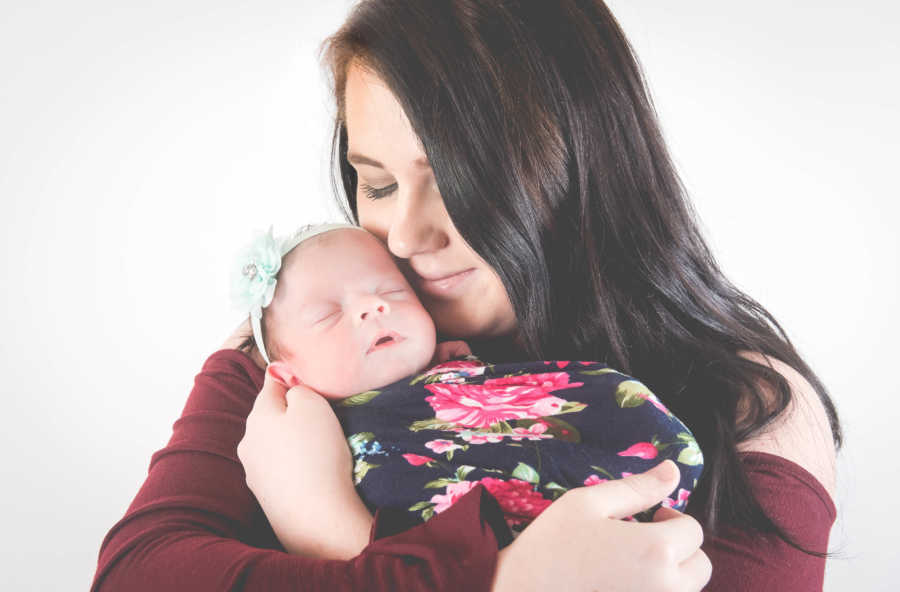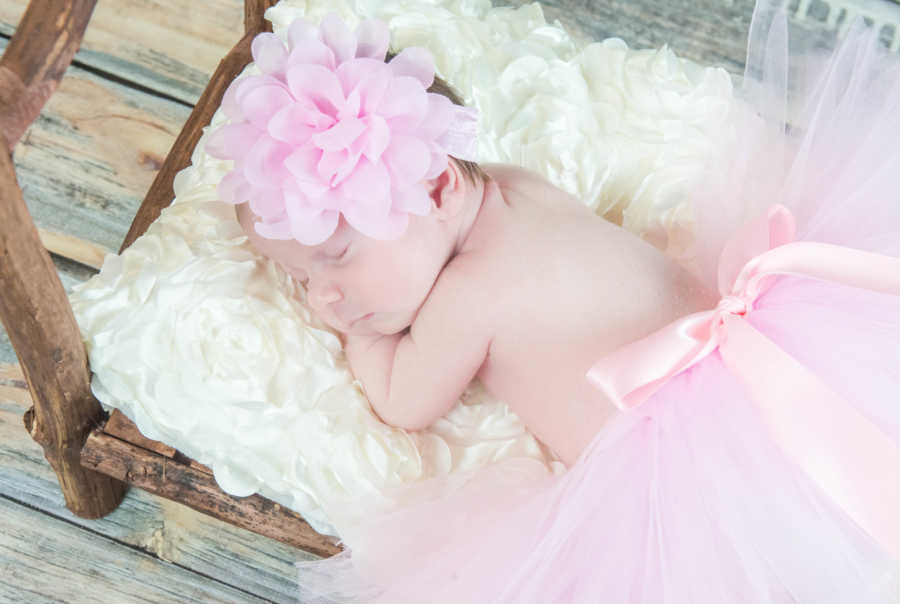 This story was submitted to Love What Matters by Chelsea Maschino, 18, of Paris, Illinois. Submit your story here, and subscribe to our best love stories here.
Read more stories like this: 
'Scars equal strength': Mom empowers toddler daughter to embrace her 'BRAVE SCAR' after open heart surgery
'My faith in humanity was restored with this cheap, plastic egg': Mom overwhelmed by man's act of kindness for wheelchair-bound daughter
Give other women strength and courage to love themselves. SHARE this story on Facebook.