"'Twins?! NO. WAY. Are you sure you are seeing things correctly on the screen?!' This was my initial response when I found out at our first ultrasound. I was nearly 24 weeks along. My suspicions of two babies instead of one were confirmed, but I still could hardly believe it!
Shortly after I found out I was pregnant, I momentarily thought, 'What if it's twins?' and as much as I tried to convince myself how irrational my thoughts were, I couldn't shake the feeling. During one of my first midwife appointments, my midwife looked at me and asked, 'Do twins run in your family?' I was taken back. Considering my already underlying thoughts, I was surprised by her words.
I've had 2 home births prior to my twin home birth. Before, and even after, finding out I was pregnant with twins, I knew a home birth was still my plan. It's where I feel safe, supported, and comfortable.
With COVID restrictions, my husband wasn't able to attend the ultrasound, so I kept it a surprise until he came home from work that day—both of us were so shocked, nervous, and over the moon once I told him.
From then on, things changed. It was time to start preparing for two beautiful souls to join our family, making us a family of 6!
On September 3rd, I was 41 weeks pregnant on the dot. The expansions, my version of the word 'contractions,' had started up again in the morning hours. However, they weren't quite strong enough for my liking. This was the 4th time I had expansions strong enough to get my attention, but not strong enough to take away my attention. I had been through childbirth 2 times prior and I knew what my active labor felt like. This wasn't it. They were coming every 2-3 minutes apart lasting around 45 seconds. This went on for hours.
I decided to get ahold of my midwife and the rest of my birth team just to let them know what was happening. This time I asked my midwife to come see me and asked she do a membrane sweep to see if this would help intensify my expansions. Around 3:00 p.m., she came over. To my surprise, I was dilated to a 7. Dilation doesn't always mean a whole lot, and quite frankly I am not a fan of cervical checks or using them to gauge where you're at in labor. I could sit at a 7 for another day or more or I could give birth within the hour. 
My midwife left to give me some space. I decided to get on the birth ball for a bit, hydrate, and snack some more. Once again, I contacted my birth team to let them know what was going on. Around 4 p.m., I decided to do the miles circuit to encourage baby A into an optimal position if she wasn't already there. My expansions were still coming at the same frequency and intensity, nothing had changed. I wasn't convinced yet that it was baby day.
6 p.m. came around. I tried using the breast pump for nipple stimulation to encourage the expansions to pick up. I also managed to sneak in a 41 week bump photo of my belly, just in case this was the last time I'd have it! Around 6:30 p.m., my birth team arrived. My midwife popped in to check on me and see how I was doing. I still felt the same. Expansions weren't enough to take my attention away—I could still walk, talk, smile, and think through them. I felt fully present. Out of curiosity, I had my midwife check for dilation again to see if any progress had been made. I was still dilated to a 7 with more pressure from the baby.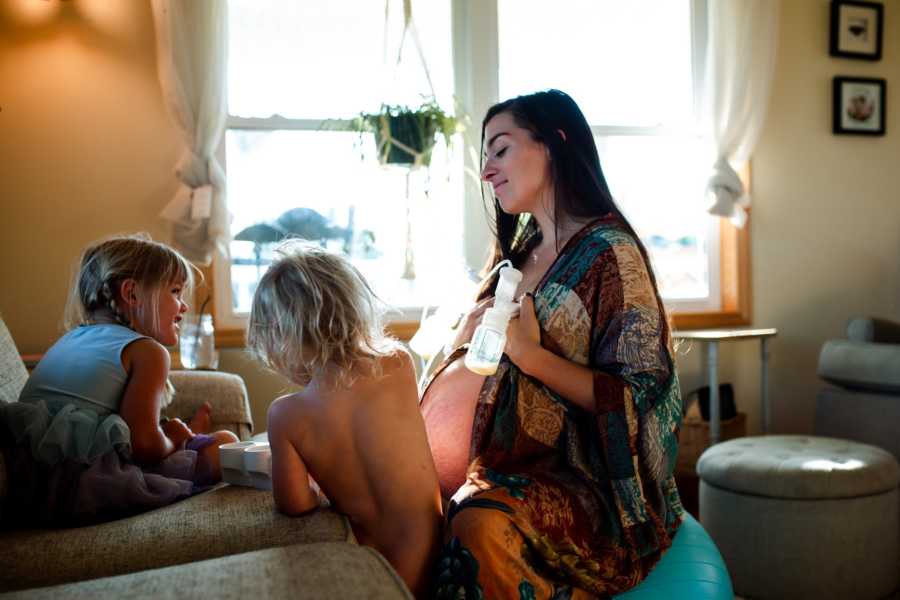 As I was lying in bed, my 2-year-old came to nurse. She nursed throughout my entire pregnancy. I could feel my expansions get a little more intense and I started to breathe through them. After about 10 minutes of nursing, my sweet girl fell asleep at my breast. I asked her to get down while I lay there for a moment longer. Suddenly, much to my surprise, at 7:14 p.m. I felt my waters rupture inside of me. I called out that my waters just broke. I knew this meant it was time. Active labor was here and I would meet my babies soon. I just didn't know how soon that would actually be! My husband worked fast and hard to begin blowing up the birth pool, and my midwife quickly phoned her assistant.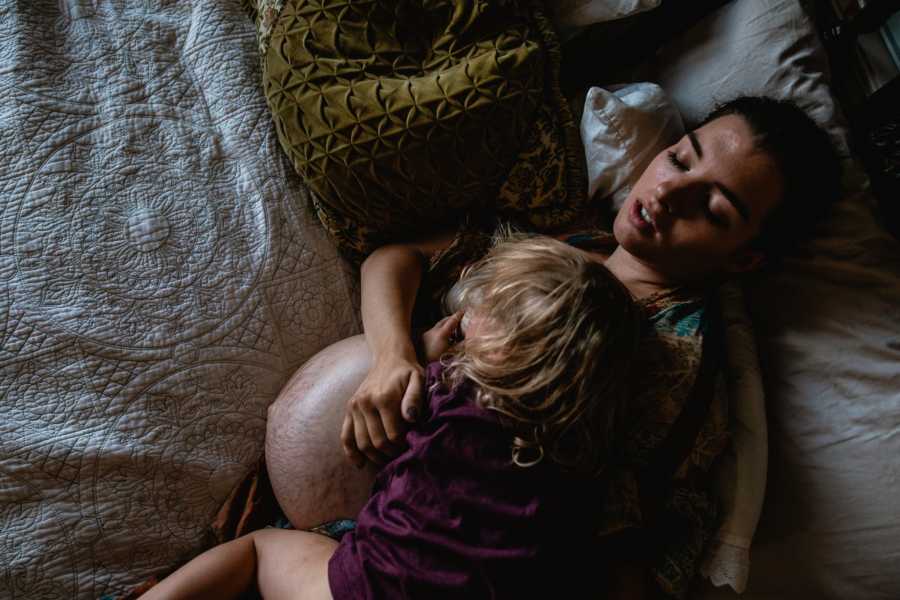 I stood up out of bed and this is when my expansions took control. Immediately, I began moaning and swaying my hips through the expansions—singing the song and dancing the dance that was so uniquely created for my baby and me. A song and a dance that so many women before me had sung and danced, but never had this particular one been performed. I made my way to the bathroom because I felt nauseous. I figured that while I was in there, I might as well empty my bladder to aid in labor progression and possibly poop really quick! (Emptying bowels usually happens before labor really ramps up.)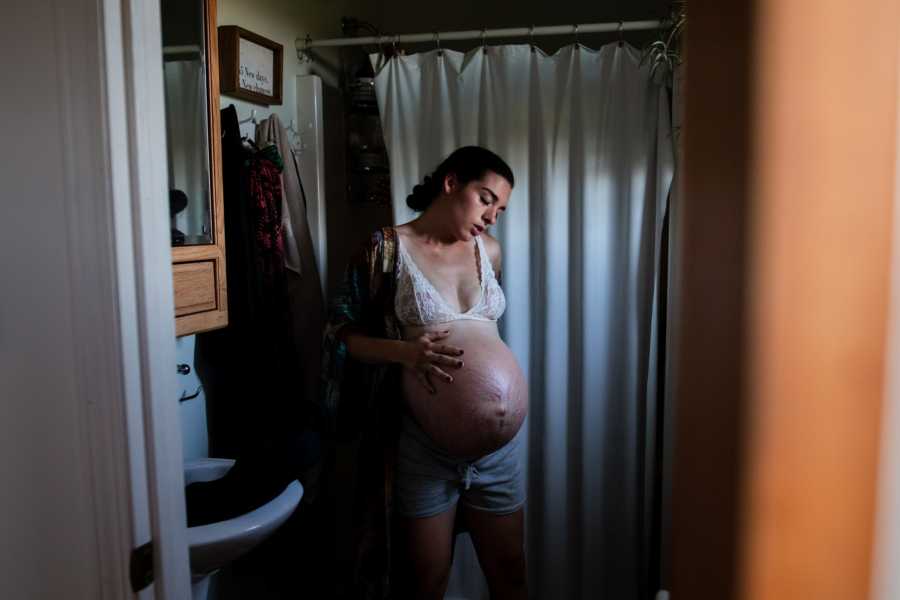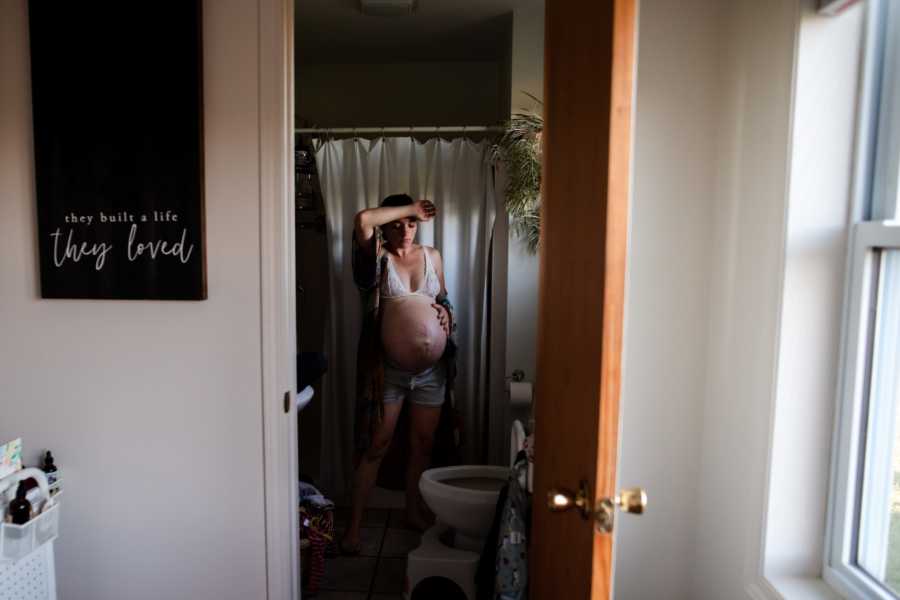 To my surprise, I sat down on the toilet and I felt a head descending. I did my best to call out to my birth team and tell them the baby was coming. I stood up while my baby's head was being born into my hands. My husband and midwife rushed in just in time to see my baby be fully born. At 7:25, after just 11 minutes of active labor, my baby girl was born. I was in shock. Overcome with relief and joy, I couldn't even pick her up at first. I just could stare and laugh and take her in. 'So beautiful. A head full of hair. She looks like her oldest sister. She is perfect. She is here. Praise God. Thank you, Lord,' I thought.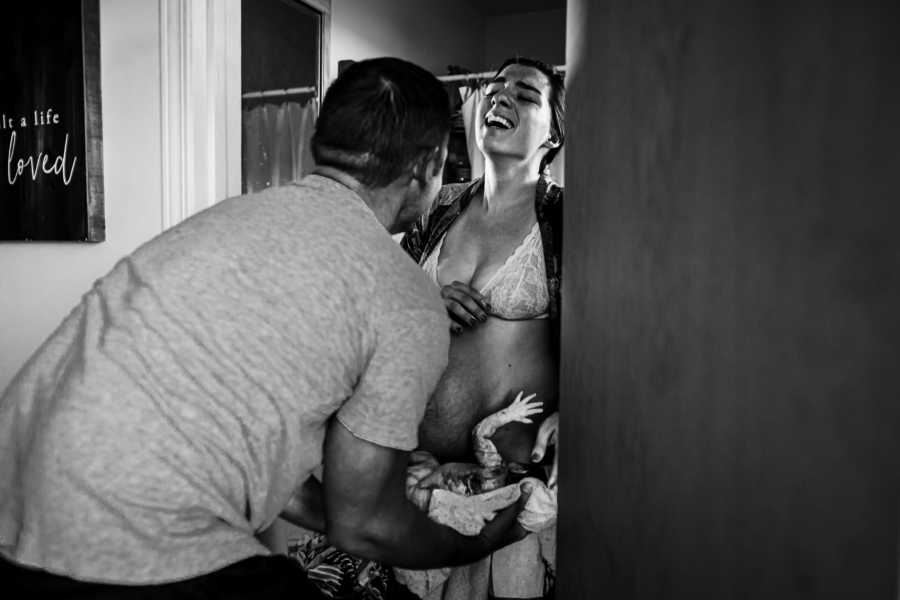 Her umbilical cord put pressure on my placenta when I grabbed her up and tried putting her to my chest, so I left her on my belly with my other baby still safely inside. After her cord had stopped pulsating, we cut it and handed her to daddy while I worked with my body to bring my 2nd baby earthside.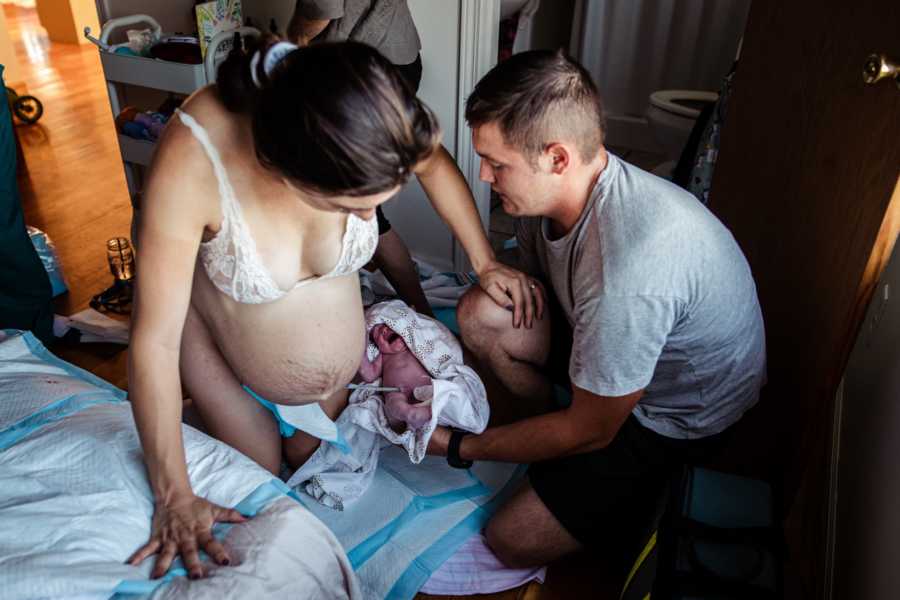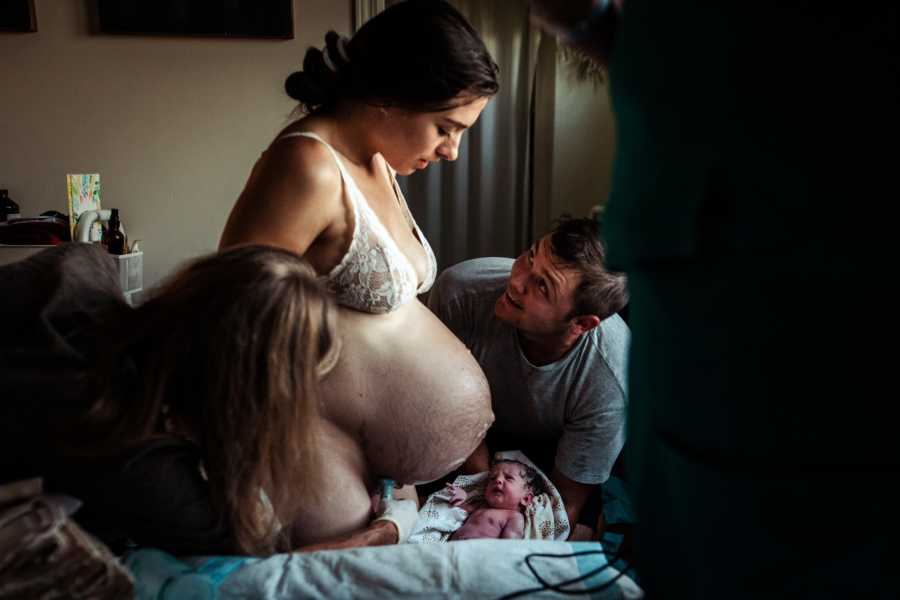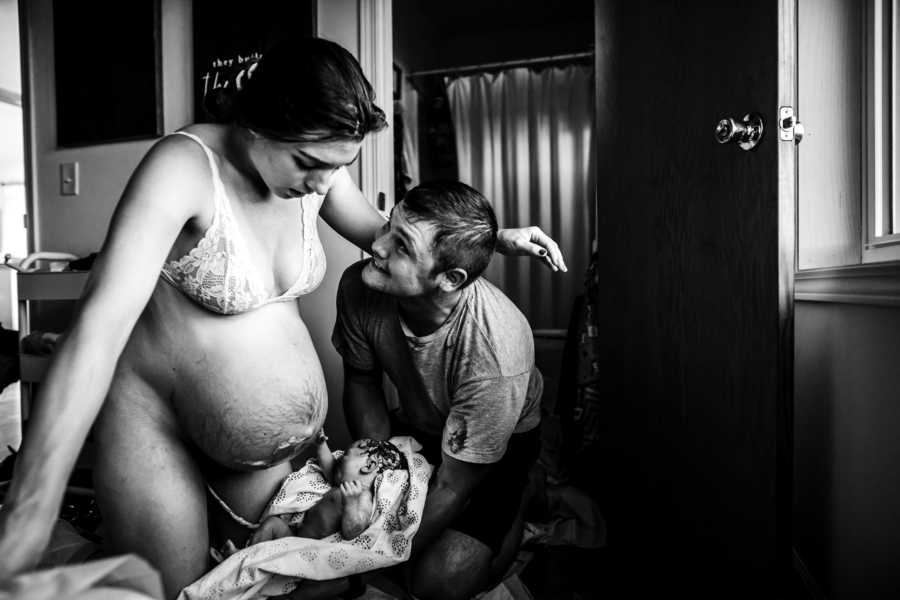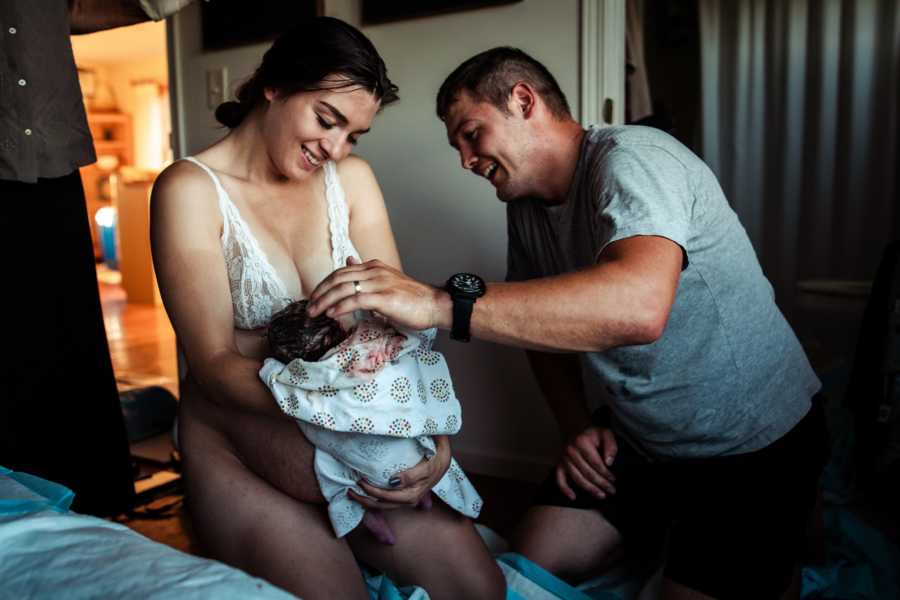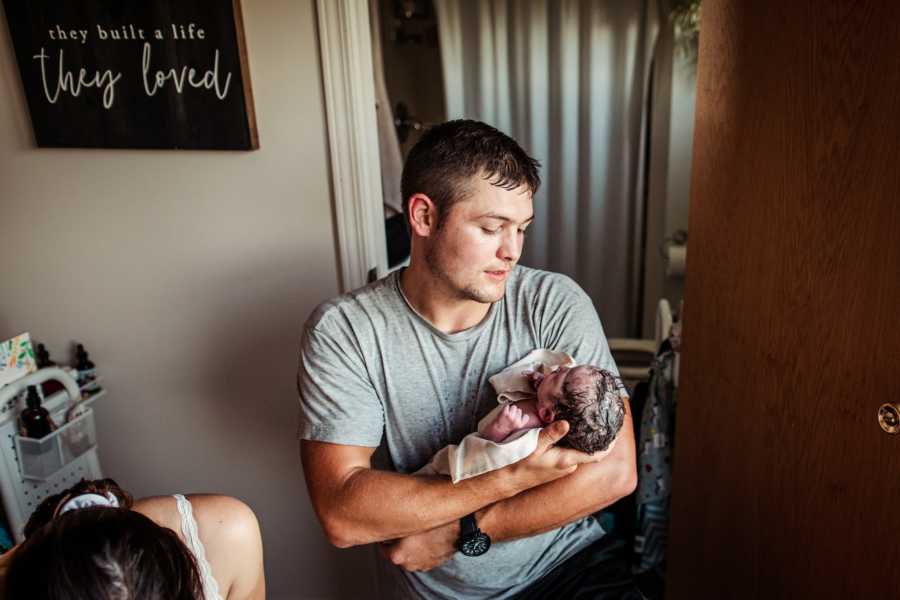 I had a few expansions I moaned through before I could feel my other baby wanting to be born. I remember thinking at this point, 'I really wish we had the birth pool set up because water sounds so lovely.'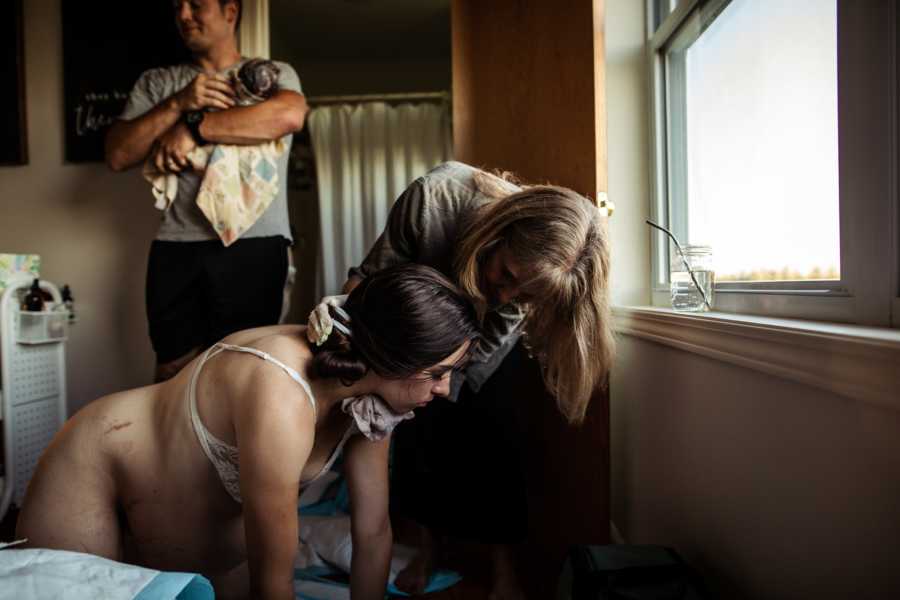 I began to feel pushy, so daddy gently laid our baby girl on the bed near me so he could catch our baby. Our 2nd baby was born, en caul, with the waters still surrounding him, at 7:51 p.m. A boy! Our first son. And he looked so much like his daddy. Once again, I couldn't do anything but laugh in such joy and relief. It was a high that is so indescribable. I felt so giddy, so shaky, and so light like I was floating. The utmost of oxytocin rushing throughout my entire being. He was perfect. My babies were here! I did it. 'Thank you, God,' was all I could say.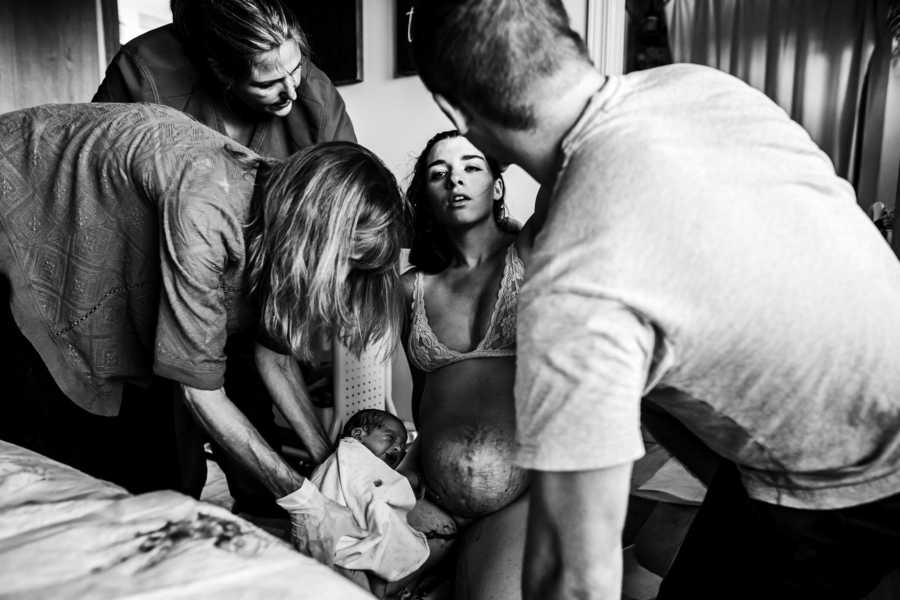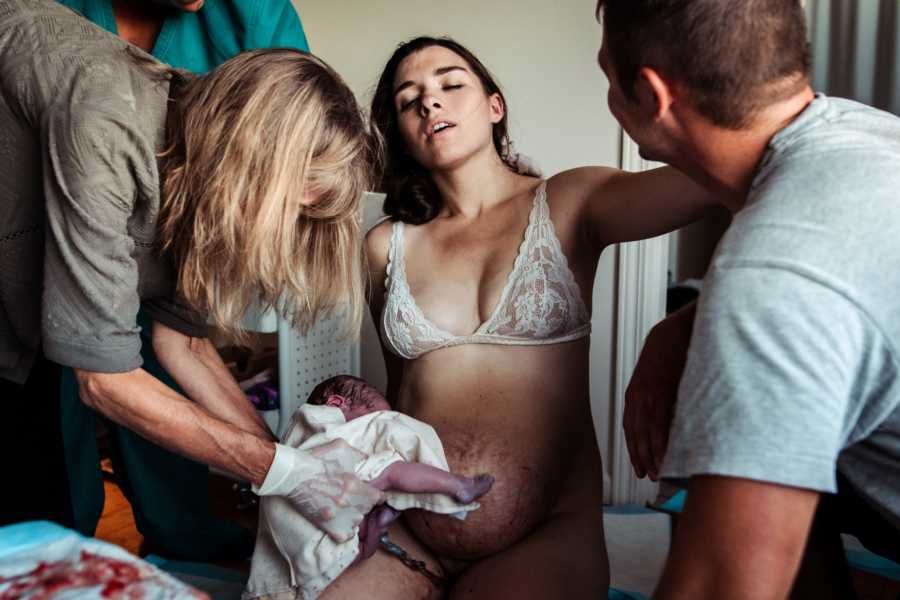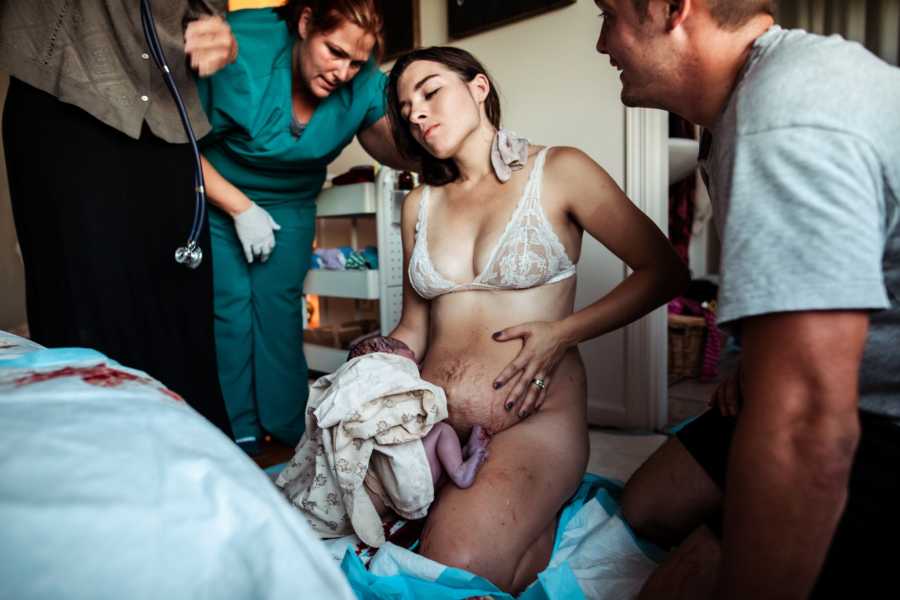 My other two children came rushing in after playing outside, missing the birth it happened so quickly. They greeted their siblings with delight as we all climbed into bed, soaking in and examining every last detail of our two new children. They were here. The moment we had all been anticipating, preparing for, and praying fervently for. Our babies were so beautifully born. We completed the separation of Baby B and his placenta with a cord burning ceremony, the whole family taking part.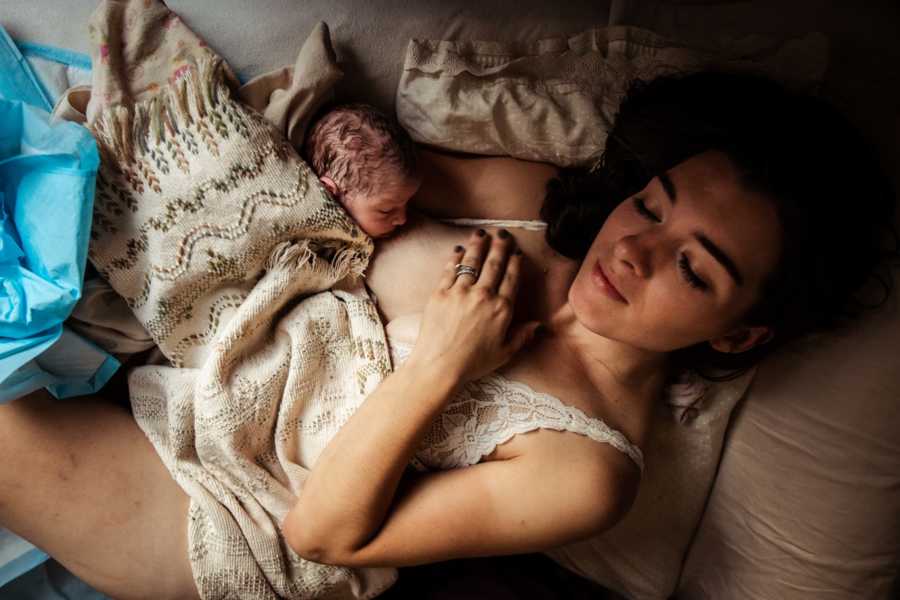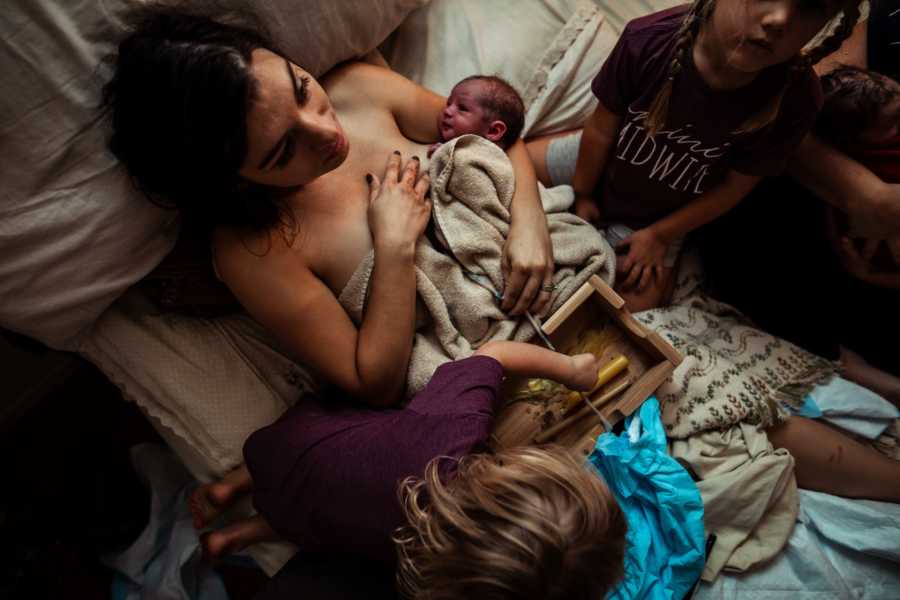 Nothing went according to my plan, as if we can really plan our births, but it went exactly how it was supposed to. I couldn't have asked for a better birth experience. All glory to God. I serve such a good Father."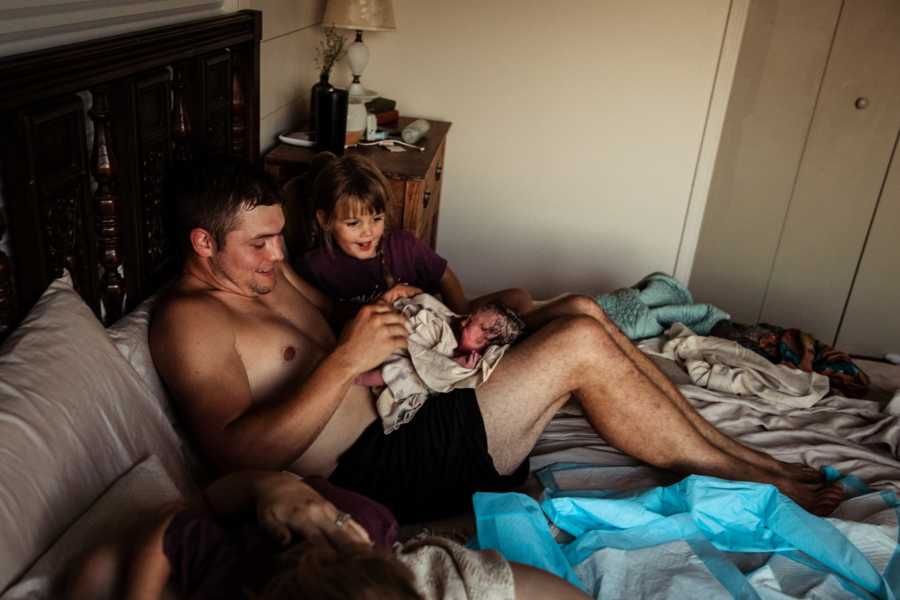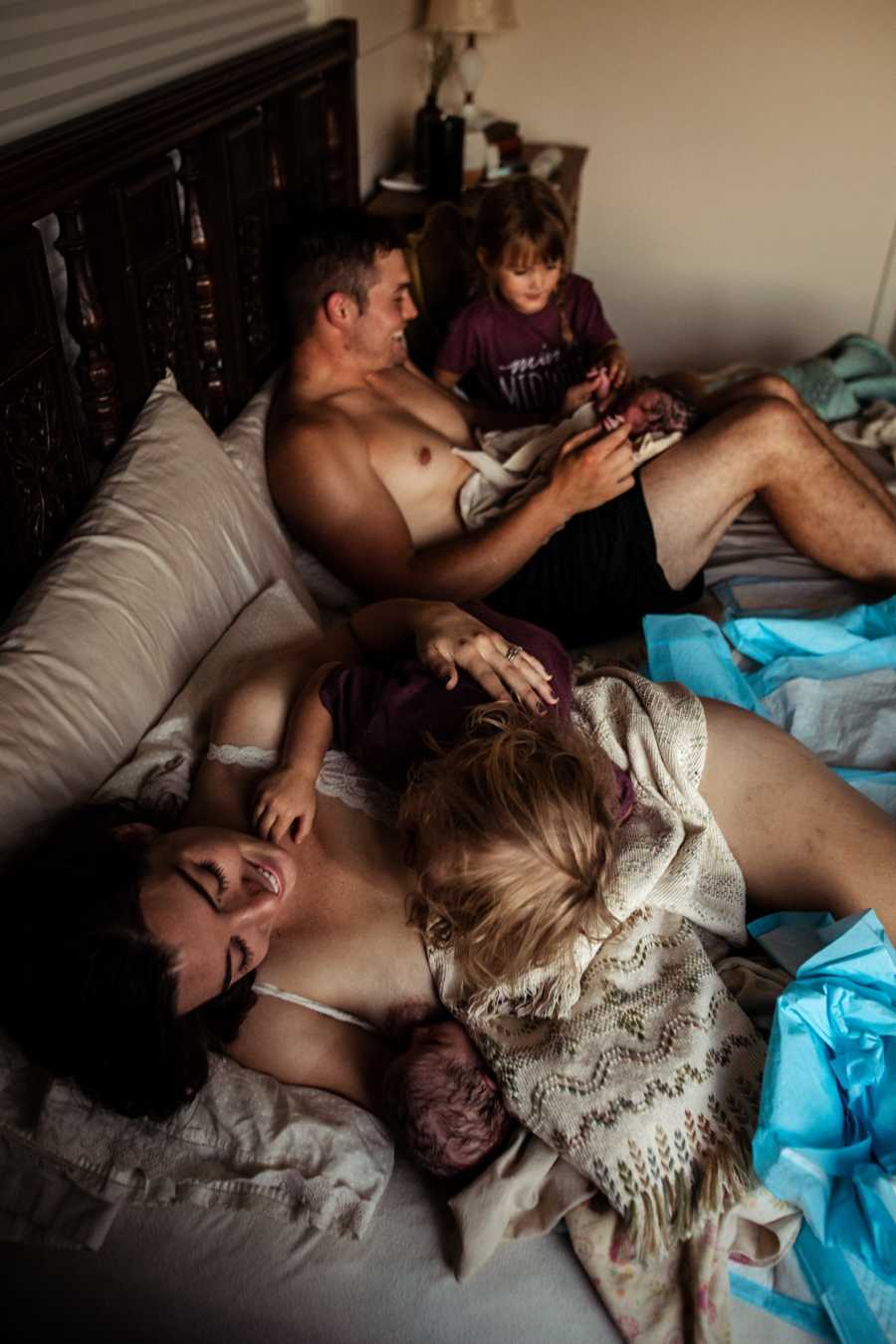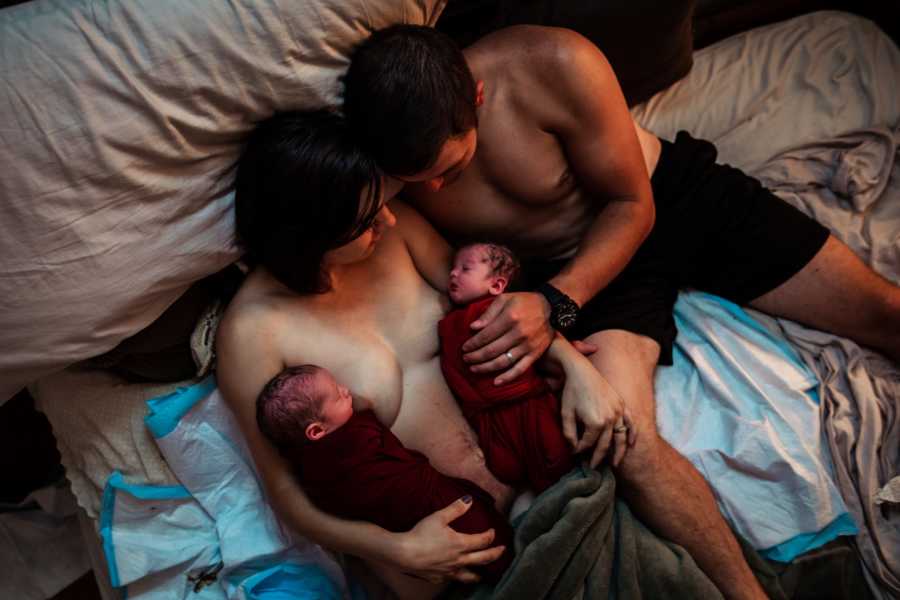 This story was submitted to Love What Matters by Ashley Comer of Slow Living Homestead. You can follow her journey on Facebook and Instagram. Find the photographer here. Submit your own story here. Be sure to subscribe to our free email newsletter for our best stories, and YouTube for our best videos.
Read more touching stories like this:
'Baby's here! He's coming!' I looked down and saw our son's head.': Trans woman describes surprise home birth, 'We might not be the typical nuclear family, but our love is strong'
'Something weird was happening to my body. My abdomen started to swell. I appeared 7 months pregnant. The second we left the clinic, fear invaded us.' Mom births quadruplets, claims she wouldn't 'change it for anything in the world'
Help empower other mothers in their birth journey. SHARE this story on Facebook with your friends and family.